For children, Lunchboxes are more than containers for carrying food to school. They're an extension of their personalities. As a parent, you know the struggle to find the perfect one that is suitable for packing food items that satisfies your little one.
Think back to your childhood and remember your excitement when you got a lunch box with your favorite character.
You can't quantify the nostalgia that comes with owning Vintage Lunch Boxes. They're as coveted today as they were then, and they bring in the big bucks. A banged-up Vintage Lunch Box costs about $100, while the ones in stellar condition goes for over $1,000.
As you run to your bedroom searching for a possible priceless vintage metal lunch box, use this list to separate the valuables from the worthless.
The Evolution of Vintage Metal Lunch Boxes by Era
Before the vintage metal lunch boxes in the United States of America, people packed their food in tins (then later paper bags) or metal pails. They recycled these tins from biscuits or tobacco holders, and though it wasn't fancy, it functioned.
Eventually, producers sniffed out the need for an adequate container to hold food and provide easy carriage.
Tin lunch boxes
In 1920, the King Seely Thermos Company designed the first tin lunch box – Harry S Truman for American industrial workers packing lunch to work. Fourteen years later, Geuder, Paeschke, and Frey made the first character vintage lunch box – Mickey Mouse.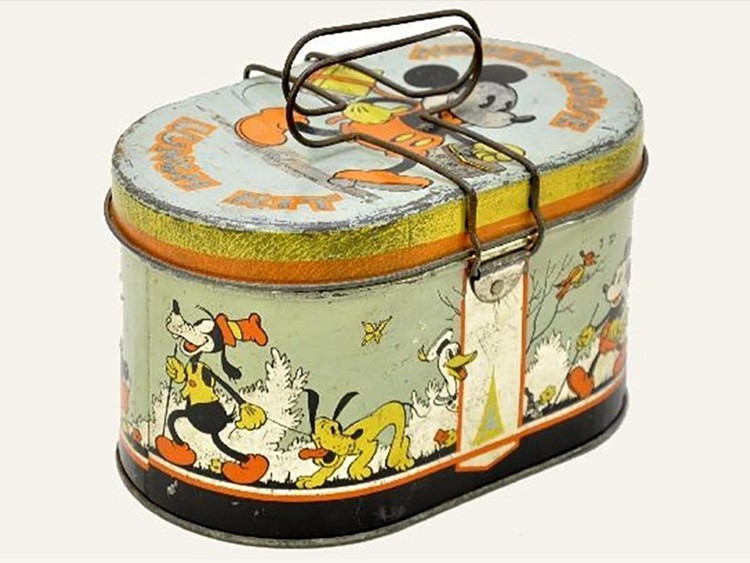 The pullout tray container sans bottle became coveted amongst elementary schoolers ushering in a new age. Thus, the birth of the vintage metal lunch box shaped like a literal BOX with a one-sided hinged top either flat or arched.
(Source: Etsy)
The 1980s Controversy and Rise of Plastic Lunch Boxes. At the turn of the decade, Mothers in the U.S.A. panicked over the possibility of children using their beloved metal lunch boxes as weapons. This hysteria led to a sales plummet, allowing plastic lunch boxes to take over the market.
Sadly, the 1985 Rambo was the last vintage metal lunch box ever made. That's not saying plastic didn't come with its issues and controversies concerning animal cruelty and health hazards from chemical reactions.
Plastic Lunch Boxes
When plastic took over the market as the preferred lunch box material, manufacturers recreated popular designs except for licensing issues. However, plastic lunch boxes are not as valuable as their metal counterparts because they were mass-produced.
Vintage metal lunch boxes from the 1950s
The golden era of television brought a significant interest in fictional characters amongst children and adults. Then Aladdin manufacturing Co., a lamp designing business, got the bright idea to print Hopalong Cassidy on a metal lunch box.
This unprecedented move hit the market with a bang, as people jumped on the opportunity to express their interest without speaking. What better way to tell your co-workers or schoolmates you love Hopalong Cassidy than with a branded vintage metal lunch box?
Aladdin's Hopalong Cassidy opened the flood gates for other manufacturers and characters, if you didn't already guess it. Designing vintage metal lunch boxes with pop cultural icons became the biggest marketing strategy for movie production companies.
As the light bulb glows in your mind and you plan to rummage through your old stuff, pause for a second. Get a pen and paper to note familiar faces from this era that'll earn you some cool dollars;
| | | | | |
| --- | --- | --- | --- | --- |
| No. | Name | Manufacturer | Year | Price |
| 7 | Howdy Doody | Adco Liberty | 1954 | $299.00 |
| 6 | Hopalong Cassidy | Aladdin | 1950 | $300-$500 |
| 5 | Knights in Amour | Universal | 1959 | $619.85 |
| 4 | Mickey Mouse | Adco Liberty | 1954 | $691.06 |
| 3 | Superman | Universal | 1954 | $750 |
| 2 | The Lone Ranger | Adco Liberty | 1955 | $853.88 |
| 1 | Toppie | Kroger's | 1957 | $7,000 |
7. Howdy Doody
Year: 1954
Price: $299.00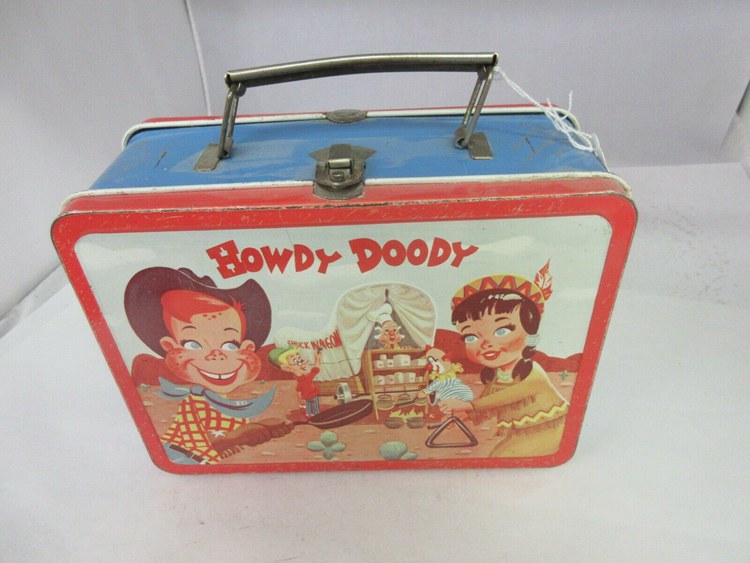 Howdy Doody is to 1950s kids what Paw Patrol is to 2010s babies. Hearing the Ta-ra-ra Boom-de-ay jingle on T.V., then Howdy asking, "Say kids, what time is it?" required only one response – It's Howdy Doody Time!"
You can recreate that nostalgia with this vintage metal lunch box featuring Howdy Doody, Clarabella the Clown, and more friends in the background.
6. Hopalong Cassidy
Year: 1950
Price: $300 – $500
Hopalong Cassidy sold 600,000 units at $2.39 a pop in its first production year. The new T.V. age inspired the character-design vintage metal lunch box as promotional items. It's also the first product Aladdin industries ever made, reeling in about 70 million dollars in revenue.
Although it wouldn't fetch as much as its counterparts, Hopalong Cassidy gets an honorable mention in this list as a forerunner.
5. Knights in Amour
Year: 1959
Price: $619.85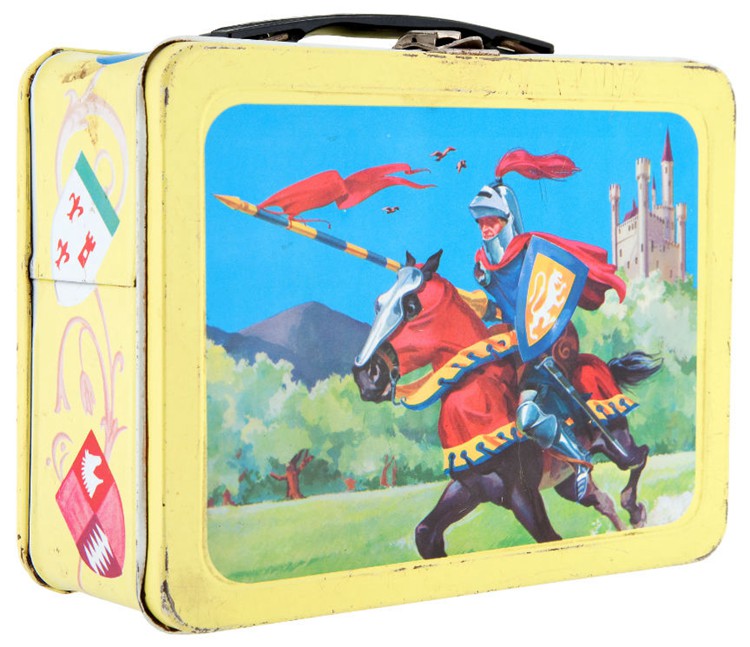 Think of all the remakes of the legendary "King Arthur and the Knights of the Round Table," and you'll get an idea of how impactful this Knight in Amour vintage metal lunch box was. Unlike the movie character depictions, this Knight is an abstract creation with no affiliation.
It's a great choice for imaginative collectors because you can decide whom you want your main character to be – Sir Lancelot, Prince Valiant, Ivanhoe, or any other heroic knight from Urban legend.
4. Mickey Mouse & Friends
Year: 1954
Price: $691.06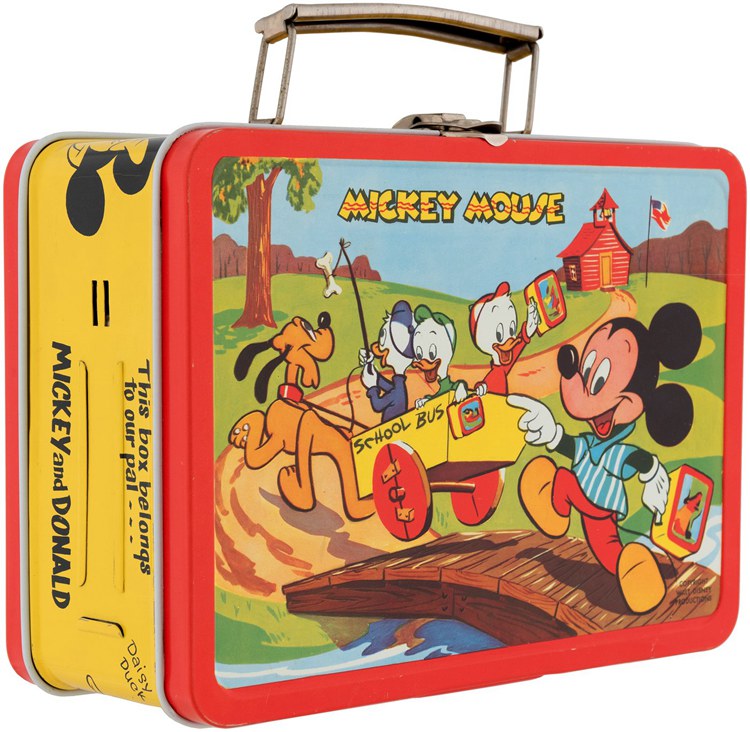 Cartoon characters have come and gone over the years, but not Mickey Mouse and his friends. The classic Disney character has a history of reviving ailing industries from watchmaking to vintage metal lunch boxes.
Mickey Mouse is significant to the vintage lunch box's journey that he featured almost two decades before Adco designed this model. There was a Mickey Mouse tin Lunch box with a domed lid in 1938.
In a genius marketing move, this vintage metal lunch box features Mickey and friends (Donald Duck, Pluto the dog, and the trio – Huey, Dewey, and Louie) carrying, waiting for Mickey Mouse lunch boxes. Unfortunately, only a few of these are left because Adco lost its licensing.
Finding a complete set is priceless because the Mickey Mouse vintage metal lunch box is rare, and the bottle even rarer. If it's good enough for Mickey, it's a catch for you.
3. Superman
Year: 1954
Price: $750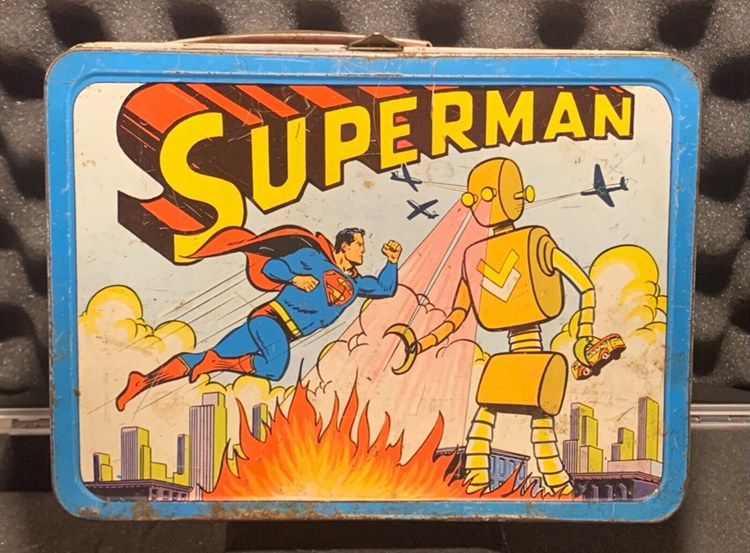 The god from Krypton, whose only weakness is a bright green Kryptonite stone, has ruled the comic world for the longest time. Superman can never go out of style, and the number of merchandises sold at comic cons proves that fact.
Owning a Superman vintage metal lunch box makes you half as cool as the Clark Kent. This box features the caped crusader doing his best to fight aliens. You'd also earn a bonus flask for the price of one.
2. The Lone Ranger
Year: 1955
Price: $853.88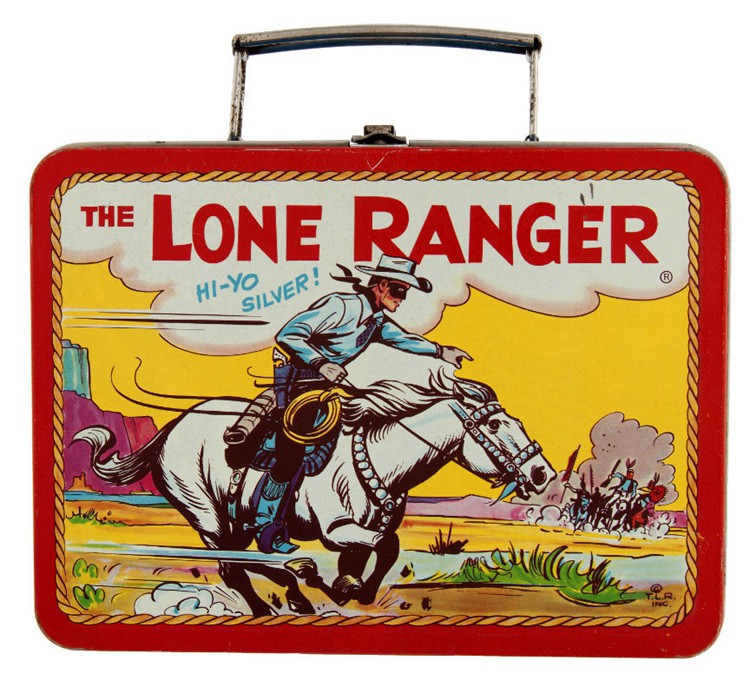 The Lone Ranger, who rode across the wild west rescuing damsels in distress and those in need, is one of the first superheroes American children encountered. He and his trusted partner (a horse) Silver feature on this vintage metal lunch box.
Although he's wearing a blue-on-blue outfit on this box, there are other variations of his costume.
1. Toppie
Year: 1957
Price: $7000.00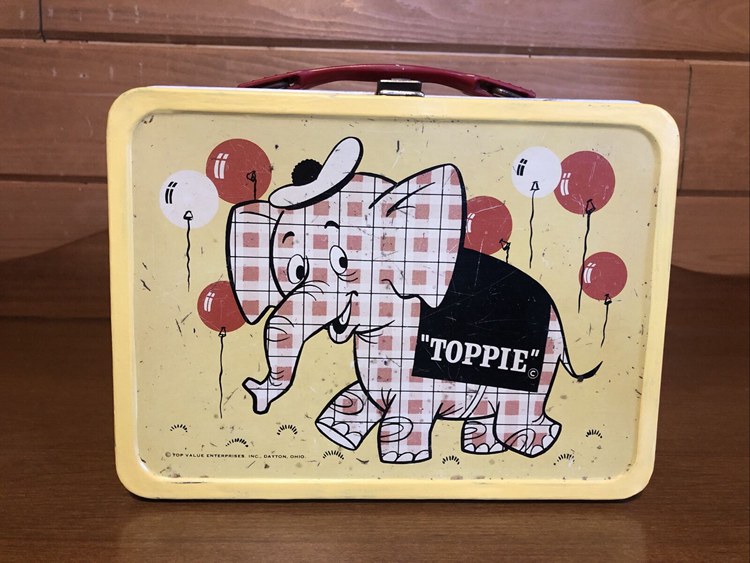 Before Dumbo, a Toppie was thumping his way on value stamps at Kroger's food stores. Customers who found the red and white checkered elephant could use it to redeem promotional items.
The Toppie vintage metal lunch box is so valuable that even those in poor condition sell for as much as $4,000. Essentially, there's no losing with this brand, so get digging in your attic.
Vintage metal lunch boxes from the 1960s
The Metal Lunch Box success for manufacturers in the 1950s came at a cost. However, it was a mutually beneficial venture; the movie production companies attached huge licensing fees to their characters.
Success has many sisters, so they say, the metal lunch box morphed into kits with brunch bags.
| | | | | |
| --- | --- | --- | --- | --- |
| No. | Name | Manufacturer | Year | Price |
| 6 | Yellow Submarine | King Seeley Thermo Co. | 1968 | $255.00 |
| 5 | Dudley Do-Right | Universal | 1962 | $375.00 |
| 4 | The Jetsons | Aladdin | 1963 | $455.00 |
| 3 | Star Trek | Aladdin | 1968 | $599.00 |
| 2 | The Beatles | Adco Liberty | 1966 | $750.00 |
| 1 | Orbit | King Seeley Thermo Co. | 1963 | $799.99 |
6. Yellow Submarine
Year: 1968
Price: $255.00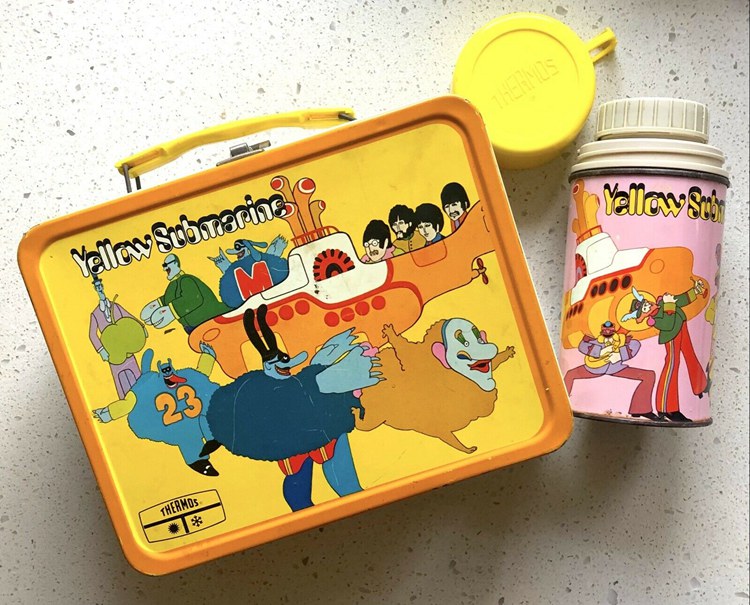 The Beatles were so hot that they starred in their feature film Yellow Submarine two years before their breakup. Vintage metal lunch box manufacturer King Seeley Thermos Co. decided the quartet's unique ride needed its spotlight.
So, another Beatles-inspired design saw the light of day. This box features the usual suspects (Paul McCartney, John Lennon, George Harrison, and Ringo Star) and some artwork from the music video.
5. Dudley Do-Right
Year: 1962
Price: $375.00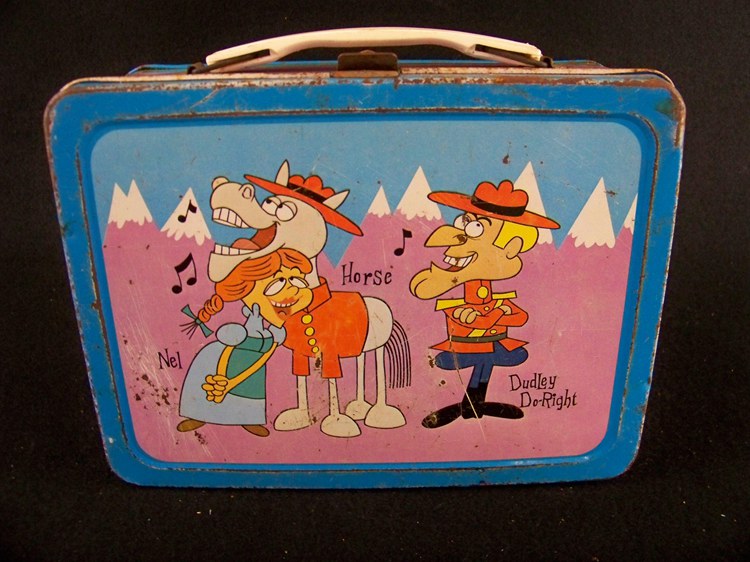 Dudley Do-Right stole Canadian's heart with his goody-two-shoes boy-scout heroic acts going around on his Horse. This vintage metal lunch box features the do-gooder officer in his red and blue uniform and his trusted partner in an official red jacket.
This vintage metal lunch box comes with a flask designed with the same characters.
4. The Jetsons
Year: 1963
Price: $455.00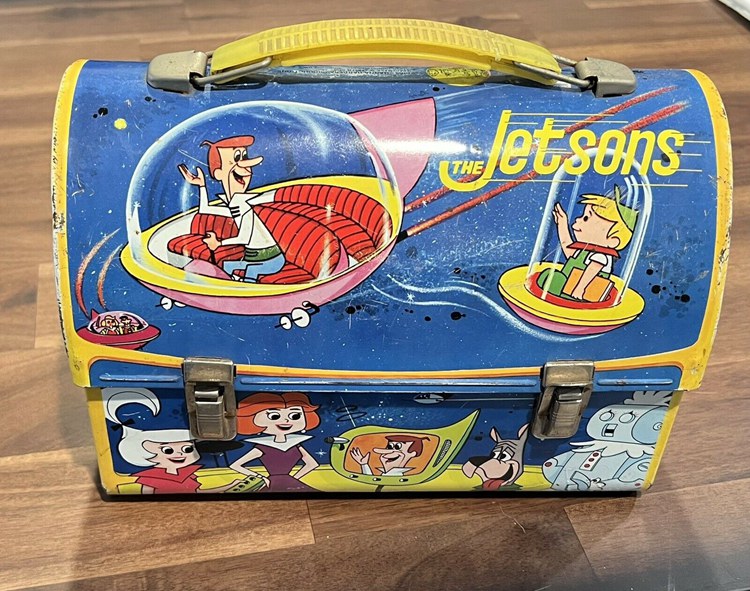 George Jetson and his cute family living in Orbit city make a colorful montage on this dome-top box. It leveraged the rising interest in space travel and everything happening around the milky way. Unfortunately, it only lasted a single season, so the Aladdin stopped production.
Luckily, The Jetsons got another chance in the sun in the 1980s, reigniting the spark it lit in the sixties. Once again, its vintage metal lunch boxes became hot in the market until the mass hysteria amongst moms phased out the material.
3. Star Trek
Year: 1968
Price: $599.00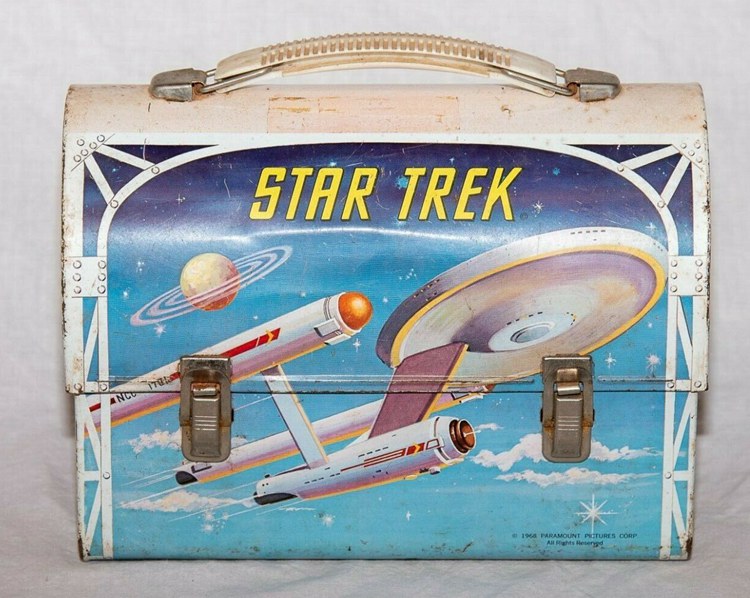 The Star Trek franchise defined more than two generations we watched the U.S.S. Enterprise navigates space and finds life in the galaxy. This vintage metal lunch box would never go out of style with its continued popularity amongst Americans.
Star Trek collectibles would continue to rise in value as long as the franchise persists and long after. Kirk and Spock are still discovering life around the universe. Their faithful fans are still attending conventions in search of vintage memorabilia.
2. The Beatles
Year: 1966
Price: $750.00
Years after their breakup, The Beatles are still topping charts and breaking streaming records. That gives you a glimpse of the power they wielded over the public with their music, with fans going crazy to get a t-shirt or two during concerts.
Owning a vintage lunch box with The Beatles on the body told your friends you were cool enough to appreciate good music. It was fab then, and it's rad now. All it'll cost you is a couple of thousand bucks.
1. Orbit
Year: 1963
Price: $799.99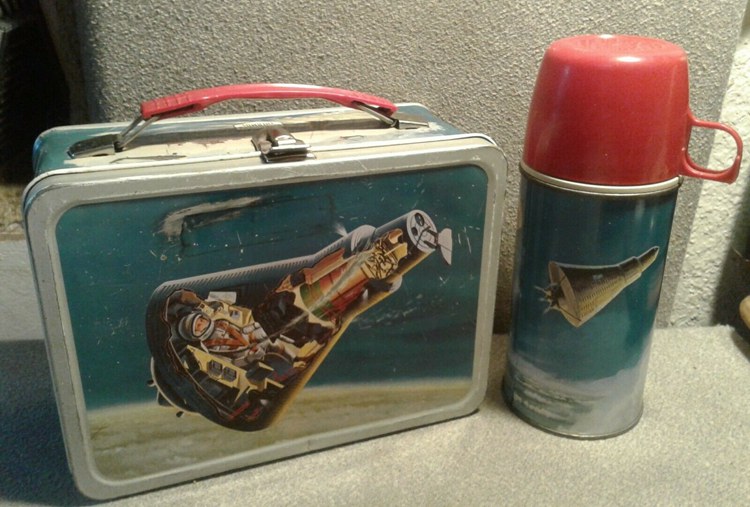 Space expedition was one of the fascinating things for kids in the '60s. Neil Armstrong's courageous journey into the galaxy became many children's fantasies, so the vintage metal lunch box makers indulged them.
The orbit features a National Geographic image of a pilot in a space capsule launching into the galaxy. However, within a few months, Thermos recalled it from the market because it failed to get a license from National Geographic, making it a limited-edition model.
Vintage metal lunch boxes from the 1970s
| | | | |
| --- | --- | --- | --- |
| Name | Manufacturer | Year | Price |
| Underdog | Okay Industries | 1974 | $1499.00 |
| Man from Atlantis | King Seeley Thomas Co. | 1977 | $5,201.91 |
| 240 Robert | Aladdin | 1978 | $5,222 |
3. Underdog
Year: 1974
Price: $1,499.00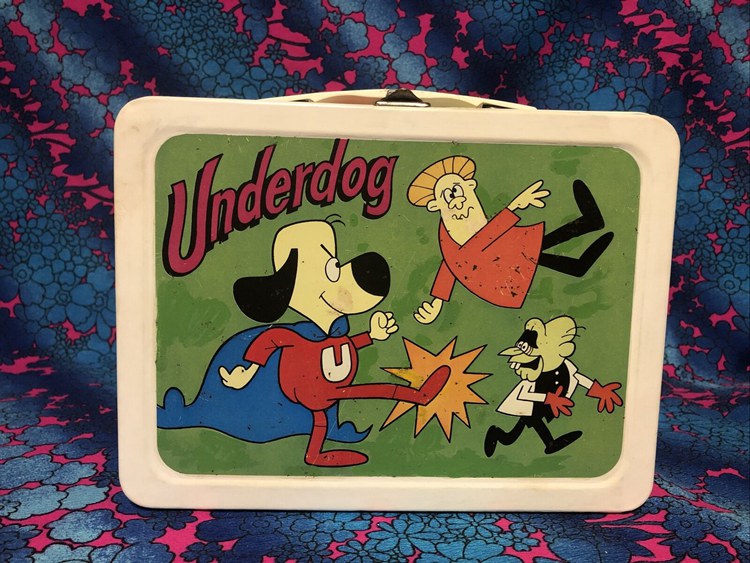 A dog in Spandex playing superhero? Yes, please. When Underdog hit the T.V. in the seventies, it immediately appealed to children. The crime-fighting pup takes center stage on this vintage metal tin box. He's in his element "kicking literal butt."
2. Man from Atlantis
Year: 1977
Price: $7650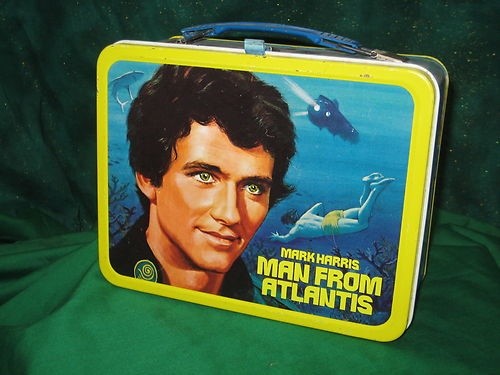 If you can relate to the attention-grabbing T.V. series, then you can understand why The Man from Atlantis became a hot commodity. The one-season show thrilled viewers from 1977 – 1978, and when it ended, the vintage metal box production also stopped.
According to Work and Money, there are only about three left today, which is why the eBay buyer paid four figures for the box.
1. 240-Robert
Year: 1978
Price: $5,222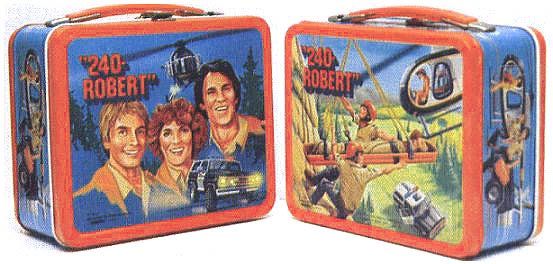 Another short-lived T.V. show (the 70s seem to have much of that) about police officers in L.A. 240-Roberts features a rescue team of two bringing an injured man down from the mountain. They wear protective helmets pull the injured man on a stretcher towards their police van at the bottom. The front image features headshots of the three main characters.
Price Guide for Trading Vintage Metal Lunch Boxes
There's no actual price for vintage metal lunch boxes because the nostalgia hits differently for everyone. You can use documented price guides in books or scout through online marketplaces like eBay for ballpark figures.
Pro Tip: Check the sold price instead of the asking price when scouting to ensure the dealer isn't overvaluing the item. 
Reading this article is also a smart place to start since you can compare the prices above with the current market value.
How Can You Value a Vintage Metal Lunch Box?
Basic principles of antique and vintage item valuations don't necessarily apply to vintage metal lunch boxes. On the one hand, age, model, and rarity are appreciable factors, but the condition isn't always. Let's explain it further;
Older vintage metal lunch boxes like those from the 1950s to 1960s are some of the most valuable. However, that doesn't mean newer models from the 1970s can't outsell them at an auction.
You can use this list as a reference point – the 1954 Superman vintage metal box is the most expensive at $16,000, while the 1935 Mickey Mouse dome lunch box sells significantly lesser at $2,350.
How To Clean Vintage Metal Lunch Boxes?
Rust results from water reacting with metal and tin to produce iron oxide. Having this nuisance on your vintage metal box can be annoying because it defaces your precious keepsake. Not to worry, it's not a menace you can't handle with a chemical or two.
What you Need
Rubber gloves
Nose mask
Goggles (optional)
Soft Cloth
Baking Soda
White Vinegar or Lemon and Salt
A Bowl of water (wide enough to submerge your metal lunch box)
How to Clean
Wear your protective gear – rubber gloves, nose mask, and goggles (to prevent the sting from the chemical). Next, mix one tablespoon of white vinegar or lemon and salt mixture into the water bowl. Wait for a minute to ensure it settles, then soak your vintage metal box for 24 hours.
Alternatively, you can use a soft cloth soaked in the vinegar (or lemon salt solution) to scrub away the rust. Or you can mix equal parts baking soda and water in a small bowl, soak a soft cloth and repeat the previous scrubbing process.
Note that the last two methods are more time-consuming, though. If you followed method one, after 24 hours, remove your metal lunch box and clean the moisture with a clean cloth.
Pro Tip: If the rust is stubborn, combine the lemon and salt solution with the white vinegar in water. Watch this video.
Concluding Thoughts
Vintage metal lunch boxes are one of the few most valuable collectibles globally. Children (and some adults) would always take food to school, on trips, picnics. They're timeless items due to their nostalgic character, so don't be quick to dispose of yours.
Remember that plastic lunch boxes with the same characteristics as metal lunch boxes aren't on the same value scale.
The last vintage metal lunch box ever made was Rambo in 1985.
Always wear protective gear when handling chemicals.
FAQs
Q: Where can I buy a vintage metal box?
A: You can buy a vintage metal box on collector's forums, online stores like eBay and Etsy. Lunchbox Collector is a specialized online store with a vast collection of vintage lunchboxes from plastic to tin, vinyl, and metal.
Q: What is in a Bento Box?
A: A Bento box is a single-serve box with compartments for different food classes. It often includes a balanced diet in adequate proportions for easy consumption and carriage. The Bento box comes in different designs based on nutritional needs.
Q: How big is the average lunch box?
A: Lunchboxes come in varied sizes based on preference and how much you want them to carry. The average lunch box is about 9" L x 5" W x 9" H (" is inches, L- Length, W-Width, and H-Height.)
Q: What is the best material for a lunch box?
A: The best lunch box material is something that can keep your food at the right temperature for a long time without spoiling or spilling. Stainless Steel is the most acceptable material because it doesn't react chemically with heat making your food safe for consumption.
On that note, avoid using plastic and aluminum containers to pack your food. You can use Bisphenol A, or Bisphenol-lined plastic, though they're microwave adaptable.