Nothing brings back a wave of fun childhood memories than stumbling on a good read about your old favorite toys. This time, it's the Fisher-Price toys, the handy playthings that can help you build just about anything.
In 2020, the Fisher-Price Company was worth 658 million dollars against 889 million dollars in 2016. It ranked its lowest in 6 years (2015 – 2020) at 655 million dollars in 2019.
Apart from the nostalgia this article is about to give you; it'll also supply you with all the necessary information on the history of fisher price toys, identifying them, and determining their value.
Fisher-Price's Collections
Since its inception in the 1930s, Fisher-Price has created over 5000 varieties of toys. One of the most popular is the –Little People playset which includes figures of people and animals and objects such as farms, garages, cars, and buildings.
Most of these figures were initially created in wooden-peg style characters but soon moved to plastic moulds with intricate designed and detailed features.
Besides the Little People collection, other sets have also kept their name on people's lips over the years. They include Rescue Heroes, Chatter Telephone, Rock-a-Stack, View-Master, Power Wheels.
Other brands that have also marketed their toys under the Fisher-Price brand include Disney, Sesame Street, Dora The Explorer, and See 'n Say.
Sesame street was a variant of the little people's playset; it became one of the most popular sets and became the first licensed toy in the collection. The toy recreated sesame urban locations and had original characters like the show.
The sesame street line spanned for four years (1975-1979) and left lasting marks in the kids' hearts. Fisher-Price also released the clubhouse version of Sesame street in 1977, and it featured cool innovations like slides and moving sidewalks.
In 2008, the company acquired all the toy rights to Thomas and Friends franchise except the Wooden Rail Line. After Mattel bought the HIT ENTERTAINMENT COMPANY, which later became a sub-set of Fisher-Price in 2012, Thomas and Friend became Mattel's property.
With this move, toys from Mike the Knight and Bob the Builder franchise have been released under the Mattel stamp.
Recall Frenzy
Due to reports of hazards and injuries from some of the materials used to manufacture the toys, especially Lead-based paints, Fisher-Price took down almost a million toys, including Sesame Street and Dora the Explorer inspired toys, on August 2, 2012.
The Rock 'n Play sleepers set also felt the wave as Fisher-Price recalled all 4.7 million toys from this set on April 12, 2019. Before this move, the company had previously recalled 250,00 infant soothers.
New Fixes
Before the popular "peg" outlook of the Little People set with the extra clinched waistline was finalized in 1965, straight cylinders, square bodies, triangular shapes, and tear-drop-like people were used.
Due to a controversial book release in 1986 warning parents about the dangers of toys and a recall frenzy that emerged after that, the peg design was abruptly retired. However, it recorded a huge success as it ran from 1965- to the late 1980s.
The 10 Rarest Vintage Fisher Price Toys Around Today
The prices below are from verified online stores, antique websites, collector's lists, and other legit sources. Please note that these prices are prone to changes due to market demands and vendors' preferences.
| | | | |
| --- | --- | --- | --- |
| No. | Name | Release Date | Price |
| 1 | Little People Custom McDonald's | 1990 | $550.00 |
| 2 | Little People Play Family Castle | 1974 | $299.00 |
| 3 | Little People Play Family Garage | 1970 | $259.99 |
| 4 | Little People Family Sesame Street | 1975 | $200.00 |
| 5 | Little People Play Family Village | 1973 | $175.00 |
| 6 | Little People Play Family House | 1974 | $149.00 |
| 7 | Fisher-Price Family Circus Train | 1973 | $144.98 |
| 8 | Little People Play Family Farm | 1967 | $140.00 |
| 9 | Little People Play Family Camper | 1973 | $120.00 |
| 10 | Little People Airport Playset | 1973 | $87.18 |
1. Little People Custom McDonald's
Release Date: 1990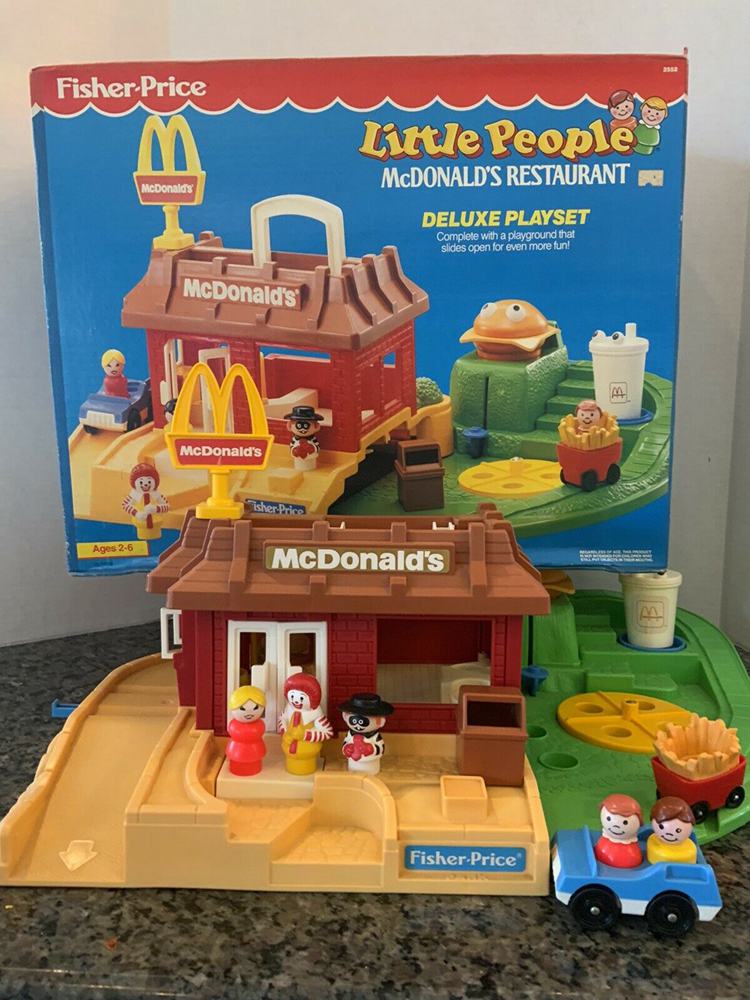 This set was inspired by the popular food chain, McDonald's. It features a real-life restaurant setting, including a parking lot and drive-thru section. The Little People Custom McDonald's limited-edition playset has 31 wooden characters, nine cars, characters from sesame street, and fast items menu.
2. Little People Play Family Castle
Release Date: 1974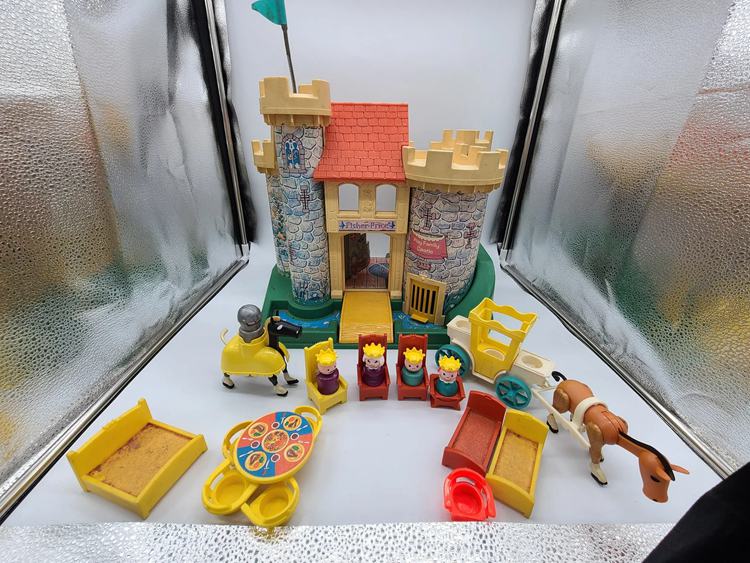 This set was manufactured for the first time by Fisher-price in the 1970s and it came with a handful of extra toys. It was a top choice for many collectors, the heaviest of all the fisher price, not to mention the most expensive to produce.
You'll find a pink dragon, king, queen, knight, prince, and princess seated on bright yellow chairs outside the castle with a red roof and a blue waving flag. The royal carriage with a brown horse sits at the side and is flanked on the right by a black horse.
3. Little People Family Garage
Release Date: 1970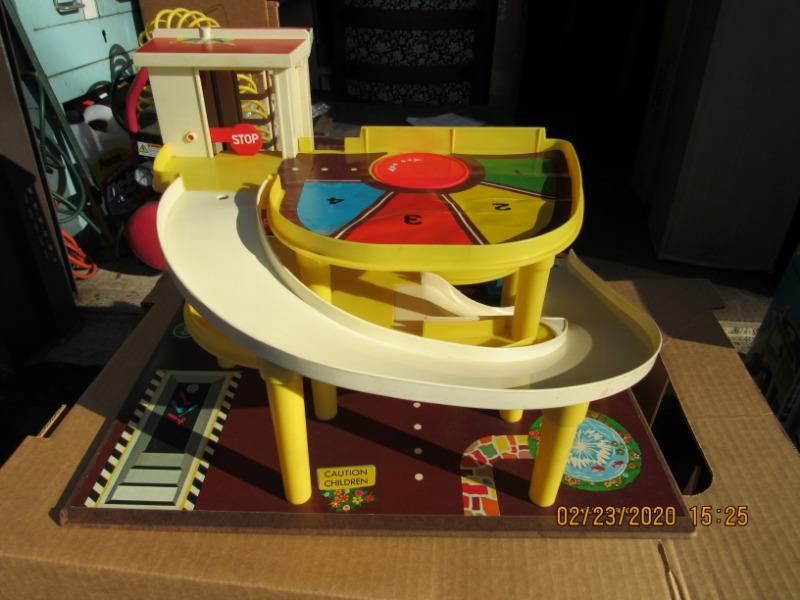 This toy set is classified as one of the first editions fisher price. The action garage is an original little people model with scanty accessories and characters- possible the scantiest of all the playsets. They include wooden people, an elevator, the garage itself, a red and white hose for fuel, and a big stop sign.
4. Little People Family Sesame Street
Release Date: 1975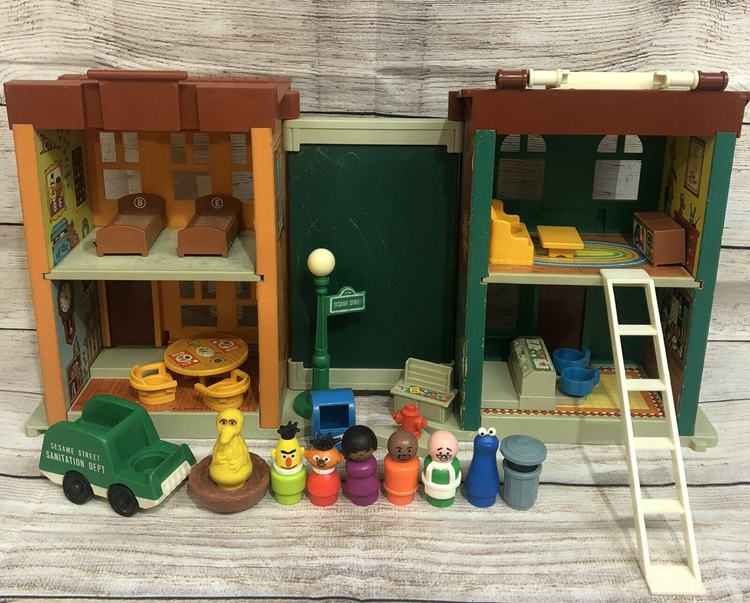 One of the two sets of sesame street playset that fisher-price released in the 1970s and the first all-plastic playset produced by Fisher-Price has interesting characters like Burt and Ernie, the cookie monster, big bird, Gordon, Oscar, Mr Hooper, and Susan.
5. Little People Play Family Village
Release Date: 1973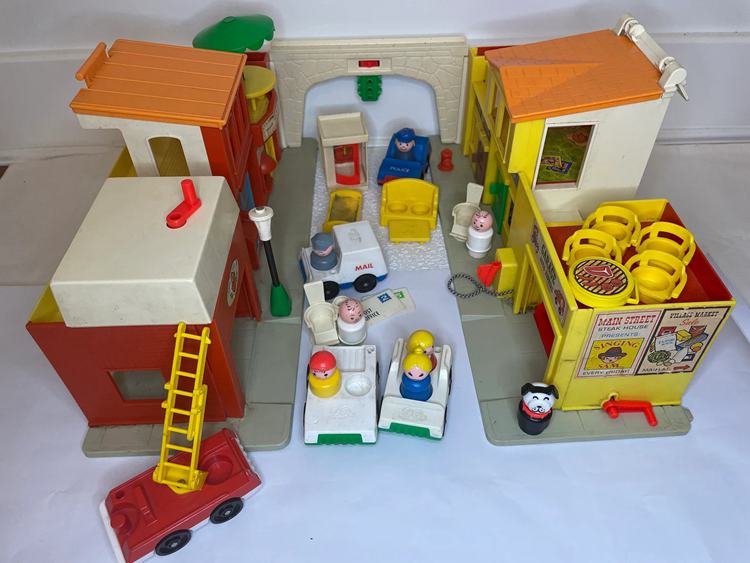 This set has more accessories than virtually any playset and was designed in 1973; it's the biggest play center ever designed for the little people playset. It depicted a busy scene with trucks, houses with brown roofs, and wooden people.
It includes a phone booth with an open and closed door, a barber, and a dentist chair with a yellow bed and a green foam.
Chances that you'll find these accessories complete, untouched, and original these days are very slim; hence they're one of the rarest finds.
6. Little People Play Family House
Release Date: 1974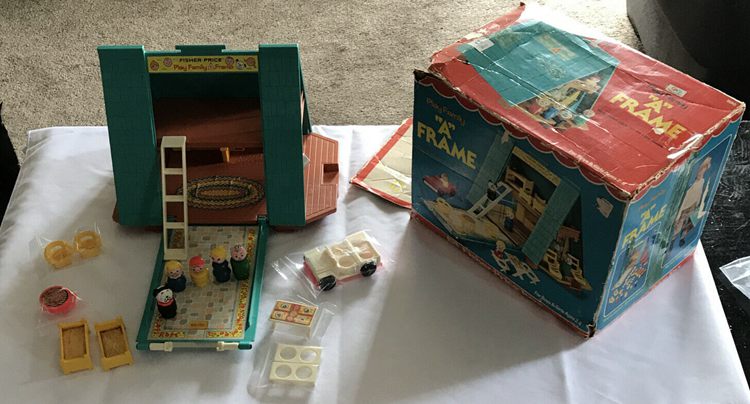 The play family house set is one of the longest-running little people features that attracted a new audience with its chunky forms and extra accessories. Over the years, color schemes for the furniture in the play family house set underwent various changes.
The 1973 set contains a brown and white traditional two-story building with brown plastic roofing and a wooden base. The house has four rooms, including a kitchen, a living room, and two bedrooms with a garage for the car.
There's a double bed in the house, two single beds, a dining table, four dining chairs, two living room sofas, and a coffee table. The set has a dad, a green bald figure, a mom with a blue body, and a yellow ponytail.
The family has two children, a blue-bodied girl with brown hair and an orange-coloured male character. The family dog is also in this $149.00 set.
7. Fisher-Price Family Circus Train
Release Date: 1973
Here we have a Fisher-Price 1973 beauty that features a train of circus troops; one of the three circus-inspired sets the company rolled out between 1973 and 1986 and recorded massive success amongst the young folk, hence its popularity and rarity.
It has the typical real-life circus characters, a bright blue elephant, an orange monkey with yellow highlights on the nose, ears, feet, and hands, a yellow and white giraffe, a yellow lion with a full black mane.
The ringmaster is dressed in a black tuxedo with a white shirt and a black circus hat. He's supported by three extra characters dressed in blue, orange, and a clown with red attire and yellow hat, respectively. Three green, yellow, and red trains are also in this $144.98 set.
8. Little People Play Family Farm
Release Date: 1967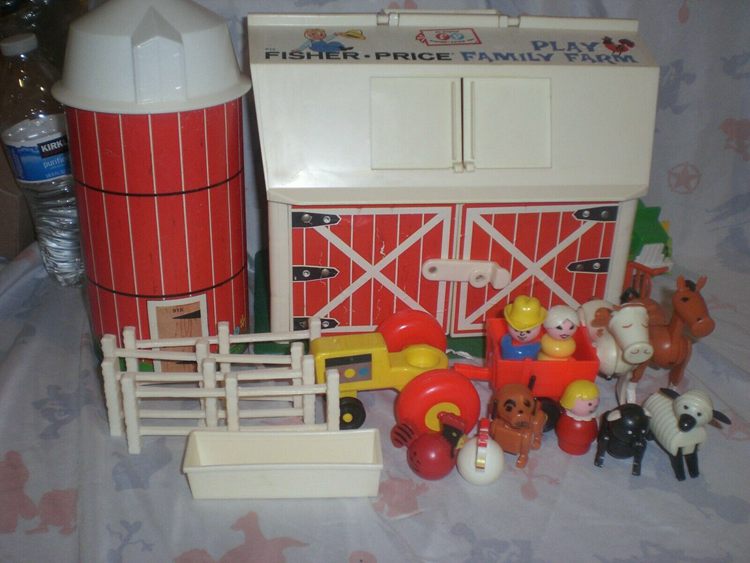 Tastefully designed for kids interested in farming and who love animals. The play family farm is the first-ever play and carries little people set; it's a packable building that allows you to gather all your playthings in a box and move.
This 1967 set features unique characters like the silo for storing grains and farm animals such as a horse, a cow, a chicken, a white sheep, and a black goat in a garden.
Four wooden characters work on the farm, including two engineers and two female figures.
9. Little People Play Family Camper
Release Date: 1973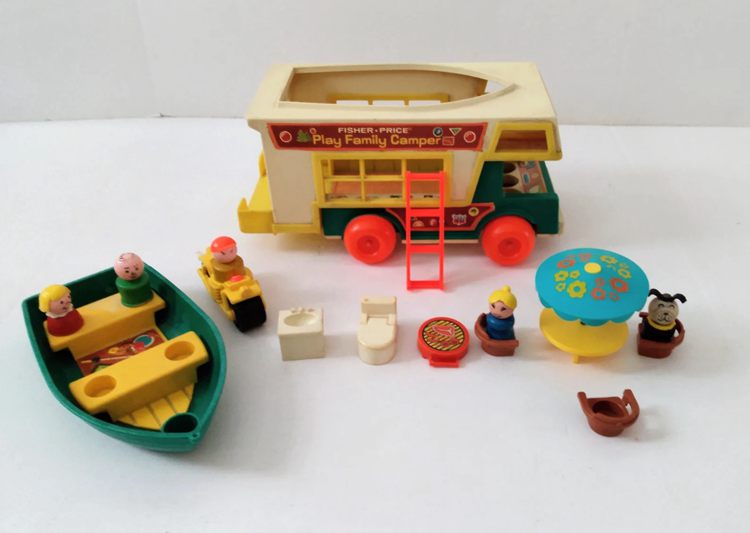 This set has five prominent characters, and it depicts a family holiday/ vacation setting. The whole family sits in a camper van with a burst of green, yellow and red colors with highlights of cream colors and makes a clicking noise when it rolls while the characters wobble in their seats.
A green male figure, possibly the dad, buys a treat for a blue-colored female figure with bold eyes and hair packed in a ponytail. They have two children, a red lady and a happy yellow boy with a freckled face and a red family dog with a red collar in a stroller.
10. Little People Airport Playset
Release Date: 1973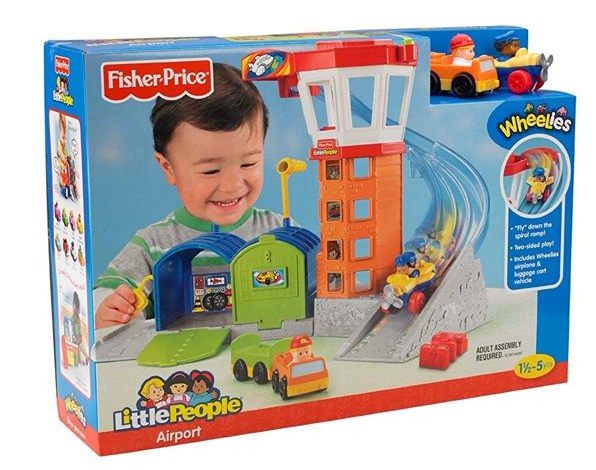 This year, the little people characters went on a trip abroad. The set features a rooftop helipad suitable for the family helicopter to take a landing and a plastic aeroplane with a wooden pilot character with a flexible neck that could turn from side to side for safety during flight.
You can press on the cloud and watch the plane fly around the room while making fun sounds when landing. Press down the cockpit for sounds and catchy phrases.
How to Identify Fisher-Price Toys
When it comes to identifying fisher price toys, here're a few things you must tick on your checklist.
Determine the Price Model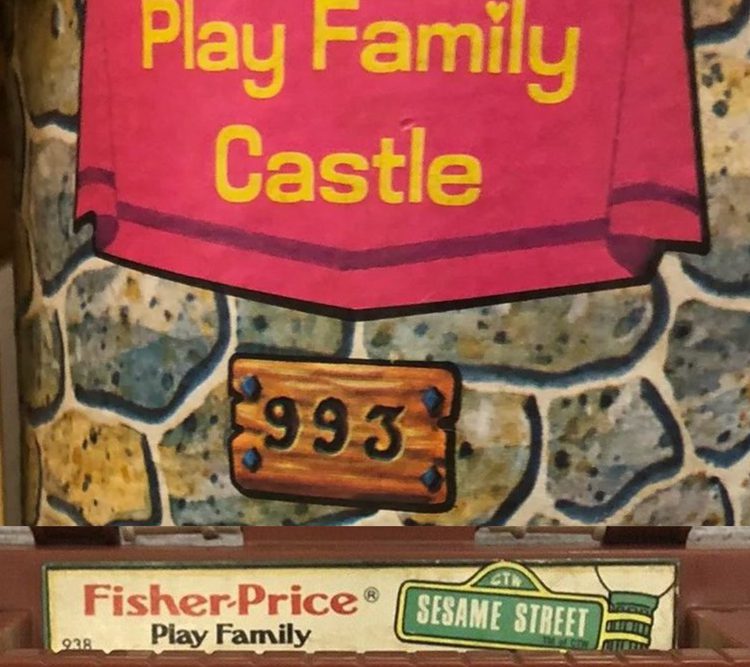 The first thing you should do on your quest to identify Fisher-Price toys is search for the model number. They're inscribed on the lithographic labels on the bodies of the toys or stamped on the bottoms.
Model numbers can be five numbers long. Once the model number is discovered, go to the TOYS BY MODEL NUMBER section and compare the number on your model with the model range in this section.
The "This Old Toy" have provided information about ALL toys and playsets made by Fisher-Price from their beginnings in 1931 up to 2000 (toy list by year).
Find the Age
To assess the age of your toy, check the date code of manufacture that the company began using in the early 70s. They are usually small letters and numbers inscribed at the back or bottom or back of the wood or plastic toys.
Through Their Shapes and Materials
For the 1950 toys and the most collectible (the little people), you can identify them by their round shapes and wood or plastic materials.
After 1990, the toys bore an entirely different appearance and texture. They got bigger and rounder and earned the nickname "Chunkies ."They were manufactured from cheap and light plastics.
In 1996, the toys were made of rubber-like plastic materials with unique shapes and faces, different from the previous ones. Unlike the earlier American versions, these sets were made out of cheaper and thinner plastic materials and made overseas.
Consult Online Guides, Websites and Lists
There're numerous guides on fisher toys online. These guides will aid you and ensure that you get accurate information about your toy, especially issues regarding the parts, colors, price, maker's mark, and even production year.
How to Determine the Value of Fisher-Price Toys
We've curated a detailed list of things you must do when determining the value of your Fisher-Price toys.
Consult an Appraiser
This should be your first point of call when looking for the true worth of your Fisher-Price toy. An appraiser will identify the model year and predict possible market prices due to years of experience to help you make the right decision.
Examine Their Condition
Examine your toys to ensure that no important part is missing. Look out for chips and cracks, wear and tear or faded colors. All of these and more determine the value of your toy. No one will pay a reasonable amount of money for incomplete toys.
Check for their Rarity
Retired toys, limited-edition versions, and models from early days are highly sought after by collectors and art buyers. Whenever you get to look through a pile of Fisher-Price toys, the old and rare ones should be your target.
By their Maker's Mark
Toys with their trademarks and company logo intact sell for more. The presence of these marks connotes authenticity and quality. Unless it's a really old toy in which the marks have cleared off due to years of wear and tear, always check for the maker's mark.
Beauty is in the eyes of the Beholder
Sometimes, the toy you have may look like it's of no value to you, and a buyer/ collector may have completely different opinions. So regardless of the year, model number, and style, always keep your collection close and safe. One day it just might get in the right hands and appreciate.
Online Auctions and Price Guides
Search auction sites that give you listings and a rundown of current and old prices. There are plenty of platforms for these purposes for you to compare and contrast prices and get general knowledge on possible future prices to help you sell your item correctly.
Fisher-Price Date Codes and their Meanings
These codes are indicated with the English alphabet. These letters indicate the production months. Check them out below.
A – January
B – February
C – March
D – April
E – May
H – June
K – July
M – August
P – September
S – October
T – November
X – December
Look for any of these letters above on your item with the numbers 0-9 (These numbers indicate the last digit of the production year of your toy); this will help you identify the precise year and month Fisher-Price made your toy.
However, this dating system does not apply to all years of production; for pre-1970 toys or products with missing date codes, there's almost no other way to determine the age of your item.
If Fisher-Price produced your toy during the period where the company changed marks on the bodies of the toys, or the company made another major change on the toys, then there's a way out for you to use this to date your toy.
Be observant of copyright dates and do not confuse them for production dates. They are preceded by the © symbol and are stamped next to the model number.

Copyright dates appear 1-2 years earlier than the year of production. For example (the #915 Farm toy has a copyright date of 1967 but was launched in 1968).
FAQs
What are Fisher-Price toys made of?
A. They were mostly made out of wood and plastic materials.
Why were some Fisher-Price toys recalled?
Due to hazards and accidents reported by users, parents, and stores about toys, the company recalled some sets off the shelves and stopped production.
What is the value of Fisher-Price company
As of 2020, the Fisher-Price Company was worth 658 million dollars.
What is the oldest Fisher-Price toy?
The first Fisher-Price toy ever sold was 'Dr. Doodle' in 1931.
Parting Words
Talk about little people but big fun; Fisher-Price toys are an integral part of the 90s kid childhood. It's okay to covet a few of these pieces on your shelf. We think you may need some extra tips for a seamless search.
Look out for reproduction and retouched versions. They reduce the value of your toy.
Copyright dates are different from manufacture dates; take note of this.
The little people's playset is one of the most popular collections of Fisher-Price toys. The chances are high that most of the toys you'll come across belong to the little people's playset.