Nostalgia can be a beautiful thing. For me, it transports me to my childhood and the excitement that the holidays bring. And if you're like me, one of your favorite parts about Christmas is "decorating".
Christmas is right around the corner and we're all looking for the perfect decor for this year. Vintage ceramic Christmas trees are the perfect vintage holiday decorations to add to your collection—especially if you want to create a vintage impact.
These kinds of Christmas trees are lovely and bright, they usually come in vibrant colors that really do make a statement! I've rounded up some of my favorite vintage ceramic Christmas tree ornaments.
History Of Ceramic Christmas Trees
Have you ever wondered where the history of ceramic Christmas trees began? If you're looking to buy one in 2020, then this blog post is for you. Let's dig into a brief history of ceramic Christmas trees!
According to TODAY, ceramic Christmas trees first became a trend in the late 1960s and early 1970s, but then largely fell out of style by the time the 1980s rolled around. Unlike today's lifelike artificial trees, vintage ceramic Christmas trees were simple affairs, usually depicting familiar shapes. They're also just plain pretty to look at.
The truth is if you have an old Christmas tree in your home, there's a high chance that it'll have more value than it did in the past. So, just you'd want to think again before you throw that gem away.
List Of Vintage Ceramic Christmas Trees
1. Porcelain Christmas Tree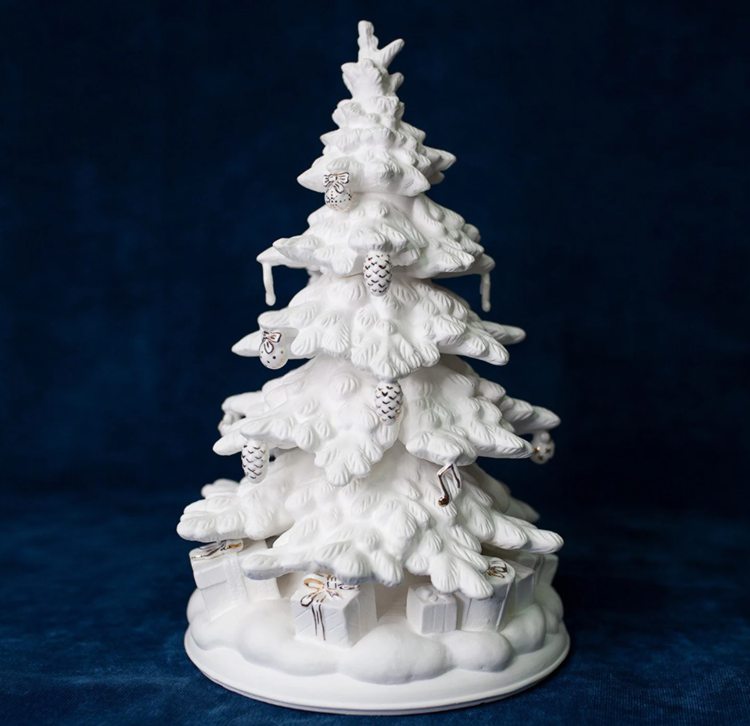 A Lovely bisque porcelain Christmas tree. Bisque is an unglazed and white ceramic ware that is hard-fired, non-porous, and translucent. The gift boxes placed at the bottom of this ceramic tree give it an amazing look. Source:Esty.com
2. Ceramic Light-up Christmas Tree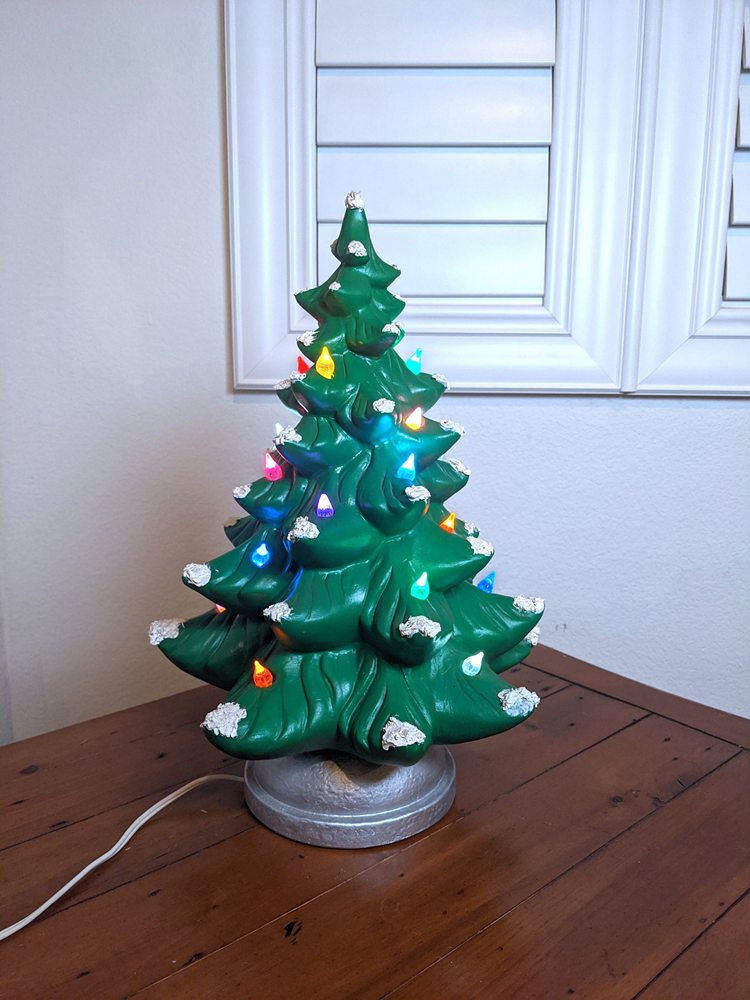 A green vintage ceramic Christmas Tree with different shades of lighting. Of course, this would need a power source to shine its pretty lights. The mere sight of this in your home would spark memories from back in the day!Source:Esty.com
3. Cactus Vintage Christmas Tree
A cactus vintage Christmas Tree inside a pot is something that'll most definitely catch the attention of your friends that come visiting. The lighting is simply amazing, I love how there are different colors of lighting.
4. Gold Vintage Christmas Tree
Remember the quote "all that glitters is not gold?" Well, that's not going to stop this vintage tree from shining. Here's a medium-sized vintage tree for Christmas with a gold finish! The lighted star on the top is the perfect final touch.
5. Icy Snow Vintage Christmas Tree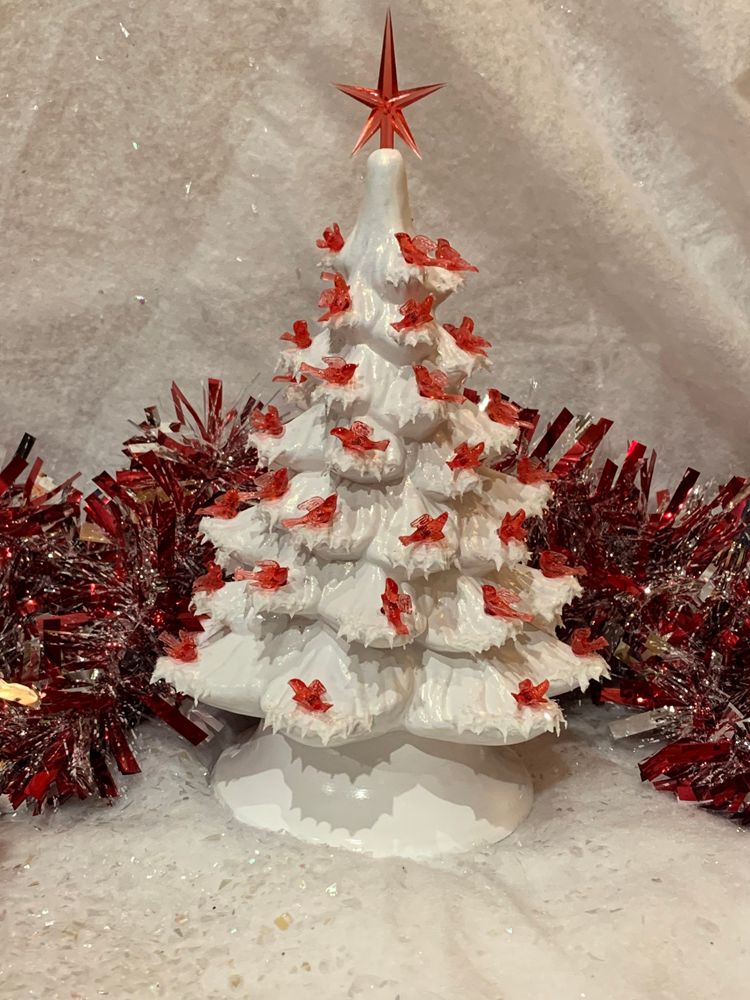 Dreaming of a white Christmas? Here's a Christmas tree originally from the 60s, it is purely white but has tiny red birds all around it. The red star at the top is my favorite part about this Christmas tree. Source:Esty.com
6. Large Ceramic Vintage Christmas Tree
A larger tree is ideal for people who have enough space in their homes. A tree like this can be substituted for a regular Christmas tree, especially if you have intentions of an all-vintage Christmas decoration. This tree is sturdy but has no star on top of it. The bulbs shine brightly but would require a power source.
See also: 27 Best Vintage Christmas Ornaments
7. 18″- Pink Christmas Décor
The Pink ceramic Christmas tree has been a popular nostalgic design since the 1980s. This lighted, vintage ceramic Christmas tree is hand-made from pink molded ceramic and has beautiful lights that make it look even better.
8. Sugar Cane Painted
Almost looks like an edible that can be devoured. However, it has been carefully hand-painted in sugar cane style. Lots of families owned this back in the day. It was nothing special back then, but everyone wants their hands on one of these now. Source: wayfair.com
9. Plain & Bold
It might not look like the brightest but families had lots of amazing moments with something like this around their homes. It is soft pink and cone-shaped with a snowy pattern. Leave it to me and I would have an amazing vintage ceramic tree for my Christmas village. Source: wayfair.com
10. Vintage Ceramic Christmas Tree
A classic Christmas tree endowed with different colors of light. Perfect for Christmas villages! Back in the day, not all Christmas trees would have a star above them. People didn't really care much about that, although having a star on top of yours just seemed like the right thing.Source: pinterest.com
11. Ready To Paint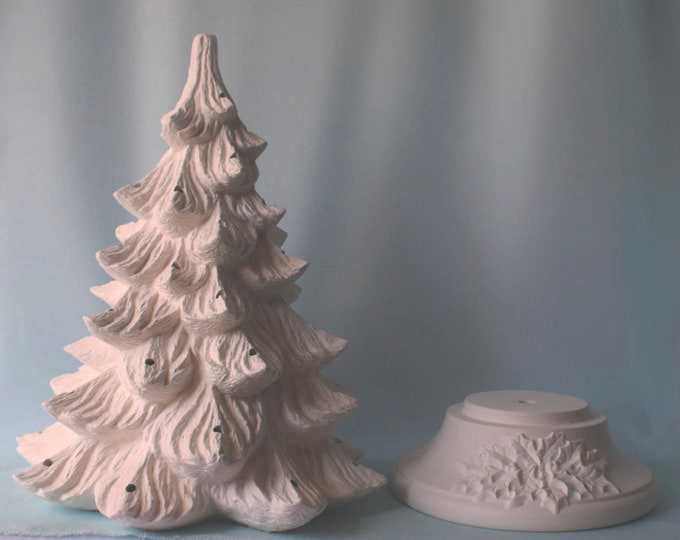 Ready-to-paint ones were not so popular back then, but I am sure some families came across them. For this, owners would have the opportunity to paint the ceramic trees to their satisfaction using the colors of Christmas. Source: awin1.com
See Also: 40 Best Vintage Christmas Decorations
12. White Ceramic Christmas Tree
Some ceramic vintage Christmas trees were hand painted and had gold trims which made them look expensive. You would usually find these in high-class families. The lights were usually of one color, unlike others where you would have different colors.
13. Ivory Tree
Back in the day, many collectors would craft their own vintage Christmas trees, so you would rarely see two stores that had trees that look alike. This one in particular has different color lighting, however, my favorite part is the gold lining around the tree which gives it a sort of prestigious look.
14. All White Mini
Not all vintage ceramic Christmas tree ornaments would light up. This one isn't an exception. It has a smooth finish and a few dots to look like lighting. During the day, this tree is literally the center of attraction. However, at lights out, it might not shine so bright.Source: crateandbarrel.com
15. Medium Sized Trees
Ceramic Vintage Christmas Trees usually came in 3 major sizes, mini, medium, and large. If you didn't already have a large Christmas tree at home, a medium-sized one would act the part. However, you would have to place it on an elevated surface. Usually, these trees come decorated so you do not have to do anything.Source: nytimes.com
16. Gold Gaze
This festive ceramic Christmas tree is covered in a gold glaze that's traditional enough to fit in with a classic red and green color scheme, but also fun enough to tie into a more modern holiday display.
17. Ceramic Tabletop Tree
If you're shopping for a pink Christmas tree, add this 10-inch rose gold ceramic tree to your list. The shiny pink tree is topped with a white star and covered in a collection of rainbow lights.
18. Peppermint Candy Color
What's there not to love about this awesome ceramic Christmas tree. It displays the colors of Christmas in a very unique and creative way. Someone help! I am in love with this amazing craft!Source: texashillcountryceramics.com
19. Ceramic Tea Light Christmas Tree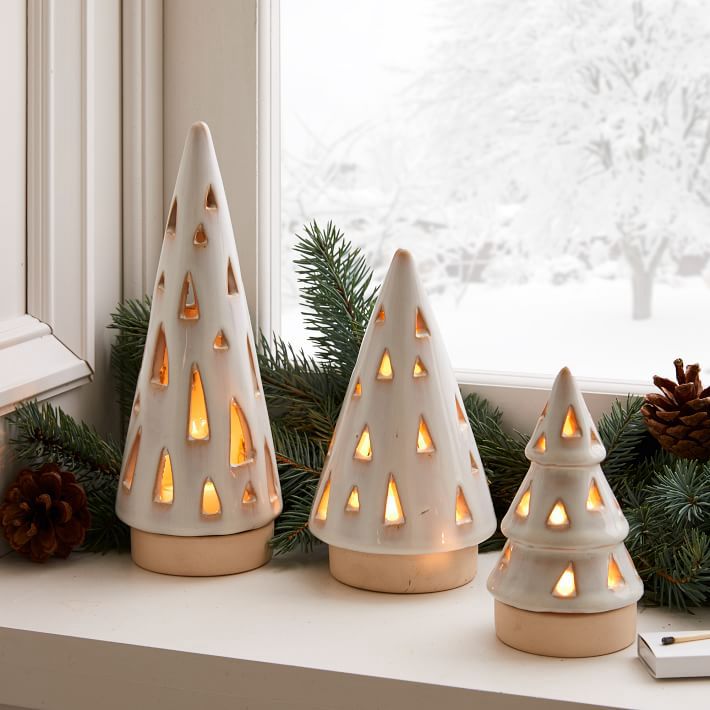 These aren't how ceramic Christmas trees looked like in the past, but there are still amazing works of art. The light you see is emitted from little tea lights within. Do you love it? Me too!Source: westelm.com
20. Halloween Ceramic Tree
This is just fun to look at, especially if you are a fan of vintage Halloween decorations. This tree isn't vintage, the craft was only inspired by a vintage Christmas tree from yesteryear. However, I think this is an amazing idea.
21. White Pearlized Glaze Blue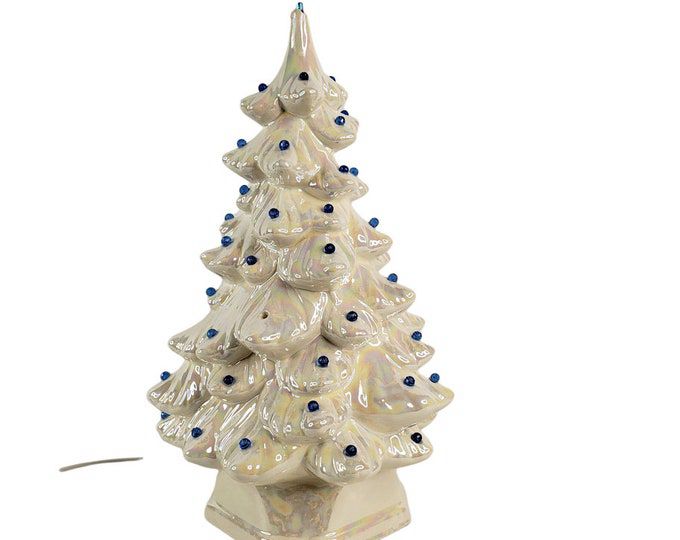 The use of blue lights on this ceramic tree makes it stand out amongst others. It also lacks a star at the top but as I said, this didn't really matter back in the day. People would still use this for decoration with or without the star topping.Source: Etsy.com
22. All White
In the 60s and 70s, all-white Christmas ceramic trees had already stormed markets. I feel like having a combination of white and the regular color would be an amazing combo for your Christmas village.
23. Santa Claus Ceramic Christmas Tree
This wasn't available until modern times, however, the concept is gotten from the old days. A classic combination of Santa Claus and a ceramic vintage Christmas tree.
24. Hand Painted
Here's a hand-painted ceramic Christmas tree from the old days! Some artists paid rapt attention to detail when making theirs. This one has unique lines and shapes that'll make you feel merry!
Conclusion
Do you have a ceramic Christmas tree at home? Well, it could cost a fortune! You could sell it up to 5 times the price it was. The choice is yours, use it for your next Christmas decor, or sell it and make some extra cash.
Thanks for stopping by, I hope you enjoyed reading this article as much as I loved writing it for you. Just before you leave, help us share it with your friends and family that are classic Christmas decor lovers.