While Depression glass continues to be wildly popular among collectors, other types of glass have also retained their high demand throughout the years. Uranium glass, for example, has maintained its "hot commodity" status in the 21st century.
Typically seen in the form of Victorian-style candlesticks, plates, pitchers, and bowls, Uranium glass is distinguished by its radiant green or yellow-green hue. Depending on the room the uranium glass inhabits, it can give the surfer-dude modern or coolly classic effect.
To new glassware collectors, uranium glass is a mystery that has to be solved. Most new collectors want to understand the history surrounding uranium glass, its safety, how to identify the glass, and more. In this detailed guide, we will answer all the questions surrounding Uranium glass.
What Exactly is Uranium Glass?
Uranium glass is a type of glass that has uranium dioxide in it. During the manufacture of uranium glass, uranium dioxide is added to the glass mixture right before melting.
The proportion in which the uranium dioxide is added to the glass mix sits between trace levels and 2% uranium by weight. Uranium dioxide gives the glass a color that ranges from yellow to green.
Several subtypes of uranium glass exist depending on the color: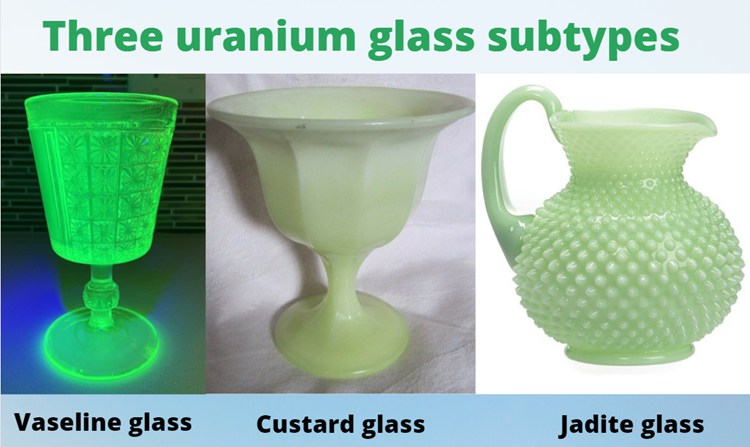 Vaseline glass– This subtype is yellowish-green. The yellowish-green color led to the nickname "Vaseline glass" in the 1930s because it resembled the petroleum jelly produced by the Vaseline brand.
Custard glass– This subtype is semi-opaque or opaque pale yellow.
Jadite glass– This glass is semi-opaque or opaque pale green. Originally trademarked as Jadite, this subtype was later corrected to "Jadeite."
History of Uranium Glass
Uranium was first identified by Martin Klaproth in 1789. Soon after, uranium found its way to glass manufacture because of its decorative and fluorescent effect.
The addition of uranium dioxide to glass became popular in the 1830s with the interest in uranium glass booming around the 1880s. The London-based Whitefriars Glass Company was one of the first companies to market uranium glass.
Other manufacturers that produced uranium glass included:
Adams & Company
Baccarat & Cambridge Glass Company
Steuben Glass
In the early days, uranium glass was used as a raw material in the manufacture of household items and tableware. However, its use dropped when uranium availability was limited by the Cold War in the years running from the 1940s to the 1990s.
Is Uranium Glass Safe?
Because of the uranium in it, most people often wonder whether uranium glass is dangerous. If it is used properly, uranium glass is safe to have in any home. Below, however, we will look at several safety facts related to uranium glass:
Uranium Glass is Radioactive
Environmental Protection Agency reports that uranium glass is one of the few antiques considered radioactive. While the uranium dioxide used in the glass is vital for the color and appearance, it also makes the uranium glass slightly radioactive.
It is, however, worth noting that the level of radioactivity in uranium glass is very low. This means that it does not have negative health impacts when handled correctly.
Uranium Glass is Considered Safer Than Household Electronics
According to a report published in 2001 by the U.S. Nuclear Regulation Commission, uranium glass was considered to be safer than everyday electronic items. The report indicated that you are likely to be exposed to higher levels of radiation from household electronics than from uranium glass.
Eating and Drinking from Uranium Glass is Not Recommended
Even though the levels of radiation in uranium glass are low, the Environmental Protection Agency advises people to avoid drinking or eating out of items made with the material. This is because one can ingest small fragments or chips of radioactive material.
How to Identify Uranium Glass
The easiest way to identify uranium glass is by checking its color and determining whether it glows under black light. Uranium glass generally glows green under the backlight.
Below, we will look at some additional tips you can use to identify true uranium glass:
Glow– When placed under fluorescent or ultraviolet light, uranium glass should display a bright green glow.
Color– The color of uranium glass ranges from greenish-yellow to bright yellow.
Texture– Uranium glass features a translucent and oily appearance.
Type– Uranium glass was largely used in the manufacture of specific types of items. These included antique bottles, figurines, jewelry, chandeliers, vases, mugs, pitchers, and dishware.
Year of manufacture– Traditional uranium glass manufacture started in the 1800s and reached its peak in the 1880s. For this reason, antique glassware with a date stamped on them – that is, between 1850 and 1880 – are generally genuine uranium glass pieces.
10 Most Valuable Uranium Glass Pieces
| | | |
| --- | --- | --- |
| No. | Uranium Glass | Cost |
| 1. | Chinese Perking Uranium Glass | $10,000 |
| 2. | Uranium White Wine Glass Set | $4,900 |
| 3. | French Cameo Uranium Glass Vase | $4,763 |
| 4. | Colonial America Uranium Flight Glass Vase | $4,500 |
| 5. | Bohemian Uranium Glass Bomboniere | $3,600 |
| 6. | Uranium Murano Glass Bull | $2,990 |
| 7. | Neon Uranium Fish Bowl | $2,200 |
| 8. | Uranium Candle Chandelier | $2,023.42 |
| 9. | Uranium Flower Form Vase | $2,000 |
| 10. | Sommerso Uranium Murano Glass Animal | $1,116 |
1. Chinese Perking Uranium Glass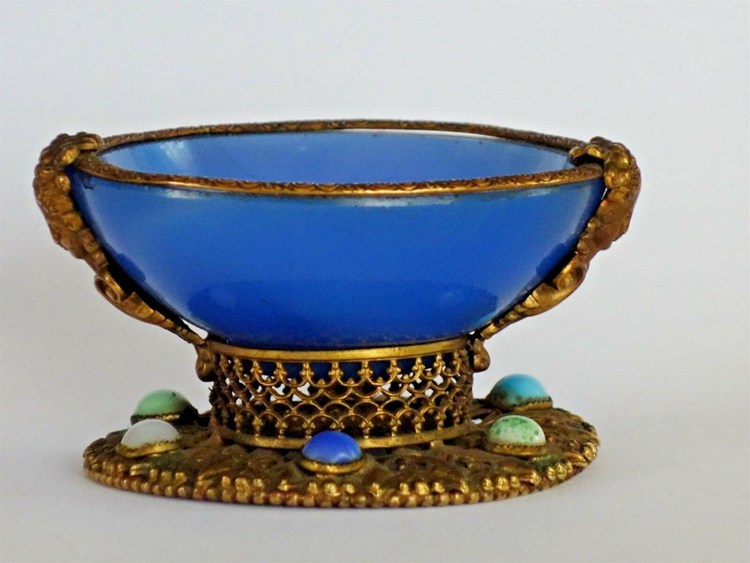 Produced before the beginning of the 19th century, this Chinese Perking Uranium Glass is one of the few antique pieces over 200 years old. According to the seller, the uranium glassware originated from China although it may have some roots in France.
The antique piece features a blue/green color and has some Chinese-themed bronze decorations on its base, one of its sides, and the top. Currently listed on eBay, the uranium glass piece is selling at $10,000.
2. Uranium White Wine Glass Set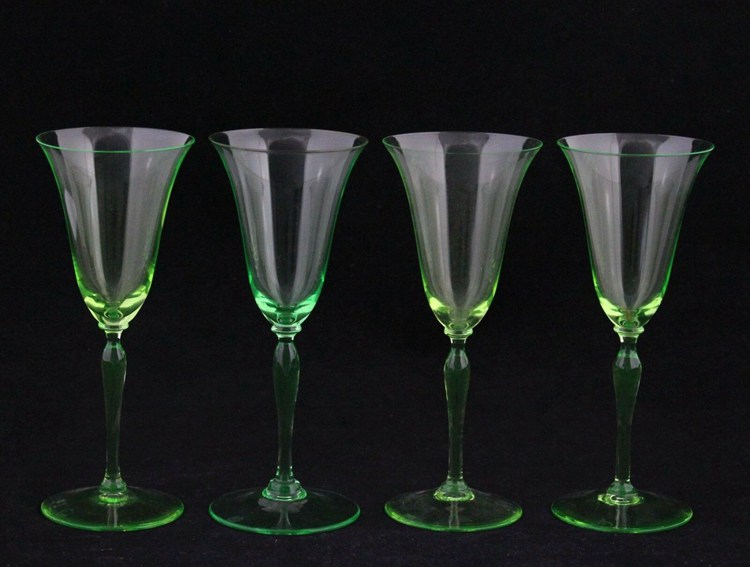 Dating back to between 1920 and 1949, this Uranium White Wine Glass Set carries 20 white wine glass pieces. Manufactured in the Netherlands, the set utilizes the Art Deco style and has a stemmed design.
Produced by the Glasfabriek Leerdam brand, the white wine glasses are green and have a height of 7.3 inches. The handmade wine glasses are still in good shape and have no signs of wear or tear. Currently, on sale on eBay, the wine glass set has a price of $4,900.
3. French Cameo Uranium Glass Vase
Produced by the Emile Galle brand, this French Cameo Uranium Glass Vase was produced between 1850 and 1899. Utilizing the hand-blown technique, the uranium glass vase features a ribbed twist form and has an acid-cut background.
The glass is beautifully decorated with cameo-cut butterflies and blackberries and is finished with a gilt rim. The super cameo glass vase features a polished pontil and is signed 'Emile Galle De Nanc."
Aside from some minor wear on its rim, the vase is in good condition. The vase is currently selling at $4,763.21 on eBay.
4. Colonial America Uranium Flight Glass Vase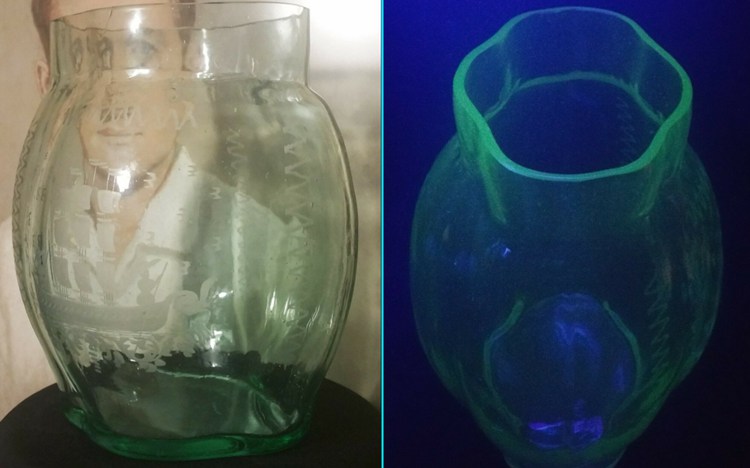 Dating back to between 1729 and 1785, this Colonial America Uranium Flight Glass Vase is considered one of the works of Henry William Stiegel. The glass vase resembles a fishbowl and has a ground rim, no bottom pontil, and is 8.5 inches tall.
The uranium glass piece is green in color and utilized the mold-blowing manufacture method. Currently listed on eBay, the glass vase currently has a price tag of $4,500 attached to it.
5. Bohemian Uranium Glass Bomboniere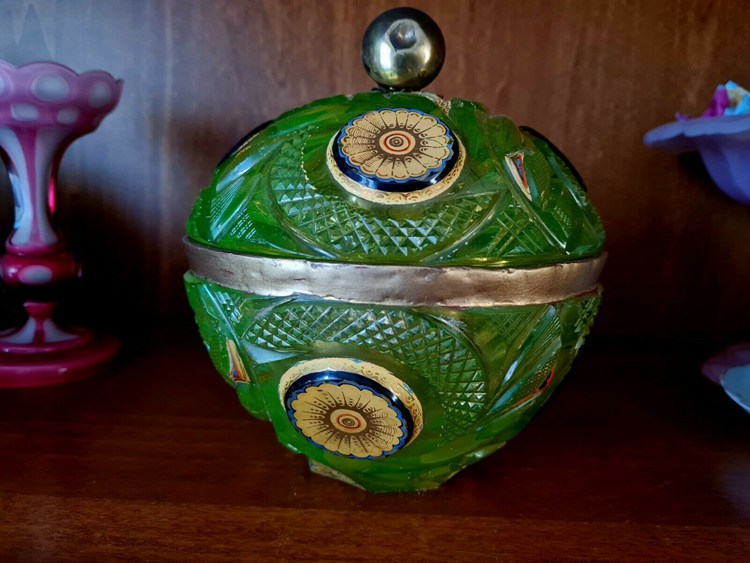 Utilizing the Bohemian theme in its manufacture, this Bohemian Uranium Glass Bomboniere dates back to between 1860 and 1880. The European glass piece was produced for the Ottoman market.
Despite being over 150 years old, this piece of antique glassware is still in ideal condition. Currently, on sale on eBay, the antique Bohemian uranium glass is selling at $3,600.
6. Uranium Murano Glass Bull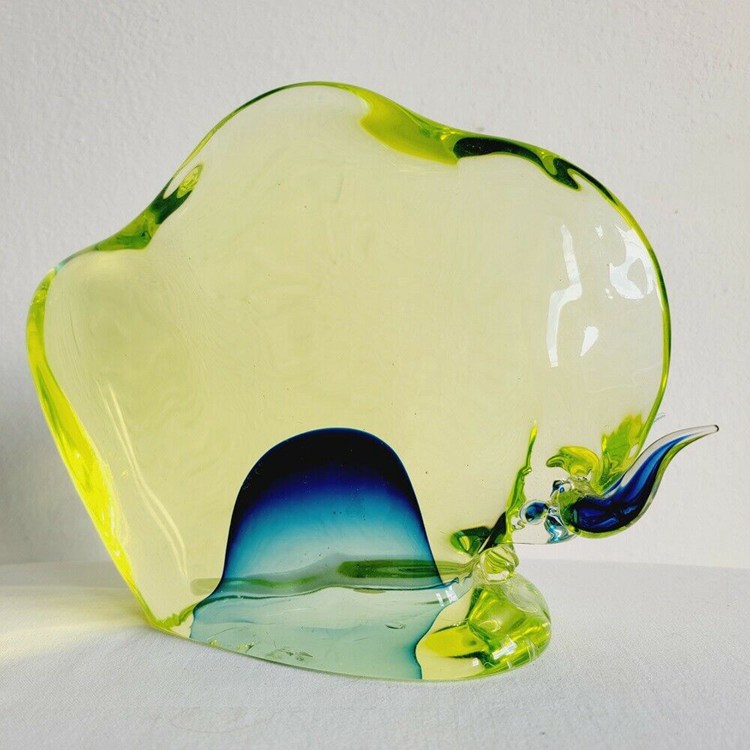 A mid-century piece, this Uranium Murano Glass Bull was produced in Italy by the Cenedese brand. Utilizing the Sommerso manufacturing technique, the sculpture was manufactured in the 1970s.
The piece is reportedly in good condition and does not have signs of wear and tear. The seller, however, notes that the bull has some "lenses" at the bottom – these, however, do not affect the overall appearance or the integrity of the piece.
This Uranium Murano Glass Bull is currently on sale on eBay and has a price of $2,990.
7. Neon Uranium Fish Bowl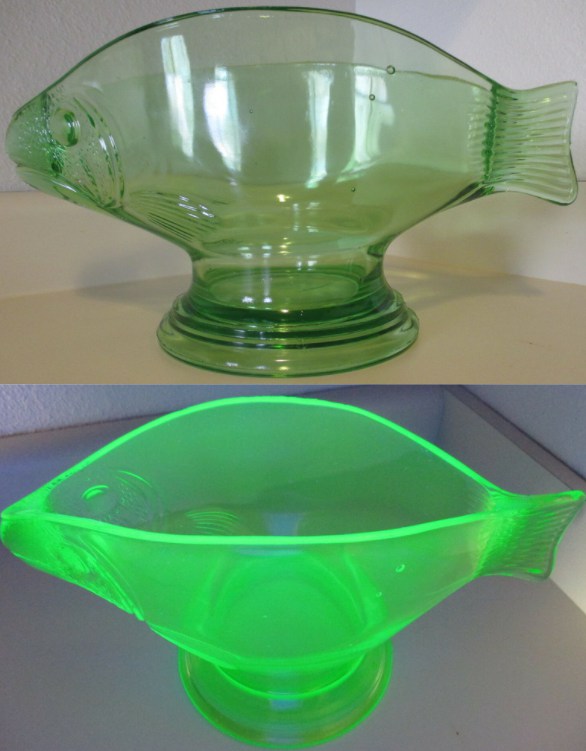 Produced by L.E. Smith, this Neon Uranium Fish Bowl dates back to the early 1920s. The large 15-inch fishbowl was designed to resemble a fish.
Manufactured with uranium glass, the fishbowl glows under blacklight, displaying an attractive green color. Boasting both excellent design and appearance, this fishbowl is currently listed on eBay and is selling at $2,200.
8. Uranium Candle Chandelier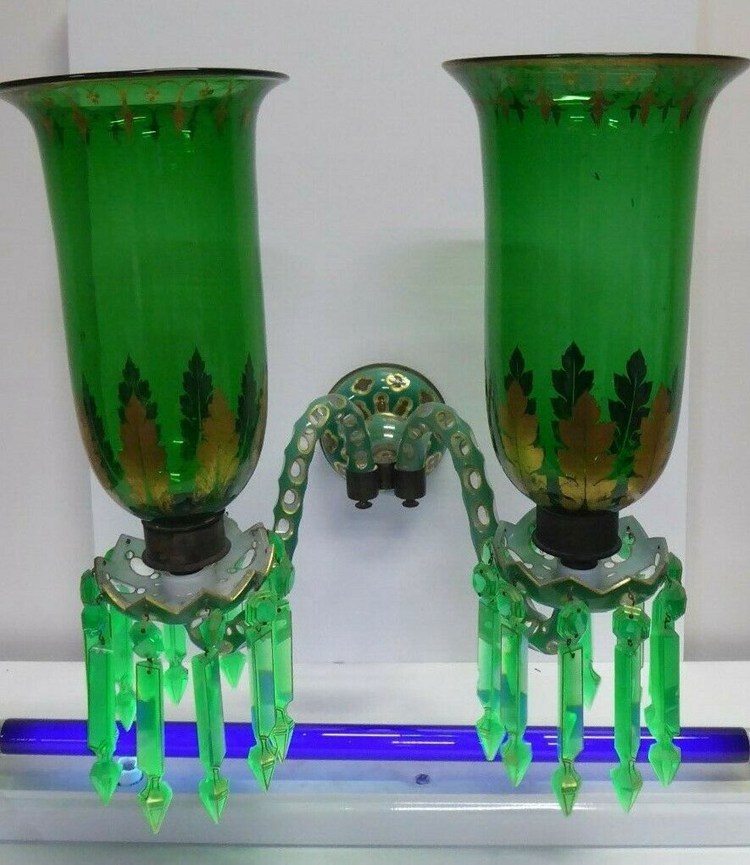 A perfect way to light up the house, this Uranium Candle Chandelier boasts the antique Victorian design and has uranium gold-painted drop lusters. The candle chandelier is 45 cm high, 42 cm deep, and 45 cm wide.
The seller reports that the chandelier is in excellent condition for its age. The chandelier is listed on eBay – to take this home, you will need to pay $2,023.42.
9. Uranium Flower Form Vase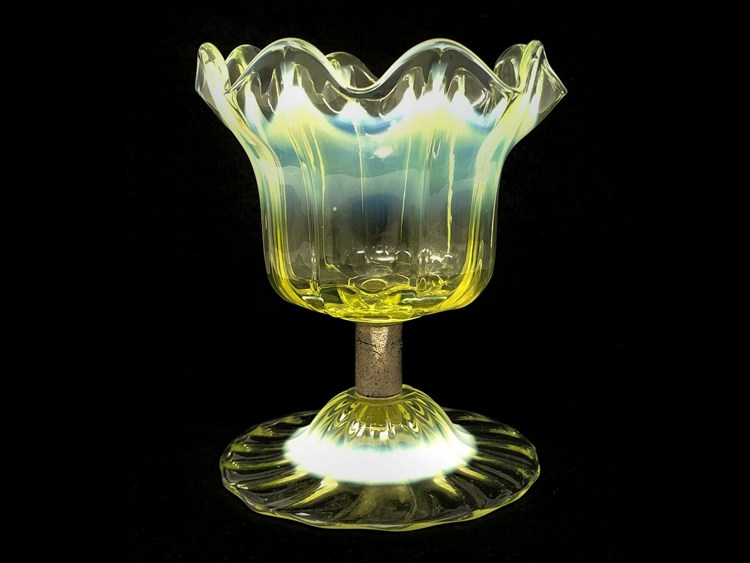 Produced between the years 1906 and 1935, this Uranium Flower Form Vase is a Thomas Webb & Sons production. The vase is designed to imitate the appearance of a flower. Carrying uranium dioxide in its material, the glassware has a green appearance when observed under blacklight.
Despite dating back to the first half of the 20th century, the vase only has some minor signs of wear. The vase is currently selling at $2,000 on eBay.
10. Sommerso Uranium Murano Glass Animal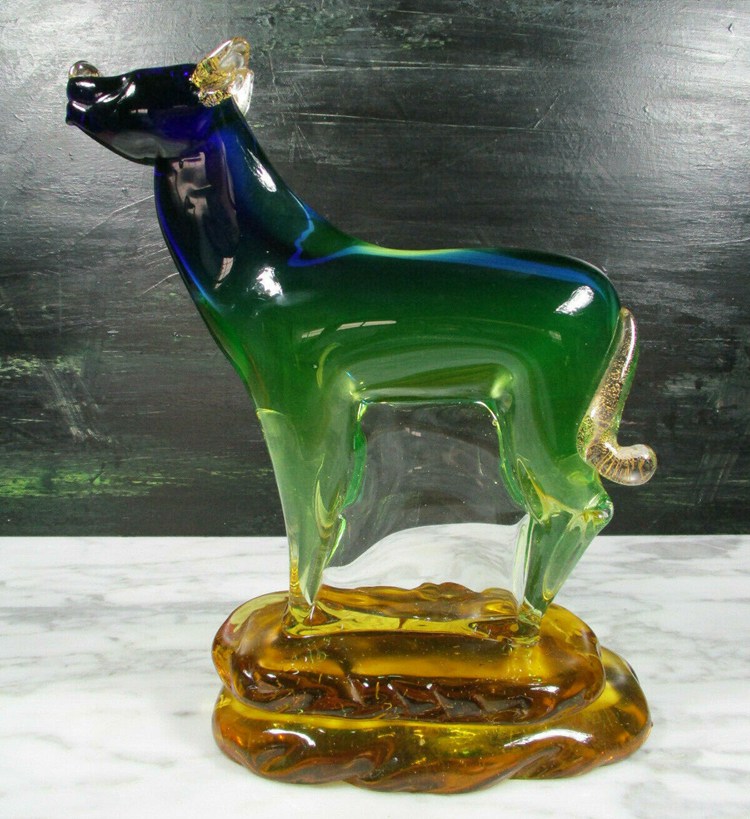 The only uranium glassware on this list under $2,000, this Sommerso Uranium Murano Glass Animal is currently selling at $1,116 on eBay. Originating from Venice in Italy, this piece utilizes the Sommerso glassmaking technique and is molded into an animal that resembles a horse.
The piece utilizes a variety of materials, including thick uranium, amber, and blue glass, along with applied clear glass. The animal also has 24K gold flecks.
According to the seller, the piece is signed at the bottom and has its original paper sticker. The piece of uranium glassware is large, featuring a length of 9.75 inches, a height of 11.125 inches, and a width of 5 inches.
How To Identify Uranium Glass
How Much is My Uranium Glass Worth – Uranium Glass Value Guide
The value of Uranium glass pieces is affected by 4 main factors – these include:
1. Rarity
The rarity of a Uranium glass piece features a great impact on the piece's overall value. A uranium glass piece that is extremely common can cost under $100. On the other hand, a rare uranium glass piece can set you back $10,000+.
2. Condition
The condition and rarity of uranium glass pieces are generally interrelated. In most cases, the condition of the uranium glass will affect its value regardless of how rare the piece is.
For example, a uranium glass piece that is very rare but is in extremely poor condition may be less valuable than a common uranium glass that is in good condition.
3. Demand or Desirability
If many people want a specific uranium glass piece, its price increases. A uranium piece that does not appeal to many people will always have a lower value.
4. Provenance
History of ownership – also known as provenance – can add monetary value to a uranium glass piece. This is often the case for uranium glassware previously owned by famous individuals. The presence of the previous owner's initials on the uranium glass also tends to give the piece a higher price.
Conclusion
For a large number of glass collectors, the main color that matters to them is the greenish-yellow color. This color is put on the glassware by uranium dioxide, which rightfully gives the pieces the name uranium glass.
While the fact that uranium glass has uranium dioxide in it could make someone think the glassware is unsafe, uranium glass is safe to have in the house. The radiation generated by the glass is so low that it does not have negative health impacts.
This detailed guide takes a deeper look at uranium glass. Helping you understand the history, value, and even the different types of uranium glass, we hope this article answers all your questions. However, if you feel there is something we have missed in this guide, do not hesitate to let us know in the comment section.