Being a sports enthusiast, I have always loved to collect sports memorabilia. Everything from jerseys to sports cards has always attracted me. I am emotionally attached to these memories. Also, finding things with the signatures of my all-time favorite players always makes me happy.
Collecting sports items that are unique is something to be proud of. Also, the designs of the different products reflect the beauty of their craftsmanship, evoking the feeling of nostalgia.
Nevertheless, sports memorabilia is not only a great collectible item, but it can have a lot of worth. It is like an investment that multiplies with time. However, identifying and knowing its correct price is not easy. You can also see fake sports memorabilia on the market.
In addition, some factors determine the value of any sports memorabilia item. Therefore, before purchasing them, you must know every detail about them. Reading this guide will quickly identify any sports memorabilia and learn its value.
Sports Memorabilia – A Brief History:
Collecting sports memorabilia is not something new. It is expected to be as old as when the sports started. However, men from the Edwardian and Victorian eras began to collect these sports items in England. Also, most of the modern games originated during the 19th century in England. That was the first-time players played numerous games formally.
Moreover, during the time of Victorian and Edwardian, many artists started drawing, prints, and painting related to sports. Most of those have become well-known artists in the world. In addition, many writers wrote sporting books for the first time. The writers discussed field sports, boxing, horse racing, fishing, and golf in those books.
Consequently, new sports technology, including golf clubs, cricket bats, tennis racquets, fishing rods and reels, and sportswear, was also introduced in England. These things became some of the most valuable sports memorabilia.
Furthermore, in the early 20th century, people started to find and collect baseballs. Also, they used to ask one of the most famous American baseball players, George Herman Babe Ruth Jr., for an autograph on those baseballs.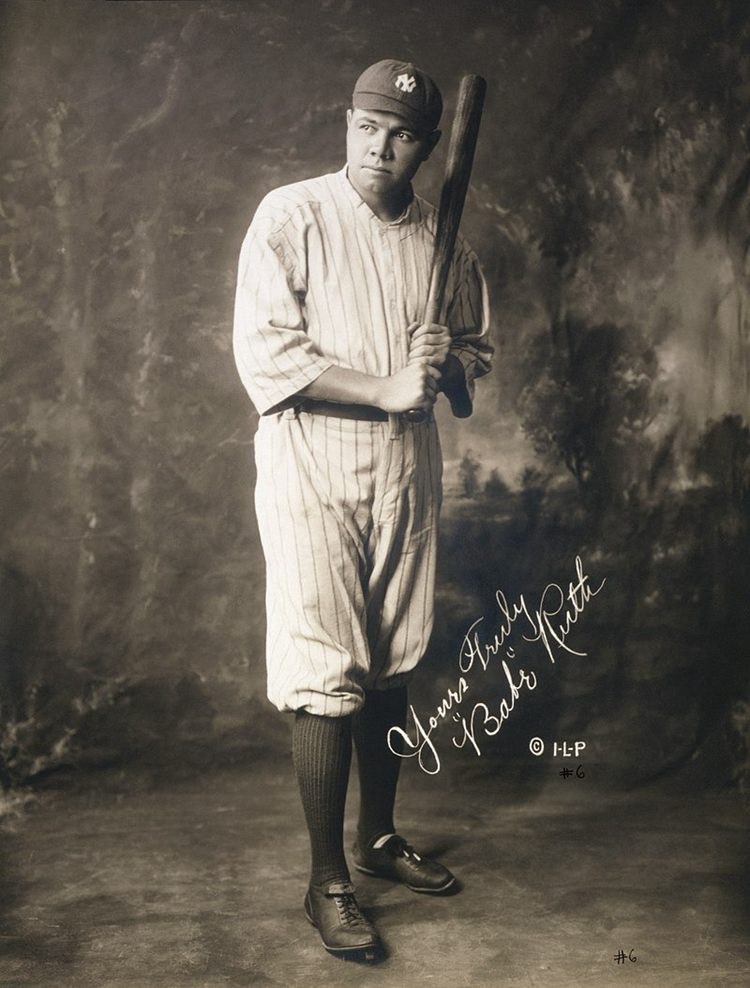 With time, numerous other sports fans started to carry out the same practice. As the number of players increased, sports memorabilia items also grew. Besides, people gained an interest in sports collectibles. Some were passionate about their ideals, and others knew the value of those items.
Around the 1980s, when the National Football League, Major League Baseball, National Hockey League, and National Basketball Association began to market their jerseys in stores, players-used jerseys became one of the most popular sports memorabilia. Many people collected those jerseys as unique items.
One of the National Basketball players, Dennis Rodman, was known for throwing his jersey at the people in the stadium after the games. Another player whose memorabilia were most desired by the collectors is Michael Jordan.
Since then, people have been collecting different sports memorabilia, and its value has increased with time.
Sports Memorabilia Identification:
If you are a sports enthusiast and have an interest in collecting sports memorabilia, you might think that collectors claiming that they have authentic sports memorabilia must be correct. However, this is not true. As there is a huge demand for sports memorabilia, many people who want to start a business out of it began to sell fake sports memorabilia.
Nevertheless, some fake items are easy to identify, but others are not. Therefore, you should know how you can recognize original sports memorabilia. In this section, we have combined all the relevant information to help you identify authentic sports memorabilia.
One cannot count the types of sports memorabilia, as fans love to collect everything of their sports ideal. Therefore, sports memorabilia is endless, ranging from types of equipment to jerseys to pens. Everything is precious to the collector if he or she is passionate about the particular sports and player.
However, if the thing is from a limited-edition collection and is related to a famous player, it will be valuable. Also, there are some popular types of sports memorabilia. If the item falls into that category, it can be worth a hundred or a thousand dollars. Therefore, it is crucial to separate the valuable sports memorabilia from the less valuable ones.
The following are the most common types of sports memorabilia:
Trading Cards:
Trading cards became extremely popular in the mid-20thcentury. The trading cards of players from baseball were the most sought after by the collectors. In addition, football and basketball also introduced numerous seasonal cards.
Basketball cards, in which players such as Mickey Mantle and Ty Cobb were featured, were the most authentic trading cards. Furthermore, they were also high-valued. Therefore, they were mostly limited editions. Due to this reason, it was easier to identify them.
Additionally, they were sold at auction. Therefore, it is easier to know cards' authenticity by knowing who is selling them.
Player's Jerseys:
Another piece of sports memorabilia that every sports fan loves is player jerseys. It is one of the most common items a sports memorabilia collector desires, as it is closely associated with the player. Usually, many companies and factories manufacture fake copies of players' jerseys, but some people might tell you that they are authentic.
Nevertheless, you might only be able to find jerseys of well-known players worn on their winning day in an auction. They are worth more than a thousand dollars. Therefore, you can not find them easily. Also, there will only be specific pieces. Thus, it is easy to identify the fake one.
In addition, the condition of that jersey will also not be new, as it has already been used by the player himself. With this, you can differentiate between the authentic and the fake ones.
Olympics Memorabilia:
Another well-known collectible item is Olympics memorabilia. The Olympics are one of those sports in which almost every country has participated. It is one of the famous sports that every sports lover watches. Due to its popularity, this sporting event provides numerous clothes and sports memorabilia all over the world, making them the most valuable items.
Nevertheless, the items from the Olympics are numerous. Therefore, it can be hard to identify the real one. Before purchasing them, make sure to check the authenticity of the place from where you are buying them.
Other than these, autographed items, such as sports balls, baseball bats, and football helmets, are also popular sports memorabilia.
Identify Using Photo Matching Technique:
The most commonly used method to identify the authenticity of sports memorabilia is the photo matching method. Also, collectors use this technique to recognize players' jerseys and shoes. This method involves matching the pictures of shoes or jerseys worn by the players in the game.
This technique is crucial to identifying the rarest types of sports memorabilia, as it spots the original item worn by the player at the time of the particular game. Experts usually conduct this type of research to identify the exact event, which is crucial to determining its value.
Identify the Signature:
Many pieces of sports memorabilia contain players' signatures on them, which makes them more valuable to collectors. However, not every item has the authentic signature of the player, which makes it different from the original one.
Nevertheless, it can be troublesome to differentiate between the original autograph and a fake one. To distinguish between them, you should learn how factories put fake signatures on sports items. Two of the common ways to forgeries are as under:
Rubber Stamps:
Rubber stamp signatures are easy to identify. While seeing sports memorabilia with a rubber stamp signature, you will notice that the ink is not evenly distributed. On the other hand, you can see a brush stroke effect with a signature made using a pen.
Preprints:
Another type of forgery is done by using the preprint method. Nevertheless, these autographs are also easy to deduce. The preprinted signatures appear flat on the photo.
Sports Memorabilia Value and Price Guide:
Once you have identified authentic sports memorabilia, the next step is to know its value. Determining the sports memorabilia value is not easy, as there are various factors one should look at before purchasing the item. In this section, we have discussed everything in detail so that you can have a clear idea of whether or not sports memorabilia is valuable.
Item:
The item on which the player has given his autograph matters to determine its value. Especially if the collector is finding a unique piece with a player's signature, for instance, if the autograph is on an item used in a game or a rare trading card will have more value than an autograph on a piece of paper.
In addition, if you find any special item of the player with his autograph, such as a jersey, game ball, shoe, or glove, it will be more precious. Apart from this, other high-valued items include old sports stories having historical context, for example, Babe Ruth's authentic contract with the Yankees.
Player's Autograph:
Another factor that determines the value of sports memorabilia is the player's signature. If the player is famous and is successful in his career, his autograph will have more worth. However, if the player is not well-known, his signed sports memorabilia will not be valuable.
If the player is widely known as a sports icon and has countless fans, his items will be more desirable for the sports fans. Moreover, their value will also increase with time as they are rare pieces. Some of the most famous figures whose sports memorabilia has the highest worth are Lou Gehrig, Babe Ruth, Michael Jordan, and Mickey Mantle.
Condition:
Condition plays a vital role in determining the value of sports memorabilia. Therefore, the collectors must take good care of sports memorabilia. If the item's color fades away or gets affected by any environmental factors, one can even see a decrease in the most high-valued items.
In addition, if you want to buy sports memorabilia, you must select a store or auction place that keeps the items protected by using UV filters and dust protection. It will ensure that you are getting the sports memorabilia in good condition.
Rarity:
If the autograph or product is rare, it will be worth more than a hundred or a thousand dollars. For example, if an athlete has signed many items in his lifetime, it would have less value. On the other hand, if athletes rarely give autographs due to crowds or their personal choices, their sports memorabilia will be considered rare and more precious.
Some of these athletes are Barry Bonds, Tiger Woods, Brett Favre, Aaron Rodgers, and Lebron James. If you find any items with their autograph, ensure they will have a high value.
Trends:
The last thing that affects the value of sports memorabilia is the trends. For instance, if an athlete is elected to any position and becomes a trend, his sports memorabilia will be more precious.
Also, if a player breaks records, he will become more popular. There are other reasons as well by which an athlete can become top trending, including a player winning a championship award or stops giving autographs.
Apart from this, unfortunately, if a player dies, there is also a chance that his sports memorabilia will become more popular.
The perfect way to identify the value of any sports memorabilia is using a memorabilia price guide. These guides can help you determine estimated selling and buying prices without any difficulty.
Tips for Buying Sports Memorabilia Guides:
There are a few tips you have to keep in mind before using any sports memorabilia guide. Those tips are discussed below:
Look Out for Specialized Guides:
If you are new to collecting sports memorabilia, you should purchase specialized guides. These guides will help you to find collectibles according to your preferences. For example, if you want to buy sports memorabilia that is not so expensive, the specific guide will help you discover those items.
Go for New Editions:
Old sports memorabilia guides help identify the original item. Nevertheless, if the guides are more than 15 to 20 years old, they will not be able to determine the current market value of the items. Due to this reason, you should check all their available editions and go for the latest one. It will ensure that the pricing is as accurate as possible.
Prices Can Vary:
Although the guides can tell you about the price of sports memorabilia, they can not determine the exact cost of any item. The demand for the item, including its condition and originality, determines the price of sports memorabilia. Therefore, you should not consider the price only based on the guide.
Common Sports Memorabilia Guides:
Many sports memorabilia prices and identification guides are available on the internet. However, it is crucial to use the most authentic one. The following are the most commonly used guides:
Beckett:
Beckett is the most preferred sports memorabilia price guide. It offers a comparison-like value in which you can check whether or not you are buying the memorabilia at its actual cost. You can check out their website or search for their mobile application.
The PSA Guide:
The PSA guide is helpful because it provides the most updated version. In addition, you can search for the item's value by the autograph. Furthermore, what makes it different from other guides is that they offer sports memorabilia appraisals for their customers. Thus, if you have any item whose origin is unknown, they can give you a certified judgment of that sports memorabilia.
Tuff Stuff:
The last sports memorabilia guide on this list is the Tuff Stuff. It is an online source that tells you about collectible and rare items. Nevertheless, they focus on sports card memorabilia. If you have any sports cards or want to buy one, you can check their estimated value on Tuff Stuff.
Apart from these, you can purchase guide books such as Sports Postcard Price Guide by J.L. and Emma Mashburn, Malloy's Sports Collectibles Value Guide by Roderick A. Malloy, and All Sport Alphabetical Price Guide by Kruse Publications Sports Division. You can find these books in any bookstore.
Most Expensive Sports Memorabilia:
Rare sports memorabilia can be worth more than a thousand dollars. Currently, the top 100 sports memorabilia range from around $60,000 to $8,806,500. Nevertheless, the most expensive item is the authentic Olympic Manifesto, which dates back to 1892.
Furthermore, the items from baseball come in second place in the list of most valuable items, as Babe Ruth's jerseys hold the second and third positions. In addition, the other most expensive items include sports cards, equipment, and manuscripts.
Conclusion
Sports memorabilia is one of the most sought-after items every sports fanatic loves to collect. Moreover, they also have a high value. Nevertheless, it is essential to identify the original item by looking at its signature and condition.
In addition, if you want to buy sports memorabilia or have an eye on an item, you have to look at its condition, autograph, rarity, and the athlete it belongs to if you want to determine its value. You can also use online or manual guides to get an estimated price.