In less than 60 years, the Roseville Pottery Company churned out valuable Midwest American pieces that have stood the test of time. The company created some of the most beautiful American-made vases, wall sconces, and bowls between 1904 and 1954. Although they're out of commission today, their artistic antique pottery is highly sought-after for its arts, crafts, style, and beauty. If you're in doubt, visit an auction for rare Roseville Pottery to witness the buzz for these pieces. Don't be surprised if you get drawn in by the awesomeness of these events to bid on some of the listed Roseville items.
Before we jump the gun, it's sometimes easy to get duped when you have an intent to buy a Roseville. Before you attempt to buy an antique piece, you must be able to discern if it's authentic or not. Do you know what features to check for to confirm the authenticity of a Roseville piece?, Or can you, at the present moment, identify some common Roseville patterns without help? Regardless of your answer, we have prepared all of this to introduce you to the world of Roseville Pottery or remind you of what makes the Roseville Pottery so unique.
Roseville Pottery Company
Roseville Pottery, named after the village of Roseville in Ohio, was established in 1890. The company was relatively non-existent to non-Roseville residents through its first decade of production. It was initially founded by J.F. Weaver in 1890. In 1892, Weaver joined forces with Salesman George Young. And together, they managed the company and established several other plants within and around Roseville. They also acquired some of their competitors like the Midland Pottery and Zanesville's Clark Stoneware company.
Between 1890 and 1900, the company focused on creating essential household items like spikes, plaster ware, vases, and a few bowls. It also produced some lines of goods; however, these weren't as successful as they expected; hence it was limited. Things began to take shape when they finally moved to a more extensive and modern production facility in 1898. The company also hired Ross C. Purdy to create their first art pottery, Rozane.
Rozane, a premium art pottery line, was released in 1900. The name was formed from contracting Roseville (Ro) and Zanesville (Zane).
The company got a new director, Frederick Rhead, in 1904. Rhead switched the focus of the company to the production of rare wares. Some of the collectibles from this time include the Della Robbia, Fuji, and Aztec. Roseville's products were able to compete with other leading Pottery houses like Rookwoods, Owens, and Weller Pottery. In fact, Rozane was in a tight competition with Rookwood Pottery's standard glaze, as demand for both was high.
Fast forward to the 1910s, the Rozane is no longer in vogue, and the company has shifted its resources to marketing other pottery products with unusual and beautiful designs. Like all pottery companies then, the Roseville Pottery Company couldn't afford to ignore the existing needs and trends of consumers.
F Weaver retired in 1918. The administration of the company was flipped to wade through Weaver's retirement, and George Krause was hired to head and supervise the company's operations, especially pottery pattern developments.
Roseville Pottery continued to dish out new ideas and designs to the market even after its founder's retirement. Sought after Roseville art, including sunflowers, wisteria, baneda, and the blackberry, are some of the few pottery ideas created after Krause and Root were put in charge.
The company finally closed down in 1954 following a significant reduction in demand. Before its closure, Roseville Pottery was already struggling to stay afloat. The company and all its designs were sold to the England Ceramics Company, and this brand was subsequently sold to the Franklin Potteries of Franklin. It is ironic that even though the Roseville company was sold to ensure production continued, the new owners halted all production activities less than a year after purchase.
The American Arts and Crafts movement may not be where it is today without the contribution of the Roseville pottery company. The company satisfied the needs of the working and lower-class members of society by creating employment while producing affordable items for these families.
Imagine belonging to a lower class and having no choice but to always spend on utility without beauty. Roseville pottery provided that utility and added beauty to it. J.F weaver, a visionary before his time, built on his firm belief in hand craftsmanship to produce what a lot of collectors consider to be perfect.
Popular Roseville Designers and their Pottery Patterns
Throughout its years of productivity, Roseville pottery had two of the best master designers in the American crafts scene, from Federick H. Rhead to Frank Ferrell Roseville; the company sure was eating well. The art maestros did their best to ensure their pottery patterns would remain relevant for hundreds of years. In case you need a reminder, we'd love to let you know that Roseville pottery will stay in demand for a long time.
Now, for the designers and their works of art.
Frederick Rhead and Harry Rhead
Frederick H. Rhead left England to join the Roseville pottery company in 1904. He was an English master designer with experience in art directing. He designed and commissioned some of Roseville's designs, including the Egypto and Aztec designs. Before he concluded his six-year duration at Roseville, his brother, Harry Rhead, joined him at Roseville.
Harry Rhead also had an artistic mind, and he used it to continue his brother's legacy at Roseville after he left in 1910. According to reports, the Rhead designs rarely had any connections with their namesakes. The Rhead brothers claimed that the names were used to make the designs appear and sound exotic.
The Rhead brothers' Roseville patterns are highly valuable today, majorly because of their age, while their aesthetics also improves their value. You can purchase items from this era and designer for about $1 000. Depending on a few factors, the price of the antique may vary in other stores or auctions.
Popular Rhead designs include:
Della Robbia
The Della Robbia was a line of pottery produced after the Rozane collection. It was first made in 1904; however, the production of this art pottery ended in 1907. The Della Robbia line was highly successful. In 1906, a revised version of the Della Robbia was produced and included in the Rozane collection to reignite the public's vote of confidence In the company and the line.
The first Della Robbia line has minimal color, while the revised Rozane Della Robbia featured an additional polychrome blaze finish. Both had the characteristic of deeply-carved hand-drawn designs. The 1904 Della Robbia design pattern was drawn on 18 vases and 12 teacups. This pattern was inspired by folk art and ancient Persian and Egyptian designs.
It is worth noting that the Della Robbia line is regarded as Roseville's best artistic and most pleasing design. The handcrafted three-dimensional designs were simply out of this world, which is probably why they're often the most expensive Roseville on an inventory.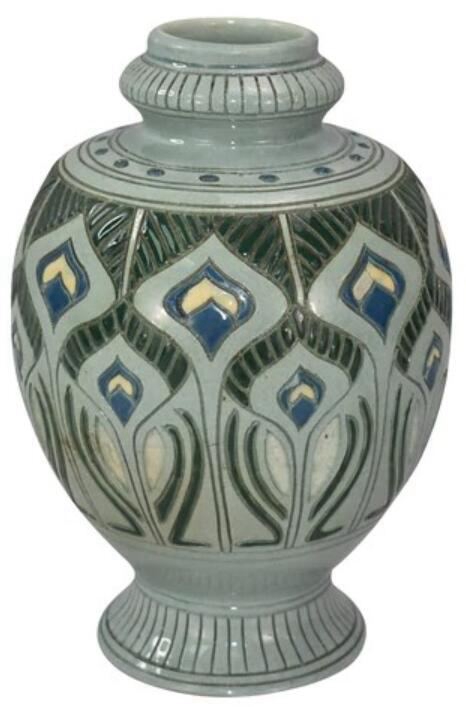 Aztec
This was released in the early 1900s. This line was adopted into the Rozane line. However, it was discontinued in 1905. Aztec: This design featured cool blue lines and tans. You can make out an Aztec-inspired shape on these pottery items, especially a four-sided pyramid. The shapes were eye-catching and glazed in various colors like grey, white, blue, teal brown, mustard, beige, and green.
Frederick Rhead applied his famed squeeze-bag technique to create several floral and nouveau designs for this line. The Aztec pattern was featured in several Roseville pottery items, including pitchers and vases.
Donatello
The Donatello pattern was one of Roseville's first major successes in the pottery industry. The line featured standard colors, white and green. Rare pieces sport gray colors. The line had at least 91 shapes.
If we had to describe the Donatello design without mentioning the Rhead brothers, we assume it was Wedgewood redesigned by Beatrix Potter. These sculptural pieces depicted a few classically styled trees, cherubs, and plants.
This line was Harry Rhead's first shot to fame. One can only imagine how anxious he was to fill his brother's shoes. Expectedly, the ivory-colored fluted items blessed with the Donatello patterns were right decorated with scenes from Donatello's favorite activities like Cherub dancing, playing music, and frolicking.
Harry Rhead went on to design the Mustique, Paleo, and Juvenile lines.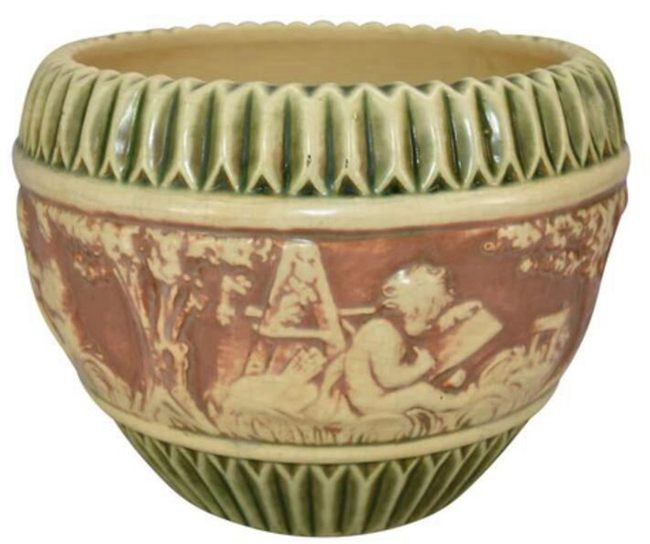 Egypto
The Roseville Egypto line of art pottery was first released in 1905. This line sported green, pine, and celadon colors. All were inspired to an extent by Egyptian shapes.
The Egypto line was also adapted into the Rozane collection. It helped to capture the interest of customers for Matt's green-glazed art vases and bowls.
The second Rhead brother left the Roseville Pottery Company in 1918. This signified the end of the Rhead reign.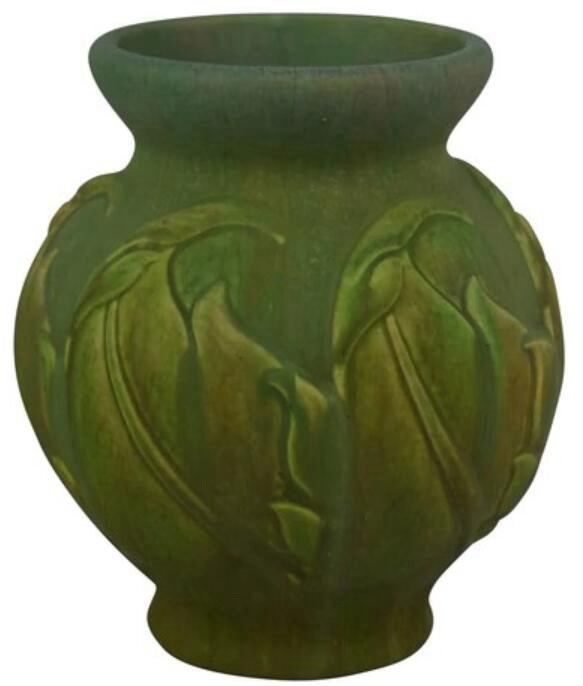 Frank Ferell
Once the Rhead brothers departed the company in 1918, the company decided to check within the locality for a new art director. Frank Ferell filled the Rhead shoes as best as possible. He was assisted by glaze artist George Krause. During his term as the lead designer in the company, he commissioned over 100 unique patterns. Some of these patterns are some of Roseville's most preferred designs.
Ferell remained under Roseville's employ until the company went under in 1953.
Popular Ferrell Designs include:
Wisteria
This middle period design was released in 1933. It featured blue, purple, green, and brown colors using about 16 different graceful shapes. The pattern was used to decorate vases and bowls; however, most collectors' preferred the blue design.
The wisteria patterns are some of the most sensual designs ever produced by Roseville Pottery.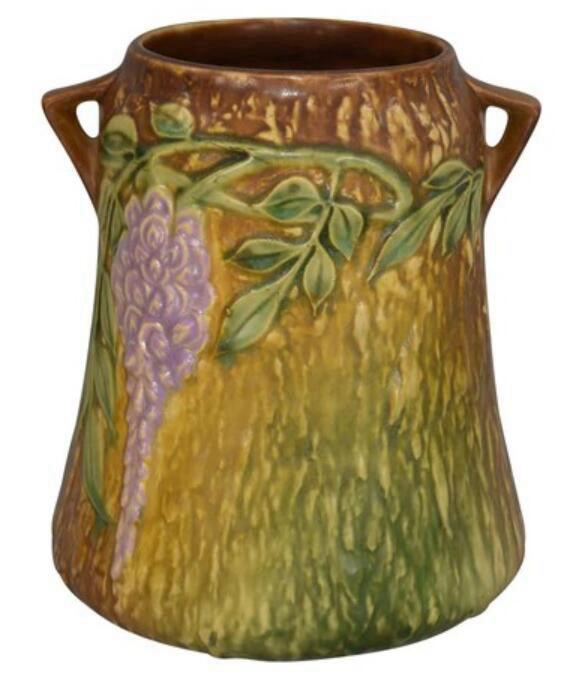 Pinecone
This is Ferrell's best-selling pattern. It was introduced in 1935. The line offers a wide range of shapes and natural colors, with collectors' favorites being the clear blues and green patterns.
This line comprises baskets, bowls, ashtrays, wall pockets, bookends, vases, and candlesticks.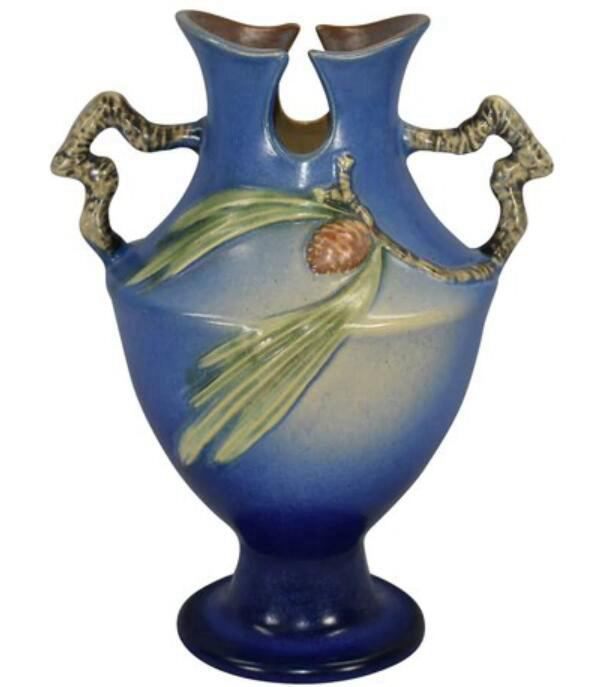 Futura
This pattern features geometric shapes. Indicators point out that it was inspired by Art deco. The Futura line used different color schemes for its 78 different patterns. Some of the line's popular items include the Elephant leg, Tank, and Michelin Man.
Zephyr Lily
The Zephyr Lily pattern has very fluid lines that make you remember the lily flower. The design depicts pure elegance. The lines were drawn on blue, green, and brown backgrounds.
The lily pattern is featured on dozens of Roseville vases, candleholders, wall pockets, tea sets, and bowls.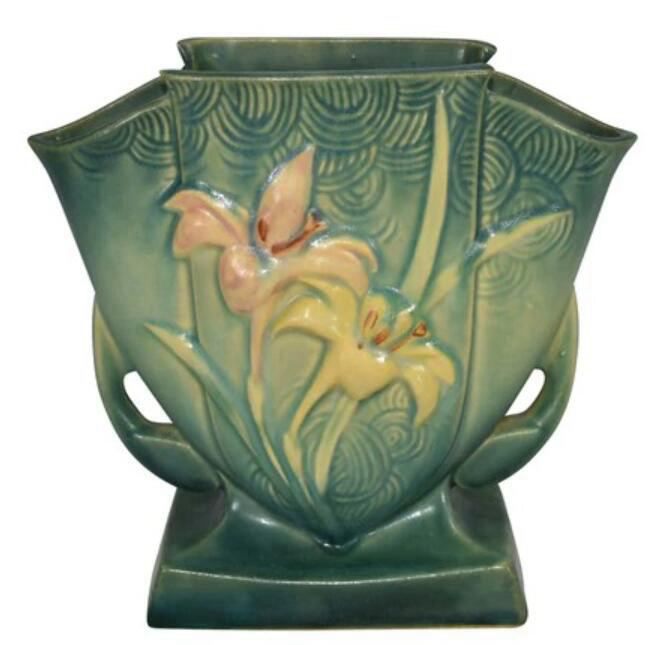 Other designs by Ferell include the Blackberry and Snowberry, as well as the Ferella. The Ferrell-Krause team made significant waves in the North American pottery scene till the '50s. Everyone loved their flowery designs.
Roseville Pottery or Fauxville Pottery
Following the rise in popularity of Roseville Pottery patterns, there has been an increase in the production of fakes. Many of these imitations are made far away within the United States, Canada, and even as far away as China. Based on this, collectors are advised to confirm authenticity before making any Roseville purchase.
Identifying the earliest lines of Roseville may be difficult, as most of these items no longer have the customary triangular paper and foil labels from the point of production. To confirm if a Roseville piece is original, irrespective of the production date, crosscheck the marks and serial numbers.
Roseville Pottery Marks
Pottery marks should first be consumed on every pottery item. The Roseville Pottery marks can be used to estimate a piece's production date as well as its value.
First, flip your pottery piece upside down, and look directly at the unglazed portion to see the Roseville customary mark as well as its unique serial numbers and letters.
If you have a piece marked with triangular black paper or foil label, be aware that these items were produced between 1927 and 1935. Perhaps your item's labels have peeled off; examine where the labels would have been to check if they recently peeled off or not. If there is no proof, then we can label your item as unmarked.
Some of the Marks are;
Rozane; This was first used in the mid-1920s. It was discontinued for a while and brought back in, and then finally discontinued.
RPCo: Thus, a mark often appears in Roseville items created between 1904 and sometime in the 1920s.
RP: This mark was used for another decade… 1915 to 1925.
Roseville Pottery Company: This mark or phrase was stamped on Roseville Pottery items manufactured from the year the company was established through 1930.
An Indented "Roseville, USA": This newer make was used in the 1930s.
Raised "Roseville, USA": This was one of the later marks towards the end of the company's .
Serial Numbers on Roseville Pottery and their Meaning
Serial Numbers were not always stamped or engraved on Roseville Pottery items. It started around 1935. The company actualized this ingenious idea of putting shapes and size numbers to mark the items. These serial letters and numbers provide extra information about the Roseville piece.
You can find this additional mark somewhere around the letter track. The appearance of the mark is XXX-X—ABC—XX-X. The first two or three digits represent the line., THE following number represents the size of the items, ABC here represents the name of the pattern, while the last number refers to the height or diameter of the piece.
For instance
738-10- Roseville's Blackberry 9-inch piece
308-9- Roseville Aztec 14-inch piece
40-8- Roseville Futura 12-inch piece
Separating Roseville from Fauxville Pottery
This is not a straightforward process, and a few times, novice collectors make mistakes while assessing an item's genuity. In fact, even the experts sometimes have a difficult time identifying the fakes from the originals. This process wouldn't have been this difficult if Roseville had permanently marked all items in the various patterns at the onset of the company.
Today, there are so many antique Roseville imitators who have copied the patterns to the last stroke. These contemporary reproducers have made it really difficult to identify the genuine Roseville. Some even go as far as adding serial numbers and marks to the items.
If you notice any of the following features in a "Roseville" piece, it means it could be fake
Light Weight: If an item feels less dense than clay or has a relatively light weight, it could be a sign it's not an original Roseville. Authentic Roseville pieces were produced with dense clay and were not light when held.
Inconsistent Glazing: Some lazy imitators make obvious errors by carelessly applying the glazing. If you notice any error in the glaze, drips, smears, or too flat or too dull glazes, your next step should be to drop it as it is likely a fake. Rosevilles are meticulously glazed. Original pieces with errors rarely make it out of the factory.
Extremely Cheap Pricing: Roseville imitations often sell lower than original pieces irrespective of whether it is new or used. They're always the cheapest in the store. If you are presented with a "Roseville" priced at $50 or less in apparently pristine condition, it's likely a fake.
Bright or Muddy Color Scheme: the Roseville patterns and lines feature subdued colors which glow against the backgrounds. If an item appears too bright or too dark, it could be a bad sign.
Bulky handles: Poor imitations of Roseville's have dense or bulkier handles than the originals.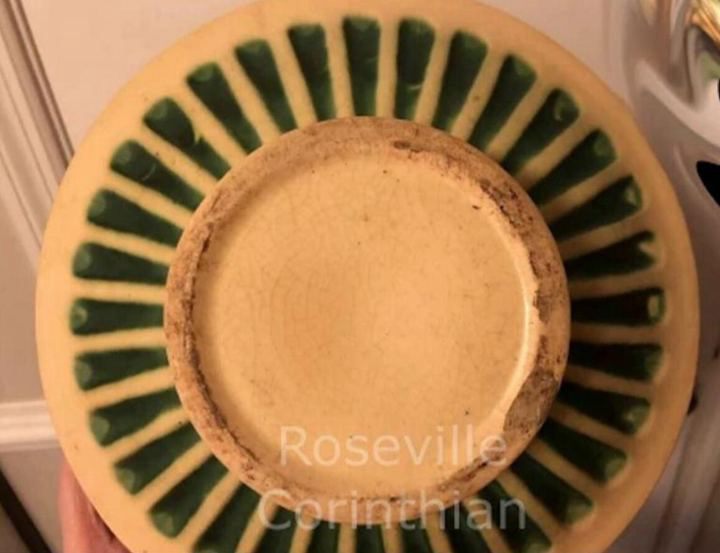 Value and Price of Roseville Pottery
The value of the Roseville has gradually increased m since production ceased almost 70 years ago. Many expected these to proceed too far out of favor, popularity, and value, but the reverse was the case. The Roseville Pottery items, especially the ones in very good condition, are very valuable in the antique sector.
As luck would have it, you don't have to spend exorbitant sums to purchase or collect Roseville Pottery, as some items are still relatively affordable. The items that may be out of your reach are the oldest and rarest Roseville patterns. Of course, you'd have to pay a premium to get these hard-to-find pieces.
Price Comparison
The best way to know the current or last price of a pottery piece is to compare or research prices. If you're purchasing a collection of interesting and eye-catching Roseville Pottery, here are some places you can explore their current asking prices, as well as the prices at which they are currently being sold.
This is the best website to get a good idea about the Roseville Pottery patterns in high demand. Without wasting much time, visit eBay.com, put in the keyword "Roseville Pottery " and filter your results to display only completed and sold items. This way, you get to see recently bought Roseville Pottery collections.
Local Antique Stores
Each neighborhood has an antique store. Find the one within or around your locality and tell them about your interest in Roseville Pottery. If they do not have them at the moment, they may be able to refer you to dealers or stores that have them. However, it is advisable to have a little information about your desired pottery collection before you go seeking the information in person.
Auctions
Auction sales results are a reliable source for Roseville Pottery market value. Whichever style you are interested in, there are physical and online auction sales with their actual sale prices. You must be willing to search thoroughly. Some of the auction galleries for actual market value of Roseville Pottery items include the Sheridan & Associates auction and the Wolf's Auction Gallery. Both offer detailed archives of past auctions with selling prices, photos, and conditions.
Highest Selling Roseville Pottery Items
The highest amount ever paid for a single piece in a collection is $38 850. This sale was conducted in Zanesville's Ohio Pottery Lover's Annual Auction in 1999. The most expensive Roseville Pottery collection ever sold generated over $700,000 in 2001.