Retro Refrigerators aren't just vintage. The name refers explicitly to colorful fridges built in the mid-fifteenth century. They've reappeared in our kitchens in the world of modern steel appliances and feature distinctive characteristics that add warmth and beauty to the kitchen.
Popular retro refrigerator brands from the 1950s currently produce limited quantities of these refrigerators. Also, obtaining one of these refrigerators can be difficult because they sell out rapidly and can cost up to $4000.
These refrigerators are an excellent choice for kitchens with bright color schemes. Their small size makes them perfect for small spaces. You would find most of them are within the 9 and 12 cubic feet range, although it's not impossible to get them in bigger sizes.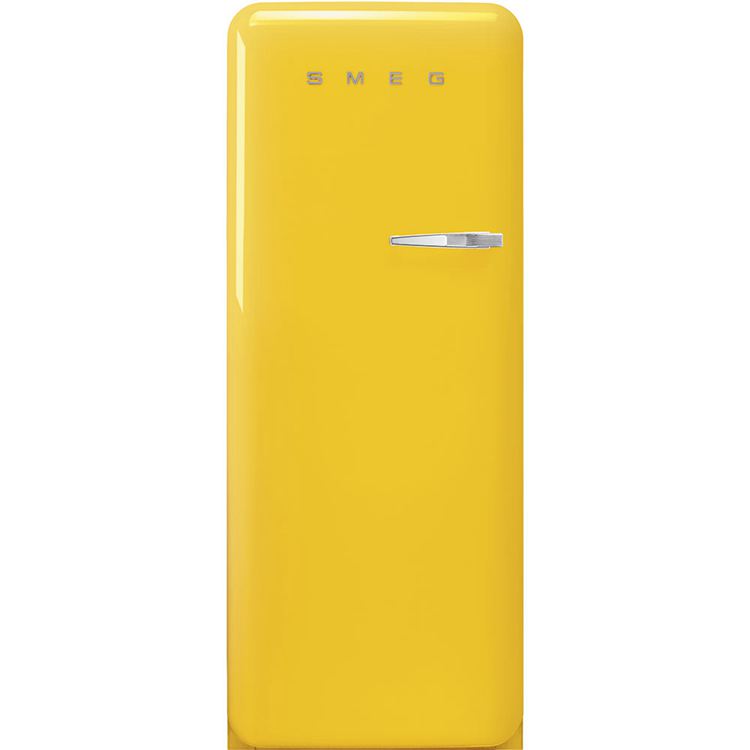 History of The Refrigerator Timeline
Ancient descents
The origin of refrigeration is traceable to as far back approximately to 500 BC. People collected ice from rivers, lakes, and snow, stored it in houses or pits, then used straws to keep it from melting.
The 1700s-1800s
The first-ever cooling method for food or any other perishables involved ice.
Artificial refrigeration took effect in the mid-1750. Specifically, in 1755, William Cullen designed a little refrigerator using a pump to create a vacuum over a container of diethyl ether which boils, absorbing heat from the air.
By 1782, Antoine Lavoisier and Pierre -Simon Laplace introduced the ice calorimeter.
Then in 1803, the first domestic icebox made a debut, and Thomas Moore of Baltimore earned the Patent on refrigeration. The rectangular tin container contained ice and salt, and people kept food refrigerated by touching it with ice.
In 1834, the first full-functioning vapor-compression refrigeration system was created, with Jacob Perkins getting the Patent. This machine could operate continuously and was a closed-cycle device.
Here's a video on the exploits of Jacob Perkins.
The early 1900s
In 1913, refrigerators strictly for home use emerged from Fred W. Wolf of Fort Wayne in Indiana. These models had units mounted atop iceboxes.
In 1914, Michigan engineer Nathaniel B. Wales propagated an idea that allowed a practical electric refrigeration unit. The idea later became the founding block for the Kelvinator. The Kelvinator developed the first refrigerator that had automatic control in 1918.
The 1920s
Now in 1923, Frigidaire rolled out the first self-contained unit. The monitor-top refrigerator was introduced in 1927 and earned this name because it had a striking resemblance to the warship USS monitor of the 1860s.
The compressor section emitted a great deal of heat, and the creators placed it in an enclosed ring just on top of the cabinet.
Prudent 1970s
1970s refrigerators were styled after the 1940s and adopted their boxy look. This move affected the market as everyone now wanted compact refrigerators and energy-efficient ones to stay in line with government policies regarding climate and the environment.
Strong 1980s
Refrigerators rolled out in the 80s had one exceptional quality- Durability. They featured sturdy designs and became safer with the exemption of chlorofluorocarbons in the sealing systems of refrigerators. A fridge in 1985 consumed an average of 1700 Kwh energy.
The 1990s -A Trip to France
In a move toward sleek and modern aesthetics, companies incorporated french doors and stainless-steel facades into the production of refrigerators. Bulky refrigerators gradually faded into the past, and everyone wanted a contemporary touch in their homes.
Manufacturers also adopted the energy star system- serious energy conservation started, and refrigerators consumed only 850 kWh per year. This is a positive step, especially with climate change and high electricity costs.
Watch this video for a better and clearer idea on the history of the refrigerator.
Retro Refrigerator Brand List
In this section we've curated a list of popular retro refrigerator brands.
| | | |
| --- | --- | --- |
| Brand | Year | Country |
| Bosch | 1886 | Germany |
| Orainer | 1904 | Germany |
| Gorenje | 1950 | Slovenia |
| Chambers | 1910 | Canada |
| Frigidaire | 1918 | United States |
| Smeg | 1948 | Italy |
| Amica | 1945 | Poland |
| Liebherr | 1949 | Germany |
| Elmira Stove Works | 1975 | Canada |
| Big Chill | 2001 | United States |
Bosch
Numerous countries and their local companies replicated the United States' move of producing refrigerators, and Bosch wasn't left behind. The company launched its electric refrigerator line into the market in 1929, a breakaway from the choked up automotive technology space.
The company sought to produce consumer and pocket-friendly refrigerators for the average German home since the fridge was still considered a luxury item. Their products boast beautiful LED lighting systems and double evaporators that help keep food fresh.
By 1933, the Bosch 60-liter capacity drum-shaped refrigerator had already gained ground. It had become a well-known item, many thanks to the rich and creative ads adopted by the company.
In subsequent years, the company increased its refrigerator capacity up to 120 liters and added interior lighting, height-adjustable shelves, and the cabinet square shapes, which transcended into the 1950s and modern world. The Bosch headquarters is now in Gerlingen, Germany.
Orainer
Orainer is a German company established in 1904 with high- end refrigerators that have impressive features like automatic defrosting, egg containers and a little more space than its retro-counterparts.
Its headquarters is located in Gladenbach, Germany, where it continues to produce vibrant colored refrigerators.
Gorenje
This company was founded by Ivan Atelsek in 1950 and is presently the fourth largest manufacturer of household electronic appliances in Europe. Its headquarters is in Valenje, Slovenia.
Gorenje retro refrigerators are unique, endowed with turbo speed and very durable. They're quite scarce and not on the company's website, but can be found in some retail stores.
Chambers
Initially, the chamber's brand started in Shelbyville, Indiana, around 1910 with a fireless gas stove. However, later it began adding more functionality to its cooking product, including a slow cooker, smokeless broiler, and grill.
Due to continuous change of ownership and transfer of authority, the chambers company stopped production but had a loyal customer base who valued their high performance regardless.
The company now exists in North America with its headquarters in Canada and owns a line of retro-inspired refrigerators in four colors. It continues to push the reputation of quality, peak innovation, efficiency, and luxurious refrigerators with energy-saving qualities.
Frigidaire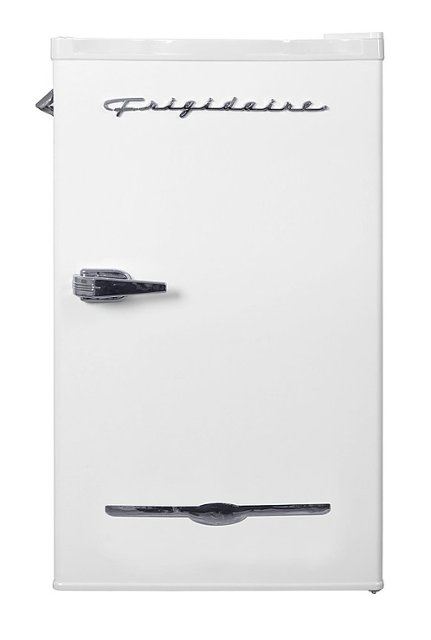 Frigidaire is a subsidiary of the Swedish Electrolux brand (More like a U.S. extension). It was founded in 1918 in Fort Wayne, Indiana and has its headquarters currently located in Charlotte, North Carolina.
A majority of Frigidaire's products, including refrigerators, are manufactured and assembled in the U.S. There are various styles and specifications for you to choose from.
Smeg
Smeg is an Italian sensation and home appliance guru founded and permanently based in Guastalla, Italy, with branches and subsidiaries worldwide.
The Smeg group of companies rolled out its first set of colored retro refrigerators in the 50s. They are now one of the most iconic pieces we have to date.
Amica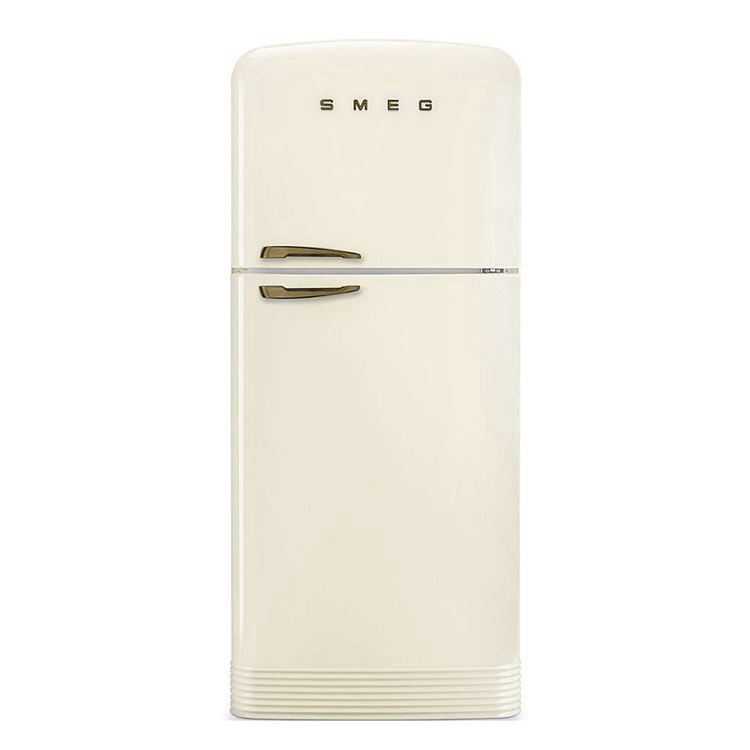 The company was established in 1945 and first produced its first gas cooker in 1957 in Wronki, Poland. They've since designed other electrical appliances, including refrigerators for countries in Europe and beyond. The Amica headquarters still remains in Wronki, western-central Poland.
Liebherr
This German powerhouse was established in 1949 by Hans Liebherr. The company started off with manufacturing construction equipment, however, its first refrigeration line didn't come into being until 1954.
You may be wondering how the transition from construction to refrigeration happened. Well, in 1953, Hans Liebherr got wind of a near-bankrupt refrigerator manufacturing plant from a local bank manager.
Although Liebherr eventually didn't purchase the company, an idea came to his mind.He established his facility in Ochsenhausen, Germany, as he knew he could do it better than the company that approached him.
When Liebherr started production, only 10% of the German populace used fridges. Still, in less than two decades after that, the company has grown to become a giant in the refrigerator industry while giving everyone a chance to be a part of it.
Today, the brand boasts quality, unique, and tastefully designed refrigerators with modern aesthetic and the latest freezing technologies that appeal to Germans' senses continually.
Elmira Stove Works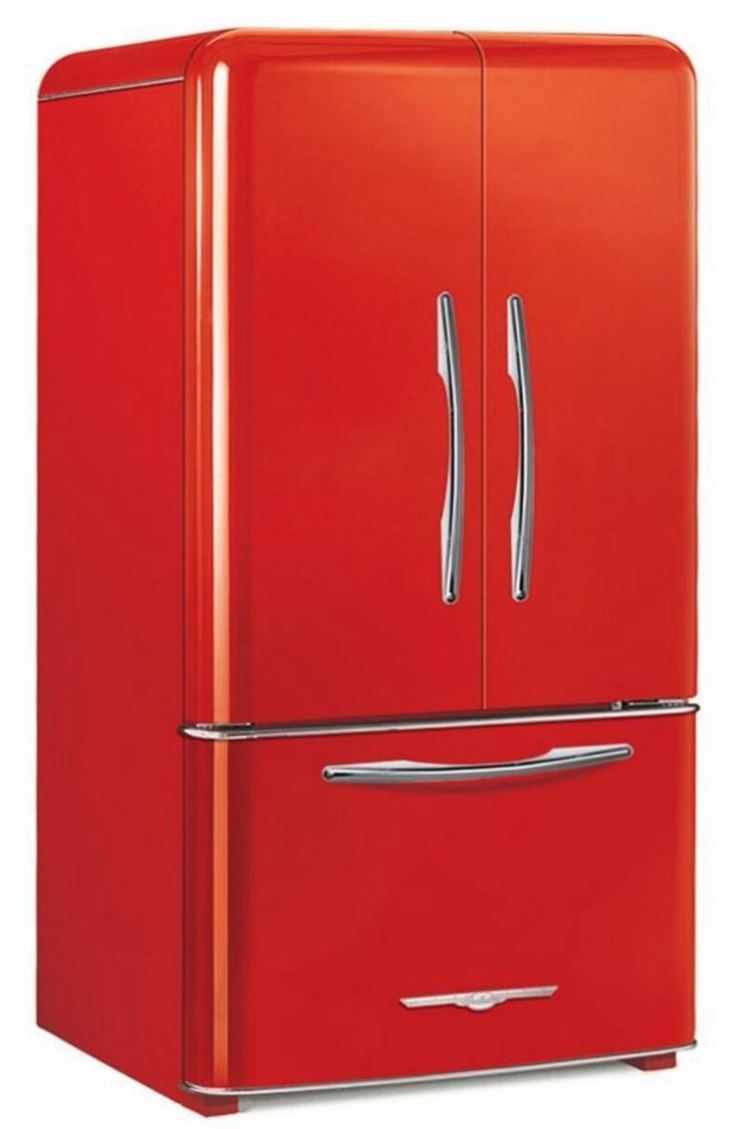 Introduced in 1975 in Elmira, Ontario, here we have the Elmira Stove works. Its stove line earned a nod among its customers for the gas and electric appliance lines that boast traditional styling and modern characteristics.
Their refrigerator line didn't come until much later, and they designed it in the 1950s style known as the Northstar line. The Northstar line has twenty-three models under its radar, its headquarters still in Elmira, Ontario, Canada.
Big Chill
This brand has an exciting debut story.
Apparently, the company started in Boulder, Colorado, with just one fridge designed for Thom Vernon's beach house by Orion Creamer in 2001.
It had a 1950s-era-inspired outlook but a very modern performance. Someone else saw this innovation in 2003, bought it and this slowly but surely became a business.
Big Chill took inspiration from bright colors of cars and 1950s kitchens, added a more brilliant effect to make them bolder, and incorporated them into their retro culture. Its headquarters hasn't moved from Boulder, Colorado, since its inception.
European Refrigerator Brands
These brands dominated the European refrigerator market from the 70s to the early 2000s. We'll be taking a look at a few of them below.
Asko
The Asko company made its debut in 1950 under the control of Karl-Erik Anderson in Sweden. Asides producing state of the art refrigerators, Asko appliances also makes dishwashers and washing machines.
Their headquarters remains in Sweden and now competes against other notable European brands like Bosch, Smeg and Miele.
Vestfrost
A brand born on Danish soil in Esbjerg Denmark in 1963. The Vestfrost company is known for exquisite and quality refrigerators with modern design and features. They have sold over 12 million refrigerators and freezers since its creation.
Presently, the company produces locally; in Turkey and Slovakia and has its headquarters stationed in Esbjerg, Denmark.
Indesit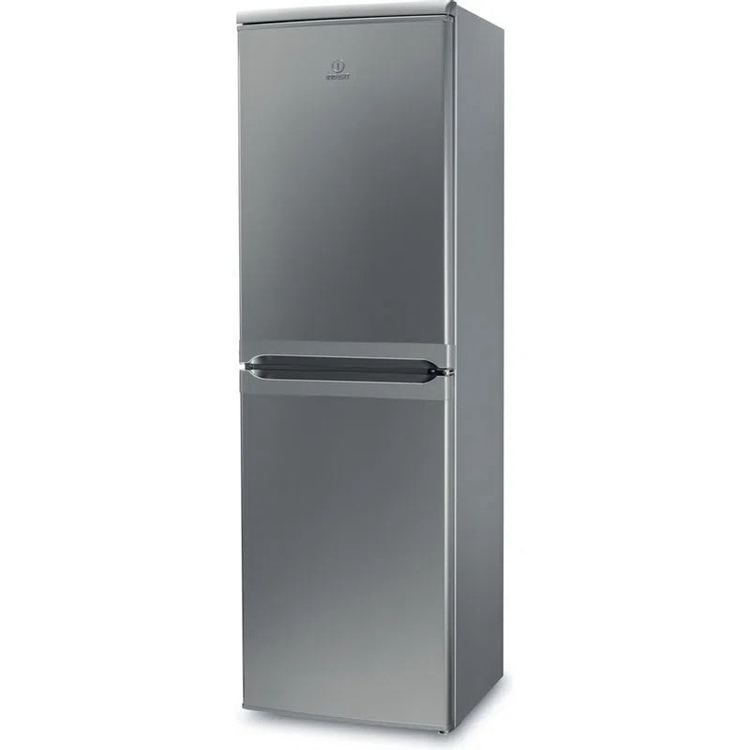 This Italian company was founded in 1975 by Vittorio Merloni. Indesit is a leading European manufacturer of refrigerators and other household appliances.
It has eight industrial plants in Italy, Poland, United Kingdom, Russia and Turkey and has its headquarters in Fabriano, Italy.
German Refrigerator Brands
German companies are renowned for rolling out strong, fast and efficient electronics and their refrigerators are not left out.
Miele
The company was formed in 1899 by Carl Miele and Reinhard Zinkann and is run by the family; its headquarters is in Gutersloh.
The company has produced many appliances, including freezers and refrigerators and has gone on to receive numerous awards for excellence and skillful designs.
Siemens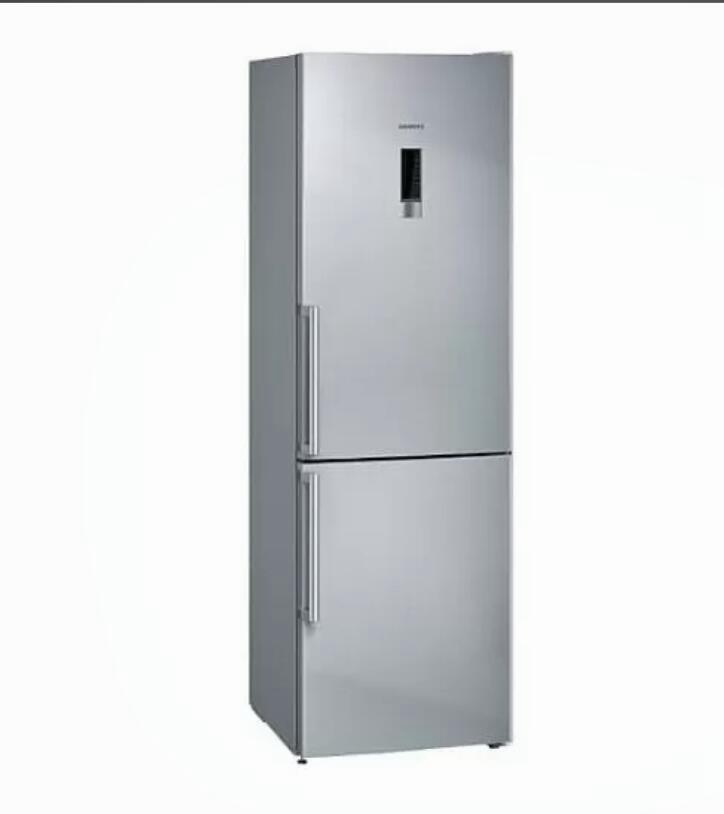 Werner Von Siemens, a significant figure in German modern technology history, and his brother William and Carl laid the seed that grew into the Siemens company.
Siemens has lasted for over 150 years while firmly rooted in discipline, refined innovation, and premium skills.
The company introduced household refrigerators using the Normelli advanced absorption system in the 1930s. This system is optimized and uses three cooling cycles instead of the famous one cycle, enhancing the interior size and making it more energy-saving.
AEG
The AEG company, although founded in 1883 didn't venture into producing refrigerators until well into 1950.
Let us refresh your memory, as they were the first company to make the first electric refrigerator in 1912.
This should tell you that the company has an in-depth knowledge of refrigerators and how they function, which equals quality and unique products from their ends.
A typical example of AEGs one of a kind refrigerator is the TwinTech cooling system that separates the freezer and fridge sections and lets them operate while maintaining a balanced temperature.
Bauknecht
One of the leading manufacturers of household electronics in Germany, the Bauknecht company, was founded in 1919 and had its headquarters in Schorndorf until 2006, when it moved to Stuttgart.
In 1951, the company produced its first refrigerator, then other appliances followed. In 1989, the American group Whirlpool acquired the company, and all branded products from the company are now produced outside Germany.
American Refrigerator Brands
Americans excel in almost anything and their luxury lines of refrigerators are proof of that excellence.
Sub-Zero Refrigerators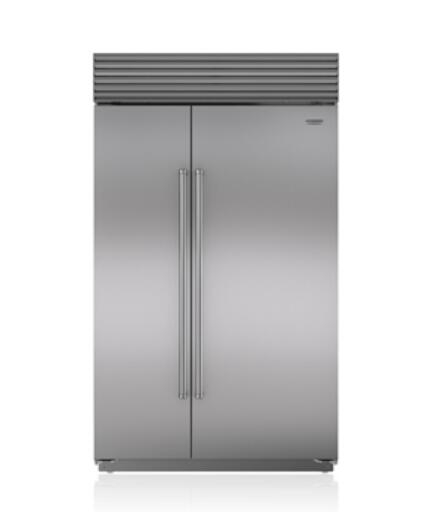 This company has been in the electronics business since 1945, and it takes pride in its rich history of being a leader in innovative engineering and tastefully designed home refrigerators.
The Sub-Zero brand is not a stranger in most American homes, thanks to their appliance's sustained quality and manufacturing in their U.S.-based plants.
The company uses recycled materials to produce its refrigerators which are well crafted and durable enough to stand the test of time.
Thermador
They've been in the culinary sphere since 1916 and have been a pioneer in the appliance industry for decades. They're linked to the BSH Hausgerate GmbH, an electronic appliance giant in Europe.
Even with this link, all Thermador refrigerators are from California. The company produces top-quality refrigerators with notable up-to-date features.
Viking Range Company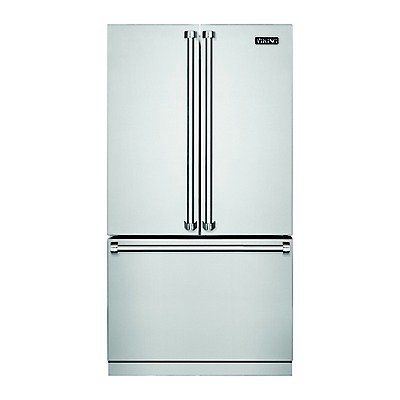 The 1987 company is not a stranger in the refrigeration market and has not stopped rolling out attractive styles, quality, and tastefully furnished refrigerators.
Products are all manufactured in the United States, giving them an edge among consumers and pitching it as a favorite in the American market,
General Electric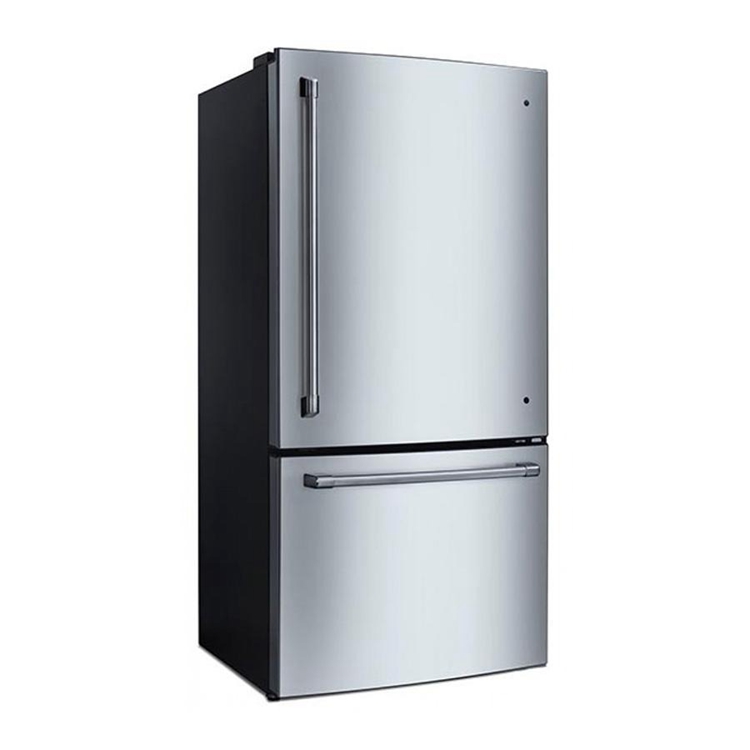 Famous for constantly striving to produce minimalistic and affordable, durable electronic appliances. This veteran electronic company created in 1899 has also penetrated the American market and has committed to creating modern and affordable pieces.
Although not all parts are from the U.S., there's still something for everyone with General Electric Company.
Whirlpool Refrigerators
Birthed in Benton Harbor in 1911, this brand has refrigerators in unbelievable designs like the side-by-side French door, top freezer, and bottom-freezer styles, to mention a few.
However, a selected few whirlpool refrigerators are being produced overseas. Still, a large majority of their refrigerators are manufactured in America.
They have eight major factories in Ohio, Tennessee, Iowa, and Oklahoma, the U.S., to show their deep integration into the American Society and proof of quality homemade products
Here's a video with an extended list of brands you should consider.
Unique Retro Refrigerator for your Home
One unique quality about retro refrigerators is their bright and bubbly hues. That's how you identify retro or retro-inspired refrigerators.
Red Retro Refrigerator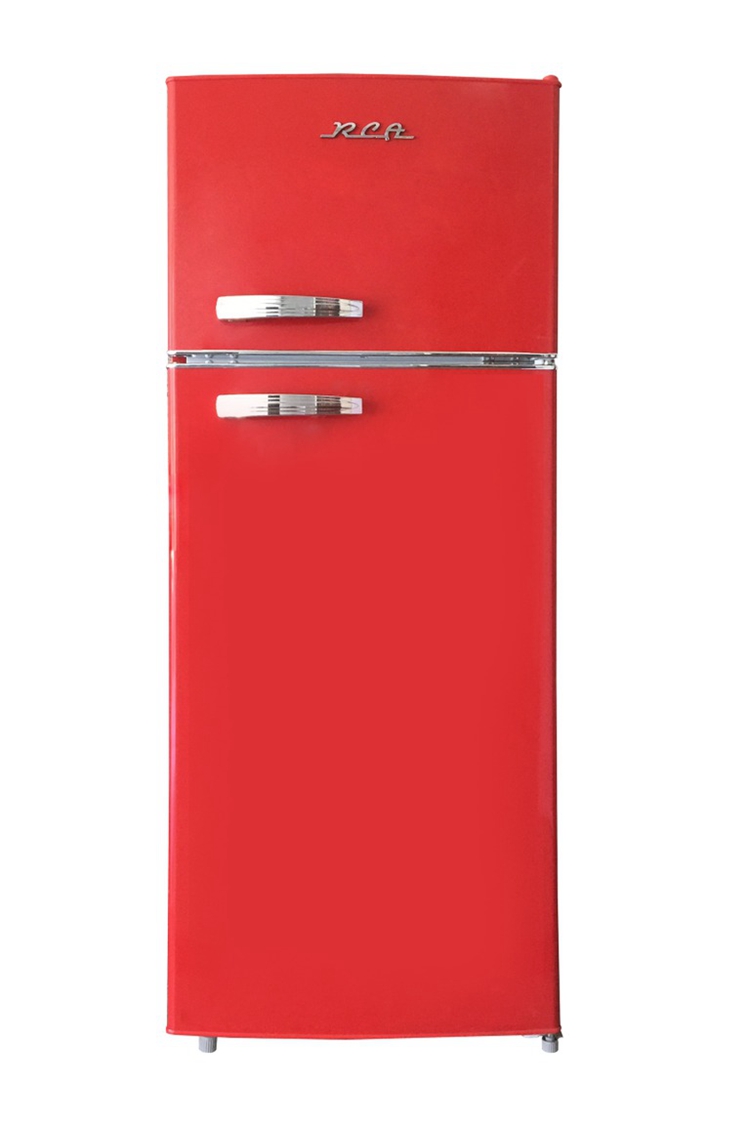 This perfect apartment-suitable refrigerator with a top freezer compartment and the embodiment of the classic design, technology from the gifted hands of RCA engineers comes in red. The best part is that this functional item and its vibrant color will add all the warmth to your space.
Retro Mini Refrigerator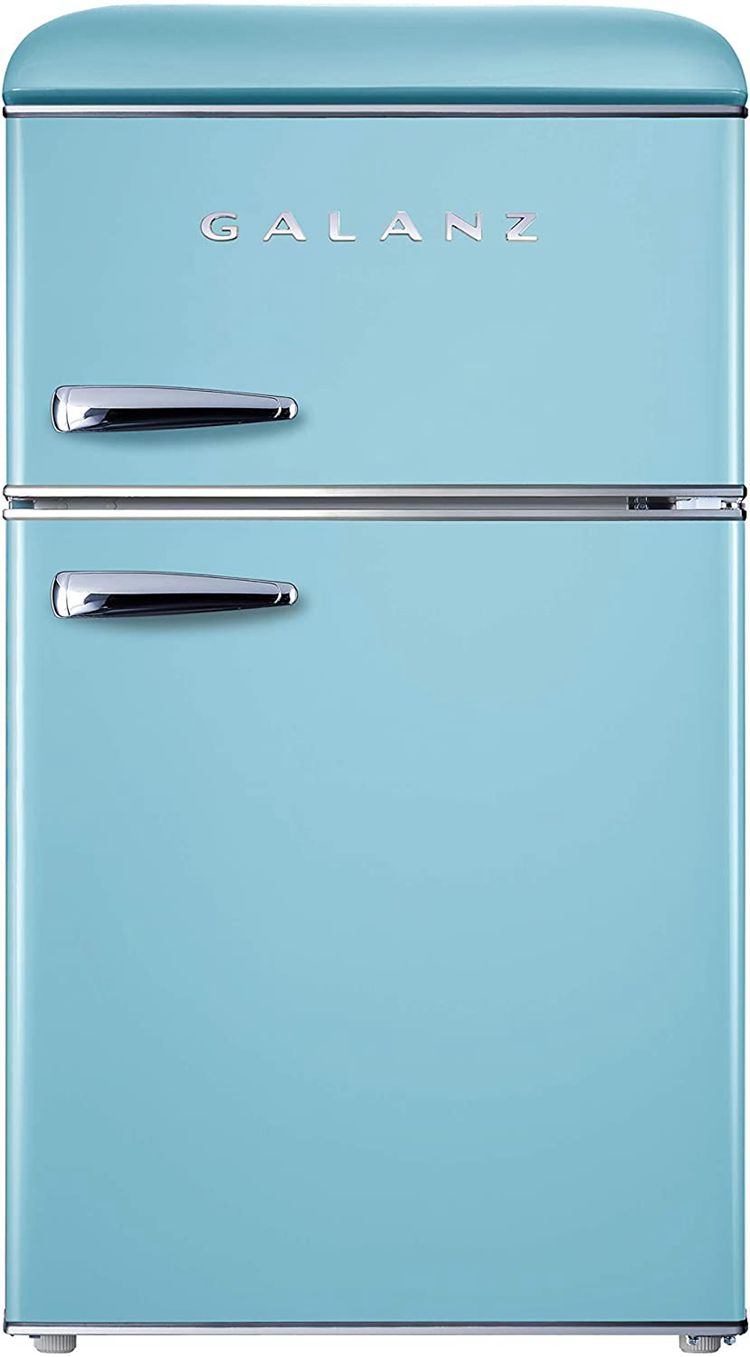 The retro compact refrigerator uses a high efficiency and low consumption compressor technology that can cool food fast without consuming much light. Galanz built this refrigerator in its mini size to encourage a minimalist lifestyle. Talk about comfort and luxury in one item.
It has a double door design with a freezer compartment at the top that can help with ice cubes and store frozen foods. The glass shelves in this refrigerator help you organize and separate food types seamlessly.
Pink Retro Refrigerator
This pink beauty with a gloss finish and 50s style-inspired rounded style is from the Smeg company.
It has two adjustable shelves and an internal lighting system for the refrigerator compartment. The freezer compact has fast freezing features and three drawers made of pure glass.
White Retro Refrigerator
A mid-century Smeg design, the fridge has a matte white finish with a slim outline promoting the efficient use of space and a single door for quick access.
The refrigerator has a compact inner freezer compartment and glass shelves that can come off when you need to clean them, drawers, and in-door bins for better organization.
Retro French Door Refrigerator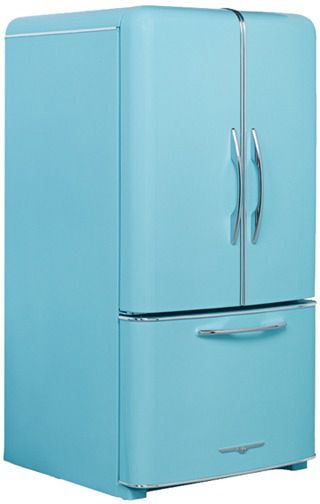 This fridge is from the Elmira stove works company and has glide-out freezer baskets with a full-width pantry drawer to store your eggs and veggies and Visi-shelving for easy access.
Black Retro Refrigerator
The Black Galanz GLR12TBKEFR glossy finish refrigerator with a top freezer compartment uses a fast-cooling technology with measured light consumption to keep your food fresh.
The refrigerator has a manual control option that allows you to increase the temperature from cool to cold to coldest or however you desire.
Blue Retro Refrigerator
This ten cubic feet retro blue with a top freezer compartment has all the space you need to store your perishables. Door bins help keep water bottles with glass shelves and a master-organized fresh food compartment.
How to Determine the Value of Antique and Vintage Refrigerators
Don't be swayed by their extended sizes. There's a way to determine the value of antique generators, and we'll show you how to do just that.
Consult an Appraiser
Companies like AntiqueAppliances.com specialize in refrigerator appraisals. They have certified personnel who can help you determine how valuable your item is and place a possible price tag.
Online Books and Resources
Online guides like, and platforms like eBay and Amazon can help you compare prices of various models from different years that have been sold at other times. The knowledge you get by doing this will help you stick to a price range suitable for you and your pocket and ultimately prevent loss.
By Their Capacity
Space management, shelf arrangement, number of bins, and trays also affect the value of antique refrigerators. It's necessary to make the most out of any refrigerator you intend to purchase- This is in its ability to house as many foods as possible.
By Their Age
Retro refrigerators think the 60s, 70s, and the 80s are not even in most stores anymore as the times and styles have changed. But they're still very valuable because of this rarity.
So if you have any of the models from the years above in your pantry or basement, dust them off, fix the problem, and go to the flea market or thrift store to get your coins.
Physical Features and Specifications
Models with special physical features like twin doors, touch effect, and interior light get higher demands from collectors and buyers alike. Some people lookout for exceptional products like these in electronics and would pay a killing fee for antique refrigerators with just a little bit of extra spice.
How Desirable is this Brand?
Popular and renowned brands in the market are highly desirable, especially if you have an earlier model from this company. At the mention of the brand's name alone, be rest assured that you already have a good deal.
Assess the Condition
The overall physical condition and appearance of your refrigerator dramatically affect its value. Suppose your item is old and rusty with half the paint coming off, lacks the necessary parts, or generally is in bad shape. In that case, you'll not get the value for your money or know the true worth of your piece.
With that being said, always endeavor to keep your refrigerator away from water, any liquid, sweltering conditions, and open spaces prone to contact and other environmental forces.
Parting Words
As we pay homage to the great invention that is refrigerators, we've compiled valuable tips for you to live by on your search for these antique magical ice boxes.
Refrigerators were born out of the human attempt to prevent food wastage and prolong the shelf life of perishable goods by first keeping them on ice and salt.
Special physical features are always a bonus.
Brand names play a significant role in the world of collecting retro refrigerators. People will only pay attention to brands they know and trust, so remember that.
Keep your refrigerators away from liquids and extreme environmental conditions.