Squishmallows took the world by storm at a most uncertain time. Thanks to their better form, softer materials, and relatable characteristics, these tiny plush toys overtook the market with ease.
Squishmallows are so coveted even today that the company's revenue as of 2021 was $57.89 million. In 2020, Business Wire reported Kelly Toy's Squishmallow sale for the fiscal year was 50 million.
Part of their appeal is attributed to the versatility of each model, making Squishmallows the perfect gifts for every occasion. It's a little wonder everyone wants a piece for themselves. Here's a list of the rarest Squishmallow in the world and some collection tips to help you through your shopping.
What is a Squishmallow?
A Squishmallow is a stuffed toy made of soft materials in different characters. There are different sizes, from small 2-inches squishy toys to big 24-inches cuddle buddies.
When Kelly Toy started the line in 2017, the company had no idea that its Squishmallows would blow up four years later. Of course, every business hopes for success, but you can be sure that Kelly Toy's didn't expect a 21st-century Beanie Babies craze-style success.
Once you begin collecting, we believe you'll understand why it's called a Squishmallow – words alone can't do it justice. Each one has a unique trait and its name on its hangtag, making them relatable to collectors.
15 Rarest and Most Valuable Squishmallows
The most expensive Squishmallows on the official website sell for $80 at most, but secondary retailers on online marketplaces sell at almost 12 times that amount. Why is this so? Because they often auction rare and out-of-stock Squishmallows.
Please note that we replaced Squishdates with Available Date for Squishmallows without identifiable info tags. Also, the official Kelly Toys page removed the information of all discontinued characters so some collector numbers are missing too.
However, you can find all that information when you buy a Squishmallow with complete hang tags.
No.

Name

Squad

Squishdate/

Available Date

Collector No.

Sizes Available

Price

1

Fania the Purple Owl

Valentine

12.29.2020

773

3.5" clip-on, 11", 12", 16"

$2,999

2

Jack the Black Cat

Select Series

2020 (Available)

–

5", 12", 16"

$1,500

3

Santino the Platypus

Down Under

2020 (Available)

–

2", 12"

$1,450

4

Ben the Teal Dino

Fantasy

11.13.2017

69

All

$1,000

5

Philippe the Frog

Valentine

7.13.2019 (Available)

–

8", 16"

$999.99

6

Willy the Wolf

Wilderness

10.10.2019

342

3.5" Clip-on, 5", 7", 12"

$750

7

Avery the Mallard

Classic

4.15.19

216

2", 3.5" Clip-on, 7", 8", 12", 16"

$499

8

Dakota the Pink Dragon

Valentine

2019 (Available)

–

2", 5", 12", 16"

$499

9

Peter the Pig

Easter

7.2.2021

–

8", 13", 16", Stackable

$489.95

10

Celine the Chicken

Farm

2020 (Available)

–

12"

$460

11

Blossom the Lamb

Easter

9.1.2019

–

5", 8", 16"

$400

11

Stacy the Squid

Adventure, Valentine

8.28.2019

299

3.5", 5", 7.5", 8", 12", 16", 24"

$400

13

Emily the Bat in Pumpkin

Halloween

2021 (Available)

–

3.5", 5", 8", 12", 16"

$352.50

14

Sheldon the Blue Seahorse

Summer Fun / Fantasy

10.10.2019

346

All Sizes, Stackable

$350

15

Belana the Cow

Easter

9.19.2020

579

3.5", 5", 8", 12", 16", Stackable

$350
Here's a list of the highest-selling rare Squishmallows on eBay in the past year.
15. Belana the Cow
Squishdate: 9.19.2020
Collector No.: 579
Squad: Easter
Size: 3.5", 5", 8", 12", 16", Stackable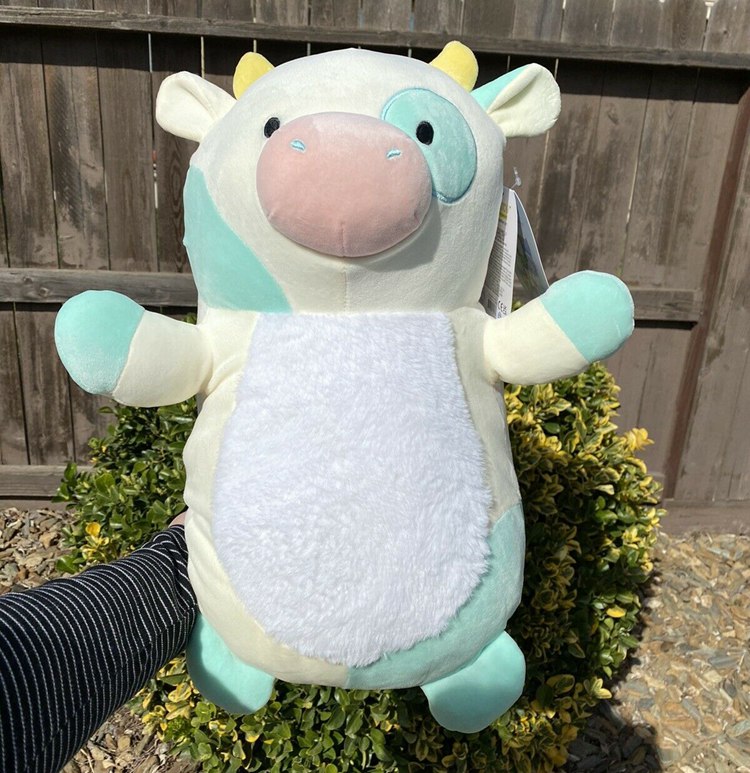 Belana may be one of the newest additions to the fold but she hit the ground running. Her creativity and interest in art endeared her to collectors immediately making her sell out fast. Belana isn't alone in the world though; she has a brother Ronnie.
Together the siblings make a formidable team with Ronnie making furniture and Belana painting them. Please note that only the 16-inch Belana wears a paisley print mint green scarf, as seen in the picture above.
14. Sheldon the Blue Seahorse
Squishdate: 10.10.2019
Collector No.: 346
Squad: Summer Fun / Fantasy
Size: All Sizes, Stackable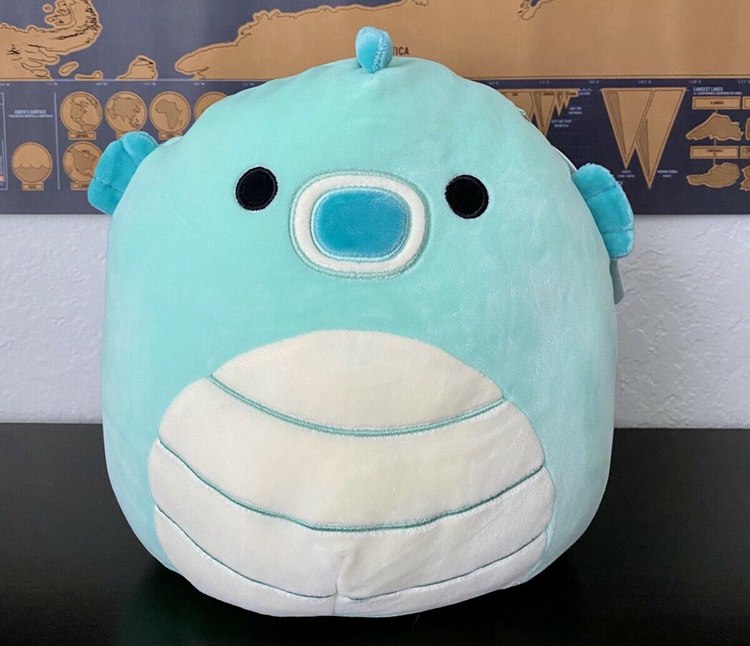 If you've ever considered being someone else or identity crisis, then you have a pal in Sheldon the Blue Seahorse. He, too, wanted to become a Jellyfish, but he got stuck being a Seahorse.
Like the movie character in The Big Bang Theory, Sheldon is curious. He studies his surroundings, including all the organisms living in the ocean with him. Sheldon has a pink model released earlier than the teal color, but it's not as rare.
The success of the pink seahorse led to an updated design with more sizes since the OG Sheldon came in limited 3.5 and 7-inches sizes.
13. Emily the Bat in Pumpkin
Squishdate: 2021 (Available)
Collector No.: –
Squad: Halloween
Size: 3.5", 5", 8", 12", 16"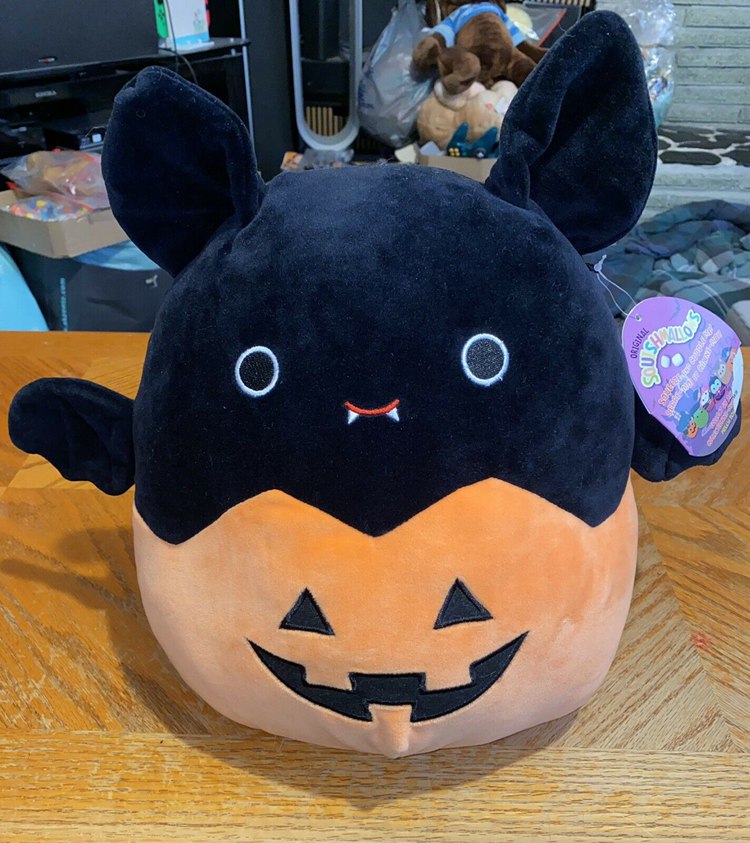 What says spooky like pumpkins and black bats? Exactly. As a bat, it's a no-brainer that Emily was part of the Halloween Squad.
Emily has an older brother Bart, but she's a loner. In her leisure, she enjoys studying astrology because she wants to be an astrologer when she grows up. Zodiac enthusiasts and Astrologers love this spooky squishy.
11. Stacy the Squid
Squishdate: 7.11.2019 (Available)
Collector No.: –
Squad: Adventure, Valentine
Size: 3.5", 5", 7.5", 8", 12", 16", 24"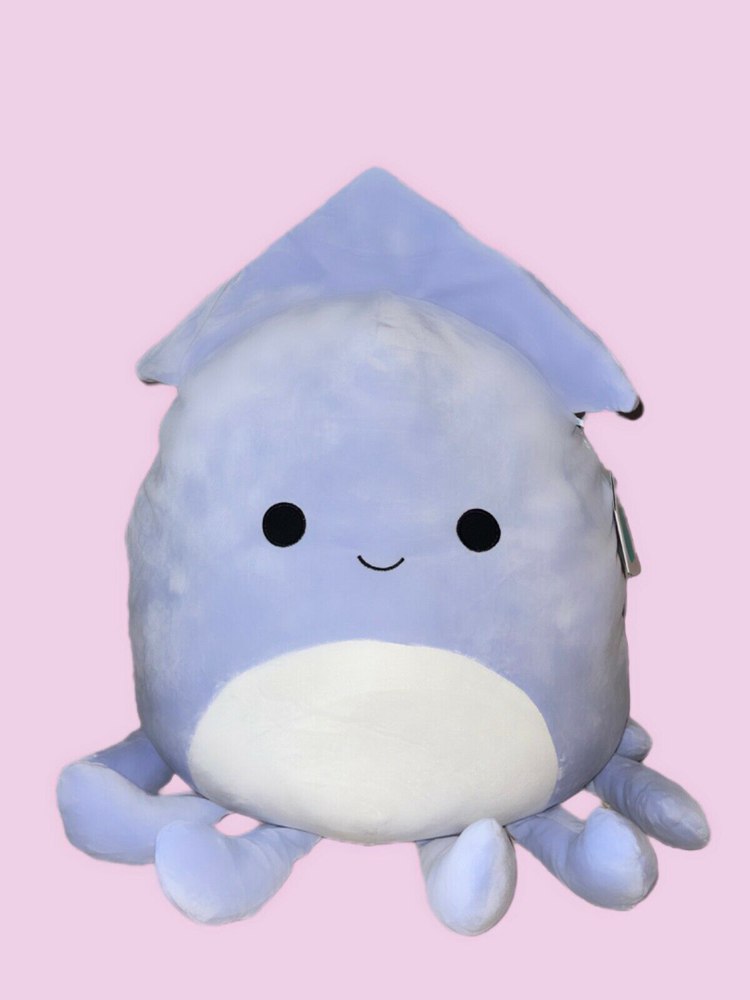 Stacy wears a shy smile because she's a shy squid who likes staying home alone or with few friends. She's an avid reader who doesn't like crowds, so it's best not to collect her with many Squishmallows. If you're patient enough, you'll see the silly part of Stacy.
The upgraded Stacy Squishy has twin XOs embroidered on her left chest next to a purple heart while the OG version is plain purple and white. She had two squads because the OG Stacy was part of the adventure gang but in the upgrade, Kelly Toy released her as a Valentine squishy.
The 24-inch Stacy Squishmallow was exclusive to Canada so if you find that one, you're in luck.
11. Blossom the Lamb
Squishdate: 9.1.2019
Collector No.: –
Squad: Easter
Size: 5", 8", 16"
Blossom the Lamb squishy guarantees sweet dreams. Its closed eyes, rainbow in the cloud "skin", and vanilla bean scent are the perfect sleep inducer. Luckily, Kelly Toy still manufactures this character so that you can cop one at the next release.
Blossom's character was part of the special squad made specially for Justice.
10. Celine the Chicken
Squishdate: 2020 (Available)
Collector No.: –
Squad: Farm
Size: 12"
You'll never feel alone with Celine the Chicken because she loves helping everybody. She volunteers at the non-profit organization her aunt runs. Although it's not the only Chicken Squishmallow, it's the only light brown one with a red crown.
9. Peter the Pig
Squishdate: 7.2.2021
Collector No.: –
Squad: Easter
Size: 8", 13", 16", Stackable
If you're a winter lover, then you'll love Peter the Pig. He loves snuggling under the covers in wintertime and bundling up. You can take hikes with this squishy, and he'll never get tired of rock climbing.
Peter loves adventures, and just like you, this pig indulges every fun activity you can think of, including piggyback rides (a given), bungee jumping, cliff jumping, rollercoaster rides, and more.
Peter has a female counterpart Petra who often confuses new collectors. The only significant difference between them is Petra's feminine curled lashes against Peter's plain black eyes.
8. Dakota the Dragon
Squishdate: 2019 (Available)
Collector No.: –
Squad: Valentine
Size: 2", 5", 12", 16"
Whoever said dragons can't be cute creatures hasn't seen Dakota the Pink Dragon Squishmallow. She's a pastry chef who loves making dragon pies, and if you have her long enough, she may invite you to her pastry shop.
Please note that the 2021 model has some major physical upgrades. The fabric includes a double-heart embroidery in shimmery fabric.
7. Avery the Mallard
Squishdate: 4.15.2019
Collector No.: 216
Squad: Classic
Size: 2", 3.5", 7", 8", 12", 16"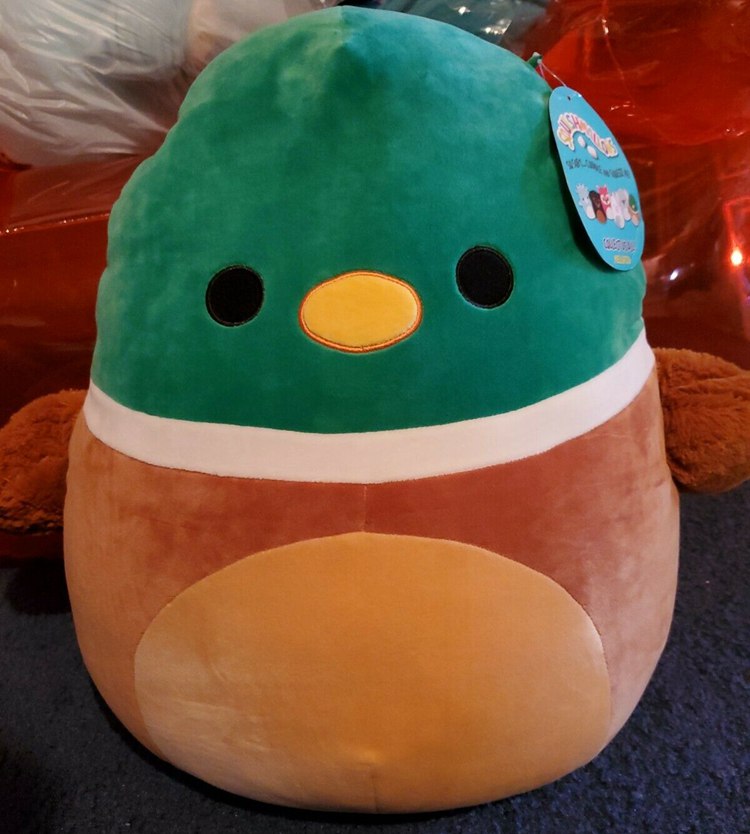 This green black-eyed duck gained widespread notoriety for being a rugby player. The left wingman comforted many athletes in a year (2020) when sports wasn't available as an outlet. You could practice your throws with the stuffy and give it popsicles after the game.
Although there are other Mallard ducks in the Squishmallow family, Avery is the rarest. Donald Duck from the Disney squad is the only one that comes a close second in popularity, and you can already guess why.
6. Willy the Wolf
Squishdate: 10.10.2019
Collector No.: 342
Squad: Wilderness
Size: 3.5", 7"
When you hide under the covers during a thunderstorm, you can take Willy the Wolf with you. He's not scared of storms because he wants to be a weatherman. Willy is also a collector of bowties – he especially loves weather prints.
Willy is one of three wolves in the Squishmallow family and two standing models. Its counterpart Wade is a two-toned brown werewolf while Willy is a pure breed wolf.
5. Philippe the Frog
Squishdate: 2017
Collector No.: –
Squad: Valentine
Size: 8", 16"
Philippe loves playing Hopscotch with his squadmate Marco the hedgehog. His face has two permanent blushes in the form of pink hearts – a signification of his valentine's squad. Phillipe is no longer listed on the Squishmallow website because he was a limited-edition promo squishy.
It's worth mentioning that Philippe is almost a doppelganger of Wendy from the OG squad. The only difference between them is their cheeks. Whereas Wendy's is a rosy round blush, Philippe's is heart-shaped.
4. Ben the Teal Dino
Squishdate: 11.13. 2017
Collector No.: 69
Squad: Fantasy
Size: All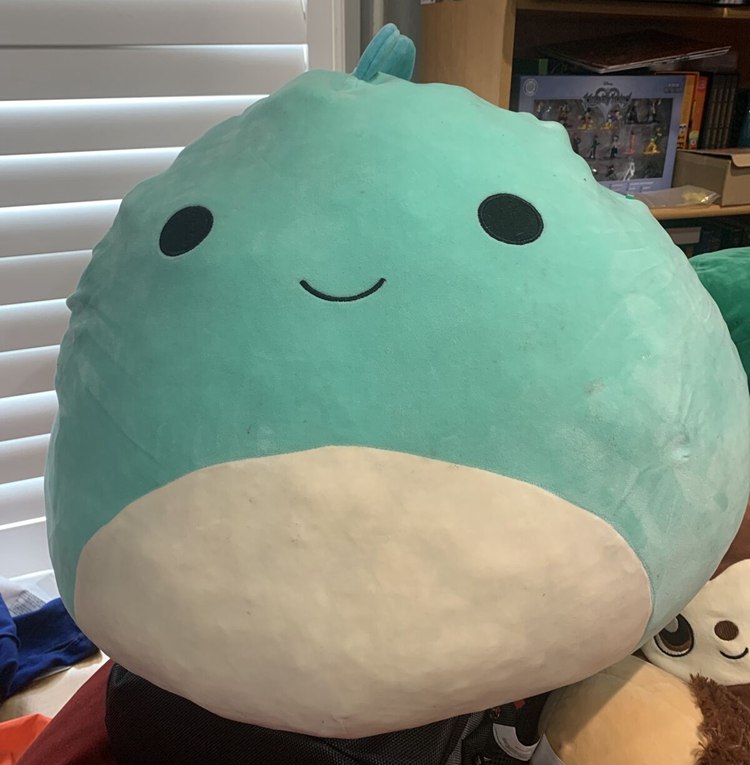 Bookworms would never again feel alone with Ben the Teal Dino. He's a walking encyclopedia with knowledge on every topic you can imagine. In Ben, Students have a study partner while grown-ups have a business presentation tag team.
You no longer have to miss Trivia questions once you get Ben. You can always rely on the Dino for hints during charades and other memory games.
There's a Valentine Squad adaptation of Ben named Anna but, unlike him, she's pink with two embroidered XOs on her belly and a pink heart.
3. Santino the Platypus
Squishdate: 2020 (Available)
Collector No.: –
Squad: Down Under
Size: 2", 12"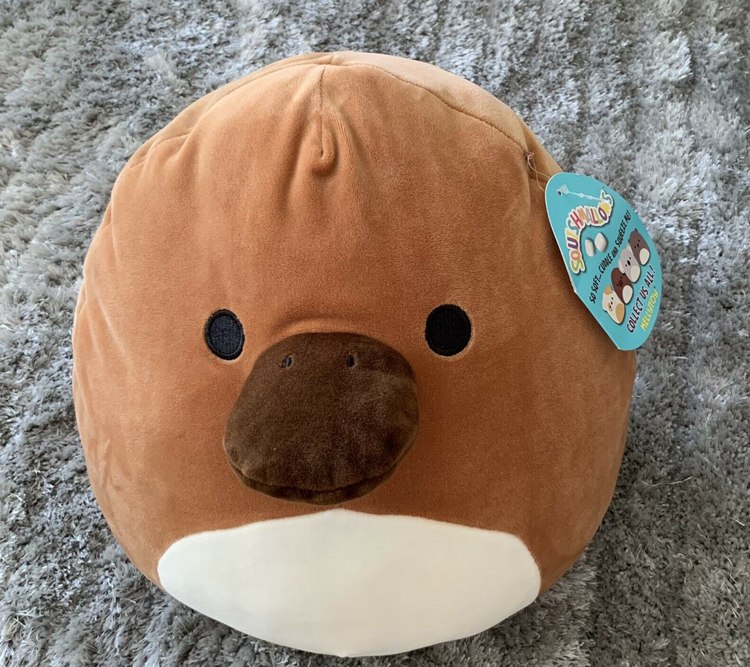 Pancake lovers scored a goal with this squishy who loves making blueberry pancakes. He loves a good soccer game with his friends and hopes to become a goalkeeper when he grows up.
There's an alternate Santino edition in the Squishville, but the difference isn't obvious from afar. However, when you move closer and feel the texture, you'd notice the OG Santino is smooth while the updated model is wooly.
2. Jack the Black Cat
Squishdate: 2020 (Available)
Collector No.: –
Squad: Select Series
Size: 12", 16"
Price: $1,500
Jack the Black Cat is part of an anniversary Select Series which gained popularity as the 500th Squishmallow character. He's a dependable friend who says less and acts more though he's always ready to defend himself and his friends.
Jack is willing to lend a hand when you need it, and he comes in only two sizes, 12-inches, and 16-inches. Within 2 hours of Kelly Toy announcing the limited 500 pieces in stock, it sold out exclusively on the Squishmallow website, hence its position on this list.
1. Fania the Purple Owl
Squishdate: 12.29.2020
Collector No.: 773
Squad: Valentines
Size: 3.5", 16"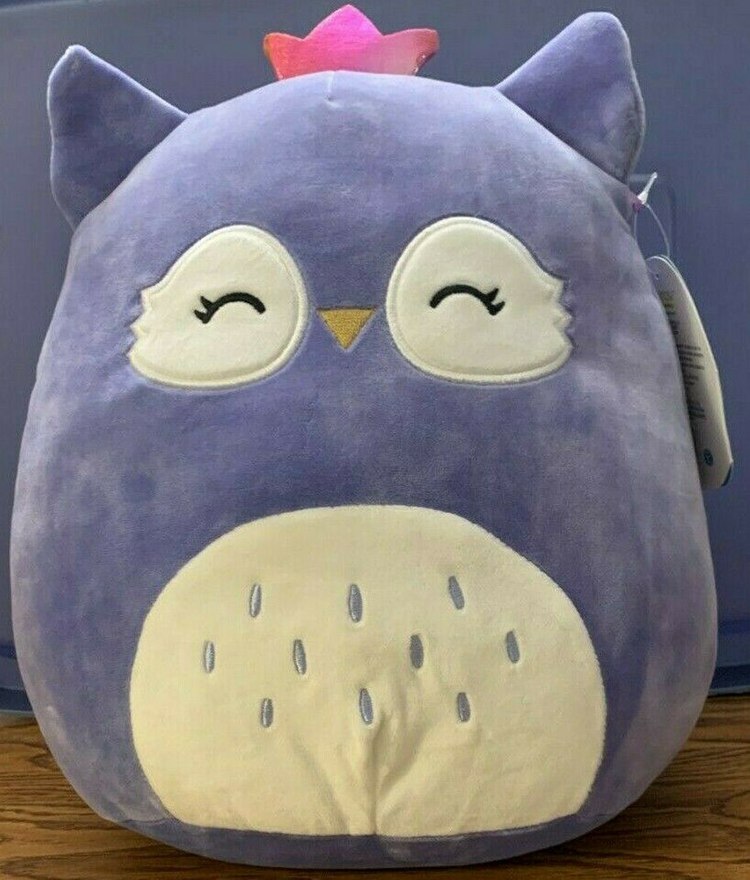 Fania loves a good bedtime story about Princess, Princes, Wicked Witches, and everything entails. This night owl enjoys falling asleep to fairytales as much as any other child. Did you know Fania is the only Squishmallow owl with closed eyes?
The pink owl Bri is the only one who looks like her except for her opened eyes and plain cloth crown (Fania has an iridescent pink crown.)
What sizes do Squishmallows come in?
Squishmallows come in 12 standard sizes from 3.5-inches to 24-inches. Other sizes in inches include 5, 6, 7, 7.5, 8, 10, 12, 13, 16, and 20, of which the 13-inch plush toy is also limited. The 3.5-inch plush toy is a clip-on keychain.
When the brand started, however, there were only four sizes, so all OG characters from 2017 are either 3.5-inch clip-on, 8-inch, 13-inch, or 16-inch.
How did Squishmallows become Popular?
Well, it all started with the Pandemic. The Squishmallows' market domination was a ripple effect situation. People needed respite during the initial outbreak of the Coronavirus, so they turned to technology/social media, especially TikTok.
Since many people were idle and had too much time on their hands, they started creating content on the social media app. Alas, one of the content creators went viral for making a video about the Squishmallows.
Soon, people realized they could find comfort in these squishy toys as an alternative to human contact. Et Voila, the Squishmallow supremacy began.
Where can you find Squishmallows?
The official Squishmallows website provides a list of over thirty Toy Stores that retail the squishy toys in the USA. You already know some of them like Amazon, Costco, Gamestop, Target, and Walmart.
Don't worry if you're an international collector because international partners in Canada, Mexico, the UK, Australia, and other selected countries on each continent sell them.
Asia has Costco, the Caribbean Islands, Central America, and Columbia have Pricesmart, and South Africa (the country) has Toys R Us.
If your country isn't on the list, secondary sellers on online marketplaces can come through for you. Try the verified Amazon store or auction sites like eBay and Etsy, and if you're feeling entrepreneurial, you can apply to become an official retail partner.
We have to warn you that buying from unverified sellers is risky even though they sell the rarest and out-of-stock Squishmallows.
FAQs
How many different Squishmallows are there?
Although Kelly Toys started with only eight characters, over a thousand Squishmallow characters exist today.
What is the biggest Squishmallow size?
The 24-inches tall Squishmallow is the biggest size available. You can cuddle it and use it as a pillow.
What are Squishmallows made of?
If you've ever wondered what material makes Squishmallows so snuggly and cuddly, you're not alone. Kelly Toys make them with soft spandex and polyester fiber fillings from a factory in China.
One of the most popular collectors, Lindsay Frank, describes Squishmallows as softer memory foam.
How Can I Clean My Squishmallow?
The laundry-friendly material makes it easy to wash without compromising the softness and plush quality. A mild detergent or soft hand soap mixed with lukewarm water and a soft cloth would do the trick.
Fluff your Squishmallow back into shape after air drying it but don't use artificial heat no matter how tempting it is. Say no to microwaves, blow dryers, machine dryers, and any other alternative.
How to tell if a Squishmallow is fake
Unfortunately, there's no straightforward way to tell if a Squishmallow is real or fake. Copycats take on almost the same form and have as much popularity as the authentic one like Jenny the Cow. The fake squishy stole many people's hearts until Reddit users exposed the farce.
So how can you know an original Squishmallow? Your best bet is to check the inventory on the official website. Any Squishy not listed there isn't from Kelly Toys. The list also contains sold-out copies, so don't let a desperate seller deceive you.
Alternatively, you can study the hang tags for standard texts. There are three of them, and each one has unique writings. They are;
Original Squishmallows, So Soft… Cuddle and Squeeze Me!
Kelly Toys + Character information including Name and Storyline,
Identification and Batch number
Why are Squishmallows so expensive?
Like the Beanie Babies craze that rocked the Nineties, some opportunists (called scalpers in the collectors' world) bought out stores to resell at higher values because they noticed the increased demand.
The average Squishmallow costs about $10-$40, relatively affordable for every American. However, because of the scalpers, some models leave the market almost as immediately as they reach the shelves causing them to become rare finds.
Then, the laws of demand and supply set in – people want the Squishmallow, but it's not available. So, the few that are left in the stock increase in value. Also, it doesn't help that Kelly Toy makes limited stock in the first place.
What was the first Squishmallow ever?
In 2017, Kelly Toy company in California made the first Squishmallow Cam, its official Twitter handler revealed in reply to an excited fan in 2019.
Conclusion
Are you feeling sad, happy, anxious, excited? Whatever emotion comes to the fore, there's a Squishmallow for you. Earlier we advised that you crosscheck on the official Squishmallow website when you want to buy a new character but it has a clause attached.
When discontinued and retired Squishmallows don't show up on the official inventory check the alternative fandom site. Yes, they're that popular. There's a master list you can use to crosscheck every detail. Other options include;