You're not a full-fledged 90s kid if Beanie Boos sounds strange to you. Their large adorable eyes are as endearing as their catchy colors; a break from the norm. These toys offer you comfort, beauty, and prudence simultaneously.
These interesting stuffed animals range from $20 and can go as high as $1,000 due to rarity, production error and other factors.
This guide has all the information you seek on Beanie Boos, from their captivating history to their value and the collections available. We'll also help you identify the 15 rarest Beanie Boos in the world today.
The 15 Rarest Beanie Boos in the World Today
The following prices are sourced from verified online stores, collectors lists, and auction sites. However, prices may vary, and this arrangement is unrelated to any existing price/value guide.
| | | | |
| --- | --- | --- | --- |
| No. | Name | Price | Release Date |
| 1 | Cashmere the White Cat | $119.95 | 2012 |
| 2 | 1stDakota Pony Horse | $98.99 | 2012 |
| 3 | Skylar the Husky Dog | $84.95 | 2016 |
| 4 | T-BONE Blue Chihuahua Beanie Boo | $69.99 | 2014 |
| 5 | Rainbow the Unicorn | $62.99 | 2011 |
| 6 | Nacho the Chihuahua | $59.95 | 2011 |
| 7 | Tuffy the Dog | $54.48 | 2010 |
| 8 | Flora the Skunk | $30 | 2015 |
| 9 | Candy Cane the Hamster | $44.99 | 2011 |
| 10 | Cinder the Dragon | $37.99 | 2015 |
| 11 | Corky the Pig | $29.90 | 2011 |
| 12 | Slush the Husky | $27.99 | 2017 |
| 13 | Goldie the Duck Beanie Boo | $24.89 | 2011 |
| 14 | Neptune the Seahorse | $19.99 | 2014 |
| 15 | Carrot the Rabbit Beanie Boo | $12.95 | 2011 |
1. Cashmere the White Cat
Release Date: 2012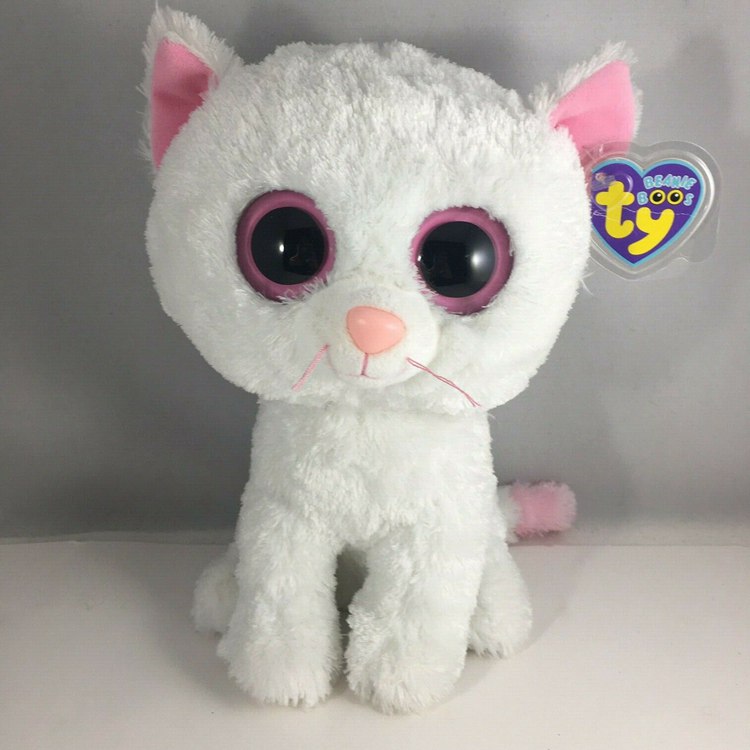 Cashmere is a fluffy white cat with solid pink eyes and corresponding pink ears. It has big bulgy black eyeballs and a pink button nose.
Rare Beanie Boos are usually identified by their solid eyes. Cashmere has pink whiskers and a threaded pink mouth.
2. 1st Dakota Pony Horse
Release Date: 2012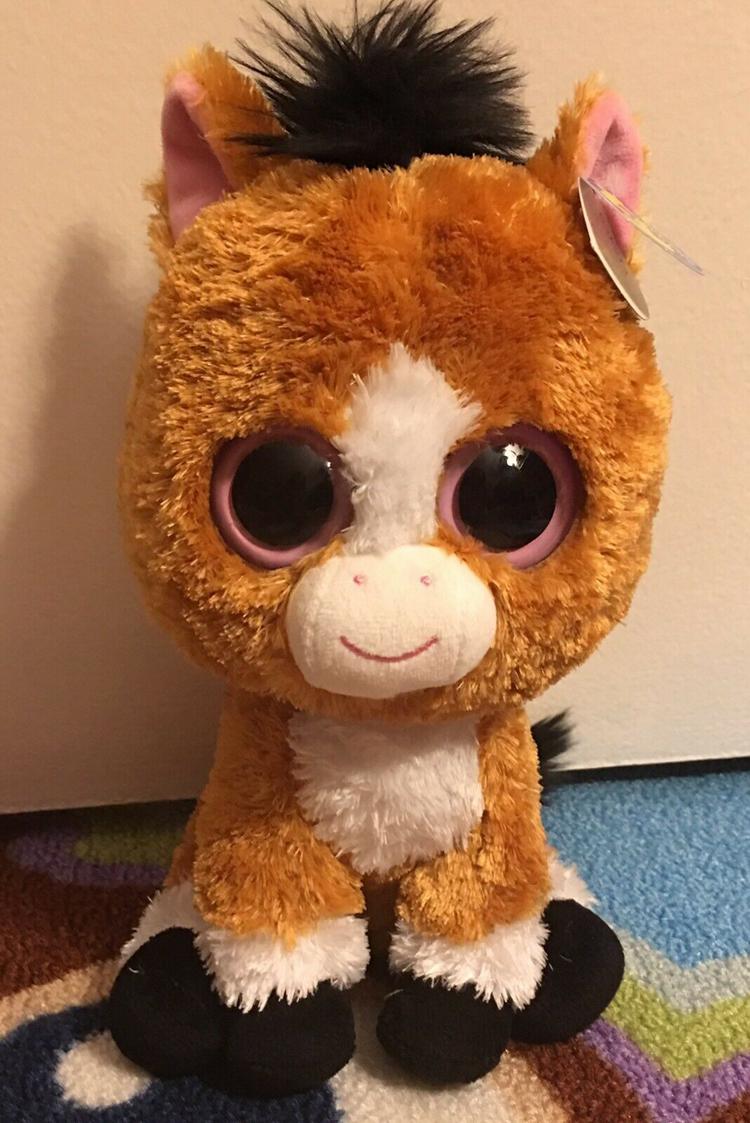 This horse maintains a sitting-down position and is beautifully clothed in elegant colors of brown, black, and white furs with matching black mane. It has solid black and pink button eyes and pink ears with pink details on its nose and mouth.
Dakota, the pony, debuted on June 25, 2012; it is a rare limited edition Beanie Boo.
3. Skylar the Husky Dog
Release Date: 2016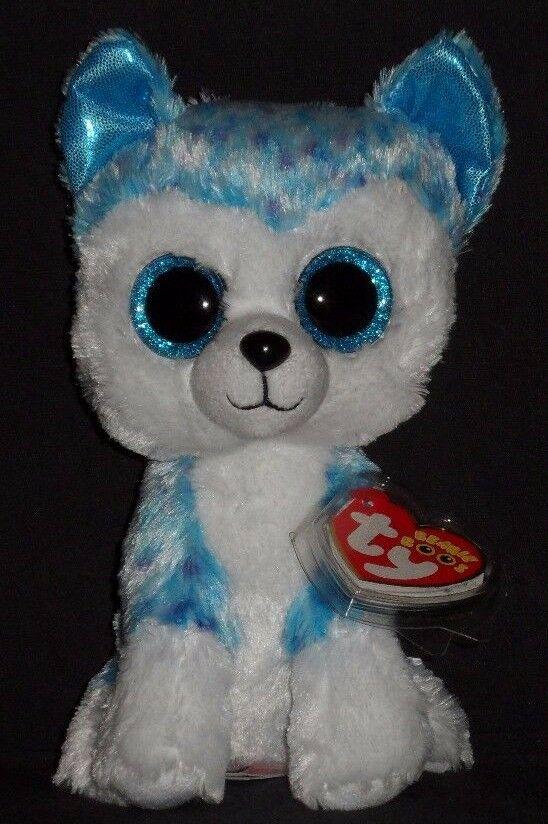 Skylar, the dog, is a justice store exclusive beanie boo produced by TY INC., implying that you can only get it in that store. It features bright blue fur with white highlights on its chest, hands, feet, and face with solid blue eyes.
4. T-BONE Blue Chihuahua Beanie Boo
Release Date: 2014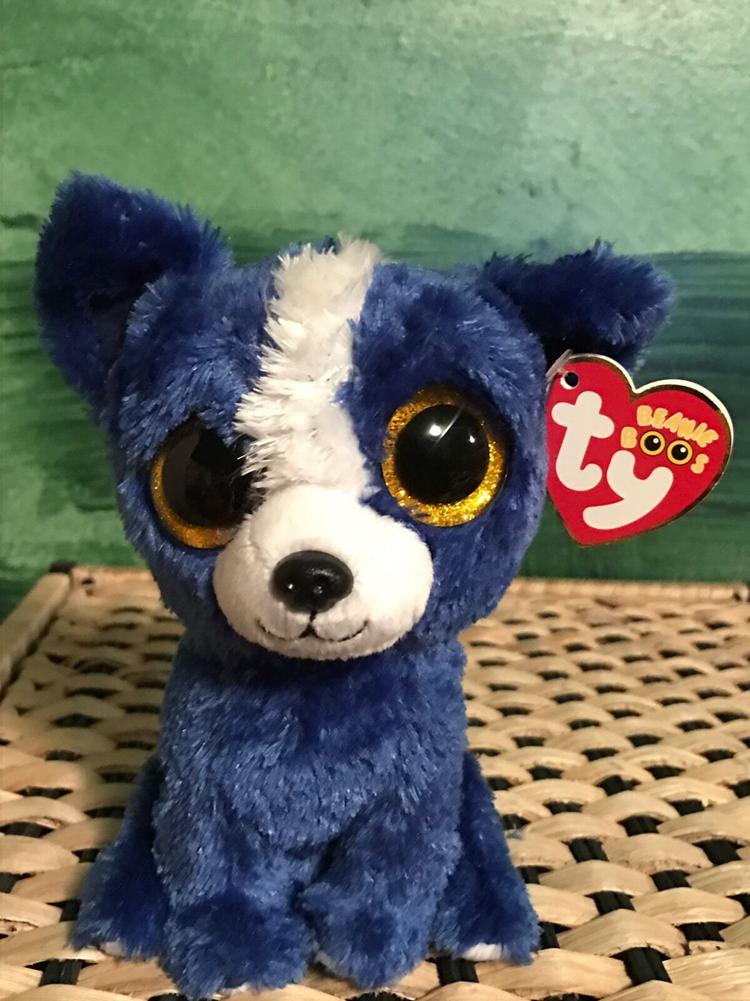 This beanie boo is an adorable fluffy blue Chihuahua with white details at the muzzle and round sparkly gold eyes with a black button nose and a black threaded detail in the mouth.
It's a rare beanie boo as it was only made available during the 2014 spring gift show in Atlanta, you had to attend to buy, and it was immediately retired after the show.
5. Rainbow the Unicorn
Release Date: 2011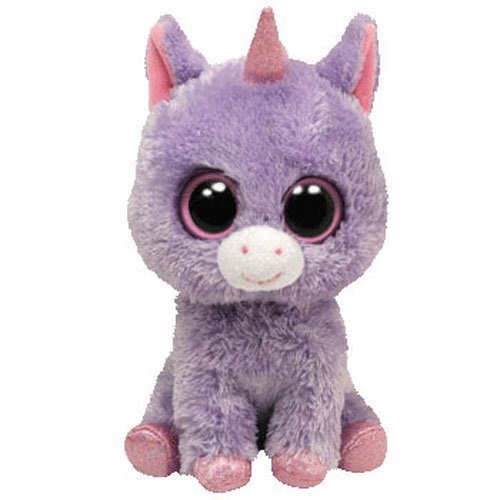 Rainbow the unicorn is a rare find and a retired collection designed and released. This beanie boo has pink and black solid eyes with a sparkly pink horn and pink tails. A cynosure of eyes, the contrast between the purple fur and the pink details on this stuffed animal makes all the difference.
6. Nacho the Chihuahua
Release Date: 2011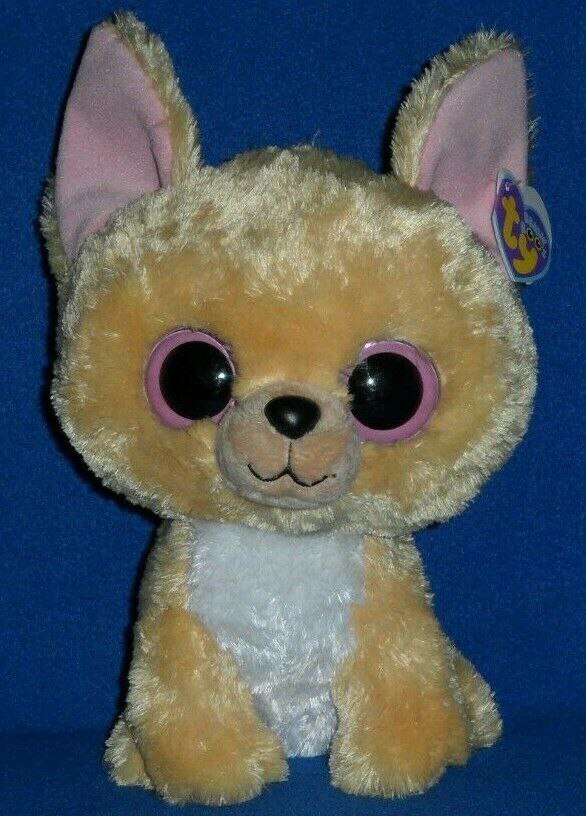 This furry friend is instantly noticeable for its bright pink solid eyes and pink ears. Fierce like the real-life Chihuahua, the figure is covered in a coat of bright brown with a white highlight on the chest region.
7. Tuffy the Dog
Release Date: 2010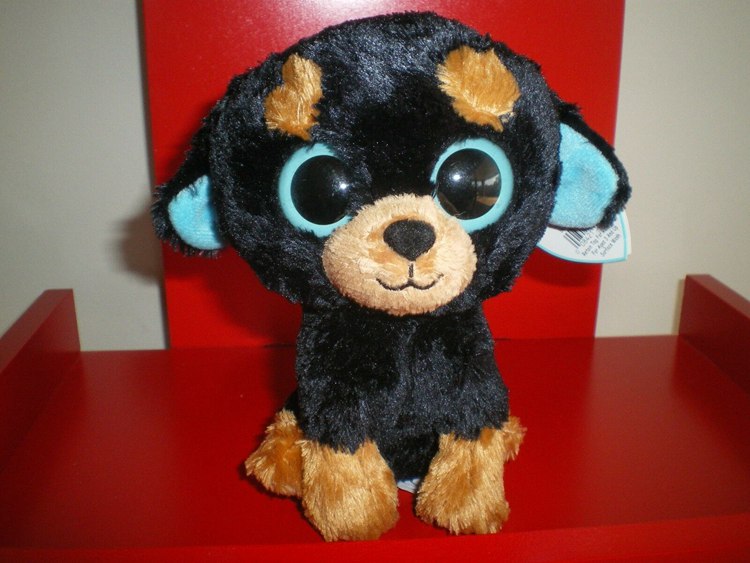 Due to its retired condition, Tuffy the dog is a very rare beanie boo. TY inc released the rottweiler with solid blue eyes and inner blue ears in 2010. It's covered in black fur with golden brown highlights on the feet, hands, nose, and eyebrows.
8. Flora the Skunk
Price: $30
Release Date: 2015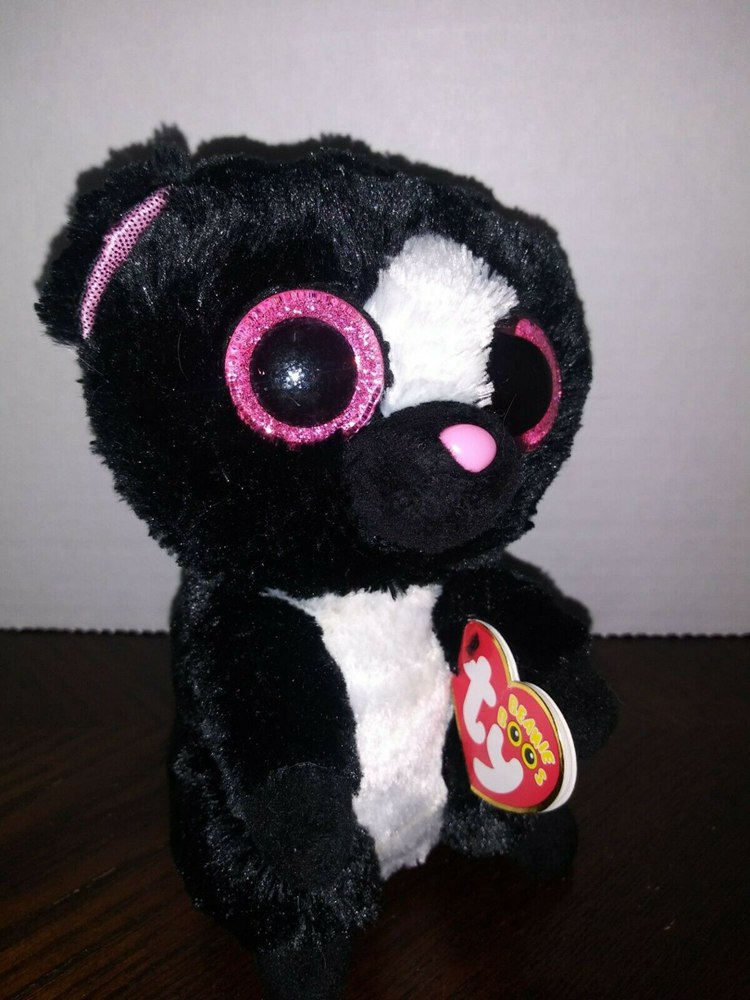 Flora, the skunk, is covered in jet black fur with large pink and black solid eyes and pink inner ears. It has a pink button nose and white highlights on the chest and between both eyes.
9. Candy Cane the Hamster
Release Date: 2011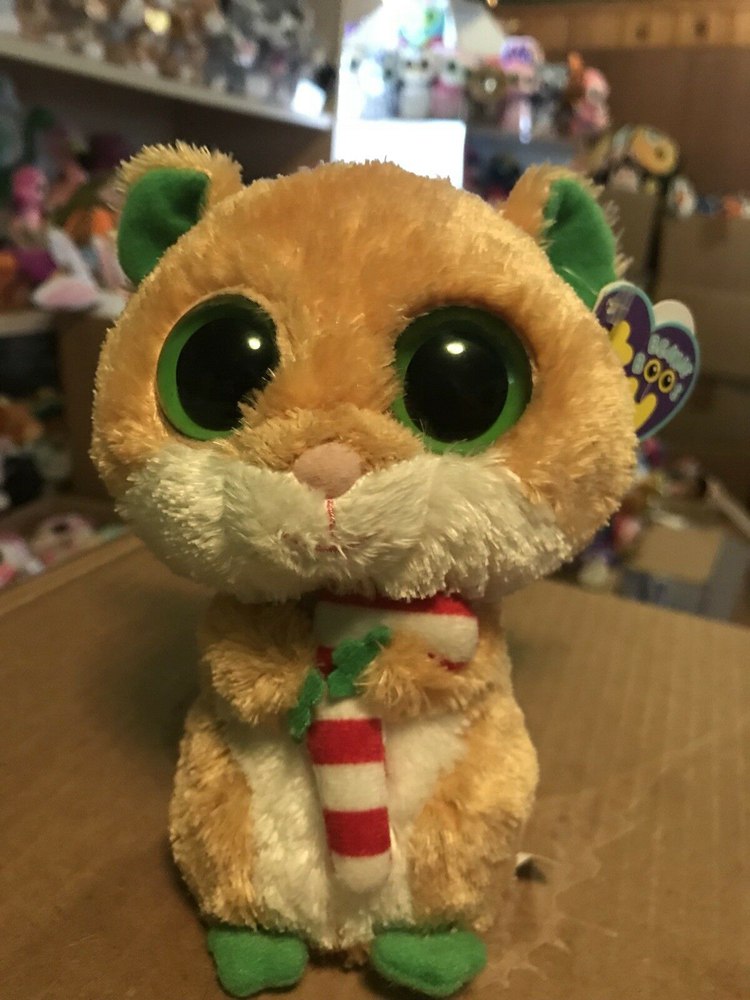 Beanie Boos aligned with the Christmas seasons and made toys just for that occasion. One of which is the rare candy cane beanie. This Christmas edition toy has solid green eyes and green inner ears with a scarf around its neck.
It's covered in the loveliest shade of brown with cream highlights on the chest and mouth region.
10. Cinder the Dragon
Release Date: 2015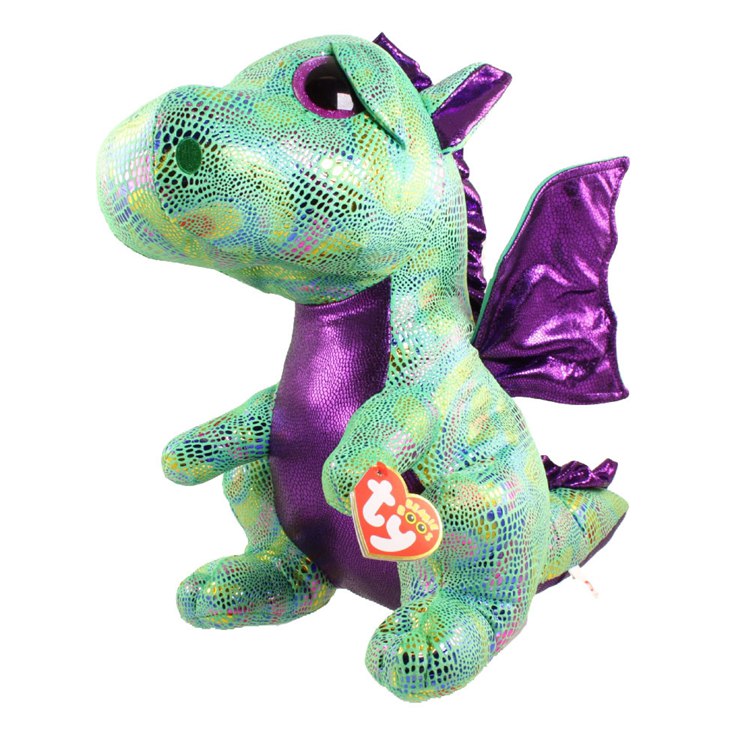 Cinder is a green dragon and a 2015 masterpiece. Its body is a kaleidoscope of sparkly details and a bright purple stomach with wings complimenting purple color. The large purple solid eyes are also highlights on this piece.
11. Corky the Pig
Release Date: 2011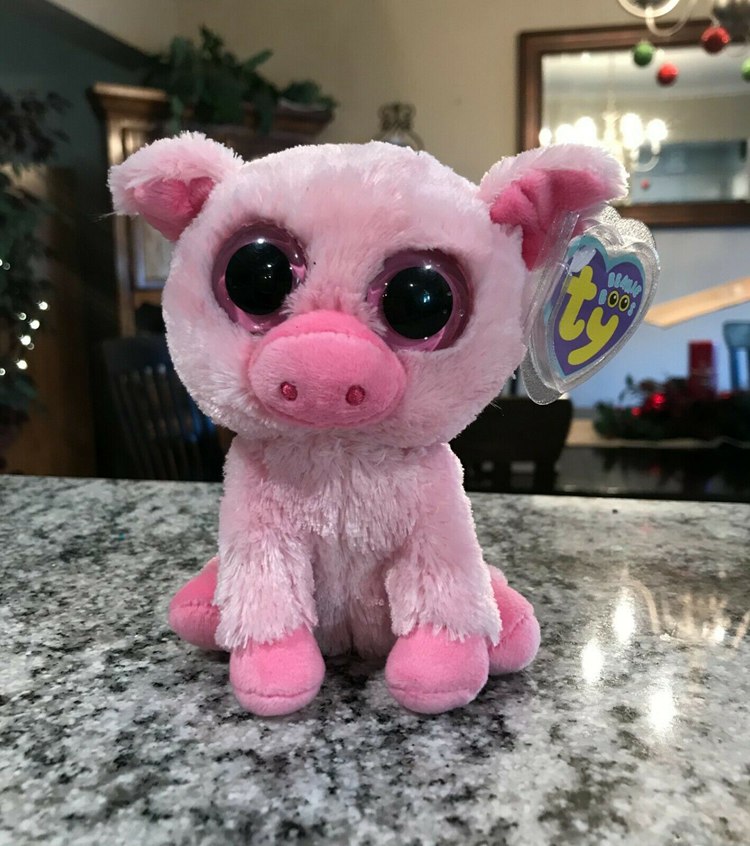 A pink pig with the dreamiest pink eyes, this 2011 beauty is covered in a head-to-toe shade of pink, howbeit contrasting. It was retired in 2013, making it extremely rare.
12. Slush the Husky
Release Date: 2017
A husky with solid blue eyes and blue inner ears with blue tails and a cute black button on the nose. It's coated in a grey furry coat with a white highlight on the chest, chin, feet, and hands.
13. Goldie the Duck Beanie Boo
Release Date: 2011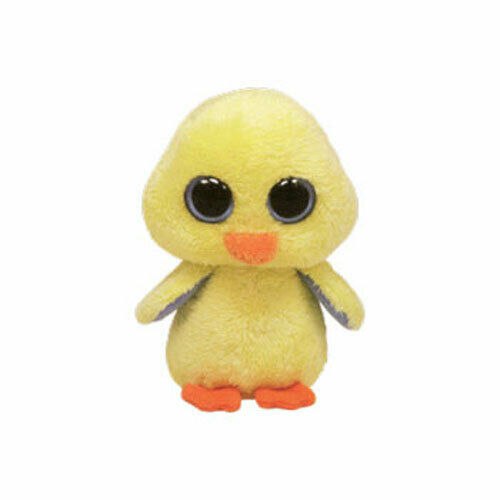 It's a part of the TY INC. Easter collection is hence a very rare find. Goldie is a handmade yellow fluffy duck with solid eyes and a pink nose. The inner flaps of its wings are colored bright blue, and it has orange webbed feet. This toy is a burst of color and very attractive.
14. Neptune the Seahorse
Release Date: 2014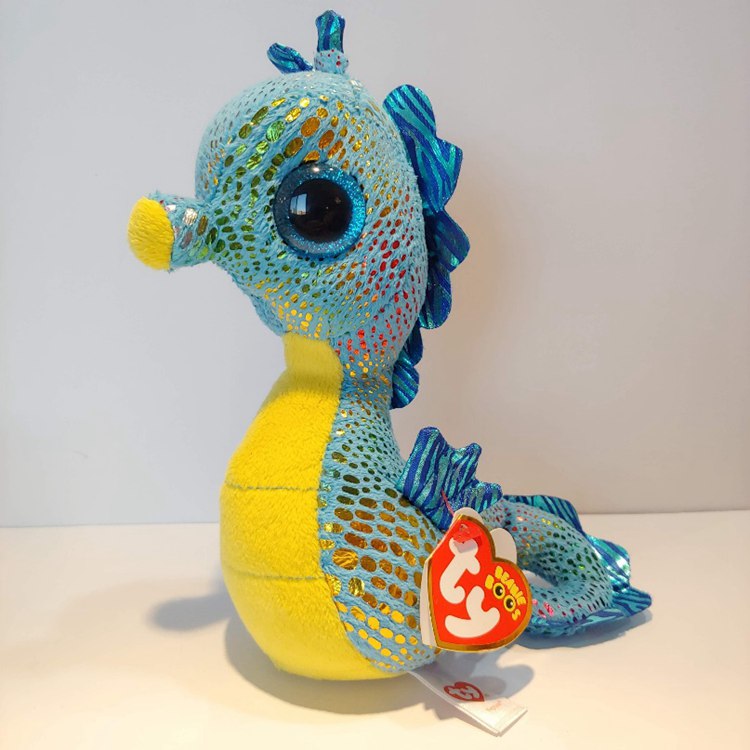 A limited-edition and retired beanie boo launched in 2014, Neptune is a replica of a sea seahorse. It's made from a blue material and has shiny details on the body, like scales for the spine and fins. It's got large blue and black eyes and a big yellow belly.
15. Carrot the Rabbit Beanie Boo
Release Date: 2011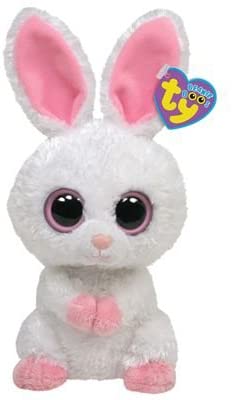 The bright pink paws on the rabbit are one of the highlights on the body of this Beanie. Carrot has a fuzzy white coat with pink and black clear eyes. Its ears have matching pink colors to complement the paws.
Beanie Boos; A Timeline of Their Events
Over the years, several species were released into the UK market, later to the US and the rest of the world. You'll find them in this section.
Late '09
The first batch of Beanie Boos was released in the USA and other countries in November 2009. However, Bubblegum and Cleo were exempted in the USA batch as they were only exclusive to the UK owing to legal issues with the Aurora Yoohoo Company and Friends.
Only Bamboo, Coconut, Kiwi, Kooky, Slush, and Waddles made a list for the USA market. Cleo and Bubblegum were, however, following retired similarities to characters from Yoohoo and friends.
A new version of PeanutPeanut the elephant emerged, this time much taller with blue ears against the original pink ears. Kiwi and Kooky were also taken off the market.
2011
The brand won an award for the best toy category at Florida's annual learning express convention. This same year, Nibble the hamster was retired following speculations of uncanny resemblance to Maril and Friends from the Aurora fruit company.
The Holiday Specials
The company rolled out special editions and models for holidays like Valentine, Easter, Halloween, and Christmas. The Peanut underwent various phases of redesign and re-release. One striking feature of the holiday species is solid eyes and vibrant purple tags.
2012
This year saw the emergence of the sparkly-eyed beanie boss. There were four, namely Duchess, Treasure, Sapphire, and Glamour. They were exclusive to the justice store and completely sold out, making them one of the rarest beanies to date.
Beanie Boos sizes also got names for their sizes. The 5 inches was referred to as the clip, 6 inches as regular, 13 inches as a medium, and large as 16 inches.
Early 2013
Most Beanie Boos got redesigned with the sparkly eyes feature and new red and gold swing tags. The ones who didn't cut stopped selling, and some of the original seven from "09 got the sparkly eye touch.
Late '013
TY inc pushed the maiden edition of Claire's exclusives into the market by October 2013. These toys were first presented in a YouTube video and Claire's catalog and had catchy names like Bubbly the Owl and Zazzy the Zebra.
2014 Beanies
It was MacDonald's 35th anniversary, and the teenie Beanie Boos appeared in their happy meals package. There were 16 of them, differently colored from previous Beanie Boos and bore two of each select Ty beanie boo name.
2017
In June 2017, Ty inc launched a new Mini Boo collection. They were hand-painted and tiny beanies that came in blind packages. They existed in 12 different designs and a mystery chaser named Dotty. Mcdonald also rolled out 15 new Teenie Beanie Boos.
How to Identify Beanie Boos
We've developed this detailed list that includes verified methods on how to correctly identify which type of Beanie Boos you have in your possession. Check out the things you should tick on your checklist.
Get an Appraiser
If you're clueless about the type of Beanie Boos, you have in your possession, getting the help of a qualified appraiser is the right way to go. An appraiser will help you identify and supply detailed information about the item.
Consult Books, Guides and Online Catalogues
The internet is a permanent place for you to learn and update your knowledge about your collectibles. Beanie Boos are not left behind; go into a walk-in store, get a book on Beanie Boos and their collection over the years to get familiar.
There's also a beanie boo website that allows you to run a brief check on your item and provides you with necessary information about their release and retirement dates.
By their Marks and Tags
Locating the maker's marks on your collectible will aid easy and quick identification. Check for tags, numbers, emblems, codes, and anything is written (letters or numbers) that can supply information on the origin and production of your item.
Always check for the availability of tags on your Beanie Boos at the point of collection and purchase; that's how you confirm the authenticity of your toy.
How to Determine the Value of a Beanie Boo
Knowing the value of your favorite childhood stuffed animal will not only help you cherish the memories but also help you know the ones you'd make a killing from if you ever decide to sell. We have compiled a list of the factors that'll guide your decision-making process.
By Their Authenticity
Beanie Boos come in a wide range of animal characters, and it might be a bit tricky to identify legit ones. The original Beanie Boos have a unique heart-shaped tag from Ty inc, and they all come with names and stamp birth dates.
By Their Desirability
Widely desired Beanie Boos sell for serious money. It's known that people place huge sentimental value on childhood memories, especially stuffed animals like Beanie Boos that speak to the inner child.
Due to the fluctuating nature of the market, it's important to keep tabs on the current model in demand, and luck might smile on you to have that at your disposal. We promise you that you'll make a few bucks if this is the case.
By Their Condition
Condition is an important yardstick, especially when finding the value of antique items. The newer your collectible, the higher the pay. There're different ways to determine the condition of your beanie boo, from mint to excellent, to near mint, to damaged, to very good.
The tags, the fabrics, the stoned eyes, and the overall appearance of the stuffed animal are what you should pay extra attention to when determining the condition of your beanie boo. A mint beanie with 100% new status sells for the highest price.
By Their Rarity
To ensure continued demand and a sustained level of popularity, most Beanie Boos were retired after some time and a particular number of models. Retired models sell for higher prices at auctions than current productions. Check the tag to know the year of production.
Limited editions with unusual colors and commemorative pieces are also hard to collect.
By an Appraiser
Consult the services of a qualified appraiser to know the true worth of your Beanie. These people can read between the lines and understand how to sort the real from the fake, the old from the new, and the classics from the recent.
Value Guides, Online Stores, Antique Lists
Purchase verified price and value guides online to study the value of your item. You can also check online stores and antique lists to get updated information about prices, market demands, and the intrinsic value of your stuffed animal.
By their Sales Location
Beanie Boos sold at targeted Beanie Boos collector's markets or auctions will sell for higher prices against flea markets, yard sales, and other generic antique stores. So always be on stand-by for the next Beanie Boos exhibition in town.
FAQs
What are Beanie Boos?
Beanie Boos are from the stables of Ty inc. This company also makes the famous Beanie Babies. The only difference between Beanie Boos and beanie babies is that the latter has large eyes with fun colors and a more animated outlook, while the former have smaller eyes and a traditional appearance.
When was the first Beanie Boo made?
Beanie Boos were first produced in June 2009, with only seven available. They are Peanut the elephant, Waddles the penguin, Coconut the monkey, Bamboo the panda, Bubblegum the koala, Slush the Husky, and Kiwi the frog.
How many Beanie Boos are there?
There are roughly 334 Beanie Boos around for you to collect. They exist in different shapes, forms, and sizes.
What is the rarest beanie boo?
Peanut the elephant was the first beanie boo ever to be retired, making him officially the rarest beanie boo ever.
How do I spot a rare Beanie Boos
Rare Beanie Boos have solid eyes and pink or purple tags. They're possibly new or very recent if you have a beanie boo with sparkly shiny eyes.
Parting words
Now that you have ample information on the beloved beanie boo, here are a few more important points to bear in mind if you're about to collect or sell some.
The first Beanie Boos, the power 7, are the rarest ever. Finding them can be tasking.
Pay extra attention to the tags on your Beanie Boos; this is where the answer regards authenticity lies.
When washing, don't soak your Beanie Boos for too long if you plan to wash them, as they may get moldy and give off offensive smells. Let them dry properly, preferably by sunlight.