In 1999, Beyblades made their debut in Japan and since then have become popular around the world. These Beyblades take spinning tops to an entirely new level, providing intricate designs, storylines, and modifications to make battles both onscreen and in real life dynamic and exciting.
Even though actual Beyblades aren't magical, they still feature some exciting features that make them ideal for trading with friends or participating in competitions. To learn more about the rarest Beyblades, continue reading.
What Is Beyblade?
In Japan, toy manufacturer Takara Tomy invented the famous spinning toy tops known as Beyblade. Both the design and the name of these tops originate from traditional Japanese toys called Bei-Goma.
The Battling Tops board game from 1968 also inspired these toys, which had launchable spinning tops in an arena with up to four players. Numerous components go into making Beyblades.
Polycarbonate is the most common material for the wheels, while the bottoms come in various materials. Fusion Wheels are the only parts of Beyblade toys made from metal.
To the fan's delight, Beyblade: Metal Fusion introduced metallic wheels, which featured a flashy and eye-catching design. Toys that let young people compete with one another are popular, as evidenced by the popularity of other games and toys in this genre.
In particular, they enjoy it when these collectibles can be customized or mixed and matched from different parts so that the toys feel like their own.
Beyblade's exciting light and sound features and the fact that the tops can spin for minutes on end at extremely high speeds have made it a popular toy among children. Beyblade-themed parties and other events are common among the 8 to 12-year-old crowds around the country and the world.
History of Beyblade
New top toys like Beyblades are revolutionizing the top toy market. By spinning a Beyblade, you can get your top to stick around for a little longer. The Japanese designed these high-performance tops, but they have evolved as technology and strategy have spread across borders.
Skilled players battle it out for the trophy: first place in competitions and tournaments worldwide. Takara, a Japanese company that developed the spinning tops before releasing them on the market in 1999, created the first Beyblade in response to childhood fondness for spinning tops.
After experimenting with many evolving tops, Takara's owner created a spinning top with a unique mechanism that created a quad blade of three or four pieces instead of just one.
The sales of this new type of toy exceeded expectations because it is fun to play with and throws well in open spaces. Beigoma is a traditional spinning top, and both toys and their names stem from it.
Toys featuring the same name first appeared with a manga series in 1999. Besides selling Beyblade toys internationally (under license from Takara) in 2002, Hasbro released localized versions of the series country-by-country.
Takara Tomy released a new Metal Fight Beyblade toy in August 2008, the first incarnation for three and a half years. Takara Tomy released a third incarnation of the game in July 2015, called Beyblade Burst.
15 Rarest and Most Valuable Beyblades
Following are the 15 rarest and most valuable Beyblades ever made.
| | | | |
| --- | --- | --- | --- |
| No. | Name | Year | Price |
| 1 | Bey Beyblade Valtryek V2 | 2005 | $14.99 |
| 2 | Takara Tomy WBBA Red | 2012 | $16.99 |
| 3 | TAKARA TOMY Gold Venom B-145 | 2007 | $19 |
| 4 | Takara Tomy B-97 | 2009 | $19.99 |
| 5 | Beyblade Burst Evolution V3 | 2002 | $24.95 |
| 6 | Takara Tomy B-122 | 2007 | $26.98 |
| 7 | Takara Tomy Phantom Orion | 2009 | $29.99 |
| 8 | Zero-G Random Booster | 2013 | $44.88 |
| 9 | Takara Tomy Killer Befall | 2012 | $54.99 |
| 10 | Takara Tomy Orichalcum | 2017 | $119.99 |
| 11 | Takara Tomy Gold Ace GT | 2004 | $119.99 |
| 12 | Takara Tomy Mercury Anubius | 2006 | $114.37 |
| 13 | Takara Tomy Hollow Deathscyther | 1999 | $135 |
| 14 | Beyblade BB-88 Meteo L-Drago | 2002 | $210 |
| 15 | Takara Tomy B-173 | 2004 | $277 |
1. Bey Beyblade Valtryek V2
Price: $14.99
Year: 2005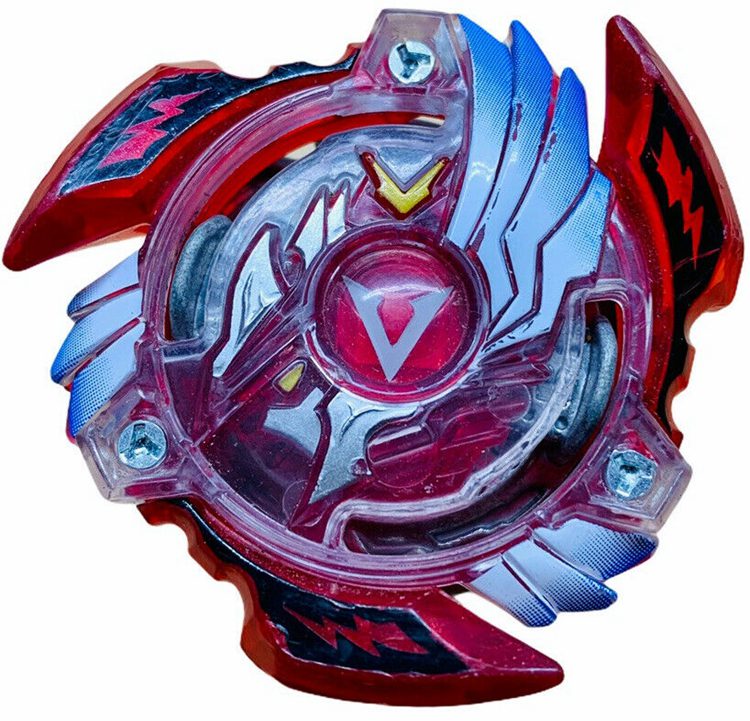 The ability to burst into pieces when fighting in battle makes Bey Beyblade Valtryek V2 the choice of many people. It includes components that can interchange with almost any Beyblade Burst top, except Rip Fire tops. It does require the right-spin launcher to use it.
2. Takara Tomy WBBA Red
Price: $16.99
Year: 2012
Red Diablo Nemesis Dragren Beyblades are among the rarest of all Beyblades, with only 100 having ever existed. November marked the launch of Beyblade & B-Daman's 2012 Dragon campaign. Its red body is adorned with gold stickers with a dragon emblem.
3. TAKARA TOMY Gold Venom B-145
Price: $19
Year: 2007
This all-gold Beyblade comes from a special set of recolored versions of popular Beyblades. The color scheme of this item is normally red and gold.
According to Beyblade canon, this Beyblade first appears in episode 11 of the anime "Beyblade Burst GT." It belongs to Delta Zakuro, whose aquamarine hair makes him stand out from other bladers.
4. Takara Tomy B-97
Price: $19.99
Year: 2009
Takara Tomy's B-97 is the best Beyblade with enhanced burst resistance. Your opponent is going to have a tough time with this Bey. With a satisfying whirring sound, this left-spinning third-generation Beyblade attacks aggressively in every battle.
The unique design of this Beyblade means it won't burst if you slam it against a wall since the disc layer isn't needed. Due to its only being made from two pieces, this Beyblade has limited customization options, but it still does an excellent job against opponents.
5. Beyblade Burst Evolution V3
Price: $24.95
Year: 2002
Beyblade Burst Evolution V3 has spring blades hidden in the wings exposed when the blades are spinning, acting as an impact absorber and a surprise when you least expect it. It gives the player a distinct competitive advantage in any battle or competition.
Compared to the earlier version by Takara Tomy, Evolution V3 features propeller-like blades and an improved survival tip for enhanced speed, more aggressive attacks, and increased endurance.
6. Takara Tomy B-122
Price: $26.98
Year: 2007
Beyblade collectors eagerly awaited the release of this Beyblade and received it with much fanfare and excitement. In terms of aggressiveness and great stamina, this is by far the best Beyblade.
Those facing this dragon-tooth Bey will be intimidated just by its appearance. With this Beyblade, you have an Absorb driver with a plate that absorbs shock, a spring-loaded tip that reacts, and a spring-loaded ring that moves freely.
Using a spring-loaded tip, you can protect yourself from an early burst by absorbing shocks upon launch. This Beyblade has a locking mechanism that increases aggressiveness during battle, making it a worthy competitor for the best Beyblade.
7. Takara Tomy Phantom Orion
Price: $29.99
Year: 2009
A limited-edition toy, Beyblade Phantom Orion Skeleton, has only been produced in 100 sets. An Orion face bolt is attached to a plastic center surrounded by a black rim.
The Beyblade has high stamina in battle, but it isn't so good when attacking. Depending on where you place the stickers, you can make it appear like the emblem in the center is smiling.
8. Zero-G Random Booster
Price: $44.88
Year: 2013
Zero-G Random Booster Vol 4 was originally scheduled to release in 2013 but was canceled for undisclosed reasons.
It is rumored to be the declining sales of Beyblade during previous years or that the anime episodes that would have included these Beyblades would no longer be aired. Nevertheless, it is unknown whether some Beyblades were made, potentially making the set the rarest in history.
9. Takara Tomy Killer Befall
Price: $54.99
Year: 2012
Takara Tomy's Random Booster Vol. 6 gives away a Killer Befall/Beafowl Beyblade. Released in December 2012, it was given away as a gift. A starter pack included this Bey in the U.S. and Europe when released in 2012.
A peacock emblem appears on the face of this pink Bey, referring to "Pavo," a constellation that shares its name. It is a reference to birds in Bey's alternative name, "Beafowl," as well.
10. Takara Tomy Orichalcum
Price: $119.99
Year: 2017
To obtain this Beyblade, players had to earn points using the Beyblade app, which can earn one of seven rare Beyblades available only in Japan.
In 2017, the Orichalcum Outer Octa Burst debuted. The body and frame feature intricate designs. In addition, the point has two grooved claws for burst resistance.
11. Takara Tomy Gold Ace GT
Price: $119.99
Year: 2004
The limited quantity and style of this rare Beyblade make it stand out. The "Beyblade Burst Gold Turbo" Get Campaign offered the Gold Ace Dragon components instead of a full Bey.
It was challenging to locate and assemble this Beyblade during its first release, but acquiring the pieces today is even more difficult. Some sellers have completed the Gold Ace Dragon, but it takes away from the experience of assembling them.
12. Takara Tomy Mercury Anubius
Price: $114.37
Year: 2006
In the Bey Ta 1 arcade game or the World Beyblade Battle Association's tournament, a Mercury Anubis 85XF Metal Fury Beyblade was one of the prizes offered.
The limited release of this Beyblade through such exclusive means makes it one of the rarest of the rare and highly collectible today. In the style of the Egyptian god Anubis, the frame and body are blue with a purple sticker in the center.
13. Takara Tomy Hollow Deathscyther
Price: $135
Year: 1999
From Takara Tomy's Random Booster Vol. 22, Takara Tomy offers a Hollow Deathscythe Beyblade as a prize. In December 2020, it became quite popular in the market.
When customers buy a random booster pack, they have roughly an eight to one chance of getting a specific Beyblade. It has icy colors on a flame-shaped frame.
14. Beyblade BB-88 Meteo L-Drago
Price: $210
Year: 2002
The Beyblade Legends BB-88 Meteo L-Drago is a good choice for attacks that are surprisingly good at defense. You will find dragon jaws while rubber defensive pieces on top of the bottom layer. This new generation Beyblade features the distinctive L-Drago dragon, growing in size and power.
It features a three-winged propeller for maximum stability while leaving the bottom of the performance tip flat for a more aggressive play sound that will attract attention. The sound from this Beyblade is impressive and makes it worth adding to any collection.
15. Takara Tomy B-173
Price: $277
Year: 2004
Toys like this were among the prizes for the Random Booster Vol. 22 sets. A colorful and exciting frame design inspired by Greek warrior Achilles.
Several special moves appear in the movement set of this Pokemon, including Infinite Guard, and Infinite Sword. The Takara Tomy company regularly releases random booster sets containing each Beyblade separately.
This one includes more limited edition/rare Beyblades as with every set. The blue Infinite Sword that came with this Beyblade included as well.
How Much Are Original Beyblades Worth?
New Beyblades range from $2.99 to $27.99 in price, averaging $9.84. Beyblades are priced at an average of $24.15. This price may differ based on different factors, such as whether you are purchasing a new model, a second-hand model, a limited edition, a Japanese exclusive, or another factor.
Beyblade models can be purchased between $3.54 and $14.90 in Japan, with an average of $9.15. You will have to pay a different price depending on whether your Beyblade model is ancient or rare.
Many people, including our customers, believe that some Beyblades are cheaper to purchase directly from Japan, especially the rarer and more exclusive models.
You can purchase some rare Beyblade models in Japan for $140. The Beyblades Burst edition (latest generation) in the USA ranges between $9.68 and $17.99. Many Beyblade stores in the USA, including large chain stores like Walmart, will help you get your hands on these Beyblades.
You can always purchase used items on eBay from people outside Japan for a lower price if you want to shop domestically. Beware of counterfeit Beyblades when purchasing them from eBay.
Beyblades have become increasingly popular in recent years, so we've also witnessed a rise in the number of fake Beyblades entering the market.
We recommend that you avoid buying Beyblades shipped from China so that you can use your discretion. You can buy from any website that meets your needs if you want.
We have heard too many stories of customers who spent their money on counterfeit Beyblades before coming to us, even though you can purchase genuine Beyblades from China.
What To Consider When Buying A Beyblade?
A Beyblade might not seem like you have much to consider when buying it; it is, after all, it is a toy, but for something so small, there is plenty to consider. Different Beyblades have different aesthetics in terms of cosmetics, so make sure you figure out what you want.
It is possible to find colorful and flashy tops and thick and useful ones. Knowing what to look for when narrowing down your options will help you make the right choice. Additionally, it will be helpful to know what type of top you are searching for: attack or stamina.
Additionally, there is equipment to consider. You can try launching Beyblades onto cement or a rug, but it probably won't do you very much good, and it almost certainly won't increase the longevity of your top.
Put your money into Beyblade stadiums instead. You don't have tops bouncing all over your living space and setting someone's foot on fire, making for smoother gameplay, and the carnage is contained a bit.
Stadiums are also good for cleaning up, in addition to storing tops. It becomes easier to clean your stadium if you have space to store all your tops and launchers. Also, the smaller Beyblade pieces are less likely to get lost in a toy box, never to be seen again.
Where Can You Buy Old Beyblades?
There are many ways that you can use to purchase old Beyblades. However, online auctions are among the best sources to search for your favorite rate Beyblade and buy it.
Using online auctions, you can keep track of price changes and changes in demand for Beyblades. Online auctions such as those on eBay are ideal for observing price changes of Beyblades and buying them.
Which Beyblade Is the Strongest One?
Beyblade Zeus is considered to be the strongest in G-Revolution. Brooklyn is the home of Zeus. His ability to defeat many enemies is impressive. At the start of the series, he even knocked Kai out in seconds.
Beyblade refers to Brooklyn as a genius because he can defeat many people without even trying. Additionally, Pegasus is the world's most powerful king. Pegasus is an awesome bey.
I have fought him at least once against every other Bey I have ever faced. I haven't found a more powerful bey in all of the beys than Pegasus! Pegasus has low stamina, so you must act fast. Pegasus can easily defeat it when it hits any bey hard early in a battle.
Conclusion
The first Beyblades appeared in Japan in 1999, and since then, the game has gained popularity worldwide. A new level of excitement is introduced by these Beyblades, with their imaginative designs, interesting stories, and modifications to make both the onscreen and real-life gameplay exciting and fun.
However, Beyblades are not magical; they still offer several exciting features that make them a great choice for trading with friends or competing in tournaments. Here we have listed some of the rarest Beyblades in the world. If you have any questions regarding these rare Beyblades, feel free to ask via comments.