History of Vintage Tupperware Containers
Tupperware is a brand of plastic kitchenware and storage containers, some of which are still in use today. The company that manufactures plastic containers has changed hands many times over the years, and the product line has expanded to include a variety of products.
The first Tupperware parties were held in 1946 by Earl Silas Tupper, an American chemist who developed an airtight seal for food storage containers made of polyethylene. The name "Tupperware" comes from his last name combined with "ware," which means something made or produced.
There are many innovations of which the consensus is that they were ahead of their time. Recently, many stakeholders have regarded Apple's iPod as a product so innovative that the marker was never fully ready for it. Well, Tupperware containers fall into this category of products. Three characteristics stood out right from the beginning. One is that the containers were lightweight, making them suitable for home use. More so, they were non-breakable, which signifies fewer risks of damage, as against the use of glass products. Another important point was that the products used colorful designs that would add to the aesthetics of any home.
While all these seem like trivial expectations in our more modern world, the first Tupperware products were one-of-a-kind in the market. So innovative was Earl Tupper at the time that he found it difficult to market his containers because customers just didn't understand how they worked; they needed demonstrations. This was the case until the 1950s after Brownie Wise had joined the Tupperware leadership as the Vice President of Sales and transformed the containers' public appeal among Tupper's audience base.
To demonstrate the usefulness of these containers, Brownie Wise, who had initially received a pair of Tupperware bowls as a gift herself, started the idea of organizing house parties. This drove up the appeal of Tupperware products, especially amongst women – who were the primary homemakers of the day. These house parties are still being held today, sponsored by the Tupperware company. Besides Tupperware offering an opportunity for better living through innovative plastic containers, it also provided them with an opportunity to make extra income, especially for those who dubbed themselves 'Tupperware Ladies', a band of women actively marketing the containers having embraced their usefulness in kitchens and home use.
In less than a decade, Tupperware products replaced the glass kitchenware that had dominated kitchens and homes since the 1920s. This impressive history gives a solid understanding of why the older generation is so attached to Tupperware, as well as the growing desire, even among the younger generation who have come to appreciate classic-ness, to collect vintage Tupperware products as a memory of that history. The fact that there still exist classic Tupperware containers in outstanding condition today points to how careful the manufacturers have always been with crafting these items.
Most Valuable Vintage Tupperware Products
Since when the first Tupperware containers launched in 1946, the company's product lines have been marked by excellence. Therefore, almost every Tupperware product line from then till the 1970s is considered highly valuable vintage Tupperware collectibles. This section highlights ten of them, as well as identifying features that stood out for each line of kitchenware products.
1. Bell Tumbler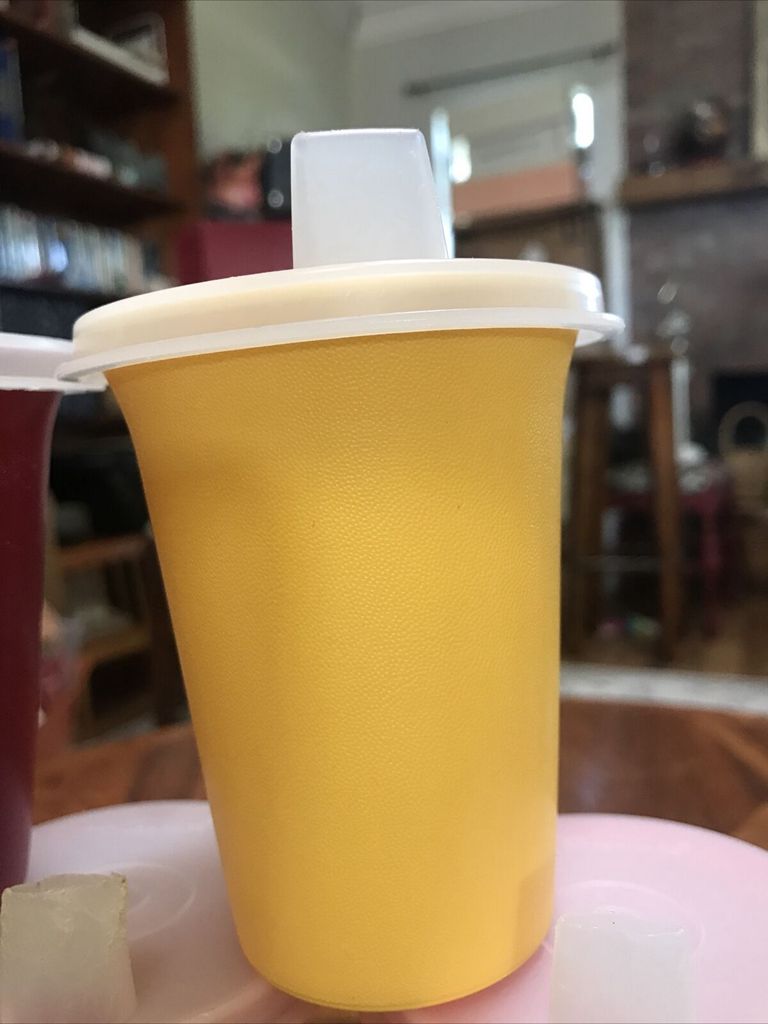 For people familiar with the Tupperware brand and its history, the company's Bell tumblers are instantly recognizable at first glance. After all, this line of products was among the first introduced when the company launched in 1946. So, if you are looking for vintage Tupperware, it doesn't get more classic than this.
The tumblers come with seals to keep your liquids from spilling, even if you tip or drop the containers. More so, the raised sprout on the lid of the tumblers makes them easy to drink from, especially for kids. Even after seven decades, the Bell Tumblers remain much appreciated. Online, these tumblers go for between $30 and $40.
2. Millionaire Line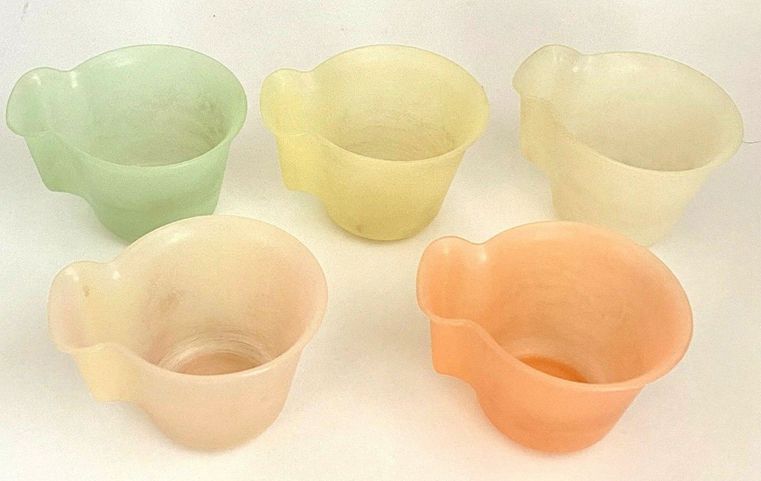 One of Tupperware's most iconic vintage collections is the Millionaire Line. This was a line of various Tupperware containers (tumblers, pitchers, bowls, dishes, and even condiments shakers) marketed to people higher up the social strata.
These products were launched in the 1950s, around the time when Tupperware first started picking up the pace in its appeal to the members of the public. Apparently, these high-end containers have made their way back into the public sphere as vintage products, highly sought after by many. The pricing for most products in the vintage Millionaire Line begins from $45 to $50 and can go very high depending on the condition of the items.
3. FlatOut!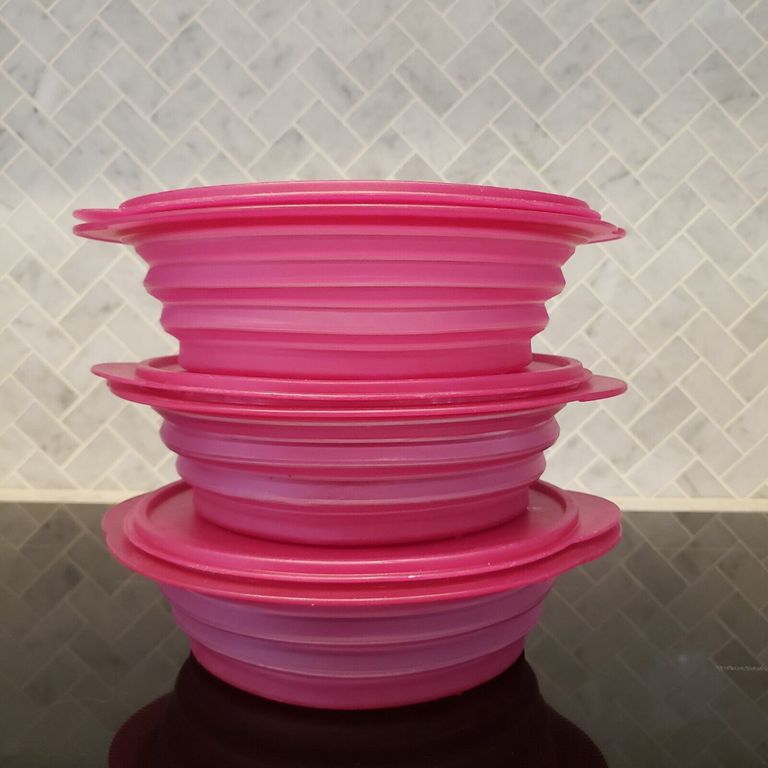 No one who has used Tupperware's FlatOut! containers can stop being amazed by the design and utility of these plastic bowls. A FlatOut! bowl can be flattened or expanded to your desired size depending on the size of the content you want it to hold.
This is an incredibly versatile design that ensures that your bowls will not take up more space in the kitchen than is necessary. It is not farfetched to understand why these vintage products continue to be hot in the market today. These vintage FlatOut! bowls cost about $25 today but some rare colors can be sold for between $35 and $40.
4. Star Bowls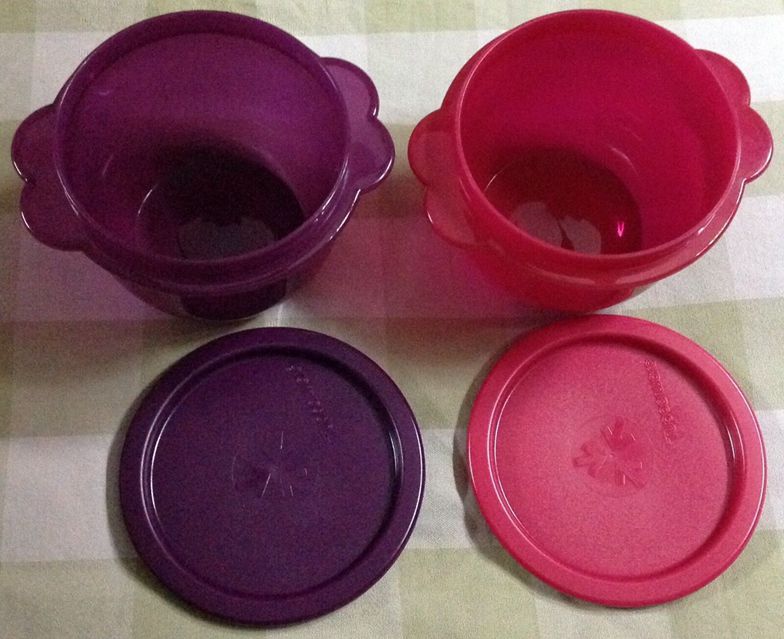 Tupperware Star Bowls were introduced as a unique style of star-shaped top bowls meant for holding smaller quantities of food content and condiments. But they have done their job so perfectly that decades later, these bowls are still sought after by vintage products hunters.
The bowls are so well-designed that they look like ceramic containers at the first glance. Only upon a more intent observation would you recognize it for what it really is: plastic. The bowls have contoured handles for easy carrying, especially when it comes to serving meals. Of course, the bowls come with seals for proper preservation. Vintage star bowls by Tupperware cost around $15 to $20.
5. Carousel Caddy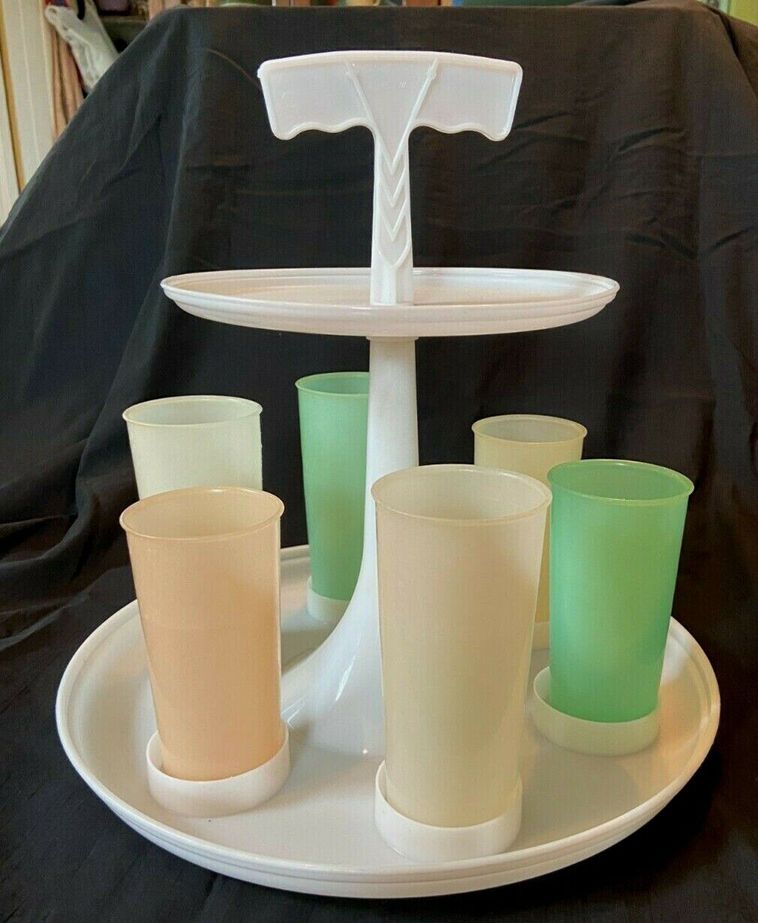 After the Bell Tumblers were launched in 1946 and homes loved them, there was still no convenient way for people to carry several tumblers all at once. Hence, in 1961, Tupperware decided to introduce the unique Carousel Caddy.
These caddies are useful for carrying tumblers and other items, especially when having a picnic and other such close-knit events. It's useful at home too, for moments when you have to serve beverages to several people at once. There is no more convenient solution than that. The handle grip is ergonomic, and the carved-out spaces hold the tumblers securely in place. A carousel caddy with tumblers should cost around $50.
6. Jel-Ring Mold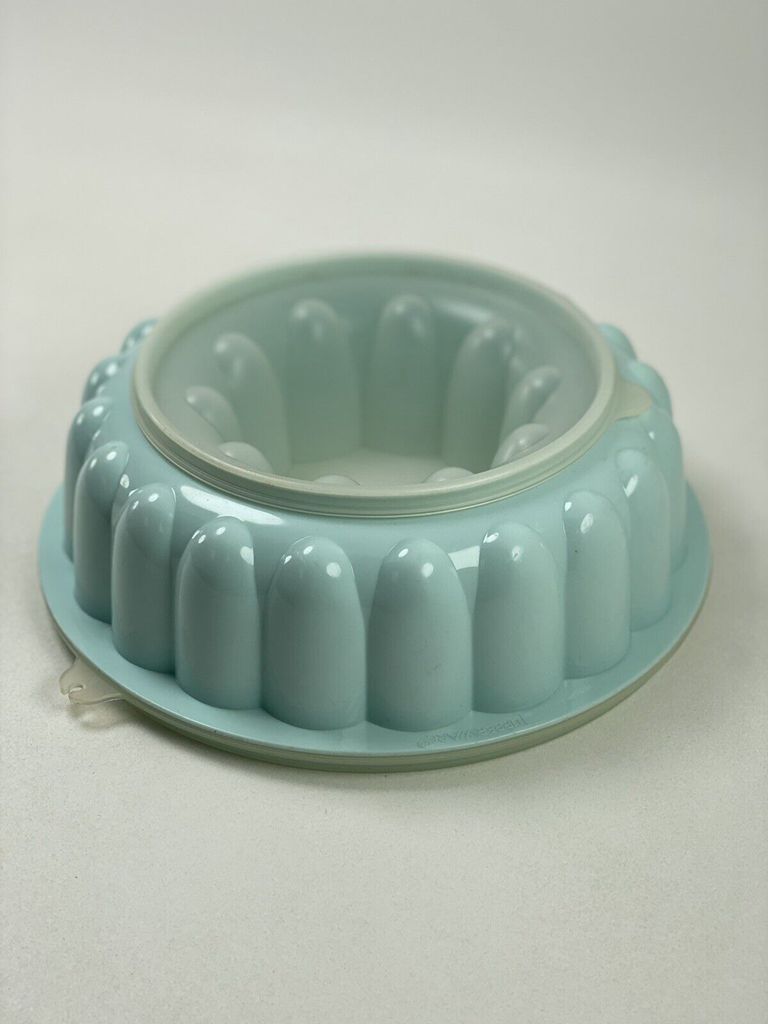 Tupperware Jel-Ring bowls are classic containers for preparing special meals such as desserts and salads. Foods and snacks prepared with the Jel-Ring bowl come in a delightful floral-shaped design that makes the meal look instantly delicious.
The bowls are also evenly shaped, ensuring that your meals come out in the right shapes without coming apart. The bowls are suitable for molding special cakes, mousses, and ice cream. They are also useful in making meals like rice and pasta. Classic versions of Jel-Ring bowls have featured heavily in old-time parties when there were few options concerning how to design snacks and meals. But memories of those times linger. A single vintage Jel-Ring mold costs between $15 and $30.
7. Fix-N-Mix Bowl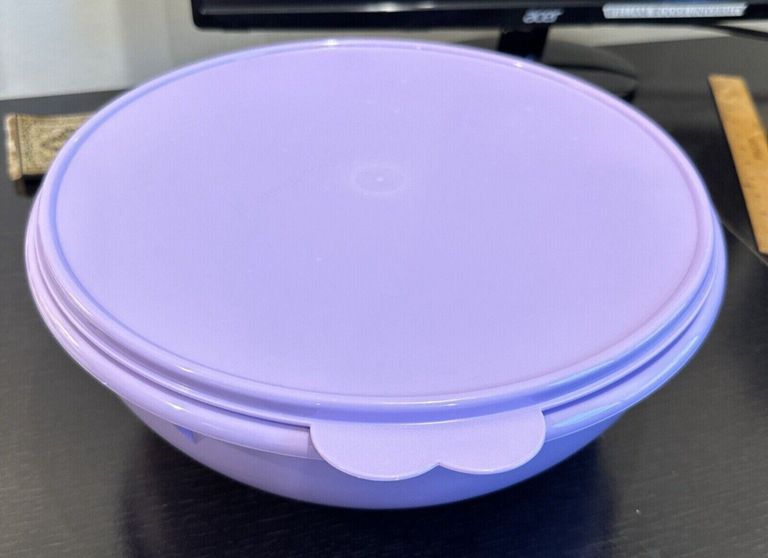 Tupperware's Fix N Mix Bowl line includes containers created especially for kitchen preparation tasks. Whether you want to mix, whisk, or knead anything, it has been a faithful companion from time immemorial. You can use these bowls for dessert mixes or even marinate meat, without caring much about its durability.
The texture of the bowl is such that it protects its insides from scratches and bends. And after you are done with kitchen preparation, the same kind of bowl is perfect for food storage as well. The versatility of this particular bowl has always made it an attractive choice. To purchase a vintage Fix N Mix bowl, you will spend about $35 to $50.
8. Servalier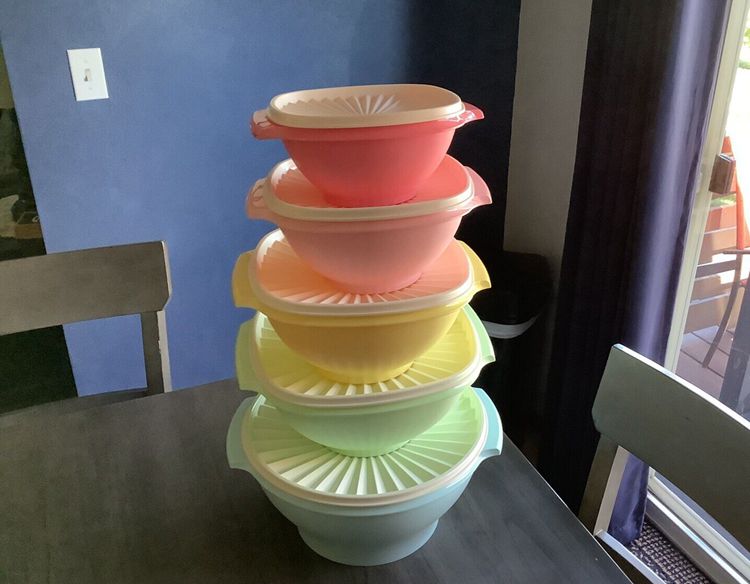 Servalier bowls, sometimes also called 'Astro bowls' are a classic Tupperware line launched in the 60s and they became an instant kitchen favorite for serving and preparing foods, especially light snacks, and fruits. The bowls can also be nested into each other for more compact storage and packing.
Servalier bowls come in sets of three, four, or five containers and a set could cost between $30 and $70. Once you get one of these sets with assorted sizes, you have less to worry about when cooking or if you just want your kitchen to be more organized.
9. Wonderlier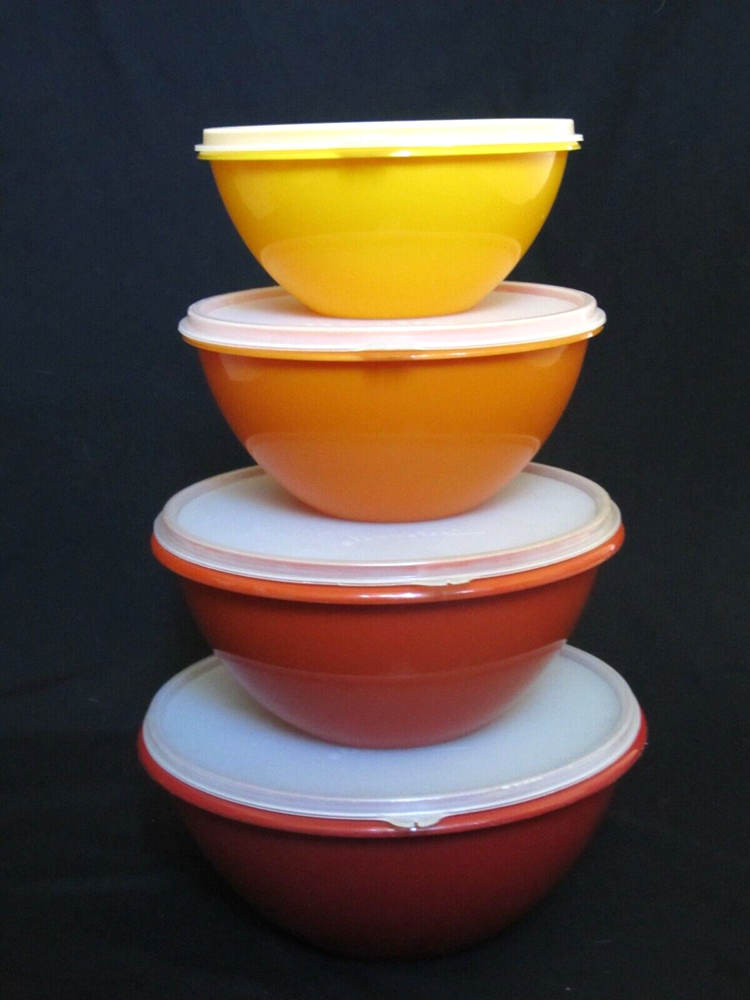 The original Wonderlier Bowls are among the first lines of Tupperware containers released in 1946 by Earl Tupper. With airtight seals, the bowls are perfectly suited for food storage, while preserving the freshness and flavor of the foods.
They are also very versatile too and are useful in preparing and serving foods as well such that even 'rough' tasks like whisking do not damage the bowls. It's no wonder that these bowls remain in high demand today. And when not in use, multiple bowls can be nested into each other and packed away. Sets of vintage Wonderlier bowls today sell for between $40 and $60.
10. Cake Taker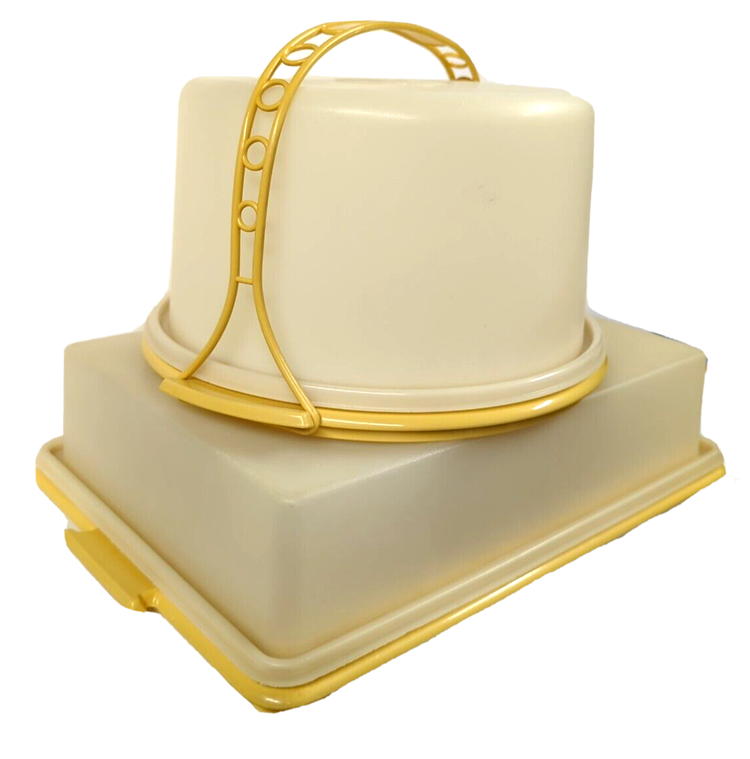 The first Tupperware Cake Takers were launched in the 1970s to help people solve the challenges of carrying and transporting cakes neatly. Yes, Tupperware has had a satisfactory answer to this challenge since then.
But these Cake Taker bowls also have uses beyond serving cakes. You can also use them to serve and present your snacks, sandwiches, and other savory foods. After all, the structure of the Cake Taker is a tray underneath a large transparent cover. This makes it a perfect companion for special occasions such as parties and picnics. The handles are comfortable and ensure easy carrying. More so, the Cake Takers come in round or rectangular shapes, ensuring that your needs will be served no matter the size of your cake or finger foods. Vintage Cake Takers cost anywhere between $25 and $60 today.
Vintage Tupperware Identification
Tupperware is an iconic brand of plastic storage containers, but it's pretty easy to get confused about what's real and what isn't. Yet, if you have a vintage Tupperware piece or you want to purchase one, it's important to know how to identify it. There are many variations of Tupperware made over the years, and it can be difficult for anyone who isn't well-versed in the history of Tupperware to identify them all on sight. If you have an old Tupperware item, and you're wondering if it's authentic, there are a few ways that you can tell.
If you have an old piece of Tupperware that you think might be valuable, you can take a look at the bottom of the piece. A real vintage Tupperware item will have the Tupperware stamp on the bottom of each piece in its set. Also, there should be two numbers separated by a hyphen or dash. This is called a two-part mold number and it helps identify when your container was made. Each piece has its own unique mold number. If you can't find a mold number on your piece, it's probably not authentic vintage Tupperware. But you must look carefully before concluding on its authenticity because the number can be really tiny. Once you find it, send the first part of the mold number to a Tupperware representative for confirmation. You can find contact information of various Tupperware representatives and consultants on the company's official website. The representative will then let you know if it's original or not.
Another way to correctly determine the authenticity of vintage Tupperware products that does not get talked about much is the feature of the collectible itself. Basically, you must ensure that the designs and color schemes of your items are in accordance with what is to be expected of Tupperware products in the era claimed. For instance, the earliest Tupperware bowls were round, and they used pastel color schemes. This is most noticeable in the Wonderlier line. However, by the 1960s and 1970s, there has been a shift: the color tones leaned towards the earthy side, and then square bowls and other unique shapes were introduced. These are the Servalier line and Astro bowls, as they are also known. Tupperware collectible pros would quickly identify these differences and tell when a seller is trying to pass off a fake item as authentic. However, if you are new to this, those are the differences you should keep in mind to ensure that you are spending your money rightly by purchasing authentic products.
Vintage Tupperware Collection
This section explains various tips and pieces of advice to have at the back of your mind as you set sail to start collecting vintage Tupperware items. You may find that the process is not as straightforward as you intended. However, if you know how to identify authentic vintage Tupperware and follow the tips detailed herein, there is little chance that you will go wrong.
1. Where to Purchase Vintage Tupperware Containers
You can find Vintage Tupperware containers at thrift stores or during estate sales, although the possibility of purchasing one directly from a collector themself is rather low. Besides physical locations though, you'll find hundreds of vintage Tupperware on sale via online auction sites or just the popular e-commerce sites such as Etsy, eBay, and Amazon. However, you must be careful with these sources to ensure that what you are buying is authentic and not counterfeit. As mentioned above, always check for the presence of the mold number. And if you are in doubt, contact an official Tupperware representative or consultant for confirmation.
2. Rare Vintage Tupperware Collectibles
When purchasing vintage Tupperware items, the rarest ones are complete sets of containers that are still in intact condition. There are also certain unique colors that many people find difficult to find, such as pink, for certain types of products. White Tupperware is the most common and would probably be the easiest and cheapest to buy. That doesn't make them worth less than the other vintage Tupperware products. It is just the economic forces of demand and supply at play here. In addition, Tupperware products with the 'Tupper' insignia are very rare and highly valuable, as not all containers used to bear this mark in the past.
Keep in mind that there is a difference between vintage Tupperware items sold by fellow collectors and the classic reimagined items found on Tupperware's website. Tupperware has a new range of classic products of some of its most iconic lines, such as Wonderlier, Servalier, and Cake Takers. These items are recently made but manufactured in the style of the original. They are different from the actual vintage items manufactured from earlier times between the late 1940s and the 1960s.
3. Reselling Vintage Tupperware Containers
If you plan to resell your collected vintage Tupperware, be realistic about the prices you set. Complete sets of Tupperware containers (especially bowls) that come in rare colors can be worth hundreds of dollars. However, most other vintage Tupperware items cost less than $100. This is due to the current market conditions and trends. So, if you want to find a buyer quickly, price your items fairly and consider selling via e-commerce platforms where potential customers are more likely to view your items. Of course, it doesn't have to be said that you should ensure that your collectibles are in excellent condition before attempting to sell them to someone else.
4. Are Vintage Tupperware Containers Safe?
It should also be noted that Tupperware products, especially vintage Tupperware could be toxic. Old Tupperware containers were deemed microwave-safe when they were introduced. However, due to the number of years spent on them, many of these containers may be worn out, leading to the loss of protective chemicals, and exposing one to danger if these containers are used in actual food preparation. In addition, until 2010, Tupperware plastics had BPA (Bisphenol A), a chemical that could cause serious health hazards. Many vintage Tupperware products have also tested positive for active toxic chemicals such as Lead and Arsenic. Therefore, you should be careful about using vintage Tupperware in food preparation.
5. Why Purchase Vintage Tupperware?
The previous section does not mean vintage Tupperware containers are completely useless. Definitely not, considering how much vintage products hunters seek out the pieces. On the utility side, there are several home uses for old Tupperware containers beyond food serving and preparation. Also, there is also the decorative side, which gives Tupperware containers an immense value and makes them stand out among other products of the same class. Because these products were made in a variety of bright colors, adding them to your collection can bring a refreshing view to your space. Plus, if you love vintage and classic items, Tupperware containers are more affordable than other highly expensive collectibles. So, it is a straightforward way to join the collectible world if you are new to collecting vintage items.
Conclusion
The Tupperware brand has come a long way. And even though it is not as big a household name as it used to be, the company continues to grow stronger. The durability of its product makes it a dominant feature in several kitchens today, even as modern people are now tilting towards glass use. More so, the legacy that Tupperware has built over the years continues to speak, especially in the art collectibles world.
Vintage Tupperware containers are featured exhibits at museums, and this speaks so much of their historical, cultural, and artistic relevance to this moment. More so, the creator of the brand, Earl S. Tupper himself has been honored with a place in the Plastics Hall of Fame. Indeed, the company has grown a lot and there are now several new product offerings and color schemes.
However, older people who witnessed the heights of Tupperware's strength continue to swear by its vintage product lines. Even if you don't belong in that category. Possessing a Tupperware collectible is an appreciation for all that the brand has done and represents.