Olympia's products revolutionized the typewriter market. Despite the industry being dominated by American giants, the German brand Olympia made and sustained its place. Popularly known as the "Mercedes Benz" of typewriters, Olympia products are known for their sleek design and durability.
Vintage enthusiasts avidly seek these German machines due to their aesthetics and the great typing experience they offer. However, you will need to perform some research before you buy or sell them in today's market.
If the click-clack of typewriters tempts you, you're in luck! I have developed this detailed guide on Olympia typewriters (history, popular models, and value in the market) for your ease. Go through the guide to know all the information you need to add a beautiful Olympia model to your vintage stack.
Olympia Typewriters- The History of Innovation and Success
Olympia typewriters have a great history of how a German industrial brand rose to fame. Olympia saw a fair share of ups and downs before its products became popular among the masses.
Olympia Origins
Olympia was born in 1903 when the German company AEG (European General Electric) decided to capitalize on the growing typewriter industry. The first mechanical model introduced by the company was Mignon, but it failed to make an impact on the market. Primarily, the model was too expensive for the customers.
AEG continued production and launched the Mignon "AA" line in 1912. This line was also not a commercial success, but it did have some improvements in the overall design. Despite the two failed attempts, the company still kept innovating products. The first "hit" for the brand was the 1921 "Model 3" typewriter. After the success, the company began its operations in Erfurt, Germany.
By the end of the 1930s, the Olympia typewriters had gained popularity in the market. People highly appreciated the cheaper models like Model 8a and 8b. Olympia also released a one-handed version of their Model 8 typewriters for the disabled, which was well-received in the industry.
Operations After World War II
Like many European industries and brands, Olympia typewriters also faced a setback during WWII. The factory survived, but the East German government took over to name it Optima.
Some old employees fled to the Western part of Germany to re-establish the brand. In 1948, Olympia was reopened in Wilhelmshaven, and the production of typewriters restarted. The brand was most successful during the 1950s to 1970s and produced several popular models.
However, Olympia could not run for long. Soon, the company's operations ended in 1992 as they couldn't keep up with the technological advancements.
Olympia Typewriter Popular Models
Olympia typewriter models are best known for their comfort, portability, unique design, vibrant colors, and reliability. Their popular models are a testament to elite craftsmanship as they are still available in excellent conditions. Famous authors and scriptwriters such as Danielle Steel and Paul Auster have praised the quality of Olympia typewriters.
Most of the Olympia models you will find in the market are from the mid-century. During this period, the company was most active and produced millions of pieces. The models from that era are still wanted by collectors worldwide.
Whether you want to collect Olympia machines for their decorative value or to enjoy nostalgic typing, here are the must-have models you don't want to miss!
Olympia SM Series
SM stands for Schreibmaschine Mittelgroß in German, meaning "Medium-size Typewriter." SM is one of the most sought-after Olympia series. Its production began in 1949 and continued till the late 1970s. The SM series is considered the gold standard concerning machinery and design.
This series came in nine different models, from SM1 to SM9. The compact and portable models also offered a range of color choices. From basics like black and cream to bold pink and orange, Olympia typewriters catered to every taste.
SM series is best for both personal and professional use. You can identify an original Olympia SM by exploring its age and distinct details.
Take a look at the table for essential features of each SM model and their date of origin.
SM Model

Production Years

Important Features

SM1

1949-1951

Squared case, Circular and black keys, No tabulator

SM2

1950-1961

Cushioned keytops, Logo moved to ribbon cover, No tabulator

SM3

1953-1961

Tabulator with manual stops, Margin sets on carriage top, Smaller "Shift" key, Silver painted wooden case

SM4

1958-1961

Keyset Tabulator, Squared-off case with white and grey stripes, Wider carriage, Special gold-plated edition in SM-4

SM5

1962-1964

Manual set tabulator, Mixed features of SM2 and SM3, Cheaper version of SM models

SM7

1962-1964

Keyset tabulator, Angular modernized body

Squared off case, Bold blue, pink and white colors,

"Made in Western Germany" badge in some models

SM8

1964-1977

Off-white keys, Turquoise accents, Off-white top shell, Dark grey carriage paper

SM9

1964-1977

Keyset tabulator, Touch selector, Chromed carriage ends, All caps Olympia logo
SM1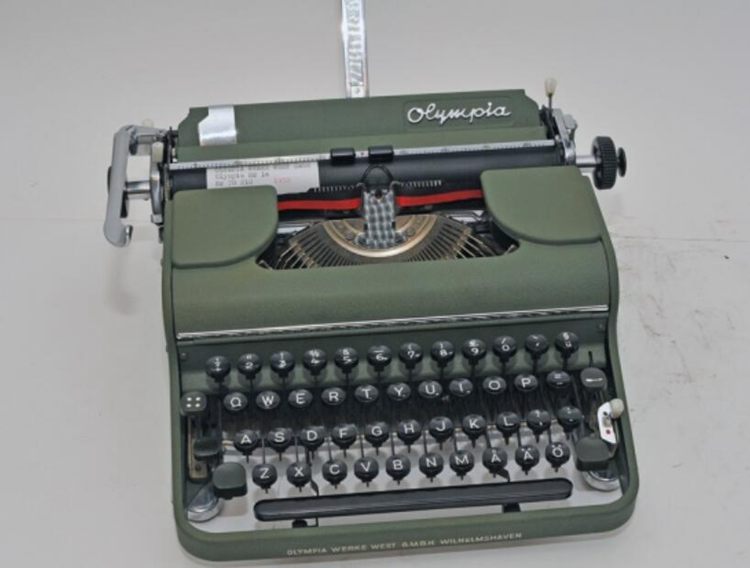 SM2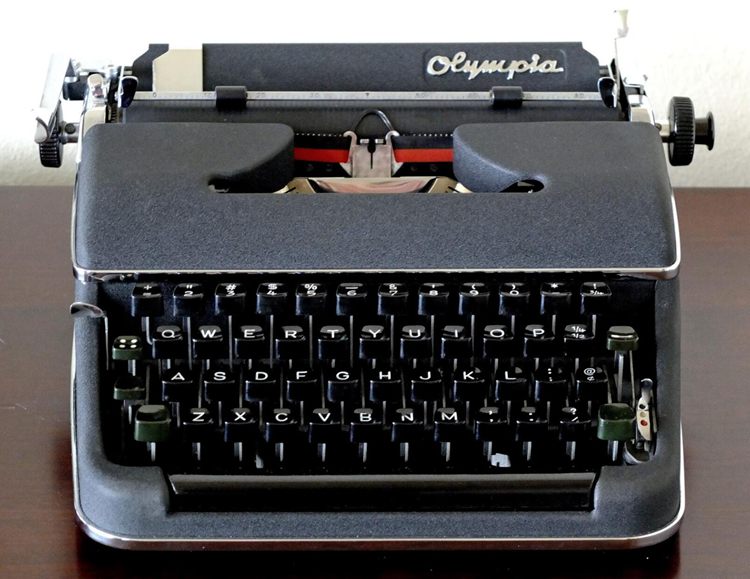 SM3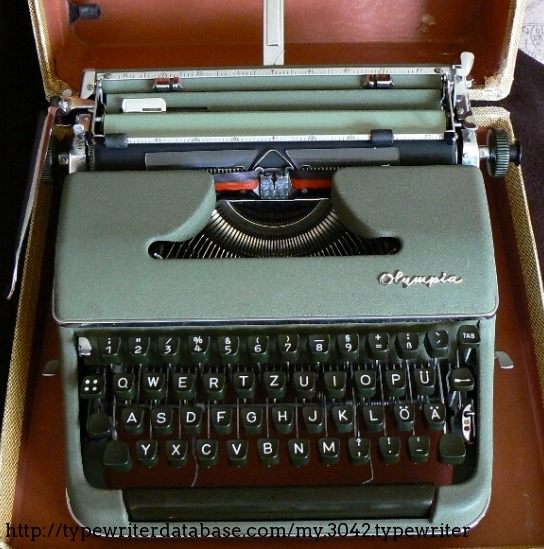 SM4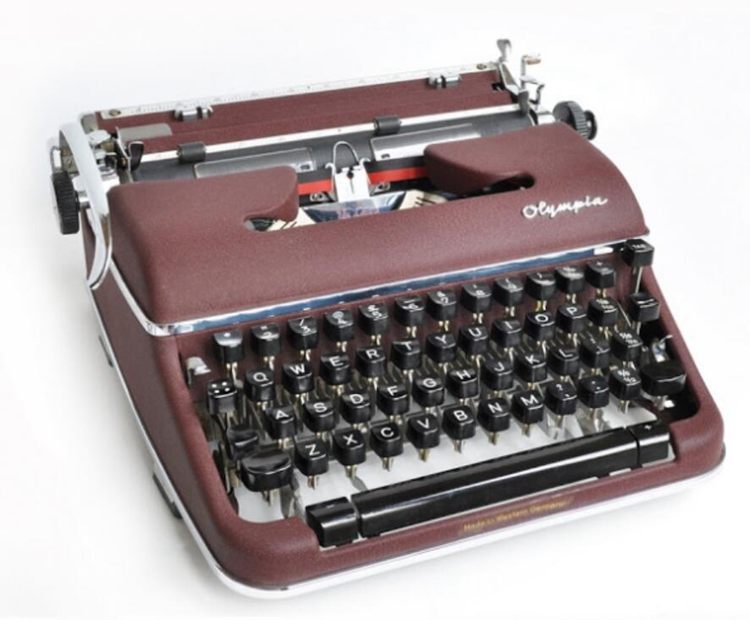 SM5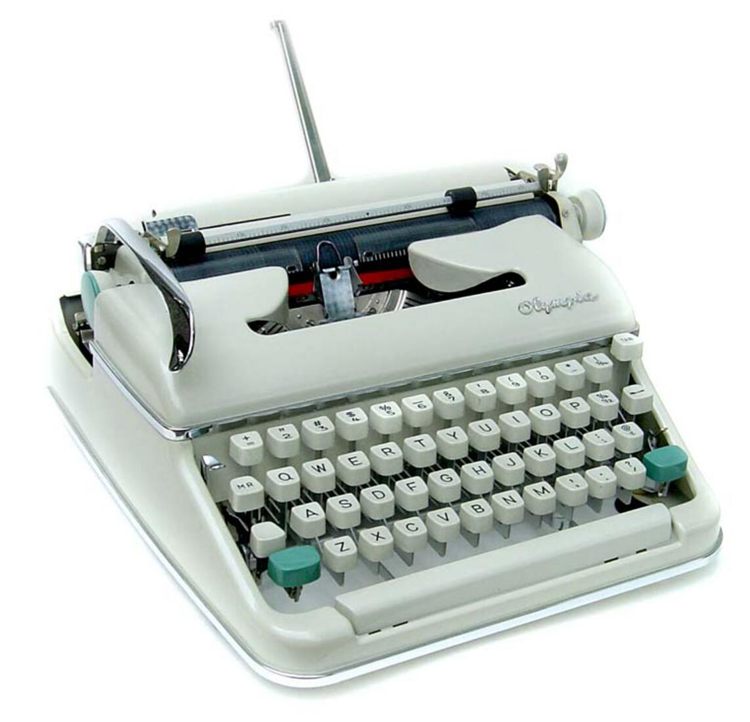 SM7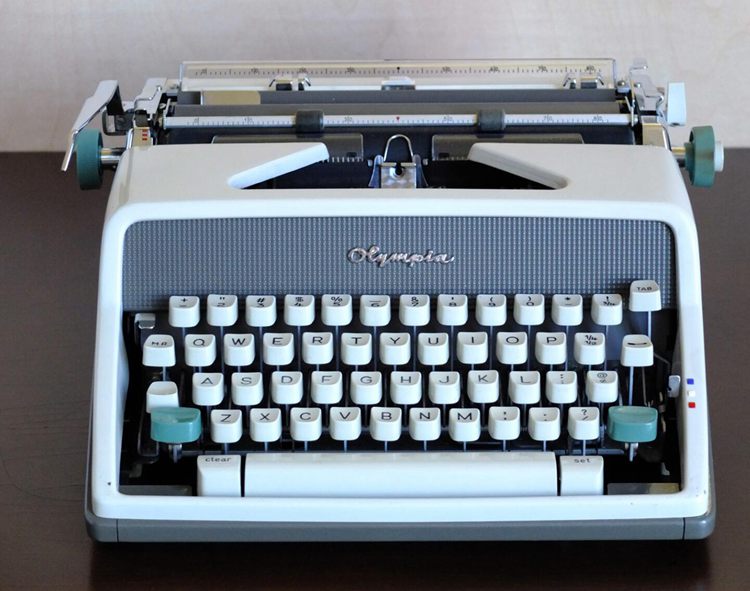 SM8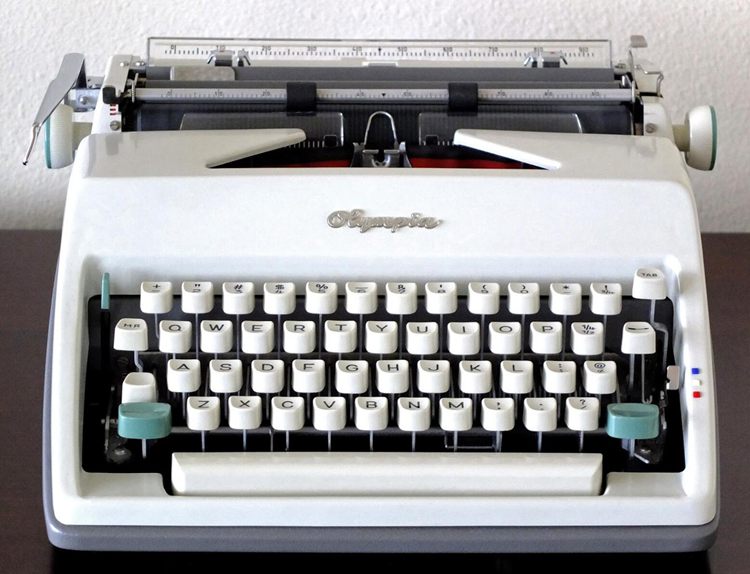 SM9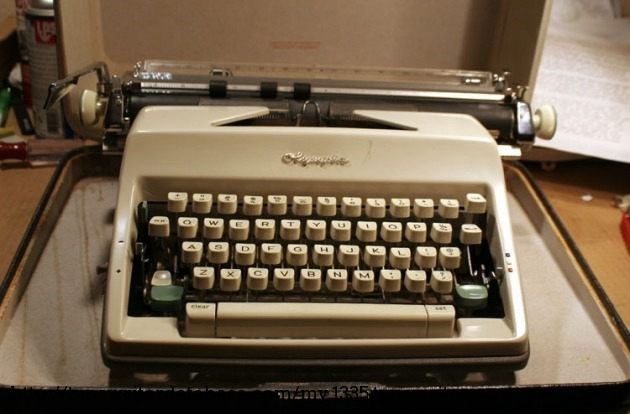 SF Series
SF stands for Schreibmaschine Flach in German, which refers to "Flat Typewriter." The SF series by Olympia is pretty much similar to SM. However, it has an ultra-portable design, making it the best traveling choice. Olympia launched the first SF model in 1956, and it soon became popular due to its compact nature.
The unique feature SF offers is its margin release key to bring back jumbled typebars to the original position. The SF series makes a highly readable copy with bright precise alignment. However, on the downside, it employs a carriage shifting mechanism. It means you must lift the whole carriage when you strike shift.
Still, the SF models are lighter on fingers than their carriage-shifting SM counterparts. Therefore, you can easily take out a vintage SF Olympia whenever your mood strikes to take a break from your laptop.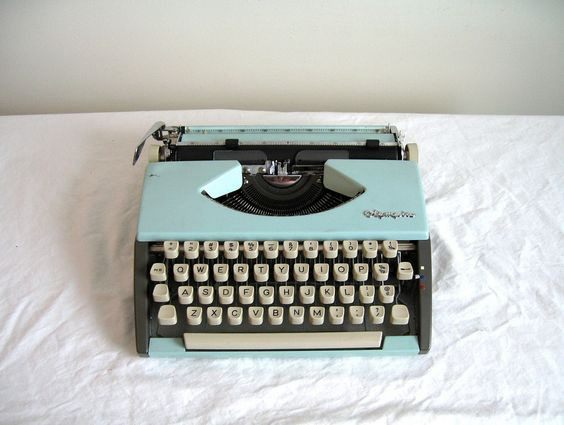 Olympiette Series
The brand introduced the Olympiette series in the 1970s. The series experimented with classic earthy tones and round shapes in the Olympiettes. The models in this series particularly stand out due to their bold hues and boxier designs.
The matte finish models of Olympiette are relatively rare. This series did not become as popular as SM, so they might be available on the market for less.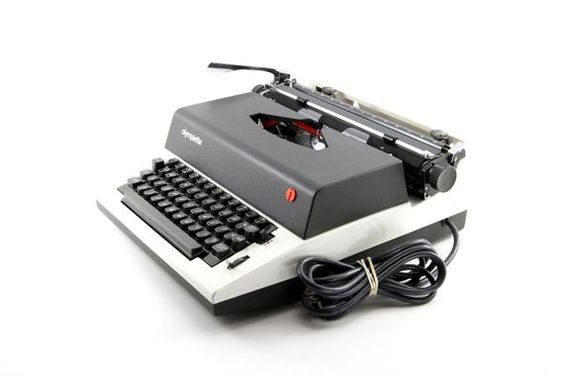 SG Series
Olympia specially launched the SG series in 1953 for office use. This series showcased robust and giant typewriters for positioning on office tables.
In contrast to SM, the SG series did not have any compact models. However, these manual typewriters contained excellent machinery for document-heavy office work. Olympia SG1 became popular in the 1960s and was referred to as "Mercedez Benz."
The SG series continued parallel to others till the late 1970s. The series also saw some electronic models during the 70s called SGE models. The model SGE 50M became quite prevalent in the offices. However, they could not continue for long.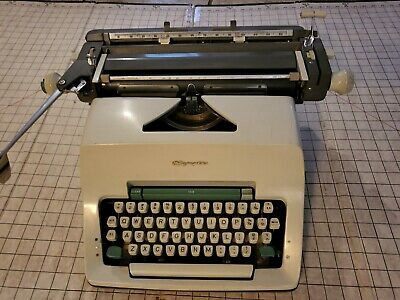 How to Determine the Model of Olympia Typewriter
It's crucial to know the model of a typewriter before you head to the market to buy or sell it. If you already own a vintage Olympia or looking to collect one, here are a few ways you can determine its model
1- The Logo
Check the logo of "Olympia" on the typewriter. Take a closer look at its position, font, or whether it's all caps. The unique logo design will hint at Olympia's particular series or models.
2- The Design
Search the pictures of vintage Olympia models and compare them to the ones you own. The specific design details will give an idea of its model.
3- The Serial Number
The best and most authentic way of knowing a model is by looking for serial numbers. Each Olympia machine comes with a particular serial number that belongs to a specific model or series.
You will usually find the serial number by lifting the ribbon cover, moving the carriage to the right or at the bottom. Rarely it is also located near the slotted segment.
After you know its serial number, you can look it up online, such as "The Typewriter Database." It will contain information about corresponding serial number models.
Olympia Typewriter Value Guide
When it comes to typewriters, the value is highly subjective and variable—the price of collectible typewriter brands such as Olympia changes in different parts of the world.
Generally, the type of machinery and the model of Olympia plays a significant role in determining their worth.
Pursuing an Olympia product in antique stores or online is not difficult. However, you must analyze various factors to get your hands on a valuable piece.
Factors Affecting the Value of Olympia Typewriters
Whether you are buying an Olympia typewriter for mere decorative value or like to operate it occasionally, consider the following factors
Condition of the Typewriter
The condition of a vintage item is primarily the major factor in value determination. Similarly, the state of a vintage typewriter can significantly affect its value.
Since these types of machinery are meant for heavy use, some signs of wear and tear are expected. However, you can assess the condition of the typewriter based on its overall looks and functionality.
Keep the following features in mind while describing the condition of your machine.
Excellent:No rust, Glossy paint, Shiny nickel, no parts missing, types well
Good:Few scratches or nicks, slightly worn, minor nickel flaws, minimal rust, no parts missing, capable of typing or typing with only minor issues
Fair:Showing signs of significant damage either in overt appearance or mechanics but can be restored, pissing parts, decals, rust damage
Parts:Rusty machinery, not restorable; isolated components can be useful.
The typewriter in excellent condition might sell for several hundred dollars. In comparison, the value will decrease as the condition of the machine declines.
For instance, this Olympia SM4 portable typewriter in excellent condition is sold on eBay for $499.
However, the eBay listing of an Olympia DeLuxe typewriter in somewhat fair condition is sold for $50.
Age of the Typewriter
As with all antique items, the earliest Olympia typewriters are sold for worth more. Although the brand became popular in the mid-20th century, you can find some rare 1920s and 1930s models. These pieces are more valuable in the market for their antique designs and aesthetics.
An old functional model can be around $150-200 in the market. The old models had sturdy metal bodies and high construction quality. Therefore, they are sold for more than their plastic counterparts. The Olympia models produced before WWII are worth more in the market.
However, the SM series of Olympia typewriters is costly regardless of age. The SM models made in the 1950s and 1960s are still sold for hundreds of dollars in the market.
Also, the value of the typewriter increases if you possess an original case or manual.
For example, this antique Olympia typewriter model from 1930 is listed on eBay for $719. However, you can find the SM7 1963 model for $40 here.
Lastly, you should know that age might not always be directly linked with the value of a typewriter. If the antique is very old, it can often have a heavy price tag. However, there are other factors such as the condition of the antique which can play a huge role in determining its value. If the antique is old but is in despicable condition – it certainly won't sell well.
The Rarity of the Model
An antique typewriter is considered rare if it was produced for a limited time or had a unique feature. However, it is also called a rare item if its demand exceeds the supply in the market.
Leaving behind this small economic rule, a typewriter that's unique, was produced in small quantity, or has a significant piece of history attached to it will often fetch higher prices. There's also the case of whether a typewriter was part of a limited edition series, which further increases its overall value.
In the case of Olympia typewriters, the SM series, particularly the SM2 model, is considered rare. SM2 was the most reliable model produced by Olympia and, therefore, is still in demand.
For instance, take a look at these Etsy listings of SM models
Olympia SM2 typewriter in excellent condition and serviced listed for $379
Vintage 1954 Olympia SM2 model listed for $511 in working condition
Gold plated 1960 Olympia SM4 model in superb condition is listed for $3487
Portability
The more portable and compact models of Olympia are valued more. The larger models are not desirable today due to their heaviness. The huge typewriter models were intended for office use which is not feasible now.
Therefore, the smaller the typewriter is – the higher its value. Of course, there are exceptions to this rule depending upon the antique itself. However, this statement remains true in a generalized perspective which will help you evaluate an antique typewriter.
For instance, the Olympia SM8 and SM9 models were larger than their predecessors. Thus, an SM9 is available on eBay for $99.
The Value of a Refurbished Olympia Typewriter
If you are thinking of throwing out your broken typewriter, you might be at a loss! You can easily repair it and get its entire worth.
Most of the typewriters you will find in the market may be refurbished. The repairs don't affect the value of the typewriter as long as it returns to its prime condition.
Therefore, any model of the Olympia typewriter can be refurbished or even fitted with new parts without affecting its worth. You're good to go if you can bring old rusty model to excellent typing condition.
Collectors also look for rare, damaged pieces at a bargain price and then sell them for increased value. You need to determine if you can carry out the repairs successfully. A rare repaired model can quickly sell for around $200 and up to $800.
Make sure that the cost of repairs does not exceed the expectation. You should make a decent profit after cutting your repair costs.
However, it's important to mention here that restoration might not always mean an increase in the typewriter's price. Restoration can be a taxing process and even the smallest of scratches or dents that might damage the antique can tank its price. As such, if performing the restoration yourself, it's vital to be careful. Although I would recommend having it done from a professional.
For instance, you can find professionally restored Olympia models on this website.
You can follow this blog online to learn more about repairing different typewriter models.
Final Words
Vintage typewriters have recently seen a resurgence in popularity for various reasons. The pounding sound of the typewriter beckons many antique collectors who admire their aesthetic appeal and nostalgic value.
Olympia typewriters have been on collectors' radar, offering rich history and German concrete machinery. The most popular series of this German brand are SM, SF, SG, and Olympiette.
The value of Olympia typewriters depends on their condition, age, model, and portability. The SM series is more valuable among Olympia machines. However, an excellent condition rare model will also sell for quite a few hundred dollars.
The refurbished Olympia models can also retain their value if they are returned to their working condition.