There was a time in the 20th century when the bigger the hair, the better it looked. Everyone seems to have experimented with growing out hair, whether long locks or a full-blown afro.
Having seen the trends a while ago, many companies realized that they had to adapt to the trends and create shampoos to meet the needs of the people. During the 20th century, many new shampoo brands appeared due to increased demand.
There is plenty of controversy surrounding whether these popular shampoos delivered on their promises. Here you will learn about the old shampoo brands from the 70s to 90s.
What Is Shampoo?
Hair Care products, such as shampoos typically available as viscous liquids, aim to remove impurities from the hair. Shampoos in solid bar form are less common, and this is because they are harder to use.
As soon as you apply shampoo to your wet hair, massage the product into the scalp and rinse it. If you are using a hair conditioner after shampooing, that is a good idea too.
The main purpose of shampooing is to eliminate an unwanted buildup of sebum in the hair without removing too much of the sebum to leave it unmanageable.
The basic formulation of shampoo involves the inclusion of a surfactant and a cosurfactant. In much the same way as soap, the sulfate ingredient works as a surfactant that traps dirt and oils.
Many specialty shampoos target people who have dandruff and color-treated hair. Furthermore, pet shampoos are available with medications intended for treating skin conditions.
As long ago as the ancient Egyptians, Indians used herbal extracts and herbs as shampoos—an effective early shampoo obtained by combining Sapindus extract with other herbs and dried gooseberry.
In India, colonial traders indulged in daily body massages and hair washing during the bath. After returning to Europe, they introduced those new habits, including shampoo, which they called a hair treatment. There used to be many shampoos made from rice husks and straws used initially in Indonesia.
After burning the strays and husks to ash, water is added to the ash to form lather. They use the ashes and lather to scrub the hair, clean it, and then rinse it off afterward. A coconut oil-based moisturizer follows after shampooing hair.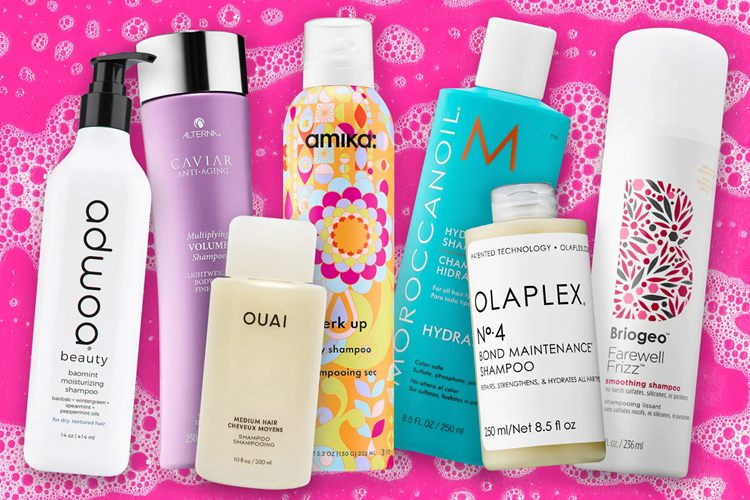 Who Invented Shampoo?
In 1927, Hans Schwarzkopf invented the first liquid shampoo to cleanse hair. It has been approximately 100 years since shampoo developed into what it is today. Before 1903, hair washing consisted of various methods, such as an oil massage on the head or a boiling water bath with shaved soap bars.
In the early days, there were multiple methods, but let's consider the ways that have been dominant over the past hundred years. In the 90s, hair was washed using bars of soap, but Hans Schwarzkopf invented a powdered lavender soap that changed all that.
When shampoo first appeared, it was both in bar and powder forms. Therefore, they are much different from washing out hair today, with bars and powder. There is a difference between soap and shampoo.
Have you ever thought about washing your hair with liquid hand soap? You probably haven't. From 1927 until today, liquid has remained the preferred method of cleansing hair.
However, Hans Schwarzkopf didn't discover a soap-free liquid until 1933. Procter & Gamble soon introduced a synthetic cleaning liquid based on a detergent shortly after the first product came out.
The most significant of these developments were essentially responsible for what we know today as liquid shampoo. Over the past decade, innovations in hair wash have mainly focused on raw materials, packaging, and consumer needs.
As far as form factors go, the most recent change was in 1987 when P&G introduced the first two-in-one cleanser shampoo. Since then, liquid shampoos have been commonplace for almost a century.
Today, major players in the hair care industry are creating hair care products that have specific features. Nowadays, products offer volumizing, hydrating, and moisturizing properties. Shampoo formulations cater to hair types such as thick, fine, curly, etc.
Recent years have seen haircare innovation coming from startup beauty-tech brands that use hair assessments to personalize products for individuals.
Some companies have already come up with biodegradable shampoo and eco-friendly packaging, but their efforts have focused on specific aspects of the product life cycle.
Since these formulas do not consider the entire process, room for innovation exists. Haircare advances allow us to demand lightweight, high-performance formulations that minimize a product's environmental impact up the supply chain.
70's Old Shampoo Brands
Following are some of the most popular shampoo brands of the 70s.
Gee, Your Hair Smells Terrific
During the late 1970s, Gee, Your Hair Smells Terrific shampoo became a favorite among many women. There is an aromatic floral scent in this shampoo that softens after rinsing and leaves a pleasant scent on the hair for a long time after application.
As stated by the manufacturer, the shampoo's fragrance feels like a mixture of chamomile and bubblegum. During the late 1980s, the formula was no longer produced in the U.S but was licensed out to a Philippines company and remains in production there today.
Currently, Vermont Store sells shampoo in the United States. You can purchase the shampoo either by phone or online from the Vermont Store. One of the longest names ever recorded for a shampoo brand may be Gee; Your Hair Smells Terrific.
In the 1960s, Andrew Jergens Company created and sold a product called this shampoo, which was a staple of the dating scene. The shampoo wasn't known for keeping hair follicles healthy or cleaning the hair.
Instead, the product infused the hair with a strong floral scent, lasting for days. In print and television ads, overly perfumed hair appeared attractive to men, and women believed others would come over and smell their hair at the bar.
Lemon Up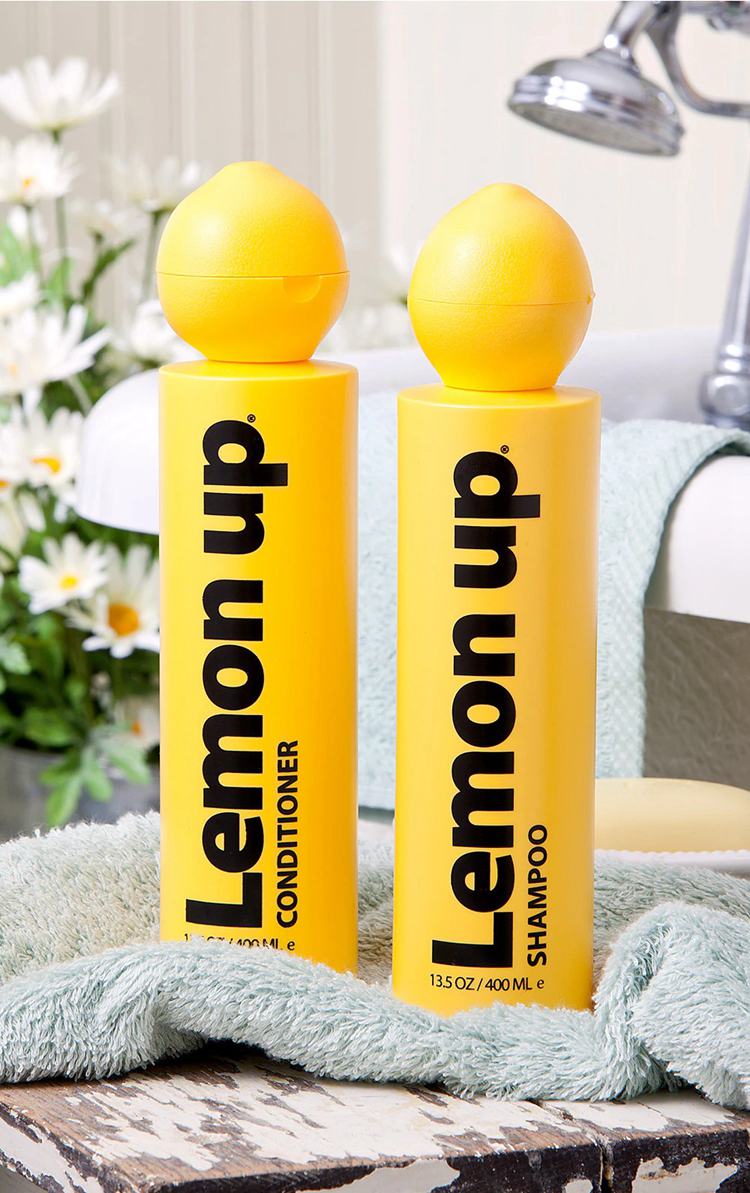 Using lemon juice to rinse your hair was famous in the 1970s, but the makers of "Lemon Up" thought of it differently. As described by the company, each bottle of shampoo contained the juiced lemon, which improved the shine and brightness of the hair.
An advertisement claimed that Lemon Up shampoo includes the juice of a whole lemon and other natural ingredients. Rinsing your hair with lemon juice after shampooing removes all the detergent residue from your hair, making it shiny. It would seem counter-productive to mix lemon juice with detergent.
Body on Tap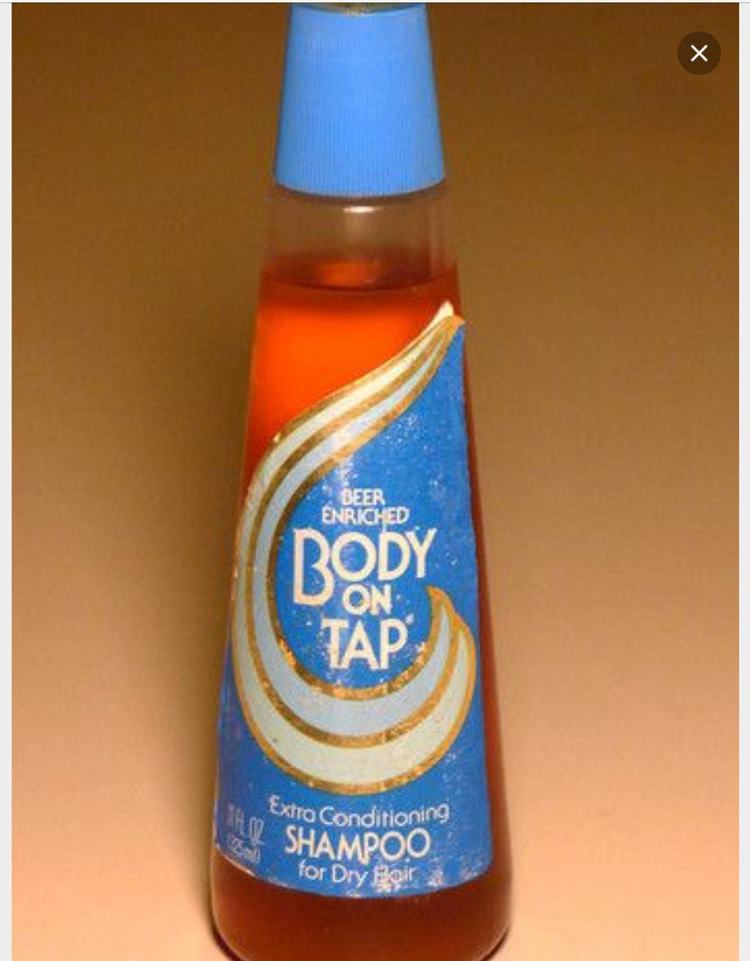 In 1978, Bristol-Myers introduced a new brand of shampoo based on beer, called Body on Tap. One-third of the product consisted of beer. Nevertheless, even Budweiser found mixing alcohol with haircare a bit puzzling.
In the end, Budweiser opted to forgo any involvement in promoting the beer shampoo. Bristol-Myers discretely supplied its modified beer to the company to make Body on Tap.
Marketing this product proved a challenge because the shampoo should not be drunk while the shower is running. Kim Basinger even got hired to advertise Body on Tap with the label "33% beer, but don't drink it!"
Since Bristol-Myers sold Body on Tap, bud-less versions have continued to appear, and the new owners have also introduced new formulations. However, it does not receive the same support as its original product. That proves that the original is always the best option.
Short & Sassy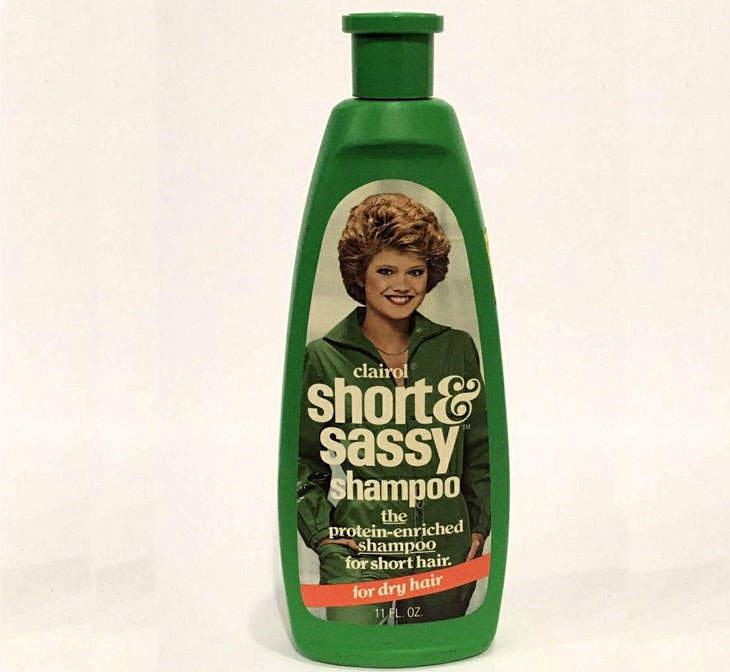 Clairol introduced Short & Sassy in the 1970s, capitalizing on Dorothy Hamill's popularity, wedge haircut, and spirited attitude. Although Farrah Fawcett's long, beautiful hair became a fashion statement in the 1970s, many women of that era wore short hair.
Clairol introduced its Short & Sassy Shampoo brand in response to these people's concern that their cropped hairstyles would look better with a shampoo specifically designed for short hair.
For emphasis, Clairol enlisted the most famous short-haired spokesperson of the 1970s. Clairol wanted to promote its short-haired product to other consumers with the wedge haircut she wore at the 1976 Olympics. Olympian and figure skating champion Johnston introduced the wedge haircut, which has become a craze.
Originally released as a conditioner, its popularity later led to the release of three shampoos: one for oily hair, one for dry hair, and one for normal hair. Like similar hair care brands like Breck or Prell, this iconic brand is well known by consumers.
80's Old Shampoo Brands
Among the most popular shampoos of the 80s, we have listed some of them below.
Priscilla Presley Shampoo Brand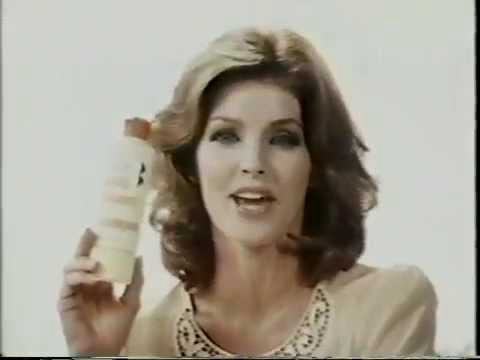 Using Wella's Perform perm product, hairdressers were able to achieve the look of an Afro-style wig in the early 1970s. In 1980, they released a unique shampoo, "Priscilla Presley," marketed to retail stores only.
It featured advertising campaigns featuring Farrah Fawcett and Cheryl Ladd. Besides launching For women, Wella also launched a Shampoo for men.
Finesse
It was also viral during the 80s to use Finesse shampoo. The Finesse shampoo contains active proteins for restoring and strengthening damaged, brittle and frizzy.
It contains active proteins of silk and soy that penetrate deep into your scalp and make your hair softer and more manageable. The great thing about the Finesse shampoo is that it makes the hair feel clean, soft, and silky and is much more accessible to style.
Another thing that people liked about Finesse shampoo was its scent. This product will be fine with sensitive noses due to its amazing fragrance and gentle scent.
Alberto VO5 Shampoo
Women of legendary beauty have been using henna for centuries. It is a natural ingredient that has been used throughout the ages to enhance the beauty of hair.
In 1980, the shampoo brand "Alberto VO5" with Neutral Henna Essence came to the markets. The shampoo makes the hair look radiant, bringing its natural beauty and shine.
In addition, it leaves it soft, perfectly manageable and scented with a scent reminiscent of a great fragrance. This shampoo gives you softness and manageability without changing your hair colors.
90's Old Shampoo Brands
Our list below contains some of the most popular shampoos that were popular in the 90s.
Aussie Mega Shampoo

Australian Mega Shampoo is another among the vintage shampoos of the 90s. Hair becomes shiny, soft, and thicker after using Aussie Shampoo. It has eucalyptus extract that helps to give you gorgeous, shining, and bouncy hair. It is a product that cleans your hair and guards against split ends and humidity.
The hydrating and nourishing properties of apricot oil and Macadamia oil nourish and moisturize the hair, making it soft and smooth. You will also notice that your hair is less frizzy following the application of this oil.
Herbal Essences Shampoo
There was a promise in the advertising for the Herbal Essences shampoo, which would result in silky smooth hair after using it. That's hardly a promise you'd expect a young woman to skip over.
According to the company, Herbal Essences shampoos are suitable for all hair types and generally safe. One of its main selling points is the absence of parabens, some of which can cause cancer.
Despite the absence of parabens in Herbal Essences shampoo, it contains another synthetic chemical associated with cancer. The addition of synthetic chemicals was one of the prime reasons behind its decline. With the introduction of Herbal Essence shampoo, Clairol was targeting women who wanted to appear like a natural woodland goddess.
The scent of herbs and florals in the Herbal Essence shampoo reminded people of a meadow full of wildflowers. Those who loved the original wholeheartedly find the current version of it nothing short of a disappointment.
Where Else Can I Buy Them?
Some popular shampoo brands from the 20th century are no longer available. It would be very difficult to locate the shampoo if the brand had stopped production. However, there are still various shampoo brands from the 20th century that are still available.
You can get those shampoo products from an online or offline store. Visit any nearby store, and they will be able to provide you with your favorite shampoo from the 20th century. If the store does not have it, you can search from online sources such as eBay.
Why Some of the Old Shampoo Brands Have Disappeared?
Let's take a quick look at the top reasons shampoo brands have disappeared which were popular many years ago.
No Uniqueness
It will be hard for a brand to stand out if it copies the traits of another brand. You may wonder why people should choose your brand instead of the other brand.
There is no need to duplicate another brand approach or strategy, but you should find the style that suits you. This statement applies to how the brand represents, how the brand appears, and how they hold.
Taking the time to create something new and unique is well worth the effort. So, lack of uniqueness is the prime reason that many shampoo brands from the past have disappeared. Without uniqueness, brands blend into the background without any distinction.
Lack of Consistency
Several popular shampoo brands from the 20th century that disappeared later also lacked consistency. Creating a brand identity will be impossible if you appear differently everywhere you go?
Brands have to adhere to a uniform appearance to be successful. Brands have to adhere to consistency in terms of appearance and messaging.
If you're talking to new customers or old customers, you need to be consistent throughout your business. Ensure that you define your brand guidelines so that anyone who works on promoting it knows how to do it.
Not Personalized
You won't succeed in engaging a person on a personal level if you make a blanket appear. Simply put, unengaged customers don't care about a brand.
You can't show this level of care about your customers by sending generic emails, sending mass messages, or responding to their queries the same way you have done in the past.
According to a survey, 76 percent of customers rated the way brands treated them as more important than the products they purchased. The key is to build strong relationships with your customers.
You will be able to do that by taking a truly personalized approach to your customers' needs. However, the not personalized approach was not present in many shampoo brands, which made them disappear after a few years.
Poor Audience Understanding
In the past, popular shampoo brands failed because of poor audience understanding. Failure to personalize leads directly to this problem due to failing to personalize.
People will not feel appreciated if they know the brand doesn't understand them. As a result, the brand must tailor its messaging to their needs. In its recent advertisement campaign, Hoover, for example, did an outstanding job of showing the consumer that it understands the modern mom.
Unless you show empathy and understanding toward your audience, it is tough for them to be able to connect with the brand. Consequently, engagement with the brand will drop.
So, if the brand wants its message to resonate with its audience, it should do its homework and tailor it to their individual needs and desires. Also, brands should not forget that trends change accordingly, just as needs do.
Inadequate Branding
Is your brand visible to people? Is it possible to see your brand in the real world? If not, how will they be able to connect with it if they cannot see it in the real world? Many old brands that used to exist began to dissolve due to the absence of branding.
There's no point in launching a brand, then sitting back and hoping customers will find it by chance. Instead, you must do everything you can to create brand awareness and ensure customers can see it.
In the past, when a new brand came out, it would run TV ads and display its logo in the newspaper as a way to attract more customers. The company used several brand promotion strategies to promote its products and services. In the absence of branding, only a few inquiries come in from time to time.
Also, it's impossible to get noticed if the brand remains neutral on controversial issues instead of taking a position. Getting up and announcing your plans can seem risky, but you will fall behind if your competition does the opposite. By standing its ground, the brand can earn the respect and loyalty of its audience.
Conclusion
A shampoo is typically available as a viscous liquid that aims to cleanse the hair of impurities. Solid bars of shampoo tend to be harder to use than liquid shampoos.
Massage your shampoo into your scalp while your hair is wet, then rinse it. Use a hair conditioner after shampooing as it can improve hair growth. Hans Schwarzkopf was the first person to invent liquid shampoo in 1927 to wash hair.
About 100 years ago, shampoo evolved into what it is today due to technological developments. In the past, hair was cleaned using an oil massage or boiling water and shaving soap.
There were many shampoo brands earlier, but let's look at those dominant for the past century. Many women found Gee; Your Hair Smells Terrific shampoo to be a favorite during the 1970s.
After rinsing, this shampoo softens the hair and leaves behind a pleasant fragrance for several hours. Besides, the Bristol-Myers Company launched a new product called Body on Tap in 1978, a shampoo based on beer.
It contained one-third beer by weight. Still, even Budweiser questioned how alcohol would work with hair care products, but it worked. Many popular shampoo brands disappeared later because of inconsistent quality.
Successful brands need to maintain a uniform appearance. Brands also need to maintain consistency in the quality of the product. Also, you cannot engage someone on a personal level by making a blanket appear. A brand's reputation doesn't matter to unengaged customers.
It's not enough to send generic emails, mass messages, or respond to customer queries the same way. Many shampoo brands couldn't do that by taking a customized approach to their customers' needs. Many shampoo brands did not take a personalized approach, so they disappeared after a few years.