Sometimes when we're bored, my ma occasionally brings up funny stories about her childhood. Some days ago, we somehow got talking about breakfast cereals. She mentioned a few from her days like Yummy mummy, Kellogg's corn flakes(expectedly), Cheerios, Monster cereals, and Cap 'n' crunch. She mentioned some others that I haven't heard about also.
Anyways, that discussion pushed me to research the various breakfast cereals from my mum's childhood and mine. I must say that times have changed; some of the grains I derived happiness from when I was an adolescent in the 90s are nowhere now. Funny enough, my kids may also say the same when they're grown in a decade or more. However, guess what hasn't changed over the years about breakfast cereals? Well! It's not the cereal itself but rather the pestering effect from kids.
This brings us to the purpose of this piece. For adults in their thirties and above, this would seem like a blast from the past. Are you prepared to remember when you were a kid begging for your favorite breakfast cereals? I wouldn't be surprised to find you at the breakfast aisle looking to relive some of these memories.
Breakfast Cereals in the 1900s
Growing up for most of us meant waking up every morning to the best breakfast food ever—Cereals. Every sibling had their favorite variety out of endless options. Every single mood and taste had a cereal to suit. The only factor that sometimes stood in between kids and their most preferred "sugary" cereal was the parents. Unfortunately, over the years, some of our favorites were discontinued.
Breakfast cereals are still popular today for many of us who grew up with them. It has continued to serve even our kids as a staple breakfast containing the nutrients needed to function each day, at least until the next meal. However, some older adults fear the best of the best cereals just don't exist again. Talking about the Waffle Los and Sprinkle Spangles. According to my mum, these two golden cereals are never leaving her heart and memories.
Shall we begin?
Old cereal brands from the 60s that are still around today
The 60s were filled with enough fun and side attractions for the kids. Talking about binging on the Flintstones or the Bugs Bunny Show and grabbing a plate to munch on colorful, sugary cereals.
Lucky Charms
Three living generations of American families can boast of enjoying lucky charms at the childhood stage of their lives. Lucky Charms was first released in 1964. The original packet of these colorful marshmallow bits immediately captured the kids' hearts.
A serving of lucky charms had oat pieces shaped like fish, bells, clovers, arrowheads, hearts, diamonds, and moons—all in unique colors.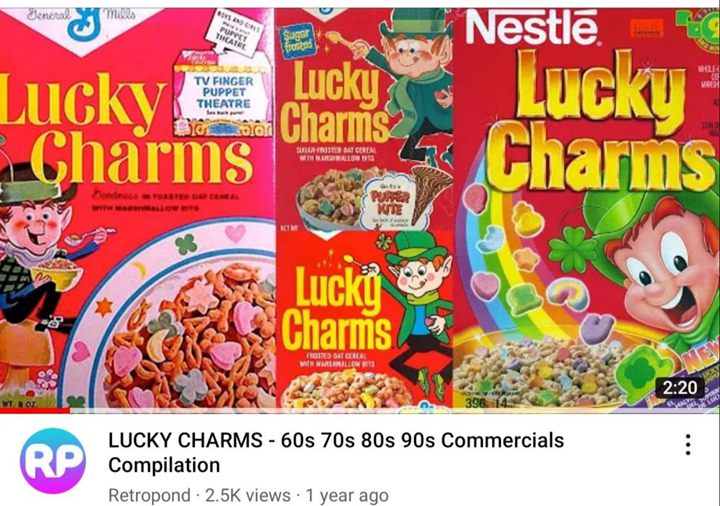 You can view the video above to see those cheeky little leprechauns again. I can't really blame them for trying to keep everyone away from their lucky charms back then and even now. Cause who can resist the rainbow of oat shapes swimming in a bowl of milk?
Apple Jacks
Apple Jacks joined the Kellogg family in 1965. This apple-cinnamon-coated cereal was orange-colored when it was first launched. It has been around ever since, but now the O-shaped pieces are a cute mixture of orange and green. I can remember a roundtable discussion my siblings had then about why the apple jacks tasted nothing like apples. Today, there are two distinct characters in each box, the first being Bad Apple, while the other is CinnaMon. What's the slogan we said back in the day? I've got it! "A bowl of Apple jacks a day keeps the bullies away."
Cap 'N Crunch
This 1963 cereal was based on the story of how Crunch Island-born Cap'n Horatio Magellan Crunch took sail in the breakfast aisle. Fifty-nine years later, Cap'n Horatio is still in charge of the S.S Guppy and sailing the Sea of Milk.
The Quaker oats created a classic cereal brand around one of the most magnanimous mascots in the history of American cereals.
Cocoa Puffs
Produced by General Mills, the Cocoa Puffs cereals started gaining recognition in the 1960s, although it first debuted in 1958. It was created in time to be one of the most desired cereals in the 60s. Both old and young, male and female, enjoyed a bowl of cocoa puffs, although the brand's primary audience was "cocoa puff-craving kids."
Cocoa Puffs announced its mascot, Sonny the Cuckoo Bird, in the 60s, and he is still flying around screeching his catchphrase—I'm Cuckoo for Cocoa Puffs. Many of us have been "Cuckoo" for these puffs ever since. Many brands like Kellogg's have created their version of these cereals named "coco pops."
60's discontinued cereal brands
As they say, not all good things last forever. Here are some popular 60s cereals that have been discontinued
Kaboom
Launched in1969 by General Mills, this cereal dessert was discontinued twelve years ago. Who can ever forget the colorful clown mascot visualized on the Kaboom pack those years? The clown's face was something kids then saw almost every day on the breakfast table, except on days when the adults forget to buy a refill.
Kaboom was branded as a nutritious toasted oat cereal back in the day; while I can't confirm this, I can definitely state that it contained food coloring in high proportion. The popularity of Kaboom cereals gradually dissipated in the 90s as more cereal varieties were released.
Puffa Puffa Rice
This was one of Kellogg's creations in the 1960s. However, less than a decade later, the parent company took it out of distribution. Puffa Puffa Rice has a taste that drifted from Ruffed Wheat to Rice Krispies. The product was marketed with a Hawaiian theme throughout its time of being available in the market.
Puffa Puffa Rice was puffed rice, just like its name implies. It was sweetened with brown cane sugar. This is one of the old commercials used to market this Kellogg's favorite in 1967.
Old cereal brands from the 70s that are still around today
One thing about the 70s, aside from the delicious cereals, was the sweets. The sweets were better than what we have now. Tastier, cheaper, and bigger. Just like the grains.
Honey Nut Cheerios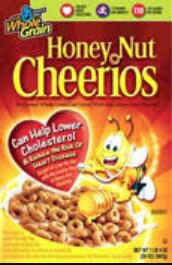 The Honey Nut Cheerios is a better variation of regular Cheerios. It is more delicious and widespread than the original cereal. Produced from natural honey and crushed nuts, the little Os of the Honey Nut Cheerios is currently one of the most popular cereals in the United States.
For forty-three years, the honey nut Cheerios has received praises from young and old. A columnist recalled that the cereal drew the family-folks in with its kid-friendly adverts and affordable prices during a recessed economy. Its plucky mascot, which was finally named "BuzzBee" in 1999, still retains its spot on the box today.
Cookie Crisp
Ralston Purina originally launched Cookie Crisp. However, General Mills took over and changed the recipe once they acquired the trademark. This cereal looked and tasted like chocolate chip cookies. Unlike its cookie lookalikes, the Cookie Crisp cereal can be eaten at any time of the day. It was first introduced in 1977 and has been available ever since.
Purchase these mini chip-choc cookies made from whole grain and much-needed minerals and iron to relieve that taste of goodness.
Golden Grahams
These are unusual cereals. Golden Grahams add toasty, crunchy squares doused in brown sugar. They were instantly loved as soon as they were released mainstream in 1975.
The brand made family-based ads that showed how the cereal could be mixed with nuts or eaten as a cocktail snack.
Granola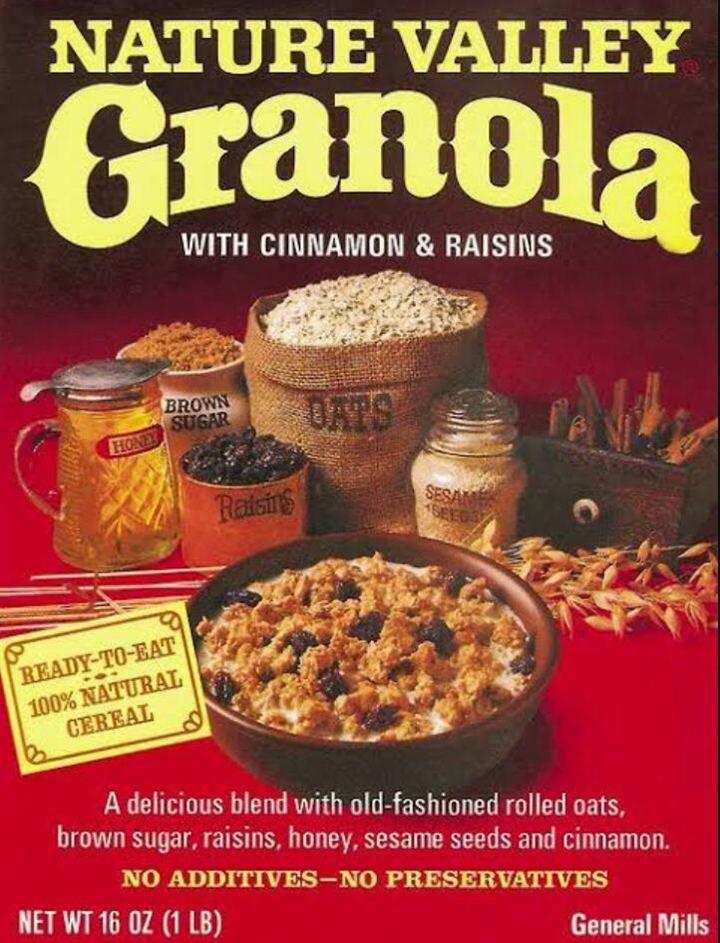 Another healthy cereal from the stables of General Mill. The Nature Valley Granola is unlike any other. It is a highly beneficial breakfast option that is bound by honey. These clusters of toasted oats and nuts have served both young and old for forty-nine years. Some granola lovers also recommend sprinkling yogurt on these lumps of oats.
70's discontinued cereal brands
I like to say the 70s was an experimental decade for new cereal producers. Quite a number of brands were launched and subsequently disappeared within this decade.
Pink Panther Flakes
Pink Panther Flakes is a favorite for young girls in the early 70s. Each box had pink frosted corn flakes. It was so pink that it also turned the bowl of milk pink. For marketing purposes, Post launched the brand with spy-themed toys placed within the boxes. These toys are considered vintage toys and are sought-after by rare toy collectors. It was discontinued that same decade.
Freakies
Every 70s kid had Ralston's Freakies. The brand raised the demand for this cereal by capitalizing on its Bunch of monster mascots who stayed on a tree that produced Freakies every time of the day. The kids well received the Freakies tree and loved the freakie monsters, while the simple cheerio-like O-shaped cereals were accepted in no time.
Unfortunately, the Freakies tree, monster mascots, and Freakies boxes disappeared unexpectedly in 1978. The brand was renewed in the 80s, although it came with upgrades like honey-flavored spaceships and a few rainbow-colored alien marshmallows.
Magic Puffs
For most 70s kids, the major highlight of this cereal wasn't the taste but the consistent magic theme and tricks kept as favors inside the box. Magic Puffs might be one of the best thematic cereals of all time. Every box always had magic tricks, everyone! Some kids pestered their parents into buying a box simply to get a new magic puff magic trick.
The official mascot of the product was a purple magic hat. This same magic hat was used to promote one of General Mills' discontinued products, Magic Hats, before the Magic Puff brand adopted it. One might say the Hat itself is jinxed, as Magic Puffs disappeared within a decade. The magic tricks were enough to cast a "forever" spell on the box of crunchy frosted cereal puffs.
Old Cereal brands from the 80s that are still around today
The 1980s was the decade when manufacturers intensely aimed their adverts at children. The kids, in turn, tuned up their pester power till their parents purchased that thrill (cereal) of the week. My folks were one of those parents that just had to give in to the demands of their whining children.
Till today, many parents still make massive purchases of cereals because cereal brands have perfected ways to appeal to their children.
Frosted Mini-Wheats
This cereal product was originally launched in the 70s; however, it did not hit the primary market until the start of the new decade. It is a modified variety of the original large-size mini-wheats, known as Bite-size frosted mini wheats. A serving of this cereal appears as cubes of shredded wheats. They were, and are still capable of satisfying appetite at any time of the day.
Today, the Frosted mini wheats are available in multiple varieties, including the mini wheat dark chocolate, bite-size frosted chocolate, little bites original, bite size frosted maple brown sugar, and the bite size frosted blueberry. They can be found at different grocery stores around.
Crunchy Nut Corn Flakes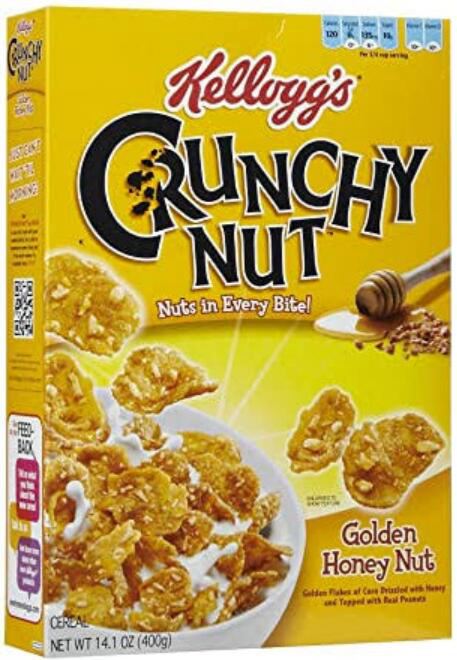 This is a variety of Kellogg's corn flakes. The difference between this and the original version is that these are drenched and soaked with honey and peanuts. When they were first released, kids preferred to munch them straight from their boxes rather than soak them in a bowl of milk. They've been a hit since they were released till this present moment while I pen this down. However, there has been a change in the name; they're not called the crunchy Nut corn flakes any longer, but rather Crunchy Nuts.
These used to be my favorite brand of Kellogg's back when I was a kid. Once in a while, I indulge in boxes of Crunchy Nuts, the same way I did when I was a kid, munching straight from the box!
Cinnamon Toast Crunch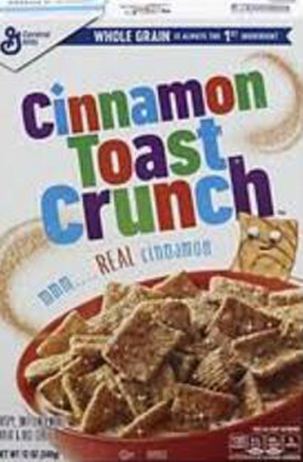 Commonly referred to by its acronym CTC in the US, Cini Minis in Europe, Curiously Cinnamon in English, and Croque-Cannelle In the French region of Canada, the Cinnamon Toast is a favorite across the globe. It was originally launched as a partnership between General Mills and Nestle in 1984. When it was first launched, the CTC featured plain squared cinnamon cereals. Along the line, the manufacturer provided varieties. Now it comprises small squares and rectangles of toasted wheat or rice, which incorporates the traditional taste of cinnamon into the bowl of milk.
Special K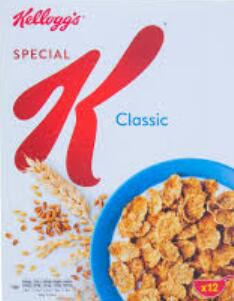 These were launched in 1955; however, the knobbly, toasted flakes didn't win the Public's heart until the 80s. It can be recalled that Kellogg's kickstarted its red dress and swimsuit advertisement in this decade. So, the Special K wasn't served as breakfast alone, but as brunch, lunch, or dinner also. The adverts urged people to eat Kellogg's cereal at any time of the day.
The Special K cereal has varieties today. From the chocolate flavor to the vanilla and almond, fruits and yogurts and finally the original Special K box.
80's discontinued cereal brands
Several products were discontinued between 1980 to 1989 to make way for newer and improved products.
Powdered Donutz
This cereal was more or less an ancestor of frosted Cheerios. It tasted like powdered doughnuts. While it may have tasted like Donut, it's true that it looked more like well-fattened cheerios. Funny enough, it was in demand. The Donutz cereal was crispy and sweetened. It was discontinued in 1989.
Yummy Mummy
Yummy mummy came from nowhere in 1987 to replace the Fruit Brute cereal. Only for it to disappear into nothingness within six years. This cereal was fruit-flavored and garnished with vanilla-flavored marshmallows. It's ironic that Yummy mummy did not even last as long as fruit brute before it was discontinued. However, some selected kids said it gave their tummies a yummy sensation.
Nerds
Every child—nerds, geeks, goths, famous or not, enjoyed the Nerd cereals when it was launched in 1985. This was likely due to the fact that it was just pure candy poised as cereals. The box was partitioned into two, each side having its flavor. A lot of kids mixed both flavors in a bowl to get a better feel. Unfortunately, the adults didn't support this sugar candy in cereal form as it was discontinued a few years later.
Ice cream cone
The ice cream cone cereal launched in 1987 and was subsequently discontinued less than 12 months later. Ice Cream Jones literally hawked the product in 1987 with an old bike. The older adult did creepy things like locating unchaperoned children to give them a sumptuous breakfast of ice cream cones cereals. The cereal was made of chocolate and vanilla-flavored puffs and a few cone-shaped sugar pieces.
Oreo O's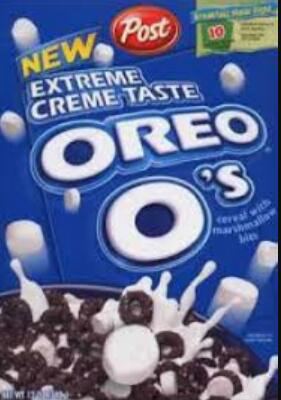 A delicious crunchy cereal with chocolate-flavored cereals and white sprinkles. If you're wondering if this cereal was connected with the Oreos brand, it was. In addition to the Oreo O's, there was another product called the Extreme Creme Taste Oreo O's, which had several frosting flavored mallows. The Oreo O's is on a long list of discontinued cereals that kids love for their high sugar content.
This delicious serving of chocolate goodness was discontinued in 2007 after a split in the producing companies.
Old Cereal brands from the 90s that are still around today
Rice Krispies Treats
Rice Krispies treats were launched in 1993. They soon became a kid's party favorite. Children enjoyed picking out the marshmallows, and melted butter puffed rice cereals.
Waffle Crisp
This is one of a few kinds of cereal launched in 1996 by Post Consumer Brands. At some point, production was halted. Fast forward to 2013, when the brand introduced a relatively cheaper version of Waffle Crisp, which they named the "Waffle Crunch." It was later discontinued again in 2018 but revived some months after fans expressed their interest in its return.
An interesting fact is that the early ads featured young kids attempting to steal a massive amount of the Waffle Crisp for themselves. Several adults criticized this ad. Like most cereal products, the Waffle Crisp also has its mascot. It is an anthropomorphic waffle with legs and tennis shoes fondly called the Waffle boy.
You can purchase the Waffle Crisps at any Walmart within and around your neighborhood.
90s discontinued cereal brands
Not all 1900s cereals could scale to the new century, not even those produced within the last decade.
Cinnamon Mini-Buns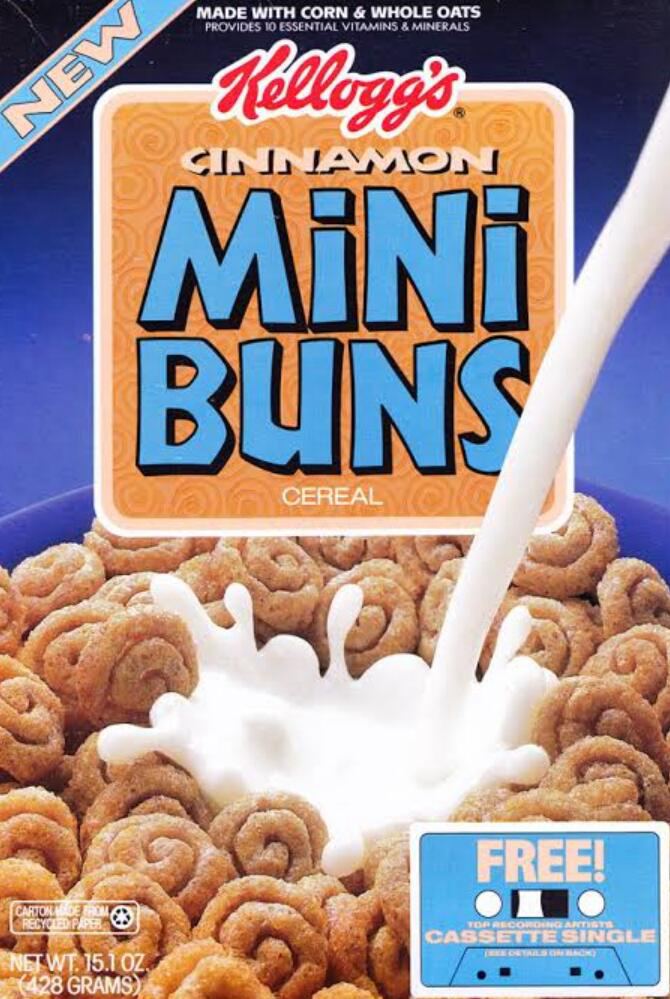 Produced in 1991, this cereal lasted less than three years. Like the Oreo O's was Oreos in cereal form, so also were the cinnamon Mini-Buns, cinnamon in cereal form. Luckily you could justify eating Cinnamon buns as breakfast without feeling guilty. However, this wasn't enough to sustain the production of this box of cereals. If you still crave the fun taste of the Cinnamon Mini-Buns cereal, you could try Kellogg's Mini Swirlz—to an extent; it's an acceptable alternative.
Spiderman Cereal
There were several spiderman cereal brands released by a couple of manufacturers, including Kellogg's, General Mills, and Ralston. Ralston started the trend and hoped to capitalize on the spiderman animated series showing on the Fox Kids Channel. This cereal was launched some months after the TMNT cereal was discontinued.
The cereals consisted of cereals and spider-looking marshmallows.
French Toast Crunch
The French toast crunch was shaped like tiny french toast slices, much similar to the Cookie Crisp style. It came in a red box when it was first released in 1995. Just before it was discontinued, the brand had adopted a finer yellow box, while the cereals were adjusted to resemble the squared grains in the cinnamon toast crunch box.