Have you found an interest in antique clocks or watches, or are you a budding collector searching for the best on the market?
Then you have arrived at the right place. We'll be presenting some of the most prominent antique clocks and watches made by the famous New Haven Clock Company
The New Haven Clock Company was one of the prominent clock companies during the 1800s. New Haven Company antique clocks are still a favorite among antique collectors.
History of Jerome Manufacturing Company and New Haven Clock Company
New Haven Company had its beginning with the Jerome Manufacturing Corporation, which was established by prominent clock maker Chauncey Jerome in the early 19th century.
Jerome Manufacturing Corporation was one of the largest clockmaker companies during the nineteenth century, earning an annual profit of $3500.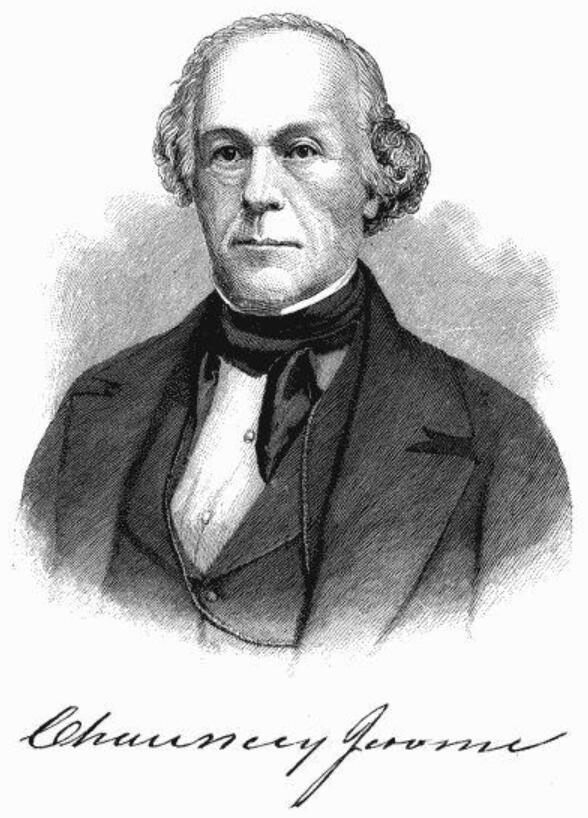 With the Jerome Manufacturing Corporation moving towards bankruptcy in the April of 1856, Hiram Camp took over the company and established the New Haven Clock Company.
The New Haven Clock Company raised an additional $20,000 and purchased the Jerome operations. Prior to this takeover, Hiram Camp used to provide Jerome Company with clock movements.
By 1860, the New Haven Clock Company had 300 men and 15 women employed and was producing about 170,000 clocks a year. In 1866, the old Jerome factory was destroyed by fire, but a new brick factory was soon built, which survives to date.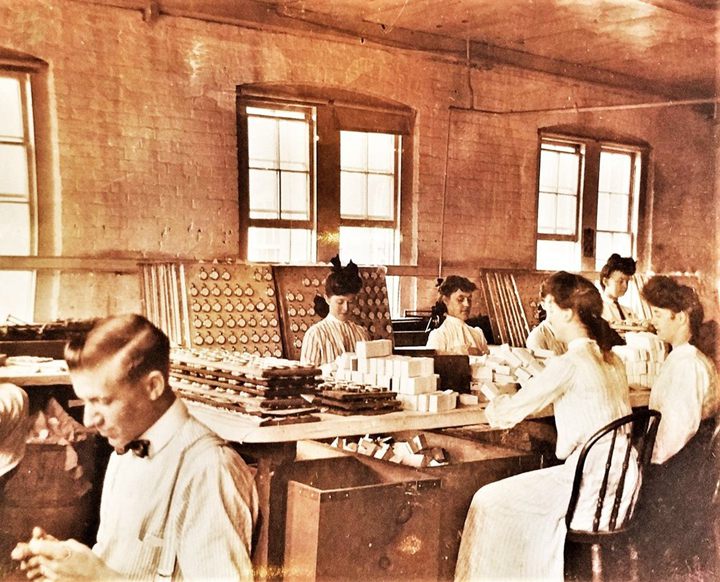 The company experimented with the production of radium-infused "glow in the dark" wrist watches during World War I for overseas servicemen and continued to remain popular during the Great Depression.
A halt came to the production of the watches by the end of the Great Depression, and the company shut down its watch production.
They resumed Clock making after the end of World War II. However, due to international competition and high demands for clock components, the doors of the company shut down for good. The old buildings of the company were later utilized for counterculture activities.
The company has remained close for over half a century at this point. The original manufacturing plant of the New Haven clock company now stands as a historical industrial complex at 133 Hamilton street in New Haven, Connecticut.
Despite its unfortunate end, New Haven's clocks pieces continue to remain invaluable collections for antique enthusiasts and collectors alike in contemporary times.
New Haven Clock Company Antique Value
Clocks made under the Jerome brand enjoy a good reputation for their durability and functioning. Thus Jerome & Co. and New Haven Clock Company clocks are sought after by collectors and enthusiasts alike
Clocks made until 1904 by New Haven Company carry the Jerome & Co. branding, whereas the clocks produced afterward fashioned the trademark of New Haven Clock Company, which could be found at the back of the clocks.
New Haven and Jerome Clocks parts may be priced as low as $20. However, clocks in mint condition and with less damage are valuable and are available for around $1000-$5000 apiece.
Identifying New Haven clocks
Most clocks manufactured by New Haven Company also carry the Jerome Co. trademark, which may act as a key signifier during the appraisal step of the antique Clock.
Trademark of New Haven clock Co. was adopted later on. Depending which trademaSource:rk is used on the Clock can determine its age. Usually, they are engraved on clock faces, pasted onto the casing, and on the back of the Clock.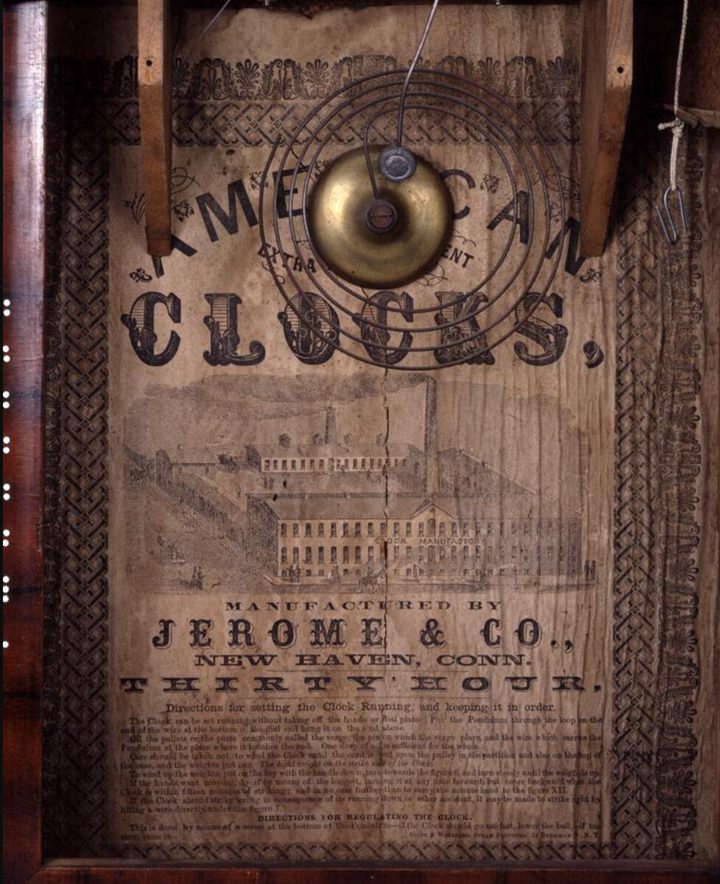 A vintage chronograph is difficult to identify. Experts estimate that New Haven created around 300 different types of Clocks. Amongst these various models, a few stood out and are considered staples of the company.
Famous New Haven Clock Designs
The Mantel Clock $129.99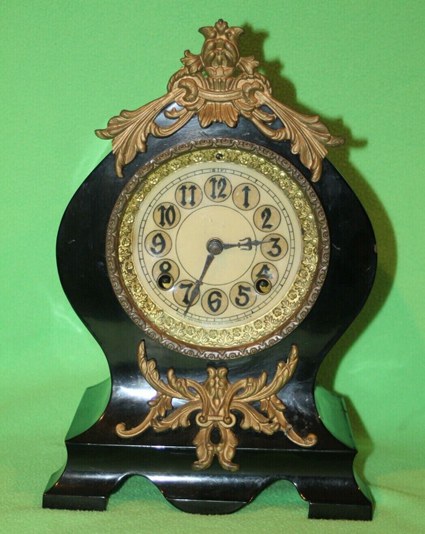 The mantle clock, also called the Duchess, was one of the Jerome-style clocks produced by New Haven. It was also among the most popular designs produced by the company.
These clocks were mainly made of a rose-wood veneer case and an angled top alongside a Roman numeral dial and a swinging pendulum.
These types of clocks owe their popularity due to their compact and stylish design that holds the capacity to spice up one's living room or reading room. It can be seen as a smaller version of a grandfather in terms of design as it does not stand out too much but adds a touch of elegance to your living space.
Calendar Clocks $100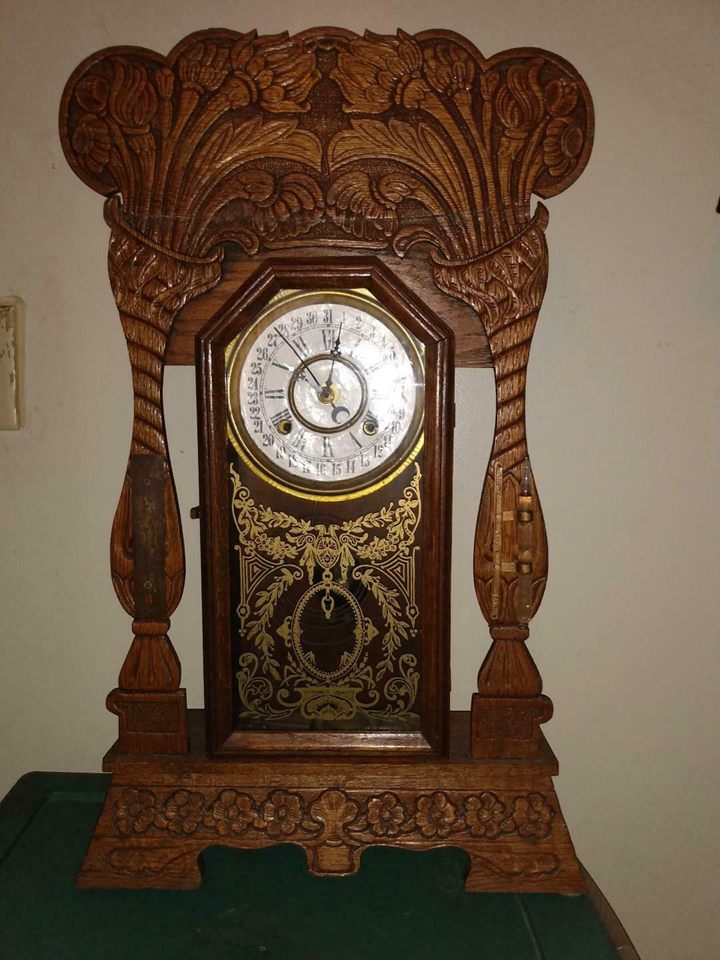 The Calendar clock was also a popular style that mostly came in wall clock styles but could also be placed on shelves.
These types of clocks were primarily made of light oak cases in order to make them suitable for hanging. Rich Walnut wood was also used for the Clock. The Calendar-style Clock featured a double dial for the navigation of time and date.
One of the most sought Calendar Clock pieces is the one produced for the National Calendar Clock company, as it had the word "Fashion" engraved between the double dials.
These pieces are rare and are a must-have in the collection of a seasoned collector.
Shelf Clock $3900
The New Haven shelf-type clock, also known as the Ignatz is one of the most famous 19th-century antique clock styles among collectors.
Igtanz antique clocks have a flying pendulum in place of the traditional lever type. The flying pendulum used to have a tethered movement where it would swing side to side on top of the clock case.
Source:https://www.1stdibs
Wristwatches $24.99
New Haven wrist watches were produced under the influence of Walter C. Camp, also known as the "father of American Football."
Camp attempted to modernize the company in the early twentieth century to save the company from bankruptcy.
However, Camp's efforts did not bear any significant fruit since the campaign to promote newly launched wrist watches med was a dead end.
The wristwatches did not enjoy the same amount of popularity as some other New Haven products due to tight market competition. However, that makes these wristwatches all the rarer and more valuable.
Pocket Watch
New Haven expanded their business towards non-jeweled pocket watches during the 1800s. The turn of the century marked a tradition where respect got associated with pocket watch-bearing gentlemen.
New Haven's pocket watches are classy and timeless antique pieces that can amp the collection of your antique watches.
Banjo and Grandfather clocks

Grandfather clocks and Banjos are sought-after pieces by any seasoned clock collector. The New Haven clock company produced exquisite grandfathers with creative names such as Angelo, English, Glenor, and Occidental.
Adding them to your living room is surely bound to add timeless essence to the place as well as add a statement style to your space.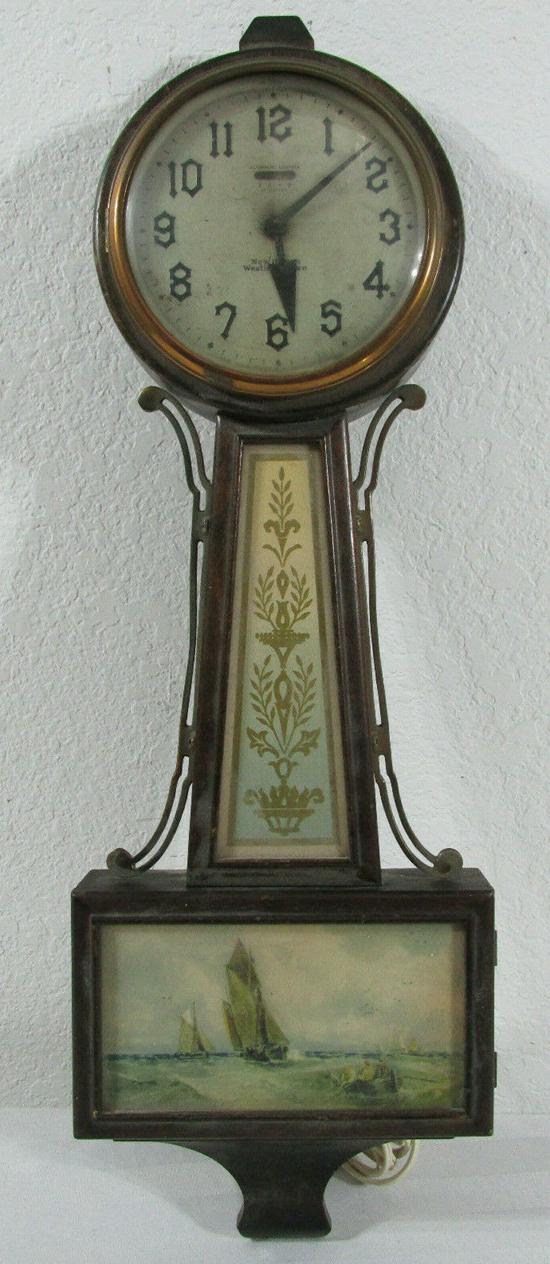 Banjo clocks are a classic American design whose shape resembles the instrument it's named after. New Haven Banjos were made of mahogany and a glass plate at the bottom, which was often decorated with a painting.
The one in the image below displays a nautical design.
How can you tell how old a clock is?
When it comes to finding antiques, it is important to estimate the worth of the material by knowing how old that item is.
When it comes to finding how old a New Haven Clock is, you can tell by identifying the type of material used in the making of that Clock.
Clocks with a glass dial, stenciled hand style, or bolts show their age. Different types of striking bells, such as chiming sticks and gongs, are common in old clocks.
Materials used in dials such as ceramics, paper woods, or tin age varyingly. This Clock shows varying degrees of aging, such as yellowed paper dial, foggy glass dial cover, and distress on the wooden body.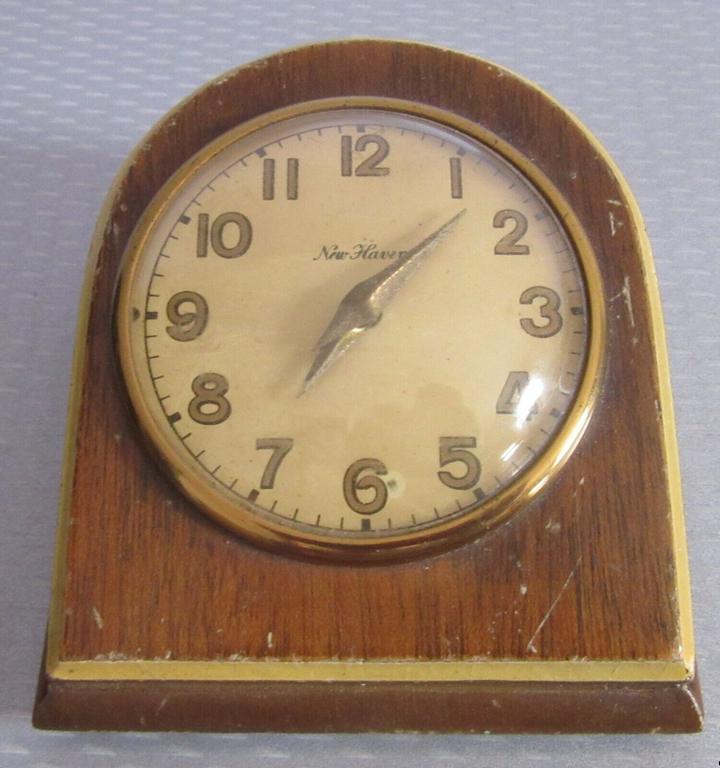 Serial numbers are also an indicator of a clock's age as they can be traced, and their trademark can be confirmed in antique catalogs. If the Clock comes with its original box, it can confirm its authenticity.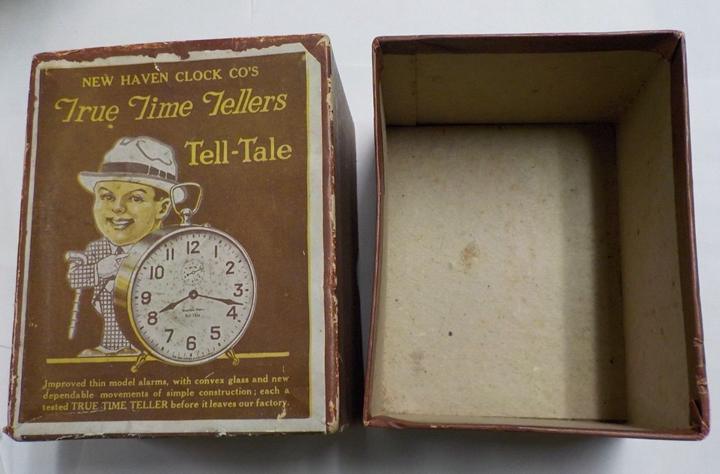 If you are really enthusiastic about your antique clocks, you can visit an expert to appraise your product's value.
Here is a video that explains the dating of a New Haven clock.
Similarly. how old a mantel clock is totally depends on its design and electroplating. If a clock is fashioned out of plywood, you can estimate it to be created around 1895, as no alternative economic material was available during that age.
Clocks made of luxurious material are still around today, but older clocks will depict obvious signs of aging, and their design may pertain to the trend of that age.
The Clock shown in the image below portrays a gothic design that is reminiscent of the early 19th century.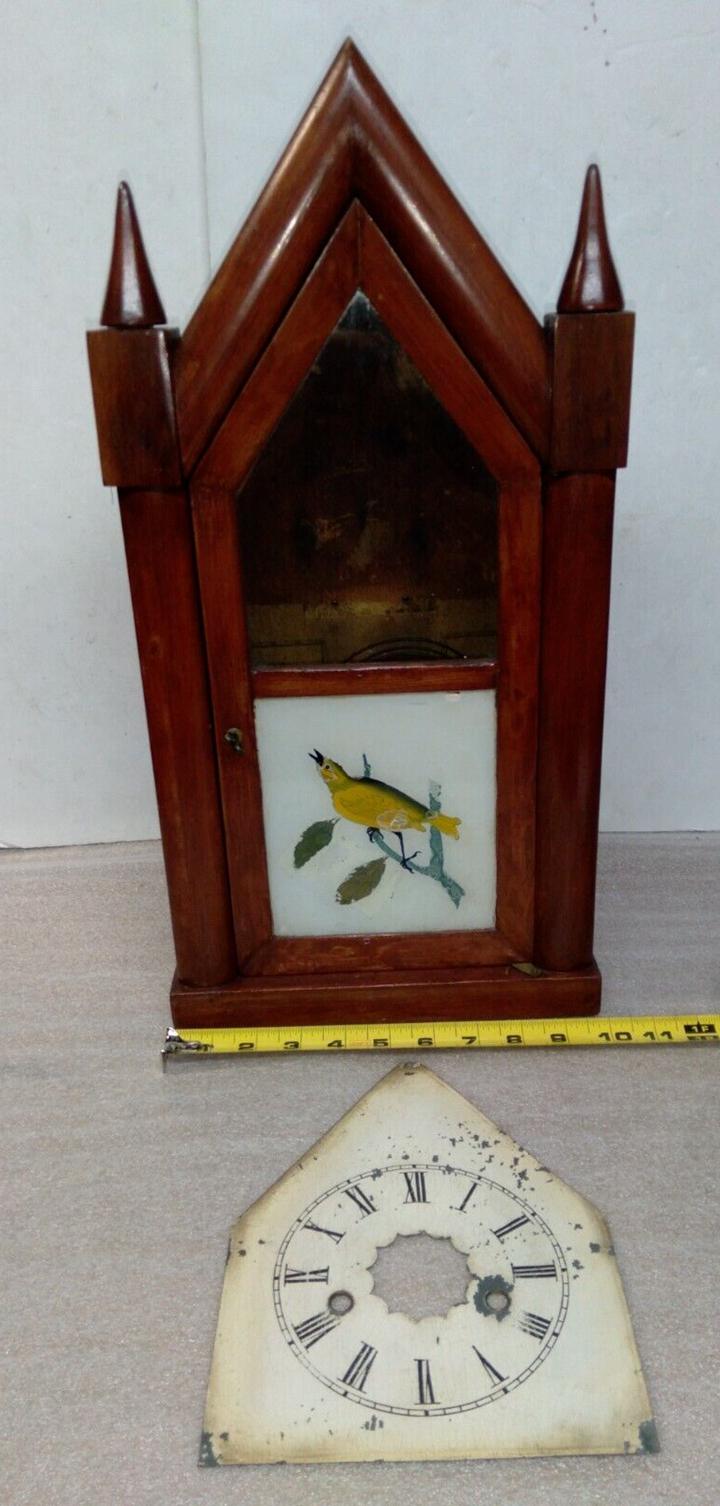 A mantel clock made with molded plastic or Bakelite is most likely to be created in the 1930s or the 1940s as it was during that time that plastic became a widely available material for commercial use.
The Clock shown in the image displays a striking yellow color plastic covering, which is reminiscent of the art deco period during the 1930s.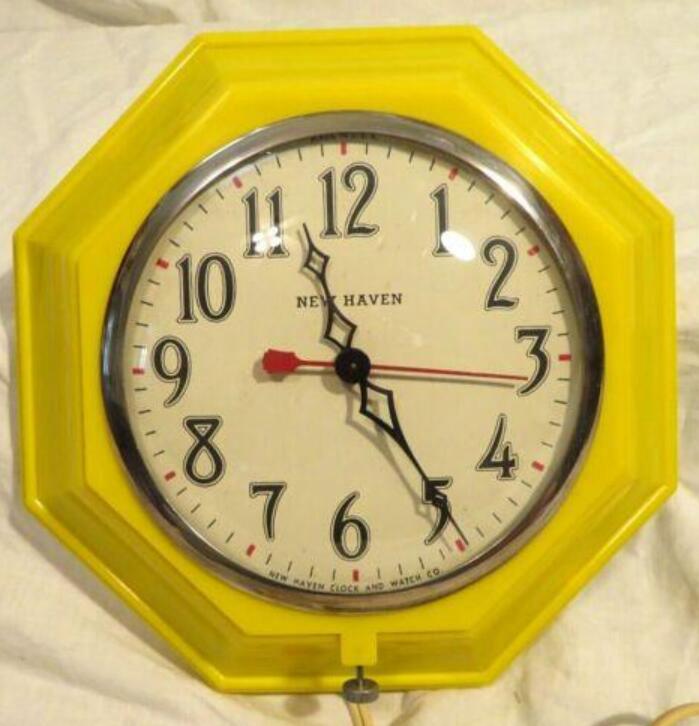 How do you identify a clock movement?
To determine which movement is manufactured, you can open the internal cavity of the Clock to find the internal movements. The movement will have symbols or numbers to determine its functionality.
Some clocks have numbers that cannot be viewed easily and require the use of flashlights or magnifying glass. You can see the name of the manufacturer and the numbers engraved in the pictures provided below.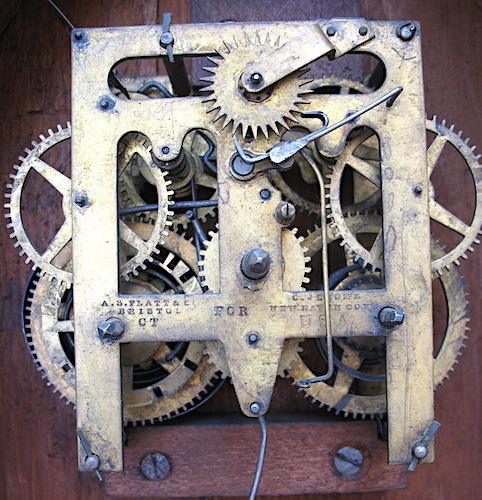 What do the numbers on a clock movement mean?
Even if there is no indication of the manufacturer on the Clock movement, the numbers can work as an identification for the functioning of the Clock.
Usually, the movement number tells us how the Clock sounds, the place where the drum is positioned and whether the force is exerted on the spring or not, and many more.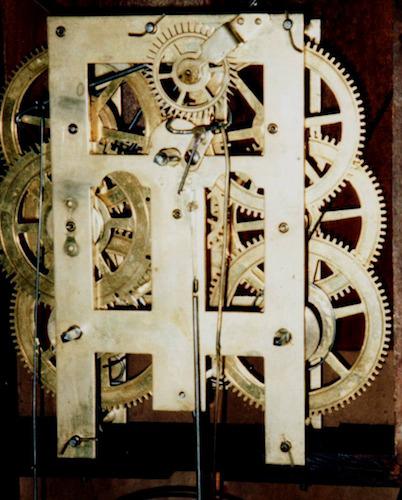 How do you know if an Antique clock is valuable?
To find the value of an antique clock, the best way is to check the face, mechanisms, and cases of the Clock. Clocks that contain an engraved or signed name of their maker can be more appealing than nonmarked clocks.
If it's not possible to obtain the mark, you can also identify your antique Clock using various databases such as archives and catalogs.
There are some famous databases containing extensive information about New Haven's antique clocks as well as their potential value and significance as antique objects. Some of these popular databases include The Index, Collectors Weekly, and Jerome Clock Collector.
Where to find New Haven antique clocks?
There is a wide variety of New Haven and Jerome clocks available in the market, especially due to their mass-scale production. A good way to strike gold with these antique clocks is through local antique stores and flea markets.
Flea markets are a great way to find interesting antique finds, so you might want to hit your nearest one for some scavenging.
Second-hand shops and garage sales might also be a great source for antique pieces, even if some luck is required.
We are living in a digital age where information is just a touch away. Online sources are a great way to track good finds. These are some of the sites that we recommend:
Collecting antique materials is an amazing hobby, and antique clocks really take one back in time.
Make sure to always authenticate your antique clock purchase. Try to purchase from authentic and reliable sources.
Enjoy Your New Haven Clock Antique
Antiques require extra care due to their age and material. Make sure to follow the care instructions provided by the buyer. Once you have New Haven's antique piece in your hands, enjoy its charm and history.
We hope that by now, you must have had a detailed understanding of New Haven's antique clocks, their significance, how to identify them, and where to buy them.
If you still have any queries, feel free to reach out to us in the comments section.