Swung vases have been a popular accessory since their introduction in the early 20th century due to their unconventional, free-flowing style. If you own a swung vase, you have a valuable asset, and if you are an antiques dealer looking to buy swung vases, you have come to the right place.
If you're a collector interested in swung vases, this article will show you the top ten most valuable swung vases to invest in. Also addressed are questions such as "What is a swung vase?" and "What is a Viking vase?" Continue reading for more details.
What is a Swung Vase?
A swung vase is a unique style of vase or glassware created by a glass-blowing technique popular in the 1960s.
The swung vase is made in an "unofficial and improvised" manner. When the vase is removed from the mold, a tool called a snap holds the base in place, and the vase is reheated in the glory hole until the glass becomes elastic and malleable enough to form.
The glassmaker would then swing the vase in a pendulum-like motion while the vase mold was still hot, stretching it out to its intended finished height.
The height of the vase mold is determined by several factors, including the temperature and elasticity of the glass, as well as the swinging effort applied by the glass maker. This transforms the plain vase mold transformed into a stunning work of art.
A Brief History of the Swung Vase
When it comes to manufacturing swung vases, Bryce Higbee is both the oldest company and the pioneer. The company began producing glassware in 1879 and swung vases in 1889.
The Viking Glass Company, Fenton Art Glass, and L.E. Smith are three other American companies well-known for producing swung vases. These companies have been around since 1905, and some of them are still producing swung vases today.
The 10 Most Valuable Swung Vases
Collectors are just as interested in swung vases as they are in standard vases and glassware because they are so distinctive. In this section, we'll look at the top 10 most valuable swung vases.
1. L.E. Smith Purple Amethyst Simplicity Swung Vase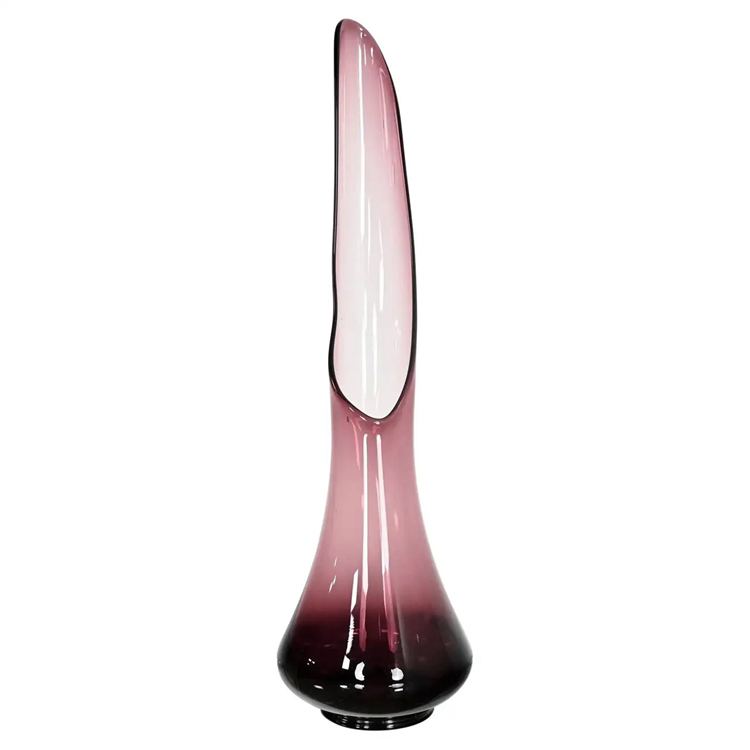 The L.E. Smith Glass Company introduced amethyst coloring on swung vases to the glass-making industry around the early 1900s. Later, in the 1960s and 1970s, the simplicity line was introduced.
According to legend, amethyst is a meditative and calming stone that promotes emotional, spiritual, and physical calmness, balance, and peace in its owner.
The Amethyst swung case has earned the nickname "Smoothie" due to its sophisticated, streamlined exterior and smooth lines. It can be used in a yoga studio or a gallery because of its ability to help create a calm environment.
The above image depicts a 25-inch-tall, 6-and-a-half-inch-wide, almost four-pound L.E. Smith Amethyst swung vase that was sold at auction for $595 on 1stDibs
2. L.E. Smith Mid-Century Modern Pink Diamond Swung Vase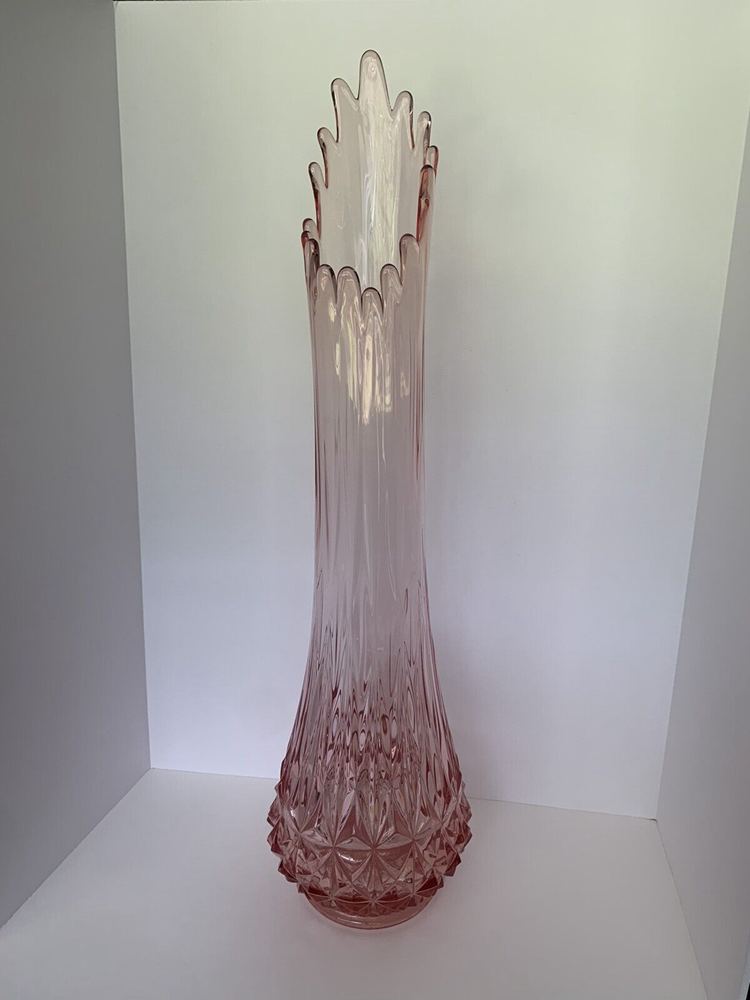 The pink diamond swung vase was created by the L.E. Smith Glass Company as part of their mid-century modern line in the 1960s. The vase's base has a diamond pattern that flares outward to form a starburst.
The mouth's free-form shape, with scalloped edges, is intended to evoke the impression of fingers protruding from the rim. When exposed to light, this color glows, reflecting its surroundings. This is what makes it so beautiful.
This swinging mid-century modern vase from the 1960s can be purchased on eBay for $599.
3. Fostoria Heirloom White Opalescent Swung Vase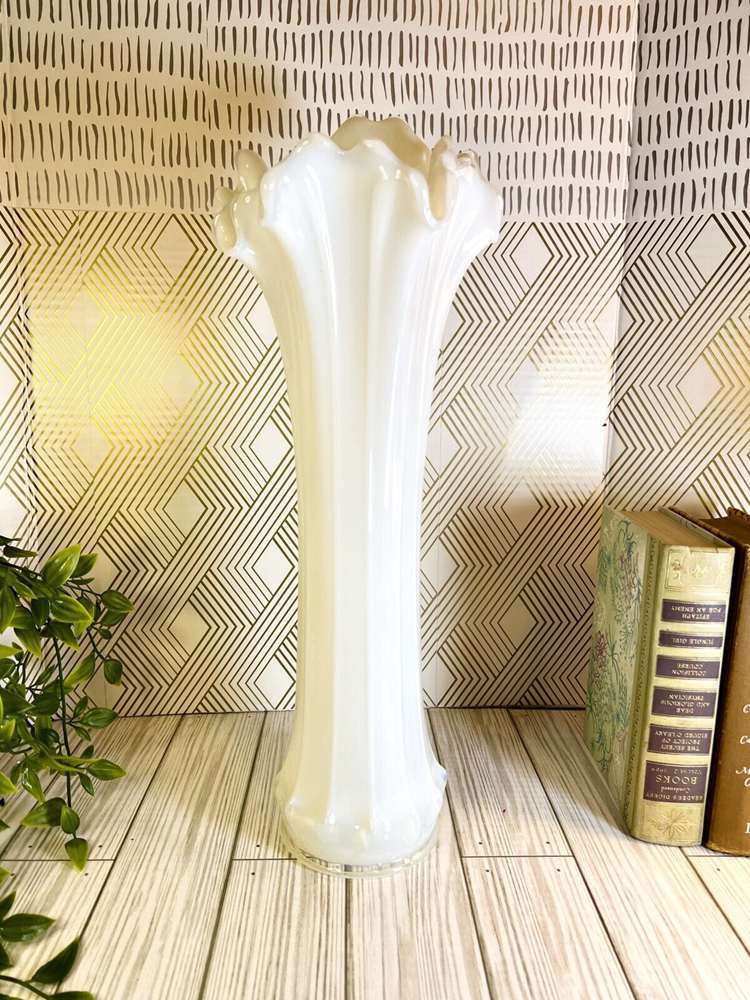 The Fostoria Heirloom swung vase, made of opalescent glass, is a one-of-a-kind antique that was only produced between 1959 and 1962. The Heirloom design is a successful collection from Fistoria.
The use of opalescent glass in the construction of the swung vase not only makes it an extremely rare antique, but also causes it to reflect and refract light in an intriguing manner. Vintage Heirloom swung vases are still highly sought after in the antique market.
These Fostoria Heirloom swung vases come in yellow, green, and white. This iridescent white Fostoria Heirloom swung vase is available for $250 on eBay. It stands approximately 17 inches tall.
4. Orange Viking Swung Vase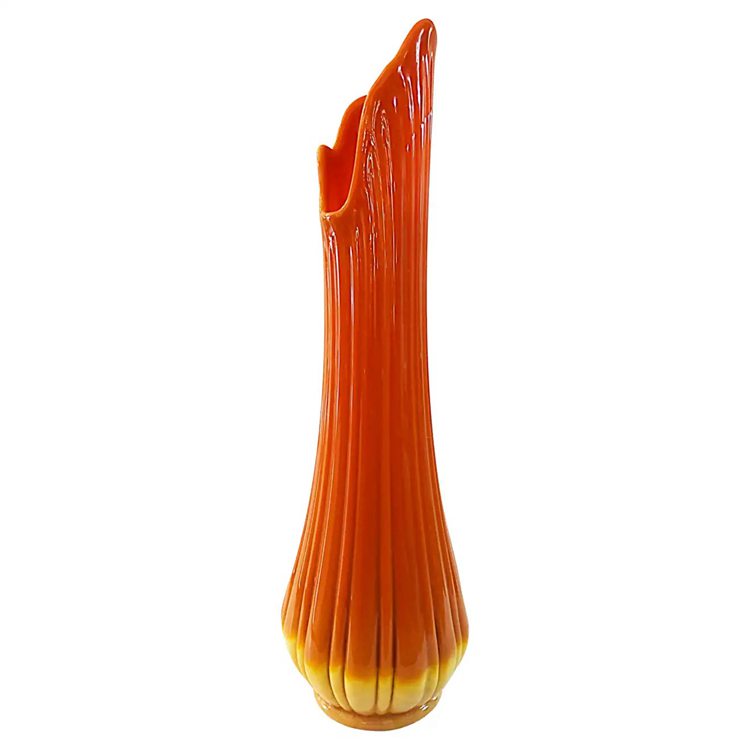 The beautiful Viking swung vase was manufactured by the Viking Glass Company in the 1960s, but the L.E. Smith Glass Company is credited with its design.
The design has a strong base and a narrow mouth that resembles a melting volcano. It is made of art glass and was developed in the United States.
The orange Viking swung vase pictured above costs $295 on 1stDibs, and you can find other types of Viking swung vases for less prices on eBay and Etsy.
5. Fenton Black Amethyst Swung Vase

A prime example of a swung vase from the mid-century Modern period is the Fenton black amethyst swung vase. It was made of glass and manufactured by the Fenton Glass Company between 1960 and 1969.
At first glance, the black amethyst vase appears black, but when exposed to sunlight, it turns purple. It is like a multicolored swung vase with two functions. On Etsy, the 18.5-inch-tall Fenton black amethyst swung vase costs $150.
6. Green Murano Swung Vase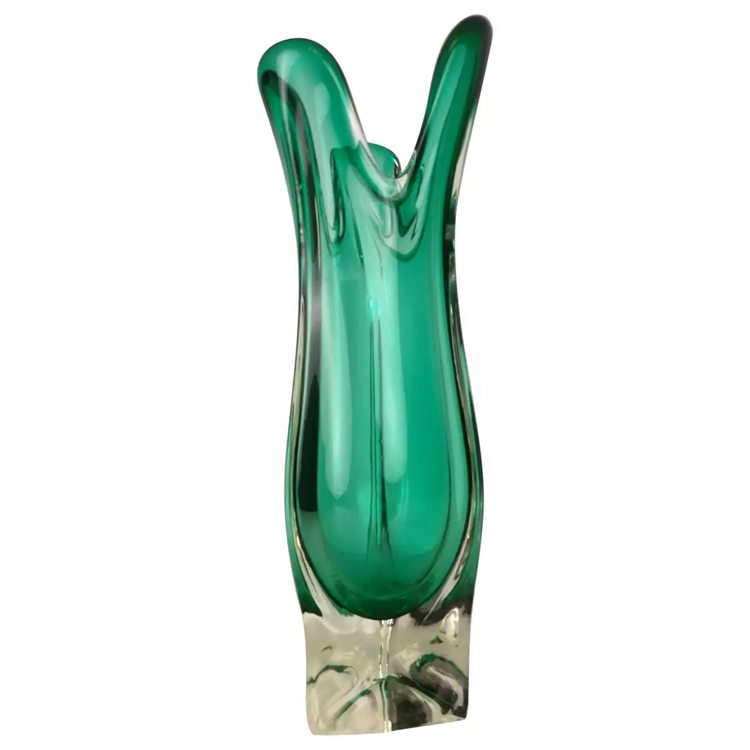 The Murano Glass company dates back to 1291, and by the 14th century, their craftsmanship had gained prominence and was considered royal.
Since then, Murano Glass has continued to produce lamps, perfume bottles, millefiori paperweights, and vases.
The Italian company has produced swung vases in a range of designs and colors, including blue, black, and emerald green.
The emerald green swung vase was made in 1960 and would make an excellent addition to your space or collection. This particular swung vase was auctioned on 1stDibs and sold for $705.
7. Three Foil Viking Swung Vase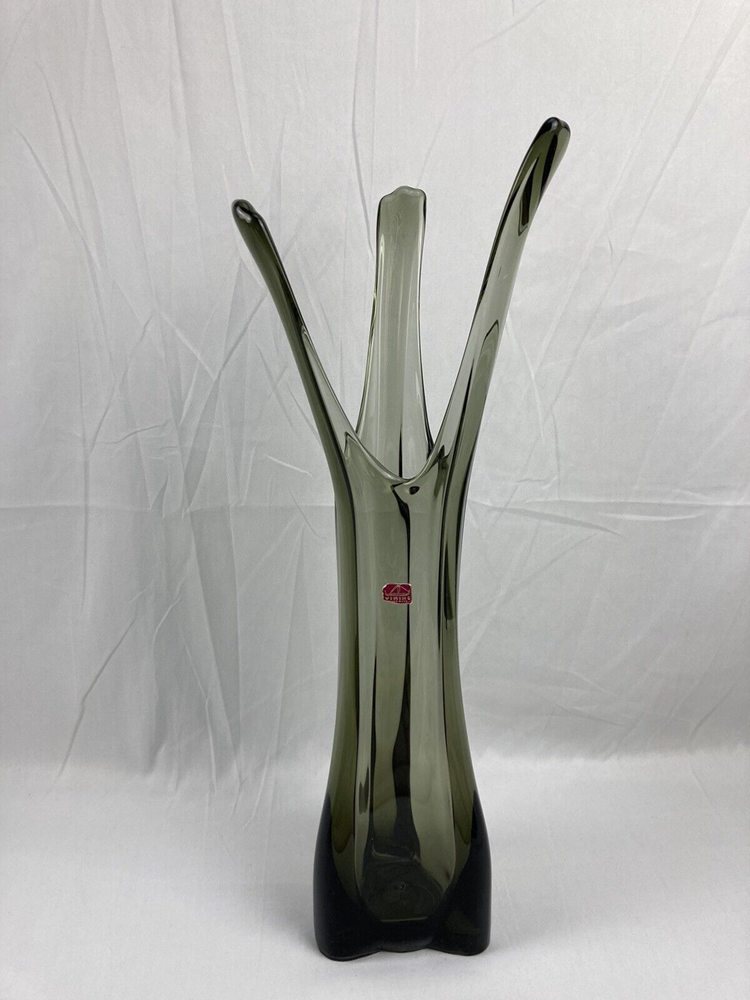 The three-foil Viking swung vase has a distinct appearance. These characteristics include the presence of three "fingers" at the vase's base or opening.
This rare design on a Viking Glass Company swung vase would be an excellent addition to your collection, or a source of cash if you intend to sell it. It is listed on eBay for $399.
8. L.E. Smith Blue Peacock Swung Vase
This 1960 blue ribbed stretch swung vase created by the L.E. Smith Glass Company is known as the peacock swung vase due to its resemblance to the colors of a peacock.
The vase has a wide base and fine lines running from top to bottom. It is a mid-century modern style of swung vase that is available for $250 on Etsy and $139 on eBay.
10. Northwood Electric Iridescence Study Jester's Cap Swung Vase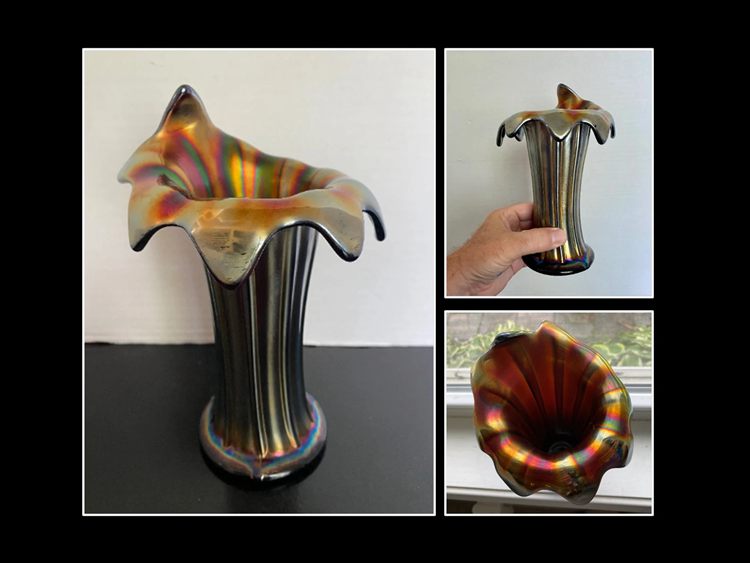 Inspired by a jester's hat, the Northwood Electric Iridescent Swung Vase is a rare and highly collectible glass vase produced between 1908 and 1925.
Northwood collectors call the swung vase "stubby," referring to its short stature. It is an antique Carnival item that collectors covet.
The jester cap vase is unique in that it looks lovely with or without flowers. The design already implies that the flowers are in bloom. So, whether or not you want to add flowers is fine.
A Northwood iridescent jester cap swung vase is available for $168 on Etsy, and it was auctioned and sold for $142 on eBay.
10. Italian Murano Handblown Sculpture Long Neck Swung Vase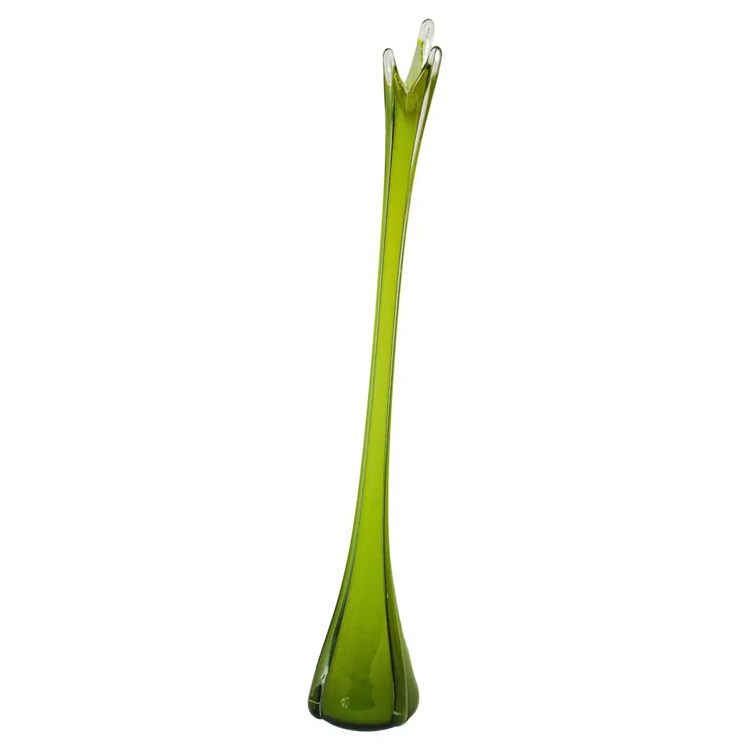 As the name suggests, the Italian Murano swung vase is distinguished by its long neck. The lovely tall modern art vase has sculptural fluted design details in a stunning array of green hues. It's an exquisitely shaped Murano green glass vase with a long neck.
The base is 8 inches in diameter, and it stands 42 inches tall overall. The Italian Murano long neck swung vase is for sale on 1stDibs for $1,950.
How to Identify Swung Vase
There are several characteristics to look for when identifying a swung glass vase. Most noticeable will be the seam at the bottom of the vase, which gradually disappears as the neck is swung to elongate it.
You can also see the mouth of the vase, which typically has an unusual, non-uniform opening that may bend, pinch, or fold in fun and interesting ways, will be the most noticeable features.
The most reliable way to determine whether glass has been swung is to examine the seam along the vase's body.
There are several glass blowing companies that manufacture swung glass, and each has its own technique for creating swung glass vases; thus, you can use these techniques to identify the type of swung glass you have.
Given this list of the ten most expensive swung vases that we've uncovered, we will now discuss how readers can be sure that the ones they purchase are authentic. Swung vases usually do not have many markings. They are identified primarily by their style, color, or name.
However, there are a few manufacturers that have placed markings on their swung vases for easy identification. Such manufacturers include the Fenton Glass Company and the Murano Glass Company.
Fenton Glass Company
Throughout Fenton Art Glass' long history, the company marked its dazzling array of glassware with paper stickers. These, however, were easily lost or removed.
Beginning in 1970, the majority of glassware bore the molded "Fenton" signature. It is still possible to locate a Fenton swung vase with the sticker attached.
Another quick way to identify genuine Fenton swung pieces is to look for pontil marks on the vase's base. Fenton, unlike other swung vase manufacturers, uses snap rings in the glass mold rolling process, so you shouldn't encounter any problems.
Murano Glass Company
Pontil Mark
A Murano swung vase has a pontil mark. A "Pontil mark" is a scar left by the glass master when he breaks the Pontil rod of the finished blown Murano glass work. It can be found at the bottom of a hand-blown artwork. When you touch the Pontil mark, you'll notice that it's not smooth.
Check for Air Bubbles
Small air bubbles will inevitably form during the rolling process of the glass mold. To avoid bubbles and produce clear glass, some companies use lead in their compositions. However, because it is illegal in Italy, it is never used.
Lead is a hazardous metal that is not found in Murano glass. So, if you see a Murano swung vase that is not completely transparent, it is an indication of genuine Murano glass.
Examine the Signature
Find the signature of the glass master on the piece you're holding or the one you saw online. Check websites to see if the glass master is truly based in Murano, Italy. You can verify the signature's authenticity by comparing it to the online-displayed signature of the glass master.
Where to Buy or Sell a Collectible Swung Vase
Given the high demand for swung vases, knowing where to buy or sell one is a smart move. We'll now take a look at where you can go shopping for or find swung ceases as a collector in the following paragraphs.
Etsy is a virtual marketplace where sellers and buyers can interact. Items listed on Etsy as vintage must be at least 20 years old.
On Etsy, you can also find vintage costumes, clothing, accessories, jewelry, photographs, household items, games, books, and toys, among other items.
eBay is one of the most popular online marketplaces for buying and selling goods and services. It is a website where individuals and businesses can buy and sell new and used items ranging from books and clothing to automobiles.
It has an online marketplace where high-end items such as interior design furniture, fine art, jewelry, and antiques are sold.
You can both buy and sell anything on 1stDibs. You just need to look for the swung vase you want or create a shop first, and you'll be well on your way to owning a swung vase or making extra money.
Ailly Mall Store is an online marketplace that offers a diverse selection of products, including swung vases, to ensure customer satisfaction.
The Vatican is a religious shop as well as an online marketplace that sells a wide range of products, such as Christian collectibles, antiques, Vatican stamps and coins, paper money, and Christian sheet music.
To buy or sell swung vases, simply search the internet for the Vatican Store that is located closest to you, make sure it's open, and then go there.
Ruby Lane is regarded as one of the largest online marketplaces in history. It is an online marketplace where independent retailers sell vintage items, antiques, collectibles, and other desirable items. Shop owners can set a fixed price for their items and are not charged a commission when a sale is made.
To shop for a swung vase on Ruby Lane, simply visit the site, search for the style or model of swung vase you want, and select from the list of swung vases displayed by stores. If you want to sell, learn how to set up a shop on Ruby Lane here.
Frequently Asked Questions
1. What Is a Viking Swung Vase?
A Viking swung vase is a type of swung glass made by the Viking Glass Company. It is usually supported by a pedestal, but many different types of bases have been used.
2. What Is the Best Way to Clean a Seung vase?
Fill a swinging vase halfway with warm water, then with baking soda, and leave it overnight to clean. Most of the filth will be removed by the time you take it up to wash, and all you'll need to do is pour the mixture out and thoroughly rinse.
3. Are Swung Vases Still Manufactured Today?
Swung vases are still made today, but they are no longer as popular as they were in the 1960s.
Conclusion
Swung vases are exquisite, one-of-a-kind glassware that we believe everyone should see or own.
We hope that this article has clarified any questions you had about swung vases, their value, and how to identify them. Please leave any additional questions in the comments section, and we will gladly respond.