Department stores and gift shops have sold snow babies figurines for many years. Today, they are also available at antique stores and estate sales. A large number of collectors are in love with snow babies.
However, the true story of the real snow baby and the collectibles created to go along with it don't get told very often today. Snow Babies, small figurines depicting a child, represent either winter sports or holidays.
Making snow babies with biscuit porcelain is traditional, decorating them with crushed bisque to mimic snowflakes. A rare and valuable Snow baby is in demand, but they are typically hard to find.
If you are also trying to find the rarest Sow babies without success, don't worry because we can help. Listed below are the 10 Rarest Sow babies ever made. Scroll down to find out more.
What Is Snow Baby?
A Snow Baby represents either the holiday season or winter sports through a small figurine depicting a child. Snow babies traditionally are made from biscuit porcelain and are decorated with crushed bisque to look like snowflakes.
Santa Claus, elves, penguins, and polar bears appeared as snow baby figurines. In the 1890s, the first Snow Babies appeared in Germany, usually either all white with a painted face or pastel-colored.
When production resumed after the war, the porcelain and finish of the snow babies were less finely detailed. Japan began making Snow Baby replicas in the 1920s, though their quality was generally inferior to those made in Germany.
A company called Department 56 began manufacturing Snow Babies in Taiwan in the late 1980s. As far as snow babies are concerned, the oldest and most valuable are those made in Germany with great care and attention to detail.
There were also limited quantities of snow babies made. Compared to items made later in Japan and other nations, these pieces generally have a more realistic appearance than Heubach's figurines.
Older snow babies exhibiting blue snow can also be highly sought-after and even harder to find. Though these go-with collectibles don't depict the same baby characters, they belong together because they appear similar. These figures can even be more expensive than those baby-shaped figures.
History of Snow Babies
Johann Moll designed Snow Babies as reusable cake toppers in the 1890s, modeled after sugar dolls used as Christmas decorations in the early nineteenth century.
Hertwig and Company manufactured the figurines at first, but soon other porcelain factories in Germany began making them. While on an expedition to the North Pole in 1893, Admiral Robert Peary's daughter was born in Greenland during the release of the Snow Baby figurines.
In Inuit lore, she received the nickname "snow baby" because she was the first non-indigenous baby born that far north. The North Pole discovery in 1909 and the fascination with Marie contributed to the figurines' popularity.
As early as 1900, German manufacturers only sold Snow Babies in Germany. Following that, they began exporting them to England and the United States. Snow Babies gained popularity in England and the United States between 1900 and 1930 when they served as decorations at Christmas time.
In Germany, the manufacture of figurines was temporarily halted during World War I to assist the war effort and then resumed after the war. The Shackman Company in New York City directed Japanese manufacturers to produce Snow Babies in the 1930s.
Due to the post-war anti-German sentiment, Japanese figurines could grow a market even though they had less detail than the German Snow Babies.The United States and England manufactured Snow Babies for a short time after the war.
This production was not successful due to the inferior quality of the figurines. Department 56 began manufacturing Snow Baby replicas in 1987 when Snow Babies enjoyed a renaissance in popularity.
10 Rarest and Most Valuable Snow Babies
The following are 10 of the most precious snow babies in history.
1.Antique German Snow Baby Sits or Stands Large
Year: 1932
Price: $357.94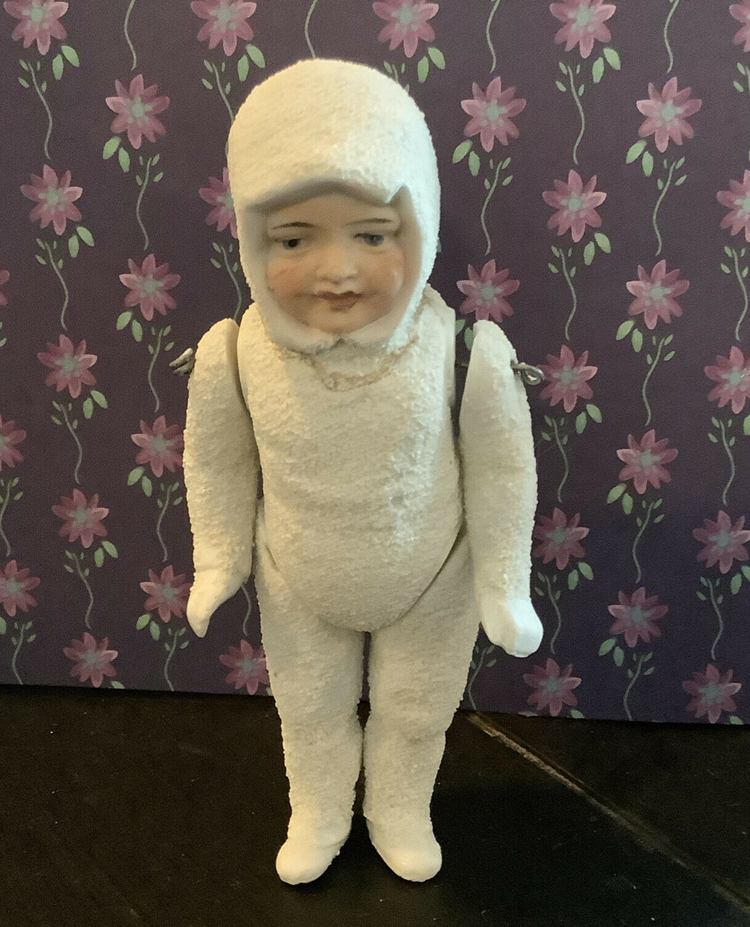 This Antique German Snow Baby is large-sized, with the height being 5 inches and the length being 4 inches. Bisque is the material that is used to make this Antique Snow Baby.
2. 1996 Dept 56 Snow Baby
Year: 1996
Price: $22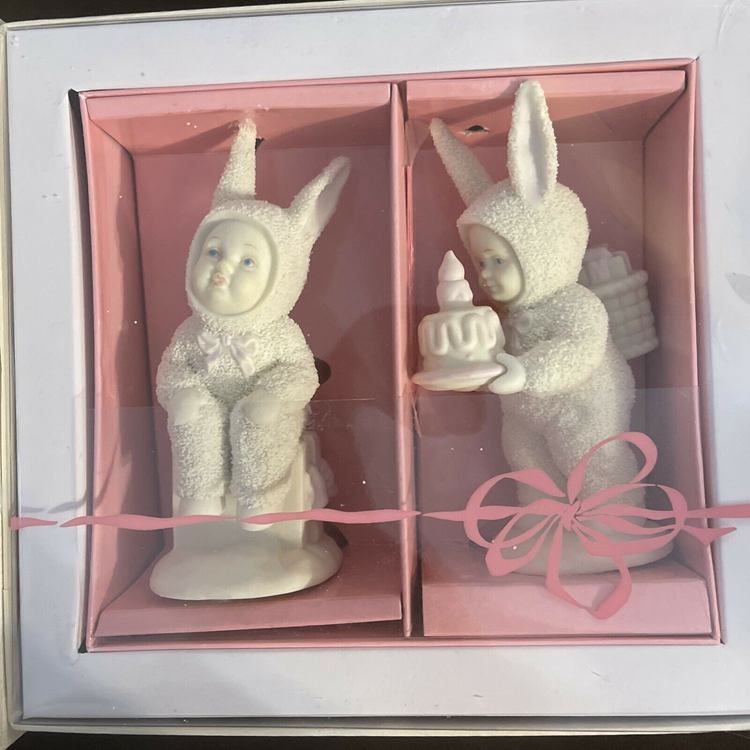 In 1996, Dept 56 manufactured this Snow Baby as part of their collection. Among their many unique Christmas holiday items, this Snow Baby is one of our favorites. A white coat covers this snow baby's entire body, made from porcelain, an extremely durable material.
3. Large Santa Germany Snow Baby
Year: 1910
Price: $145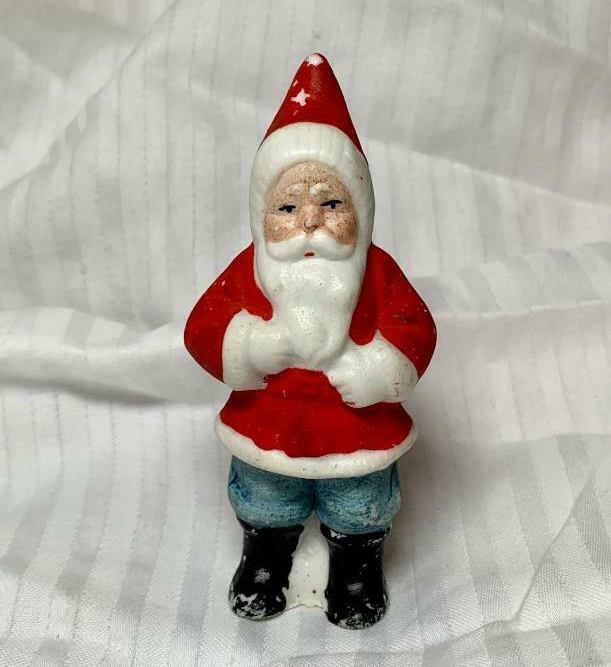 The large size 3.5-inch tall bisque Santa is in great condition. It is probably a large figure by Hertwig. On the bottom of the Santa is marked Germany and dated to 1910. This Santa is a unique Christmas holiday collection. It takes Santa three and a half inches to stand up, and he is about one and a half inches wide.
4. Snow Baby "Send A Message" Angel
Year: 2001
Price: $25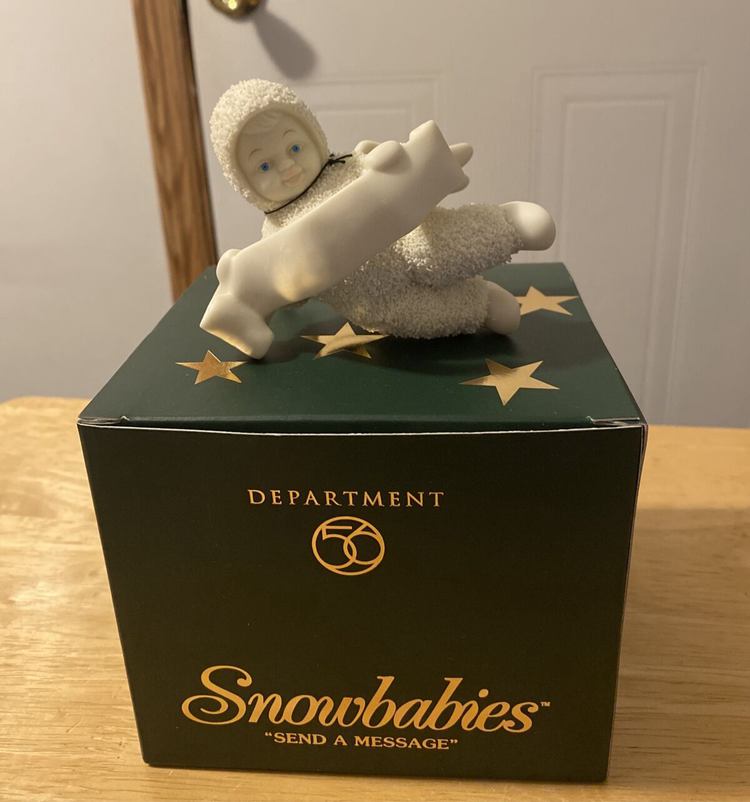 The character of this Snow Babies is that of an angel with a fairy shape and small size. The year that the product came out was 2001 No glassmaking technique was utilized in the making of this Snow baby Angel.
Snow baby Angel is made of porcelain, a very durable material, while its overall body has white color on it. Its style is reminiscent of the 1950s. Besides, for cleaning this figure, you will require using a damp cloth.
5. Elf Hides Antique German Bisque Snow Baby
Year: 1904
Price: $495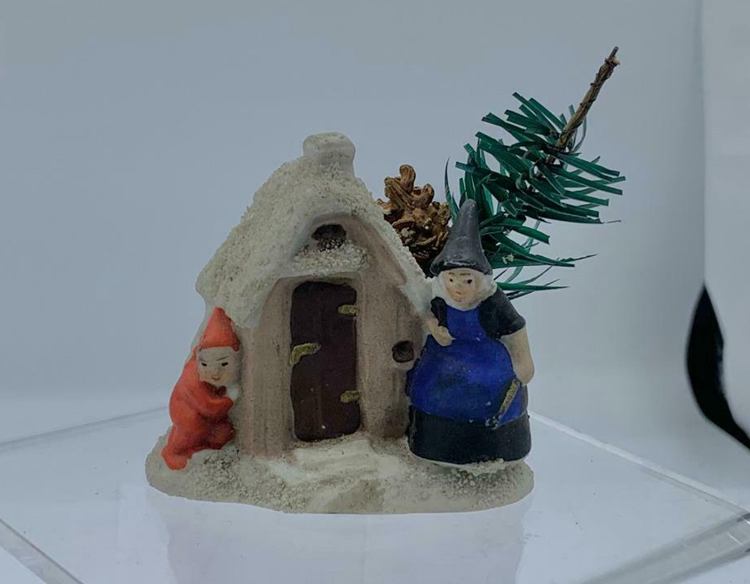 It is one of only a few Elf Hides from Witches supplied with the original tree. It is marked with the number 8398 Germany. There are 2.5 inches between the top and bottom of the house.
There is a pinecone on the top of the house's tree. Amid the frightened witch, the adorable elf hides behind the tree. As far as Halloween and Christmas collectibles go, this is quite rare.
6. Rare Hertwig Santa Sleigh Snow Baby
Year: 1916
Price: $1,841.86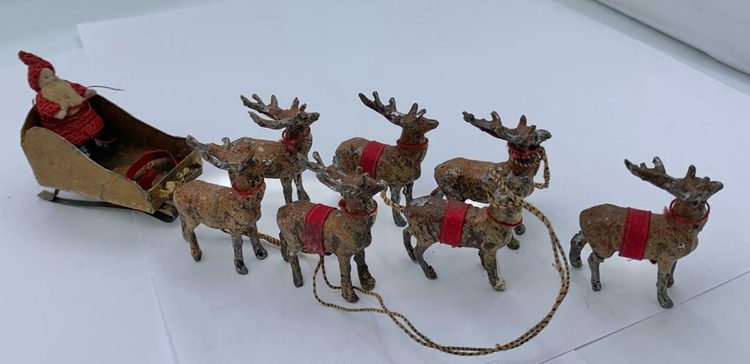 It is an infrequent and museum-quality reproduction of Santa in a seven-reindeer sleigh. Rare miniature Santa, made by Hertwig of Germany in the early 1900s. Santa is made of bisque and comes with his original costume, which is all joined up.
Sitting on his original metal sleigh is Santa Claus. The miniature metal reindeer are attached to red paper harnesses and have their reigns. Several of them still have their reigns attached. However, the antlers of one of them are damaged.
The height of Santa Claus is 1.75 inches, while the sleigh measures 2 1/4 inches in length. The reindeer stand at the height of 1.75 inches. To the front of the lead reindeer, it is nine inches from the back of the sleigh.
7. VTG Japan Christmas Snow Baby
Year: 1952
Price: $249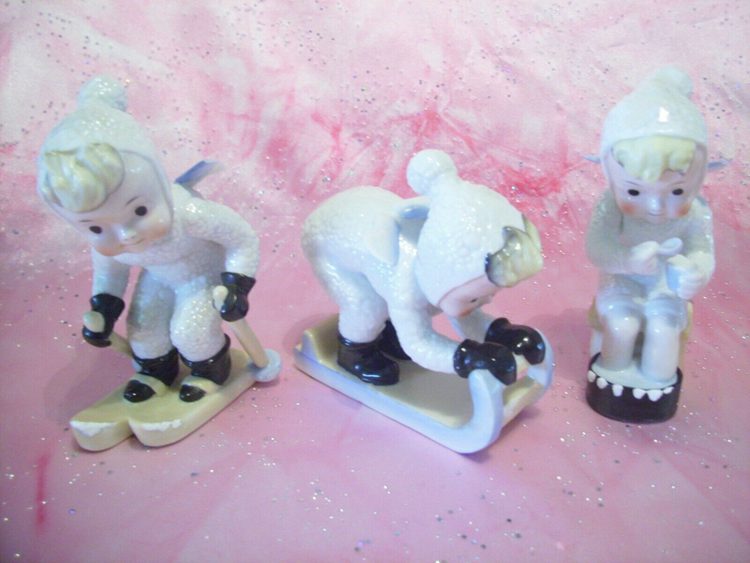 VTG Japan Christmas Snow Baby is a rare and hard-to-find item. They have their head covered in blond curls and are dressed in snow-covered outfits. This baby stands around 5 inches tall and is approximately 5 inches long, and in very good condition.
It has some markings on the bottom and some age-related crazing but no other damage. There may be minor flaws in the manufacturing process, but this is among the sweetest and cutest snow baby sets.
8. Germany Tiny Snow Baby
Year: 1916
Price: $24.95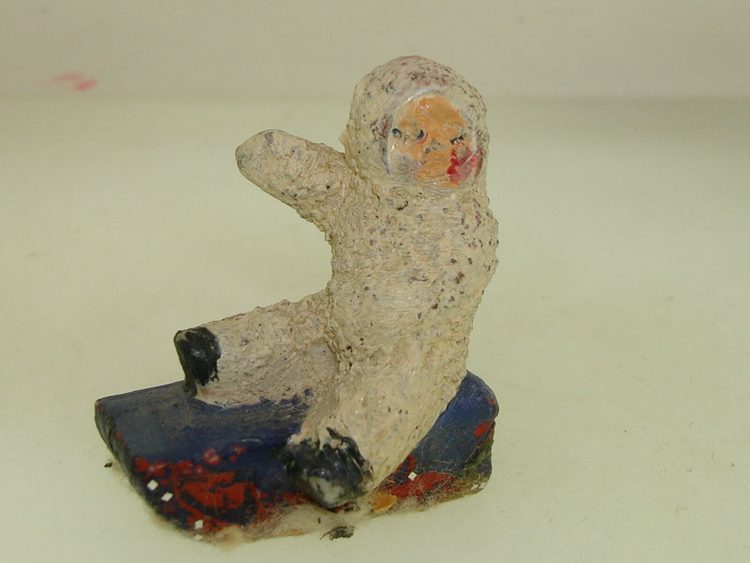 The German Tiny snow baby measures 4 inches in length. Germany is the country where this product originated. Although the manufacturing process may have a few flaws, this is still among the most durable snow babies.
9. Vintage Pico Sugared Snow Baby
Year: 1950-1959
Price: $49.99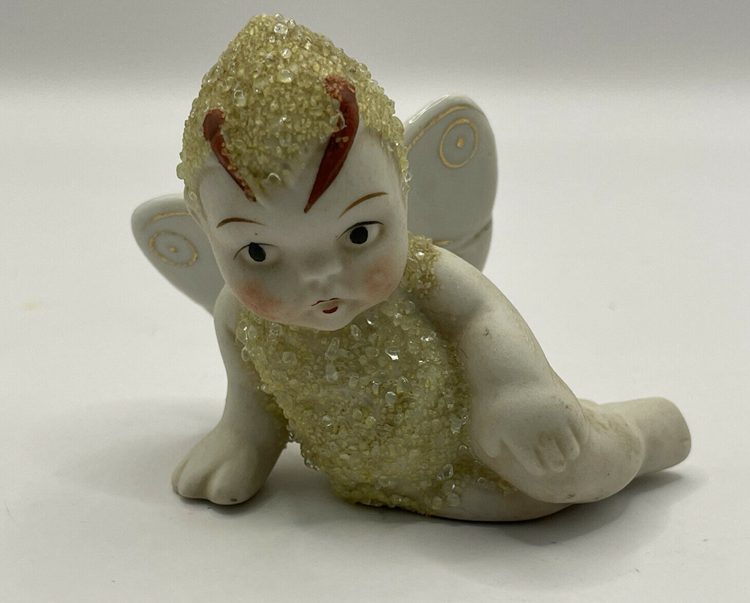 It is a beautiful little Pixie Fairy Sugared Baby Blue that measures 2.75 inches tall and 2.75 inches wide. The sculptures have an intricately hand-sculpted body and heads with a beautiful textured resin finish that has almost the look of water pebbles but gives the impression of being "sugared."
The Body, Face, and Wings are bisque-finish, and the White body and Wings are decorated with gold scrolls. Pico Coralene of Japan made it in 1950, and on the bottom, it says "Made in Japan" with a patent number of 16977. It is in excellent condition with no chips, cracks, damage, or repairs.
10. Santa Gnome Plush Snow Baby
Year: 2000-2009
Price: $34.99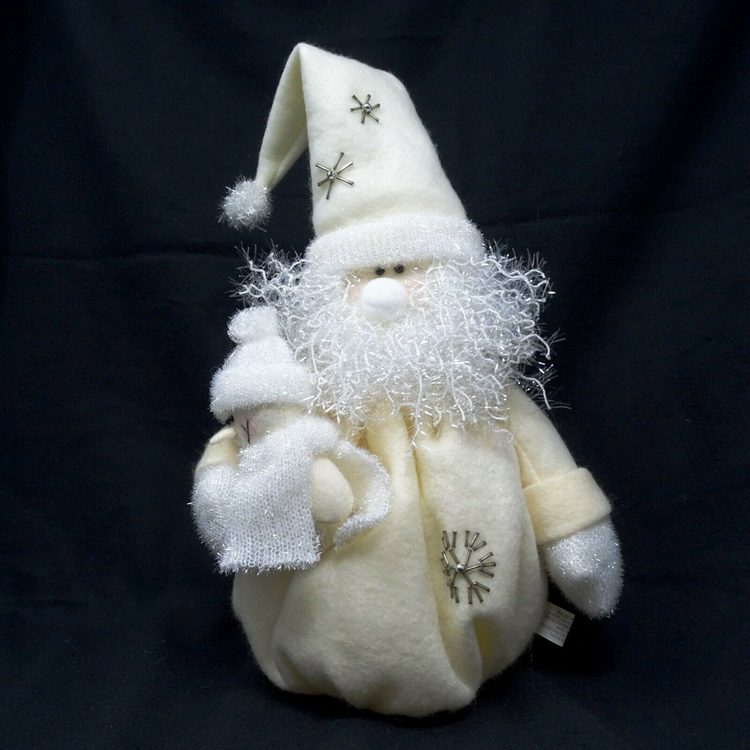 Santa Gnome Plush is an adorable fluffy bearded Santa Gnome holding a happy little Snow Baby in his arms. There is no way you can resist such cuteness of the Santa Gnome Plush Snow Baby.
It has a weighted inner and a soft, plush exterior. It makes a great shelf sitter or centerpiece. With the hat folded over, the statue is approximately 12 inches tall.
Which Snow Babies Are Worth the Most Money?
In the history of the doll industry, Snow babies are one of the most beloved lines. Throughout history, generations of girls have gazed at their collections and dreamed of the day when they could purchase their entire collection after winning the lottery.
The value of Snow babies has increased tremendously over the last few years. They typically sell for $50 to $100 each when they are in good condition. Several collectors dream of finding the rarest Snow babies, sometimes worth thousands of dollars each.
Rare bluebird figurines from the first Snow babies series, for instance, fetched $3,000. The original series figurines, which can still be worth between $50 and $100, are sought after by other collectors.
Collectors who have been searching for years can find some of the most valuable figurines, including those not seen in years. Snow babies' dolls were primarily sold at dollar stores back in the 1990s as fun toys for kids.
Today, collectors are offering these vintage dolls on eBay and in antique shops for hundreds of dollars because they realize how valuable they are. One of the most popular collectibles in the hobby is the Snow baby line, which has delighted children for over 40 years.
An older Snow baby made between 1973 and 1994 can be purchased for $50 to $100 in good condition. Due to a shortage of figures, the current market has spiked due to the difficulty of finding these figures. Christmas figurines from Hallmark's 1990s and 2000s are among the most valuable collectibles.
Snow babies were worth thousands of dollars back in their prime. In modern times, most of them bring between $50 and $100, depending on their pose. Furthermore, collectors have reported becoming more and more difficult to find.
What Are Retired SnowBabies Worth?
A new Snow baby is released each year and then retired after some time, as with many other collectible figurine types. Original Snow babies were given away as valuable retirement gifts and can often fetch hundreds or even thousands of dollars.
On the other hand, Retired Snow babies are usually worth only a few dollars. A few people buy Snow babies for charitable reasons, while others do so just for fun. Mattel releases collectible figurines called Snow babies every year that are retired after a set amount of time.
Retired Snow babies usually come in their original packaging, but some come in special packaging. Depending on the year of release and the condition of the box, Snow babies are worth different amounts.
Some Snow babies are worth more than $100 from the early years, but most are worth less than $10 today. Manufacturers release new Snow babies each year and retire the old ones.
Generally, the older the Snow babies are, the longer they will be available for purchase. But every year, a specific set of Snow babies is retired for a different amount of time. The popular and valuable Snow babies in the 2017 series are still available today, unlike the first annual sets or the original 2015 series.
It does not mean that older sets aren't available on sale at a discount. There are collectible figurines called Snow babies released every year by the North American Pokémon Company.
Where to Buy SnowBabies Figurines?
Searching on eBay is the most convenient way to find your desired snow baby. There are two ways to list your item on eBay: "Buy It Now," where you can set a fixed price, or Auction, which lets you set an opening bid.
eBay is a prime option for finding items to sell. Using the search bar, you will discover a wide selection of current listings. eBay, Etsy, Ruby Lane, Amazon, and Replacements are among the best places to sell your Snow babies, especially if you do not have a lot of products.
There are currently thousands of Snow babies available on eBay, and the vast majority of them are on the Marketplace, which lets you determine your price. Selling Manager is the only exception, allowing you to sell your inventory. eBay allows you to list your items for free other than that.
You can make extra money by selling Snow babies you don't use or want. Online auctions often feature them, and you may also find them at flea markets.
As with so many other antiques, the real problem with these reproductions is being produced using old molds. In some cases, it's hard to tell which copies are old and which are new. Little black specks are among the white specks, a sign of new "snow."
When you first find older pieces, they are probably dirty due to handling, dust, and shelf wear. However, there is a noticeable difference between new and old figurines.
Conclusion
Snow Babies are small figurines representing Christmas or sports during the winter season. It is traditional to make snow babies from biscuit porcelain and decorate them with small pieces of broken bisque to look like snowflakes.
Snow Babies made their debut in Germany in the 1890s, usually white or pastel-colored with painted faces. Production of the snow babies returned after the war with a less finely detailed porcelain finish. Despite better quality than those made in Germany, Snow Baby replicas began appearing in Japan during the 1920s. In the late 1980s, the Department 56 company began manufacturing Snow Babies in Taiwan.
As with many types of collectible figurines, a new Snow baby appears every year and is then retired after some time. Many original Snow babies can sell for hundreds or even thousands of dollars due to their value as retirement presents.
As a result, retired Snow babies usually only sell for a few dollars. Snow babies are sometimes bought for charitable purposes, while others are purely for enjoyment. Snow babies are collectible figurines released by Mattel each year that are retired after a certain amount of time.
Many retired Snow Baby figurines still come in their original packaging; however, some are different. Snow Babies are worth different amounts based on when they were released and the condition of their boxes. Most Snow babies are worth less than $10 today, but a few are worth over $100.