Do you have an interest in McDonald's glasses? Have you been collecting them for a while, or would you like to start? Or do you have some of these legendary glasses and wonder if they're worth anything?
This article will help you find the answers to your questions. Since 1948, McDonald's has released a variety of McDonald's glasses, which are great collectibles for anyone with an interest.
We'd show you the top 25 most valuable McDonald's glasses, each with a unique personality, amazing characters and how much they're worth. If you're a fan of cartoon characters or simply enjoyed watching them as a child, you'll love what we have for you here.
The 25 Most Valuable McDonald's Glasses
The following is a list of the most valuable McDonald's glass cups and tumblers. This list contains favorites for every glass collector. They are valued based on their rarity and popularity. Here are the top 25 most valuable glasses from McDonald's:
1. Mcdonalds Disney Glasses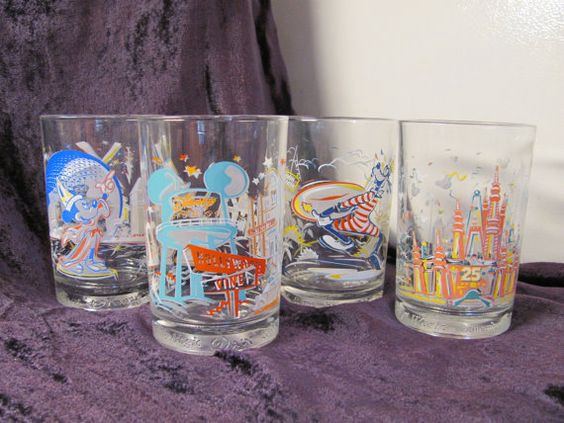 This is a set of four McDonald's Disney Glass Cups from 1996, commemorating Disney's 25th anniversary.
Each glass features an engraved Disney character, including Mickey Mouse, Donald Duck, Goofy, and Beauty and the Beast, as well as Disney attractions., are engraved on each of them.
The McDonald's Disney glasses 1996 worth is more obvious when purchased as a complete original set, so look for the set rather than individual glasses. The value of this set is evident in the use of vibrant illustrations and various Disney characters.
This valuable set is an excellent addition to any Disney collection and would make an excellent gift for children. The estimated market value for these glasses is $49, but you can get them for between $6 and $55 here.
2. Mcdonalds Shrek Glasses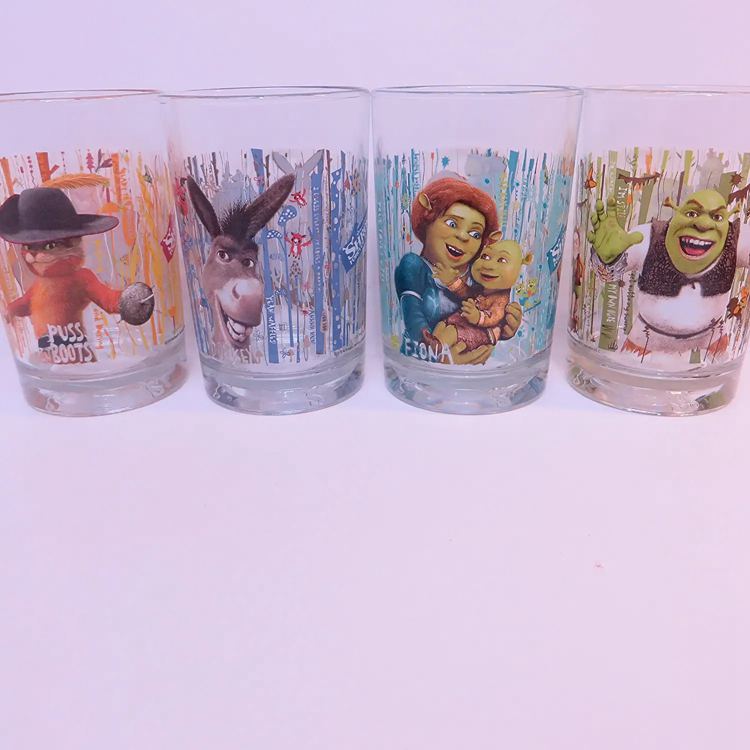 The McDonald's Shrek the 3rd Glasses are a set of four colored clear glass cups that each represent a different character from the animated movie "Shrek": Shrek, Fiona and baby Shrek, Puss, and Donkey.
Made in 2007, they come in a set but can be purchased individually; however, if you're looking to buy, it's best to do so as a set as they are more valuable together than in units, as most McDonald's glasses are.
This set of finely crafted glasses with attractive illustrations is available on eBay for a price ranging from $13 to $50.
3. Mcdonalds Camp Snoopy Collection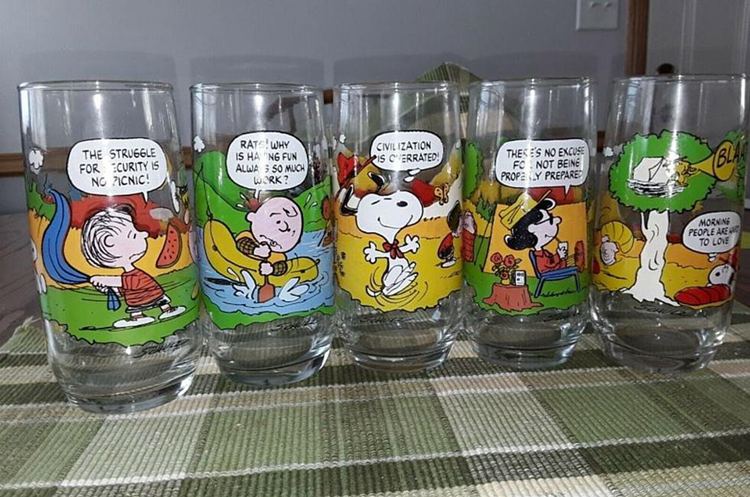 Camp Snoopy glasses were introduced in 1983 when McDonald's created a set of drinking glasses to honor the opening of the Camp Snoopy theme park.
To promote the event, these glasses featuring the Peanuts Gang camping were distributed in their restaurants when a customer purchased a drink. A total of five glasses were released, each with a unique design. They included:
Charlie Brown's "Hard Work"
Linus' "Struggle for Security"
Snoopy's "Morning People"
Lucy's "Properly Prepared"
Snoopy's "Civilization"
They are all 6 inches tall and weigh 2 pounds, 6 ounces. This is an excellent collectible to add to one's collection, and it sells for $14.95 on eBay.
4. Mcdonalds Collector Series Character Glass Grimace 1977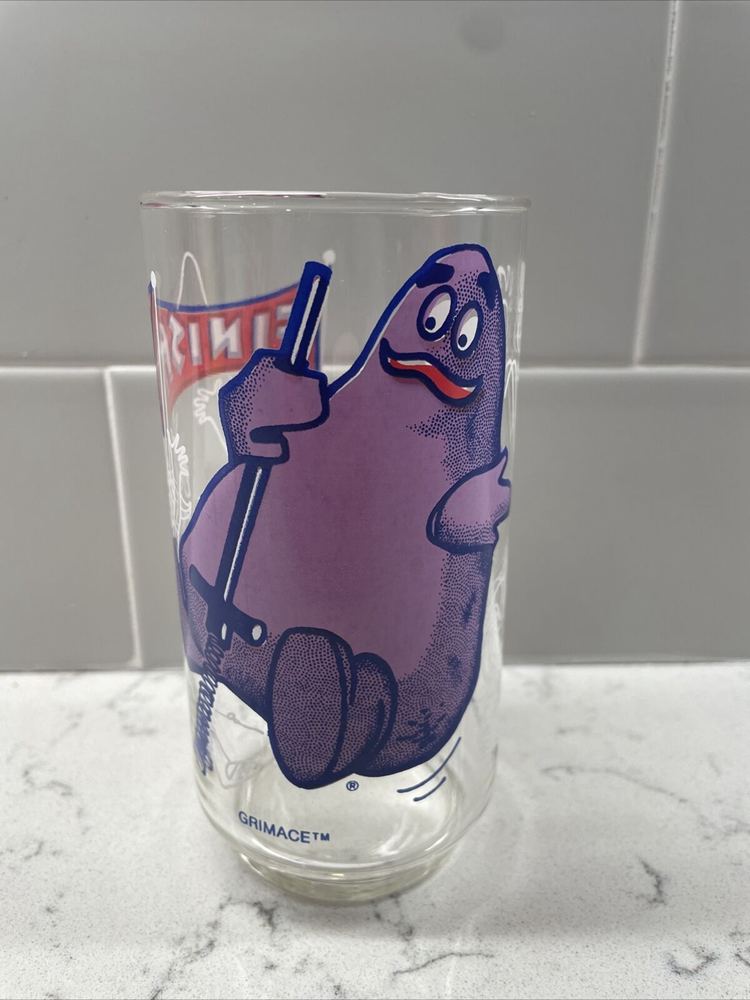 The McDonald's Grimace glass is from the 1977 Collector series. The purple character used in McDonald's commercials and advertisements is called Grimace. This McDonald's Glass is sold as a set.
Printed on the glass is a plain purple entity holding a stick (some pieces are illustrated with its arms stretched out) and making a face, which is probably how it got its name. The glass is five and a half inches long with a diameter of 2¾ inches.
The price range for this McDonald's glass cup is between eight and twenty dollars.
5. Mcdonald's Land Action Series, Hamburglar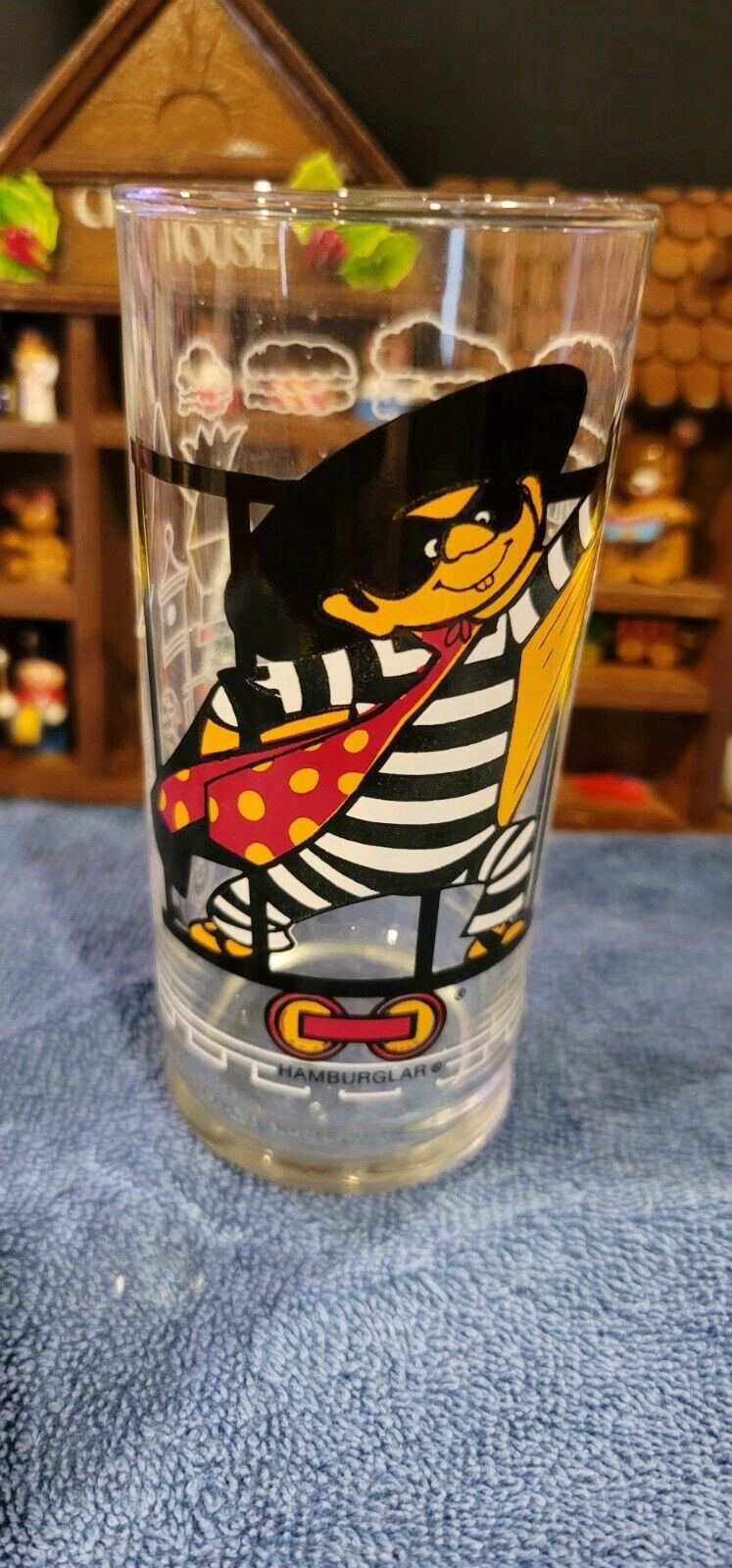 The McDonald's Land Action Collector Series is a 1977 drinking glass collectible. It depicts Hamburglar, one of McDonald's characters, dressed in his hat, mask, red and orange tie, and black and white striped uniform.
White outlines of children on a train are also printed on the glass. With a diameter of 5.5 inches and a circumference of 9.125 inches, it is available on eBay for between 3 and 11 dollars.
6. 1980 Philadelphia Eagles Collector's Glass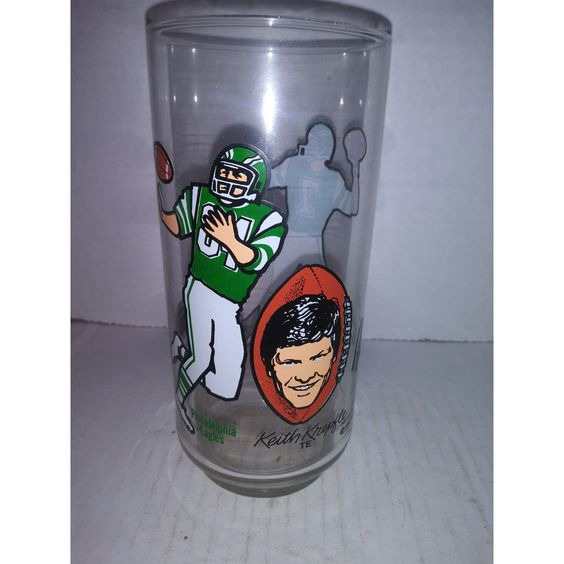 The 1980 McDonald's Philadelphia Eagles Collector's Glass, which features former American football players, is a set of five glasses that will complement any American football fan's collection.
The glasses are 6 inches long and have action pictures of two players printed on each cup. Each action picture has a headshot over a football, with the words "Philadelphia Eagles" printed at each player's feet.
The cups feature Bill Bergey/John Bunting, Billy Campfield/Wilbert Montgomery, Harold Carmichael/Randy Logan, Tony Franklin/Stan Walters, and Ron Jaworski/Keith Krepfle, all American football players. These glasses sell for between $14 and $50 on eBay.
The Mcdonald's set is not particularly rare, often coming up for sale on eBay or flea markets. Collectors can expect to pay $5 or less for individual glasses or $15-20 for the set.
7. Great Muppet Caper Glass, Miss Piggy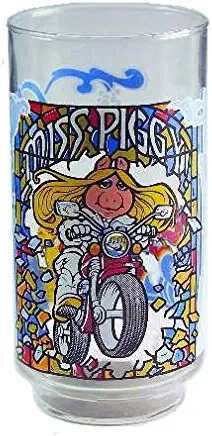 McDonald's created a set of glasses in 1981 to celebrate the release of the film "The Great Muppet Caper," which was illustrated by Daryl Cagle and included the Miss Piggy glass.
Miss Piggy on a motorcycle crashing through a stained glass window, Kermit on a bicycle, Kermit, Fozzie and Gonzo in a hot air balloon, and The Muppets on the Happiness Hotel bus were depicted on individual glasses.
Each glass stands about 5.75 inches tall and bears the inscription "Henson Associates Inc. 1981" beneath it. It sells for $9-$16 on eBay.
8. McDonald's Batman Glasses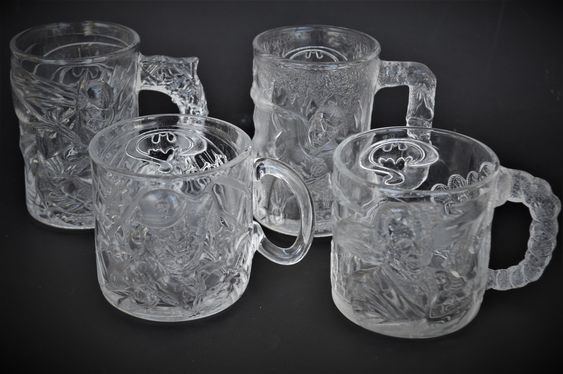 This clear glass McDonald's Batman Forever Set was created in 1995 to commemorate the movie. The set includes four distinct designs: the Robin, Riddler, Two-Face, and Joker glasses.
The Two-Face glass mug is the most sought-after of the four. The idea is that a coin is tossed upwards and caught at the other end, with the flipping motion of the coin serving as the handle. The mug has a 3-inch wide rim and stands 3.25 inches tall.
The cup has the signature golden arc 'M' of McDonald's inscribed underneath it as well as "Two-Face, Batman Forever, Manufactured for McDonald's, Made in the USA, TM 1995 DC Comics All Rights Reserved".
Another interesting fact about the cups is that they are made in both the United States and France, so the country of origin is usually indicated. The entire set of Batman Forever Mcdonalds glasses is estimated to cost $18.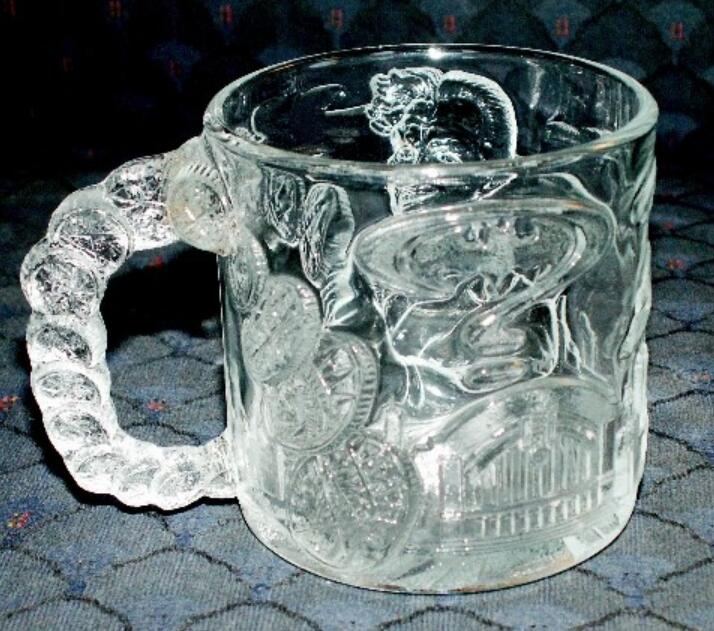 9. 1993 Flintstones McDonald's Glasses Set

The Flintstones set also comes in a set of four, representing the stone age of the Flintstones' time, as seen in the cartoon. The Stone Age is well represented, from the tree trunks to the animal tusks and bones.
The glasses are available in various sizes and feature both the Flintstones and McDonald's logos.
The set's estimated value on eBay is about $66, determined by the seller and the product's condition. It is also determined by the number of pieces included in the set sold by the seller. Anything less than the complete set will be sold for less.
10. Can Shaped McDonald's Coca-Cola Glasses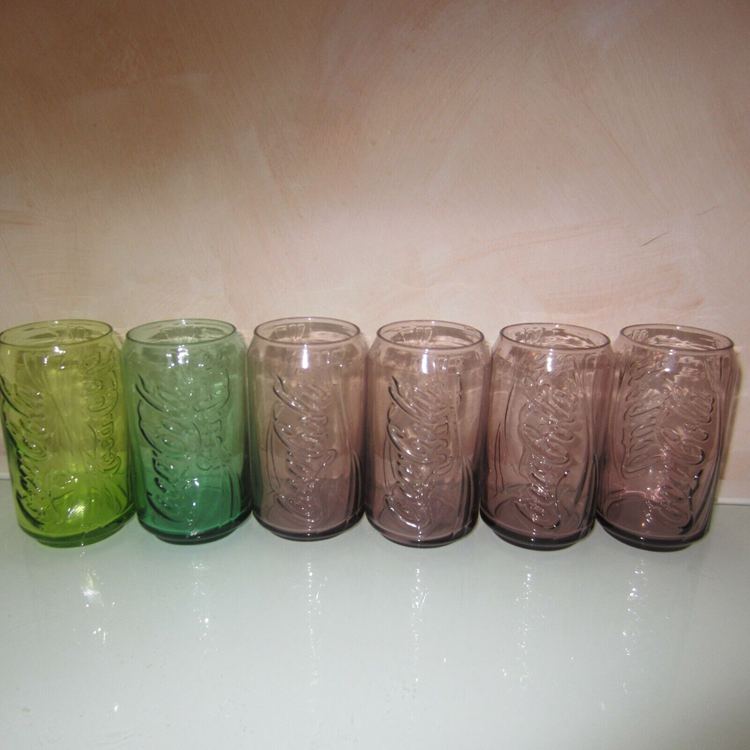 These glasses were introduced in 2008. Unlike the others mentioned above, they are sold individually rather than in sets. They are also available in a variety of colors. The clear glass can be tinted blue, rose, green, purple, or left as transparent.
The Coca-Cola logo is displayed on the front of the glass. The glass is worth $10 or more per piece if not in its packaging, but those that come in packaging can be worth more than $20.
11. McDonald's the Flintstones Mammoth Mug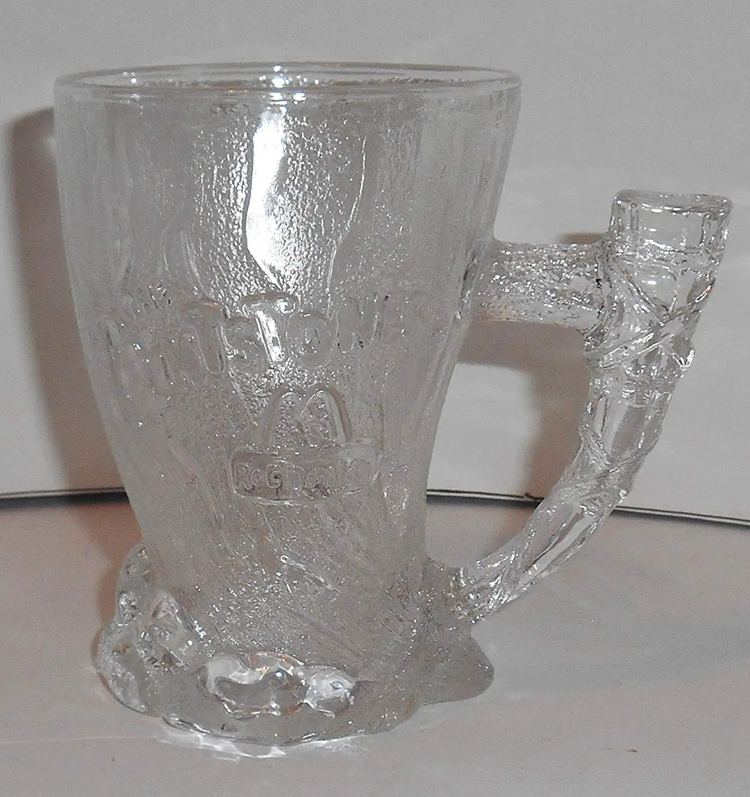 This is one of the most desirable and valuable of the Flintstones. The Mammoth mug is distinguished by its tusk-like handle, which resembles the mammoths depicted in the cartoon.
The Flintstones' inscription is on the front of the clear textured glass mug, which also has a bottom layer that looks like rocks. A pair of these is estimated to cost $15.
12. McDonald's Garfield Cups 1978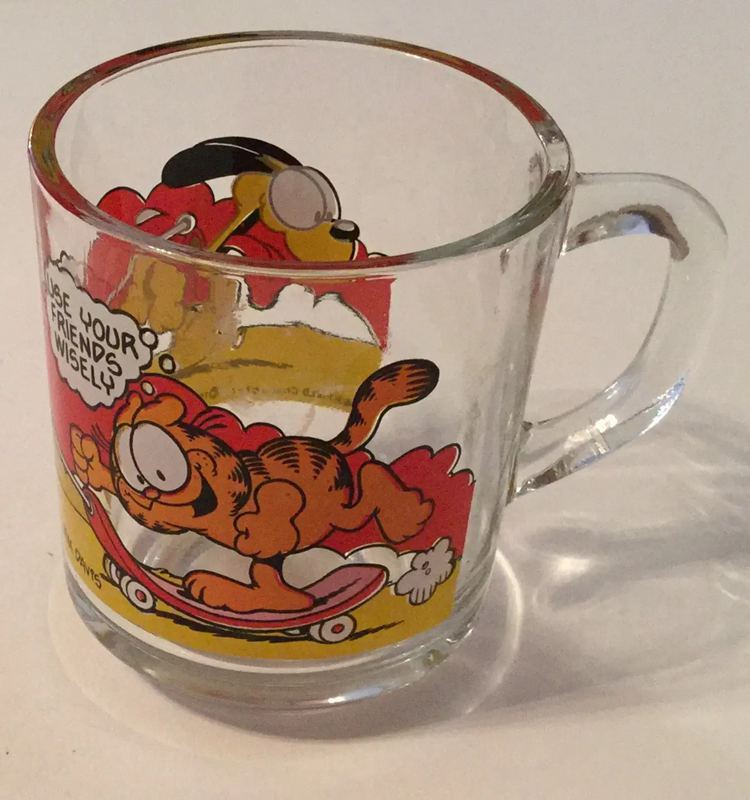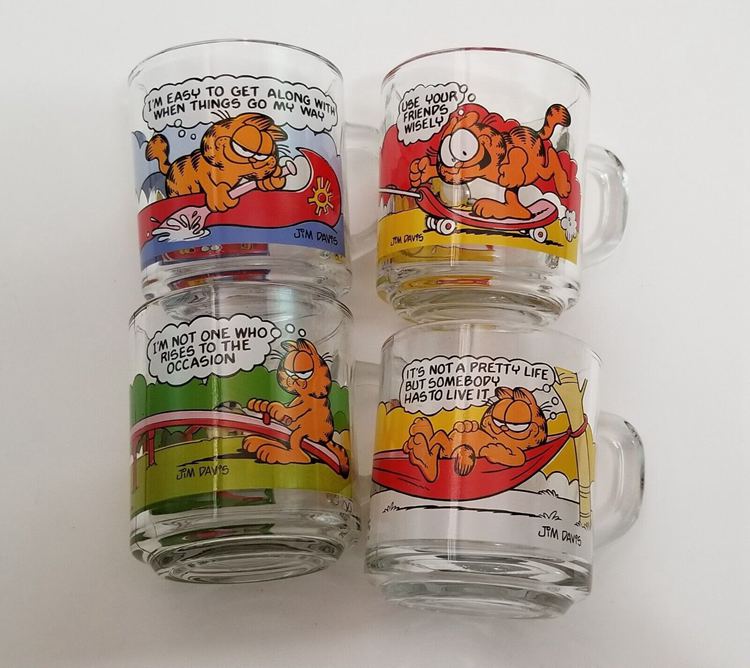 Who doesn't love Garfield and Odie? Getting your hands on this valuable McDonald's Garfield glass will make you smile every morning. This Garfield set of four comes with the McDonald's sign drawn into the sides in black.
The cups were produced in 1987 because of the popularity of the show. Each cup costs less than $20 when purchased separately on eBay.
13. McDonald's Glass featuring the entire McDonald Gang 1970s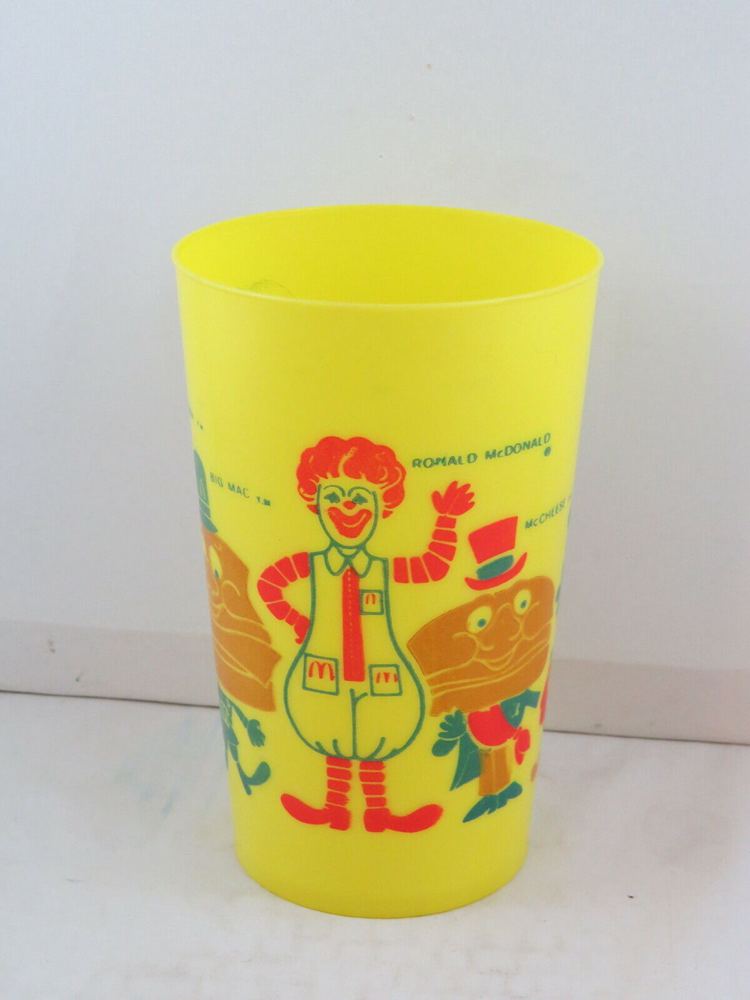 This yellow glass cup features Ronald McDonald, the Frie Gang, Mayor McCheese, the apple pie tree, the hamburglar, Captain Crook, and Officer Big Mac all drawn around the cup.
The cup is long and slender, allowing all characters to be seen clearly. On eBay, it is valued at around $35.
14. Land Action Series Captain Crook 1977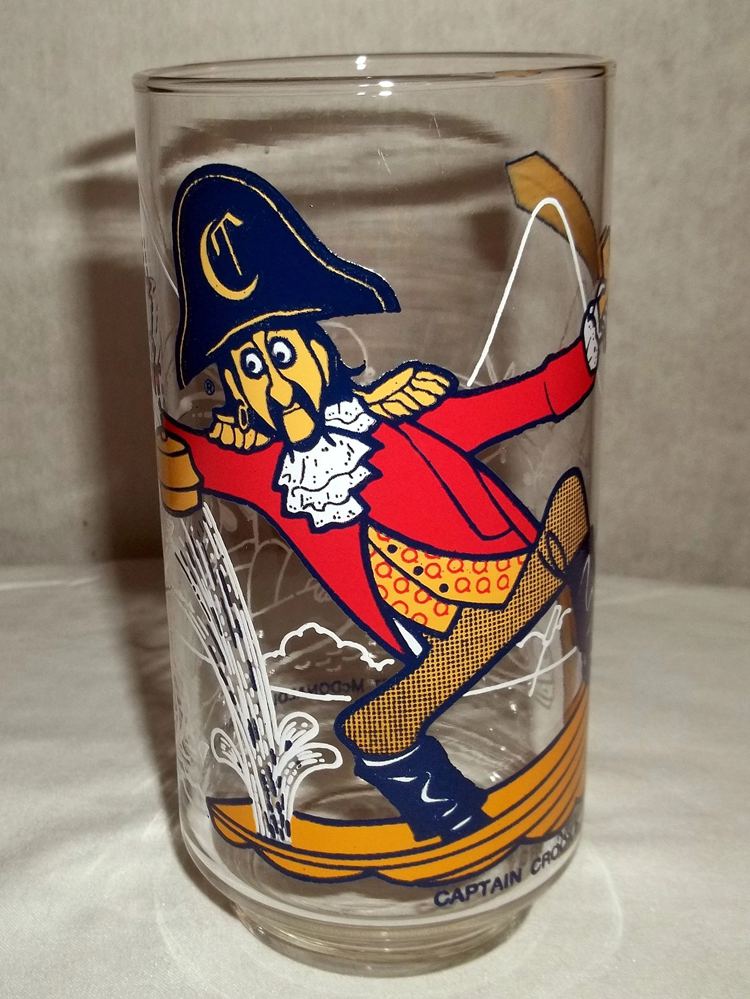 Captain Crook is one of McDonald's signature characters, appearing in this Land Action Series clear glass cup. The cup, which weighs 6 ounces, was introduced in 2011. It's worth around $8 -$16 on eBay, depending on the seller and the condition of the glass.
15. Rare Charlie Brown Camp Snoopy McDonald's Peanuts Collection Glass Cup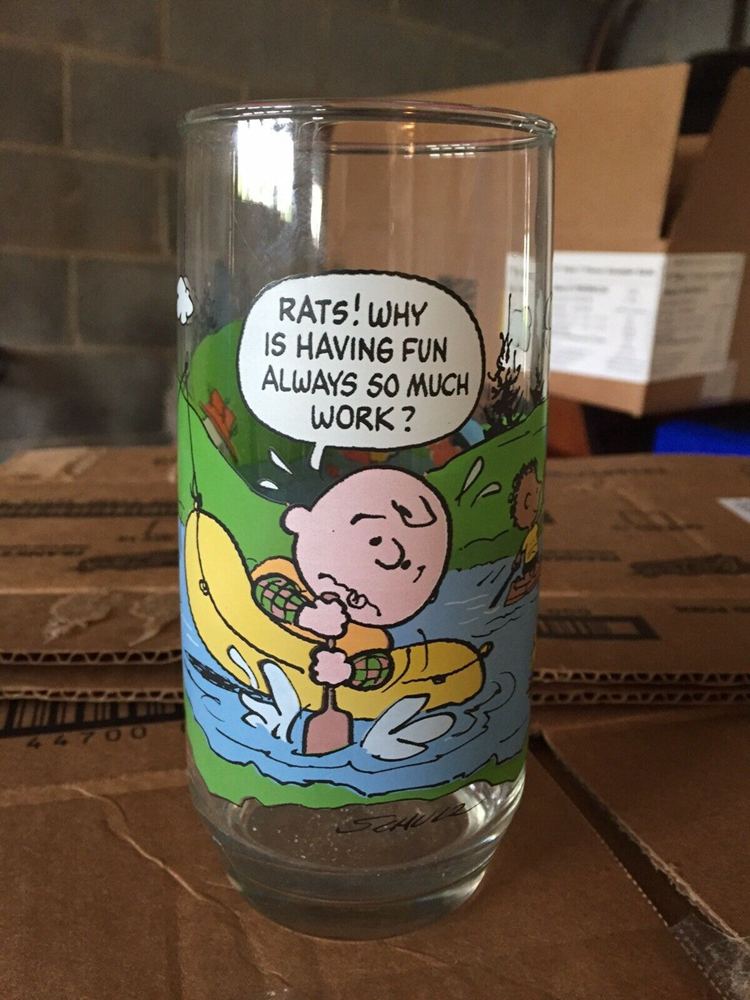 This 1968 set features colorful images on a smooth glass cup depicting the entire Peanuts team outside.
This one is unique because it depicts Linus saying, "Rats! Why is having fun always so much work?" On eBay, pre-owned items cost between $3 and $8, while new items cost between $10 and $15.
16. 100 years of Magic McDonalds Glass Cups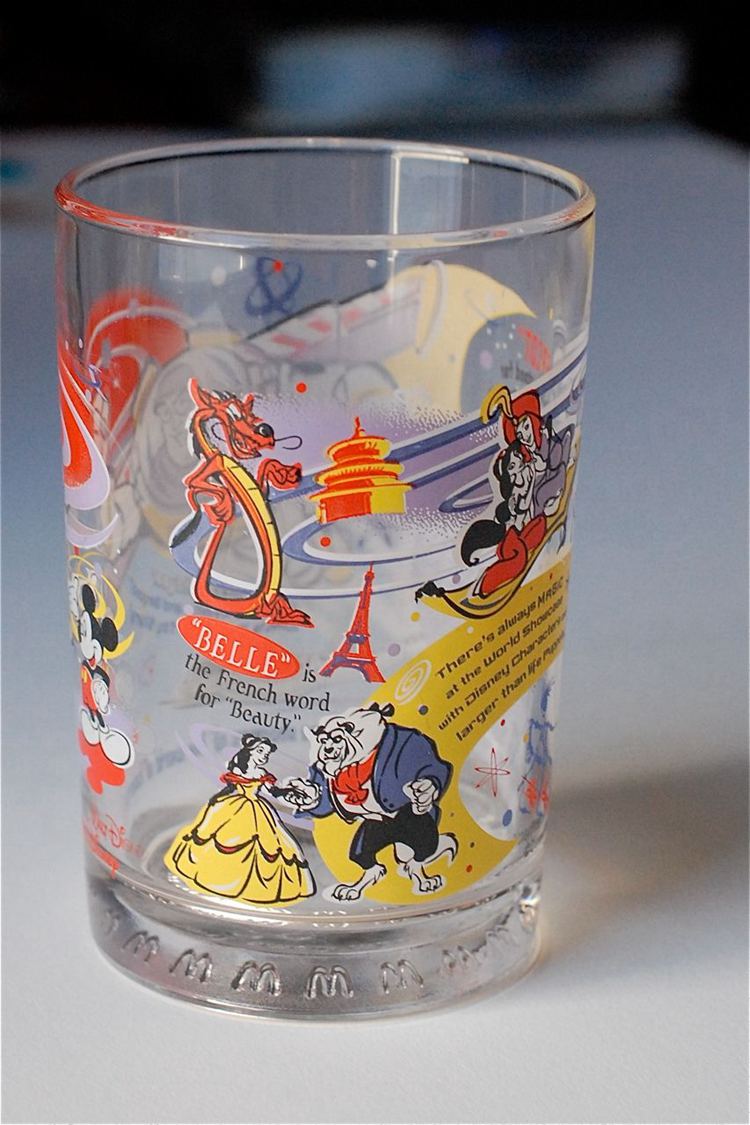 This glass is part of a set created to celebrate Disney's 100th-anniversary celebration in 2015. This collection features all of the iconic Disney characters.
At the bottom of the glass, it says, "Share a dream come true. 100 Years of Magic," as well as a Walt Disney inscription. The price on eBay is estimated to be around $30, depending on the seller and the condition of the glass.
17. Vintage Snoopy Glass Civilization Is Overrated McDonalds Collection Peanuts Gang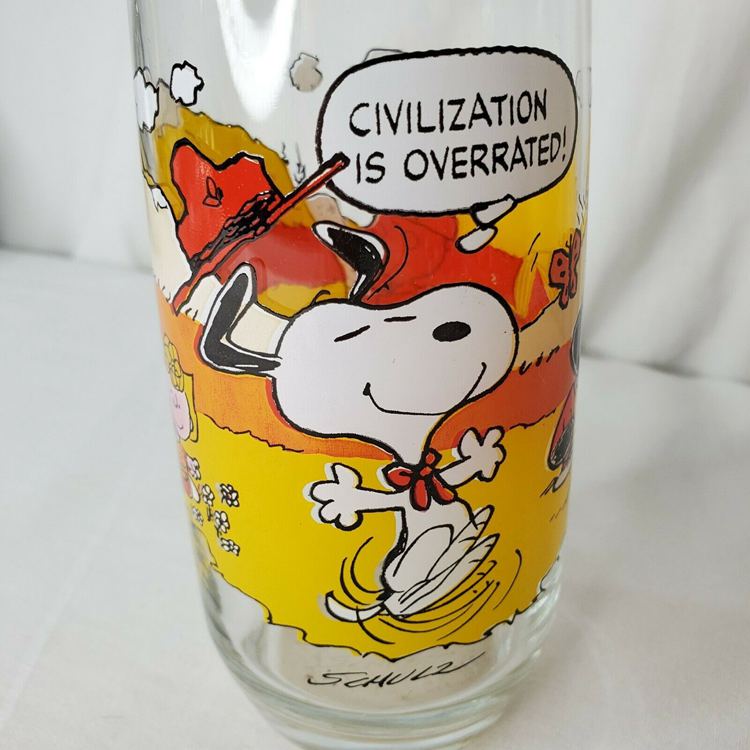 This is another of the five-piece 1967 Camp Collection sets that Peanuts fans adore. It depicts Snoopy, Linus, Sally, and the girls having an outdoor adventure. The collection includes colorful pieces, and this piece is estimated to be worth $16 on eBay.
18. 2000 McDonalds Disney Glasses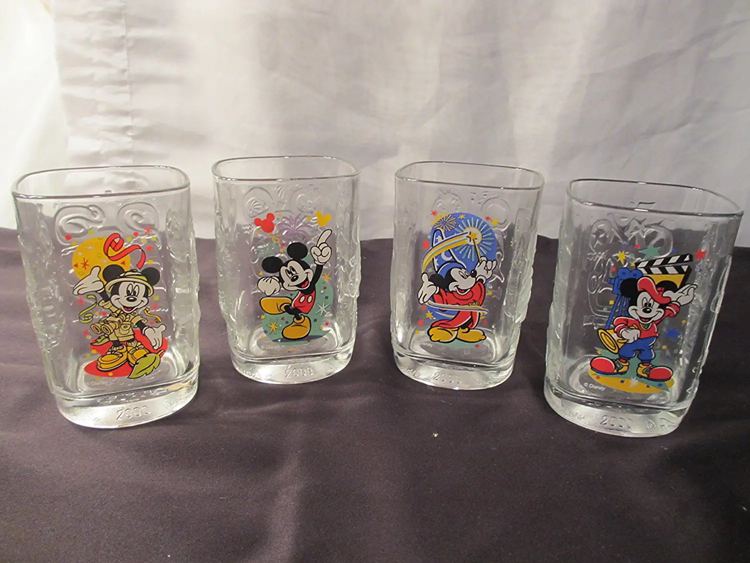 These beautifully decorated glasses were made in France in 1999 and were only available that year. This collection was released as part of the Walt Disney World Celebration series in 2000 due to the merger of McDonald's and Walt Disney.
The year 2000, as well as the McDonald's Arch, is etched on the bottom of the glasses. Images of Mickey Mouse from Disney World parks, such as the Animal Kingdom, Magic Kingdom, and others, are engraved on it.
Each glass has a square opening and a round bottom and is decorated with colorful patterns representing a Disney World ride or attraction.
19. McDonald's Retro Multi Colored 1948, 1955, 1961 and 1992 Drinking Glasses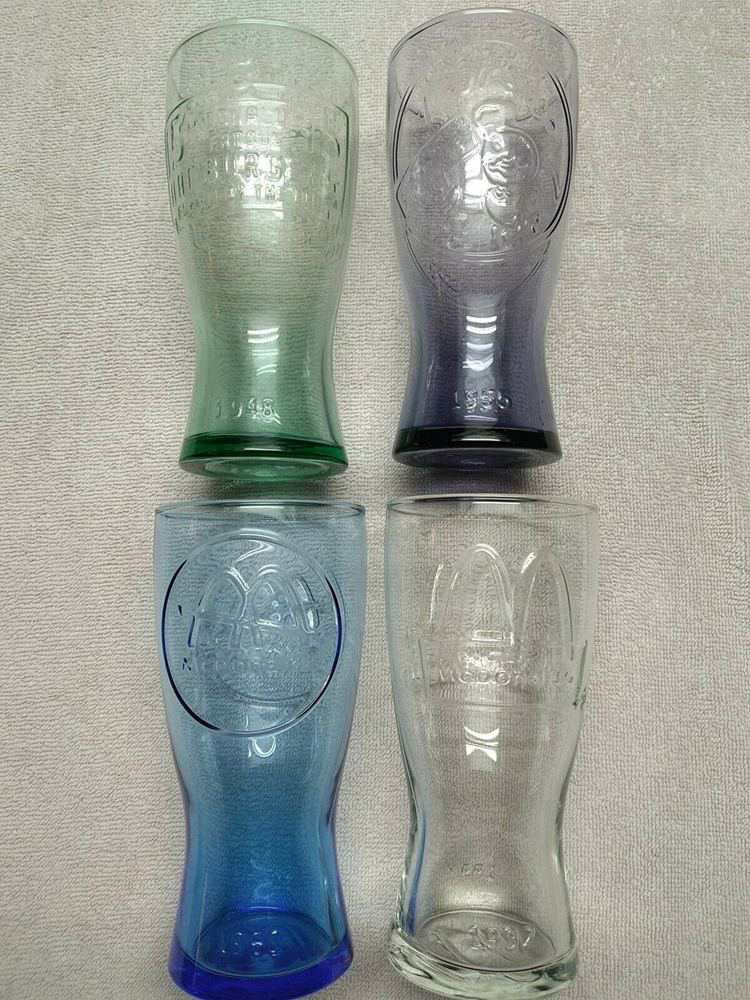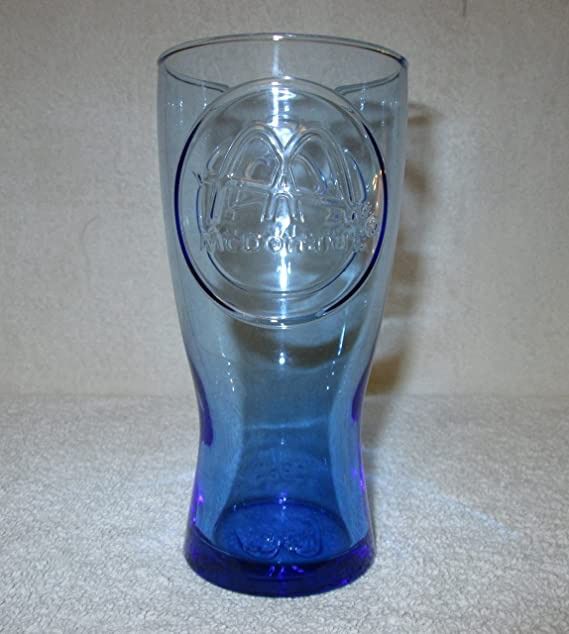 The glasses have a peculiar "rounder opening and slimmer bottom" shape. They were produced in this design in 1948, 1955, 1961 and 1992. These signature McDonald's glasses had a relief circle right at the center of the surface of the cup with the golden arcs 'M' sign.
These glasses were sold individually. Each collector might have more than one of each type and sell them together. Therefore, the pricing differs depending on how many are sold and the glass's condition.
A set of 3 used purple 1948, green 1955 and blue 1961 glasses on eBay lists at $17 by this seller. You can get the set of two transparent 1992 glasses at $36. You can also get the blue 1961 glass at $15 on Amazon
20. Ronald McDonald Tumblr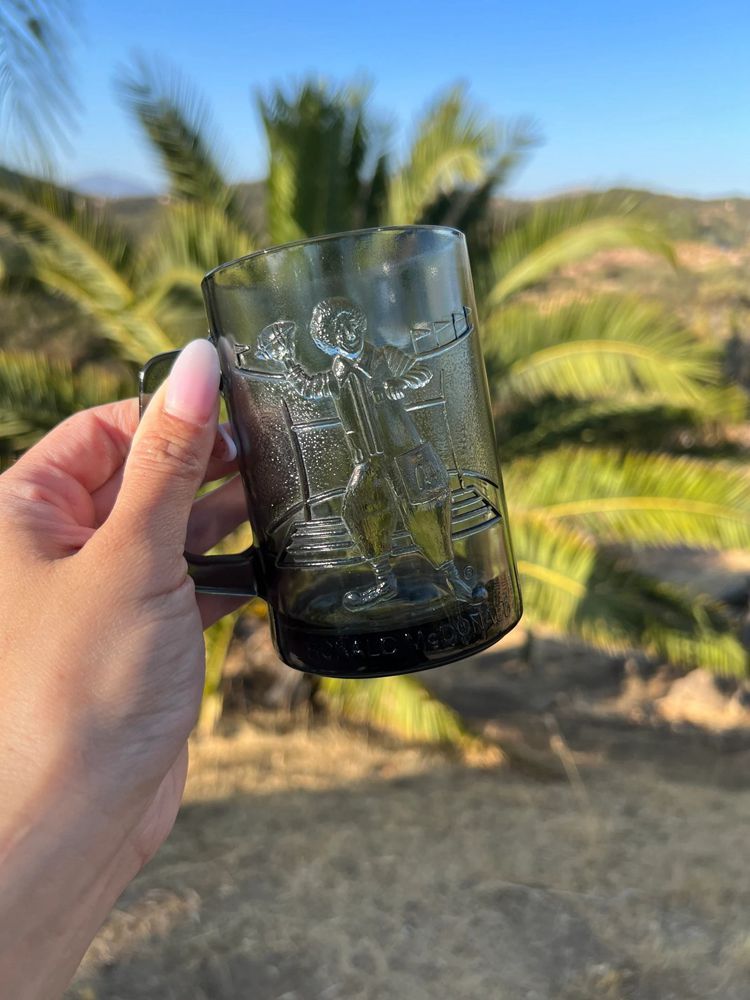 These glasses are from the McDonald's 1977 Collector Series and were manufactured between 1976 and 1977.
They are a fantastic and rare addition to your McDonald's vintage collection. It's also a good one for kids, with a simple engraving of the Disney attraction, Ronald McDonald. On eBay, they usually cost between $7 and $20, depending on the seller.
21. Robin glass mug McDonald Batman 4ever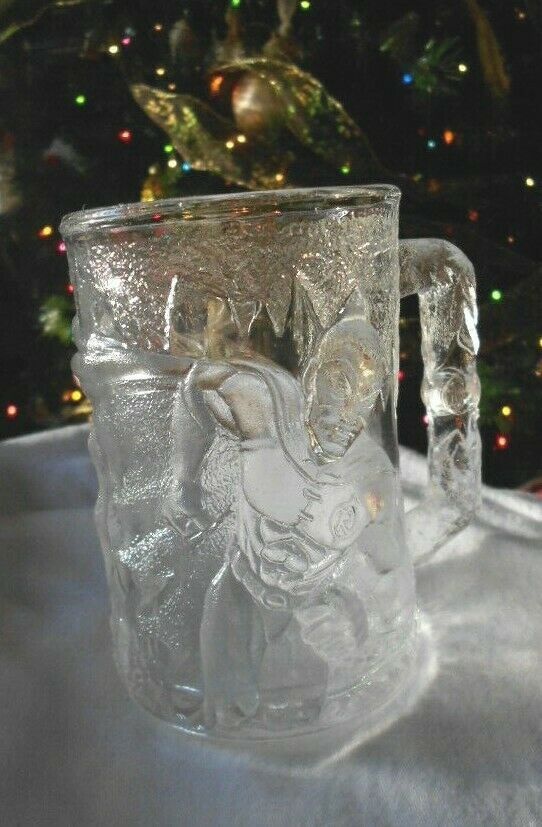 This glass cup is a fantastic collectible from the McDonald's collection. It was made in 1995 and is still valuable today. The glass features an etching of Batman and Robin, with the words "DC Comics, 1995, Made in France" engraved on the bottom.
The cup's handle is squared, and it bears Robin, a popular Disney character, the letter R. Disney fans are amazed by the creativity, but collectors are even more awed.
22. McDonaldLand Action Series Mayor McCheese 1997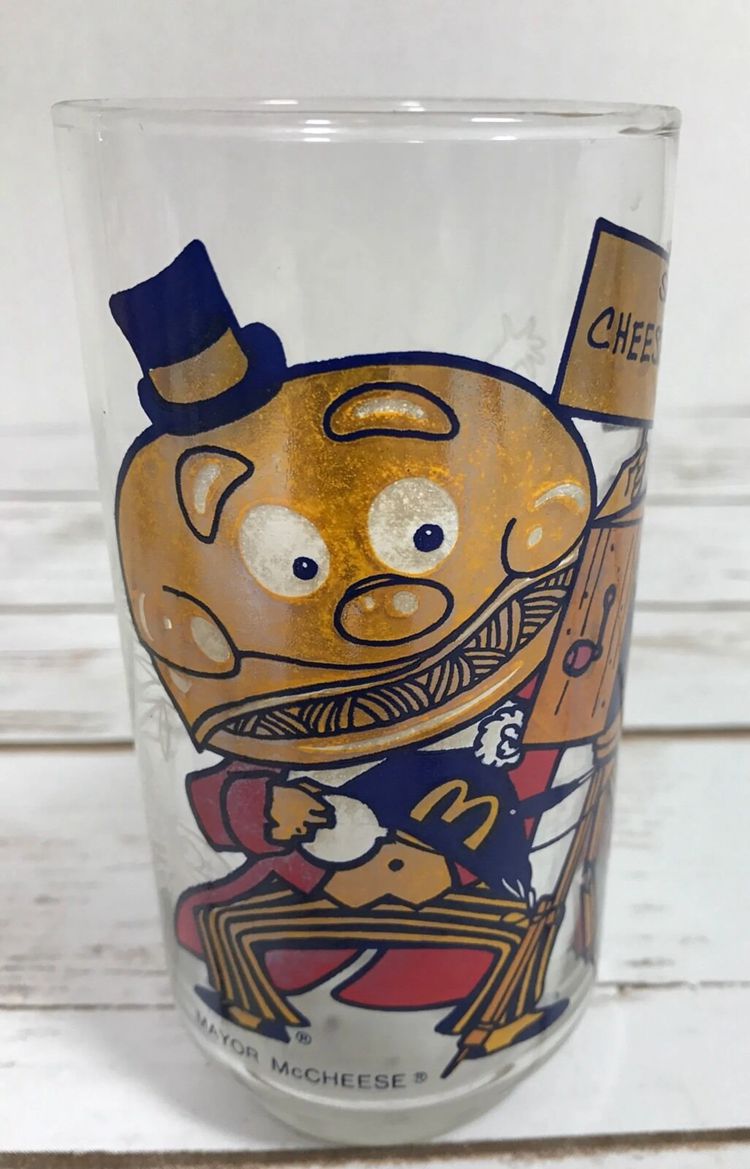 If you get your hands on this 1977 masterpiece, you'll have bragging rights for a long time. This vintage piece is from the Action Series and has an eye-catching colorful design.
Because it is such a timeless item, it is in high demand, and most sites that sell it are frequently out of stock. It's a good buy on eBay, with prices ranging from $8 for used ones to $32 for new ones.
23. McDonald's Beijing Olympic 2008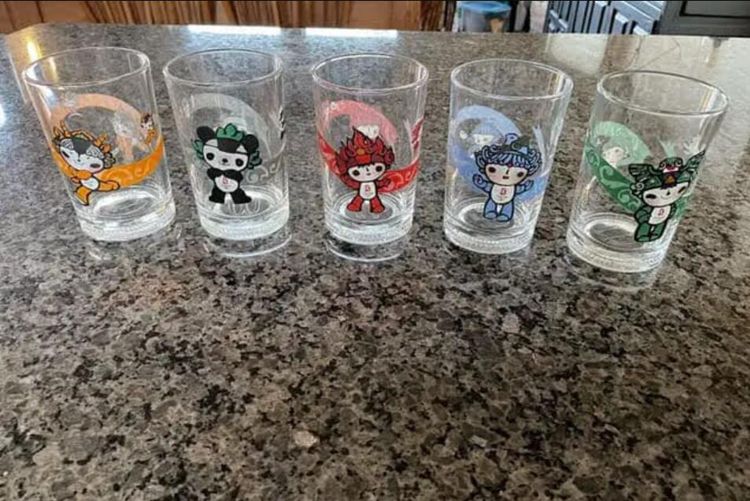 The glasses bear the 2008 Beijing Olympics logo, the McDonald's logo, and the words "proud partner fier partenaire", with the McDonald's logo still engraved on the bottom. McDonald's was an Olympic partner for the sixth time.
They also include the Beijing 2008 Olympic mascots in different sports poses and colors. This series grew in popularity like no other because it was created specifically for the Olympics and was formed to "bring the Olympic Games alive for customers all over the world."
Sets typically cost more than singles, ranging from $50 to $250. Meanwhile, singles here range from $12 to $25.
24. Holy Grail McDonald's Glass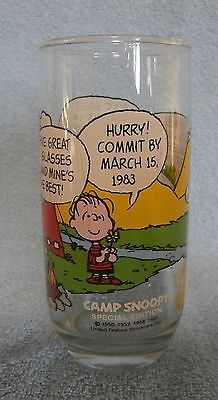 This is a very rare and valuable glass that was given to McDonald's owners in 1983. In contrast to the Camp Snoopy Collection given away at McDonald's restaurants in the 1980s, it said 'Camp Snoopy' Special Edition.
Those were more common because they were distributed to everyone and could be collected by anyone. This particular Camp Snoopy glass is the sixth in the collection.
The real prize, however, is the 6th Camp Snoopy Glass, which was never made available to the public. What was intended as a teaser for the other glasses and an incentive for store managers and owners sold for over $100 on auction sites!
This glass is McDonald's holy grail. It is highly sought after and makes an excellent addition to any collection.
25. McDonald's Peanuts Glasses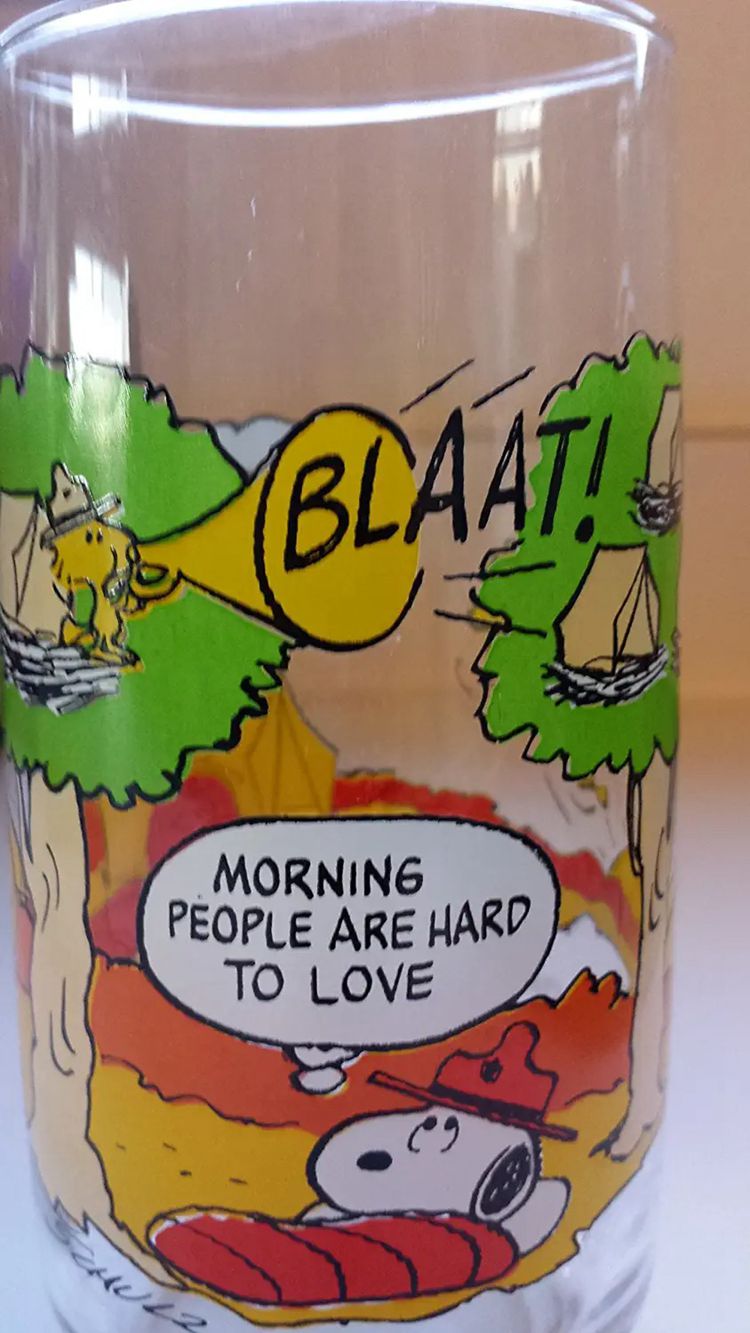 The entire Camp Snoopy collection was initially popular due to the theme park and film, but after the success of the sixth one, it became even more popular.
Even today, the camp Snoopy collection is highly sought after. It is also popular among children due to its bright designs and images. On the body of the glasses, there is usually a visible McDonald's logo. They are available on eBay for between $8 and $24.
McDonald's Glasses Value Guide
McDonald's priceless and timeless glasses are cherished for the things they represent. Cartoons, TV shows, and even sports themes make them popular with people of all ages. They are now considered collector's items and can be purchased reasonably.
You can acquire them as a collector for resale, a collector who simply wants to complete their collection, or as a person with many memories associated with a specific theme. Acquiring them requires a general understanding of the prices of the glasses.
You can find McDonald's glasses on sites like eBay, where the sellers put a price on different sets based on the condition of the glass and on the packaging. Here are some helpful books on eBay that further help determine the value of your glasses:
Frequently Asked Questions
1. Is the Camp Snoopy collection valuable?
Yes, it is valuable. The Camp Snoopy cups come in glass and plastic forms. The glasses are more common, therefore, less valuable, while the plastic cups are harder to find and more valuable to a collector. The sixth one, "The Holy Grail", is the rarest and most valuable.
2. Why was the McDonald's Shrek collection recalled?
The McDonald's Shrek Forever 3D glass was recalled in 2010 voluntarily by McDonald's because of the cadmium used in the paint. The paint on the glass contained high amounts of heavy metal, cadmium, which is harmful to human health.
3. How to get the McDonald's Rainbow Glass Cup
The rainbow cup, released on June 1st, 2022, has also become a collectible item, as only a few have been produced. This rainbow cup can only be gotten on the McDonald's app by registered members when they order a double-pack menu.
Conclusion
These McDonald's glasses are the most valuable glasses ever produced by McDonald's. Some for their adorable designs, others for the material employed, others because they are vintage, and the majority, such as the 2008 Beijing Olympic McDonald glass, for the notable events that inspired it.
Their prices vary between sites and depend on whether they are new or used. This article provides a great deal of additional information about McDonald's glasses to help you purchase them.