An antique pie safe is a warm addition to every home, whether rustic or modern. The pie safe, which has been used for centuries to keep cakes, pies, and other snacks away from flies and pests, can now be transformed into a flexible piece of furniture for your contemporary home. In recognizing an excellent antique safe, you must consider some things discussed extensively in this article.
We'll also see the most valuable antique pie safes in the world presently.
What is Pie Safe?
Pie safes are also known as pie cupboards, pie cabinet kitchen safes, or pie chests. These antiques keep dirt, insects, and vermin away from baked goods. It serves as a literal safe for perishables and freshly baked goods. It is unusual to see people storing pies in these cupboards in today's world. Fortunately, safes nowadays make an excellent storage solution for linens or children's toys, and they can be repurposed for various other purposes.
History of Antique Pie Safes
The origins of the pie safe can be traced back to the 17th century. Its popularity quickly grew, and the pie safe became an essential part of many American families. These safes were not only used to store pies and other fresh foods but also kept food from spoiling or being eaten by insects or vermin.
Classical pie safes are about the size of a large bureau with perforated storage shelves. The doors on the front and sides of most pie safes are ventilated with screens or tin plates with small holes. The holes punched in the tin plates typically feature a design or shape, such as stars or eagles.
A punched tin front pie safe enhances air circulation throughout the cabin while keeping dirt, insects, and even hungry children away from the baked goods. With this simple fact, a pie safe with tin doors is the most commonly used type of safe.
Another advantage of this design is that it helps to keep baked goods at a cooler temperature; when pie safes were most popular, there was a lack of proper refrigeration.
While appropriate circulation kept insects out and dust and dirt at bay, it kept the mold from growing on the baked goods. Until the invention of ice boxes, most pie safes served as a form of modern refrigeration, preventing food from spoiling.
Pie safes were prominent until the late nineteenth century. By this time, the furniture was primarily made in factories, and no longer had that distinct quality that had once made it so desirable.
Consumers became interested in this early refrigeration opportunity after ice boxes were invented. As ice boxes became more common, public interest in pie safes began to wane because there was no longer a need to store food inside the safes.
Styles of Pie Safes
Today, the most common type of American pie safe is a cantilevered unit with four legs. During the 18th century, hanging models were trendy, especially in the Pennsylvania Dutch region. Some hinged models include long pieces of wood with holes in case the owner prefers to have the entity on the floor. There are numerous pie-safe styles, but many rely on bashed tin door panels for apparent reasons.
Pie safes from Creole Louisiana were made with punched tin panels for ventilation and cooling. These units were evenly spaced and assisted in keeping food as fresh as possible. While some pie safes were considered more decorative than functional, pie safes from this region were primarily made and used to preserve baked goods. Furthermore, many pie safes in this area were red.
The pie safe with glass doors is another design option. Some customers believe that the glass doors elevate the overall appearance of the unit. Glass doors also served as a barrier against insects and vermin. Glass doors, like frequently used tin panels that offered ventilation and protection, helped deter bugs and dust.The pie safe with copper decor is another design. These safes have a lovely, warm appearance and an eye-catching design.
A pie safe with a jelly cupboard, a style that dates back to the early 18th century, can occasionally be found. As jelly became more popular in American households, this unique type of cabinet grew in popularity. This relatively small cupboard had closing doors and was primarily used to store jam and jelly. The typical jelly cupboard has double doors that swing open toward the center. Above these are usually two drawers.
While the design is generally standard, jelly cabinets come in various sizes and styles. Most jelly cupboard shelves aren't particularly tall. The primary purpose of having smaller frames was to enable the shelves to be positioned in more convenient and fixed positions within the cupboard. Some cupboard doors were equipped with a wood catch for additional safety, while others were outfitted with metal hardware.
Variations Among Pie Safes
All pie safes are made of wood, but the type of wood used to construct the furniture varies significantly between pie safes.
Identifying the type of wood used to make the pie safe is an excellent way to determine its origin:
This was the most common type of wood used by Virginia and Carolina cabinet makers.
Soft pine was the most commonly used type of wood in New England and Pennsylvania.
This wood was used to make the majority of pie safes in Texas.
How Old is your Antique Pie Safe?
The early and late 1800s are among the most common prime periods in antique pie safes.So, how do you know what era your pie safe is from?
Examine the nails on your pie safe for square nail heads. Square nail faces date from the late 1700s to 1830, indicating that your pie safe is longer than most.
Headless machine-cut nails supplemented square heads beginning in the 1890s. So if your pie safe has a square authority, its product date can be tracked as far back as 1890.
Examine the inside of your pie safe, as these surfaces will not have been painted or varnished. Compare the wood type to popular raw materials in the area.
Don't be concerned if your safe has a coat of paint. This can still assist us in dating the piece. Remember that painting furniture only began in the early 1900s. The original color should have some visible aging, such as peeling.
Examine the finishings; visible saw marked date from some antique pie safes before the 1830s when circular saws became the norm.
If our pie safe has been restored, new fittings, screws, and fixtures can cause us to date it incorrectly. Review the vehicle's history and ensure that all areas are in the same good condition – or are there signs of specific touch-ups or repairs?
The Science of Pie Safes
Pie safes were typically made from local wood. Pine and other softwoods were frequently used for shelves, drawers, and interior pieces, while a more expensive, more excellent wood was used for the exterior. The southern states were particularly fond of pine.
There were shelves inside the cabinet to hold pies and other foods. Screening or punched tin designs would be used on the top, sides, doors, or a combination. The screen provided ventilation for the baked goods while keeping rodents, flies, and hungry children at bay. The ventilation kept the food cool and prevented it from molding easily.
Some kitchen safes had upward-opening tops, while others had a mix of doors and drawers. There were even pie safes that doubled as a safe and a jelly cupboard. The pieces would be made according to the cabinet maker's whim or the house owner's specs.
Styles of Antique Pie Safes
Although antique pie safes have been manufactured since the 18th century, their styles have not changed significantly since their introduction. You can find many of their distinguishing characteristics in examples from the early nineteenth and late twentieth centuries.
Sizes
Antique pie safes are typically available in two sizes: bureau and chest-of-drawers. These two styles could accommodate families differently, but each was designed to keep baked goods and ingredients fresh for several days.
Traditional three-shelf safe – These pie safes were traditionally about the size of a bureau and came with at least three shelves that could hold food items. These upper shelves were protected by a pair of perforated double doors that let in air while keeping bugs and other vermin out.
Half-sized safes – The other types of safes, better suited to smaller households, were those the size of a chest of drawers. These safes lacked the drawer storage found at the bottom of traditional pie safes and were limited to a small space for pies and other goods.
Design and Materials
Pie safes were made from a variety of materials and designs.
Door materials – The doors that keep the sweet pies inside these pie safes were made of various materials. Wood was sometimes split with decorative perforations. The manufacturer used cane, glass, and tin as a barrier between the food and the elements.
Rainbow of colors – Early pie safes were natural wood colors. Still, as the nineteenth century progressed into the twentieth, these safes began to be painted in various unique colors. Light blues, purples, greens, and yellows were standard colors in homes throughout Depression-era America.
Hutch vs. cabinet – Some traditional pie safes were built hutch-like, with the upper safe part set deeper into the furniture. In contrast, others were constructed entirely rectangular, with no indented elements.
Value of an Antique Pie Safe
As with most types of furniture, various factors can influence a piece's worth. Since the invention of the ice box, the pie safe has been purchased and used as a decorative piece rather than a storage method for pies and other goods. If you're looking for a pie safe or thinking about selling your own, it's a good idea to understand which factors are most influential in determining its value.
The following are some of the most important factors to consider when determining the value of a pie safe:
Materials used to make the safe: For example, pie safes made of commonly grown wood, a more common type of wood, may be less valuable than those made of rarer woods such as chestnut, pine, or oak. More detailed units, such as tin punch doors with an in-depth pattern, are more valuable than solid doors.
Age of the safe where it was produced: Because pie safes were used for centuries, you will most likely discover units of varying ages. A pie safe from the 1700s may be far more valuable than a pie safe from the early 1900s. Safes with original paint and hardware are typically more valuable than those that have been fixed or repainted.
The finishing on the pie safe: increase the worth of a pie safe For example, the value may differ depending on if the safe is painted or unpainted. If it is painted, colors like green, red, and goldenrod are more valuable than others. If the unit was built by a specific furniture maker or was once purchased by someone of historical significance, the price will almost certainly rise.
Unrestored Antique Pie Safes: Though it may be enticing to spruce up your pie safe, paint it a new color, and repair that broken hinge, we advise against it if you intend to resell it at auction. Wear and tear often adds to the appeal of this furniture, and sprucing it up with new knobs, hinges, and panels can significantly devalue it. This 1800s Tin panel Pie Safe is a good example. Despite noticeable wear and tear, it is still worth more than $1,500 at auction.
Condition – The condition of a piece will always be necessary for determining its value. Take, for example, these two pie-safe sides. They were in a fair amount of disrepair, yet they auctioned for just over $200. This demonstrates that pie safes are extremely valuable, like almost all furniture.
Shipping: Pie safes are among the most significant antique furniture pieces. And anything that big usually costs a lot of money to ship. So, while pie safes can be costly on their own, shipping can increase their cost – or value, depending on whether you're a buyer or seller.
It's very typical for sellers to specify who they can and cannot sell to. Some sellers may only sell to people who can physically collect the cabinet. Due to rising shipping costs, purchasing pie safes from abroad can be prohibitively expensive. Sellers frequently raise the price to cover any additional fees that may be incurred.
10 Most Valuable Pie Safes
1. Antique painted folk art hanging pie safe – Price: $1850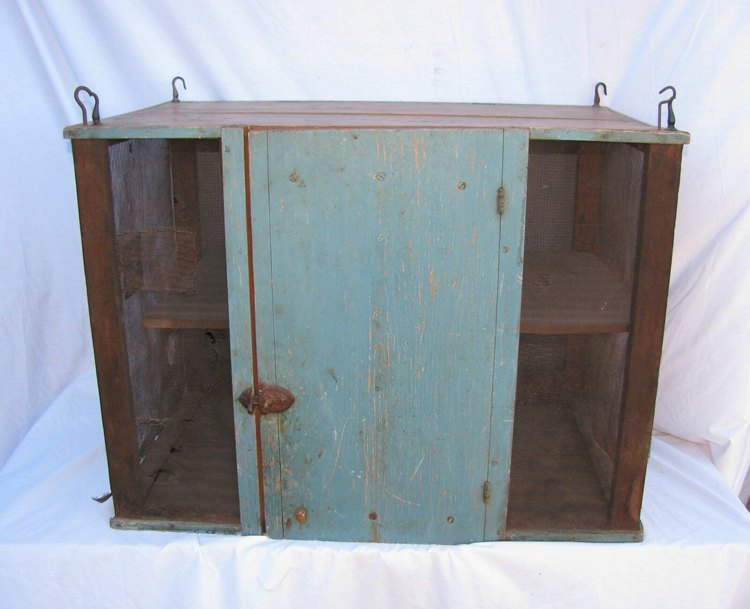 An adorable hanging pie safe with original paint and old screening. The safe is a good size and very sturdy, with two shelves inside. See the top photo for the original fancy latch and two original hangers; two other hangers have old replacements. The screening has old spots for a unique appearance. Hanging pie safes were used inside and outside to keep pies cool while keeping bugs and critters away.
This pie safe was discovered in the midwest in the late 1800s. It measures 32 1/2″ wide x 20″ deep x 24 1/4″ tall, with 17 1/2″ front to back and 9″ wide inside side shelves.
2. Unique Antique Rare Pine Square Nailed Primitive Pie Safe Cabinet Cupboard Hutch. – Price: $3500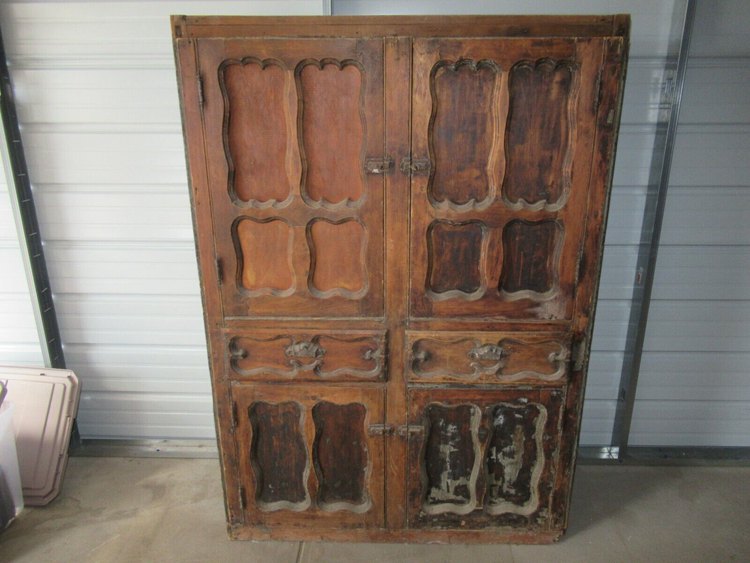 This is a unique, unusual, antique pie-safe kitchen cabinet cupboard piece. I've never seen a large pie safe with decorative mold fronts on the drawers and a circle adornment around the side air holes with screens. It features square nail construction as well as hand-dovetailed drawers.
IThis could be as old as or close to the Civil War era. This pie safe measures 70″ tall x 48″ deep x 18″ wide and is a seriously massive duty sturdy cupboard with original blue paint on both sides of the closet; however it appears to have been sanded or refinished off the front of the closet.
3. 19TH Century Antique Country Primitive walnut Pie Safe / Kitchen Cabinet – Price: $2675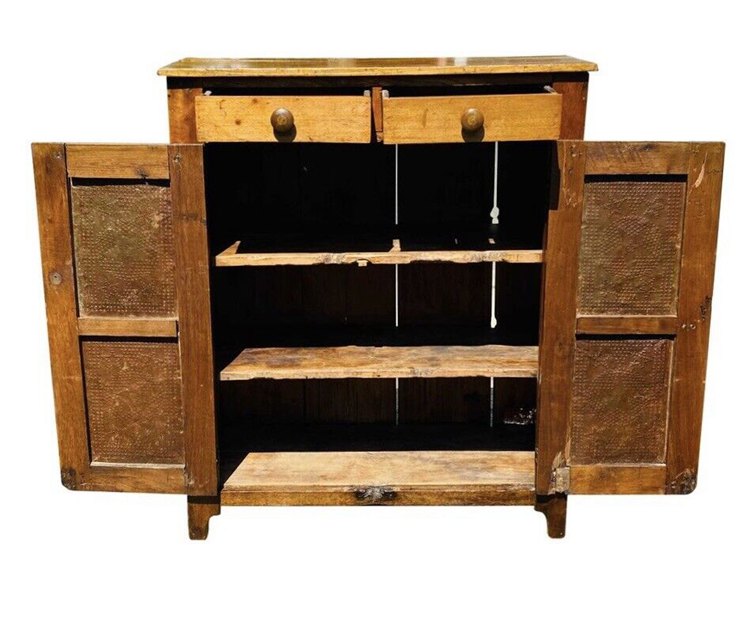 It's an antique country primitive walnut pie safe from the nineteenth century. It's a fantastic antique pie safe with two upper drawers and a vast base cabinet with two large shelves. Jabbed tin panels with geometric star designs adorn the cabinet doors. The pie safe is large, measuring 39 1/2″ wide x 18 1/2″ deep x 46 1/2″ tall. The interior dimensions are 36″ wide x 16″ deep.
4. Antique American Farmhouse Cupboard Original Paint New Braunfels Texas – Price: $4800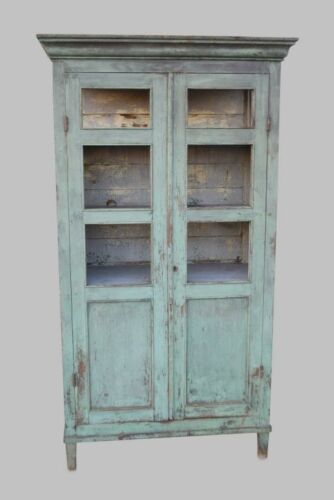 Immigrant artisans made this lovely early American pie safe cabinet in New Braunfels, Texas, a late-nineteenth-century German settlement. This piece, discovered in its original faded green paint, conveys the practical nature of its past with so much glamour in its form. The screen is no longer in place, and there are six openings on the front and Q on each side of the cabinet that can be repaired with glass or left as is, as well as the original interior faded blue paint. The condition is excellent; no repairs are required. The cabinet is 81″H, 40 1/2″L, and 19 3/4″W.
5. 19th Century Antique Country Primitive Grain Painted Jelly Cupboard / Kitchen Cabinet – Price: $2475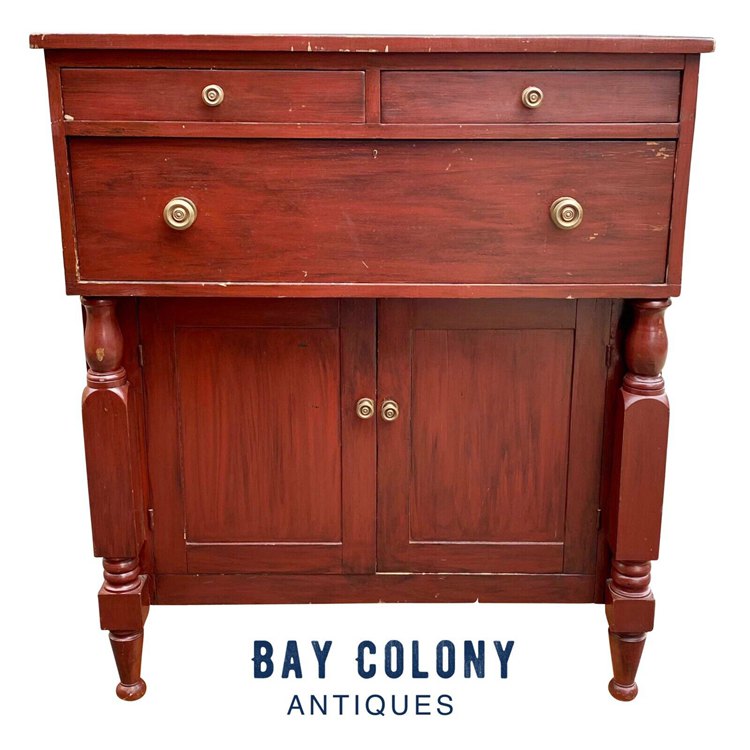 The cabinet has three drawers in a two-over-one configuration, with cabinet doors beneath. Once an absolute necessity for storing preserves of all fruits, most jelly cupboards are now merely decorative additions to kitchens. The cupboard has a red over black grain painted surface meant to replicate imported Mahogany. Because these were typically utilitarian pieces, most you'll come across aren't overly decorated aside from the painted surface. This example has excellent chunky columns flanked by ringlet turnings and is nice and sturdy on turned feet. The cabinet is 43 1/2″ wide, 19″ deep, and 50 1/4″ tall.
6. Antique Pie Safe Cabinet – Price: $895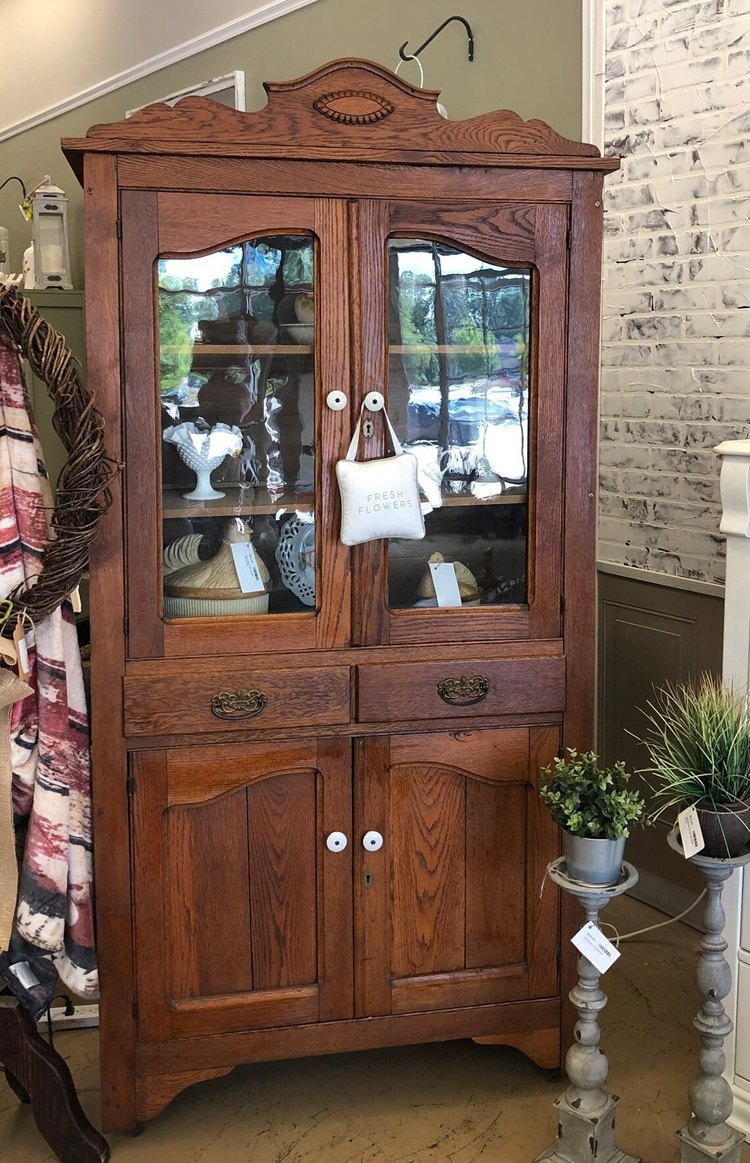 Pie safe made of the quartersawn oak china cabinet. The craftsmanship shows it was well made, with Morrison and Tenant joints. It has the iconic wavy glass and is on wooden casters. It has two screened-in holes on both sides to allow baked goods to cool.
7. Antique Metal Zinc Home Comfort Bread & Cake Cabinet Pie Safe Kitchen Shelf – Price: $149.99
The Home Comfort Co. created this antique pie safe. Bread & Cake Cabinet Pie Safe Kitchen Shelf is the model name (No. T). It has average age, use, and wear signs. The photos show that the lower shelf has a slight warp, and the outer cabinet has some minor dents and paint wear.It measures 20″ tall by 11″ deep by 13.5″ wide.
8. Early American Pie Safe Cupboard – Price: $3,400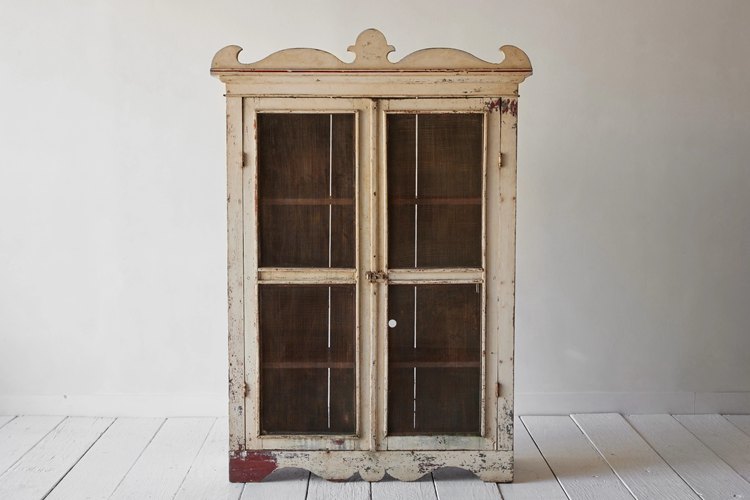 This early American pie safe cupboard is painted red and white with a crested pediment. It was created in the early nineteenth century. Two metal screened doors enclose the front. Three interior shelves provide plenty of storage or display space. It is 66 inches tall, 46 inches wide, and 16.5 inches deep.
9. 19th Century Punched Tin Cross Flags Pie Safe – Price: $6,000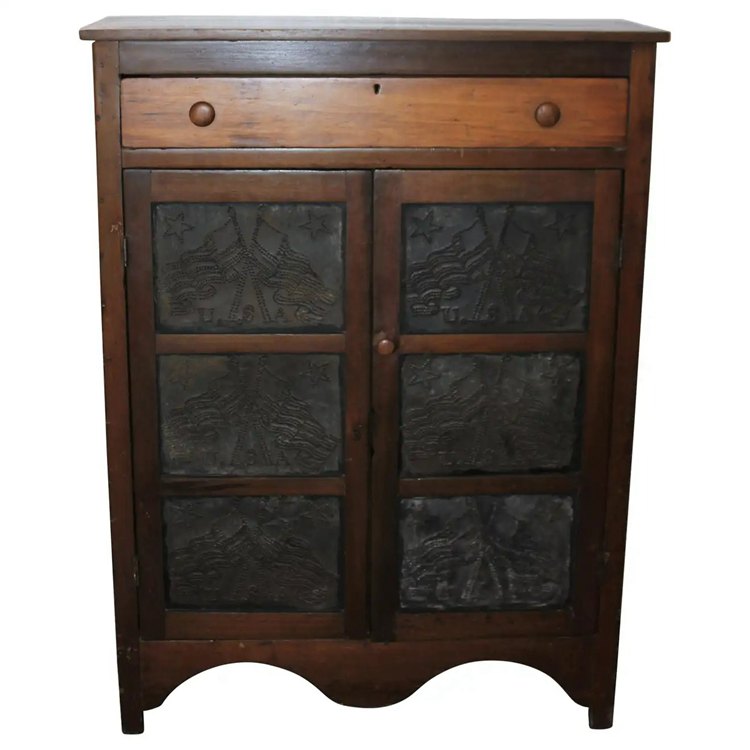 Original 19th-century punched tins, cross flags, and a pie safe with an old natural surface. This safe was discovered in East Tennessee and is in excellent condition. It is handcrafted and made of wood and metal. It is in excellent condition and works perfectly. This was most likely painted at one time and now has a natural surface. It measures 54.5 inches tall, 40 inches wide, and 15 inches deep and is available on eBay.
10. Antique Arts & Crafts Mission Oak Wood Pie Safe Kitchen Cupboard Cabinet on Legs – Price: $1,200
Antique Mission oak wood pie safe kitchen cupboard cabinet on legs. Metal mesh panels, hardwood construction, beautiful wood grain, distressed finish, one swing door, wooden shelves, very nice vintage items, quality American craftsmanship, great style, and form are all features of this item. In the early 1900s. Dimensions: 48″ H x 34.5″ W x 17″.
Make a Pie Safe a Part of Your Home Decor
Adding an antique pie safe to your kitchen or using it in the bathroom to hold towels is a fantastic way to add a style of old-fashioned beauty to your décor, and they can be a conversation starter in almost any room.