My mom always had rare antique hat pins with her, as she loved to collect them. Their designs always attract everyone. Hat pins have a long history, as women have used them for centuries for decorative purposes. Nevertheless, they were more common in the past since the women from the aristocracy class used them.
These pins are one of the most desired collectible items and can also make exceptional gifts for people interested in antique items. Are you also interested in antique hat pins and want to learn about the rarest pieces? If yes, then you are at the right place. In this article, you will know everything related to history, identification, and the most valuable vintage hat pins.
History of Antique Hat Pins
Hat pins were one of the most desired decorative items for women in the past. It is said that the history of pins dates back to the Roman period when women used pins to fix their veils or wimples to their heads. Another piece of evidence shows that people used them in the 15th century. Nevertheless, hat pins became popular in the 19th and 20th centuries.
In every century, there were different methods for making these hat pins. Therefore, they flourished. In the early 1800s, families used to make hat pins by hand. During the 1820s, France became a significant place to import hat pins.
Moreover, in 1820, the British Parliament passed an act restricting people from buying hat pins. They could only purchase them on January 1st or 2nd of every year. Due to this reason, hair pins became a rare item to use in the 19th century.
Nevertheless, around 1832, John Howe invented the pin-making machine in the United States. After him, other countries, such as France and England, made a similar machine. In the early 20th century, women started to need hat pins to secure their hats in place.
In England, one of the prominent hat pin-making companies was the Carles Horner jewelry company. In the United States, the companies that made hat pins included The William Link Co, Unger Bros, and Tiffany & Co.
With time, when women's fashion changed and new styles came in, hat pins became outdated. In the Edwardian society of elite people, women started to have short bobbed haircuts without any hats. Therefore, during the 1920s and 1930s, there was no need for hat pins.
However, people did not only use hat pins to secure their hats in place but for another purpose – to harm someone. Women started to protect themselves with the help of hat pins. At that time, the size of the hatpins was around 12 inches. When some women stabbed men with these hat pins, people became afraid of them.
From 1908 to 1909, men thought of hairpins as weapons that could kill them. Also, the court passed the law to limit their size and use. Due to these laws, companies could only produce hat pins up to 9 inches. During World War I, people referred to hat pins as profligate items. Therefore, companies did not manufacture hat pins anymore, and they gave the materials to make machinery for war. After this period, hat pins were no longer in use.
Identification of Antique Hat Pins:
Before learning about valuable antique hat pins, you must know the tips to differentiate between an original and a fake antique hat pin. Below is some information that will assist you in identifying the original hat pin:
The first step in identifying an authentic antique hat pin is to learn about its types. The following are the most common old-fashioned hat pin types:
Luxury Hat Pins:
The manufacturers of luxury hat pins were the most talented jewelers of that era. They used top-quality materials, such as high karat gold, to make these hat pins.
Working Girl Hat Pins:
The ordinary women of that time used these hat pins. The working girl hat pins were machine-made and had a black or white glass bead at the end.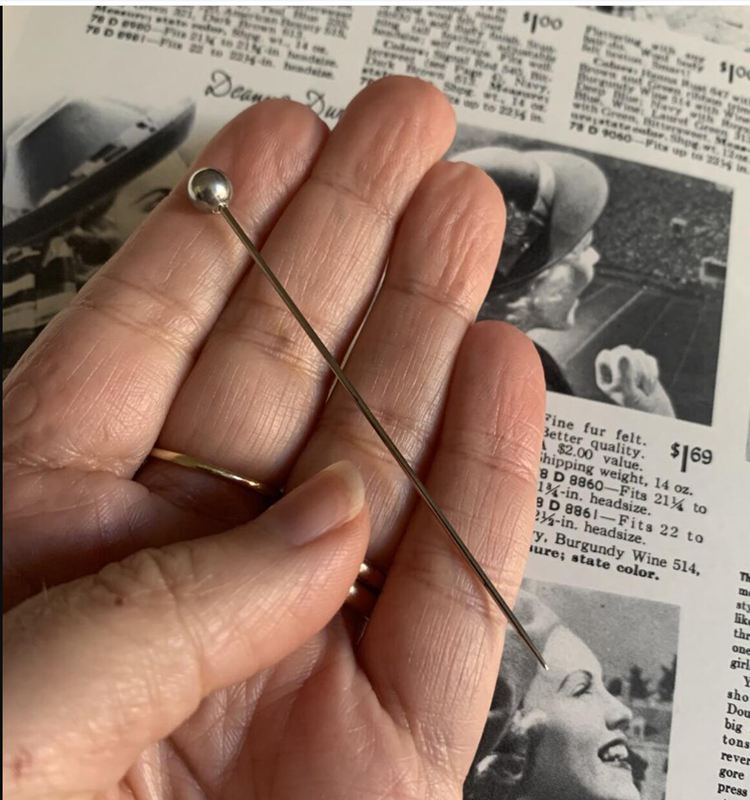 Plique-A-Jour Hat Pins:
They are the rarest type of hat pin, making them the most valuable. Makers created them through the enameling process. The name translates to "open to the light."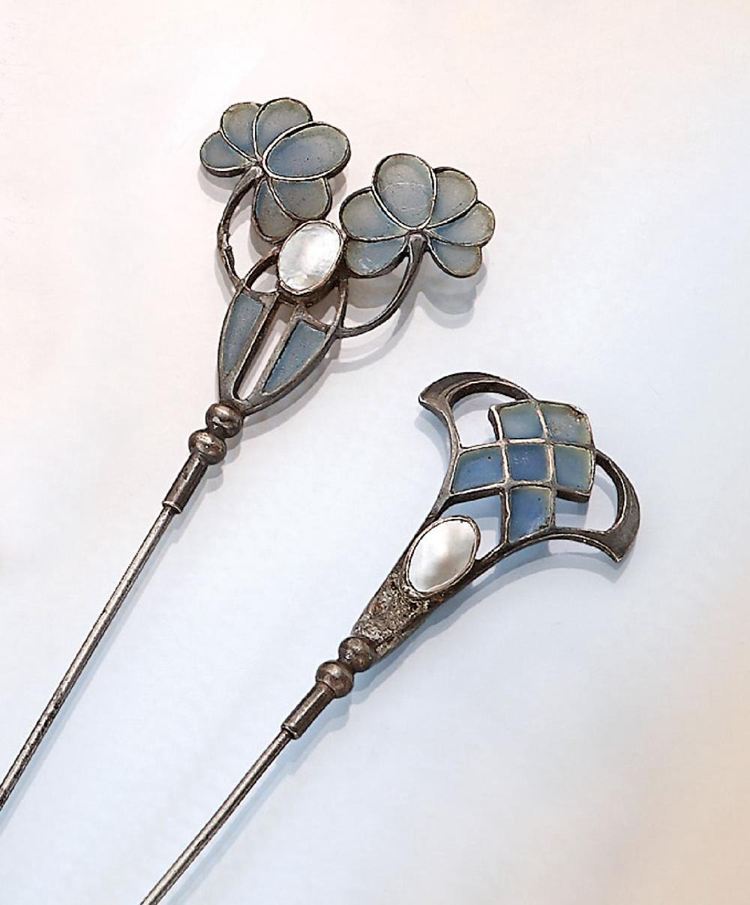 Art Nouveau Hat Pins:
The makers used silver to create these hat pins, and they represented nature and femininity through their designs.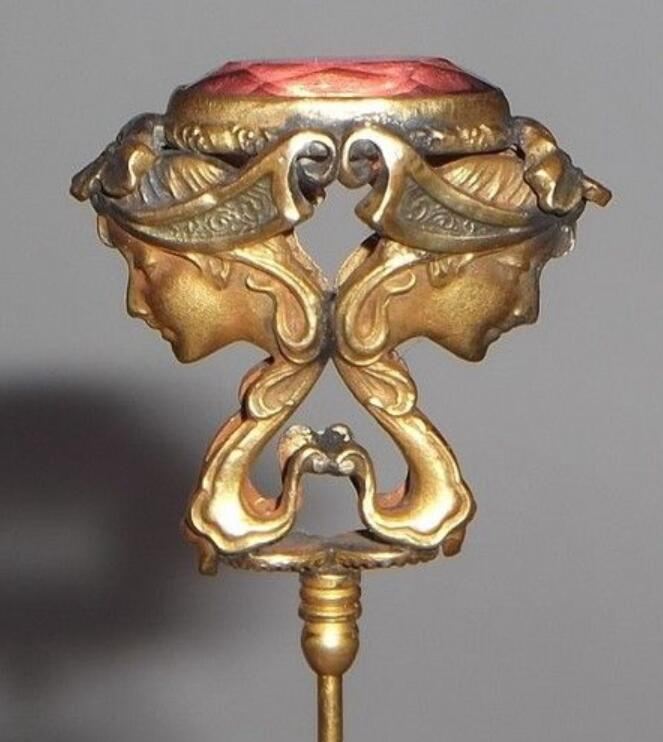 Art Deco Hat Pins:
Art Deco pins were popular in the Victorian era. The Art Deco-style hat pins were easy to make because of their geometric pattern.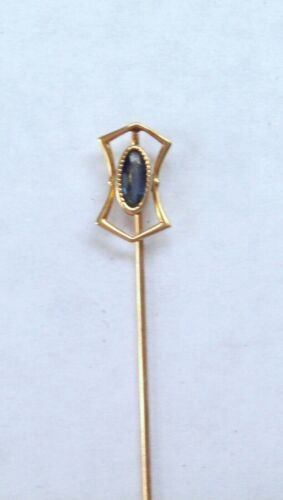 Other than the types already covered in the article, there were Arts and Crafts hat pins, military hat pins, and opera hat pins. All of the types particularly interest antique lovers and collectors to a great degree.
Tips to Identify Antique Hat Pins:
To identify an antique hat pin, you should know about the types that we have mentioned above. Moreover, check its head, finding, and stem since many pins do not have findings because of their design.
In addition, the makers used stones in bezel sets or prong sets for decoration. If you find hat pins with glued stones, ensure they are not antique. Also, there was no soldering on the antique hat pins.
The materials that the makers used to create them were gold, silver, and brass. Furthermore, you should check the balance between the pin and the head. If it is not balanced, it is not an antique.
Also, the antique pins can be bent out of shape due to their age. Lastly, the rhinestones should be set on high tables, which means that only their top part should be cut away.
Rarest and Most Valuable Antique Hat Pins:
Since people used hat pins in the 18th and 19th centuries, they may be worth more than a hundred or even a thousand dollars. To get an estimated value of hat pins, we have gathered the 19 most precious hat pins on the internet. Let's check them out.
1. A Pair of Antique Moonstone and Ruby Hat Pins
This is an exemplary duo of ruby and moonstone hat pins. Each hat pin has a caliber-cut ruby and a sugarloaf cabochon moonstone. In addition, it has rose-cut diamonds and is mounted in gold. They belong to the late 19th century. This duo of antique hat pins was sold on 2nd October 2003 for $5,019.

2. Antique Guilloche Hatpin
This Antique Guilloche hat pin Spring Green Lovely Posies Bright Stone Collectible has a length of 8 ⅝ inches and a diameter of 1 ⅛ inch. It dates back to the late 1800s and early 1900s. It is like the pins in Lillian Baker's book and is in excellent condition.
Moreover, the ornament (top part) of this hat pin is in good shape and is still strongly connected to the pin. A brilliant addition to your collection, the estimated price of this piece is $44,99.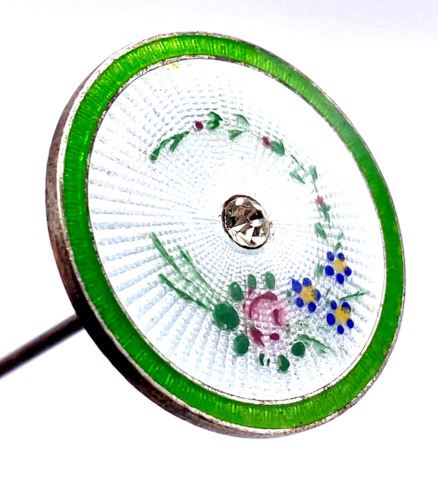 3. Tiffany & Co. Moonstone & 14 Karat Gold Hat Pin
This specific hat pin is made of 14-karat gold and round cut moonstone and has a long gold pin stem. Tiffany & Co made this hat pin in the 20th century in the United States. The diameter of this hat pin is 9 mm, and its length is 6 ¼ inches.
It has an Edwardian style, and the overall condition of this hat pin is satisfactory, with a few scratches due to its age. The cost of this exceptional hat pin is $2,950.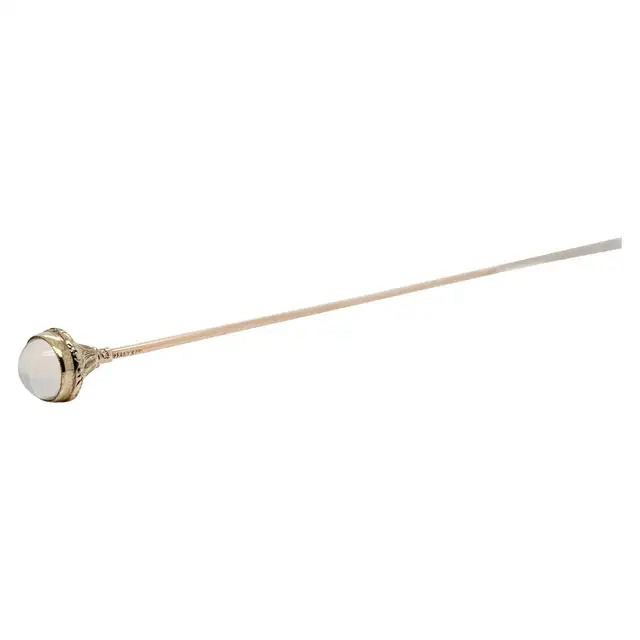 4. An Antique Natural Pearl and Diamond Hat Pin
The antique natural pearl and diamond hat pin is from the 19th century. It has a big heart-shaped pearl and a rose-cut diamond. Also, it has a snake-like design with a ruby on the top. This hat pin was sold on 4th November 2008 for EUR 2,750.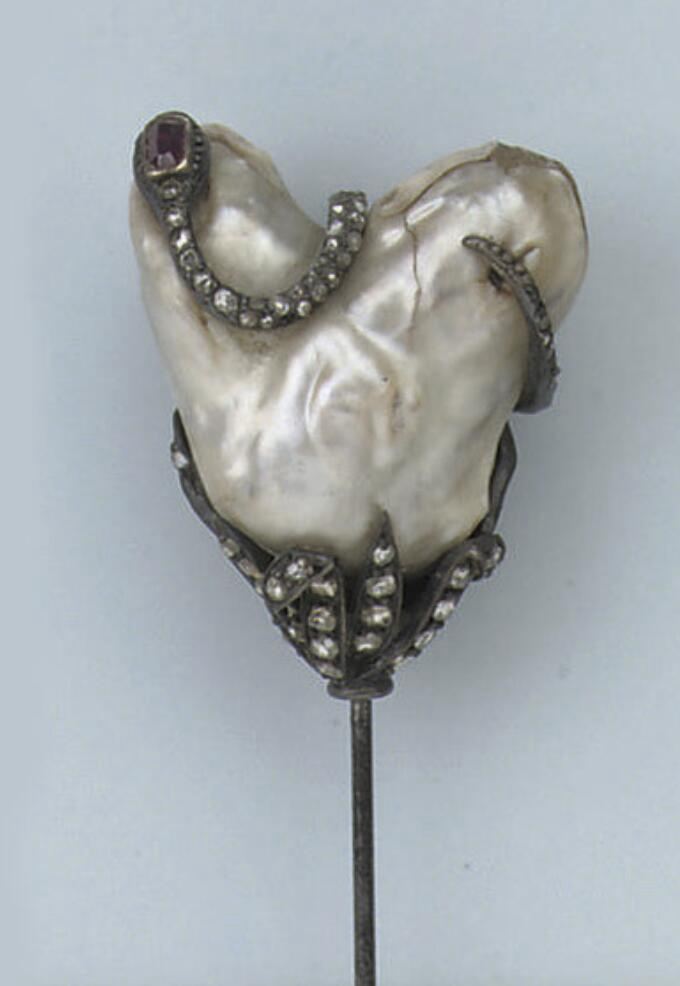 5. An Antique Turquoise, Seed Pearl, and Gold Hat Pin
This antique hat pin is made of gold, one turquoise stone, and 24 seed pearls. It belonged to around the 1900s and also contained a Cartier red leather case. The auction for this hat pin was closed on 21 April 2004, and the price was $2,629.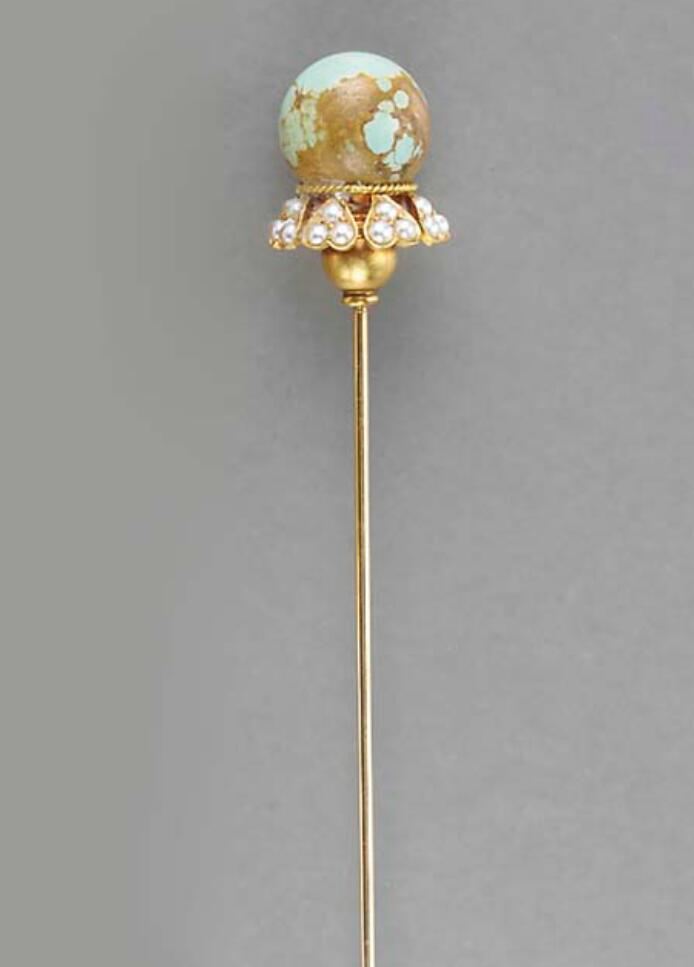 6. Antique Pair 14K Yellow Gold 9" Enamel Seed Pearl Hinged Hat Pin
This duo of hat pins has white enamel with a Greek key pattern and a seed pearl circle. The diameter of the heads of the hat pins is 1 inch. Nevertheless, the hat pins' length is 9 inches.
In addition, they have a mark "R" on the curved dagger top, which refers to the Ricker Brothers. Both hat pins are in good condition, without any damage. The antique hat pins value is $1,895.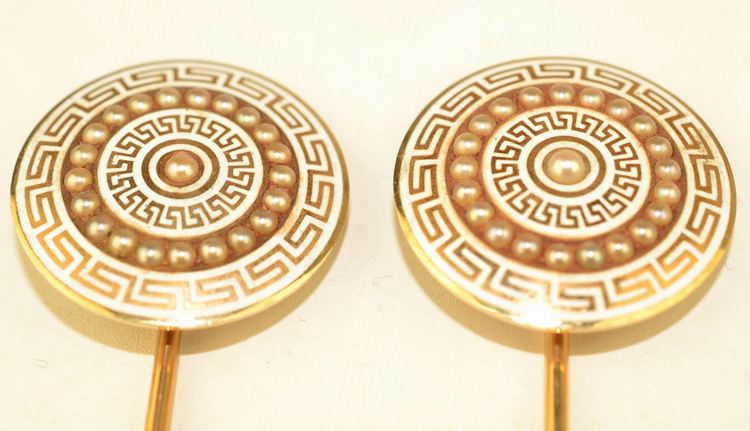 7. Signed Art Deco Riker Bros. 14K Gold, Enamel & Seed Pearl Hat Pin
The rare Riker Bros' hat pin dates back to the early 20th century. It has alternating black enamel and channel set seed pearl stripes. This hat pin is made of 14k yellow gold. Moreover, it has a round-cut pearl. The overall hat pin has a length of 7.01 inches and a width of 0.63 inches. The cost of this hatpin is $1850.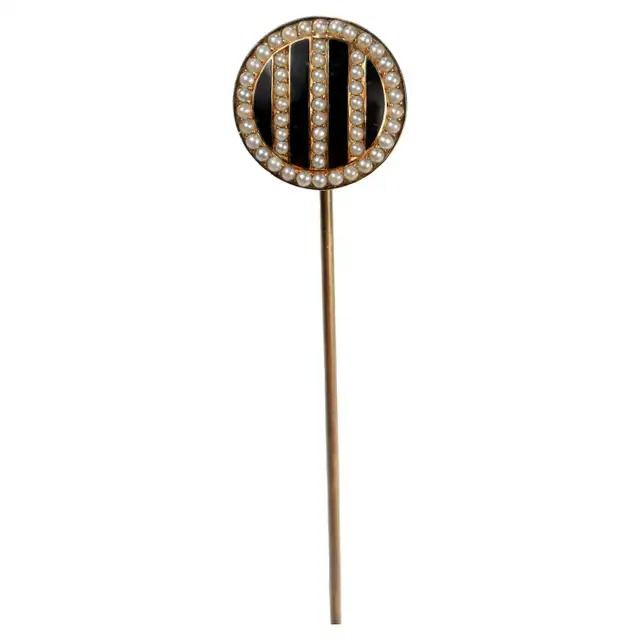 8. Antique Signed Sloan & Co 14K Gold Figural Bulldog Hat Pin with Ruby Eyes
This antique hat pin by Sloan & Co has a bulldog design with ruby cabochon eyes. It can be a wonderful gift for people who love dull dogs. It was made in the 20th century in the United States.
Furthermore, the makers have used 14k gold to make this hat pin. It has an Edwardian style with a length of 5.63 inches. The price of this hat pin is $1500.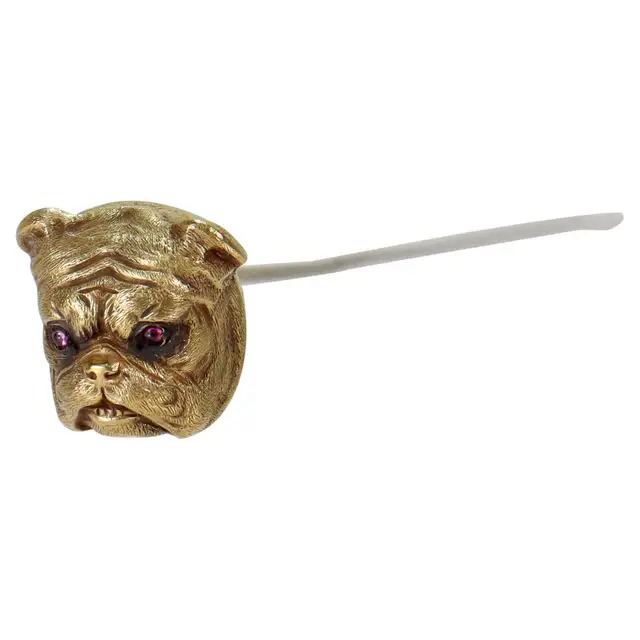 9. Victorian Aesthetic Movement Hat Pin
The Victorian Aesthetic Movement hat pin is made of 14k gold and has a deep green nephrite jade cabochon in an oval shape. Apart from this, the shaft is filled with gold, and on the sides, there is an Etruscan gold vine and berry ornamentation.
It is a production of the 1880s and has the Aesthetic Movement style. The cost of this antique hat pin is $1,450.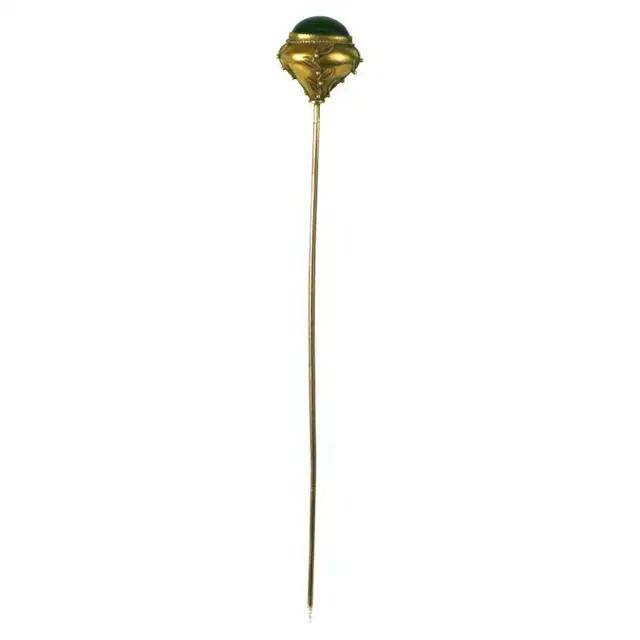 10. Antique Victorian 14k Yellow Gold Blue Enamel Guilloche Hat Pin
This antique hat pin is made of 14k yellow gold. Also, it is decorated with a diamond center and blue enamel guilloche. In length, it is 5 inches long and has a few scratches. It is available for $1,250.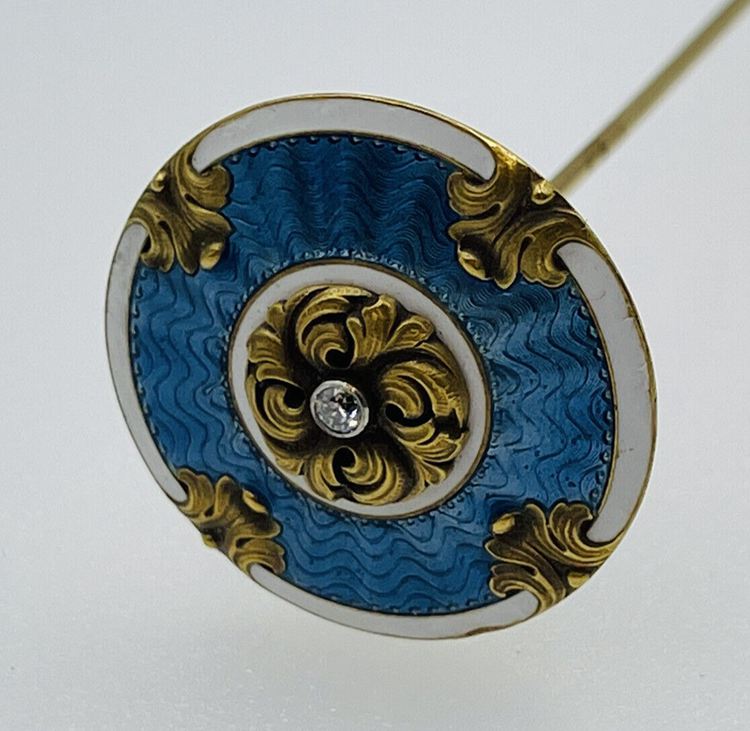 11. Edwardian Jade and Diamond Hat Pin
This exceptional-looking hat pin dates to the late 19th century. It has a Victorian style with a crown-like rose diamond setting on its base. The makers have used 14k gold along with a jade cabochon to make it.
In addition, its length is 6.75 inches and it is in good condition. Nevertheless, it has a few scratches due to its age. The price of this hat pin is $1,250.
12. 14 Karat Pearl Diamond Hat Pin
This stunning hat pin has two 3mm round prong-set diamonds, a 6mm round pearl, and one little accent diamond. The total weight of diamonds is 0.20ctw. Also, it is made of 2.0 grams of gold.
The length of this hat pin is 5.5 inches and was manufactured in the 1880s. The cost of this peal diamond hat pin is $936.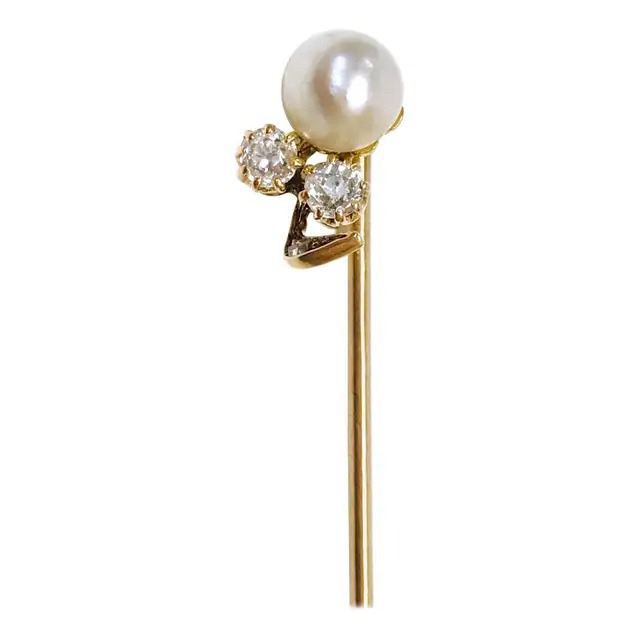 13. Antique Day Clark & Co 14k Yellow Gold Peridot Hat Pin
The manufacturer of this hat pin is Day, Clark, & Co. This antique piece has the original peridot on the top of its hat. It is 7 ½ inches in length and weighs 9.5 grams. Moreover, the material that is used in this hat pin is 14k gold. The cost of this hat pin is $750.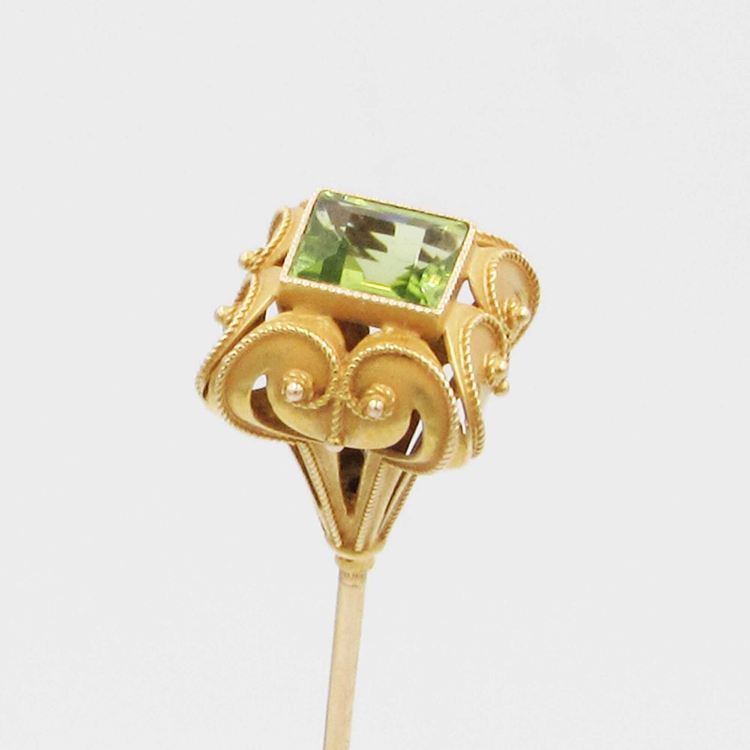 14. Victorian 18 Karat Yellow Gold Sky Blue Enamel Sword Hat Stick Pin
The makers have used 18k yellow gold and pale blue enamel to create this beautiful Victorian hat stick pin. It features a long sword design that is ornamented with an eagle pattern. Its length is 6 ½ inches and it belongs to France. The price of this hat pin is $750.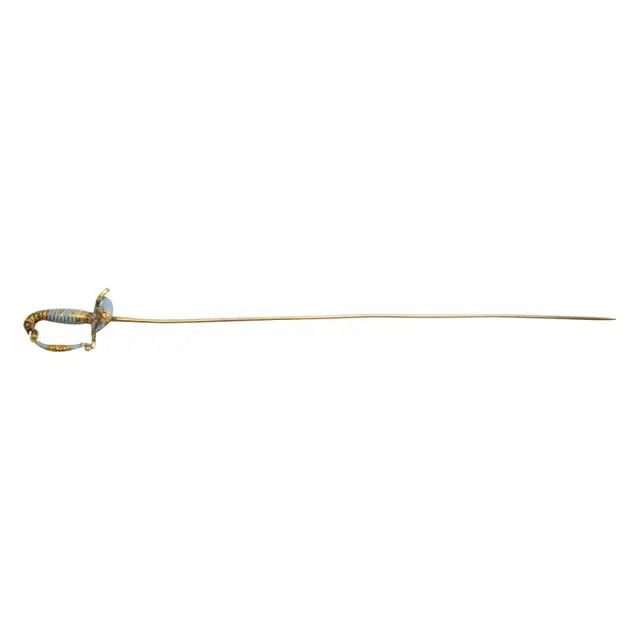 15. Rare Antique Carnival Glass Hat Pin Iridescent Lavender "Scarab Shell."
Another rare antique hat pin is the Carnival glass hat pin. The most prominent feature of this hat pin is its beautiful head shape. It is in good condition without any marks or scratches. It dates back to the late 18th and early 19th centuries. The total length of this hat pin is 9 ¾ inches. The estimated price of the Carnival glass hat pin is $729.99.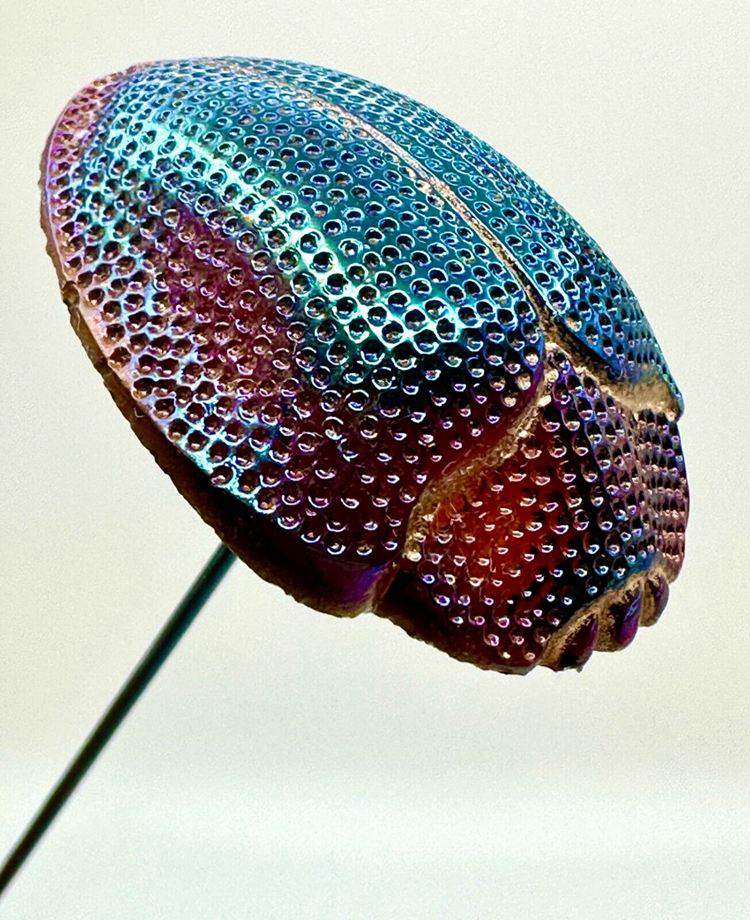 16. 14 Karat Antique Ruby Hat Pin
The 14-karat antique hat pin has a round 5mm ruby in the center of its head. The total weight of the ruby is 0.65ct with 1.6 grams of gold. It belongs to the late 19th century. However, its place of origin is unknown. Its length is 2.43 inches, and its cost is $680.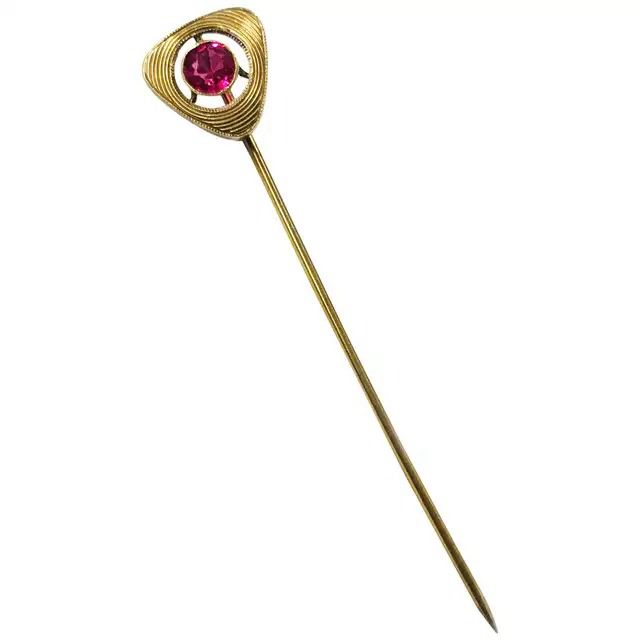 17. 14k Enamel Flower Hat Pin
This impressive hat pin features an enamel flower with 14 karat gold. The top part has a hinge for rotation. Moreover, the length of this pin is 6 inches. Although it is used, it is in spotless condition. This piece is available for $675.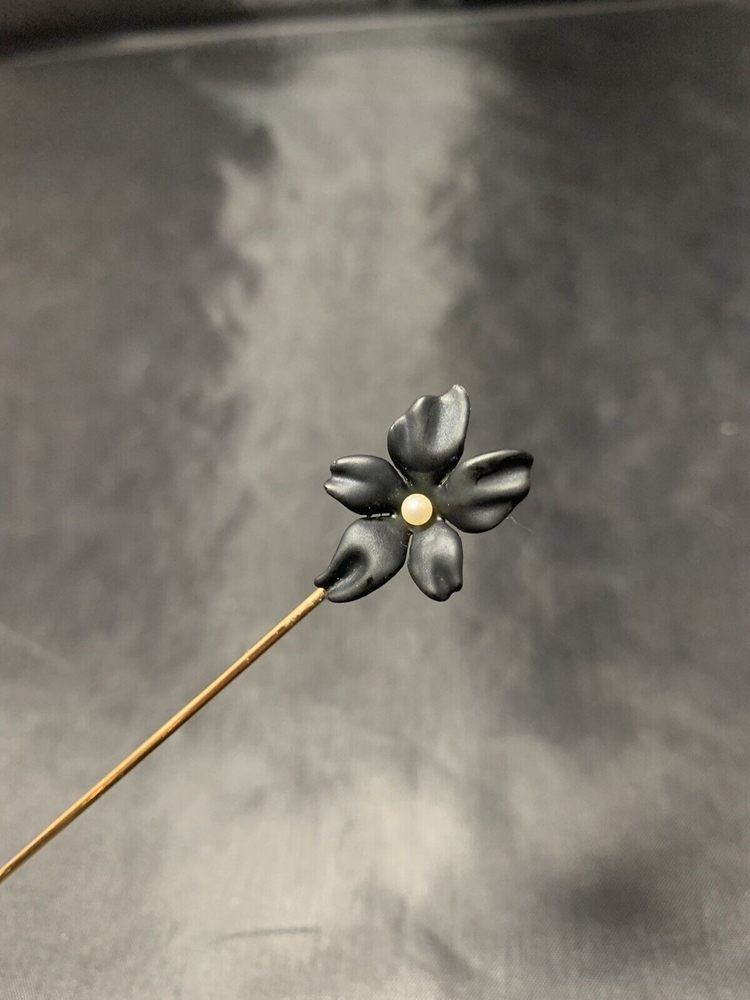 18. Golden Hat Pin with Little Brilliants and Crown
This hat pin gives you royal feelings, as it has a beautiful crown on its head. It dates back to late 19th century Italy. Moreover, the thing that makes it different from other hat pins is that it is handmade.
Apart from this, it features the mark "R E." You can purchase it for $599.74.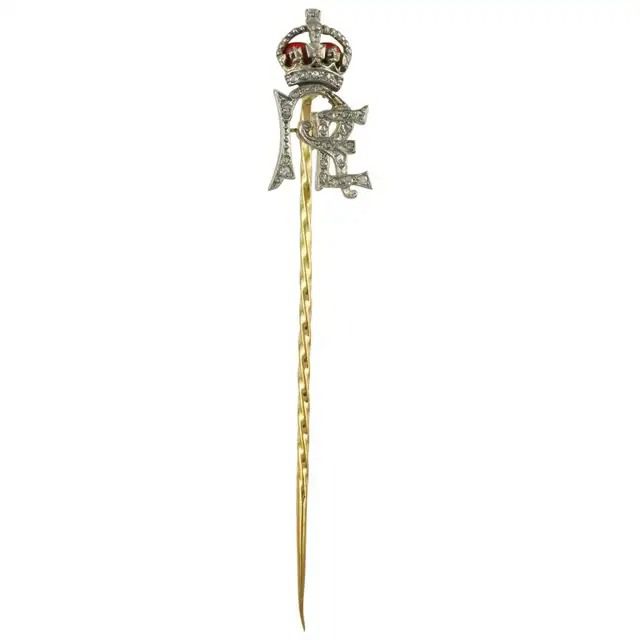 19. Rare 7" Antique Art Nouveau 14k Gold & Amethyst Hat Pin
The last hat pin on our list is the Rare 7" Antique Art Nouveau hat pin. It features an amethyst stone on the hat pin. The total weight of this hat pin is around 8.5 grams. This hat pin is available for $595.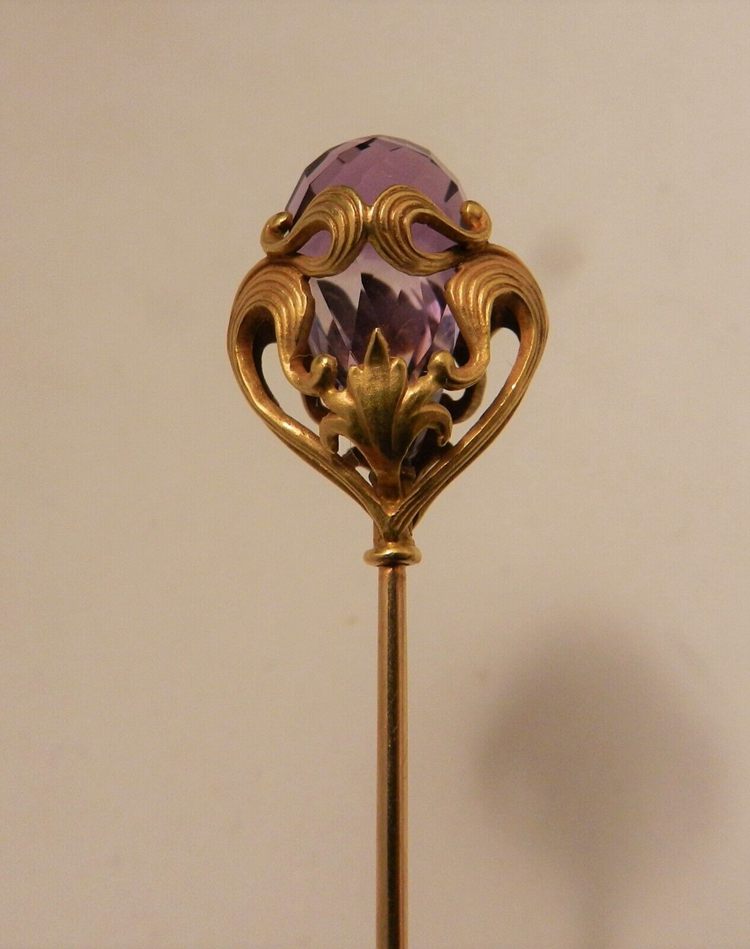 Conclusion
Hat pins are small in size, but they make excellent gifts for those who love to collect them. These hat pins were widely used in the 18th and 19th centuries and were made of precious materials, such as gold, with beautiful rhinestones. Due to this reason, they are rare and valuable.
If you want to purchase a precious hat pin, you can select one from this guide. Moreover, before picking up any hat pin, make sure to learn the hat pin types and other essential tips to identify an authentic hat pin.
So, the next time you stumble upon a sewing box in your attic that once belonged to your grandma, make sure you shake up the contents well before getting rid of it. Who knows, you might be in for a fortune!