Antique dishes remain relevant even till this day. From diligently serving the dining tables of the high and mighty back in the day to being prized possession today; these beautiful decorative pieces are worth collecting.
The German soup tureen, a special antique dish created for King Louis XV of France was auctioned off for $10 million at a Sotheby's auction in New York. This makes the dish the most expensive piece of silverware ever sold in history.
Here we'll show you how to determine the value of antique dishes. But first, let's explore the varieties of antique dishes available in the world today and their values.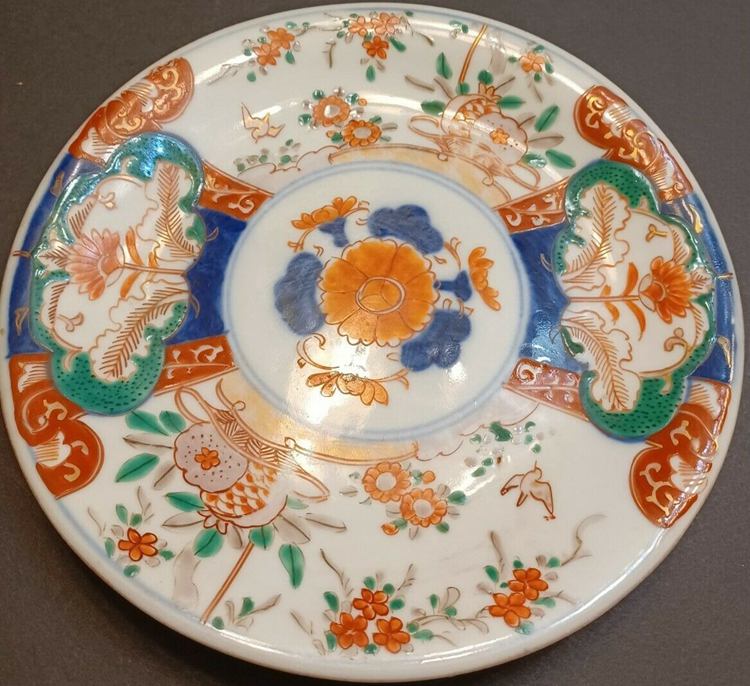 The Different Types of Antique Dishes
Put together in this section are the variety of antique dishes and their origin.
Porcelain
The majority of antique dishes are made from porcelain, they have varying prices, value, beauty, not to mention that the endless variety and quality available make them the perfect collectible. Porcelain dishes represent a piece of history that will never fade out of style or demand.
Glassware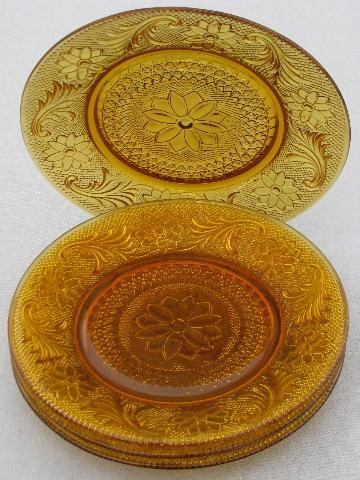 Unlike Porcelain, Glassware aging is not as pleasant. However, nothing changes the fact that they're still very special.
The most expensive piece of glassware was purchased at an auction after over 1700 years of existence. A phone bidder purchased the Constable Maxwell Cage-Cup (an oil lamp) at a Bonhams auction for a whopping £2,646,650.00.
One type of glassware that is highly sought after is the Depression-era glassware. Collectors love them for their exceptionally catchy hues and shapes.
Depression era glassware exists in green, pink, blue, purple, amber, and many more rare colors and will add the needed burst of color to your collection any time of the day.
Creamware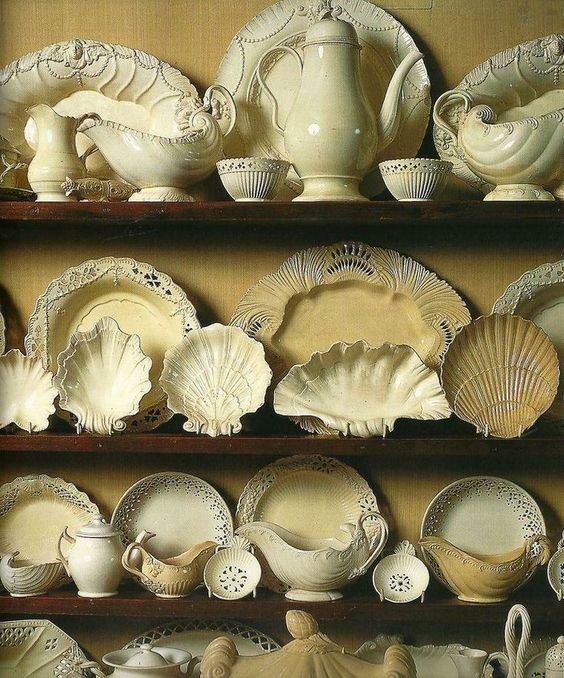 They're a variant of earthenware but with a unique cream color. A transparent glaze is used to make the plate; this allows the natural cream hue of the ware to shine brightly. Creamware are suitable for regular use and boast high durability without being too pricey.
Silverware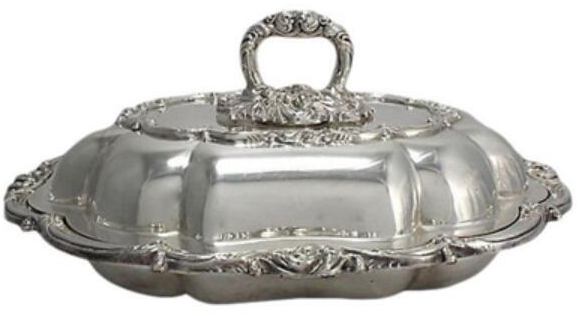 Here's where the real money is.
The most expensive piece of silverware and of course still the most expensive antique dish ever sold is the German soup tureen custom-made for King Louis XV of France.
Silverware pieces can last for decades, while retaining their shine. In fact, it's safe to say that antique dishes are at their finest when they come in the form of silver.
There's just something so regal about them which is why they're the favorite pick for the tables of the high and mighty.
Stoneware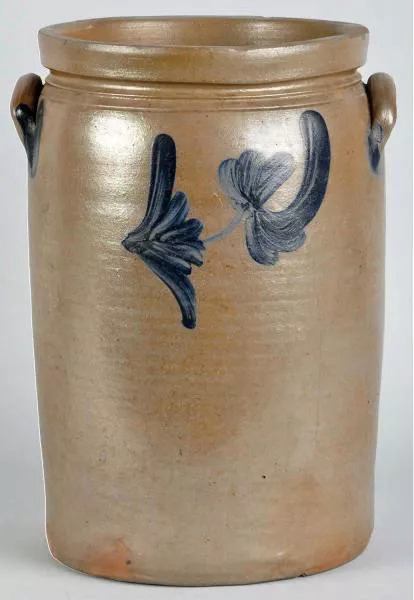 Stoneware plates are generally waterproof because they pass through a high temperature furnace while being produced.
The glaziers in stoneware contain three main elements- salt, lead, and feldspathic glazes. They're non-translucent, impassable, and weightier than other antique dishware.
Earthenware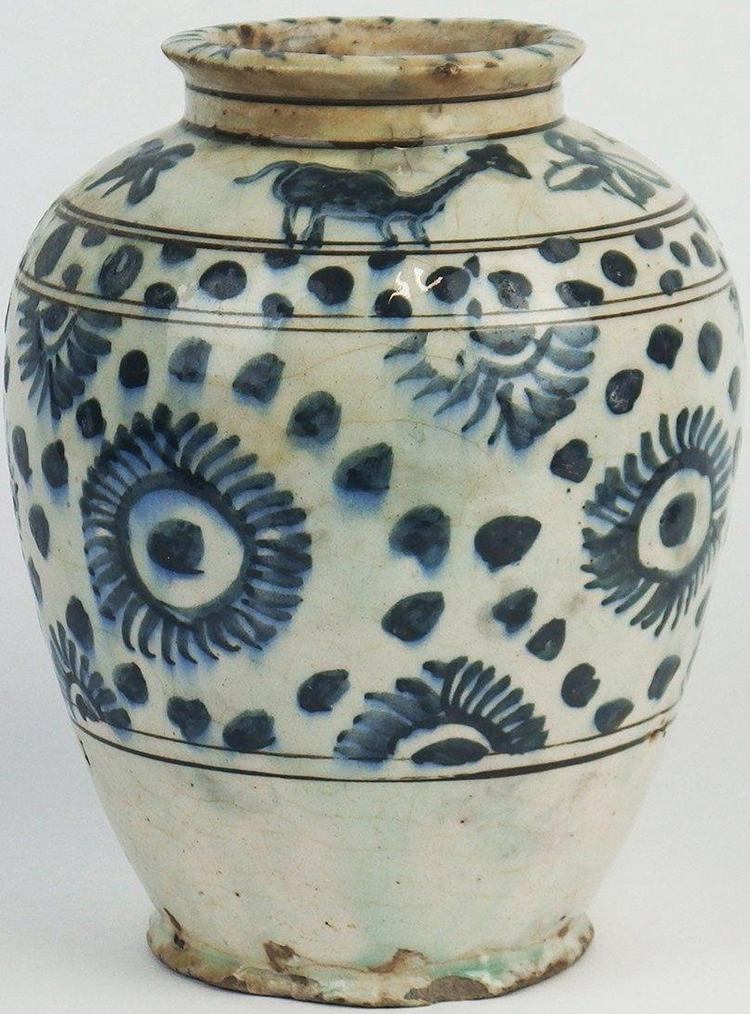 Earthenware bears a striking similarity with stoneware, however, there is one difference and this is that they're a bit coarser and have a glaze finish that allows artisans to put extra details and designs they like on them.
They exist in solid colors and are durable, making them suitable for home and table use. To cap it all, they're super affordable.
China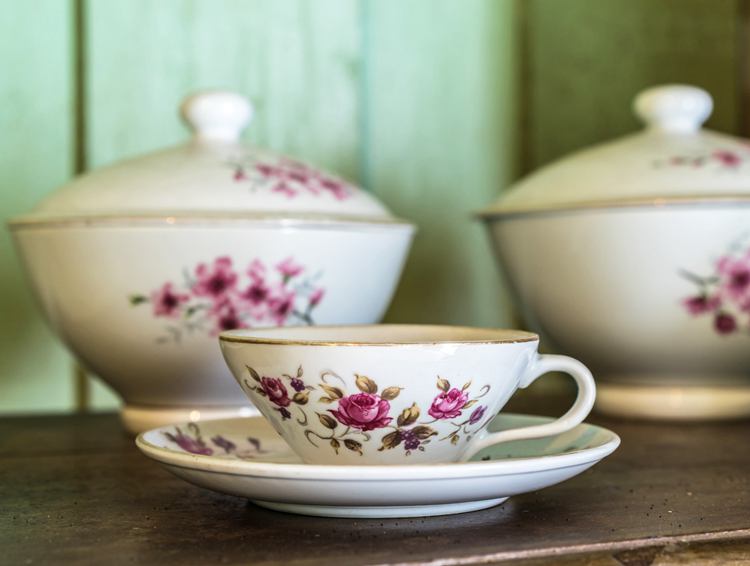 These plates are so special that people only bring them out during special parties. In addition to this, their unique styles and delicate nature make them useful as decorative pieces. Below are some popular chinaware varieties.
Bone China
Here we have dishes made from calcified bones of some animals, burned, and turned into powder to create dishes. These dishes are also easily identifiable by their characteristic white hue.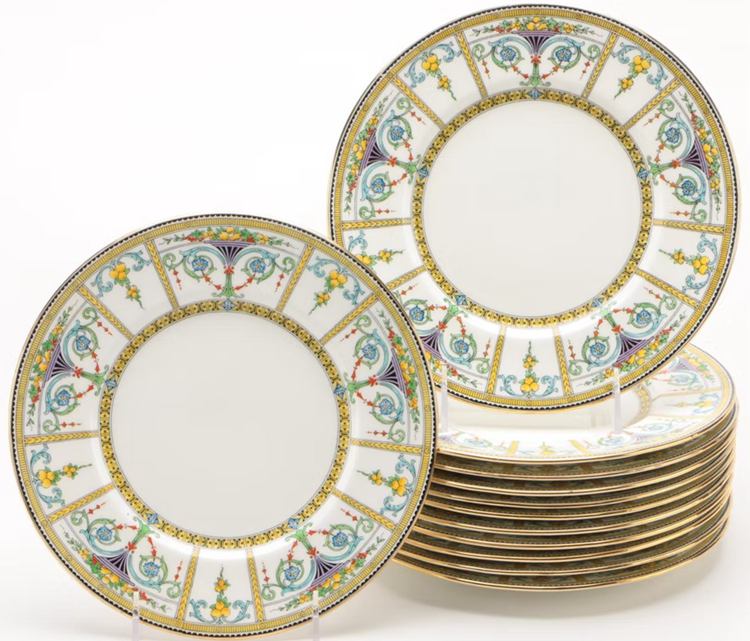 Fine China
Fine China is the most fragile type of China available. However, it does have a characteristic beauty that's highly admired. Also, apart from being an excellent dinnerware item, it can also beautifully decorate any space.
Dishes made of fine China are pricey and should be handled with utmost care.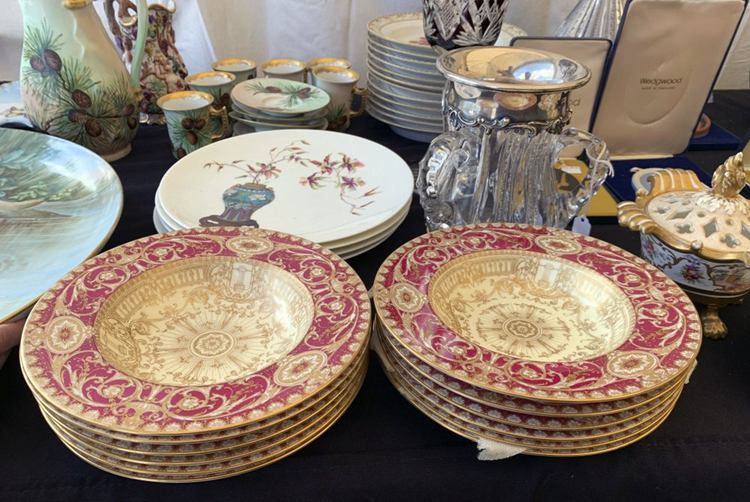 Blue and White Transferware
The production of transferware did not begin until 1750, but when production began this chinaware variety featured continuous pattern variations and a classic look.
Artists first put their designs on copper plates and used the heat to move the image on thin paper. They transferred the paper to a piece of pottery and baked it in a low-temperature kiln.
Till today, transferware remains one of antique collectors' most sought-after dishware and patterns.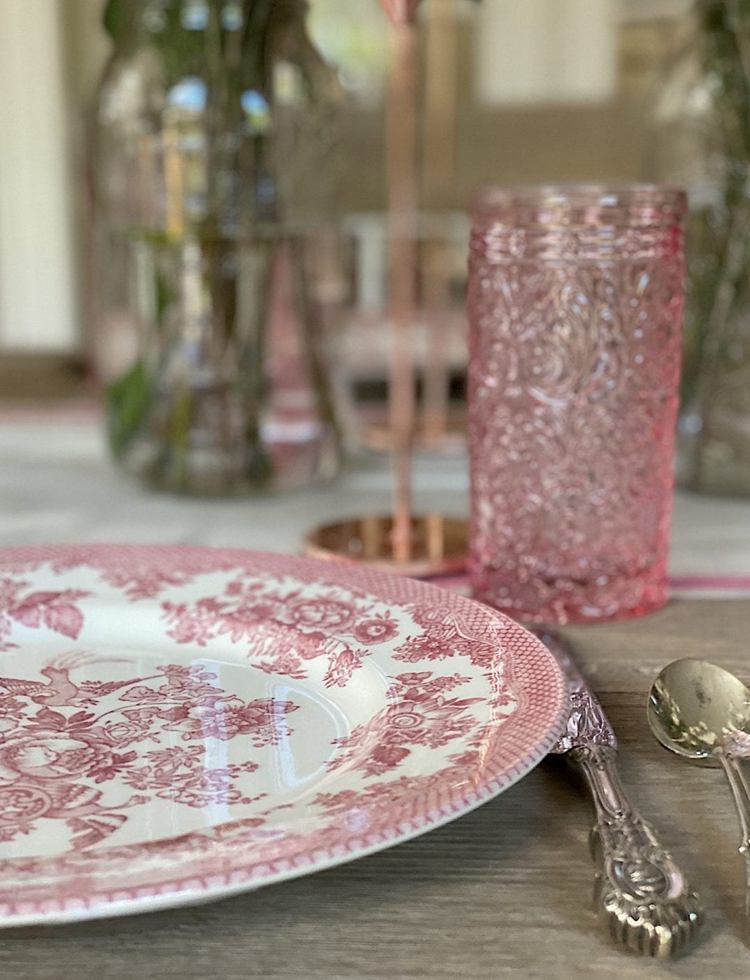 15 Most Valuable Antique Dishes Ever Sold
Here's a list of the most valuable dishes in the world. The figures and items here are independently curated from verified stores, antique websites and auction houses.
| | | | |
| --- | --- | --- | --- |
| S/N |  Name | Release Date | Price |
| 1 | Qing Dynasty Porcelain | 1644 | $84 Million |
| 2 |  Ru Guanyo Brush Washer Bowl | 960-1127 | $37.68 Million |
| 3 | Blue and White Porcelain Bowl | 1426-1435 | $29.2 Million |
| 4 | Blood Red Porcelain Lotus Bowl | 1662-1722 | $11.11 Million |
| 5 | Germain Soup Tureen | 1733 | $10.2 Million |
| 6 | Copper-Red Ming Vase | 1368-1644 | $10 Million |
| 7 | Joseon Baekje Porcelain | 1392 | $4.2 Million |
| 8 | Yongle Period Blue and White Floral Bowl | 1403-1424 | $721,800 |
| 9 | Royal Copenhagen Flora Danica | 1761 | $62,500 |
| 10 | Meissen Armorial Coronation Service Circular Dish | 1733-34 | $20,436 |
| 11 | Madame Du Barry Sèvres Plate | 1770 | $15,048 |
| 12 | Limoges Porcelain Coral Dinner Set | 1781 | $11,875 |
| 13 | Sevres | 1787 | $7,600 |
| 14 | Wedgwood Florentine Patterned Dinner | 1770 | $2,007 |
| 15 | Bing and Grondahl Christmas Plate | 1898 | $440 |
1. Qing Dynasty Porcelain
Release Date: 1644
Price: $84 Million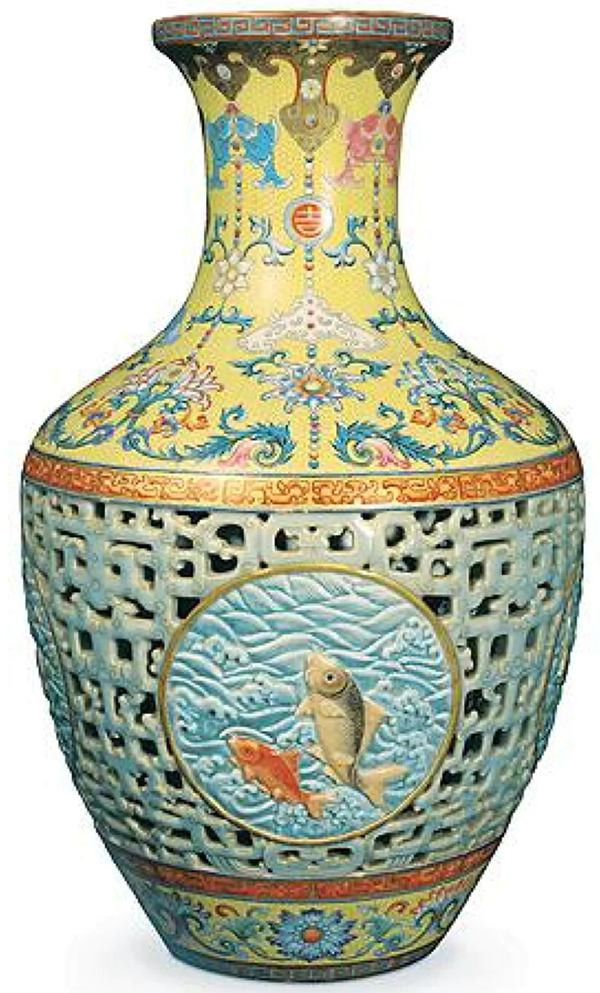 When you talk about dinner sets reserved for the nobles of China, then this Qing dynasty porcelain must come up. Due to its tasteful design many commoners could not afford it.
The materials used in making the dish were of the highest quality and when you lift this dish, you'll feel its heavyweight. This is mainly attributed to the bone ash in the fine China used to make it.
2. Ru Guanyo Brush Washer Bowl
Release Date: 960-1127
Price: $37.68 million
This 900 years old turquoise ceramic brush washer bowl is rare. It is a perfect representation of China's delicate and unique artistry.
Featured on this piece is a prominent turquoise glazed finish that looks like ice crackles. It also has three sesame seed depressions showing where it rested on kiln supports during production.
According to history, the old Northern Song dynasty (960-1127) created the rare dish from the most popular of the five most famous kilns.
The kiln had a lifespan of more than 20 years, and the ceramics it created are the rarest and most desirable to date. This has given this bowl a near-mythical existence throughout China and Asia.
3. Blue and White Porcelain Bowl
Release Date: 1426-1435
Price: $29.2Million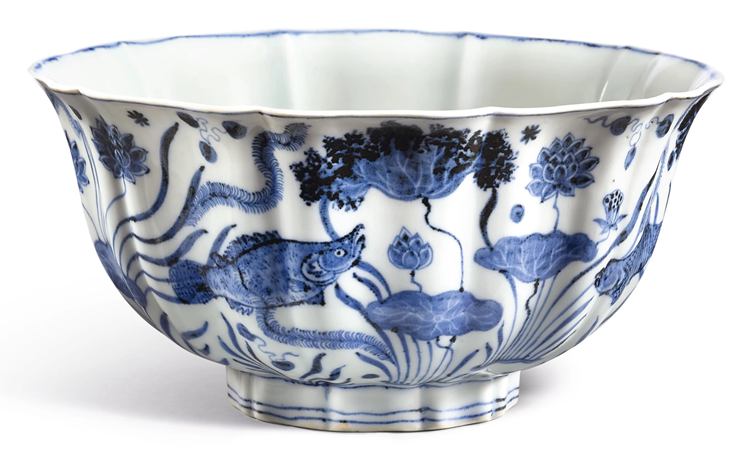 This is perhaps the most common pattern of dinner sets ever made and we are pretty sure you'd find this pattern in practically every American home.
One question you should ask though is where did this blue color come from?
Well, it's gotten from cobalt oxide; the major element used to achieve the tasteful details. Cobalt oxide is pricier than even gold, earning the dish a top spot.
You also should know that this fish pond bowl was created in the Xuande period. Its blue and white style had so much influence that the Europeans adopted and used it on their transferware to make it affordable for the common people.
4. Blood Red Porcelain Lotus Bowl
Release Date: 1662-1722
Price: $11.11 million
According to the old Chinese legend, red represents happiness, joy, and a state of purity. Blood red porcelain was discovered around 618 in the Tang dynasty.
The process involved in the production of this plate is a tedious one, as high-quality materials and great skills were needed to yield the quality results.
Since Blood red porcelain production was stopped during the Qing Dynasty, any piece you find today is as rare as rare can be.
It's no wonder that this Kangxi-era Lotus Blood Red Lotus Porcelain Bowl from the 17th century was acquired for $9.5 million at a Sotheby's auction.
5. Copper-Red Ming Vase
Release Date: 1368-1644
Price: $10 million
You'll find rare materials like Agate, Pearls, Jade, and other uncommon elements in these p, making them extremely expensive and available to a select few.
Artisans added a cobalt-blue hue known as the Qinghua to the inner corners of the dishes to make them special.
The pear-shaped Ming vase was designed with a peony scroll and is the only copper-red vase that made it out of the Ming dynasty in a perfect condition. Funnily the previous owners were a Scottish couple who only used it as a torch.
Watch this video to view the auction.
6. Germain Soup Tureen
Release Date: 1733
Price: $10.2 million
This was the most expensive piece ever sold in the history of Silverware. The tureen was customized for King Louis XV of France by Thomas Germain and was auctioned at a sale in New York.
7.Joseon Baekje Porcelain
Release Date: 1392
Price: $4.2 million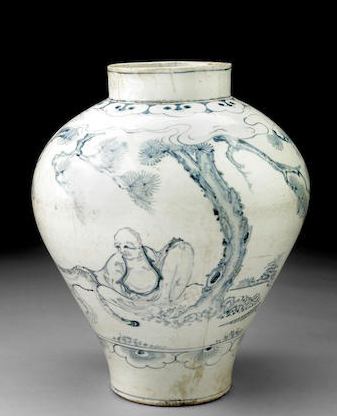 The Joseon Dynasty birthed the Korean-style porcelain antique dishware and ever since then it has become one of the oldest porcelain items existing for over five centuries.
One spectacular feature of Joseon Baekje dishes is minimalistic designs with a neutral color application. Also, it is not unusual to find stains of cobalt blue on the bodies and white porcelain style.
8. Yongle Period Blue and White Floral Bowl
Release Date: 1403-1424
Price: $721,800
This bowl originated from the Ming dynasty during the Yongle period. It is molded in the shape of a lotus bud and has rounded sides with visible depth and a pointed base resting elegantly on a narrow foot.
News has it that a man bought the Chinese bowl for $35 at a flea market in Connecticut and in May 2021, this same bowl sold for $721,800 at a Sotheby's auction.
9. Royal Copenhagen Flora Danica
Release Date: 1761
Price: $62,500
This collection is everyone's favorite for so many reasons. One of these reasons is that the floral details were hand-painted in homage to the Danish Flowers and they featured gold detailing, which added to its bright appearance.
The first set of this collection contained 1,082 pieces made specially for the Russian empress Catherine II. They were a gift from king Fredrick V of Denmark.
To this day, this antique dish collection is still in production; however, it is made on an order basis only.
10. Meissen Armorial Coronation Service Circular Dish
Release Date: 1733-34
Price: $20,436
Meissen dishes are of German descent and were created by Augustus the Strong in 1710 after the process involved in making hard-paste porcelain was discovered.
This particular Meissen plate is rare and belongs to th-9- coronation service collection. It featured a painted center with the quarter arm of Saxony and Poland.
11. Madame Du Barry Sèvres Plate
Release Date: c. 1770
Price: $15,048
This plate is decorated with a monogram image of the letter D and the Letter B in floral details for Madame Du Barry. It sold for $15,102 at a Woolley and Wallis auction.
12. Limoges Porcelain Coral Dinner Set
Release Date: 1781
Price: $11,875
One thing that gives Limoges away is their delicate floral patterns and adoption of bright pastel hues.
These fancy French dishes are made from Kaolinite and they are so elegant that a right eye would immediately spot the difference between this and any recreated Limoges piece.
This Limoges dinner service set was sold for an impressive $17,000 and designed by Alberto Pinto in modern coral printed patterns.
13. Sevres
Release Date: 1787
Price: $7,600
These plates have so much history and artistic prowess to them. They were launched by King Louis XV when he created a factory at Chateau de Vincennes. However, later in 1758, he relocated production to Sevres.
Sevres was widely purchased around France by his nobles to find his favors. This type of dish is very valuable, with a deep-rooted origin in the hall of French history.
This antique brown Sevres plate is from the comte d'Aranda service and is painted with a bunch of flowers and fruits circled by three glit bands.
14. Wedgwood Florentine Patterned Dinner and Tea Set
Release Date: 1770
Price Sold: $2,007
The company was created in the 1800s by Josiah Wedgewood, a prolific marketer. He presented his dishes in catalogs, built a London showroom, gathered endorsements from influential customers, and acquired designs from popular artists.
This dinner set has the most striking colors of blue in a floral pattern and brown accents to compliment the prominent shade. You'll find dishes, bowls, ewer, saucers, and teacups in the group.
15. Bing and Grondahl Christmas Plate
Release Date: 1898
Price Sold: $440
The Danish porcelain company is popular for its pastel blue seagull dishes and increased fame when the National Service of Denmark adopted the tea sets. One out of 8 Danish families owned at least one of these tea sets back in the day.
The 1898 "Christmas Roses and Christmas Star" Christmas Plate above was designed by Fanny Garde.
How to Determine if My Antique Dishes Have Any Value?
You never truly know the worth of your antique dish until you've carried out the things listed below.
Check out this video for a better illustration.
Condition is Everything
Your dishes must be in great condition, void of stains, chips, craps, and blemishes.
Any disfigurement means your item will be underappreciated, and you're likely not to get the necessary value for your money.
However, do note that some dishes have marks caused by aging and flea bites. This does not reduce the value in any way as there's no damage done.
Age
The older your dish is, the rarer it may be and the better its value.
If you own any early 18th-century dish, you'd sell it for a special price if you ever decide to. This surge in price is due to their delicate nature and the impressive artistry adopted during their making.
Pattern or Design
The pattern on a plate goes a long way in determining its value. Designs telling a story or celebrating a course are heavily demanded after by collectors and buyers.
Don't just leave that dish on the shelf, take an extra step and conduct research on the design and patterns on them to get more information.
Contact an Appraiser
You can engage the services of an appraiser to help you take a thorough look at your dish, then use the facts and figures to determine a price and place a value on the item. They can also help you confirm if the ware is rare or not.
Watch this video to see an appraiser at work.
Check Online Stores, Books, and Guides
Tons of books and value guides can help you compare prices, do research and study the values of past antique dishes to determine the worth of your antique piece.
Preference Matters
Like every collectible item out there, antique dishes are what a buyer calls it and their beauty is all in the eyes of the beholder.
A person will place optimum value on what they choose, which is the same for antique dishes. If the buyer likes a particular piece, it doesn't matter how rare or common it is; the value instantly appreciates.
Where is Your Dish From?
Chinaware and glassware produced in America or England attract more interest. You're probably wondering why. Well, this is because overtime, these regions have built a reputation for procuring top quality items made with the best of materials.
Chinaware, rolled out after the civil war, usually has marks on the back of each item to indicate the country of origin. Bone China from England has a crown embossment at the back to help with easy identification.
For example, the Dansk's Christianshavn Blue dish made in Portugal is more valuable than the one made in Thailand.
Rarity
Limited edition plates and special runs belong to this category. They are highly sought after because they're not readily available or in circulation like most regular models. Hence, the harder it is to find a plate, the more expensive it gets.
Where to Sell Antique Dishes?
The following places are the best options to pick should you ever want to sell your antique dishes.
Antique Stores
The beauty of antique stores is that it allows buyers to physically examine your items and make their choices void of pressure while assuring unbeatable quality. It also saves you the stress of paying for long-distance delivery.
So, if you have a collection of antique dishes lying fallow in your pantry or basement, you can head to an antique store near you and place them for sale.
Flea Markets, Estate Sales
Antique dishes are sold for incredibly lower prices at the flea market and estate sales. This is majorly because they belong to individuals who need the money desperately or don't know the true value of what they own.
Online Stores
Platforms like eBay, Etsy, Amazon, Walmart, and 1st Dibs usually have sections where you can put your antique dishes up for sale. An advantage of these online channels is that they market your product to a wide range of audiences and help boost sales.
Auctions
Antique dishes are sold at auctions. You'll often find limited edition pieces brought there by their owners or collectors to sell. So next time you're looking to sell your antique dish(es), look for the nearest auction and work.
To make it easy, here's a list of places you can sell your pieces:
Additional Online Resources
Here's a list of additional online resources you can consult if you seek more information on antique dishes.
Parting Words
We are sure we've awakened your curiosity in you with this article. As you begin your antique dishes collecting journey, here're a few points to live by to ensure a successful hunt.
Age is an important factor. The older your dish is, the more valuable it's likely to be.
Avoid dishwashers when dealing with old antique dishes; they may break or lose their patterns.
Some items are too precious to be used daily, identify them and store them accordingly.
The safest and surest means to confirm the value of your antique dish is to consult an appraiser.