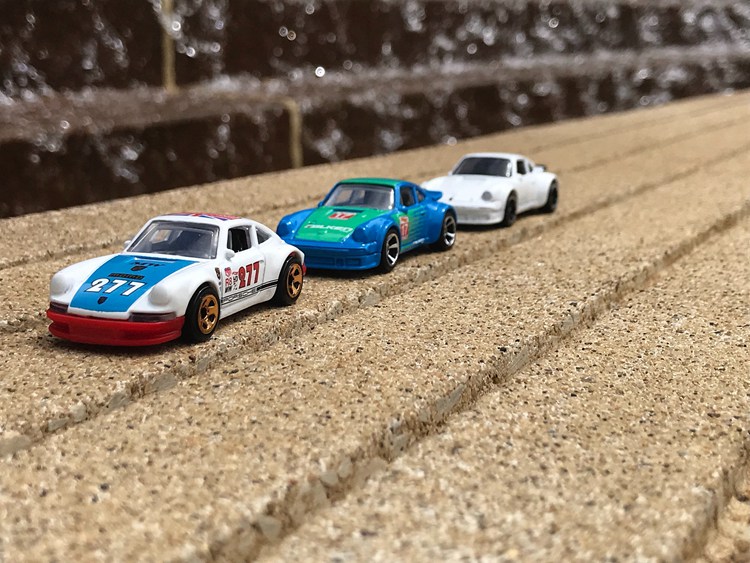 Mattel's Hot Wheels die-cast toy cars revolutionized toy making by creating toys appealing to all generations. In 2018, when the company celebrated 40 years of Hot Wheels, a renewed interest in the hot wheel collection was reborn.
Did you know that a real estate agent, Bruce Pascal, owns a Pink Rear Loading Beach Bomb, which sold for $100,000 per Fatherly? However, it's now valued at $75,000 more. Sit tight, we'll explain why it sold for that much later.
What makes Hot Wheels stand out from other models? Why are some car toys worth as much as a new Lamborghini or more? We'll answer all your questions and more, including how you can identify original Hot Wheels cars and the process of valuing them.
Let's start with a brief history to help you appreciate the value of a vintage Hot Wheels car.
History of Hot Wheel Cars
In 1968, American toy maker Mattel, famous for its Barbie dolls, introduced a new collection of toys into the market – Hot Wheels die-cast 1:64 cars. They started as children's toys but soon became an adult favorite due to Mattel's choice of using popular luxurious cars as models.
Elliot Handler and his wife, Ruth, who started Mattel Toy Inc., created their toys after seeing their children play with other brands. For Elliot, his son's fiddling with the then-popular Matchbox cars inspired him to create a competing model that was better and preferred.
His first point of call was to fashion the new cars like hot rods, making them like the original fantasy cars as much as possible.
This design gave Hot Wheels cars an edge over Matchbox since the latter brand focused on production cars.
In 1968, Handler manufactured the first hot wheels car, The Sweet 16. The Sweet 16 earned its name because it contained 16 models in the collection, and as the inaugural set, they're worth a pretty penny in today's market.
The original Hot Wheels cars logo came in a bright red shade with a flame paint job on the side and matching red pinstripes on each tire.
The 17 Most Expensive Hot Wheels Ever Sold
| | | | |
| --- | --- | --- | --- |
| No. | Hot Wheels Model | Year | Current Estimated Value/Price |
| 1 | Pink Volkswagen Beach Bomb (Rear Loading) | 1968 | $175,000 |
| 2 | Diamond-Encrusted Custom Otto | 2008 | $100,000 |
| 3 | Tesla Cybertruck Signed Edition | 2021 | $50,000 |
| 4 | Over Chrome Mustang | 1968 | $40,000 |
| 5 | Over Chrome Camaro | 1968 | $25,000 |
| 6 | 'Mad Maverick' Base Mighty Maverick | 1970 | $15,000 |
| 7 | Hot Pink Beatnik Bandit | 1968 | $15,000 |
| 8 | Brown Custom Charger | 1969 | $13,000 |
| 9 | Purple Olds 442 | 1971 | $12,000 |
| 10 | Ed Shaver Blue AMX | 1969 | $10,000 |
| 11 | "Cheetah Base" Python | 1968 | $10,000 |
| 12 | Blue Rodger Dodger | 1974 | $8,000 |
| 13 | Brown Woody '31 | 1969 | $8,000 |
| 14 | Red Baron with White Interior | 1969 | $7,500 |
| 15 | Purple Spectraflame Bye Focal | 1971 | $6,000 |
| 16 | Red Ferrari 312P | 1970 | $5,000 |
| 17 | Green Open Fire | 1972 | $4,000 |
Here's a comprehensive list of the most expensive hot wheels cars worldwide based on Car and Driver, Wealthy Gorilla, Complete Set, and Hot Cars, all reputable die-cast car sellers.
1. 1969 Pink Volkswagen Beach Bomb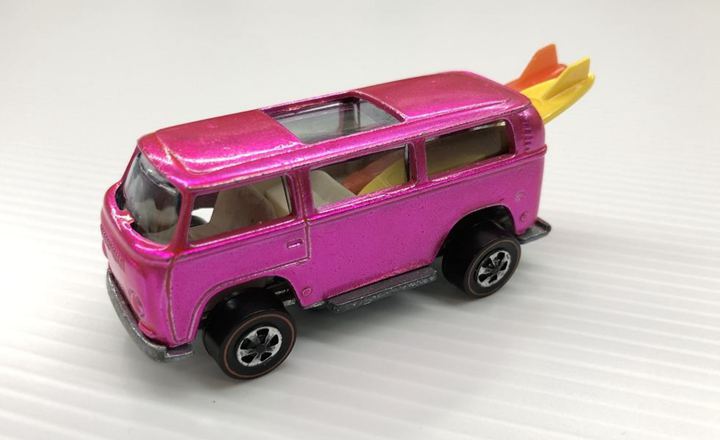 Finally, we're talking about the king of expensive Hot Wheels Cars, the number one model you've seen hints of from the beginning of this guide. The 1969 Pink Beach Bomb is a rare Hot Wheels model because it was a prototype.
Only two models made in pink entered into circulation, one of which belongs to Bruce Pascal, a Hot Wheels hobbyist with over 6,000 pieces in his private collection.
Mattel realized the rear loading Volkswagen beach bomb prototype was too narrow with a weak top, so it never went into the market. It had two surfboards loaded behind through the rear window.
However, the revised version that entered the market had side-mounted surfboards shifting the pressure from the top and allowing it to have a full-length plastic sunroof and plastic side windows.
2. 2008 Diamond-Encrusted Custom Otto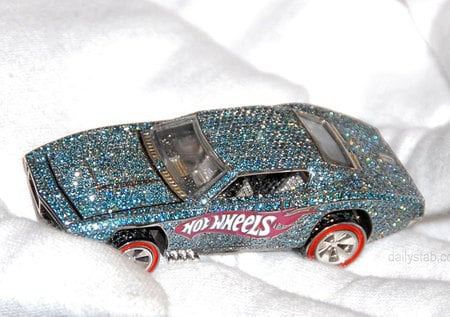 Seeing "diamond" in its description should've been a giveaway, but that's not the only appreciating factor of this Hot Wheels car. Mattel designed it with 18-karat white gold and 2,700 diamond encrusting as a commemorative piece for its 40th anniversary in 2008.
Although its original value was $140,000, it sold for less than half at $60,000 and held a current value of $100,000. Diamond-encrusted custom Otto includes red rubies on the taillight and has an accompanying diamond-encrusted casing.
3. Tesla Cybertruck Signed Edition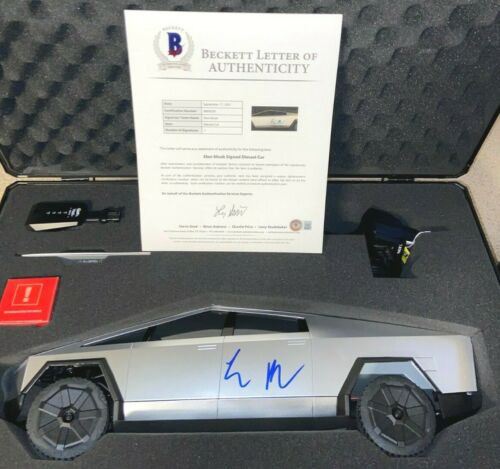 Merge a modern Hot Wheels car design with the signature of the richest man in the world, and we have a collectible gem on our hands. In 2021, Elon Musk signed a Mattel Hot Wheels Tesla Cybertruck adding to its value.
This model still has its protective case and a CoA (Certificate of Authenticity) adding to its appeal and value hence the premium of $49,999.
4. 1968 Over Chrome Mustang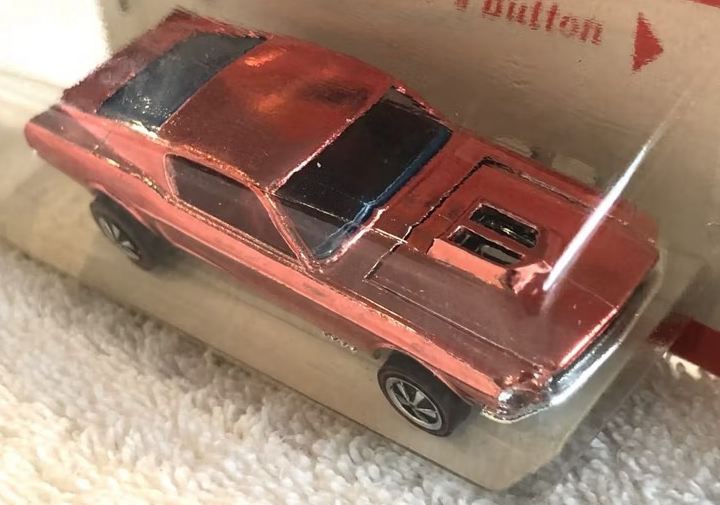 Only 16 – 20 of over chrome models were produced, and this 1968 over chrome Mustang came in two colors, gold and rose gold, otherwise qualified as a watermelon pink. The company made them strictly for advertisement hence the limited number.
This model belongs to Ralph Antone, who picked it up from a private collection at a trailer park Estate Sale.
5. 1968 Over Chrome Camaro
Mattel designed the 1968 Over Chrome Camaro as an advertisement piece just like the Over Chrome Mustang. They were limited-edition models and had unique paint jobs of yellow gold over chrome, making them highly valuable.
The 1968 over chrome Camaro was an antifreeze model purposely designed to shine, making them stand out from other commercial toys.
6. 1970 'mad maverick' base mighty maverick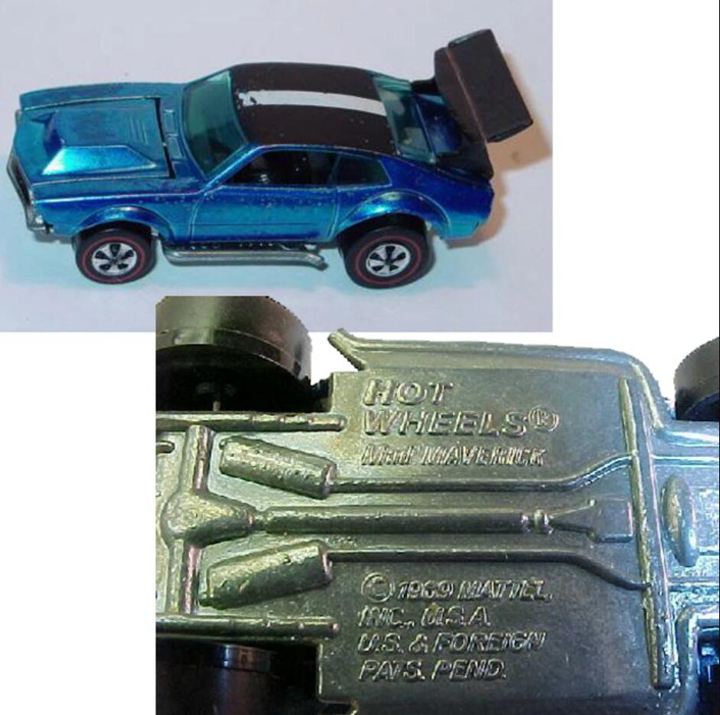 Mattel made the 1970 Mad Maverick designed by Howard Rees to compete with Johnny Lightning toys, and its production lasted 7 years.
The Hot Wheels car became a public hit because it was fashioned after the real-life 1969 Ford Maverick, but these rare models became collectors' favorites due to their base.
When Mattel started dealing with copyright problems, it changed the name to Mighty Maverick. Hence all the pre-released models with the Mad Maverick base became rare and highly valuable.
The Mad Maverick prototype had four colors – two in blue, one in purple, and a final unfinished piece (unassembled with no paint.)
7. 1968 Hot Pink Beatnik bandit

We're talking specifically of the Hong Kong edition when we mention the Hot Pink Beatnik Bandit model. The unique die-cast car had a bubble dome, joystick instead of a steering wheel, and a silver engine poking out of the extended hood.
The company designed the Beatnik Bandit in the fashion of Rat Fink's Big Daddy, real name, Ed Roth's real car of the same name.
Mattel designed it in 18 colorways, including a signature Barbie hot pink hoping to capture the little girls' market. Unfortunately, it didn't make the target. So, Mattel axed its production, and it became a rare find.
8. 1969 Brown Custom Charger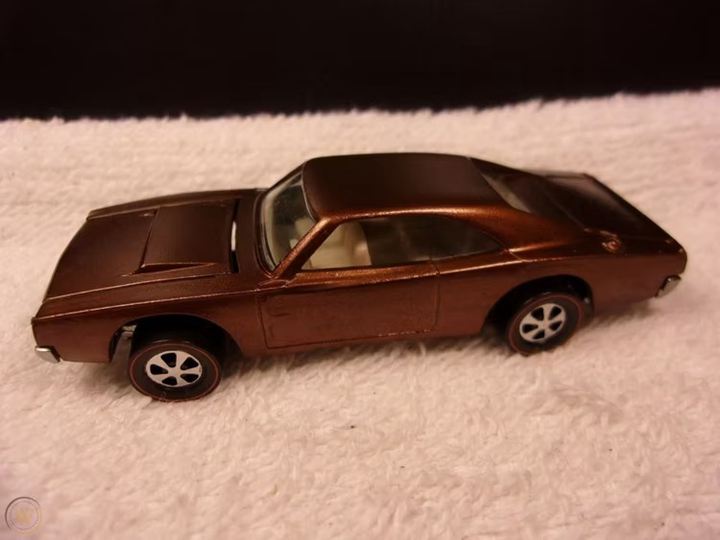 There's no shortage of Hot Wheels Dodge Custom Charger cars, but the brown model made as a prototype are few. The color makes it unique since only a few were recorded in existence by collectors.
9. 1971 Purple Olds 442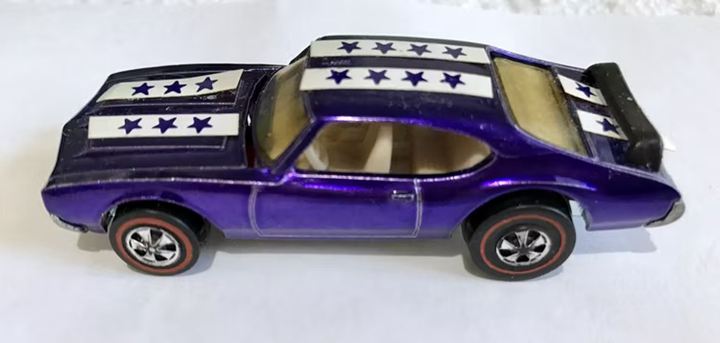 The 1971 Purple Olds 442 takes the cake when we're talking exclusivity. It's the only redline Hot Wheels model produced solely in the Hong Kong facility, and you can distinguish it from the Hong Kong base.
The double white stripes on the top, boot, and hood housing five-point stars make this toy car unmistakable.
It also helps that the Oldsmobile has a famous designer, Larry Wood, and had the rarest overall casting of all Hot Wheels toys.
10. 1969 Ed Shaver Blue AMX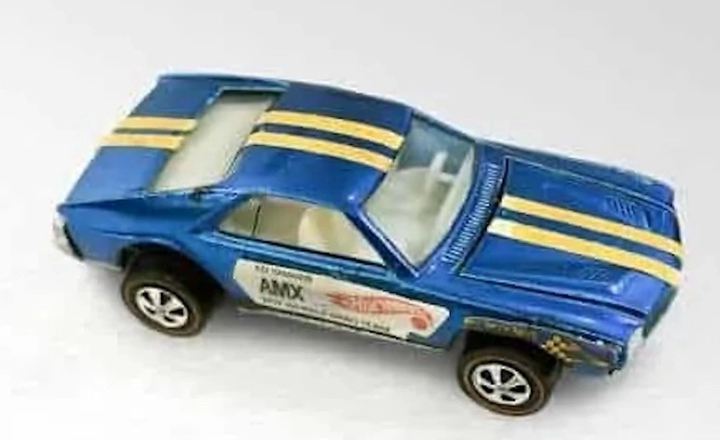 Ira Gilford's 1969 Ed Shaver Blue AMX with unique white interiors was part of the Hot Wheels Mainline exclusive racing car series made in the USA.
Mattel created the model to commemorate Hot Wheels' partnership with the U.K. racer, after whom it was named Ed Shaver.
Although Ed Shaver was an American, he drove in U.K. drag races with Mattel signing on as his primary sponsor hence the tribute toy cars. It sold at the race stands as part of the memorabilia, and Shaver added it to his cereal box promo pack.
Complete Set values it at $4,000 while Cars & Driver places a $10,000 premium on it.
Following its success, the company added a custom-made design with stickers, which cost more than the regular models. It comes in a blue shade with two yellow stripes on the top extending to the fender and the boot.
11. 1968 "Cheetah Base" Python
Mattel designed the 1968 Python based on Bill Cushenberry's 1963 Cheetah and added slight modifications. The toy car blends a 1960 Pontiac, 1961 Corvair, and a small block ford engine poking out of the hood.
However, Mattel changed the multi-design into a single identifiable model – Tiger Shark – after running into yet another copyright issue. Mattel discovered the word was already trademarked by a G.M. executive, so it swapped the name for Python.
The company produced it in both the USA and Hong Kong, using red as its default color. So, the old burnt orange Cheetah base Python became extremely rare and thus valuable.
Inspect your '68 Python carefully by flipping the car to confirm it has a Cheetah base; otherwise, it's a regular Hot Wheels redline model.
12. 1974 Blue Rodger Dodger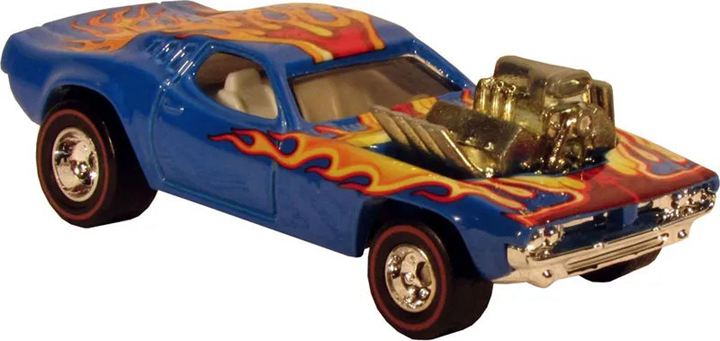 Another Larry Wood design to make this list is the 1974 Blue Rodger Dodger designed after the '73 Dodge Charger. Because Mattel made a default yellow or plum enamel shade, the seven exclusive blue Rodger Dodgers are worth some serious coins.
The '74 Blue Rodger Dodger has a flaming paint job with a muscle engine poking out of the hood, and collectors believe its unique color was a U.K. exclusive. Also, it had white interiors, unlike the traditional design, which came with a black interior.
Unfortunately, the seller of all seven limited-editions, Bob Parker, didn't think to keep one for himself. He first received two Blue Rodger dodgers in a trade-off with an unnamed English collector, then five more upon request, and that was the end, to his dismay.
Tip: Remember, the black interior Rodger Dodger is common, and you should look for the white interior model.
13. 1969 Brown '31 Woody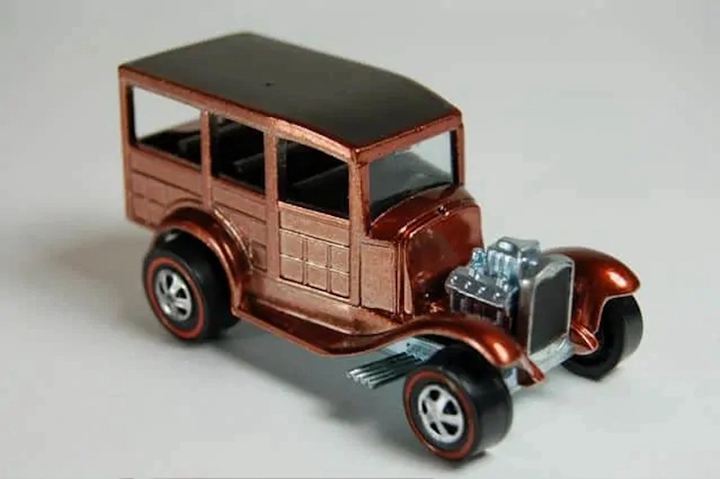 Per Wealthy Gorilla, only forty remaining pieces of the 1969 Brown '31 Woody Hot Wheels are left. It's another Ira Gilford creation produced in the domestic plant, and its interiors came in multiple colorways from white to champagne and dark brown.
14. 1969 Red Baron with White Interior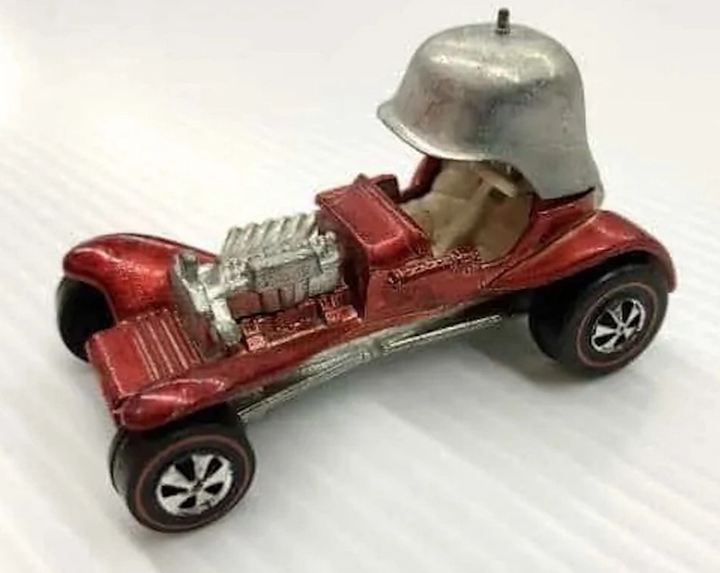 If the unusual design didn't sell you on the 1969 Red Baron with White Interior, then its additional features and perks would. Firstly, it's part of the Mattel prototypes never intended to see commercial space, and only ten pieces are known to exist still.
Tom Daniel and Howard Rees partnered on the production, fitting the car with a German World War I infantry helmet and adding an Iron Cross to its radiator. It was designed with a white interior and the helmet polished in a shiny silver.
Also, it earned its name from German fighter pilot Manfred von Richtofen a.k.a. Red Baron, who fought in World War I (1914 – 1919). You should've guessed it by now, but if you didn't, that explains the odd design of the Hot Wheels Red Baron, which looks like a fighter jet on wheels.
15. 1971 Purple Spectraflame Bye Focal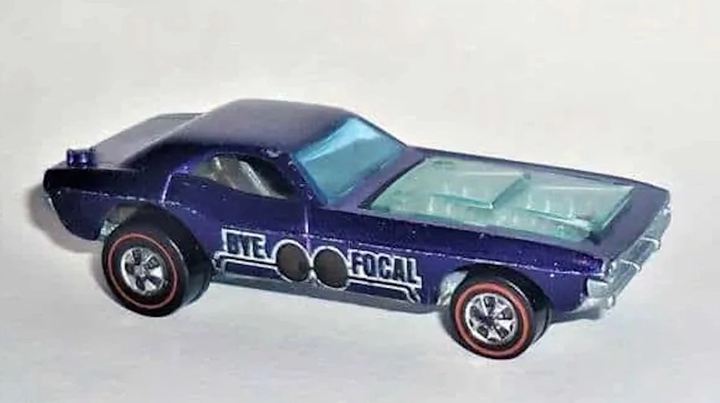 In 1871, Mattel designed the Bye Focal Hot Wheels car in different colors, but our focus is the Purple Spectraflame model. It came with a defect that causes the toy car to crack, a.k.a. crumble, so if you find one with an intact paint job, you're in luck.
The Best Tips for Hot Wheels Collectors
Now that you know the history of Hot Wheels cars, we will proceed to hot wheel car tips every collector needs to know. This is because it's easy to make mistakes.
First, we'll help you identify the difference between regular toy cars and Hot Wheels cars.
Identifying A Hot Wheels Car
Because Hot Wheels cars look like regular die-cast cars, you have to inspect them carefully to distinguish them from other brands. Look out for certain factors on your rare Hot Wheels car before paying thousands of dollars.
Watch this video below to see how to spot a fake Hot Wheels Die-Cast Car
We've made a short checklist for you by answering common identity questions regarding Hot Wheels cars.
What do the numbers on the bottom of Hot Wheels mean?
Take advantage of the numbers underneath the cars. This is the best way to identify authentic Hot Wheels cars. Mattel started adding the numbers known as Base Codes or Date Codes in 2008, 40 years into production.
This code contains letters and numbers indicating year and week of manufacture.
There are 52 weeks a year, so the numbers range from 01 – 52, while the letter starts from A-Z (2008 to date). Since there are 14 years between 2008 and 2022, the only available letters are A-R.
Using the data code identification is still tricky because Mattel produced Hot Wheels a year before its market release. So, it is possible to see an "SXX" code on a car released into the market by Fall/Winter this year instead of RXX.
Inspect the Packaging
The good thing about a trademark is that you can always spot the flaws in reproduction. Check the hot wheels logo on the packaging for a period at the end of "HotWheels" written in yellow on a red flame.
Also, examine underneath the car's film for a brief description of the product. You'll see the car's brand, model, and the year written in all caps.
Also, the packaging contains the exact info of the car's number in its collection. So you can see 1/10 or 10/10, meaning the first of ten pieces or the tenth of ten pieces.
More Inscriptions on the Car
Check underneath your die-cast Hot Wheels for more inscriptions, including the Mattel name, the production year (yes, apart from the Date Code), car model, the logo, and manufacturing company.
Sticker On the Rear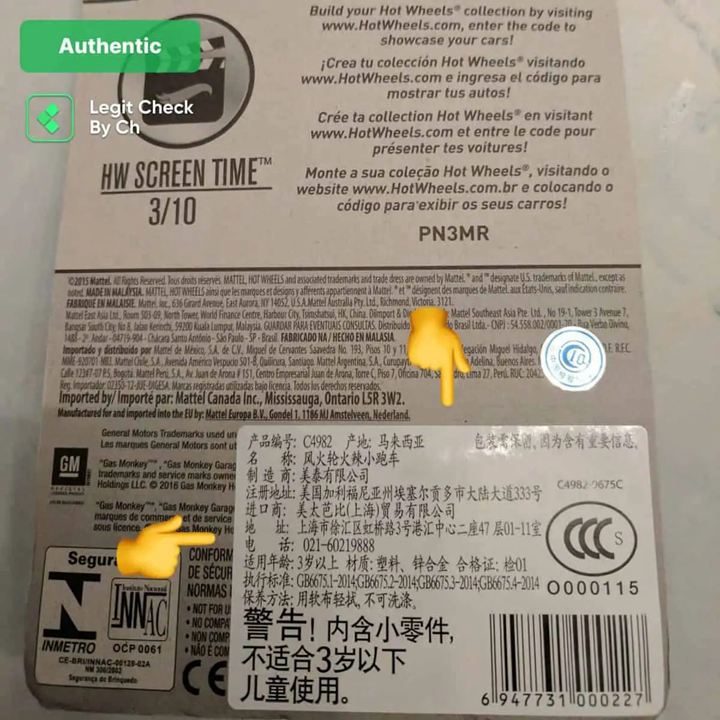 Imported Hot Wheels cars have stickers on the rear side of the packaging indicating the country it was produced in. Confirm via Mattel's website that it's an accredited country before putting your money on it.
Distinguishing Genuine Errors from Flawed Reproductions
Genuine factory errors can be valuable attributes, so you have to be wary of writing off every mistake you see. The key is to ensure it's common knowledge and not a random fluke.
Hot Wheels Cars by Years
You'll notice that the cars that make this list are Vintage Hot Wheels, produced in their early years from 1969 to 1971. That's because they made the rarest and most exclusive models which have become collector's favorites.
Below is a compilation of the Hot Wheels made in 1968.
Hot Wheels In 1968
1968 was the peak year for Custom designs by Mattel, and the company produced the following cars – Camaro, Mustang, T-Bird, Cougar, Barracuda, Firebird, Fleetside, Eldorado, Corvette, and Volkswagen.
Other non-custom designs include; Hot Heap, Beatnik Bandit, Python, Ford J-car, Deora, and Silhouette. Check this wikipedia page for a comprehensive list with pictures of Hot Wheels from 1968 to date.
Are Hot Wheels Cars Valuable?
Not all Hot Wheels Cars are valuable, but you can make thousands of dollars ($1000 – $175,000) on selected models. They have to fit into criteria, though, and that's what you'll learn in this segment.
What is the most expensive hot wheel?
The O.G. 1969 Pink Volkswagen beach bomb with the rear-loading surfboads is the most expensive hot wheels car in the world. It sold for $100,000 but is now valued at $175,000 by Wealthy Gorilla.
Which Hot Wheels are worth the most money?
Hot Wheels made for luxurious car brands like Ferrari, Lamborghini, and Porsche are the most expensive Hot Wheels. Their prices range between $4,000 – $150,000.
What Hot Wheels will be worth money?
Many of these rare Hot Wheels were fashioned after existent iconic automobile models, so it makes sense that the die-cast version carries a premium. Hot Wheels with rare features such as different interior colors and fitting into any of the categories laid down above are worth the most money.
How do I know if my Hot Wheels are worth money?
Check if it fits into any of the criteria listed in this guide. Does it have a white interior? Is it a limited edition? Is the inspirational model iconic? Answer these questions, and you'll know if your die-cast car toy is worth anything.
Which Hot Wheels car is the rarest?
According to most publications, the Volkswagen Pink Beach Bomb with a rear loading surfboard is the rarest Hot Wheels die-cast toy ever. That also makes it the most expensive Hot Wheels car.
Parting Words
Now that you know how to distinguish expensive Hot Wheels cars from regular models, always confirm the identity before you forfeit a die-cast toy. In case you've forgotten, here's a quick reminder for you;
Thoroughly inspect the package for errors
Make sure the description matches the product
Flip the toy and confirm all the trademarks etched on the base
You're well on your way to starting a Hot Wheels collection. We've answered more questions for you below.
FAQs
Q: What is the most expensive car toy?
A: Per Car & Bike, today's most expensive car toy is a $7.5 million Gold wrapped Lamborghini Aventador. It is more expensive than a real-life model because it was handcrafted with intricate details at a scale of 1:8.
Q: What is the oldest hot wheels car?
A: The Blue Custom Camaro was the first Hot Wheels Car made and released into the market in 1968.
Q: How do I find out how much my Hot Wheels are worth?
A: Check accredited websites like eBay and Amazon or the direct Mattel shop. You can also consult price guides like the North Carolina Wheels Association price guide.
Q: Are Hot Wheels going up in value?
A: Yes and No. The less available a Hot Wheels die-cast toy is, the more valuable it becomes.
Watch this video below to see how Hot Wheels increase in value.