Lucerne is one of the most beautiful cities in Switzerland. Located in the central region of the country, it has been the originating place of one of the most premium watch brands created by the legendary Carl F. Bucherer. No wonder, this well-cultured city is home to one of the world's most luxurious watch companies.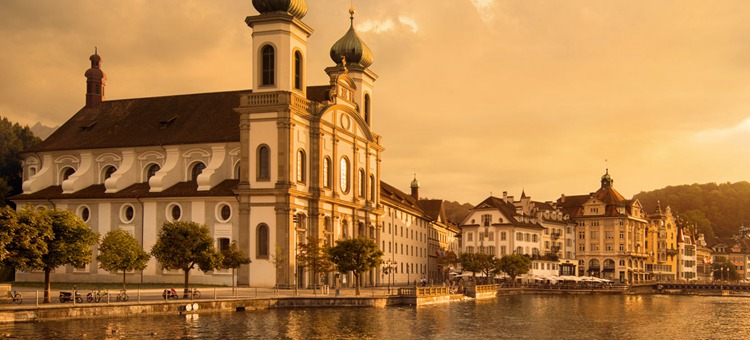 History of Lucerne Watches
Lucerne brand is over a hundred years old. The company was established back in 1888 when Bucherer opened the doors to his first-ever store for jewelry and watches. Since then, this luxury boutique has evolved and given rise to countless new branches over a period of a hundred and thirty years.
It is a journey that achieved several milestones in the coming decades. In the 1900s, the manufacturer adopted the latest revolution at that time, a watch strap. Over the next years, the brand gained popularity for developing sporty-looking chronograph watches that exhibited the date along with time.
Further along his successful journey, Bucherer also manufactured the highest quality watches with chronometer technology. In fact, by the year 1968, the company had manufactured over 15,000 chronometric timepieces.
It, thereby, became one of the best three Swiss manufacturers of watches specializing in this technology. A year later, the manufacturer also succeeded at joining the Swiss consortium for producing Beta 21, the first ever quartz movement developed specifically for wristwatches.
Today, Carl. F Bucherer is one of the few established watch manufacturers still being run by the same family who initiated the business. Currently, the business is being looked over by the third generation of the Bucherer family with Jorg G Bucherer as the present chairman of the company. He took over the business back in 1978.
Types of Carl F. Bucherer Watches
Manero Watches
This collection consists of a modernized look for the classic Bucherer watch design and offers premium wristwatches for both men as well as women. Manero watches stand out due to their large-sized faces. The luxurious straps give a range of eye-catching options to buyers. At the same time, these watches offer multiple functionality, making the Manero collection exhibits an amazing range of complications.
Patravi
The Patravi collection was first launched by Carl F. Bucherer in 2001. Soon after, the manufacturer obtained a patent for the special mechanism behind the Patravi TravelTech watches in 2005. This technology allows the simultaneous display of three different time zones in a single watch. This has given users a means of staying connected internationally for business as well as personal relations with three different parts of the world.
Heritage
This is a limited edition Lucerne watch collection with eight timeless variations available to date. Heritage was first launched in 2018, the year that marked the company's hundred and thirtieth anniversary.
The pioneering model of the Heritage collection is the Tourbillon Heritage Double Peripheral Limited Edition. The watch features peripheral winding movements. Although Bucherer is not the first originator of this movement, the peripheral technology has become the company's trademark solution. It was, therefore, befitting to introduce this specific model to celebrate the company's golden anniversary year.
The second Heritage model was launched the following year in 2019. It is known as the Carl F. Bucherer Heritage BiCompax Annual. It is a tribute to the company's classic chronographs of the 1950s. The revamped version features a size upgrade from 34mm to 41mm.
Adamavi
The Adamavi collection focuses on reliability and longevity. The visual designs are simple yet timeless so that the watch never appears outdated. In fact, it can be a dependable companion for many years to come.
The 28 variations in this collection feature a 39mm case that offers a classic sleek design as opposed to oversized watch dials. These wristwatches, therefore, fit perfectly around the wrist for both men and women.
Although the Adamavi collection is aesthetically simpler as compared to the other collections produced by Carl F. Bucherer, it is just as luxurious as the other Lucerne timepieces. Different variations offer casing made of either stainless steel or premium 18k rose gold.
Pathos
Carl F. Bucherer began his journey as a watch manufacturer as well as a jewelry maker. Today, the Pathos collection depicts its creator's two talents by combining the aesthetics and luxury of jewelry with the functionality of high-tech wristwatches. Doubtless, this collection has been designed for the women of today who have a refined taste for fashion and accessories.
The Pathos collection consists of around 18 exquisite timepieces. Each one exhibits fine craftsmanship. These jewelry watches come in a variety of designs, each one exuding luxury. The cases are either stainless steel or gold with studded gems or intricate filigree work.
Apart from the visual beauty, these watches also offer impressive technology. This feature truly makes the collection stand out as conventionally, watches that are specifically designed for women focus more on the aesthetics with rather simple functionality. However, in case of Pathos timepieces, 16 out of the 18 designs feature CFB caliber movement with an astounding thirty-eight hours of power reserve. The caliber movements for the remaining 2 are mechanical self-winding.
Determining the Value of your Lucerne Watches
This is a luxury brand with highly valuable timepieces. For a keen collector, owning a Bucherer watch is a worthwhile investment. In general, the following factors will determine how valuable your watch is.
Manufacturing Year
Look for the year of your watch model. Often, old and vintage watches that have gone out of production are valued as classics. Old and authentic Swiss watches mostly have a high resale price. On the other hand, if an updated model has recently been launched, your older version might not be in demand anymore. Potential buyers would naturally spend more on a revamped variation that houses the latest technology.
Technology and Functionality
The outward aesthetics of a watch contribute greatly to its value. On the other hand, the technology that powers the functionality of your timepiece is one of the major factors that determine how valuable it is. Carl F. Bucherer watches house the most cutting-edge technology that leads to astounding functionality. Depending on how latest the technology is, your Lucerne watch can be resold at a handsome price.
Uniqueness
Purchasing a limited edition watch is quite a smart investment. Since these timepieces are rare, their value is unmistakably high.
(Health) status
All Carl F Bucherer watches hold a high value due to luxurious designs and impressive technology. However, the condition of your watch determines its resale price. Maintaining the original condition of a watch is, therefore, worth it.
Intact Packaging
Lastly, the original box and packaging also contribute towards the resale price of your watch. If you still have the box and accompanying papers, instruction manuals, user guides, warranty cards, and care instructions, potential collectors will find your pre-owned watch to be more valuable.
The Most Valuable Carl F. Bucherer Watches
Although each one of these Lucerne based watches is a sensational masterpiece, here is a list of the most valuable timepieces produced by the manufacturer.
Bucherer Manero Flyback Signature
This is a 43mm, self-winding watch with caliber CFB 1970 and a whooping forty-two hours power reserve. The chronograph features flyback function. What adds more value to this watch is the collaboration of Bucherer with the Geneva based manufacturer of writing instruments, Caran d'Ache. This Manero flyback has been paired with an exclusive rollerball pen, making it a highly valuable limited edition set.
Heritage BiCompax Annual Lucerne
This is another limited edition watch that holds historical importance for the manufacturer. It has been designed as a tribute to a vintage car owned by the Bucherer family back in the 1900s. The design takes inspiration from a 1949 model of blue Sedan that reflects in the blue hues on the subdials of the watch.
This watch houses the company's patented winding rotor which has been mounted peripherally. As the name implies, the regulator offers a minute repeater. The striking hammers of the repeater have been displayed at the 5'0 clock and 7'O clock positions on the watch. The watch design is truly innovative and absolutely eye-catching for the contemporary audience of today.
Carl F. Bucherer Moonphase
This is a collection of classic Bucherer watches. The unique design exhibits different phases of the moon and informs the user about the current phase of the celestial body. This innovative timepiece also features the calendar function.
Manero Peripheral BigDate
This luxury timepiece also takes inspiration from the manufacturer's vintage models of the 1950s. The watch flaunts a 41.6 mm stainless steel case, a sapphire crystal and an anti-reflective coating. It houses the company's popular peripheral rotor along with caliber CFBA2011.
Where to find Vintage Lucerne Watches
Passionate collectors are always looking for rare timepieces. Today, the World Wide Web and online social networking have made it easy for both sellers as well as potential buyers to make a good deal. However, it is highly recommended to always look for a reliable source as luxury watches cost a lot even if these have been pre-owned.
Some of the online platforms where you can find sellers as well buyers for vintage Lucerne watches include eBay and Etsy. At the same time, independent pages or groups on social networks like Instagram and Facebook can also help you find a good source.
Tips for Taking Care of your Watch Collection
Your luxury watches deserve the best care. Keep your collection in mint condition by following these tips.
Regularly clean your timepieces to avoid the buildup of dust. At the same time, regular servicing will ensure the functionality remains intact. For a mechanical watch, get it serviced once every couple of years. On the other hand, quartz watches need maintenance only once in 3 years.
Keep a check on the batteries. In particular, replace the dead batteries of your quartz watches without any delay to avoid leakage.
Do not expose your watch for prolonged periods to the sun. The UV rays can damage the color of the strap. At the same time, keep it away from perfumes as the alcohol can damage the metal case as well as chain straps.
Proper storage is very important to keep your watch in its optimum condition. When you are not wearing it, it is best to store it in its original box. Alternately, you may purchase a storage box for luxury watches and jewelry. Keep your entire collection safely in this box to ensure the glass face and metal case get no scratches while the internal components also stay protected.
Protect the expensive machinery of your watch by keeping it away from magnets. Close proximity to a magnet can affect the accuracy of your watch.
Don't forget to wind your mechanical watch after taking it off. If you store it without winding it, the winding stem may suffer from extra stress.
Water can also be damaging to the machinery of your watch. Even your waterproof watches have a depth limit for withstanding water pressure. Know this limit and avoid wearing your watch while swimming if you are going to exceed the depth limit.
Advice on Collecting Vintage Watches
The value of a timepiece enhances with age. These pieces become rare and, therefore, more worthwhile as they get older. At times, it is the classic design of a certain watch or the history related to it that raises its demand and value.
If you have a passion for collecting valuable vintage watches, here are some useful guidelines to ensure you make a good deal.
The first factor to consider while getting your hands on an old, rare piece is to make sure it is in a good condition. Not only should the watch appear physically intact, but its internal components should also be in good working condition. Remember, as a watch gets older, so does its machinery. At times, it is hard to obtain spare parts for an old watch that went out of production years ago. Such a watch might turn out to be more costly for you. Therefore, make sure you buy one with a well-maintained appearance as well as functionality.
Do not be in a rush to close a deal. If you have found a seller with a luxurious, rare watch, make sure you check the watch properly before making the final payment. This is particularly important for online purchases. It is imperative to check the condition of an old, pre-owned watch in person before making your purchase.
Very often, vintage watches are accompanied by patina. This is a greenish or brownish coating that develops on the metal surface due to environmental factors over a period of time. For some collectors, a certain amount of patina is what enhances the look of a vintage watch. However, you should be able to discern between a naturally developed patina and one that formed due to the previous owner's neglect. At the same time, it is also important not to confuse a vintage look with wear and tear. Obvious signs of damage such as scratches or dents devalue a luxury watch.
Do make sure your branded watch is authentic and original. It is easy to determine this if the seller can provide you with some proof, such as the original box and papers of the timepiece. However, what is more difficult to find out is if the original parts had been replaced while servicing. A luxury watch loses its value if it no longer houses the original machinery.
Finally, make sure you are purchasing your watch from a reliable seller. If you are paying a handsome sum for the timepiece, it is advised not to buy on an impulse from any random stranger on the internet. Do your homework before the purchase.
Once you have acquired your luxury vintage watch, make sure you take care of it to maintain its look as well as functionality.
FAQs
How to determine the movement in my watch?
Check which collection your watch belongs to. The movement can be determined by referring to the specific collection.
How often should I replace the batteries?
The longevity of the batteries depends on the number of functions offered by the watch. When the watch stops working, immediately replace the batteries in order to avoid possible leakage. The process should only be carried out by an expert.
Is my Carl F. Bucherer luxury watch composed of pure gold?
All the gold watches by Carl F. Bucherer consist of 18K solid gold ( 18K contains 75% gold and 25% alloyed metals).
How to make sure my stainless steel watch will not cause an allergic reaction on my skin?
During the production of all Carl F. Bucherer watches, each timepiece goes through extensive clinical trials. It has been proved through these tests that the Lucerne watches contain only a minute amount of nickel. Such a small amount does not cause allergy. Nevertheless, if you are highly allergic to nickel, you may choose another material from the collection.