Since the launch of the Barbie Doll in 1959, little girls around the world have continued to admire and cherish owning one. What if we told you, little girls aren't the only doll lovers out here and that there's a more exclusive collection called Holiday Barbies?
Holiday Barbies are more exquisite than regular dolls because of their fancy hairstyles, exotic dresses, fancy boxes. They sell at higher rates between $20 to $300. If you can la your hands on one still in the original box, that's even better because then you can make about $1,000.
While they're all valuable, the models before 1995 are the rarest, followed by the early 2000 models than the more recent 2010s since those are still very available.
Here's a rundown of all the Holiday Barbies, emphasizing the top ten most valuable ones. Before that, let's examine a brief history of the plastic dolls that became a worldwide phenomenon.
History of Holiday Barbies
In 1945, Ruth and Elliot Handler started a small toymaking business in their garage without knowing it would become an empire. Within three years of establishment, they expanded their company to Los Angeles, California.
Barbie dolls originated from a mother's interest in bringing joy to her daughter. Ruth decided playing with paper dolls wasn't enough after observing her daughter Barbara's love for them.
So, in 1959, she designed a 3D model and named the doll "Barbie" – the short form of Barbara – in honor of her child.
In 1988, Mattel started a tradition that would go on for another 32 years; it released a unique doll collection designed with extravagant hair, clothes, and accessories and called them Holiday Barbies.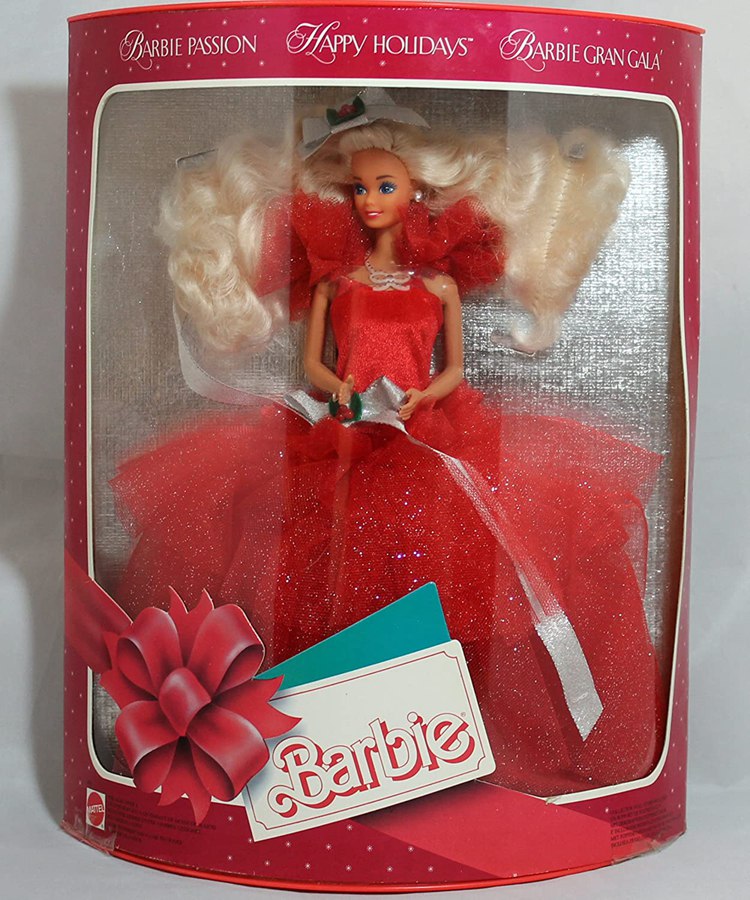 They added to the festive fun and dressed in holiday colors – Red, Green, Gold, and Silver.
Soon as they hit the market, Holiday Barbie dolls sold out, and Mattel realized it appealed to adult collectors as a collectible. It was also a perfect "Happy Holidays" gift for doll lovers since the box had those words inscribed on them until 1998.
In 1999, Mattel Christened its Barbie Doll, the Millennium Princess, in honor of the new Millennium. Then it changed to Celebration Series between 2000 and 2002. The 2003 model's name is Winter Fantasy.
By 2004, Mattel decided to stick to a single name, Holiday Barbie and stuck to it to date.
They're built for display only as the company expects them to join the holiday décor hence their fixed features. The Holiday Barbie typically has specific poses and permanent accessories. So, please don't force them off.
10 Most Valuable Holiday Barbies
Recent Holiday Barbies within the past five years retail between $20 – $50 and you can buy them in Walmart or on Amazon. Older dolls from 2005 to 2017 sell a little more at about $50 – $100 while the 1988 to 2004 are the real money makers.
This list is a compilation of Auction sales across board.
| | | |
| --- | --- | --- |
| No. | NAME | Price |
| 1 | 2004 Special Holiday Barbie | Est. $7,853.77 |
| 2 | 1998 (10thAnniversary) Holiday Barbie | $1,500 |
| 3 | 1999 Millennium Princess | $1,000 |
| 4 | 1994 Happy Holidays Barbie | $800 |
| 5 | 1996 Happy Holidays Barbie | $800 |
| 6 | 1989 Happy Holidays Barbie | $799.99 |
| 7 | 2000 Celebration Barbie | $750 |
| 8 | 1988 (1stEdition) Happy Holidays Barbie | $625 |
| 9 | 1990 Happy Holidays Barbie | $500 |
| 10 | 1995 Happy Holidays Barbie | $500 |
10. 1995 Happy Holidays Barbie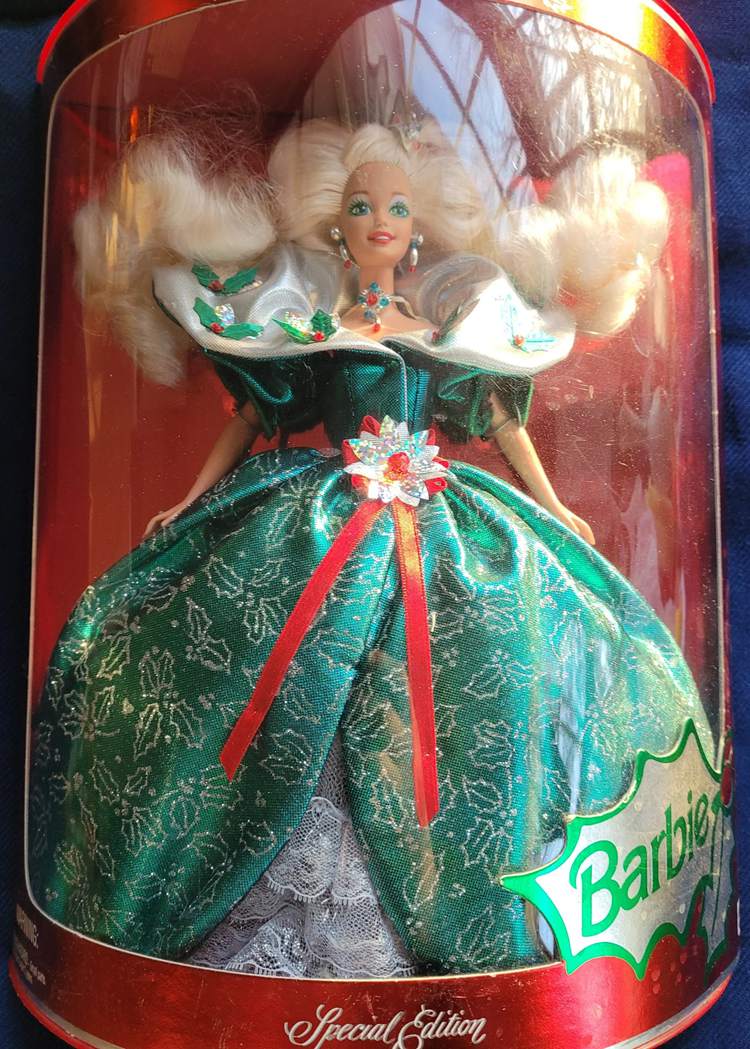 The 1995 Happy Holidays Barbie Doll has a bright smile as big as her hair. Her dress has Holly prints and motifs all over, and it couldn't be more obvious that she's a festive doll.
Her rhinestone berry jewelry is a stately item that brightens up a room. This one auction for $500, and it's a NIB meaning it's never been opened, and the box is still as perfect as the day it hit the market.
9. 1990 Happy Holidays Barbie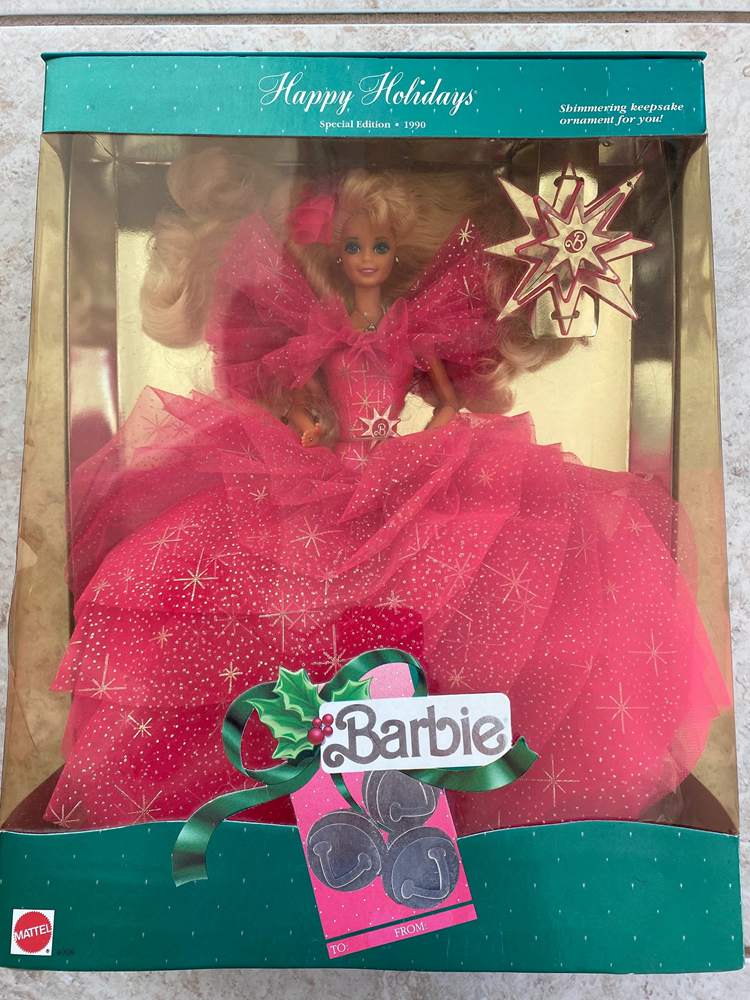 What's better than getting an all-exclusive smiling Barbie doll with the biggest hair you've ever seen? An extra keepsake you can hang on your Christmas tree is what. Apart from the fact that her pink ballgown captures attention, she has a fancy ribbon in her hair too.
8. 1988 (1st Edition) Happy Holidays Barbie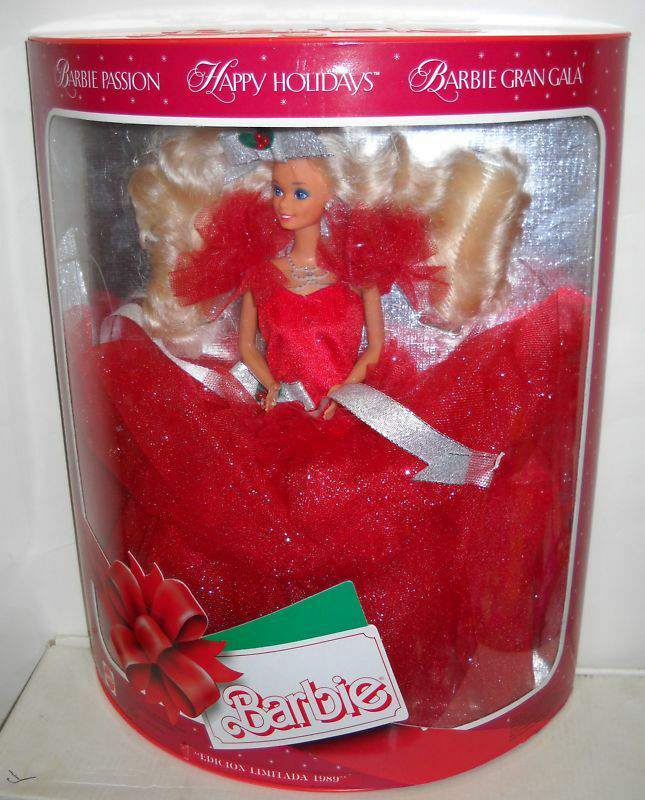 The very first belle of the ball is a fair blonde-hair beauty in a tulle red ballgown. The dress has a firm bodice with short puffy sleeves and a white ribbon attached at the waist. Her hair is also full with bouncy curls on the tip in typical 80s style.
First editions are always coveted because of their rarity and sentimental value. One hundred years from now, someone wants to say, they own the first-ever Holiday Barbie, and that's possible for a few hundred dollars.
7. 2000 Celebration Barbie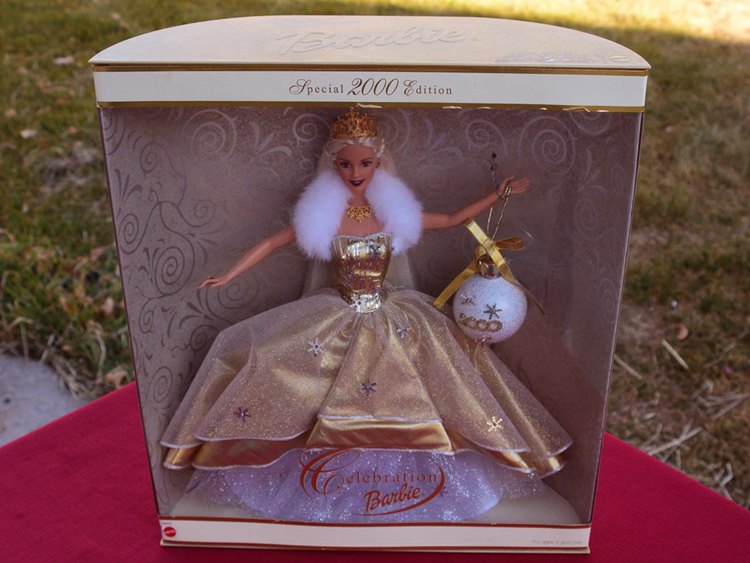 As exciting as a new year is for everyone, it doesn't compare to the joy at the turn of the century, or better, Millennium. You know how people make New Year resolutions and promise to make significant changes, well Mattel did so with its Celebration Barbie.
She comes bearing a gift – a "Happy New Year" Ornament – in the most festive Gold ballgown ever. Her arms are also widespread, so you can leave the ornament hanging like it's shown in the box. That means you get two decors for the price of one.
6. 1989 Happy Holidays Barbie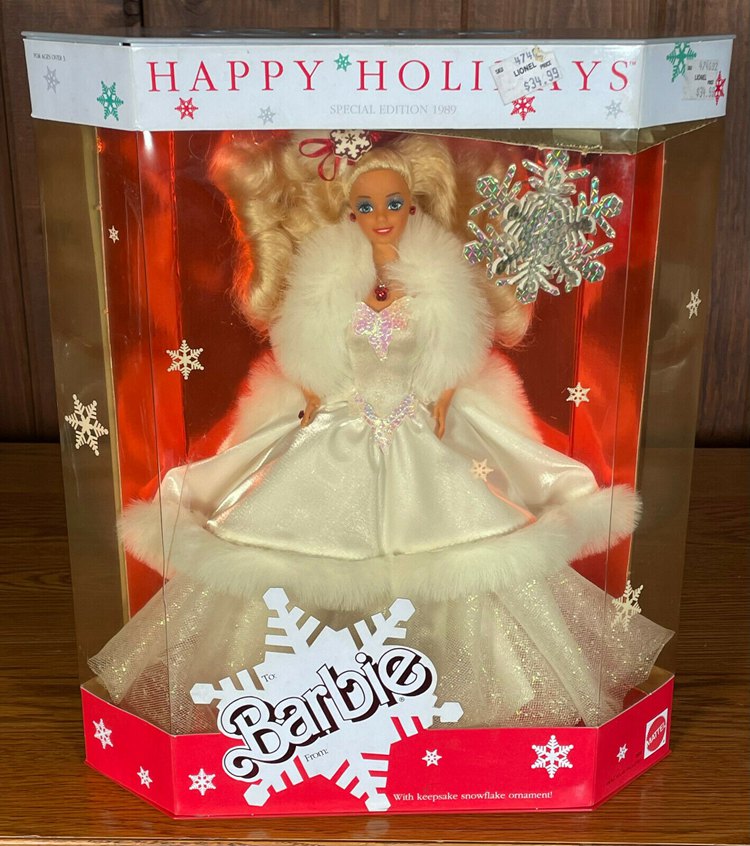 Barbie is glamorous in a white ballgown with exaggerated fur sleeves and a sheer organza overskirt with fur hemming. She comes with a keepsake snowflake attached to the top left corner of her box.
Her blonde full blonde hair has the appearance of a head full of hairspray. She gives off the vibe of a royal lady attending formal dinner or a night at the opera. Barbie dolls with additional accessories/gifts always appeal to collectors.
5. 1996 Happy Holidays Barbie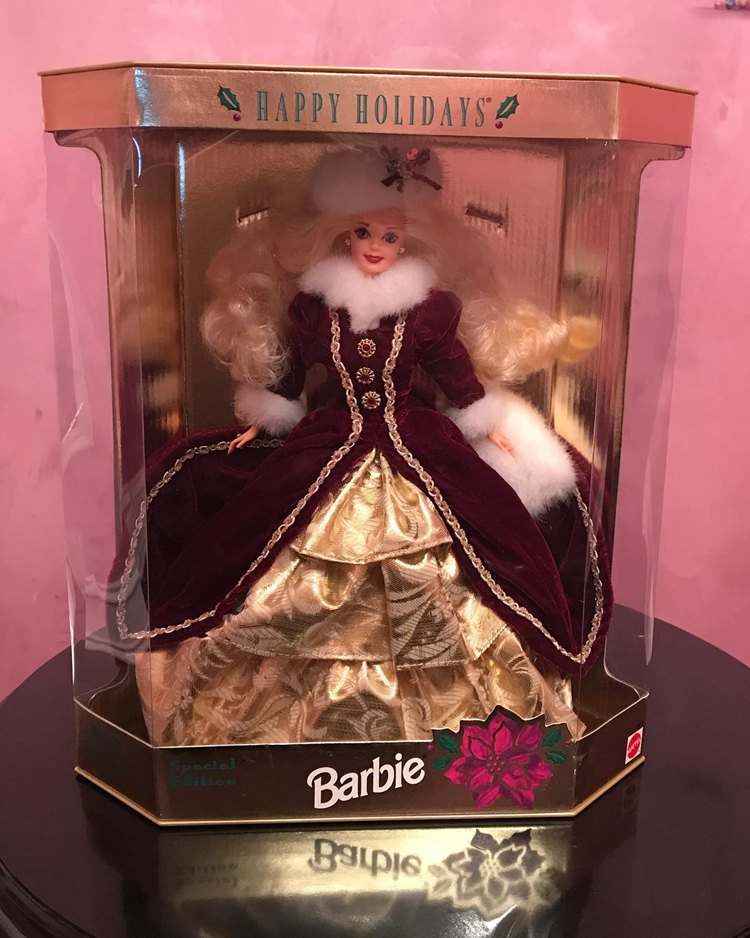 Nothing says Russian royalty like this 1996 Holiday Barbie in her exquisite Royal robe. The colorways and white fur Ushanka make her big curly hair stand out more. Although she doesn't come with any special gift, her outfit is exquisite enough.
She's one of the Holiday Barbies that make collectors feel represented, seeing as she's not wearing the regular English or American style formal gown.
4. 1994 Happy Holidays Barbie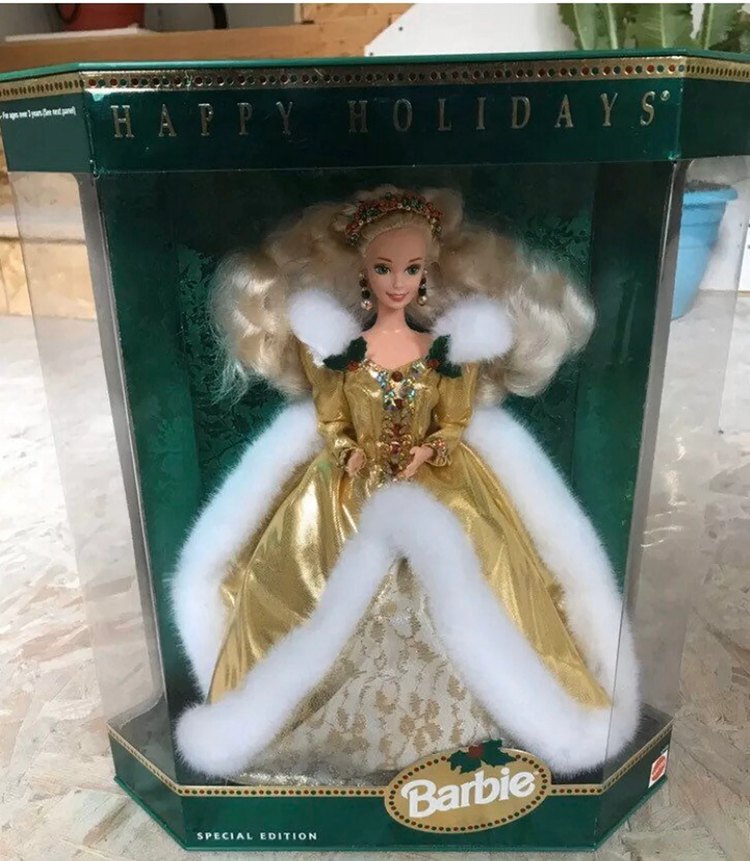 This NIB Holiday Barbie comes with a stand and 5 x 7-inch frameable picture. She's also one with beautiful festive accessories, including a red, gold, and green headband complimenting her holly-style dropping earrings.
3. 1999 Millennium Princess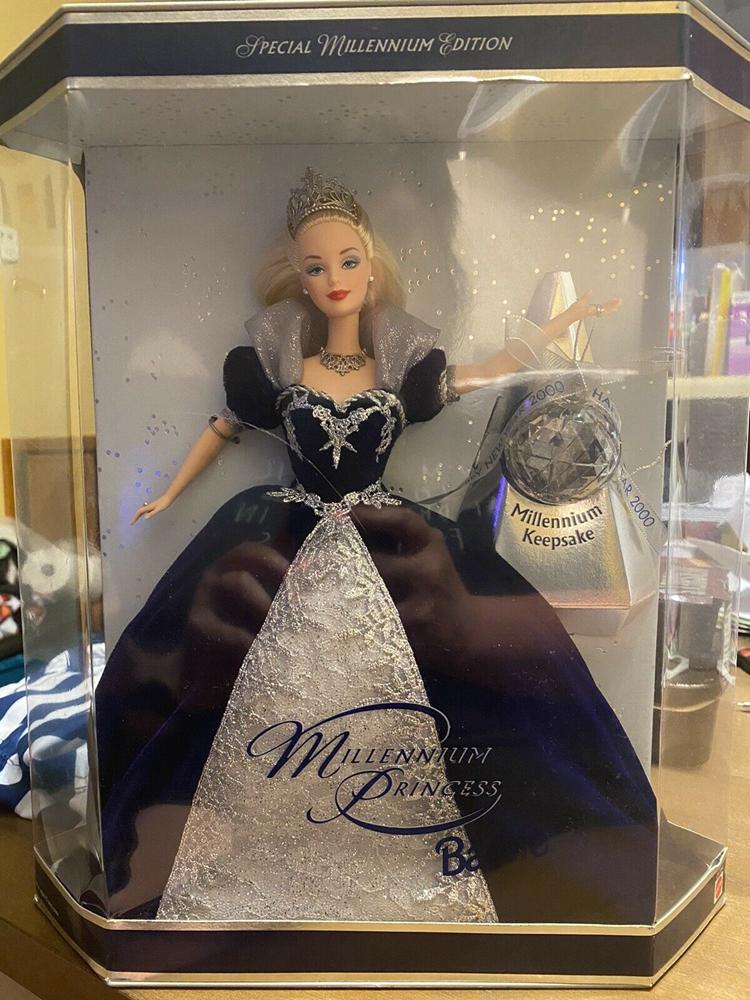 While the Celebration Barbie welcomed the new Millennium, it couldn't beat the anticipation of the Millennium Princess. The royal blue and silver-dressed doll wears a silver tiara and comes bearing an ornament.
As the last edition closing out a great millennium (the 1000s,) it's only right that you'd drop a thousand dollars to call her yours.
2. 1998 (10th Anniversary) Holiday Barbie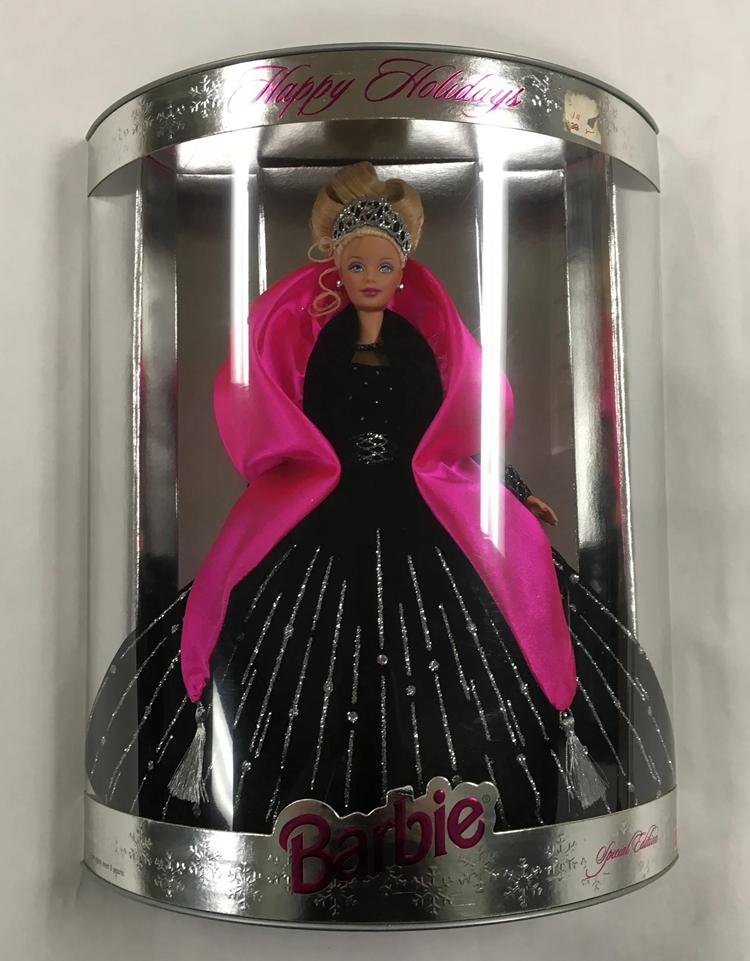 The name alone should tell you why this Holiday Barbie costs $1,500. She's as regal as they come in her black velvet dress with a bold hot pink silk shawl. Her hair is in a fancy updo and dressed with a silver and black headband.
The 10th-anniversary doll was so successful Mattel made an ornament to compliment her. Unlike the doll, though, the ornament doesn't have a shawl but a pink-lined high collar.
1. 2004 Special Holiday Barbie
Est. Worth: $7,853.77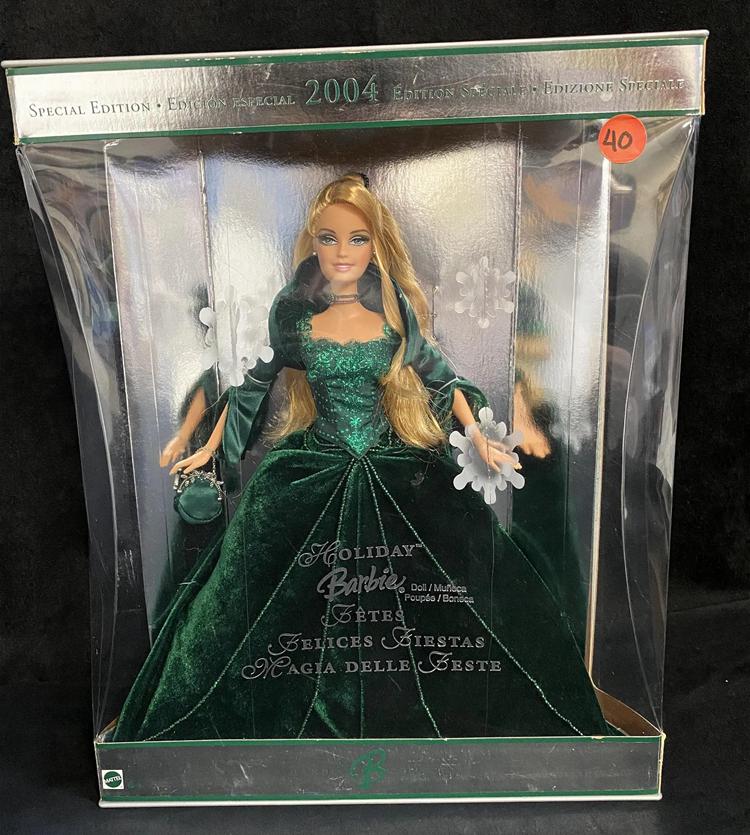 This Holiday Barbie is a pioneer in many ways – it's the first to use the name "Holiday Barbie" and the first two colorways doll. One wears a green dress while the other's Burgundy. The Burgundy is rarer because Mattel made a few while the green is quite popular.
However, Live Auctioneers sold a green one for an estimated C$10 – C$10,000, which amounts to about $7 to $7,000-plus. This proves that the actual value of a Holiday Barbie Doll lies in the amount the buyer is ready to part with.
Every Holiday Barbie According to the year
Year
Name
Images
Description
Extra Keepsakes
1988
Happy Holidays
Red Tulle Ballgown with silver ribbon in front on the waist
1989
Happy Holidays
White Ballgown with Fur Jacket and hemmed overskirt
Snowflake
1990
Happy Holidays
Pink Ballgown with puffy sleeves
Star Ornament
1991
Happy Holidays
Dark Green Velvet Ballgown with embellished red and silver shiny stones
1992
Happy Holidays
Ballgown featuring silver-embellished white skirt and silver long puffy sleeve bodice
1993
Happy Holidays
Shimmery Red dress with two ribbon sleeves and a gold bodice embellished with red holly
1994
Happy Holidays
Gold and White damask royal robe with white fur hemlines and red and green hair accessory
1995
Happy Holidays
Full white hair, silver collar with holly embellishments, red and silver ribbon belt and a green ballgown
1996
Happy Holidays
Velvet burgundy coat with gold damask ball underskirt, white fur collar and sleeves, and white fur hat
1997
Happy Holidays
Red, Gold and white ball dress with a corset bodice.
1998
Happy Holidays
Black long-sleeved ballgown, with silver embellishments, and pink shawl stole. Barbie's hair is piled in a high updo and held in place with a silver and black tiara.
1999
Millennium Princess
Black and Silver dress with Tiara
Happy New Year globe with festive ribbon
2000
Celebration Barbie
Shimmery Gold dress with white underskirt, and white fur bolero
White ornament with 2000 embossed between three stars
2001
Holiday Celebration Barbie
White dress with silver stars and red-lined white fur coat
2002
Red long sleeve royal robe dress
2003
Holiday Visions Barbie
Shimmery Silver dress with long fur white robe
Two Silver trees with l
2004
Happy Holidays
Green velvet royal opera dress with corset bodice and a mini purse.
2004
Happy Holidays
Limited-edition Burgundy
2005
Happy Holidays
Silver and Pink mono-sleeve dress
2005
Happy Holidays
Green limited-edition alternative
2006
Happy Holidays
Black ballgown with multicolored embroidered skirt, white fur short jacket and a matching hair accessory.
2007
Happy Holidays
Red sleeveless Mrs. Claus ballgown with white opera gloves, bold black and gold buckle belt and lace hemming on the overskirt.
2008
Happy Holidays
Long-sleeved white dress with three-tiered silver skirt.
2009
Happy Holidays
Sleeveless bubblegum pink dress with a wide blush sash forming a ribbon belt.
2010
Happy Holidays
White dress, red embroidered bodice, thin red ribbon belt, and short-sleeved red jacket
2011
Happy Holidays
Green mono-sleeve ballgown with gold details and trumpet underskirt.
2012
Holiday Barbie
Sleeveless red ball gown with a bold silver-embroidered sideways bow on the side
2013
Happy Holidays
White A-line dress with snowflake mono-sleeve
2014
Happy Holidays
Red and Gold A-line dress with lace underskirt, thin ribbon bow belt and a gold statement piece necklace
2015
Happy Holidays
Red princess cut sleeveless dress with silver embroidered neckline.
2016
Happy Holidays
Peace, Hope, Love

Shimmery Blue ballgown with silver star corset bodice

Fancy Snow Globe package
2016
Happy Holidays
Red and Gold alt.
2016
Happy Holidays
Teal and Silver alt.
2017
Happy Holidays
High-slit red dress
Giant gold eight-point star with red stones
2018
Happy Holidays
Red Tulle ballgown with white pearl-like headband.

The African-American Barbie had a brown Afro and it's the special 30thAnniversary edition

2019
Happy Holidays
Candy cane trumpet dress with red overskirt, and double-bow mono-sleeve
2020
Happy Holidays
Yellow and Gold ballgown with plain-colored underskirt
2021
Happy Holidays
Silver corset white A-line gown with short net overskirt.
All pictures sourced from Amazon, eBay, and Etsy.
How to Choose a Holiday Barbie
By Accessories
Each Holiday Barbie has a unique accessory featuring festive symbols like Ornaments, Snowflakes, Stars, Holly, Fig Leaves, and more. Their jewelry is attached permanently, so there's no extra for playing dress-up or replacement.
You may choose one based on your preferred holiday element or design.
By Model
In line with the growing consciousness on representation, Mattel designs three skin tones and hair colors for each Holiday Barbie though the physique takes on the original statuesque style.
Also, unlike the other Barbies, their dresses are monochrome except for a few limited-edition two-toned designs.
By Category
There are different Holiday Barbie collectors, considering the vast options available. You may collect them by year, skin tone, dress color, or any other category you find appealing.
Valuation of Holiday Barbies
Examine the Condition
The value is in the box. It's one thing to have a doll still intact – hair laid, dress freshly pressed – but to have it in its box is even better. These boxes have terms to describe their conditions among the Holiday Barbie collectors.
There are four Box grades – Mint, Never Removed, Damaged, and Removed. Mint in Box (MIB) Holiday Barbies have everything intact, including the box's shape, accessories, and doll.
The Never Removed From Box (NRFB) has less than perfect packages but nothing too serious – a fraying here and yellow there but still intact. It's a far cry from the Damage Box Holiday Barbie whose box has more significant wear and tear, although it's never been removed.
The least valuable are the Holiday Barbie dolls sold without boxes. They're often preowned, so they'll likely miss a few accessories and need some bolstering.
How Old is your Holiday Barbie?
Naturally, you'd expect the older Holiday Barbies to carry higher values, and you're right. Considering the age, the chances of finding an NRFB or MIB are slim, and if you do find them, you should be ready to pay a pretty penny in exchange.
There's no exact value attached to a Holiday Barbie by age
Rarity Influences Value
Even though Holiday Barbies came only once a year, they're not all rare since they were mass-produced. Of all the exclusive Holiday Barbies, the 1988 – 1995 models are ultra-rare because they're the original models, and it's been a while since they first hit the market.
Final Note
Mattel made Holiday Barbies for collectors, and you can see the special address on the bottom of each doll's box. There's no perfect way to collect the dolls, but you can seek guidance from guides like you're doing now.
Three ways you can start your collection includes;
By Dress Colors – Picking all reds or all blues (there are only two), etc.
By Year
By Skin Tone
FAQs
How Many Holiday Barbies Exist?
There are 33 Holiday Barbies in total, with the last release being 2021. Mattel started the tradition in 1988 and hasn't defaulted a year since then. However, in 2004 – 2005, the company included rare limited editions to the regular Holiday Barbies.
Are there other Valuable Barbie Dolls?
Yes. The original 1959 Barbie doll is worth about $23,000 and more, while a fundraising Barbie doll, Stefani Canturi, earned a record-making $302,500.
There's a rare 1989 Pink Jubilee Barbie released in honor of the 30th anniversary. Then in 2019 (another 30 years later), Mattel released two versions of the anniversary model in silver dresses.
Are Pink Box Holiday Barbies Valuable?
You've most likely seen the Grocery Store Holiday Barbies stuck in pink boxes; well, they aren't the collectible type because they're inexpensive. The actual Holiday Barbies have themed boxes in different colors and festive motifs.
Where Can I Sell a Holiday Barbie Doll?
You can sell online, via consignment, or through a verified dealer. Online sales through auctions or old-fashioned ads fetch the best value, and it's the fastest way to get a quick sale. If you're patient, you can use the consignment option.
With consignment, retailers display the doll with a fixed value or asking price, but it takes longer than online sales.