If you are a vintage watch fan, you must have seen a Gruen watch in your lifetime. These timeless engineering masterpieces were all the rage during the early 1900s. In the US alone, the womenswear Gruen watch was one of the most popular women's watches for more than a decade.
The last Gruen watch was manufactured in 1977, which makes the Gruen watch a well sought-after accessory among vintage watch fans. In turn, these watches are quite expensive compared to other commercially available watches due to their antiquity.
However, before we can understand the price of a Gruen watch, it is important to understand what gives these timepieces their values.
Significance of a Watch
A watch's fundamental function is to tell time, your local inexpensive watch can more or less tell time just as well as any other watch in the world. From a functional standpoint, a luxury or high-end watch offers little to no functional improvement over other watches. However, in the post-2000s era, watches are accessories that add to your persona.
A wristwatch is an essential part of the Gentleman's dress code. Watches add a sense of maturity and elegance to your profile while simultaneously boosting your confidence. It is the ultimate accessory for a man and many men only wear watches as an accessory.
This is not to say that watches are solely important for men. Once upon a time wristwatches were deemed undesirable, as they were considered feminine. Instead, pocket watches were the norm among men. It was after the 1930s that the wristwatch culture among men took off.
History of Gruen
Gruen was one of the leading watchmaker companies in the US at the start of the 20th century. Their story is one of rising from humble origins to significant business heights to ultimately declining and exiting the market. However, the story starts a few years back with the founder of The Gruen Watch Company, Dietrich Gruen.
Dietrich Gruen, born in 1847 in Germany, became an apprentice to a watchmaker at the age of 15. He would later work at a Swiss watchmaker company for 3 years before migrating to America in 1867 to work for a watchmaker in Ohio.
In 1874, he filed the patent for a safety pinion that protected the watch in case of a mainspring malfunction. From his humble immigrant beginnings in the US, he would rise and form his first watchmaker company in 1894 by the initial name of D. Gruen & Sons in Cincinnati, Ohio. At the start of the 1900s, the Gruen family watchmakers would import the movements from Switzerland. They were the first company to incorporate basic Swiss movements with adjusted dials, straps, and cases made in the US.
In 1903, D. Gruen & Sons formed the subsidiary 'The Gruen Watch Manufacturing Company' (Later The Gruen Watch Company in 1922 after merger with D. Gruen & Sons). The Gruen Watch Manufacturing Company manufactured the first Gruen watch in 1908. It quickly became a hot favorite among the female population. At the beginning of World War 1, the US military allowed men to wear wristwatches that in turn led to a rise in men's Gruen watch sales.
The Gruen watch movements were imported to the US from Switzerland, where they were made. This was due to the superior quality of Swiss movements compared to those in the US. They became the largest watch manufacturer in the US while also having the highest average watch prices. In 1930 the Gruen Watch Company struck a partnership deal with Alpina, thus all watches manufactured during the early 1930s were dual-branded Alpina-Gruen watches.
In 1935, Gruen launched the Curvex watches for men. These watches would curve around the wearer's wrist, thereby being more comfortable to wear. The greatest innovation was redesigning the watch movement to follow the shape of the case. Therefore, they could fit larger and more sophisticated movements in smaller cases. Gruen also launched the Curvex models for women in 1936.
During World War 2, the Gruen Watch Company started to manufacture their '21' series watches. These watches were named after their 21 jewel movements and were manufactured entirely in the US. The company continued to have a significant market presence until 1953 when the Gruen family broke the firm up and sold it. Afterward, the watch manufacturing operation continued in New York under new management.
Gruen started to fade away from the public after World War 2. A big reason for this was the reallocation of American watchmaker factories to make military supplies for the American war effort. Gruen was among the few watch manufacturing companies producing movements and cases in the US. During World War 2, Switzerland was a neutral country, this allowed Switzerland to fill the production gap in the American watch market. By the time World War 2 was over, the American consumer was accustomed to the Swiss watch technology. This caused Gruen and other watch brands native to America to have a difficult time re-establishing themselves as mainstream watch brand.
The post-World War 2 era was one of the luxury watches instead of functionality. The Gruen Watch Company, being a mechanical watchmaker, manufactured its last batch of Gruen watches in 1977. The current trademark holder of Gruen is MZ Berger, based in New York.
Gruen Watch Types
As the United States' largest watch manufacturer of its time, Gruen produced many different types of watches. During the early 1900s, Gruen made pocket watches for men and wristwatches for women. Gruen also manufactured watches with complications such as 24-hour dials for military aviators.
At the turn of the 1950s, Gruen also made automatic watches (watches that are powered by wearing them regularly) as well as quartz-powered watches. However, most quartz-powered watches were manufactured after the Gruen Family sold the Gruen Watch Company to new management. Thus, among the collectors, they are seen as pseudo-Gruen watches. Nevertheless, these watches are still vintage timepieces and can be a good addition to a collection.
Noteworthy Models of Gruen Watches
With nearly 70 years of watchmaking history, it is natural to have hundreds or thousands of different models in a company's portfolio. There are over 1200 different watch models made by The Gruen Watch Company between 1925 and 1958. These numbers only account for the identified ones verified by backdating. There were many more Gruen models made before and after this time. The total Gruen watch models are estimated to be over 2500.
Gruen made wristwatches as well as pocket watches in all their years of existence. It is common among vintage watch collectors, to consider only Gruen watches manufactured from the 1950s and before to be true vintage Gruen watches. Therefore, here is a list of prominent Gruen watch models and styles from 1950 and before.
Veri-Thin Pocket watches
The first watches made for men by Gruen were pocket watches. This was because the US male population considered wristwatches to be a feminine accessory. The Veri-thin technology was an innovation of Gruen that allowed them to reduce the size of the movement.
This allowed for smaller, better-fitting movements in the watches that effectively reduced the weight and width of a pocket watch. The first Gruen Veri-thin watch was introduced to the public in 1904 and continued to be manufactured well into the 1940s and 50s. It is an elegant timepiece for collectors. Veri-Thin watches have 17 jewel movements and a sub-dial for seconds.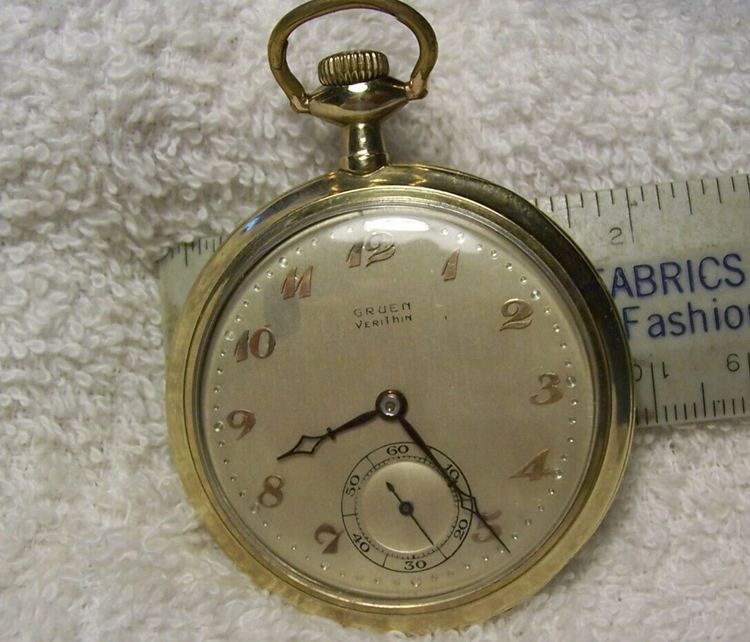 Curvex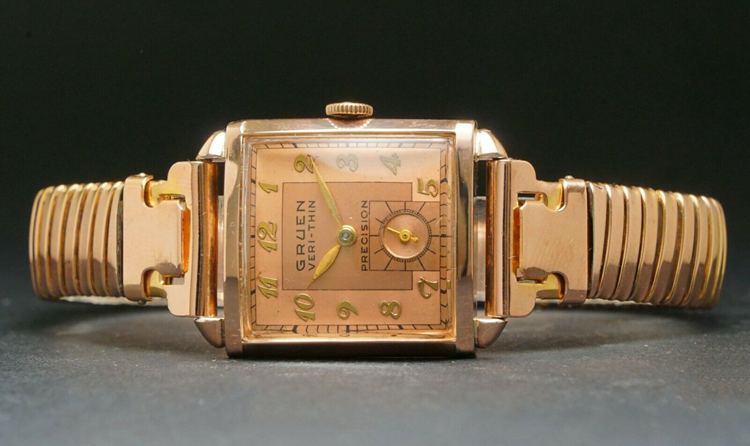 Curvex is the defining face of Gruen, in a conversation among collectors, a Curvex always refers to a Gruen timepiece unless specified otherwise. These marvelous timepieces entered the market in 1935 as a wristwatch style exclusive to men.
It was not until 1936 that Gruen decided to manufacture Curvex models for women. Curvex was a unique design and innovation from The Gruen Watch Company. A Curvex is fitted with a curved movement design that allows the case to curve around the wearer's wrist. It is the most popular Gruen wristwatch model and is a necessary part of every Gruen collection.
The Curvex models have different caliber movements depending on the year of their manufacturing. There are 4 movement calibers for men's Curvex and 3 movement calibers for women's Curvex. A watch must have one of these calibers to be a Curvex. Here are the Curvex movement calibers according to their years of introduction for men.
311 (1935)
330 (1937)
440 (1940-1941)
370 (1948)
For women's Curvex:
520 (1936)
350 (1938)
285 (1948)
All of these movements have their calibers etched onto them, making identification easy.
Gruen Techni-Quadron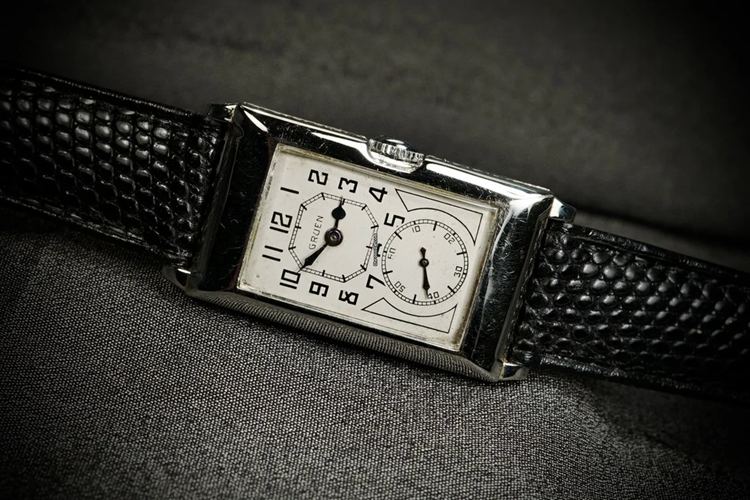 Techni-Quadron has an unconventional design compared to other Gruen watches. Gruen started manufacturing Techni-Quadron in 1928. These rectangular timepieces are sleek, beautiful and serve as excellent conversation topics among watch collectors. They are fashionable even today despite their age. The Techni-Quadron is an excellent accessory for both men and women alike.
During the First World War, Gruen manufactured many watches for officers and specialists in the US army. The Techni-Quadron is an expansion upon the aesthetic foundation for officer watches. The rectangular case's dimensions are 41mm x 21mm, making it very comfortable to wear.
As a collector, Gruen Techni-Quadron is one of the best pieces you can add to your collection. It is a mechanical watch with a short power capacity of 58 hours. It is the perfect vintage piece for an evening event. Similar to the Curvex, there are 7 movement calibers for the Quadron series watches. The Techni-Quadron movement caliber is one of them. The 7 movement calibers for Quadron watches are
117 – 17 jewel
119 – 17 jewel
123 – 17 jewel
325 – 17 jewel
157 – 15 jewel
3251 – 21 jewel
877 – Techni-Quadron
How to Determine the Value of a Gruen Watch
For a vintage watch collector, it is of utmost importance to be able to evaluate the value of a timepiece correctly. The value of a watch depends on multiple factors such as
Age
Movement architecture
Complications
Exclusivity
History
Material
Preservation quality
The older a vintage watch is, the more valuable it becomes. However, with age, it also becomes harder to identify the manufacture date and history of your timepiece. Gruen watches suffer from this difficulty in identification similar to other vintage watches. Nevertheless, there are many books catalogs to aid you in identifying the origins of your watch.
Finding the origins of your watch is the first step of evaluating the value of your watch. After you know the manufacture date, model, and movement specifications of the watch, you can look up its price in the year of its sale. This price can be a good starting point for you after converting costs to modern-day equivalent.
Where to find vintage Gruen watches?
Like many vintage products, Gruen watches are a collector's item and therefore are rare items. However, you can still find many Gruen watches online as well as in timepiece auctions in the US.
Many quartz-powered Gruen watches are circulating the market even today. On the other hand, mechanical watches are scarce. Timepiece restoration workshops and other collectors are the only ones dealing in these vintage pieces nowadays. You can find many of these dealers online on second market websites such as E-bay or timepiece marketplaces such as chrono24.com.
When dealing with online sellers, it is better to do a background check on the dealer to confirm their credentials and trustworthiness. To avoid falling for scammers, try to arrange a physical examination of the vintage timepiece or ask a certified examiner to confirm the authenticity of the product before you buy.
Taking Care of Your Vintage Timepieces
Despite their small size, your vintage timepieces are not immune to wear and tear. Most watches that you will find today have undergone some form of restoration, even if it is as little as just polishing the case. Vintage watches from a bygone era would not be able to continue working today without the careful preservation by the owners.
The 1929 Gruen released the "How to select and care for a fine watch", a booklet that details the outlines of dos and don'ts of maintaining a watch. They also divided the information into types of watches.
The booklet starts by calculating the rough estimate of total oscillations of the balance wheel per second, for up to a year. These calculations come to be 5 vibrations every second or 157.68 million vibrations per year. In distance, these vibrations make up nearly 3733 miles total.
Thus, it is justified that you should service your watches once a year at the minimum. Additionally, you should take care of them in everyday use scenarios; the booklet provides the outlines for them as well. Let us talk about them one at a time.
General care tips
These tips apply to all watches and should help keep your watch in excellent shape for a long time.
Do not wait for your watch to break or show signs of wear before servicing it
Only entrust experienced watchmakers with your watch's servicing
If your watch is dropped or suffers significant physical shock, get it looked at to ensure the damage does not spread
Keep your timepiece clean and away from open areas to prevent dirt accumulation
Do not open your watch's case frequently or when unnecessary
Most vintage watches are vulnerable to magnetism, thus keeping them away from sources of magnetism. These include metal detectors and other electromagnetic instruments
Do not handle the watch crystal carelessly, you can leave dirt or fingerprints on the surface
Pocket watch care
The pocket watch is significantly larger than the wristwatch and therefore is at a higher risk of environmental damage. To protect the watch against these dangers, Gruen recommends:
Place the pocket watch dial facing up when not carried, it is the best flat position for pocket watches
The crystal should face towards your body when inside your coat to prevent accidental crystal damage
Reapply oil and service every 12-18 months even if there are no signs of wear
Wristwatch care
Because of its smaller mechanisms and size, a wristwatch is at a higher risk of deviation and damage from dust and lack of maintenance. Some Gruen recommendations are:
Keep away from water when worn; take your watch off before you use the toilet for added security
Since most vintage watches are not waterproof, do not expose them to environments with dense vapors such as saunas
On average, the wristwatch should be overhauled and serviced every 6months or a year. The frequency depends on how small the movement parts are. Smaller parts require more frequent servicing
FAQs
Are Gruen watches valuable?
Gruen watches can cost you up to $1,000. Nevertheless, some pieces are available for under $200 price ranges. They are vintage watches from a brand considered America's best at one point in history. It is important to remember that the price does not give a particular watch its value. Instead, it is the sentiment towards it that justifies the value. It is valuable if you feel it is to you as a collector.
Where can I find Gruen watch serial numbers?
The serial number for your watch is inscribed on its movement. Finding this will require you to open the case. However, this is a dangerous process if you lack an understanding of what you are doing. Take your watch to an experienced person for the case opening procedure.
Are Gruen watches collectibles?
Gruen watches date from 1894 to 1977. However, collectors prefer only the mechanical watches manufactured from 1953 and prior for collections. These watches are rare and often expensive.
How do I identify collectible Gruens?
Gruen watches made after 1953 have 'Swiss' written besides 'Gruen'. Any watch with a misspelled Gruen is fake by default. However, 'Gruen Precision', 'Gruen Guild', 'Gruen Alpina', and 'Gruen' are authentic vintage timepieces for collectors.
How much is a Gruen Precision watch worth?
The value of a Gruen Precision watch can vary based on a number of different factors. Some of these watches can fetch over $3,000 but most vintage watches are available for around $1,000. For less collectable watches, you can pick them up for a couple of hundred dollars.