Between the late 1920s and 1940s, Depression glass provided some light during gloomy times. With a variety of patterns and colors available from various manufacturers, depression glass met the tastes of everyone.
Today's collectors enjoy the hobby-rich history of depression glass, as well as the fact that this decorative item is still a favorite in many homes today as it was more than 80 years ago.
In contrast, people collecting green depression glass wonder how much it will cost. Each piece of depression glass is worth a different amount.
Although there are numerous styles and patterns of depression glass available today, the prices are still affordable. A set can be pricey, but single pieces are usually not more than $100.
Here is a detailed guide devoted to the most valuable pieces of green depression glass. You will also find all the answers to your questions about green depression glass.
What is Green Depression Glass?
The green depression glass era was defined by mass manufacturing between 1920 and 1950 as a type of affordable glassware. In Canada and the United States, the depression glass was colored translucent or clear, and it was widely available for a low price.
Compared to hand-cut glass, depression glass was more affordable because machines in large quantities manufactured it. In addition to enhancing the look of homes, depression glass was a cost-effective way for homeowners to make their homes better.
Depression glass comes from collectors' association with mass-produced glassware of different colors. There were many different shades of green to choose from, including a pale, yellowy green similar to Vaseline to rich, dark emerald green.
During the Great Depression, some collectors believed the green color symbolized prosperity and hope. Today, collectors seem attracted to the lovely green hue as they were in the 1930s.
A Brief History of Depression Glass
Depression Glass, handcrafted by skilled artisans, was a staple of wealthy families during the 20th century. A small shop called Hand houses produced depression glass, including crystal plates and cups with intricate hand finishes. In the 1800s, handcrafted glassware was a luxury item that the wealthy could only afford due to its high cost.
A group of glassmakers recognized that working-class Americans needed affordable glassware to expand their business in the 1920s. It led to the development of unfinished glassware available at an affordable price.
Manufacturing
Amid the Great Depression, consumers stopped buying expensive glassware. Female consumers grew more and more interested in depression glass as they longed for the aesthetics of a sophisticated place setting at a fraction of the price.
From the 1920s to the 1950s, Depression glass was produced by more than twenty manufacturers, including Anchor-Hocking, Jeanette, and Hazel Atlas.
Distribution
Under two dollars, manufacturers offered twelve-piece dinnerware sets through optimized production procedures. The low cost of manufacturing Depression glass made it an excellent promotional item, and companies offered it as a promotional item.
Movie theaters and gas stations offered free glass pieces during the recession to keep customers coming back. These promotions encouraged consumers to save money by slowly collecting promotional items and constructing complete dinnerware sets.
15 Most Valuable Green Depression Glass Patterns
| | | | |
| --- | --- | --- | --- |
| No. | Name | Year | Price |
| 1 | Anchor Hocking Waterford | 1950 | $85 |
| 2 | Colonial Block Footed Tumbler | 1930s | $75 |
| 3 | Colonial Butter Dish | 1934 – 1936 | $40 – $70 |
| 4 | Cherry Blossom by Jeanette Glass | 1930 | $65 |
| 5 | Block Optic Pitcher | 1929 – 1933 | $30 – $60 |
| 6 | Sandwich Tray | 1930s | $42.75 |
| 7 | Royal Lace Green Creamer | 1934 – 1941 | $30 – $40 |
| 8 | Dark Green Bowl | – | $34.99 |
| 9 | Royal Lace Green by Hazel Atlas | 1936 – 1941 | $29.00 |
| 10 | Clean-Lined Small Pitcher | 1930s | $28.90 |
| 11 | Block Optic Sugar Bowl by Hocking Company | 1929 – 1933 | $10 – $20 |
| 12 | Daisy Pattern Platter | 1950 – 1959 | $19.97 |
| 13 | Anchor Hocking Cameo | 1930 – 1934 | 16.99 |
| 14 | Poinsettia Pattern | 1930-1939 | $9.50 |
| 15 | Diamond Pattern Sugar Bowl | 1925 | – |
Following are the 15 most valuable green depression glass patterns.
1. Anchor Hocking Waterford
Year: 1950
Price: $85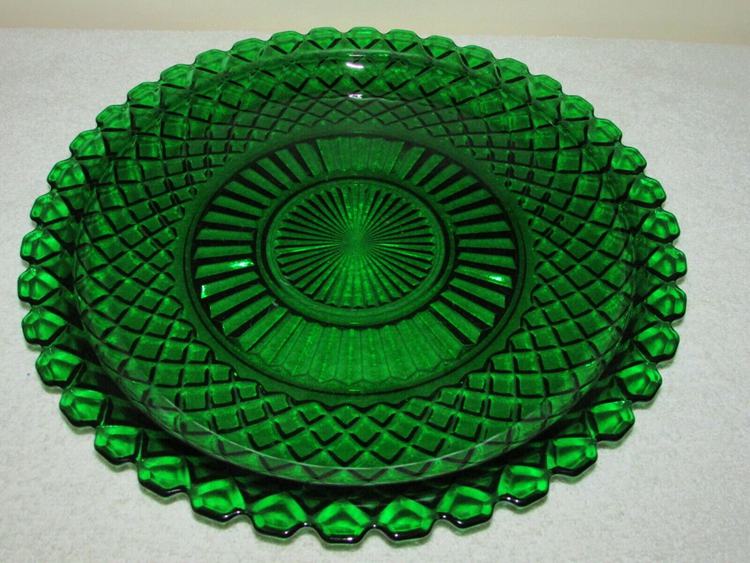 Anchor Hocking's faceted pattern is almost as elegant as Waterford crystal despite the lack of high-end sparkle. Made between 1938 and 1944, it is available in clear and green color. There is something for everyone in this geometric design, including salt and pepper shakers and cereal bowls.
2. Colonial Block Footed Tumbler
Year: 1930s
Price: $75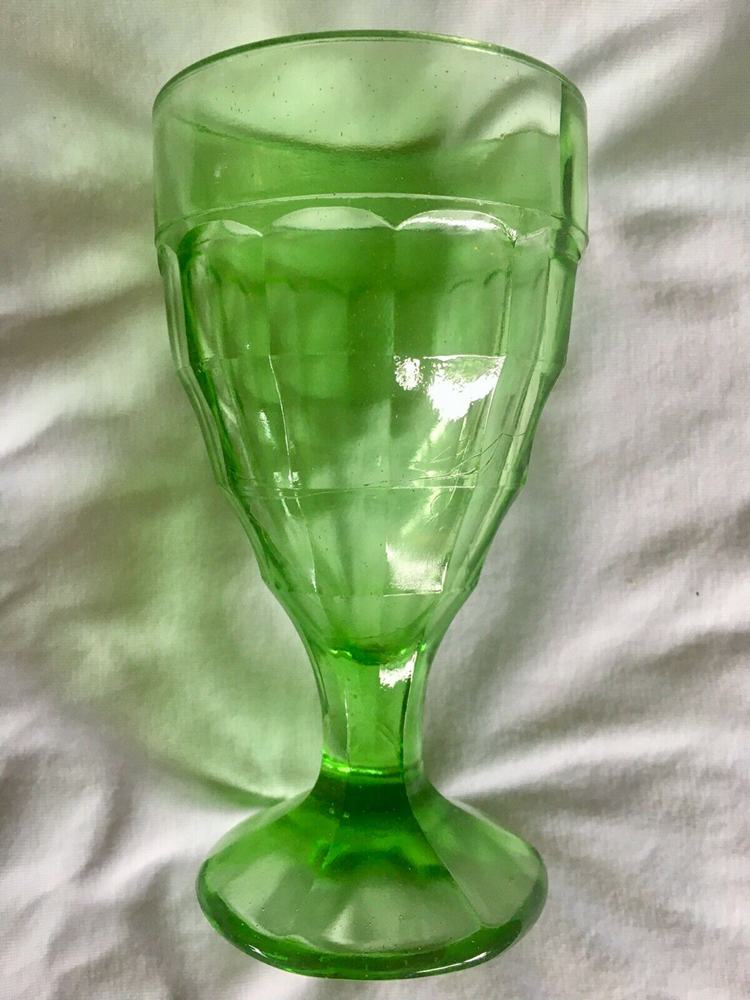 The Hazel-Atlas Company produced this piece in the early 1930s, and it has a price of $75. In today's marketplaces such as eBay, the block-footed green tumbler sells for between $10 to $30.
3. Colonial Butter Dish
Year: 1934 – 1936
Price: $40 – $70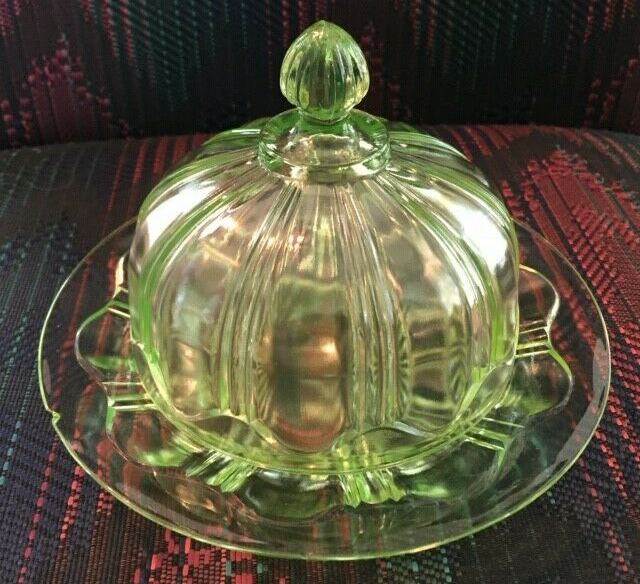 This colonial butter dish comes with a glass dome in the color green that the Hocking Company made between 1934 and 1936. Despite its unique shape and ornamental design, it is extremely popular with collectors.
It cost $35 to purchase the colonial butter dish in 2006. The piece of depression glass is now listed on online marketplaces like eBay at $40 to $70.
4. Cherry Blossom by Jeanette Glass
Year: 1930
Price: $65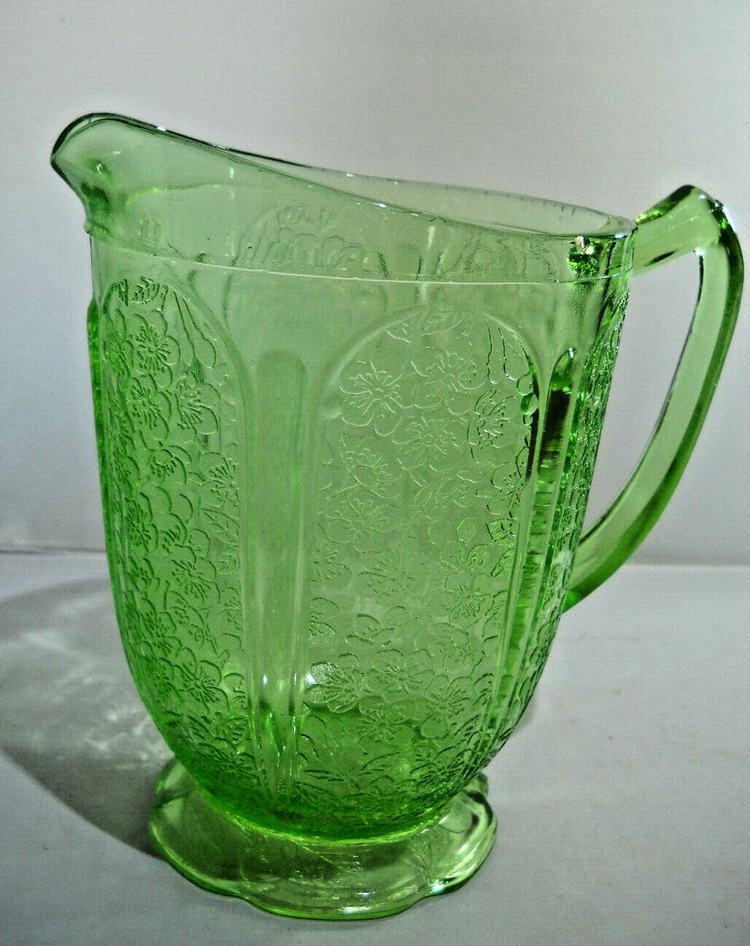 There are many beautiful and popular Depression glass patterns, but Cherry Blossom is arguably the most popular. Cherry blossoms and flowers make up the design. Cherry Blossom was manufactured between 1930 and 1939.
5. Block Optic Pitcher
Year: 1929 – 1933
Price: $30 – $60
Produced by the Hocking Company between 1929 and 1933, the Block Optic Pitcher holds anywhere from 54 to 80 ounces, based on its size. An eBay seller was listing the pitcher for $100 in 2006. These days you can find the green pitcher for $30 – $60 on eBay.
6. Sandwich Tray
Year: 1930s
Price: $42.75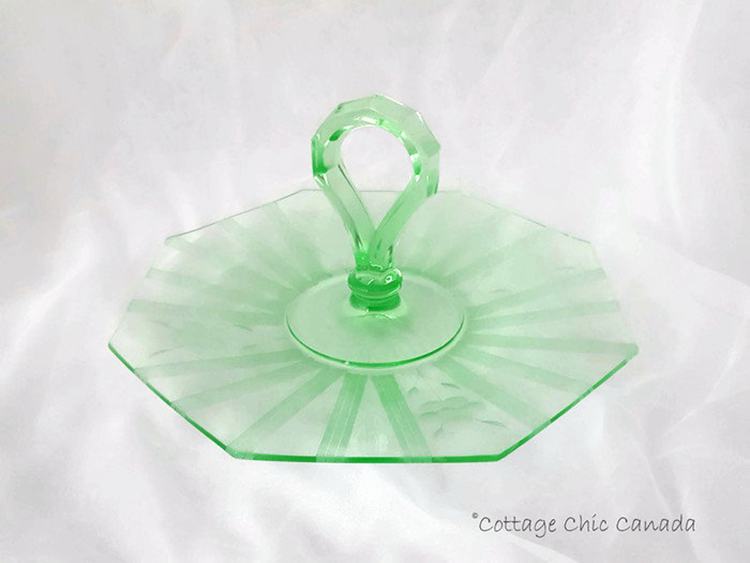 These light green sandwich trays are more challenging to find; you'll still see them in a few stores. While sandwiches are no longer served on dedicated trays, a piece like this has a variety of modern applications. The holder makes a perfect place to store jewelry and other small objects on the dressing table with its simple style.
7. Royal Lace Green Creamer
Year: 1934 – 1941
Price: $30 – $40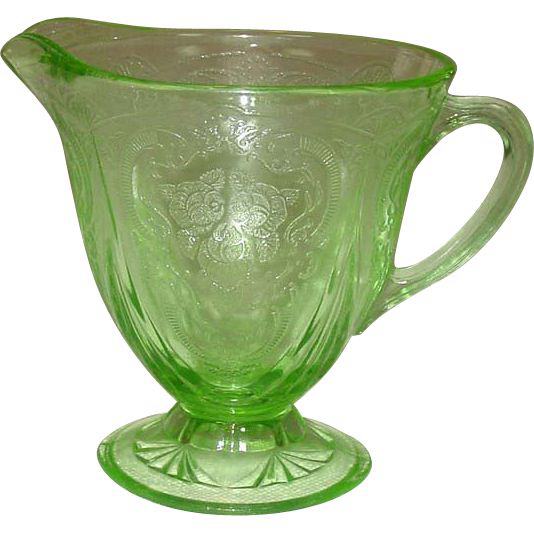 Royal Lace green creamers were manufactured between 1934 and 1941 by Hazel-Atlas Glass. You can still find them, despite their rarity.
8. Dark Green Bowl
Year: –
Price: $34.99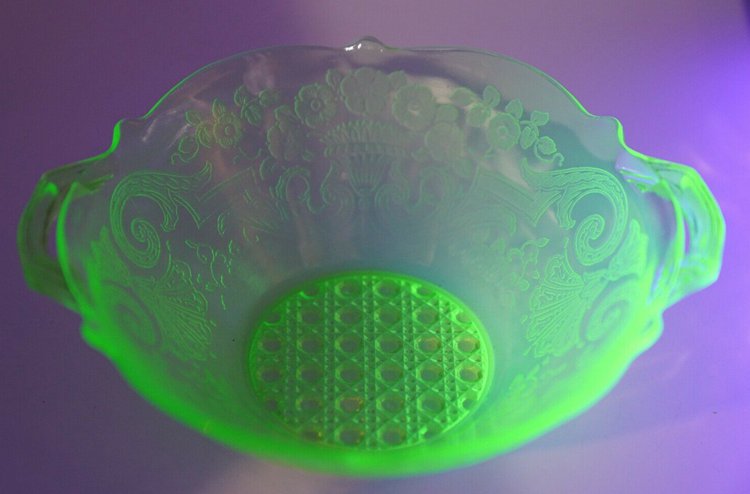 A bowl in this dark emerald green color would be the perfect addition to your holiday table, owing to the color's rarity. It is sometimes more valuable to buy pieces in darker colors, although many factors can influence their worth.
9. Royal Lace Green by Hazel Atlas
Year: 1936 – 1941
Price: $29.00
Royal Lace, made by Hazel-Atlas Glass Company, is one of the most sought-after patterns of Depression glass. There were also green, pink, crystal, and cobalt blue variations on this pattern.
Unlike the other colored patterns of Royal Lace, green glass was only made for a limited time between 1936 and 1941 and is, therefore, more valuable.
10. Clean-Lined Small Pitcher
Year: 1930s
Price: $28.90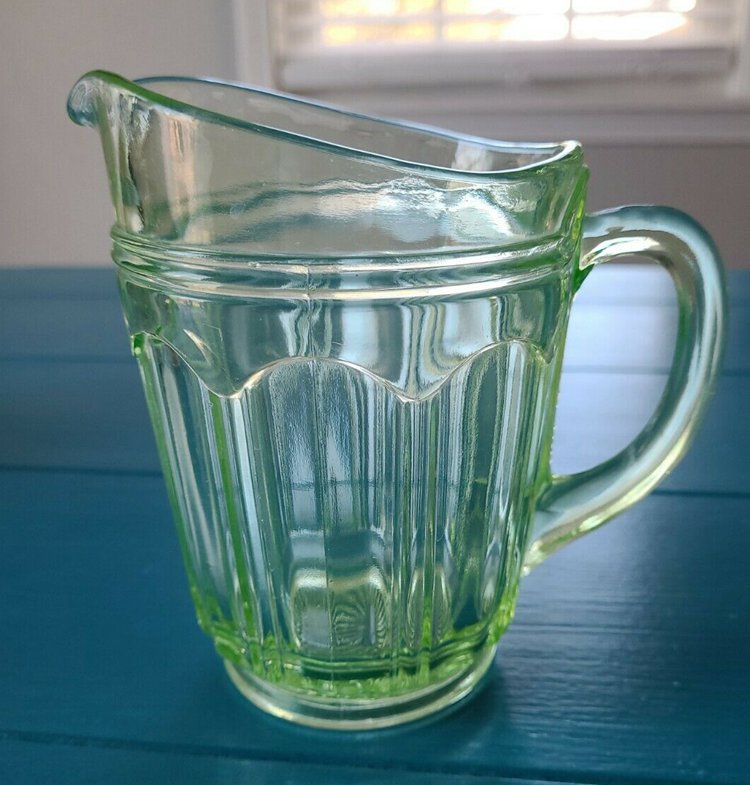 A piece like this little pitcher with a clean-lined appearance has a modern feel. In the 1930s, designers and artists moved away from the glitz and fussiness of Victorian style, switching to simpler, more geometric forms. Modern homes can benefit from this green depression glass, which adds rich color without distracting from ornate details.
11. Block Optic Sugar Bowl by Hocking Company
Year: 1929 – 1933
Price: $10 – $20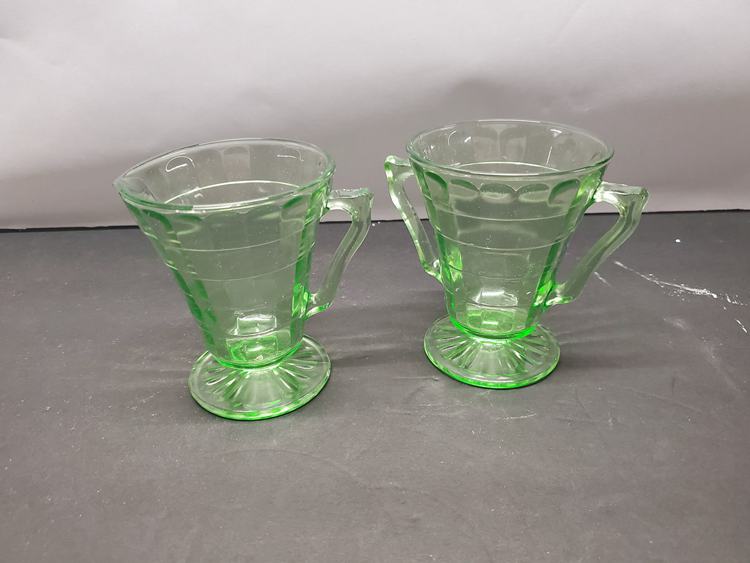 Block Optics come in three different types on the market today. Their price is the same for all three types. There are a few different colors available for this bowl. You can also get a cream pitcher with the bowls.
In 2006, the Hocking Sugar Bowl, produced between 1929 and 1933, sold for $15 on eBay. However, in recent years, the sugar bowl has been priced between $10 and $20. Creamers, on the other hand, can cost upwards of $30.
12. Daisy Pattern Platter
Year: 1950 – 1959
Price: $19.97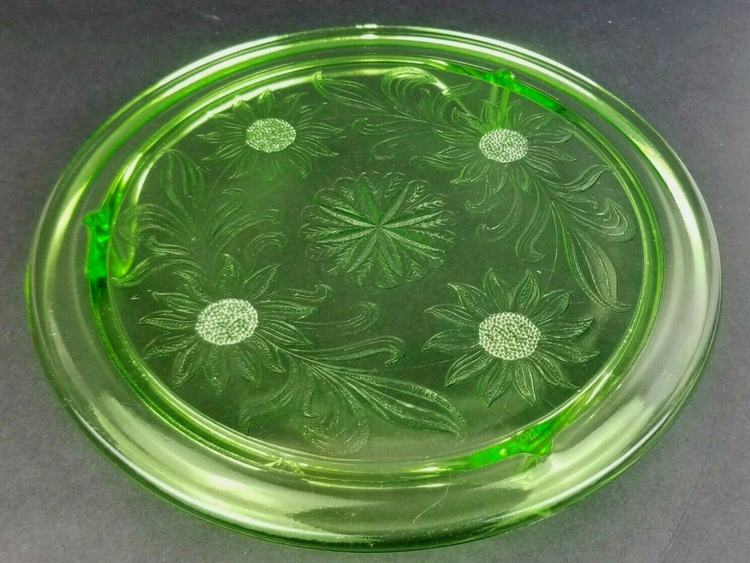 One of the popular patterns is "daisy." It would be best if you looked closely to see the pattern of small daisies on this light green depression glass platter.
The little platter does not overpower the delicate green color despite its delicate flowers. It is especially charming when the pattern is lit.
A little patina and fogging can also be seen on this piece, which are sure signs of authentic depression glass. Rather than saving their inexpensive glass pieces for special occasions, many people used them in their homes for decoration.
13. Anchor Hocking Cameo
Year: 1930 – 1934
Price: 16.99
uring the Great Depression, Anchor Hocking made Cameo between 1930 and 1934. With its florals and swags, this pattern is classic and elegant. Among its colors, green is the most popular.
14. Poinsettia Pattern
Year: 1930-1939
Price: $9.50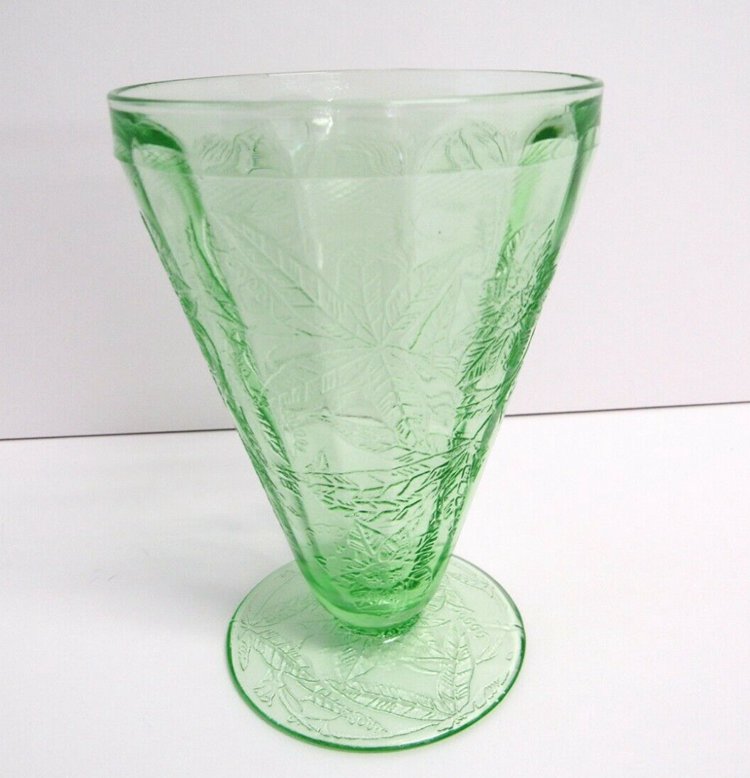 Ornate patterns were also popular during the 1900s. There were a few different colors of the poinsettia pattern. Even though the floral design is subtle, it makes for an excellent holiday statement.
15. Diamond Pattern Sugar Bowl
Year: 1925
Price: –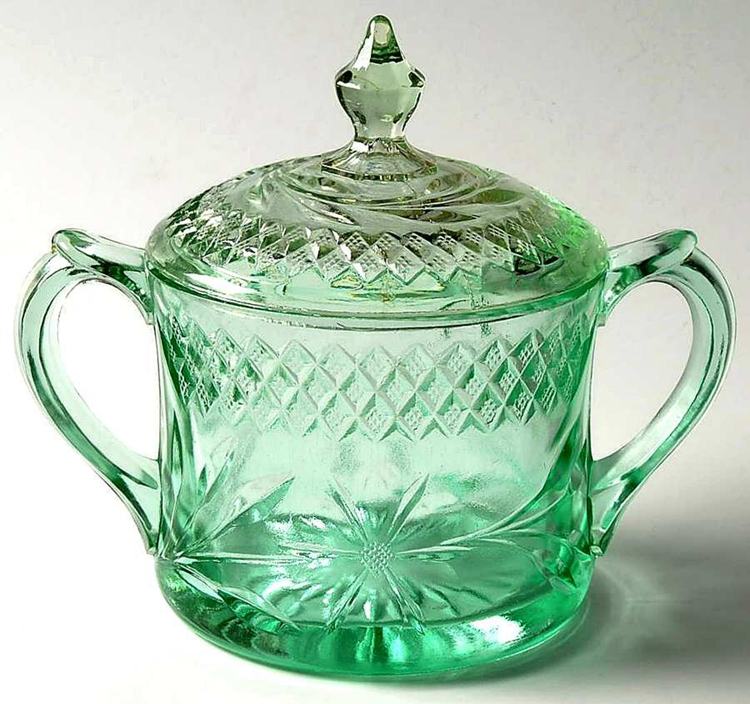 A diamond design highlights the deep green color of this sugar bowl. The pattern displayed here is another example of an Art Deco design with simple geometric shapes. Light reflects from the facets, creating a pleasant sparkle on a table without being obtrusive.
How Much Is Green Depression Glass Worth?
It depends on the piece how much green depression glass costs. Plates and glasses usually cost between $15 and $40, while large items could cost as much as $100. While sets may cost more, some might go for more than $200.
In general, pink depression glass is more valuable. Blue and green are also valuable. Also, distinctive colors like lavender are more valuable than ordinary colors like yellow.
What Is the Value of Green Depression Glass?
Many pieces of green depression glass are worth much less than others, but some pieces can fetch hundreds of dollars. In addition to conditions, several other factors affect value.
You can make smart choices if you know how to evaluate the glass piece's condition. Here are some things to look for to quickly evaluate the price of green depression glass:
A few scratches, hazings, chips, and slight cracks
Color that is uniform and vivid
Repairs not visible
How to Identify Green Depression Glass?
Research is key when purchasing glassware, whether looking for a Depression-era butter dish, cup, or bowl. It is essential to understand the commonness of a piece before you begin to bargain.
A limited-run piece or color pattern, for instance, is worth more than a more plentiful version. Moreover, if you are looking at Depression glass, it is essential to know what you are looking at since reproductions from the latter half of the 20th century are abundant.
Before swiping your credit card, make sure you're paying a fair price and making an educated purchase by checking the internet or opening a book.
The process may seem tedious, but when you compare the identifying characteristics of a piece with the patterns, makers, and production dates, you can determine if that piece is real or fake. The following steps will help you identify depression glass:
· Check The Glass Surface for Bubbles
Look carefully at each piece from all angles, and be sure to check it very closely. You will notice small, scattered bubbles on the surface of a piece of depression glass if it is real.
· Base Should Have Some Lines
Make sure that you flip the piece over and take a closer look at the piece's base. A piece of depression glassware with thin and long lines running in the same direction is an indication that it is one made during the depression era.
During the production of depression glass, each piece was dried by lying on a straw. Thin lines appear on the glass where the thin lines have molded it slightly.
· Inspect For Scratches
There have been many different kinds of depression glassware over the past one hundred years. A scratch on depression glass might be a good indicator of the real thing considering it was primarily intended for everyday use.
Conclusion
Depression glass was a popular product between 1929 and 1939 when the Great Depression was in full swing. The idea behind depression glass was to provide affordable quality to most of the population, which was mainly broken.
Depression glass was highly cheap when first introduced, with most pieces costing similarly to a loaf of bread. With Depression glass, everyone could enhance the look of their home with minimal effort for about five cents.
As a result, today, many people decorate their houses with depression glass pieces. On the other hand, these days, depression glass is slightly more expensive than it used to be during the late 1920s and the 1930s.
In this comprehensive guide, we have examined the value of 15 of the most valuable green depression glass pieces. This guide aims to answer all of your questions about green depression glass, and we hope this has been helpful to you.
The above article has covered many topics, but if you feel there is a question we have not addressed, please make sure you leave it in the comments below.