The glass insulator is one of many man inventions. However, like several others before and after it, it has gone extinct and is no longer used.
Glass insulators were used for telegraph and telephone lines to aid communication between states and prevent wires from touching wooden poles. Today, depending on the color, age, and quality, the price of these insulators ranges between $2-$400.
As a collector, the beautiful colors of these antiques might pique your interest. Therefore, we've scrutinized the web and found the ten most valuable antique glass insulators in the world today.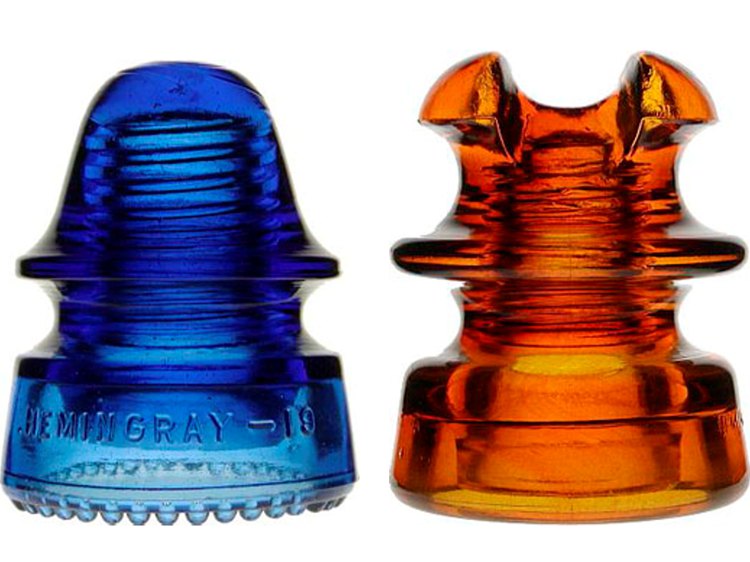 Here's a table showing a curated list of the top ten most valuable antique glass insulators               
Let's have a Look at the Big 10 in the World of Glass Insulators
We've curated a list of the ten most valuable glass insulators around. These insulators are highly sought after by collectors and everyone. Having a couple on your shelf is a solid idea.
The prices of items in this article are sourced from authorized online antique stores, auction sites and online stores.
| | | | | | |
| --- | --- | --- | --- | --- | --- |
| No. | Insulators  | Date | Colors  | Place of Production | Price |
| 1 | Cal. Elec. Works | 1880 | Cobalt blue | USA | $5,390 |
| 2 | Twiggs | 1905 | Clear glass color | USA | $3,000 |
| 3 | Gregory | 1903 | Aqua-Green | USA | $1,750 |
| 4 |  Mulford &Biddle | 1840 | Cobalt Blue | USA | $352 |
| 5 | Brookfield | 1869 | Pale Blue Aqua | USA | $88 |
| 6 | Emmingers | 1872 | Aqua Green | USA | $85 |
| 7 | Hemingray-42 | 1865 | Hemingray blue | USA | $55 |
| 8 | WUP | 1870 | Teal-toned Aqua | USA | $20 |
| 9 | Pyrex | 1924 | Clear glass color | USA | $15 |
| 10 | California | 1912 | Sage Green | USA | $10 |
Parts of a Glass Insulator
Getting familiar with the physical anatomy of glass insulators is crucial if you desire a deeper understanding of what is to come in this article. Identification will be a smooth experience.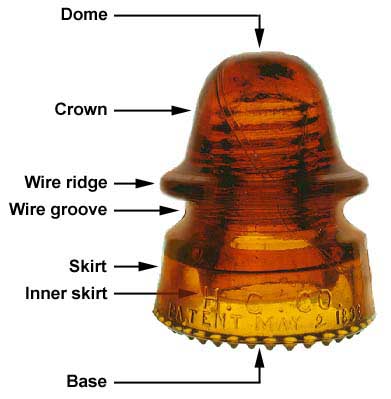 Dome: The dome is a rounded surface at the top part of the insulator. From this part, you can locate the embossing number.
Crown: This part goes up from the wire ridge to the dome.
Wire Ridge: The wire ridge supports wires attached to the insulator. It's a ring of glass around the body of the insulator that sits just below the wire groove.
Wire Groove: This is a square or concaved-shaped part located between the wire ridges on the body of the insulator. The Wire groove holds the line wire.
Skirt: The outer part of the insulator that extends from the wire ridge to the base is known as the skirt
Base: This is the lowest part of the insulator. It provides a surface for it to sit on.
1. CD 130.1 Cal. Elec. Works Insulator
Color: Cobalt blue
Year: 1880
Price: $6000-$8000
Sold: $5,390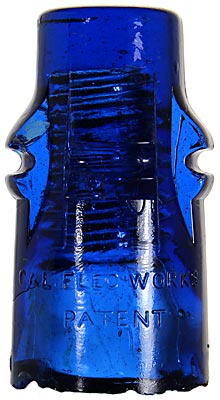 Popular along the Ridge telephone company line in California, we have the CD 130.1 Cal. Elec. Works insulator built after the California Electrical Works was established in 1877. The company from which the insulator coined its name.
The Ridgeline was the first-ever long-distance telephone line in the USA. It was installed to provide smooth communication for the hydraulic mining company in the mountains of Sierra Nevada.
The rich dark blue color adds to the beauty of this insulator, and this rare item retails for a whopping $5000, miles ahead of its peers. Its unusual shape, rarity and rich history make this antique piece top the list of the most valuable insulators in the world.
2. The CD-141 Twiggs Insulator
Color: Clear glass color
Year: 1905
Price: $3000-$4000
Sold: $3,000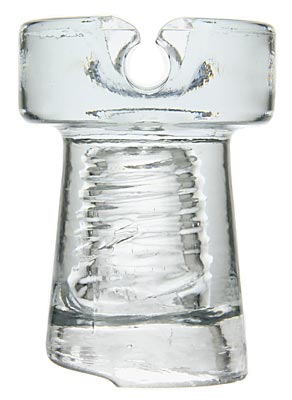 Only 13 models of the CD-141 Twiggs insulator exist. This should give you an idea of how rare it is. Its tasteful design incorporates two balls in its top center spot. The balls are wedged to face the opposite direction and secure the wire.
Collectors' demand for Twiggs insulators is more due to its unique shape and clear glass color. The insulator stands at over 4ft tall and retails for about $3000-$4000.
3. Gregory Insulator
Color: Aqua-Green
Year: 1903
Price: $1500-$2500
Sold: $1,750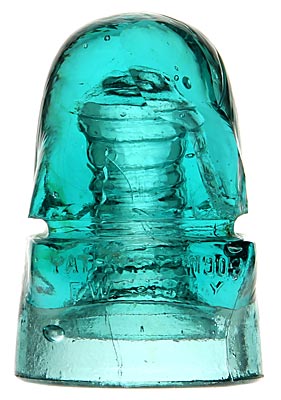 Next is the 1903 beauty, the Gregory insulators. These insulators were used along the railroad of the central Pacific Ocean in the Sierra Nevada Mountains of California. They came in aqua green, with the top shaped like a dome.
It features a round base with a hollow leading directly inside the dome. You'll find its CD (consolidated design) inscribed boldly on the side of the skirt. You'll also find it with a wire groove with a flat surface for the line.
4. CD-735 Mulford & Biddle Insulator
Color: Cobalt Blue
Year: 1840
Price: $350-$400
Sold: $352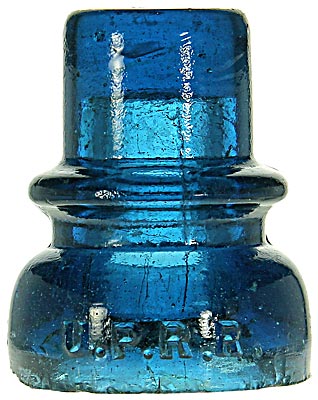 The Mulford and Biddle insulator originated from the pilgrim hat family. This insulator comes in different shades of aqua, blue, teal blue, and cobalt blue.
It's a threadless insulator that was produced between 1840-1870 and was found on railroads. The ones used on the original UPPR railroad were marked with the UPPR embossing and valued at about $400.
5. West Brookfield CD-145 Insulator
Color: Pale Blue Aqua
Year: 1869
Price: $80-$145
Sold: $88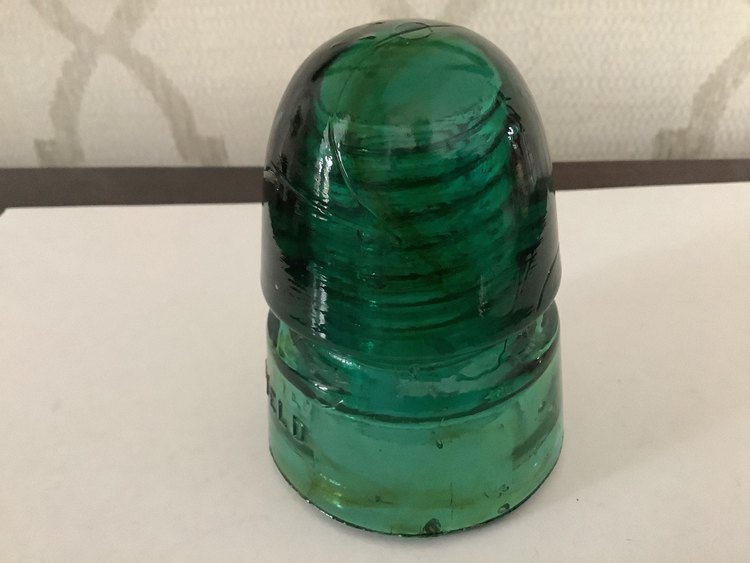 The Brookfield company produced a myriad of insulators, most of them featuring a pale blue-aqua color. The most popular and valuable is the CD-145, standing at 4ft; it was used by railways for dispatching trains and railway communications.
You can find more than 100 of these insulators on the southern pacific railroad between New Orleans and other locations. They have a solid wire groove and a good tie for depth.
Identifying one is easy; it is marked with a single letter B on the skirt right between the base and wire groove and has the shop number 7,8,10,11,12 with a dot on top.
6. The CD-141.9 Emminger Insulator
Color: Aqua Green
Year: 1872
Price: $63-$95
Sold: $85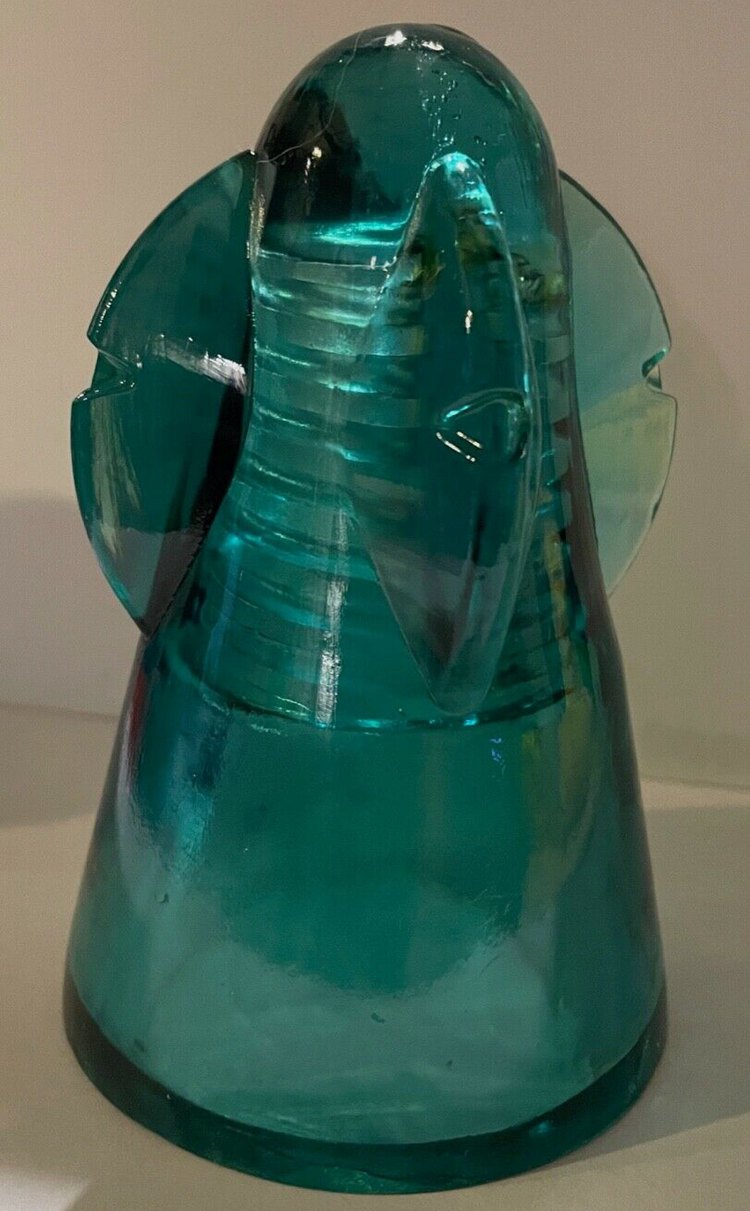 This angelic-shaped model takes this shape for two reasons; to prevent dust and dirt from gathering on its outer surface and reduce the contact point between the telephone wires and insulators. However, with this design followed is susceptible to damage.
The style adopted gives this glass insulator a dominating presence that none can equal. Its unique design features a 1/8″ ding on the skirt and another thin 3/8″ slice at the skirt area. This, combined with its rarity, makes it a favorite among collectors.
7. The Hemingray-42 Insulator
Color: Hemingray blue
Year: 1865
Price: $15-$60
Sold: $55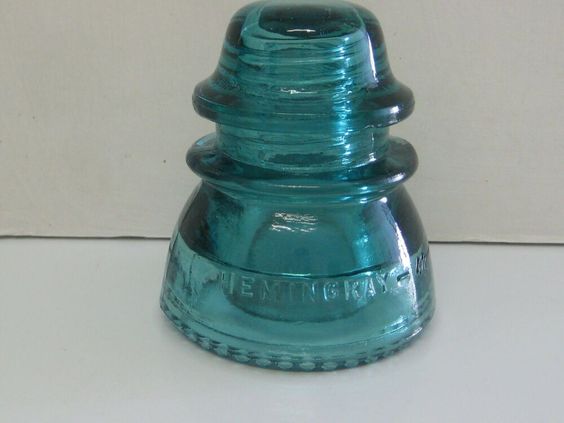 The Hemingray insulator produced between 1921-1960 is one of the most popular glass insulators and sells for as low as under $10.
The name and style number of the Hemingray-42 is written boldly on the glass. Information such as numbers, dashes, and dots are also on the body.
The most common color for this style of insulator is Hemingray blue. It's a teal color that is associated with several other glass insulators. However, rare colors like clear green, ruby red, and pale ice blue exist.
The Hemingray-42 comes in 2 styles- the standard and a rarer variation. For the standard style, the drip points along the bottom of the glass base are round. It's sharp for rarer variations.
When collecting this insulator, ensure to look out for the rarer colors, as they're much more in demand than the regular blue color.
8. WUP CD-127 Insulator
Color: Teal-toned Aqua
Year: 1870
Price: $15-$25
Sold: $20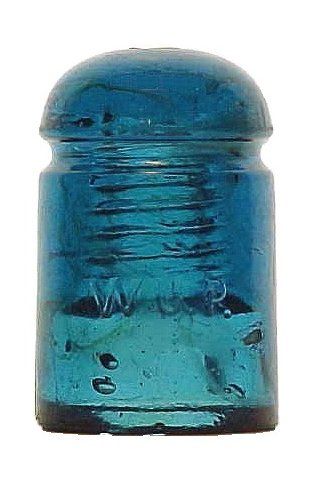 The WUP insulator comes in different shades of blue, from cobalt to teal-toned aqua. These colors are available in Pennsylvania, Ohio, and Oklahoma.
It has a smooth base, and you'll find WUP, an acronym for WESTEN UNION PATTERN, inscribed boldly on the skirt.
9. Pyrex CD-128 type Insulator (1922-1951)
Color: Clear glass color
Year: 1924
Price: $10-$25
Sold: $15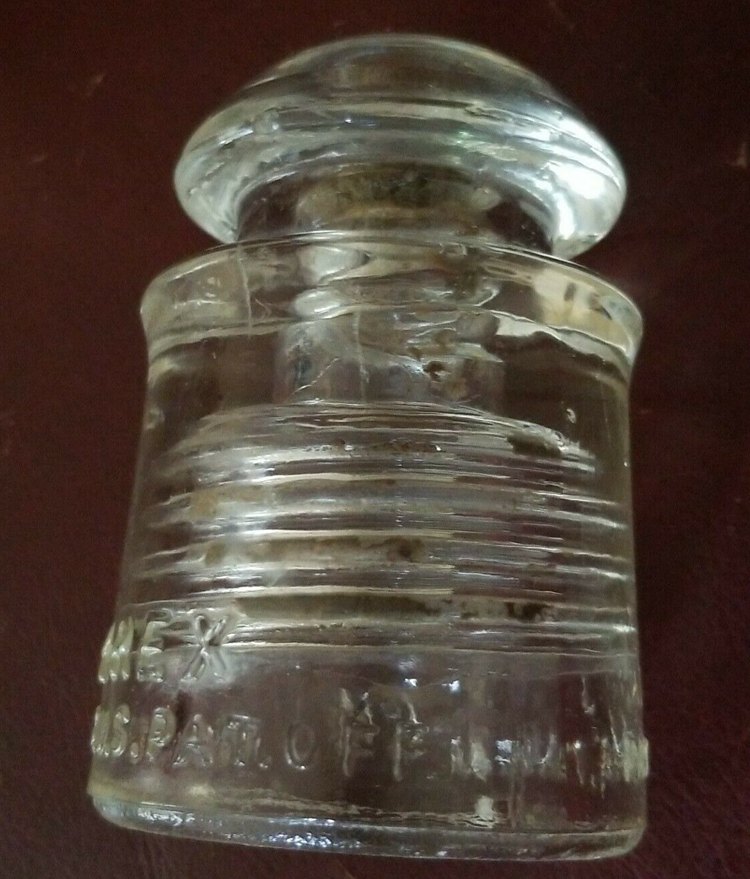 This insulator was produced by Corning Glass Works Company and used for low voltage applications and telephone lines.
The Pyrex insulators were famous for their ability to withstand a higher electrical voltage than the others. They made large insulators for high voltage electrical lines. Hence, the CD-128 type was the only small size ever produced.
The insulator has two sets of threading that allow you the freedom to use it in more than one application, granting it an edge over most insulators.
Additionally, you'll find its trade name, "the CS carrier," inscribed on the skirt with a 'PYREX' logo. The Pyrex CD-128 has a clear color and a load capacity of only one wire.
10. California Insulator
Color: Sage Green
Year: 1912
Price: $1-$10
Sold: $10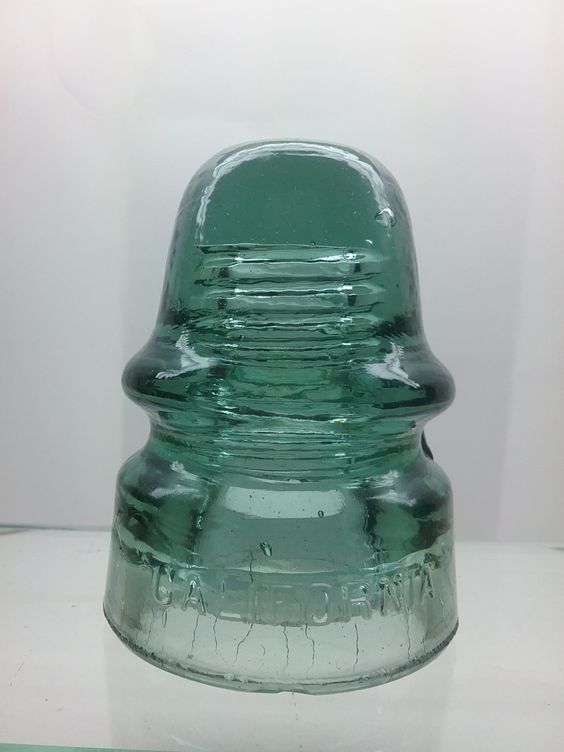 This insulator comes in a variety of rainbow colors. They're sage green, peach, plum, yellow, purple, and clear white. The standard color of the California glass is sage green and sells between $1-$10, the least in this category.
It also comes in varieties of molds; some of which are listed below:
CD 102 California embossed
CD 152 "taper top" hoopskirt variant
CD 260 pinch ear helmet
CD 166 Straight sides signal variant
A Brief History on Glass Insulators
History reveals that glass insulators came to life in the early 1850s through a man called David Brooks.
He initially designed them to protect homes against lightning strikes, but that changed when Samuel Morse invented the telegraph in 1837. To make the flow of communication from one point to another easier, telegraph lines were introduced.
As communication technology advanced, electrical consumption increased, glass insulators became necessary for attaching wires to the poles.
They protected the wooden poles from electrical current and ensured that electric connection never gets lost during transmission of messages.
How to Date Glass Insulators?
When dating a glass insulator, make sure you count all the dots around the year code and add them to the date of the mold manufacture. Doing this will help you figure out the precise production date.
Here are some extra tips that can help you in narrowing down the manufacture date of a glass insulator;
If your insulator is light aqua or green, then it was probably manufactured in Brooklyn in 1908
A dark aqua or green color might be an indication that the glass insulator comes from the old bridge in 1906-1921
If your glass insulator has drip points, then its highly likely that it was manufactured around 1909-1915
Finally, 1915-1921 glass insulators are usually light blue.
How to Determine the Value of a Glass Insulator
Factors such as age, color, rarity, condition, and quite a few others will aid in determining the value of your antique glass insulator. When gathering your items as a collector, these are points to bear in mind.
Age
The CD numbers on the glass (if available), the roughness, and the overall appearance of the glass can help you determine the insulator's age.
If you're lucky to lay your hands on one of the earliest glass insulators models, you are guaranteed to sell at a higher value.
Color
Color is one crucial determinant of the value of a glass insulator. The most common color of glass insulators is aqua color and clear glass.
Rare colors include purple, green, and amber. This means if you ever come across these colors, you'll sell your collectibles at a much higher price compared to the other colors. For example, a cobalt blue glass insulator is worth about $300.
Shape
The beehive-shaped insulators dominated the market, becoming the most common models of the earliest glass insulators. Although other shapes existed, they were not as popular.
Therefore, collecting any other shape/shapes on your shelf increases the value of your collectible.
Condition
if your antique glass insulator is still new with no sign of wear and tear or crack, then you'll sell at a higher price/value. Nobody wants to have worn-out or aged glass on their shelf. Endeavor to collect neat ones and be careful while handling them.
Market
The force of demand largely determines how well an antique piece will sell. Therefore, the high demand for glass insulators automatically increases the value placed on the product.
If you plan to sell, make background findings to ensure that the market needs your antique pieces before gathering them.
Manufacturer
Sometimes, all your piece needs to sell is the name behind its production. Popular manufacturers are directly proportional to popular demand because they're usually renowned for making quality items.
A Merhson power glass insulator or a purple Canadian insulator will sell for a higher value than its counterpart because of their reputation back in the day.
Rarity
Threadless insulators produced between the early 1850s to 1860s cost more than insulators with thread and later models. These insulators cost hundreds of dollars. Unfortunately, there are just about a few of them left.
How to Properly Clean Glass Insulators
Either for decorative purposes, sales, or exhibitions. It's necessary that you thoroughly clean your glass insulators as they quickly collect specks of dust and trap dirt on their insides and surfaces.
Check below for the best cleaning agents that'll add the needed shine to your collection.
White Vinegar
You can use white vinegar to remove water residue, and dirt gathered due to years of weathering. All you need to do is fill a bowl/bucket with vinegar and allow the insulator to sit overnight.
Wash with the brush by morning and rinse with clean cold water to remove all vinegar residue
Baking Soda
Baking soda is another excellent glass cleaner because of its mild abrasive properties.
Get a toothbrush and mix the baking soda with water to form a semi-thick paste. Use the brush to scoop the paste and scrub the insides of your insulator.
Ensure to handle with care, as holding the insulator tight can break the glass or cause some parts to chip off. Rinse properly with cold water to get rid of baking soda particles
Oxalic Acid
To remove rust from your glass insulator, mix one-part oxalic acid with one part water to make a paste, after which you rub on the rusted surface.
Oxalic acid is a trusted cleaning agent that completely removes rust and instantly adds shine to glass insulators.
FAQs
Q: Where can I find Glass Insulators?
A: You'll likely find a handful of glass insulators along railroads in scattered locations all over America and beyond. These insulators are on electric poles, inside the ground, or on train tracks. Be careful not to have accidental contact with electricity in your search for these antique pieces.
Q: Where can I sell Glass Insulators
A: You can sell your antique glass insulators on verified online stores, walk-in antique shops, flea markets or art centers.
Q: What were Glass Insulators used for
A: Glass insulators protected telegraph and electrical wires from touching wooden poles. They also prevented any loss in transmission during communication.
Q: What are Glass Insulators used for today?
A: Nowadays, old glass insulators still come in handy. They're used for decorative purposes in homes, to hold candles and flowers. If you find a rare color, you can put that on your shelf to beautify your space.
Q: How much are Glass Insulators worth?
A: Insulators sell between $2-$400 depending on the age, color, manufacturer, and condition. However, very rare insulators can sell for higher prices.
Q: What are Glass Insulators?
A: Glass insulators are objects made from glass. They help to attach wire/wires to poles. Because of insulators, it has become easy to connect wires from one point to the other.
Final Thoughts
Whether you are a collector or looking for information on glass insulators, we are sure that with the information dished, you now know how valuable glass insulators can be. Ensure that your insulators are in excellent to good condition and watch their monetary value swell.