Determining the value of a piece of Frankoma pottery can be daunting. With hundreds of Frankoma pieces on sale on sites like eBay and Etsy, it can be challenging to determine your piece's price accurately.
I've been a collector my whole life. I understand the mental gymnastics of gauging what your collection should fetch you. So, to make things more straightforward (and to ensure you're not selling yourself short!) I've developed this up-to-date Frankoma pottery value guide.
History, Identification, and Value of Frankoma Pottery
Frankoma Pottery: A Short History
Frankoma pottery has been at the heart of Oklahoma state history and its widely celebrated ceramics scene. When John Frank first established Frank Potteries (later "Frankoma Pottery") in early 1933, he was a full-time Ceramics professor at the University of Oklahoma.
After becoming the first commercial pottery business owner, John decided to shift his entire focus to Frank Potteries and resigned from his university position in 1936. He later moved to Sapulpa with his wife, Grace Lee, and their two daughters.
The Frankoma pottery factory at Sapulpa is where all the magic happened. His designs amassed quite a following, quickly becoming a collectors favorite. John played into this success. Soon, Frankoma produced a new line of commemorative pottery, which took the collector world by storm.
If you're interested in learning more about the company's history and hearing what experts say about their pieces, head over to this Youtube Video.
Identifying Frankoma Pieces
Identifying Frankoma Pottery by Colour:
Frankoma pottery is a true celebration of the Oklahoma landscape. All its signature colors pay homage to different natural elements. The most popular, Prairie Green, Desert Gold, Robin Egg Blue, and the distinct Brown Tan, all nod to the colors of the prairie. This colorful association doesn't just make it a favorite among Frankoma collectors; it can also influence pottery prices.
Other than the ones already mentioned, Frankoma also produced articles in colors like:
Brown Satin
Peach Glow
RedBud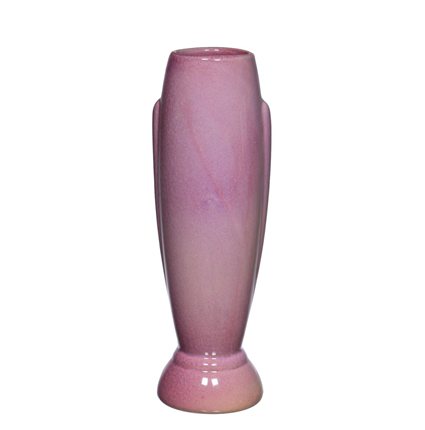 Sunflower Yellow
and Woodland Moss
You have no reason to worry if your Frankoma pottery has another coloration. Early pieces in rare colors might even fetch a higher price of several hundred dollars (or more!).
I've attached below some reference pictures to give you a visual guide on the most popular Frankoma colors: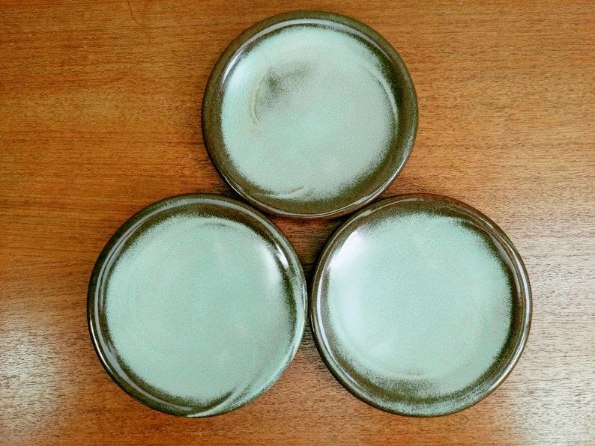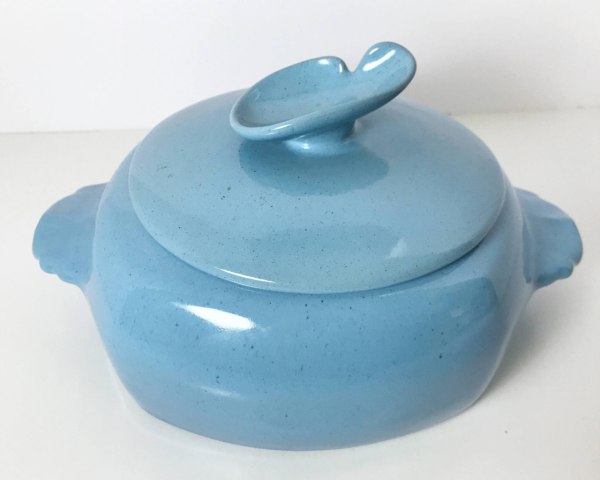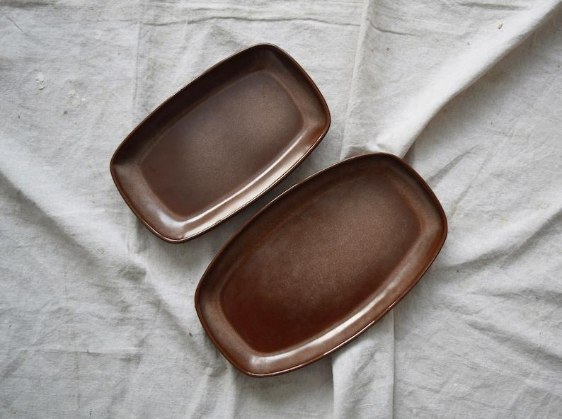 Identifying Frankoma Pottery by Clay Type:
John Frank famously produced his pottery with two distinct types of Oklahoma clay; lighter Ada Clay and Red Clay from Sapulpa. The type of clay used can also influence the pottery value–generally, the lighter Ada clay pieces, say for example this piece here, go for higher prices than Sapulpa clay pieces like these.
To check what type of clay was used, flip your piece and look at the underside. You're likely holding an Ada Clay piece if you see a lighter-colored base like the one pictured below.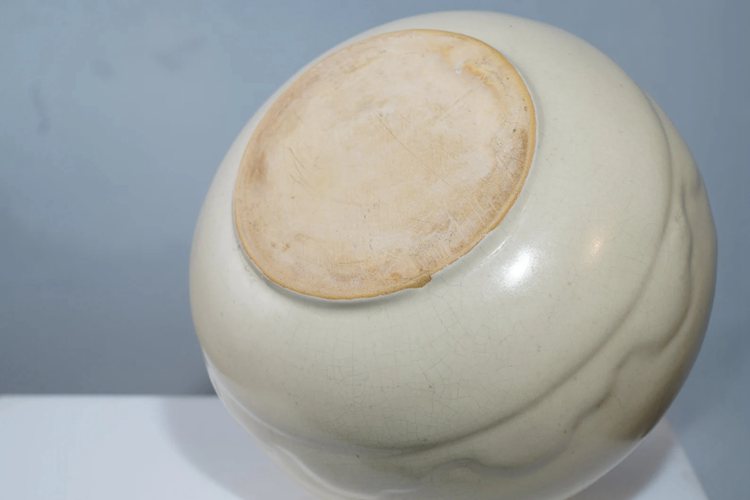 However, If you notice that the underside is a darker, reddish tone like this: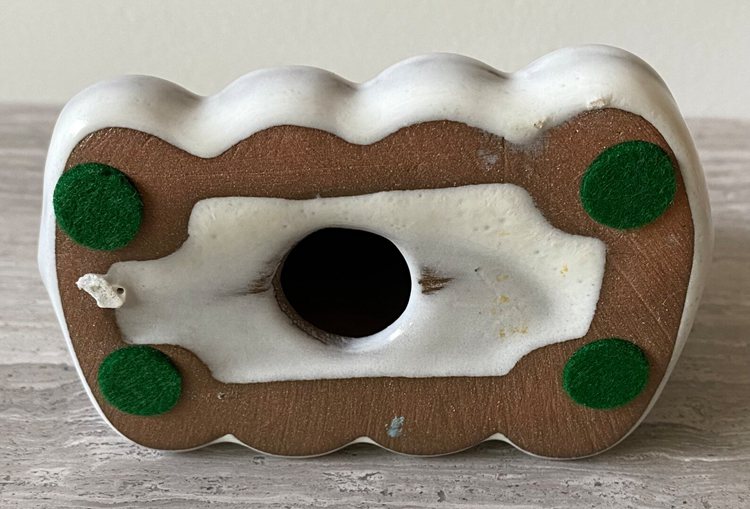 It's safe to bet you have a Sapulpa clay piece on your hands.
Always remember that the type of clay is not the sole determinant of price but is just a single factor in determining the value of your Frankoma pottery.
A Third Type of Clay
In the 1980s, Frankoma began adding additives to their brick-red Sapulpa clay. This created another variation (pictured below), marked by a lighter, pinkish/orange color.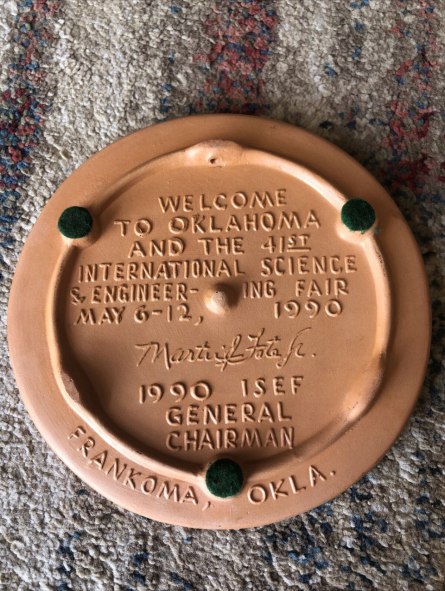 Collectors usually call this "Sapulpa Clay Post 1980". This particular variation of the clay can be hard to identify, so the "wet finger test" is recommended in addition to visual identification.
The Wet Finger Test
Another quick and relatively easy way to determine the type of clay is the "wet finger test":
Lay out a microfiber cloth to ensure you don't damage your piece.
Place your article on top of the cloth, upside down. Make sure you can view the unglazed base.
Wet your finger and touch the exposed base.
If the area darkens, you most likely have a Post 1980s Sapulpa Clay piece.
You can head over to this YouTube Video for a visual guide on how to do the test.
Identifying Frankoma Pottery by Marker:
Most antiques have a distinct signature or mark that puts them apart. However, unlike other Oklahoma potteries, Frankoma signatures have continuously changed. Many Frankoma pieces these days host different base markers.
The marker can indicate rarity and, therefore, estimate Frankoma pottery prices. To help you determine when the piece was produced, I've developed a table of the primary markers:
Timeline
Marker
1933 to 1934
FRANK POTTERIES NORMAN OKLAHOMA
FRANK POTTERIES NORMAN OLKA
FRANK POTTERIES
February 1934
"Frankoma," a rare rubber stamp mark was used briefly.
1934 to 1938
The "Cat Mark/Pot and Puma Logo" ( This was used until the infamous 1938 factory fire. It was the first company logo and can be seen on large pieces.)

"Frankoma" with a round O. (This logo was more commonly used on smaller pieces within the same period.)

1938 to 1950s
"Frankoma" with an oblong O. (The "o" is oval, instead of perfectly round as on earlier pieces.)
1950s Molds
Trademark+ Mold Number. (In the 1950s, Frankoma began using modified original Frankoma molds to include both the trademark and mold number within the design.)
No Mark
Don't worry if your piece doesn't have a signature. Some master molds were unmodified, so the pieces molded from them can have unmarked bottoms.
Gift Pieces
"JNF"
"JF"
"John Frank"Personalised pieces are the most coveted. If you have a piece with the markers above, know that you've hit gold! These scarce articles were meant as gifts and are highly sought-after by collectors.
You can simply cross-examine your Frankoma produced piece to determine rarity and production year.
Frankoma Pottery Value Guide
What is Frankoma Pottery Worth?
Determining the value of art pottery can be tricky. Unfortunately, there is no "one-quote-fits-all" approach to pricing pottery. A wide array of factors determine the value of a particular article. The best way to make an educated assessment (without professional help) is to pitch your piece against similar ones on the market.
Frankoma pottery, as I've already established, has complex markers and can have widely different values per piece. To give you more insight, I've created a Frankoma pottery price guide here:
Pricing Frankoma by Type:
Frankoma pottery began gaining most collectors' attention after their Limited Edition mug series for the Republican Women's Organization in 1974. Other articles in the southwestern line have adorned Oklahoma homes throughout history.
The Frankoma line boasts an impressive range of objects; mugs, vases, dinnerware, figurines, collectibles, and other small trinkets. Here's a breakdown of average costs based on the type of article:
Mugs:
Frankhoma produced many examples of gorgeous mugs. Although most coffee mugs fall between the $7-25 range, rarer articles like this Bohemian Cafe Grand Mug can be just a dollar short of $100!
The Nixon/Ford Mugs:
The highest fetching Frankoma mugs are the GOP Nixon/Ford Political Mugs. If you've managed to acquire one somehow, you'll be happy to know that they've sold for between $500-800 in the past. This recent listing on eBay is selling for $799!
Vases:
Vases are one of the most collectible frankoma pottery pieces. Collectors often search for large vases with an "expensive" glaze and high-end finishes. Generally, most expensive Frankoma vases share properties such as:
A larger than average size
A Limited Edition/Rare design
No visible signs of wear
A vintage production year
For the sake of comparison, I've developed a list of some average Frankoma vase prices against rarer ones:
This 6″, 1950-1959 Double Loop Handled Ball Vase is listed for $45.89 on eBay.
This 11″ Mid-Century Prairie Green Urn Vase sells for $51.99 on eBay.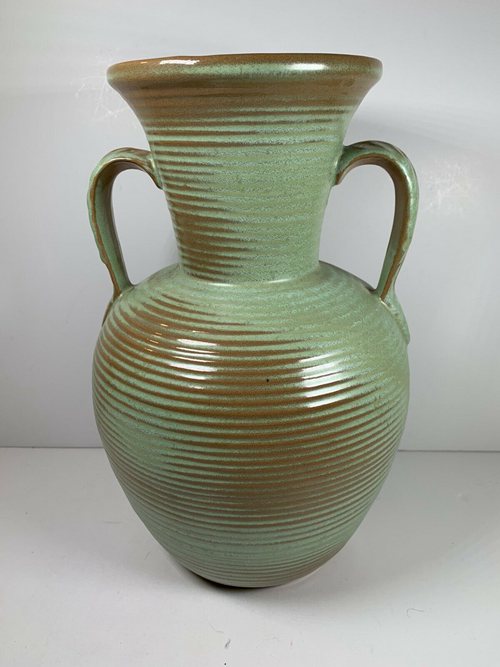 This 1970-1979 V5 Black Base Flame Vase is priced at $65.99 on eBay.
This Rare 9.5″ 1960-1969 Cork Tree Bark Vase is up for sale for $349.95 on eBay.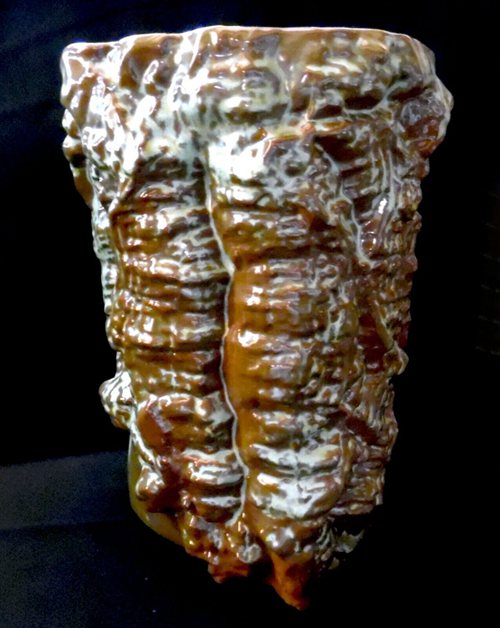 This Rare 19″, 1958-1964 Fire-Side Pitcher Vase is going for $390 on eBay.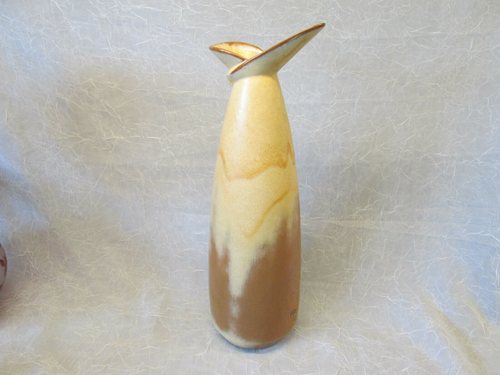 This Super Rare, 1930s Ringed Pot Vase is priced at an astonishing $625.00 on eBay.
Rare 1930's Ringed Vase With Black Round O Ink Stamp
Your best bet is to draw comparisons on sites like Etsy, eBay, RubyLane, and other auction sites. This will help you price your piece most accurately.
Dinnerware: eBay
Throughout its business, Frankoma produced an extensive range of dinnerware patterns. The price for ceramic dinnerware, much like the political mugs, exists on a spectrum. As a rule, complete sets sell for more; this set of 12 plates goes much higher ($200) than this set of 5 ($34).
Another critical consideration while pricing individual plates or dinnerware sets is their glazes. Glaze identification can be complicated. An accurate assessment, however, can help boost the price because the difference often comes down to the dinnerware patterns and their glazes. General market trends suggest that you can expect between $20-200, depending on the article you've listed.
Wagon Wheel Pitchers:
The Wagon Wheel Pitcher (pictured below) is almost synonymous with Frankoma. This specific pitcher design has been produced extensively under Joniece Frank (John Frank's Daughter), who took over the business after John Frank died in 1973.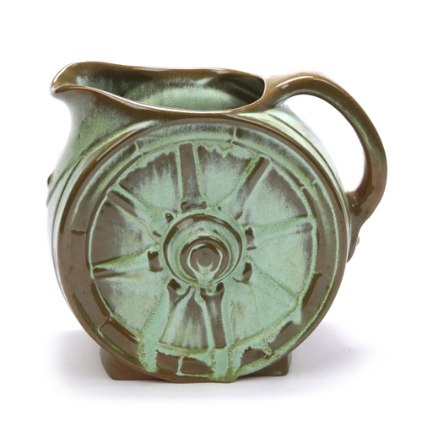 This specific wagon wheel pitcher design can fetch between $20-50. Larger pitchers in mint condition, like this one, can go up to $60-70.
Figurines:
Figurines are typically considered moderate to high priced items in Art pottery. Although Frankoma produced a wide variety of statues, few come up in auctions. This rarity means that the price can fluctuate greatly but stays on the more expensive end of the spectrum.
The Pacing Puma figurine (seen here) draws its inspiration from the first company logo and can fetch up to $200. Another variation of the Puma Figurine can be seen priced at $75, here. These differences are usually attributed to the size, rarity, condition, glaze, clay type, and mold number between individual pieces.
Rare antiques and statues which incorporate human figures are significantly more expensive. A mint article can easily be sold for $350, with bids sometimes going up to $700. Here's a small list of rare figurines currently on sale:
Miscellaneous ITEMS:
If you spend some time on an auction site (like LiveAuctioneers), you quickly realize that Frankoma created much more than the famous GOP elephant mug. They boast an impressive range, including a wide variety of other trinkets.
Finding an accurate price for more unique items, say a rare candle holder, salt and pepper shaker, or a seal, can take some legwork. If you have such an item on your hands, I recommend turning to the internet.
This particular pair of 1930-1939 Ada Clay Candleholders are marked for $55 on eBay:
Usually, the best course of action is to find a similar piece, see what it sold for on auction, and set a base-value accordingly. Searching for items on eBay, Etsy, Liveauctioneers, Rubylane or sometimes even Amazon can be helpful in gauging value.
Another excellent resource is the McBain Reference and Price Guide by Robert and Vickie McBain. The authors generously give out free copies if you request one from their website.
Can I Get a Company Appraisal?
The easiest way to determine the worth of your piece would be to request a company appraisal. Unfortunately, a statement issued on the Frankoma Pottery Company's website indicates that they don't provide official appraisals. Instead, the company recommends turning to eBay and referring to Price and Value Books for an estimate.
Where Do I Find Value Books?
Finding the correct value book is challenging. With so many Frankoma pieces, finding a book containing legitimate, up-to-date estimates can be a hassle. Luckily, there are many excellent books on Frankoma–tried and tested. To cut down the search, I've linked some of the highest-rated books here:
Collector's Guide to Frankoma Pottery 1933 through 1990: Identifying Your Collection (including Gracetone) by Gary Schaum.
Find this book on Amazon.
Frankoma: And Other Oklahoma Potteries (with Revised Price Guide)by Phyllis Bess and Tom Bess.
Find this book on Amazon.
Frankoma Reference & Price Guide 2004 Edition (Including Gracetone and Synar)by Robert & Vickie McBain.
You can request a free copy here!
Where to Sell Your Frankoma Pottery
So you've successfully identified your piece and priced it. What next?
Deciding where to sell is just as important as what you're selling. Although people have sold their pieces on many platforms, it's no secret that collectors (especially well-paying ones) have some favorites.
For niche items, it's best to advertise on multiple channels. I've explored some of these platforms below:
The Frankoma Pottery Company:
Even though the company doesn't offer official appraisals, the FAQ section on their website indicates that they may still be able to help with sales. To speak to the company about sales:
Draft and email directed to [email protected]
Write about your piece (or pieces) as accurately as you can. Try to include as many details as possible. Some topics to cover are:
Type:Coffee Mug, Political Mug, Figurine, Ashtray, Seal, etc.
Colour:Refer to the colors listed above.
Glazes: Refer to the Glaze Identification table linked.
Condition: Is the piece in mint condition? Does it have a small chip, a crack, or a mark? Include as many details as you can and add pictures where possible.
Production Year: What year was it created? Don't worry if you're not sure; a ball-park figure is fine (19xx-19xx, 1946-1956).
Add 6-10 recent pictures of your article. Make sure you add an image of the underside as well. The base is usually marked and can help the representative make an accurate assessment of your piece.
The company can usually link you to interested buyers or relevant associations that make buying/selling much smoother.
The Easy Es–eBay and Etsy:
Selling on Etsy and eBay is a breeze. These platforms were developed to make the process as hassle-free as possible, and anyone who's ever used them can attest to it.
When it comes to selling, I recommend selling through auctions. (You can find details on that here).
Auctioning is a very intuitive process. You set a base price for your object, choose how long the auction runs for, and then just let interested buyers do the bidding.
How To Set a Good Starting Price For Auction:
To set a competitive starting price, go a little lower than the value you've set in your head. Doing this makes it a "steal" and attracts more bidders. If you've listed a rare piece, buyers generally set higher bids (say $50-100 higher) than the last bid to ensure they secure the deal. This competition usually makes for a higher final price.
How Do I Know The Price Is Right?
Another critical factor in an auction is determining the "right" bid. The best way to do that is to explore past offers on similar items. Say, for example, you're auctioning on eBay. Checking the closing bid on an identical item on eBay is a good measure of your auction's success. If you feel you've made the same price (or ideally higher!), you're safe to seal the deal. If not, you should let the auction run a little longer to see if you can fetch a higher bid.
Facebook: Marketplace and Groups:
Facebook might not be your first thought when buying or selling your pottery. However, it gives you two channels to make sales: the Facebook Marketplace and Facebook Groups.
You can try setting up a detailed advertisement on the Facebook Marketplace. If you do, follow the guidelines, add as many details as possible, and attach pictures in good lighting. Sometimes, it also helps to add retail prices or comparisons if you're selling your piece at a discounted price.
Interestingly enough, many Facebook groups cater to Frankoma pottery enthusiasts. Most of these groups are either exclusively for buying/selling or have sections dedicated to sales. These can also be a great option.
Here are a few Facebook groups dedicated to the Frankoma line and its admirers:
If you decide to use this channel, ensure everything checks out with the buyer's information, and you make a safe sale.
Auction Houses and Private Collectors:
Auction Houses:
Another option for people looking to sell a rare piece is Auction Houses. Auction houses generally accept articles in Excellent to Mint condition (as these generate the highest bids) and put them up for auction.
However, there's a catch. Auction Houses can charge anywhere between 20-25% commission on the final sales price! This fee can be considerably high and isn't feasible for everyone. If you've understood that you have an extremely rare piece with the potential to sell at a significantly higher price than usual, reach out to an Auction House.
Private Collectors:
Similarly, private collectors are a rare (but often extravagant) breed! You might be in luck if you have a high-value item (or somehow acquired one of the original Frankoma molds). Finding a private collector can be a little tricky, but Facebook Groups, Collector Forums, and Websites like the Frankoma Collectors Association are good places to start.
If you're exclusively looking to sell to a private collector, going to pottery events, meet-and-greets, and commemorative shows might also be a good idea. These events are where you'll find real enthusiasts and make the right connections.
Final Thoughts:
Although the process of identification, evaluation, and listing can seem taxing–it is ultimately very gratifying. You often come out wealthier in more than one way! (Hint: richer in knowledge and your wallet).
For an enthusiast, knowing that your piece found its perfect home can be enriching in itself. So, to my fellow connoisseurs out there, Godspeed.