People love collecting things, whether it's coins, graphic novels, or record players. Finding a one-of-a-kind or rare object to add to your collection is the ultimate source of pride and fulfillment.
The Franklin Mint began creating and selling various collectibles in the second half of the 20th century. Everyone wanted to own these treasures as soon as they gained popularity.
Beautiful Franklin Mint collection plates have adorned the walls and shelves of numerous households worldwide for more than 40 years.
Many Franklin Mint collector plates have monetary value along with their historical significance, despite the unpredictability of the collector plate market. To evaluate whether you have a masterpiece, knowing a little about the corporation's history and how to recognize the plates can be useful.
You could wonder whether a plate in your collection, one you inherited or picked up at a garage sale, is worth anything.
Franklin Mint plates have a wide range in value, with sterling silver plates having the highest value and individual collector plates with less attractive designs having the lowest value.The majority of Franklin Mint plates go for less than $10, but a few unique ones can fetch thousands of dollars.
Have you lately discovered a Franklin Mint plate and are curious as to its potential value? Do you possess a collector's plate but are unsure whether it was made by the Franklin Mint, another company, or a replica?
This article intends to inform you about Franklin Mint plate identification, potential values, purchasing options, and other types of collector plates offered for sale. So, let's get started by giving you a brief overview of Franklin Mint's history!
Franklin Mint Company's History
Joseph Segel first founded the Franklin Mint in 1964 in Wawa, Pennsylvania. It was a private mint that initially made unique coins out of priceless elements such as sterling silver.
When Segel realized how valuable the silver coins that were about to be taken out of circulation had become, he got the idea to start a company that sold relics from that time in history.
Casino tokens, foreign money, commemorative figurines, and bars composed of silver and other valuable metals were among the first products ever produced.
The Franklin Mint quickly entered the collectibles industry and began mass-producing products like dolls, jewelry, medals, coins, and miniature cars, among many others.
Due to the fact that they would only be produced for a brief time before ceasing, these products were regarded as a limited edition.
The business swiftly grew, adding a wide range of items to its offering. Many of the artifacts were released to the general public monthly or annually and were made in series.
The Franklin Mint had previously been owned by various parties, including M. Moshe Malamud and an investor group in the early 2000s.
Ultimately, the Franklin Mint was acquired by the Retail Ecommerce Ventures Company. After being acquired by Retail Ecommerce Ventures, the company's website was rebuilt in October 2020, enabling clients to place direct orders and deliver their chosen collectibles to their doorstep.
The business now focuses on limited-edition silver plated items that honor significant moments in American history or include national emblems. They also sell a variety of souvenirs, presents, works of art, jewelry, money, and antiques, among other things.
The First Ever Franklin Mint Collector Plate
In 1970, The Franklin Mint released its first collector's plate. The silver plated plate is a Norman Rockwell Christmas plate titled "Bringing Home the Tree." The Franklin Mint special edition collectible plate was the only thing for which the Norman Rockwell engraving was created.
The plate was presented in a gorgeous hinged container with a blue satin interior and white leather exterior. From 1970 to 1975, six years, the Franklin Mint's Norman Rockwell Christmas plate collection was produced.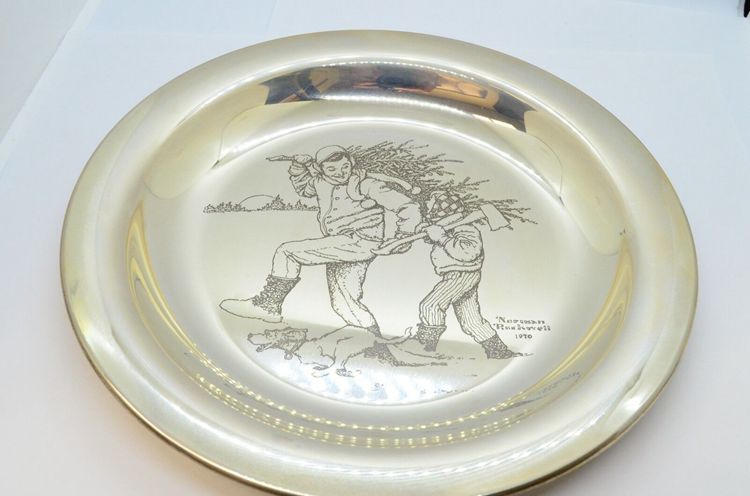 The Franklin Mint has produced collector plates over the decades that cover a variety of categories, topics, and motifs.
The Franklin Mint also produced several distinct plate series within several collector plate topics and categories. For instance, there are countless distinctive series of collector plates under the genre of dogs, including:
Particular breeds
Puppies
Service dogs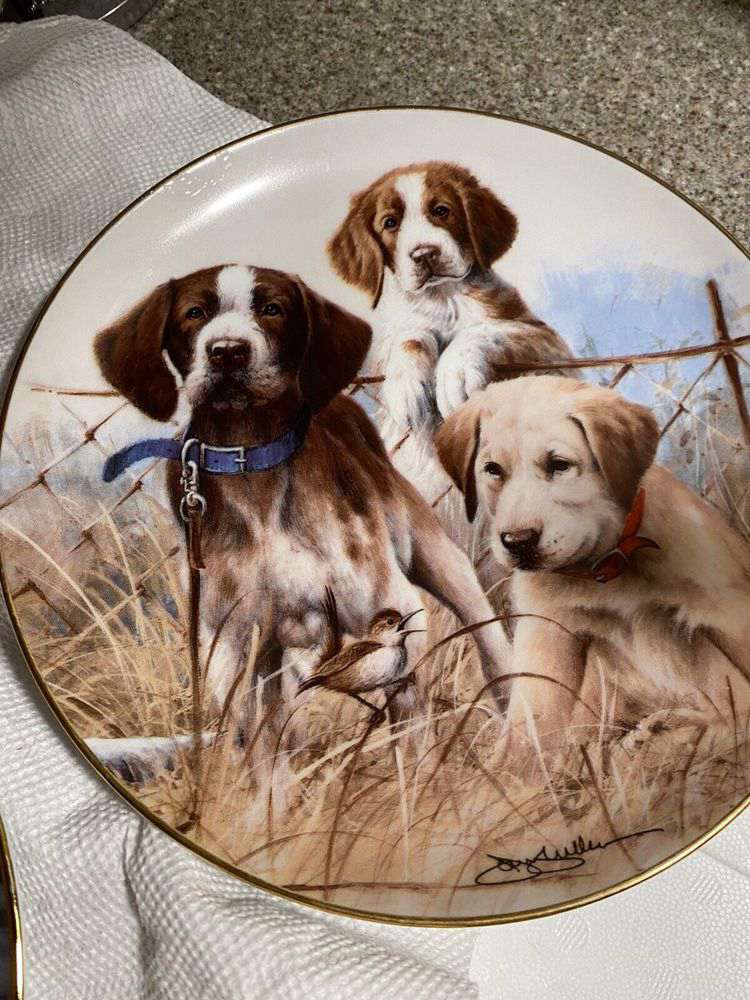 Here's an example of a Franklin Mint collectible plate of dogs and puppies listed on eBay for USD 75:
How to Identify a Franklin Mint Collector's Plate?
Here are several detective methods to assist you if you have a collector plate and want to determine the series or maker or are seeking a certain plate.
1. Authentication Certificate
Examining the design printed on the plate's surface and looking for the authenticating certificate included with each plate are the two main ways to determine whether something is a genuine Franklin Mint collector plate.
2. Franklin Mint's Stamp
The signatures of the designers and institutions who supported the project, a distinctive color border all around the paper, and a golden "Franklin Mint Limited" stamp should all be present on certifications of validity.
3. Search through the Internet
Check out the plate's details and images on eBay and other online auction sites. Try searching for the plate using its name or description if you know it.
You can simply locate images that correspond to the plate you own because several websites, blogs, and forums are devoted to collectors' plates.
4. Go Through Price Guides
Examine well-known price guides and websites. Each year, pricing guides from Collectors Books, House of Collectibles, and Kovels are released.
They include images, production dates, the number of plates made, and the current market price for each plate condition. This is how you may calculate the value of the most common plates. Some notable pricing resources include:
5. Consult an Expert
Talk to specialists at collectors' shows. To get your plate physically inspected, make contact with officials at nearby collector events and thrift shops. There might be a chance for you to sell plates too.
6. Visit an Appraiser
Consult a qualified appraiser. By sending an email with a picture, video, or explanation of your plate to Mr. Expert, ValueMyStuff, Dr.Lori, or other sizable, reputable online collecting sites, you can have plates valued online. If you believe your plate has value, speak with an appraiser at a nearby antique shop.
Are Franklin Mint Plates Worth Anything?
Over the years, many people gathered sizable collections of Franklin Mint plates. But this raises a concern: Do these collectibles possess any value today? Well, we'd have to go with maybe for now!
Most Franklin Mint artifacts were sold for a couple of dollars, although some went for several hundred. Depending on the specific item, the value of a Franklin Mint item may be higher or lower in the current market.
Items made of valuable metals such as gold or silver have seen a huge increase in value. Instead of the specific item, the price increase of the materials is to blame. For comparison, a set of silver ingots valued at $500 in the 1970s may sell for as much as $2,500 today.
Franklin Mint Collector Plates Value
These antique plates can typically be found for less than $50 each because their value has decreased over the years. They are, therefore, a cost-effective and delightful option for decorating your shelves.
Despite having a relatively low worth, they can nevertheless be altered by things like the material used to construct them, how well they're kept, and how uncommon they are. Because silver is such a costly metal, silver plates are worth more than china or porcelain plates.
Additionally, a Franklin Mint collector will probably pay more for a plate in superb condition than one with obvious dings, chips, or other flaws.
Some specific plate versions have been the most popular or were uncommon and special and, as a result, have the highest prices. Some of these series include:
● Plates Featuring the Late Princess Diana
The Franklin Mint Company used to produce plates with specific themes and categories. Once such a category was of popular and influential personalities, we believe it's safe to say the world loved Princess Diana. Thus, the Princess Diana plates received immense popularity!
She was the Wales' Prince's first wife and the mother of his two children, i.e., Williams and Harry. Due to her activism and celebrity, Diana became a global symbol and enjoyed enduring fame as well as intense public scrutiny, which was made worse by her turbulent personal life.
Princess Diana plates made by Franklin Mint were jaw-dropping, and here are a few examples from the highly recognized collection: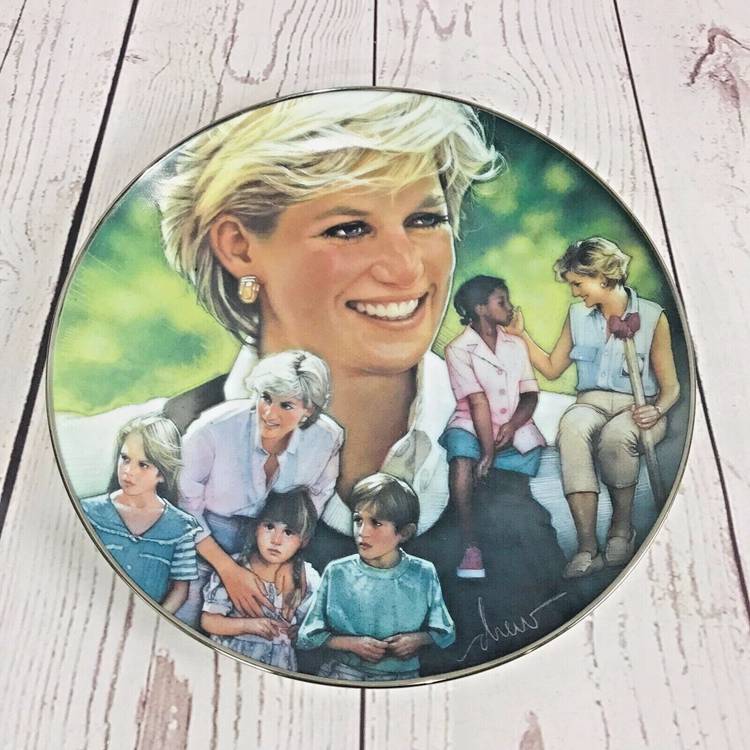 ● Plates with John Wayne's Face
As we have already been through above, Franklin Mint loved to devote a series of their plates to famous personalities. John Wayne was an everlasting American icon who served as a cultural icon for many generations, and many people still regard him as such.
He was known for his manner, mindset, and demeanor; many saw him as the embodiment of rough masculinity. His distinct and soothing voice, iconic walk, and perhaps even his height played minor roles. Even the United States government acknowledged him.
Many viewers saw him merely as somebody who represented and conveyed typical American values and traditions. Here are some stunning John Wayne collector plates by Franklin Mint: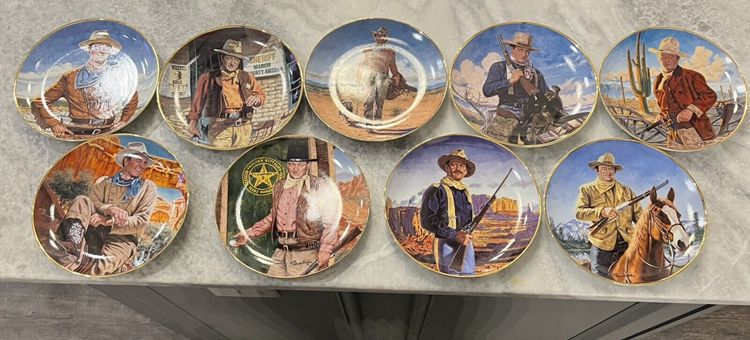 ● The Hummingbirds Plates Collection by Theresa Politowicz
Due to their floral designs and vibrant colors, the Hummingbirds Plates Collection by Theresa Politowicz was very appealing to women. Hence, these plates were greatly sought after by people and received great appreciation from the public.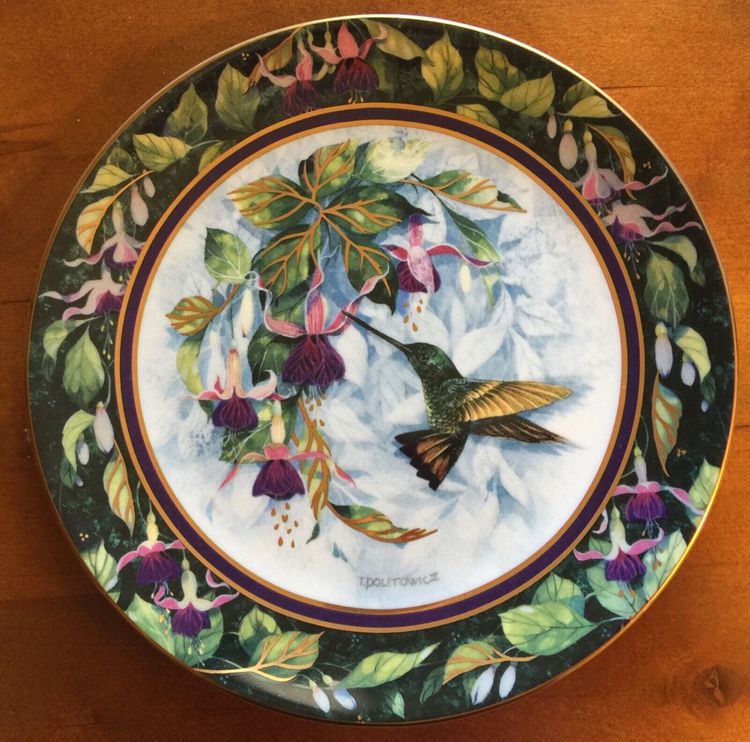 ● Sterling Silver Audubon Bird Plates
The Franklin Mint produced a line of Audubon bird plates with intricately engraved images of various birds.
One set of four from this series is usually sold for several hundred dollars, making it one of the most expensive series. Here are some popular sterling silver Audubon bird plates by the company: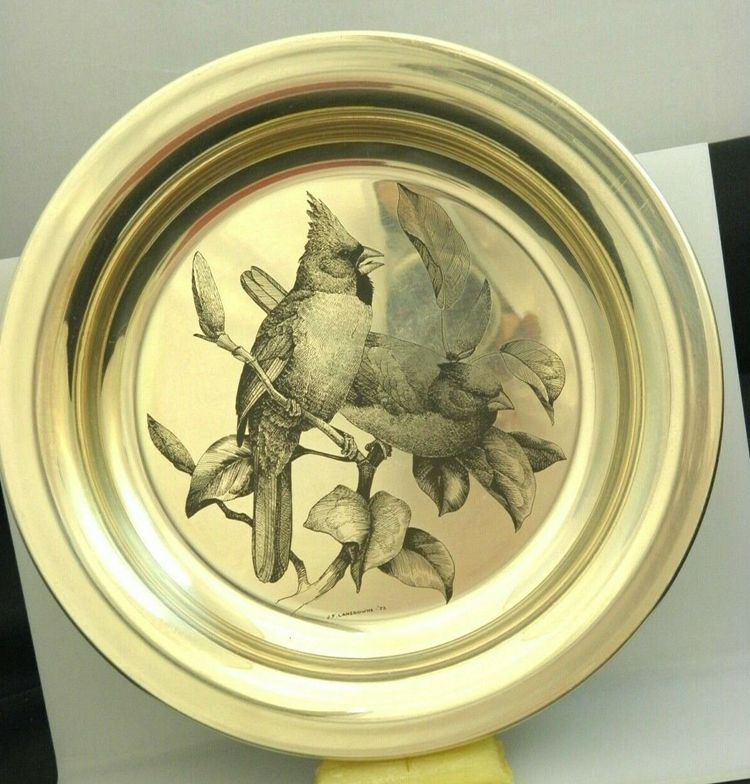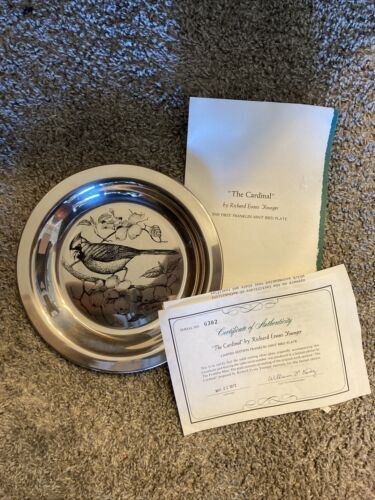 Factors Affecting the Value of Franklin Mint Collectible Plates
As you might have observed in the previous section, the value for the Franklin Mint plates differs greatly from one another. So, what drives this huge difference in value? Let's look at some common factors that play an important role in the Franklin Mint plates value:
Physical Condition
When determining the worth of a Franklin Mint plate, the condition is yet another crucial aspect to take into account. By closely inspecting it, you may determine the quality of vintage and antique collectibles.
Mint: If a plate is in mint condition, it should still be in its original box. Both the plate and the box will be flawless, with no evidence of usage or aging. Although uncommon, plates that are in immaculate condition are the most precious.
Excellent Condition: The box for this plate might be included, but it might be worn. The plate won't be stained, cracked, stained, or otherwise damaged.
Good Condition: An item in good condition could not have the original box for the plate. It might have some discoloration, slight wear, and gold sponging loss.
Fair Condition:A plate in fair condition could feature cracks, scratches, or warping. This kind of damage typically has a negative impact on value.
Although there may be some differences in how dealers define some terms, the definitions listed above are generally the same among dealers.
Artist
Artists have created pieces that are displayed on one or a series of plates. Plates created by a notable artist might be enormously valuable in some circumstances while being worthless or having little value in others.
Additionally, artists could grant licenses for their creations to numerous plate producers, which could impact the value of those pictures.
Rarity
In an effort to keep them unique, many Franklin Mint collector plates were created in fixed editions by the maker. The term can be used fairly loosely and may refer to batches of thousands of similar plates, so it's crucial to keep that in mind.
The quantity of plates available on the market might have an impact on their worth. If the plates are available in a small number, it may also increase their value to the proper buyer.
Theme
Some recurring themes appear on Franklin Mint Collector plates, and some of these are more desirable and precious than others. Here are a few examples:
Celebrities
Seasons
Dogs
Cats
Wild Animals
Horses
Fantasies
Presidents
Disney
Norman Rockwell
Dolls
Princess Diana
John Wayne
Cartoon Characters
Unicorns
How to Determine My Franklin Mint Plates Value?
You may determine a Franklin Mint collector plate's value on your own by doing some research if you're looking to purchase, sell, or are just curious. How to begin going is as follows:
Examine the state of your plate. Be truthful about any imperfections, but also make a note of details like the existence of the original box.
Find your license plate. Start by examining the back stamp, which can identify the series.
To find out how much identical plates cost, search your plate on eBay and Etsy. Due to overhead, you can anticipate paying less for your plate than what it would sell for in a store.
It is always advisable to have your plate professionally assessed if you believe it to be particularly valuable.
Here's a useful video by Dr.Lori to get started:
Some Other Valuable Collectibles by Franklin Mint
The following are some of the most expensive Franklin Mint collectibles from more recent times as well as earlier decades:
Ingots, Medals, and Coins
The most expensive products from the Franklin Mint are coins, ingots, and medals, yet it can be challenging to estimate their worth. This is so that these things can be appraised using various criteria.
Additionally, some of these artifacts have a collectible value. In general, collections as a whole are significantly more valuable than individual pieces. Therefore, a collection of old, ancient coins or one from the Franklin Mint will be worth more than the sum of the individual pieces.
Dolls
Dolls were yet another extremely well-liked collectible that the Franklin Mint offered for sale. They would either show popular folks or renowned persons dressed in their trademark attire.
Unfortunately, these antiques have lost a lot of their value over time. For one that is authentic, in good condition, and comes with the original box and certification of authenticity, your best bet is to acquire around $50.
Die-Cast Automobiles
Many people enjoy acquiring small replicas of various automobiles. A number of collections of die-cast model vehicles, including cars, airplanes, and motorcycles, have been made available by The Franklin Mint.
Final Words
You enjoy owning and displaying Franklin Mint collector plates, whether you have a single unusual plate or a collection of several different series.
Some examples are highly valuable financially, while others are more about providing sentimental value and a stunning work of art for your walls or porcelain cabinet.
Definitely don't undervalue the value of the plates as artifacts. It's possible that if you keep them today and appreciate them for their aesthetic value and beauty, their value will rise over time.