Keeping antique items is increasingly becoming a worthy investment because the rarer they are becoming and fading from our space, the more we miss the aesthetic purpose they serve in our life. Apart from them serving us beautiful memories, they give the incoming generation a clear mental image of artistic life in the past.
The Depression glass is one of the antiques gradually getting off the world. If you are one of the fans of beautiful collectible glassware, you will understand the rise and fall of some glassware companies in the 19th century. These companies produced what is now known today as Depression glass. They had bright colors and gorgeous patterns of glasses. The depression glassware is a worthy addition to your dining.
Federal Glass is one of the Depression glass companies in the United States, and it stands out in producing the best-patterned Glass from 1900 to 1979. In this article, we will cover relevant information about federal glass patterns; their history and worthiness in glass productions, the type of federal Glass that are still available as antique, how to identify a federal glass from other depression types of glassware, the current market value of federal Glass and the best market to trade the glassware.
The History of Federal Glass Patterens
The Federal Glass is a company established in Ohio, United States, by George and Robert Beatty. It produced a unique type of Glass in mass use in the United States in the mid-20th century. The company began operation in 1900 and ceased production in 1979. The Federal Glass is always called Depression glass, but the two are not the same. Federal Glass Company was among the companies tagged with depression glassware. Depression glass was a specific type of glass pattern production company (including the federal company glass). Depression glass is glassware made in the period 1929–1939, often clear or colored translucent machine-made glassware at low cost, in the United States and Canada around the time of the Great Depression. Most of these companies ceased operation due to the Economic depression in the USA in the mid of 20th century. Hence, the named depression glass.
Around the 1920s, Federal Company was considered a giant and most popular distributor of Depression glass. Depression glass is specially patterned Glass considered molded with high-quality material that has a beautiful design and is sold cheaply. The company produced tableware, including tumblers, plates, bowls, toothpicks, jars, mugs, etc. It also made many 'institutional' glassware for hotels, restaurants, and bars.
The company's hallmark is widely known. Its official mark is an F inscribed in a shield and usually located at the bottom of many of its glassware. The company sold millions of glass pieces within its years of operation and set up more operating plants in cities like West Virginia, Pennsylvania, and Indiana.
The company started with only tumblers, and by 1906 it was listed as a manufacturer of bottles and jars. By 1914, the company had added more fashionable design glassware patterns to its catalog. It was only flinted Glass at this time, no colored glass. The company, at this time, sources most of its molds from other manufacturers and imitates their patterns, the US Glass company especially.
By the 1920s, the company had improved and was way above most of its competitors, it embarked on making complete sets of tableware, and its patterns were typical Depression glass at this time. Among its production at the time are; Colonial fluted, Raindrops, Patrician, parrot, Georgian, Mayfair, and Diana.
By the 1940s, the company was massively in production, became a priority for almost every household in the United States, and even had international recognition. It continued making pressed Glass like the Pattern Avenue, Heritage, Star, and even the heat-proof sets decorated with gold.
Unfortunately, despite its prolific production, the company started having internal issues years later and eventually went bankrupt. It officially closed in 1979 and sold most of its mold to Indiana Glass Company.
A YouTube link briefly explains the federal glass company's production era.
Common Federal Glass Patterns
Generally, federal glasses are valued according to their beautiful design and are usually available at affordable prices. However, some patterns of the Glass are more valuable than others and more popular than others. Let's look at some design patterns of the federal company that have mostly gotten the attention of collectors in recent times.
Madrid Pattern
The Madrid is one of the finest federal company designs and was produced between 1932 and 1939. It has filigree and floral designs available in many colors, among which are clear, amber, pink, and blue. The pattern name was changed from Madrid to Recollection in 1976, and started making a new pieces from new molds. These new pieces of recollection were easily identifiable as with the new year it resurfaced in the market, 1976.
Afterward, the company went bankrupt and transferred the pattern molds to a new company, Indiana Glass. The new company removed the date from the mold, which led to an identification problem as separating old Madrid from the new one becomes a problem for buyers.
Color is the main physical detail that separates the old patterns from the new molds. The Madrid new patterns were made in five colors; teal, clear, amber, pink, and blue. Teal is the only color newly introduced in the Recollection patterns. The other four have been used for the 1932 Madrid.
Experienced collectors and Antique glass dealers claimed they easily differentiate the old Madrid glass and the new collection by color alone despite the identity in color. However, beginner collectors may find it difficult to distinguish until they thoroughly examine the mold detail and shape.
You can find a Madrid pattern glass ranging from 20 to 100 dollars.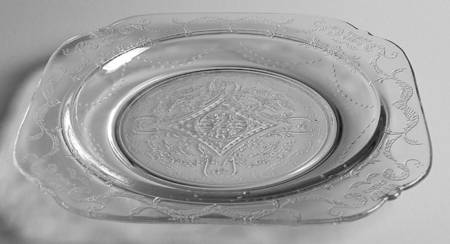 Diana Patterns
Depression glass designs are either made in pressed with geometric design in square or ribbing form or mold-etch designs. As federal is known for producing mold-etched design patterns, the Diana pattern is one of the few glasses with geometric patterns made with swirled ribs that easily catch the light and beautify your home setting.
The Diana price is reasonable and relatively affordable, while some Federal patterns glass like Georgian is comparably on the high side. Generally, Diana patterns are of good quality and available in Amber, crystal, and pink color.
The downside of most Depression glass is usually straw marks, bubbles, and seams. Diana from federal Glass has flaws in bubbles and straw marks but does not have protruding seams you will see in other companies' Glass.
Diana is a later Federal pattern, made from 1937 to 1941. As noted above, Diana is a ribbed swirl design that gets its looks from how it catches the light. It also is pressed Glass, made quickly and inexpensively from molds.
The Diana was produced between 1937 to 1941 by Federal Glass. As said earlier, it is a relatively cheap design pattern. You can get a creamer cup of Diana design at about or slightly above $45.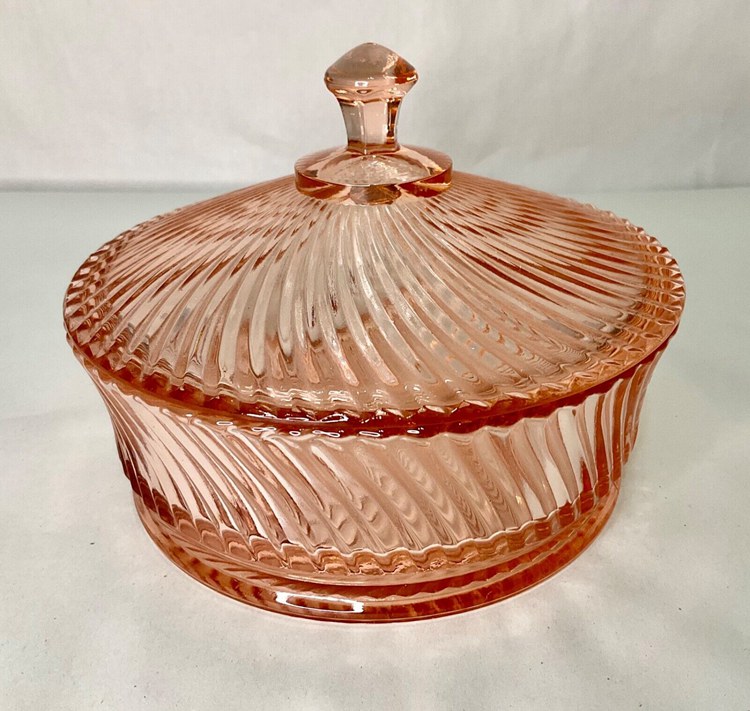 Normandie pattern
Normandie is a beautiful design from federal Glass. It features a grape-like and flower design. The plates have a grouping of flowers designed in the center and a floral pattern around the rim. Normandie's pattern is unique for its rare color. It usually comes in Marigold. Sometimes the marigold color can be either opaque, iridescent, or translucent. There are also a few Normandie patterns that can be in either clear, Amber, or Pink color.
Regarding price, due to its unique color and super beautiful design, it has a sugar bowl, Tumbler, and tea tumbler within the range of 50 to 250 dollars.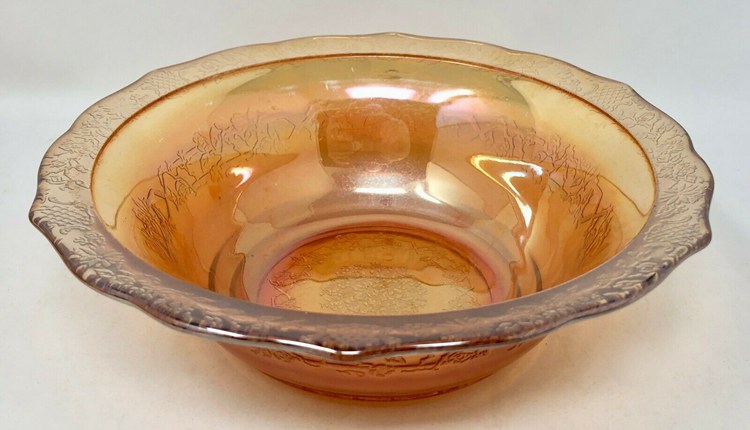 Heritage pattern
Heritage is another popular pattern from federal Glass, and it was introduced in 1940, but the company ceased production of the pattern in 1955. Heritage feature a design of dots, ribbon, and scrolling flowers. The design is a resemblance to sandwich patterns from Anchor Hocking Indiana glass. The design opens flowers and swirls. The company mostly produced them in crystal clear color. There are still variants of it in blue and light teal, but they are rare.
The clear Glass has a design in large part of its body and contains a slightly raised beading design on its outer part. The beading is larger, making the light reflecting on the Glass makes it more attractive. The pattern was sold as a small luncheon set. It's only available in two sizes bowl serving plates, cups, and saucers. It has no pitchers or tumblers. A heritage pattern design can sell for $35 to $60.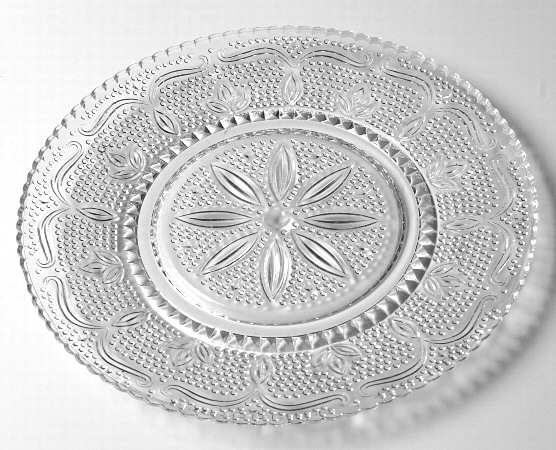 Mayfair pattern
Another interesting pattern from the Federal Glass Company is Mayfair, which was produced between the short time of 1934 to 1937. The pattern features geometric shapes with the design of small bouquet flowers inside. The rims of the cups and edges of the plates are scalloped. While pink was the popular color of the pattern, it was also made in clear, blue, and gold colors. The pattern costs $10 to hundreds of dollars.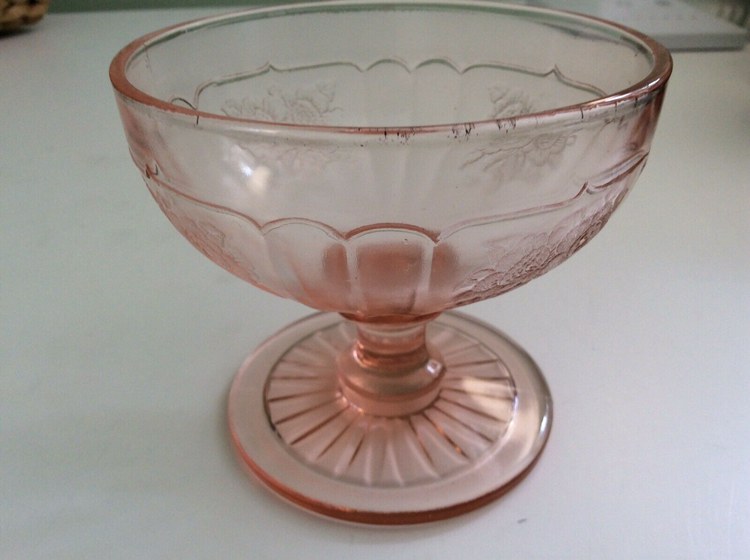 Federal Glass Patterns Identification
As a beginner Antique glass collector, it is a challenge to identify a depression glass. It is another to identify the depression glass made particularly by a Federal company. Uninterestingly, most federal glassware patterns are similar to other Depression glass brands as different glass companies produced almost the same pattern glasses. Generally, depression glasses are known by the bubble inside of them. It means finding bubbling inside a glass or seams indicate they are original depression glass. Check for the following uniqueness to identify a federal mark glass.
The F Inside Shield Trademark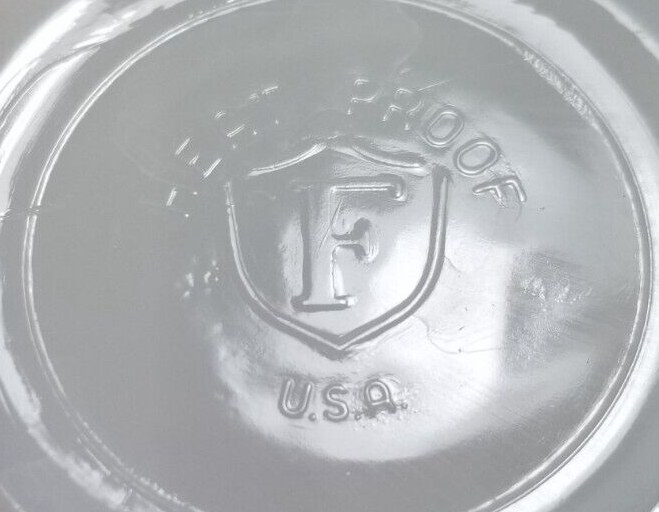 Identifying a federal glass is not as hard as it seems. The best means of discovering a federal glass is by checking for its unique logo, usually at the bottom of every glass object. The company's official stamp is a capitalized F inside a shield logo. The federal company legally acquired the logo as its trademark in 1932 but has been displaying it in its catalog since 1927. The logo is notorious among Depression glass collectors.
Check Design And Color
As some federal glasses are made without a logo, especially for Glass manufactured before the company acquired the hallmark, you can identify a federal glass by designs and colors. Federal Glass was commonly produced in pink, green, clear, cobalt blue, yellow, and vintage milk color. Federal tumblers were usually made in whimsical designs and often in white and clear color. Their color is generally bright and attractive.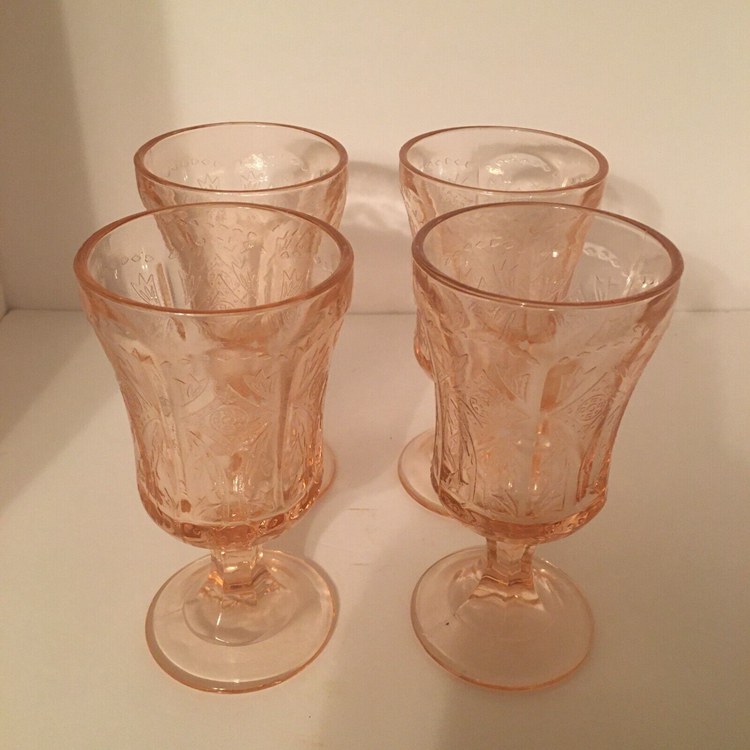 Check The Uranium Light
Some Federal glass is made with what is commonly known as 'uranium glass'. These are Glass that had uranium mostly in diuranate form. Uranium is usually added to a glass mix before melting for coloration. The main objective of uranium is to make glass glow green when put under UV lights. Though not all federal Glass has uranium element, the few that have it are pricier.
Exclusive Popular Pattern
Federal Glass uniquely manufactured some patterns of Glass in large quantities, which are popular in the antique market. Check out some of these unique designs of federal online or read through books on collectible Glass, so you can easily identify them when you are out shopping. An instance of these popular designs is Sharon and Madrid Pattern.
Check For General Depression Glass Identity
Understand that you must check that Glass is first a depression glass before hunting for its manufacturer. If Glass isn't a depression design, you won't get the chance to buy federal glassware. How do you generally source for a depression glass?
Some pieces of depression Glass are over a century old. They must have had signs of wear and tear as they were designed to be used for domestic purposes during the time. Also, most depression glasses are fragile. They are easily prone to get scratched. A federal glass may not be an exception to scratchiness.
Also, a real piece of depression Glass will have some scattering tiny bubbles on its surface. Also, most depression glasses have small long thin lines at the base and rest on straw.
Finally, the best way to identify a federal glass is to seek an expert guide. You can either directly consult an experienced antique glass collector or read popular books that guide you on how to shop for Antique Glass. An instance of such a book guide is 'the collector's Encyclopedia of Depression Glass', authored by Catchy Florence and Gene. Check out this Visual guide on how to generally identify your depression glass.
Federal Glass Average Values
Whether you are on a spree of collecting antique plates or have some in your possession and are willing to sell them for a befitting amount, you must understand how the Antique glass market works before engaging it. The market value of a federal Glass can vary from a few dollars to hundreds of dollars.
Several factors influence glass value. The value of any federal glass depends on its condition, rarity, age, and patterns. Let's explain these factors and how you can use them to your advantage to make an informed decision.
Factors Affecting Value of Federal Glass
Color
Certain colors are more popular than others. Popular colors include pink, white, green, and clear. And there is some rare color from federal Glass like the marigold cold color. There are chances rare colors can be more valuable. Also, if a piece of Glass is bi-color, i.e., contains two colors, it tends to be more valuable than a piece of Glass with a single shade.
Patterns
The value of federal Glass is highly dependent on its pattern. As indicated above, some patterns from federal Glass are more attractive and creatively manufactured. Some patterns are overly available, while others are not produced much before evading the market. Although what defines beauty may be subjective, some beautifully appealing design from federal Glass tends to be costlier than the less attractive ones. For instance, uranium depression glass costs a bit higher than other patterns with no uranium elements. A Uranium Diana Sherbet glass is listed for 40 dollars.
Rarity
Federal Glass make some pattern of glasses in abundance, while some are made for a short period. Some rare antique glass made by federal Glass is worth up to $200, while others that are more common and easy to find with the class of same beautiful design can be worth $20. This conforms with the Economics law of demand and supply. Higher demand than supply of a commodity causes a corresponding increase in the price of such a commodity. If you own antique Glass, understand how scarce it is in the market before tagging the price, and the same if you are a beginner glass collector.
Condition
A federal glass securely kept without scratches, cracks, or chips will price higher than mended glasses. A discolored scratched or manufacturer error Glass will can worth less.
A piece with chips, cracks, discoloration, and other damage is worth less than a similar piece in perfect condition. However, minor industrial errors or scratches may not affect a glass much. As an antique material, worn out is, to a certain degree, expected.
Age
Generally, older antiques are more valuable than newer antiques. People tend to cherish antiques they have not used before.
How much is federal Glass worth?
Having described the factor influencing federal glass collectibles ranging from the pattern, condition, rarity, and color. It is imperative we take a look at some popular Antique sites that sell federal Glass in particular.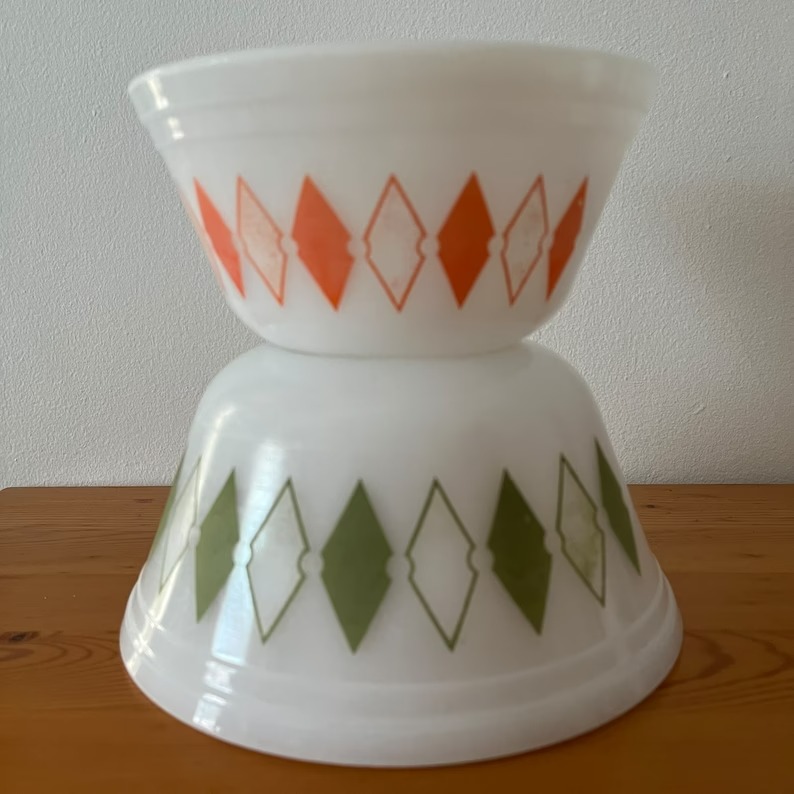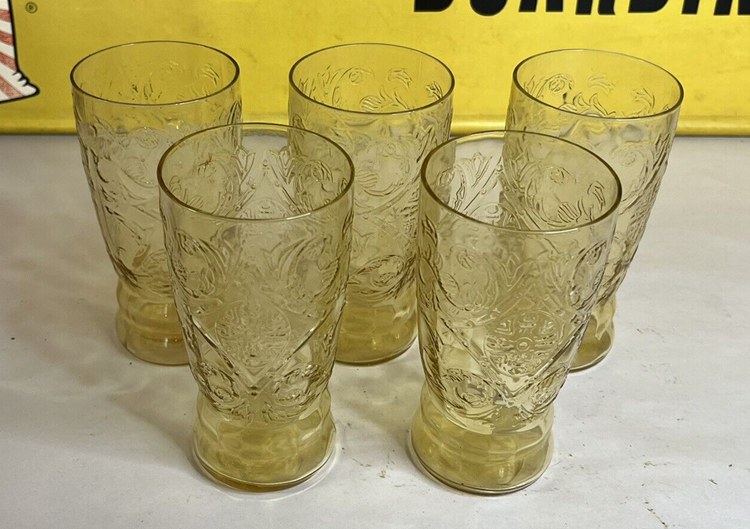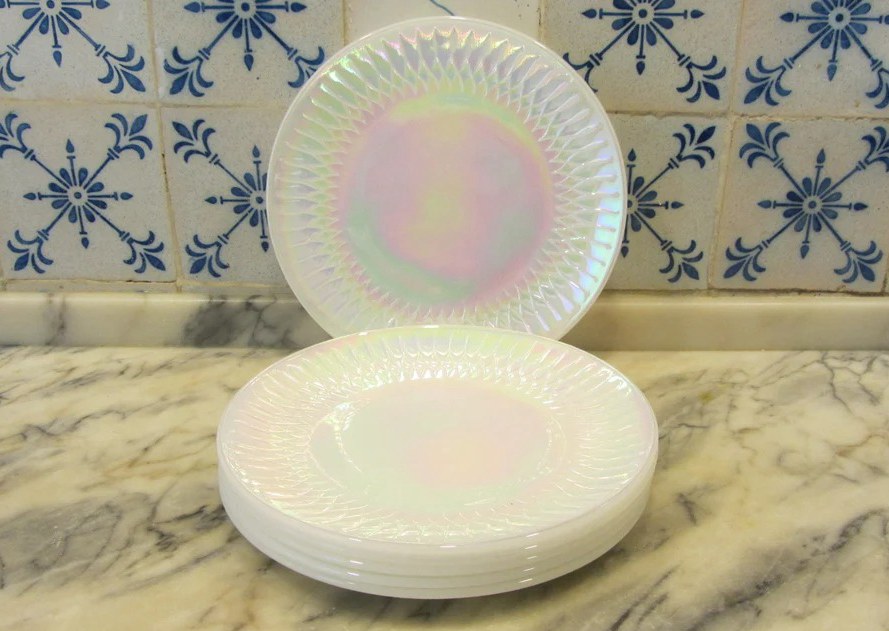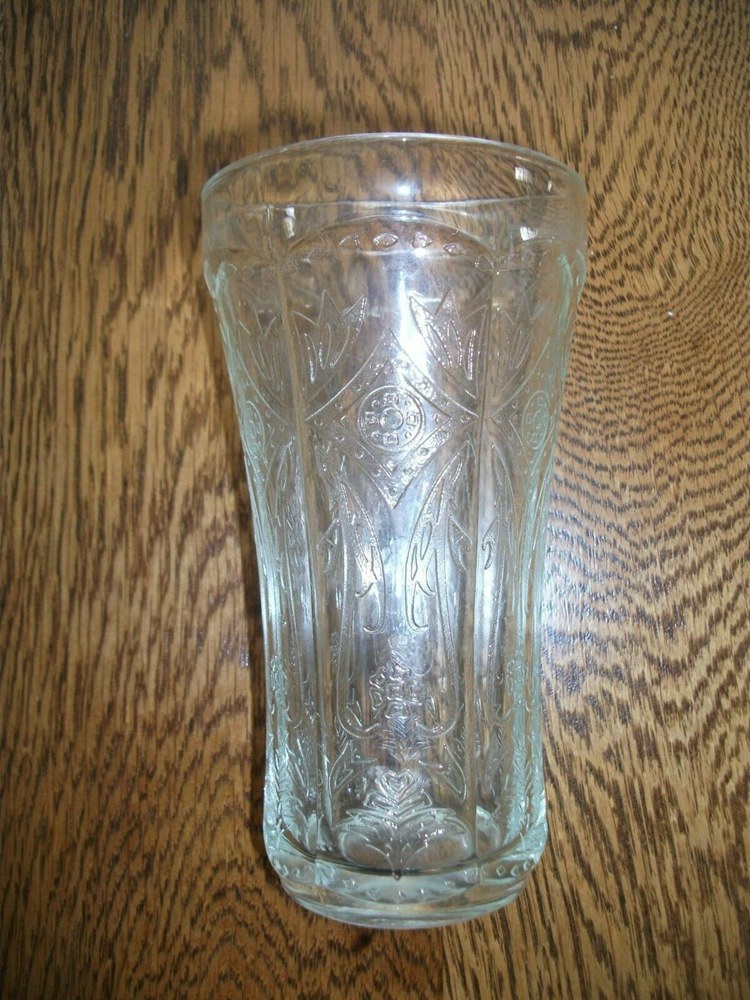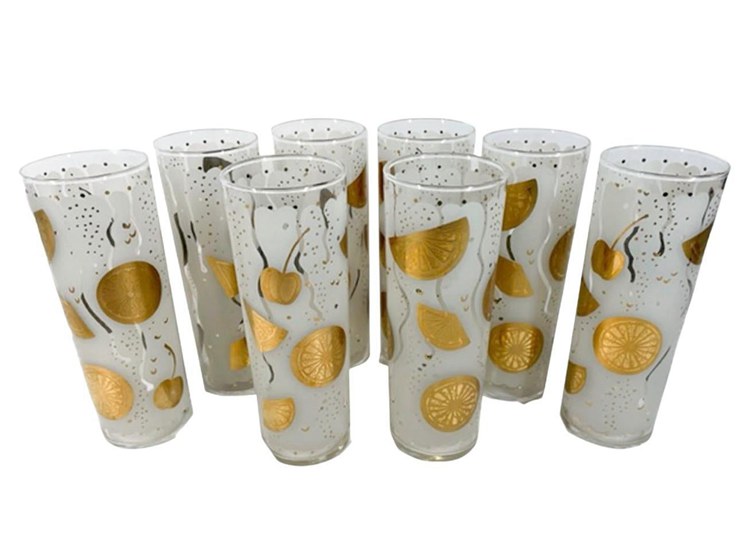 Where to Buy and Sell Federal Glass
Collecting and selling glassware is made easy as there are many online and offline markets for the Glass. Generally, you can transact Federal Glass material on any Antique market except the market expressly state otherwise. You can check out antique shops, thrift stores, or flea markets. Also, there are various online stores like eBay, Amazon, Craigslist, and Etsy. They are reputable for connecting Antique sellers and buyers together.
FAQS
How do I know if my Glass is Antique?
Antique Glass may be tricky to identify, especially for a newbie. The first identity to note an antique glass is its heaviness. Most Federal Glasses are heavy. Additionally, there are additional clues that differentiate them from modern glass patterns. They do have pontil marks on the bottom. They also have tiny bubbles around the outer part and sometimes have scratches and little chips due to long usage.
How do I determine the age of glassware?
Getting a precise year of production of any depression glass may not be easy, but you can easily understand the era in which they are produced. Through color and pattern used, you can get the age. The Federal company usually makes a certain Glass pattern within a range of years. For instance, the Heritage pattern is produced between the years 1940 to 1955.
How Much Is Depression Glass Worth?
Several factors determine even Depression glass. Since we still have many patterns available, their price is generally reasonable. Though the market does experience slight fluctuation patterns remains the major determinant factor of most depression glass.
Generally, depression glass, especially federal glass pieces or sets worth $10 to $150. But the price can be less than $5, and some luxury glasses are sold for up to $600.
Conclusion
Federal Glass was a reputable company among its peers during the depression era. It produced glasses of different patterns in abundance, and it at some time became the choice of most households in the United States. Because of its massive production, the company has many glass antiques available at affordable prices. It is advised you collect more federal Glass. Apart from them serving you durably, they can be a means of investment as they are likely to be sought for more in the future. Apart from them being relatively cheap, they are easy to collect. Many local antique shops, garages, and stores have them in different patterns.
However, since they are antiques, they will gradually fade off human space because they would be continuously used without replacement. Because of their artistic value to a home, they will continue to be in demand. Federal Glass remains a great option for collectors. However, with the guide above, if you are still unsure whether a glass pattern is of a federal company, seek professional advice before buying such a glass pattern.