When buying or selling antiques, appraisals are the key to ensuring you are spending—or receiving—the right amount of money.
When purchasing an antique, a wrong appraisal can easily result in overpaying. On the other hand, when selling, an inaccurate estimate can make you sell the antique for way less than it deserves or not sell it at all, assuming it is way more valuable than it is.
When it comes to getting appraisals, most people turn to online resources. However, the biggest issue is that finding free antique appraisal resources is not always that easy.
We have spent our time researching so that you won't have to. This detailed guide puts together the best online resources that offer free antique appraisals. Read on to find the tools that will give you an accurate assessment without charging you a dollar.
9 Online Tools That Give Free Antique Appraisals
1. Christie's
Established in 1766, Christie's offers online and live auctions, private sales, and much more. Christie's boasts a presence in more than 46 countries.
Christie's auctions span over eight categories in the art & luxury niche. The company has made a name for itself by realizing some of the highest prices in the antique industry—in 2017, for example, Christie's realized a price of USD 450,312,500 for Leonardo da Vinci (1452-1519).
Based on its prowess in auctions, Christie's gives the impression that you can get an accurate appraisal of your antiques.
To get a 100% free appraisal from Christie's, all you will need to do is follow the simple steps outlined below:
Step #1: Visit the Request an Auction Estimate page.
Step #2: Complete a form for every item you would like Christie's to review.
Step #3: Upload clear pictures of the antiques. Be sure to upload at least three photos for each item.
Step #4: Submit and then wait for feedback.
It is worth noting that you will only get feedback if your item's value and type are similar to what sells in Christie's auctions. Therefore, before filling out the form and hitting the submit button, check the types of items Christie's has listed on its auctions.
2. Heritage Auctions
Established in 1976, Heritage Auctions boasts more than 5.8 million sales. The company has more than 125 world-class experts in over 40 categories—this means a very high likelihood of finding someone with expertise in the item whose appraisal you need.
Getting a free appraisal from Heritage Auctions is as simple as following the simple steps outlined below:
Step #1: Visit the Free Appraisal Page.
Step #2: Select the item category. Give a brief description and list anything that stands out on the antique.
Step #3: Upload pictures of the antique.
Step #4: Add your personal information to enable Heritage Auctions to get back to you once the free appraisal is complete. The personal details you will need to include are your first name, last name, and email address. You can also include your primary phone number, although this is optional. After adding these details, hit the submit button.
After submitting the form, all you will have to do is watch your email inbox. Heritage Appraisal will review your antique and provide feedback once the appraisal is complete.
3. Mr. Expert
Mr. Expert is an online service based in France that provides free appraisals for collectibles, furniture, and artistic products. The service allows users to choose from up to 28 categories, including:
Silverware
Sculpture
Asiatic art
Paintings
Jewelry
Furniture
Glassware
And more
Interestingly, the service notes that it offers a turnaround of 48 hours.
To get your free appraisal from Mr. Expert, you will need to follow the simple steps outlined below:
Step #1: Visit the Free Valuations page.
Step #2: Fill in information about your antique. You will need to add the appraisal title and the antique's measurements and then describe the object.
Step #3: Upload the images of the antique. Upload front, back, signature, detail, and authenticity images.
Step #4: Add your personal information. You will need to include your Name, Country, City (optional), Email Address, and Phone Number. Finally, hit the "Get Your Free Appraisal" button.
After sending the request form, you will receive your appraisal within 48 hours.
4. AntiqForum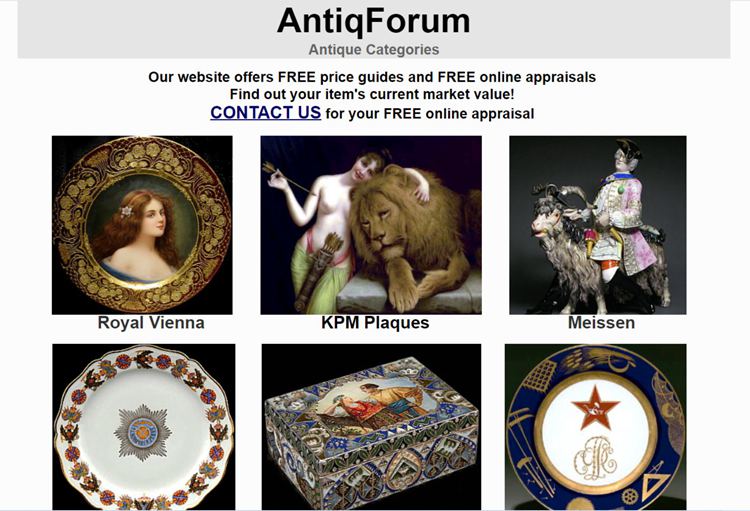 AntiqForum is an online resource that carries free price guides for various antiques. The resources specialize in a variety of products, including:
Meissen
Royal Vienna
Russian & Soviet Porcelain
Hermes Bags
Allach
And others
The online resources also go beyond the price guides to offer free appraisals. To get your free estimate from AntiqForum, all you will have to do is follow the simple steps outlined below:
Step #1: Visit the AntiqForum contact page.
Step #2: Enter your details—your first and last name, email address, and phone number (optional).
Step #3: Select Free Appraisal as your type of request.
Step #4: Describe your antique and upload photos. Finally, hit the submit button.
It is worth noting that AntiqForum indicates its team only appraises high-end European Porcelain and Russian antiques. Therefore, this online resource may not be a solution if your goal is to appraise other types of antiques.
5. Instappraisal
An online, community-driven tool, Instappraisal has been providing free antique, art, and collectible information, classifieds, and price guides since 1995. The online resource notes that all antique appraisals are entered and commented on by the public—including Instappraisal experts—and offers information on the authenticity, value, and history of the antique in question.
To get your free appraisal from Instappraisal, you will need to follow the steps outlined below:
Step #1: Visit Instappraisal.
Step #2: Create a free account by selecting "My Account." This option is available on the right-hand of the menu pane. Select "Create a new account."
Step #3: Select the "Free Appraisals" option after creating your account. Now, you should be able to post your antique and get an appraisal from the community and experts on Instappraisal.
6. Reddit
Reddit does not have a platform for requesting free antique appraisals. Instead, it is a messaging board that gives you access to a community of antique enthusiasts and experts.
Reddit has sub-communities—officially known as subreddits—that focus on specific topics. A subreddit focused on antiques and appraisals can help you get the information you need on your antiques.
For example, the antique subreddit has more than 135,000 followers:
Members ask all questions related to antiques and get answered:
This means you can post your antique on the platform and ask for the members' input. Their comments can help you develop a good appraisal of the antique. While you may not get an accurate estimate, you should be able to get at least something that does not fall far from the correct figure.
7. Indian Territory
Developed by Len Wood, Indian Territory offers a maximum of 3 free appraises via email. If you exceed three appraisals, the company notes that it charges a modest fee of $5 per appraisal.
To get a free online appraisal from Indian Territory, you can use the company's gallery email: [email protected]. When writing your free appraisal email, be sure to provide the following details:
Quality photos of your antique
Measurements
Brief description of each antique—include details like condition and signature
The company also accepts free appraisal requests via Regular Mail and in-person visits. The company provides free appraisals for American Indian Art, Indian Baskets, Navajo Rugs, and more.
8. Gannon's Antiques and Art
An antique seller than has been in business since 1998, Gannon's Antiques and Art has its physical base of operation in Florida. The company sells various antiques, from buttons and furniture to ivory and jewelry.
Gannon's Antiques and Art notes that it offers free antique appraisals. You can get the company's team of antique experts to appraise your:
Antique furniture
Antique jewelry
Gold and silver
Asian antiques
The team research thousands of sold antiques to find the most accurate values for specific pieces. While Gannon's does not have an online form like other appraisal service providers, you can use the company's email to get a free appraisal.
When using their email ([email protected]), describe your antique and attach clear images. Also, if you are near the company's store in Florida, you can always pay the company a visit with your antique. Gannon's notes that it also offers free in-store appraisals.
9. WorthPoint
The online resources outlined above allow you to request a free appraisal from an expert or a community of people who have an interest in antiques. WorthPoint, on the other hand, gives you a platform that allows you to do your research and figure out the value of your antique.
WorthPoint has been around since 2007. In 2022, the platform boasts a library of more than 620 million antiques and one billion photographs from over 350 data sources, including auction houses and online marketplaces from all corners of the world.
If what you have in hand is an antique in high demand, searching WorthPoint will almost always give you the results. The fact that the antique is in high demand means that other people have already purchased it—if someone has purchased the product at some point, WorthPoint has information on the price at which they bought it.
WorthPoint boasts a unique tool named M.A.P.S—this stands for Marks, Autographs, Patterns, and Symbols. This tool has more than 200,000 unique indicators to help you figure out your antique. It is beneficial for identifying rare antiques that are yet to be featured in the WorthPoint Library.
Unfortunately, WorthPoint is not a free online resource—it requires you to subscribe. However, the tool has a free trial that lasts seven days or up to 7 lookups. You can take advantage of the free trial to do your search and appraise your antique.
Using WorthPoint is as simple as visiting the platform's homepage and then selecting the "TRY FOR FREE" button on the top right-hand side. This should instantly unlock the tool, allowing you to perform free searches for as long as your free trial has not expired.
Drawbacks of Using Free Online Antique Appraisal Services
While antique appraisal resources help you avoid spending money, they have some drawbacks. The most common disadvantages include:
You Cannot Use a Free Appraisal for Insurance Purposes
Free online appraisals will not work if you aim to appraise your antique for insurance purposes. Your insurance company will require an official estimate with a certificate—you will need to invest in a paid appraisal.
They Are Less Accurate
Accurately appraising an antique needs a lot of knowledge. And in most cases, people with this knowledge will not be willing to work for free. This means there is a high chance that the free appraisals you will get online are not from experts—this translates into lower accuracy.
Conflict of Interest
In most cases, the people offering free antique appraisals also purchase antiques. This means that there is a conflict of interest. You may get a reduced estimate because the appraiser is interested in buying the antique at a lower price than it is worth.
Long Wait Time
Some free appraisal tools will take too long before giving you the feedback you need. In cases where you are planning to buy an antique in high demand, you may miss out on the purchase window.
Overview
If you are looking to sell—or buy—an interesting antique, getting an appraisal can help you ensure you are using the right price. Online resources make things extremely easy for you as all you need to do is take a couple of pictures, fill out a form, hit the submit button, and then wait for the results. Free resources are even better as they do not require you to open your wallet.
This detailed guide shows you eight resources you can use to get free antique appraisals. When looking for an assessment, use more than one resource. As noted earlier, free resources are not always accurate. However, comparing several tools gets you closer to the precise figure.