Nothing speaks heaven for an antique collector like the state of Maryland. With antique stores, flea markets, and hundreds of unique archaic collectibles from the olden times, Maryland is presumably an icon in the world of antiques.
Antique collecting is so popular here that Maryland even has a whole town called New Market, dubbed "The Antiques Capital of Maryland". Whether you're a tourist or looking to get new decorations to add a vintage look to your home, we've got you covered. In today's guide, we will be looking at some of the best Antique stores in Maryland. So without wasting any more time, let's get down to business.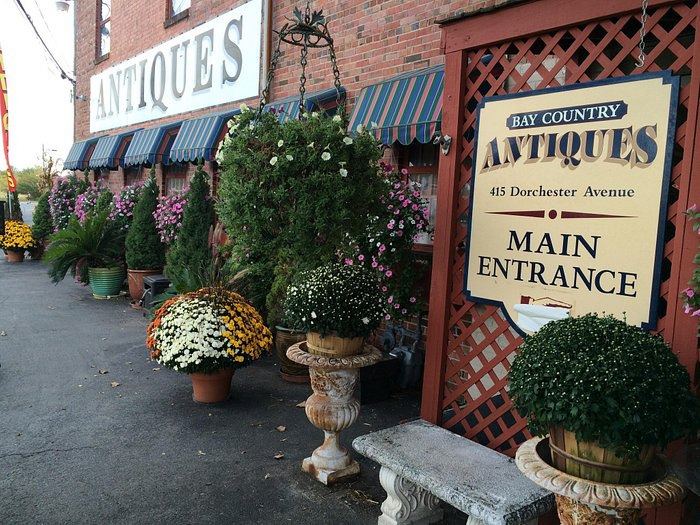 The ideal antique store would have flowers, a cozy environment, friendly staff, and a plethora of items. Fortunately for us, Bay Country Antiques fills the description.
It is a beautiful store, based on an old building which is situated on Dorchester Avenue. Bay Country Antiques has rooms upon rooms, all filled with some of the most unusual items.
You can find everything here, from glassware, furniture, road signs, tools, and even antique gas pumps. There are great prices, that can catch every one's fancy, so you're likely to walk out with a few items.
The store is a family-run business that has been open for nearly 50 years now. If you're looking to visit them, then you can do so between 9 AM and 5 PM.
Based in Hagerstown is a modern building with around 250 antique dealers. Antique Crossroads is a 25,000-square feet building with a well-rehearsed and friendly staff, that will help you scoop out exactly what you're looking for.
Although they deal in a myriad of categories, Antique Crossroad's strong suit is in oil paintings and rare items. You can also find toys, furniture, glassware, rugs, and even old electronics.
The only downside here is that you'd need to ask the staff to show you the items since they will be locked. However, this ensures that the antiques are in good condition.
Due to so many vendors, the store has different prices and if you're ready to put in the time and effort, you could get a steal. Antique Crossroads is open from 9 AM to 5 PM, throughout the year.
For those who live near D.C, your ideal spot to get some of the best antiques, is luckily right around the corner.
The Antique Row is a bit different from other stores since it has shops within. You could consider it to be a mall with areas to eat, a farmers' market, and 10 antique shops to spend a carefree afternoon. Some of the most visited shops include Joyful Heart and Sally Schaffer Antiques.
Due to the scale of its operation, you can find nearly all types of antiques here, from jewelry to clothes and rugs. In a nutshell, if you're in the mood to go antique hunting with friends and have a good time, then Antique Row is the way to go.
The opening hours of shops in Antique Row vary, however, most open at around 10 AM with a variation of an hour maximum.
The Historic Savage Mill is a staggering 175,000 square feet area, which is home to antique centers, home furnishing stores, art galleries, restaurants, and even banquet halls.
From the plethora of shops in this area, the Antique Centre stands tall with around 20,000 square feet of land and more than a hundred shops. You can find all types of antiques here, from furniture and clothes. However, the Antique Centre is dedicated to art and handmade crafts.
All in all, it is a charming place to visit and because of being located in a Mill, you can head over to restaurants like Ram's Inn for amazing food as well.
The Mill is open from 10 AM and 6 PM, however, shops inside may have more constrained schedules.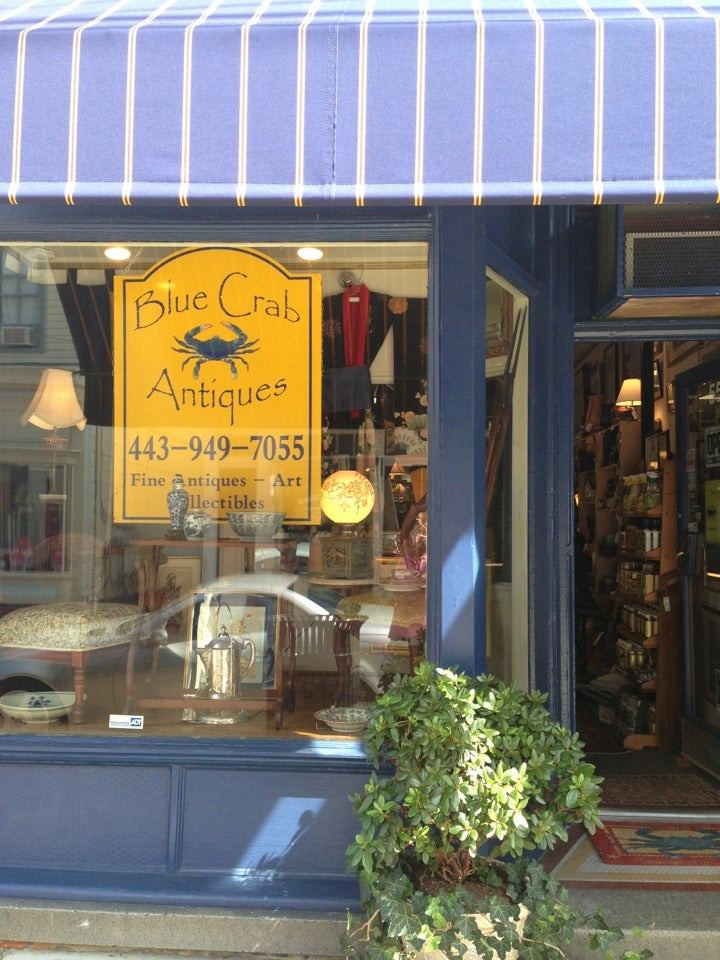 Located in Annapolis, Blue Crab Antiques is the cozy way to go for antiquing on a lazy weekend.
It is a full-service antique store, with elegant and exotic items from all around the world. The best part is that if they don't have an item, you can simply request the shop owners to get it for you. Additionally, they also accept items so you can even earn some money from them.
As with all small stores, the staff is extremely friendly and talented which is sure to make the experience all the more worthwhile. Blue Crabs Antiques specializes in fine art, China, and collectibles mainly.
The shop is open from 10 AM to 5:30 PM every day.
This one's a bit of a unique pick. Located in Baltimore, The Antique Man can be a good place to not only buy but sell antiques as well. We'd consider them more in the flea market business than in the antique seller business.
You can find a plethora of items here at relatively cheap rates. They mainly deal in China, glassware, and small items.
The owners are quite friendly and generous, selling and buying at competitive rates. You can visit the shop from 1 PM to 5 PM on weekends.
Antiques on Talbot is a small shop located in St Michaels that opened back in 2008. They are a relatively small shop with an extremely pleasant ambiance.
You'll find a lot of old books, quilts, jewelry, and furniture here. However, their main niche deals in nautical and coin collections.
Their staff is also extremely knowledgeable and friendly, offering help wherever you need it. Even if you're just in the mood for window shopping, Antiques on Talbot can be an amazing place simply due to how they've put together the whole place.
If you're looking to visit this cozy shop, then it is open from 10 AM to 5 PM throughout the week, 365 days a year.
The Foxwell's Antique Mall is a warehouse from where you'll never find your way back out. They house several booths, all with different kinds of antiques.
If you're looking to spend your time, searching for glassware and furniture, then this Mall in Easton would be a good way to go.
Their prices are quite low and the working staff is also extremely knowledgeable. If you're looking to pay them a visit, then you can do so from 10 AM to 5 PM.
Foxwell's Antique Mall is open seven days a week, 365 days a year.
If you're paying a visit to the town of Frederick, then Emporium Antiques is a place that cannot be missed. Primarily it is made of three large, interconnected rooms with a myriad of high-quality antiques that date back to as far as the 16th century.
The staff is friendly and knowledgeable about the items. Emporium Antiques is a restored warehouse that deals in items like antique textiles, fine art, pottery, and glassware.
The store offers around 130 dealers, all of which have different price ranges. This makes the store more like a flea market. But it can be a great place to get things for a reasonable price.
The shop is quite beautiful, well decorated and well experienced as they've been open since 1912. You can visit them from Monday to Saturday between 11 AM and 6 PM. They open on Sundays as well but an hour later at noon.
As you can tell from the name, the Book Mark'et is heaven for those who love the smell of old books and rare collectibles.
They house some of the rarest books around from centuries back. To appeal to the younger audience, they have also made a special room where kids can gross for books and gifts.
The staff here is extremely knowledgeable and can help you with the reviews as well. All in all, the little store in Oakland is the perfect spot to sit and bury your head in books as you sniff out for more down the aisles.
You can visit Book Mark'et And Antique Mezzanine from 9:30 AM to 5 PM from Wednesday to Saturday.
This antique center in Leonardtown is made for those who love collecting glassware and jewelry.
However, that does not mean that they don't deal with other items. You can find anything here from coins to furniture from the Victorian Era. The owners are also quite friendly and will help you choose the best items with your budget in mind.
The best part about this shop is that the prices are negotiable which makes it ideal for those that love bargaining. They are open from Wednesday to Monday between 10 AM and 5 PM.
As far as big antique shops go, Emmitsburg Antique Mall would take an easy win. The store scales up to be around 34,000 square feet, quite literally a behemoth in the world of antiques.
As you can imagine, they have 120 booths, all of which will offer different types of antiques with varying timelines and prices.
It is located at the heart of Emmitsburg with all items beautifully placed for display. You can find nautical, glassware, tools, linens, furniture, quilts, books, collectibles, and basically, everything that comes under the banner of vintage.
In a nutshell, if you're near the town of Emmitsburg, then this mall is a must-visit. It is open throughout the year from 10 AM to 5 PM.
Located in Ellicott City, the Antique Depot is a beautiful mall to visit with nearly around 60 different shops. The mall is relatively large with four floors offering quality items for you.
As you can assume, the scale of work here is large. They sell not only antiques but also a plethora of other treasures such as collectibles, prints, tools, clothing items, collectibles, bottles, bear cans, and even Legos.
Their staff is also extremely friendly. If you're looking to simply gross stuff, then you can use their website as well. Antique Depot routinely receives new items which makes them extremely versatile. You can even get items ordered on request in the case that you cannot find what you are looking for.
The mall is situated in the historic city of Ellicott and is open from 10:30 AM to 6 PM, 7 days a week, 365 days a year.
Conclusion
Maryland is arguably the goldmine for all vintage collectors, housing hundreds of antique shops and flea markets. With so many towns and shops, it can become difficult to figure out what would the perfect place for you be. In this guide, we looked at some of the best antique stores in the state.
While you may think that bigger is better, we'd suggest you go to those stores that you'd like. If for instance, you're looking for nautical, then we'd suggest you go with Antiques on Talbot. Similarly, if you want to gross for furniture and glassware, then Blue Crab Antiques and Emporium Antique may be the right ones for you.
In case you're looking for a cozy shop with a good ambiance, then Book Mark'et And Antique Mezzanine could be the best pick for you. However, if you're simply in the mood to roam around with your friends and enjoy a nice weekend, then a place like Kensington Antique Row would undoubtedly be a utopia.
That brings us to the end of this guide. Thank you for reading.