When Beanie Mania scored 100% on the Tomatometer last year, it reignited a discourse long forgotten. Why are Beanie Babies so popular? Why did consumers go wild over them in the Nineties?
From the day Beanie Babies entered the American market in 1993, the PVC Pellet stuffed toys became a country favorite. "Somebody offered me a hundred thousand dollars. I said no," those were the words of a Beanie Babies collector regarding the value of her stuffed toy.
Watch the trailer below
Although you can buy a new Beanie Babies for $10 today, a classic model can fetch you about 500 to 1,000 times more dollars. The most expensive model listed on eBay today is Princess Diana and she sells for a hundred thousand shy of a 1 million dollars.
Here's a detailed guide on the most valuable Beanie Babies today, and how you can appraise them on your own.
Top 25 Most Valuable Beanie Babies
| | | | | |
| --- | --- | --- | --- | --- |
| No. | Name | Color | Year | Price |
| 1 | Princess Diana | Royal Purple | 1997 – 1999 | $900,000 |
| 2 | Peace | Tie/Dye | 1997 – 1999 | $179,000 |
| 3 | Baby Nut | Brown | 1996 | $156,000 |
| 4 | Digger the Crab | Red | 1995 | $100,000 |
| 5 | Libhearty | White + USA Flag | 1996 | $75,000 |
| 6 | Valentino/Valentina | Red + White (vice-versa) | 1995 – 1999 | $60,000 |
| 6 | Curly | Brown | 1996 – 1998 | $60,000 |
| 8 | Snort | Red and White | 1995 | $55,250 |
| 9 | Hippity, Hoppity, and Floppity the Bunnies | Mint, Blush, Lilac (Respectively) | 1994 – 1998 | $50,000 |
| 9 | Lefty the Donkey | Red and White stripes + Black hooves and nose | 4th July, 2000 | $50,000 |
| 9 | Gobbles | Brown body, red, white and yellow highlights | 1997 – 1999 | $50,000 |
| 9 | Steg the Dinosaur | Green-Yellow-Brownish-Orange splatter | 1995 | $50,000 |
| 13 | Millennium Bear | Bright Purple | 1999 | $49,750 |
| 14 | Halo I | White, Iridescent wings | 1998 – 1999 | $44,500 |
| 15 | Erin the Bear | Bottle Green | 1998 – 1999 | $41, 451.48 |
| 16 | Waddle | Black, White, Yellow bib, Orange beak and feet | 1995 | $40,000 |
| 17 | Baby Kuku | White body, Pink crown, grey feet and beak | 1997 | $38,500 |
| 18 | Clubby | Royal Blue | 1998 – 1999 | $35,000 |
| 19 | Hope the Bear | Cappuccino | 1999 | $27,765.72 |
| 20 | Maple Bear | White + Canadian Flag | 1998 | $27,500 |
| 21 | Halo II | White + Gold | 2000 | $25,000 |
| 22 | The End Bear | Black + Gold Bowtie | Aug. 31 – Dec. 23, 1999 | $23,000 |
| 23 | Tuffy the Terrier | Brown + Coffee | 1997 – 1998 | $20,000 |
| 24 | Holiday Teddy | Brown + Red & White Christmas hat | 1997 | $15,000 |
| 25 | Squealer the Pig | Pink and White | 1993 | $14,444 |
Let's get into the details.
25. Squealer the Pig
Year: 1993
Price: $14,444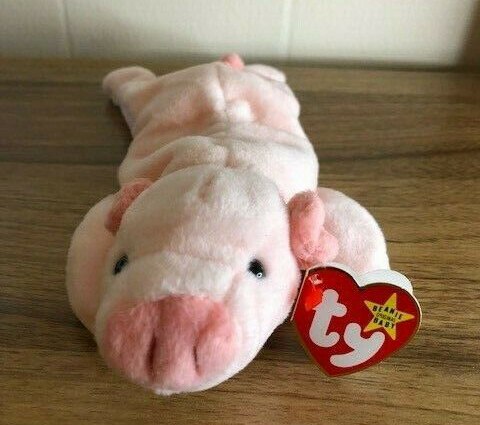 Squealer the Pig is one of the OG Beanie Babies models. Its PVC pellet stuffing made it a fan favorite. The squishy pink plush toy has two distinct tags – the hangtag is from China, while the tush tag is from Korea.
24. Holiday Teddy
Year: 1997
Price: $15,000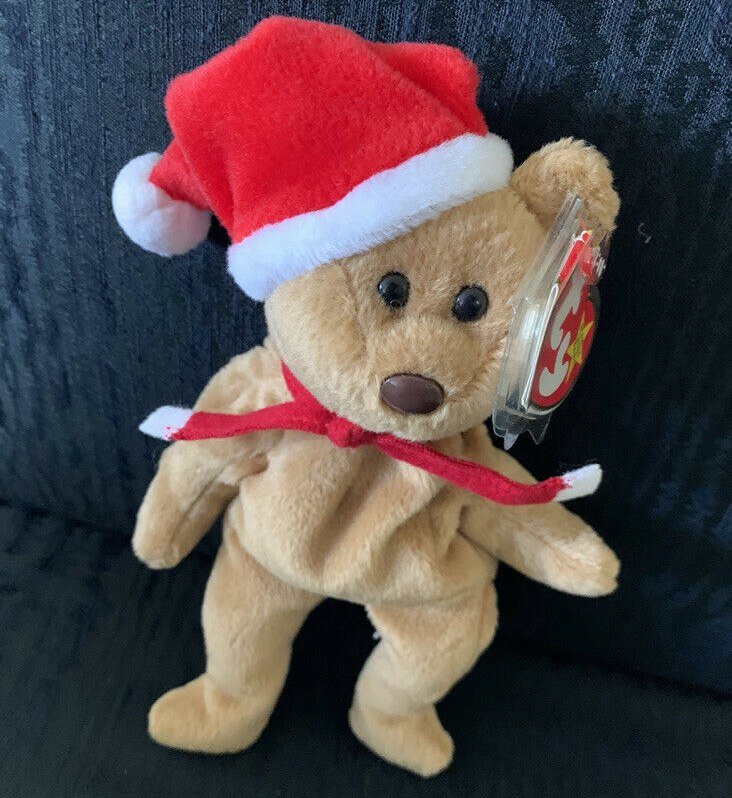 The initial plan with the Holiday Teddy was to make one yearly, but it didn't quite work out. Beanie Babies' first attempt bombed because it had too many irredeemable errors leading to immediate cancellation.
23. Tuffy the Terrier
Year: 1997 – 1998  
Price: $20,000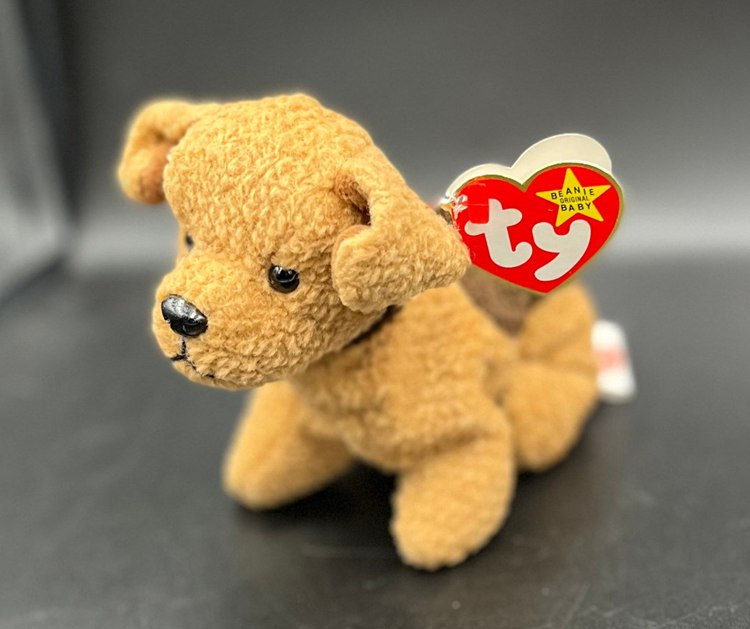 Triple T was a stuffed Terrier that trended from the summer of '97 to winter '98. Beanie Babies discontinued its circulation due to its multiple production errors. For one, Tuffy has a Korean manufacturing number indicating it's a special issue.
22. The End Bear
Year: Aug. 31 – Dec. 23, 1999
Price: $23,000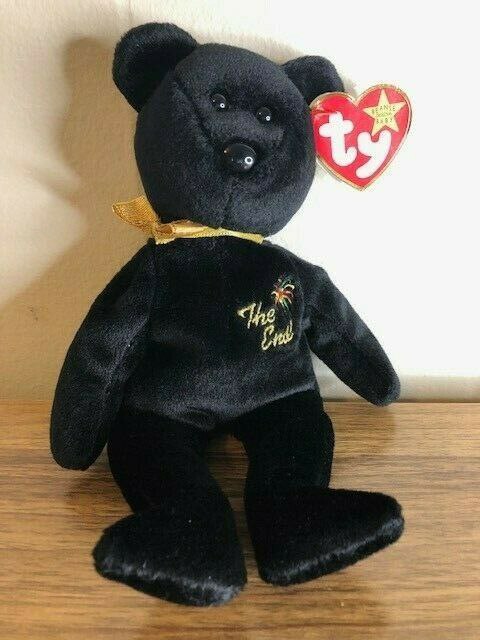 Worried about the Beanie Craze in America, Ty proposed to close down the business and held out The End Bear as its final product. That didn't last long in capitalist America, and the company returned almost immediately.
Notwithstanding its failure to cancel its business, Ty Warner didn't make any more End Bears past Dec. 23, 1999.
21. Halo II
Year: 2000
Price: $25,000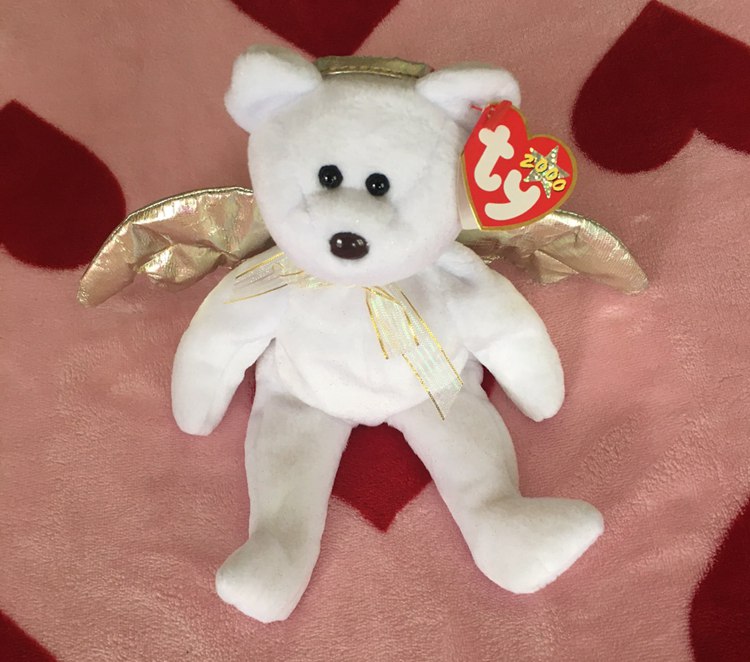 Based on popular demand, a year after the first Halo's retirement Beanie Babies designed an upgrade – Halo II. This one had different gold wings and a halo making it more beautiful and valued than its predecessor.
20. Maple Bear
Year: 1998
Price: $27,500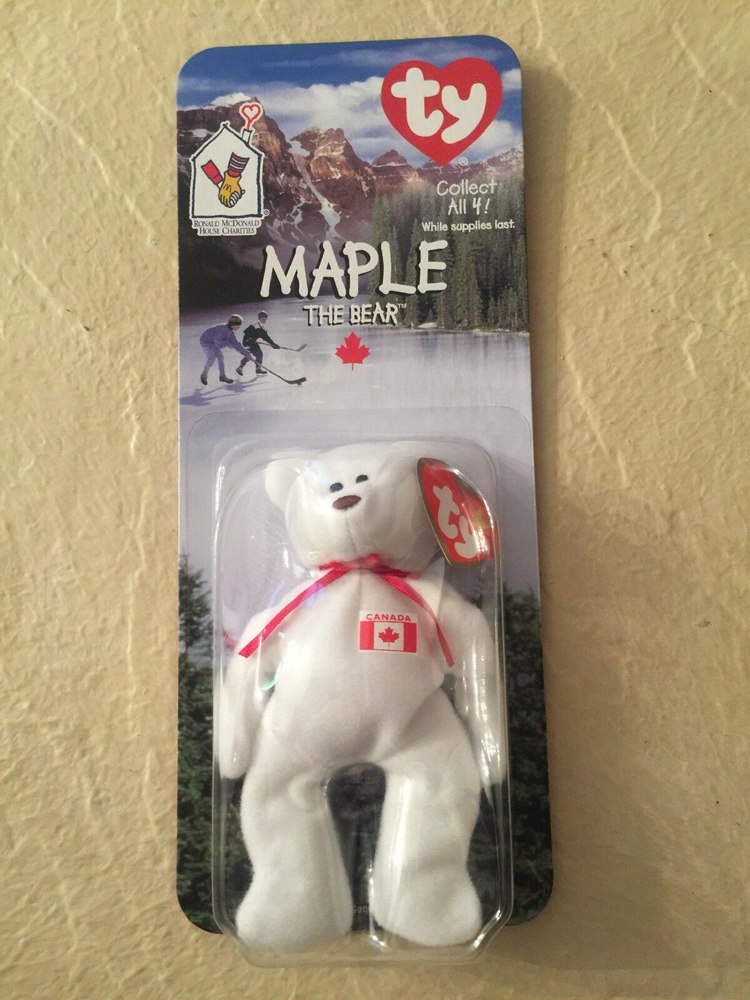 Little patriotic Maple Bear was a special-edition stuffed toy designed as the first export out of America. The company embroidered the Canadian Flag (with a maple leaf in the center, hence the name) on its chest.
19. Hope the Bear
Year: 1999
Price: $27,765.72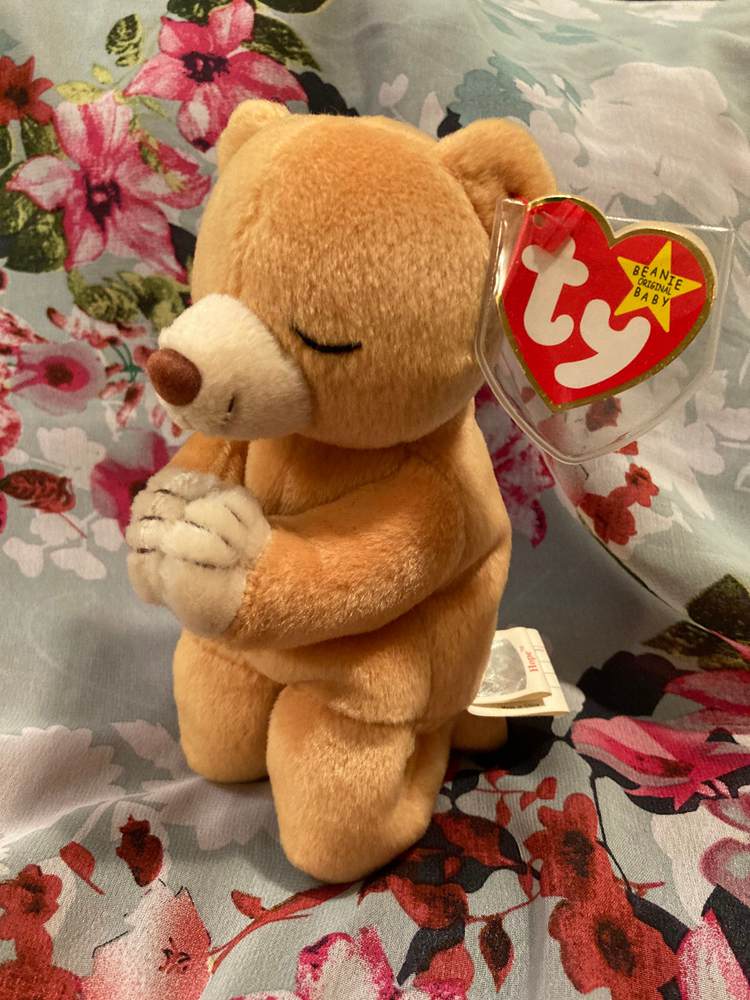 Religious collectors, especially Christians, were Beanie Babies' target audience when Hope The Bear entered the market. Unfortunately, the little praying stuffed toy had way too many errors to remain in circulation, so it had a short-lived existence.
18. Clubby Bear
Year: 1998 – 1999
Price: $35,000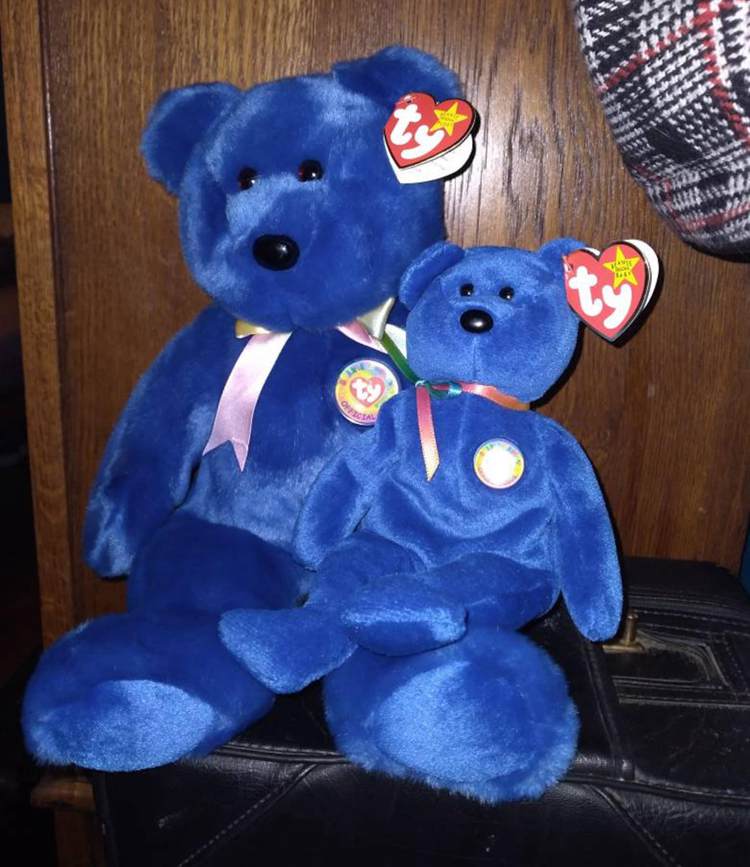 Following its widespread success, Ty created variations of the Beanie Bear, making Clubby the first one to wear a button. As expected, it's high-valued because of its status as a forerunner.
17. Baby Kuku
Year: 1997
Price: $38,500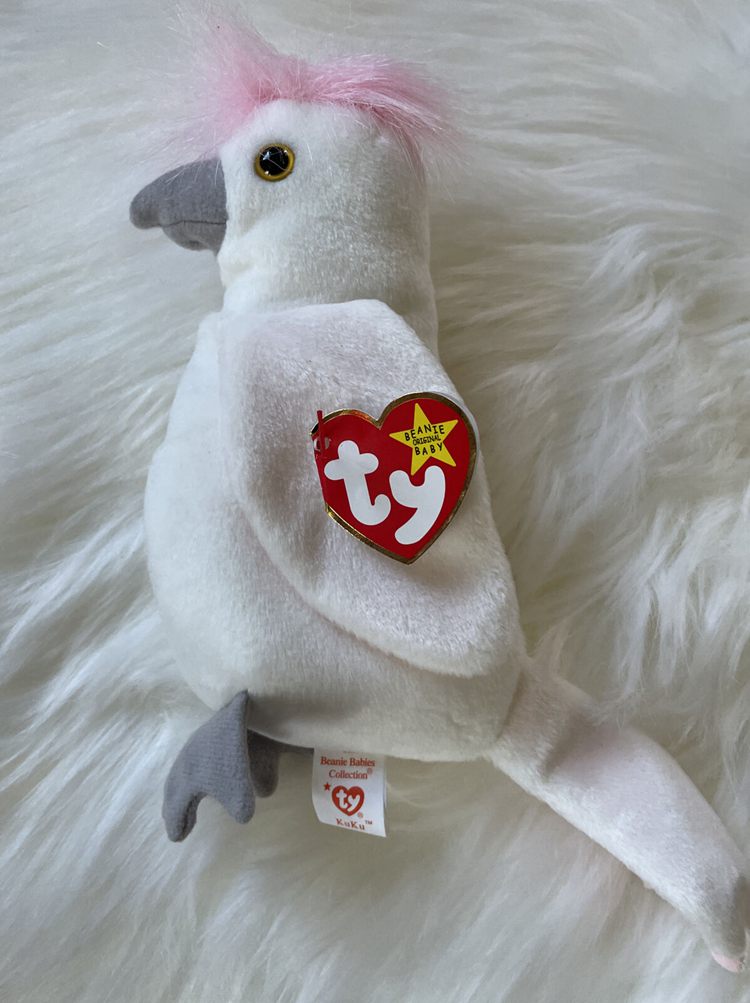 This new Beanie Baby is worth five figures because it's a 1997 issue fresh from the factory. Everything is still intact including the tush and hang tag serving as proof of its handcrafting and authenticity.
16. Waddle
Year: 1995
Price: $40,000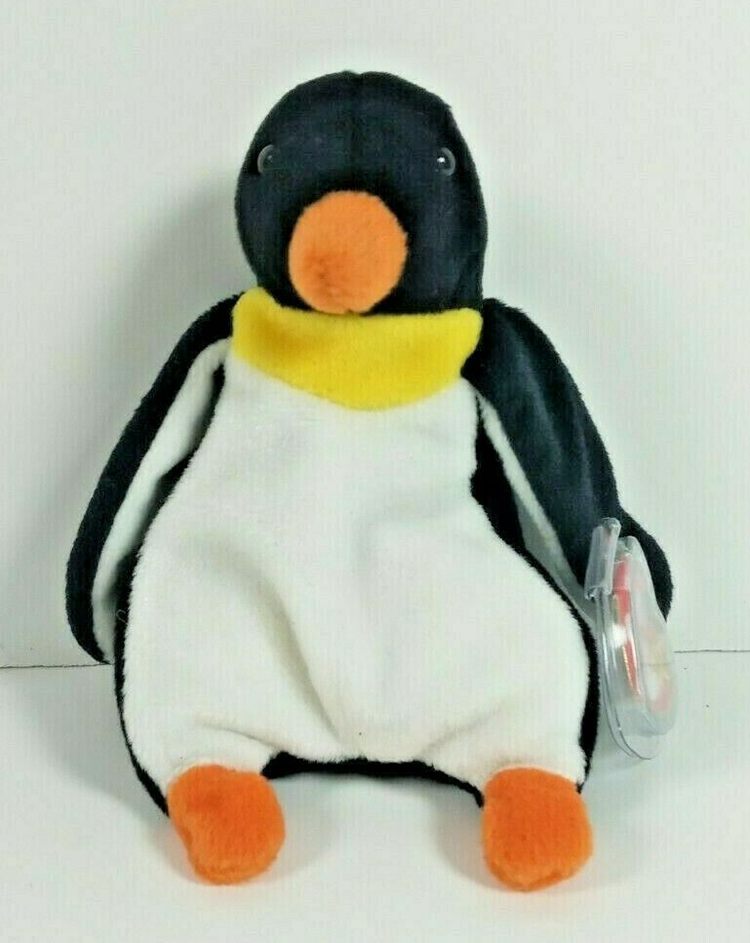 Waddle the Penguin spent one year in the market because of tag errors. This particular one is a never-before-used Beanie Baby hence the high price tag.
15. Erin, The Bear
Year: 1998 – 1999   
Price: $41,451.48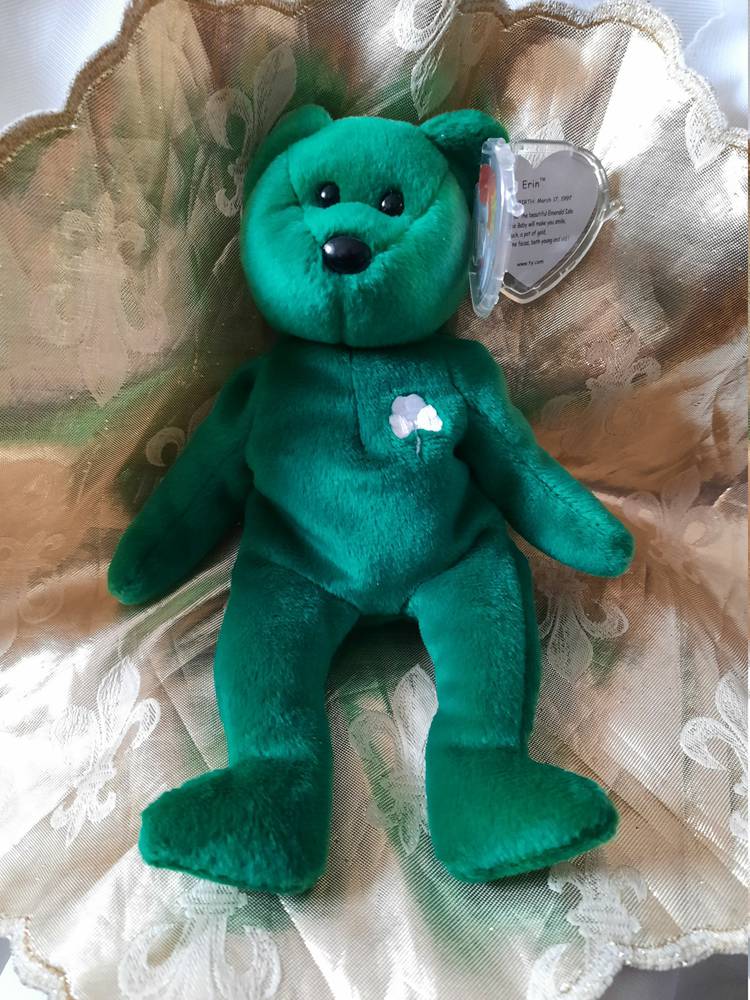 Ty Warner designed Erin the Bear, especially for Ronald McDonald Charities, in honor of St. Patrick's Day. Although the company didn't release the model until 1998, its Tush tag lists 1993 as its date.
The Bear carries a blister pack with the wrong spelling of the company's manufacturing location address.
14. Halo I
Year: 1998 – 1999
Price: $44,500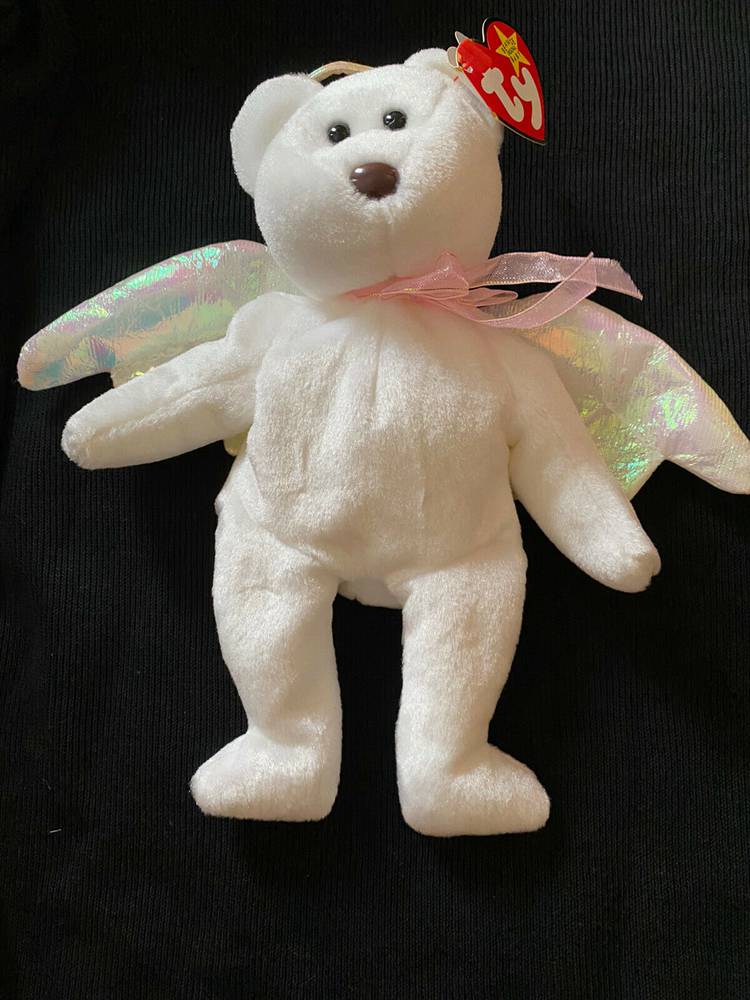 Limited-edition Halo the Bear didn't spend much time in the market, but it still left a lasting impact. Although there were a few variations, the most valuable of all is the original brown-nosed version, and you can already imagine why.
The exclusivity and uniqueness of a limited stock item always attach a premium to its value. Also, Halo I's wing fabric was iridescent, unlike the second issue.
13. Millennium Bear
Year: 1999
Price: $49,750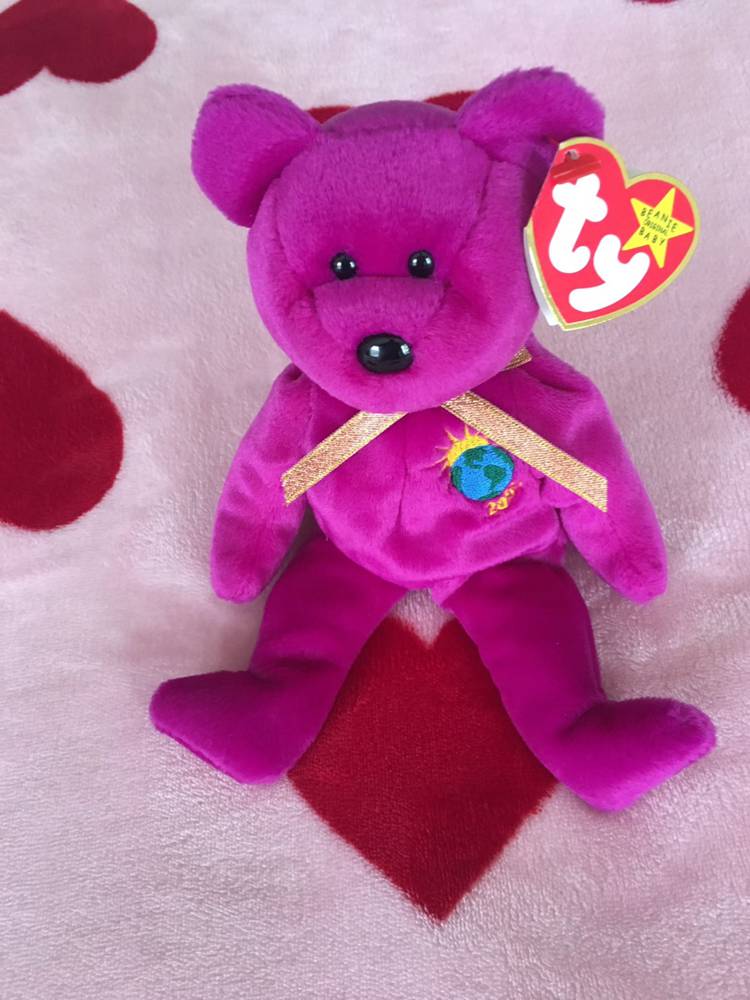 Like many collectible companies around 1999, Beanie Babies created a special version to mark the turn of the Millennium. This limited-edition Bear stopped production in November, so if you hadn't copped one by then, your chances of finding it were slim.
Beanie Babies typically sold out within hours to a few days of hitting the market, so collectors had to be proactive.
12. Steg the Dinosaur
Year: 1995
Price: $50,000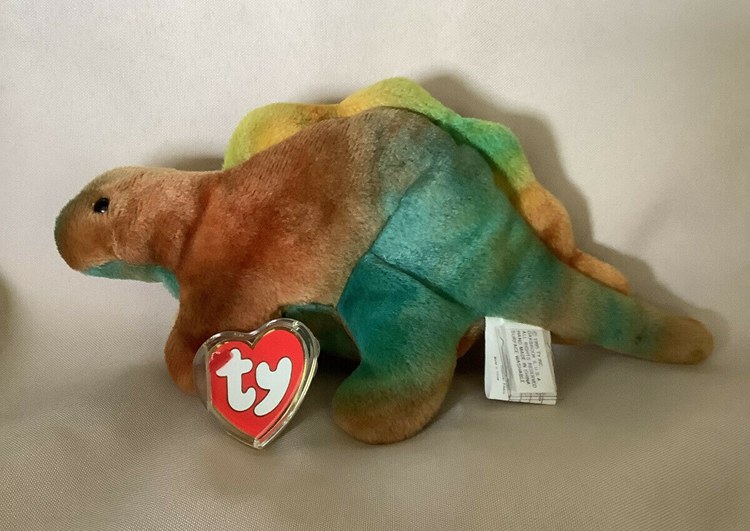 Nothing like a multicolored splatter Stegosaurus to spice up a little child's life. This rare plushie only comes in the Green-Yellow-Brownish Orange hue mix. It's a first edition with the famous PVC pellets.
11. Gobbles
Year: 1997 – 1999  
Price: $50,000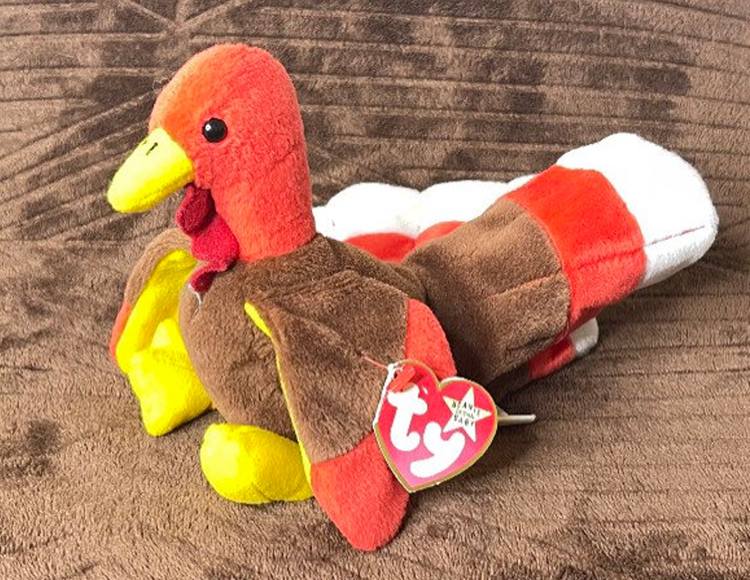 Despite its evident factory errors, stuffed Turkey reigned supreme for two years between 1997 – 1999. First, the tag had excess spacing, misplaced stamps, and trademark signs. In no time, the factory recalled it from the market, leading to increased demand.
How does that work? Since the stuffed toy had already entered the market and children got a hold of it, every other technical error became irrelevant. The consumers just wanted their Gobbles, and since production stopped, it became a rare item, and the rest is history.
The natural forces of Demand and Supply came to work, driving Gobbles' value through the roof.
10. Lefty the Donkey (Democrat)
Year: 4th of July, 2000
Price: $50, 000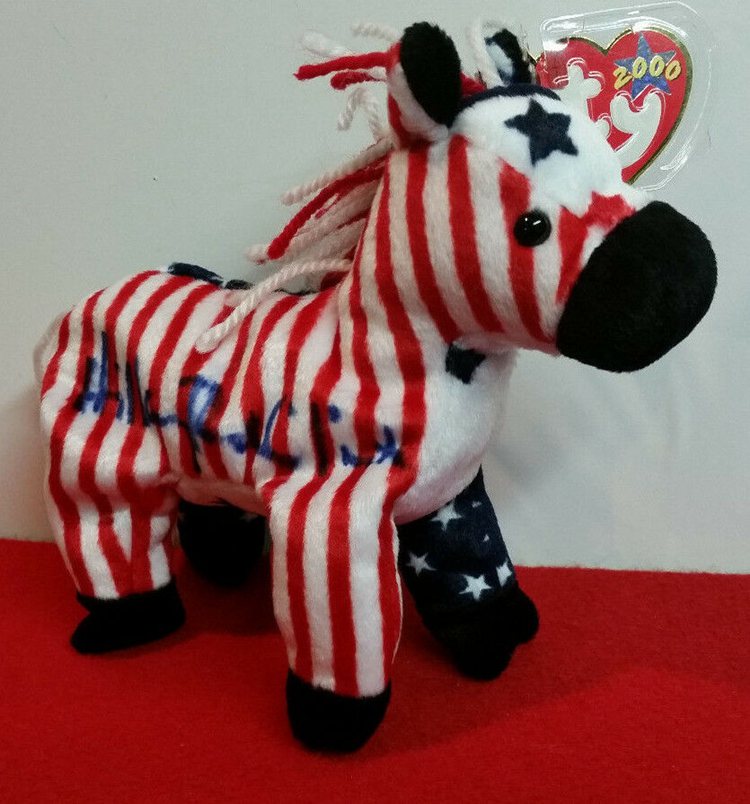 Lefty the Donkey was a Democrat through and through with its red and white striped lines and black hooves and stars. This particular lot is so highly valued because of the special signature on its right side from the former Democrat presidential aspirant Hilary Clinton.
It's also a special Democracy Day edition distributed in 2000.
9. Hippity, Hoppity, and Floppity the Bunnies
Year: 1994 – 1998
Price: $50,000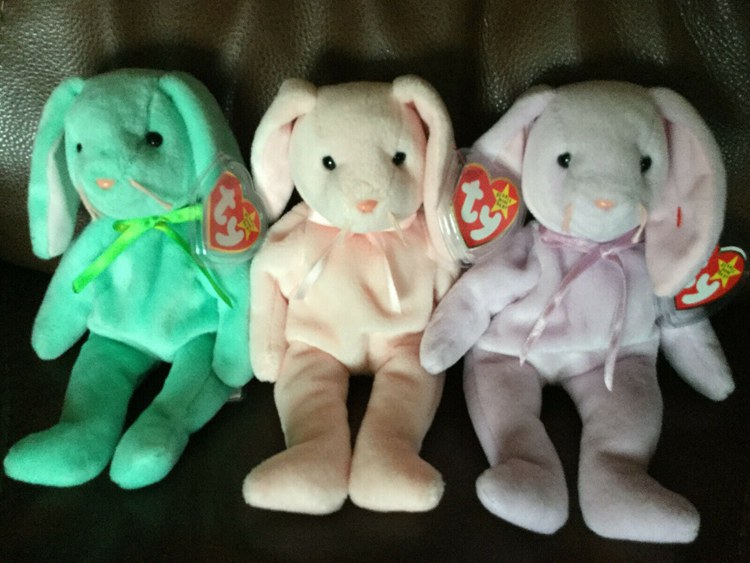 Don't the names have a nice ring to them? These floppy-eared bunnies are extremely rare Beanie Babies, riddled with multiple errors. While these errors make for high value in today's market, they led to a short-lived existence back in the Nineties.
8. Snort
Year: 1995  
Price: $55,250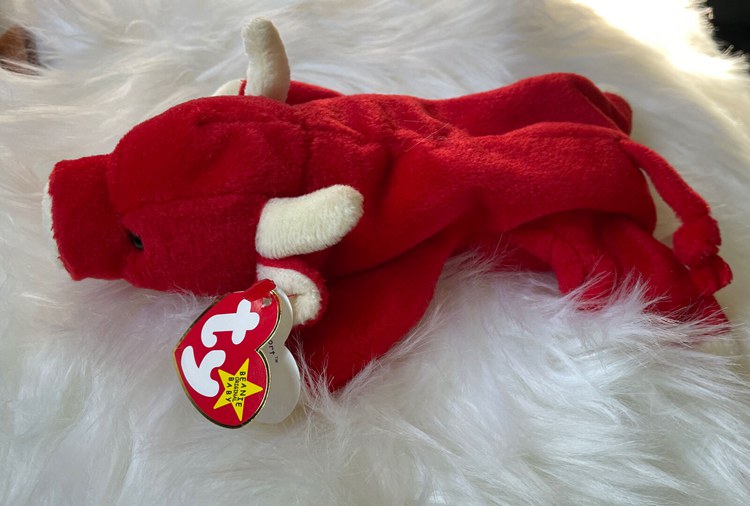 Snort the Red Bull (formerly Tabasco) had a rocky start following an almost lawsuit from the already existing Hot Sauce brand Tabasco. When Warner changed the name, he also made minor adjustments to the plushie.
While original Tabasco has red hooves, Snort's hooves are white. So, even though the update would fetch you a little over $55,000, finding the original can earn you way more.
6. Curly Bear
Year: 1996 – 1998
Price: $60,000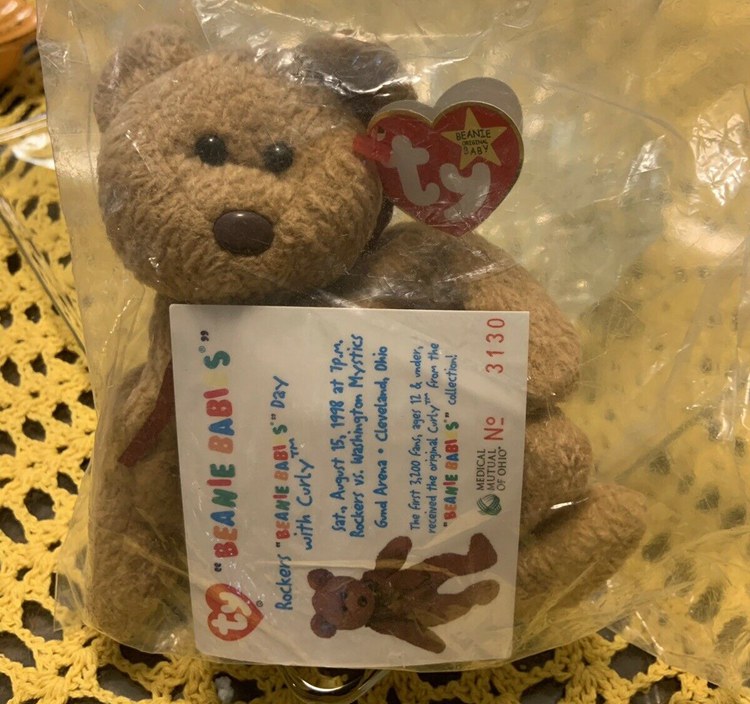 Curly Bear was the ultimate "Thanks for Coming," "Party Favor" at sporting events in the late Nineties. People who couldn't get a Beanie Babies stuffed toy at the store were thrilled to get a second chance at sporting events.
Naturally, consumers didn't mind paying exorbitant fees to attend games, provided it promised the chance of owning Beanie Babies Curly Bear.
6. Valentino/Valentina Bear
Year: 1995 – 1999
Price: $60,000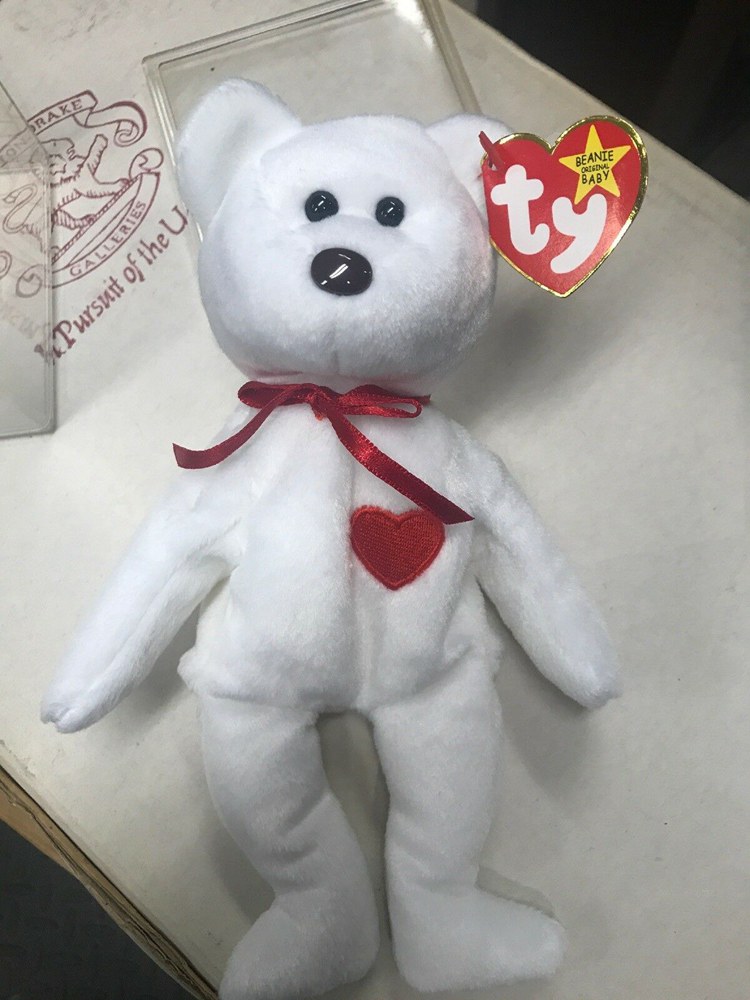 People already went wild over Beanie Babies, then the manufacturer thought, "Why not make them go wilder?" introducing the Valentine's Day special. God Forbid you forgot to get your lady love or child a Valentino/Valentina Bear on Feb. 14 between '95 – '99, you'd get an earful.
The Valentine's Day special editions came in classic lover's day colors with a White Bear with a Red ribbon bowtie holding a Red Heart. In 1999, the company tried a reverse color design of Red Bears and white hearts, but it didn't last past the year.
You can still feel the impact of Valentino/Valentina Bears today as you find knock-offs and even quality imitations on the shelves at the mall.
5. Libhearty
Year: 1996
Price: $75,000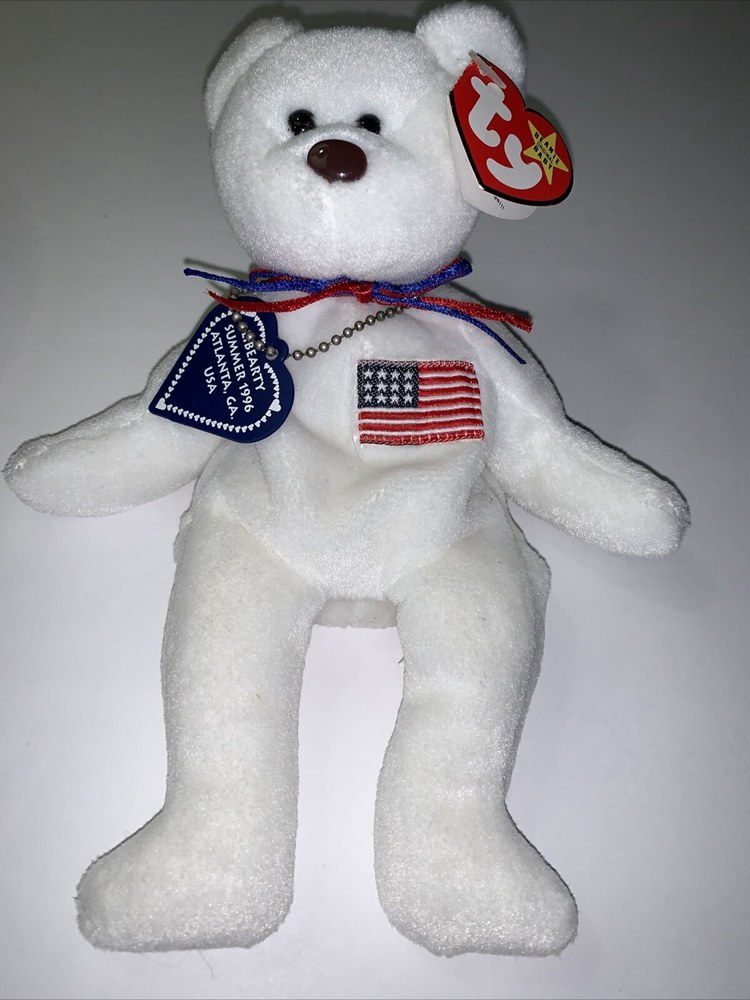 This Patriotic Beanie Baby is a snow-white stuffed doll with a red ribbon around its neck and the US Star Spangled Banner on its left chest. It was a special 4th o July edition to mark Independence Day in 1996.
4. Digger the Crab
Year: 1995
Price: $100,000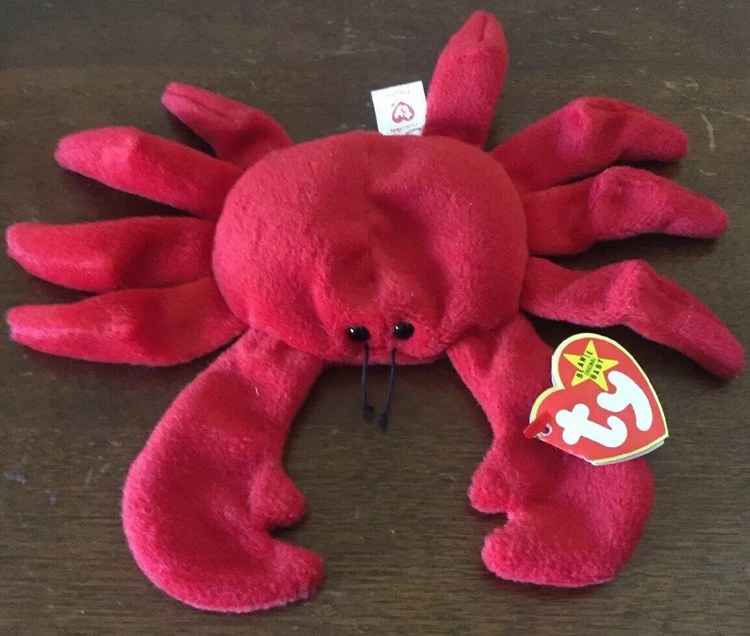 This eight-legged Crustacean with large pincers has multiple errors making it payday for Beanie Babies collectors. First it has multiple stitching, wrong proportions, wrong tag placements, and spacing errors.
3. Baby Nut
Year: 1996  
Price: $156,000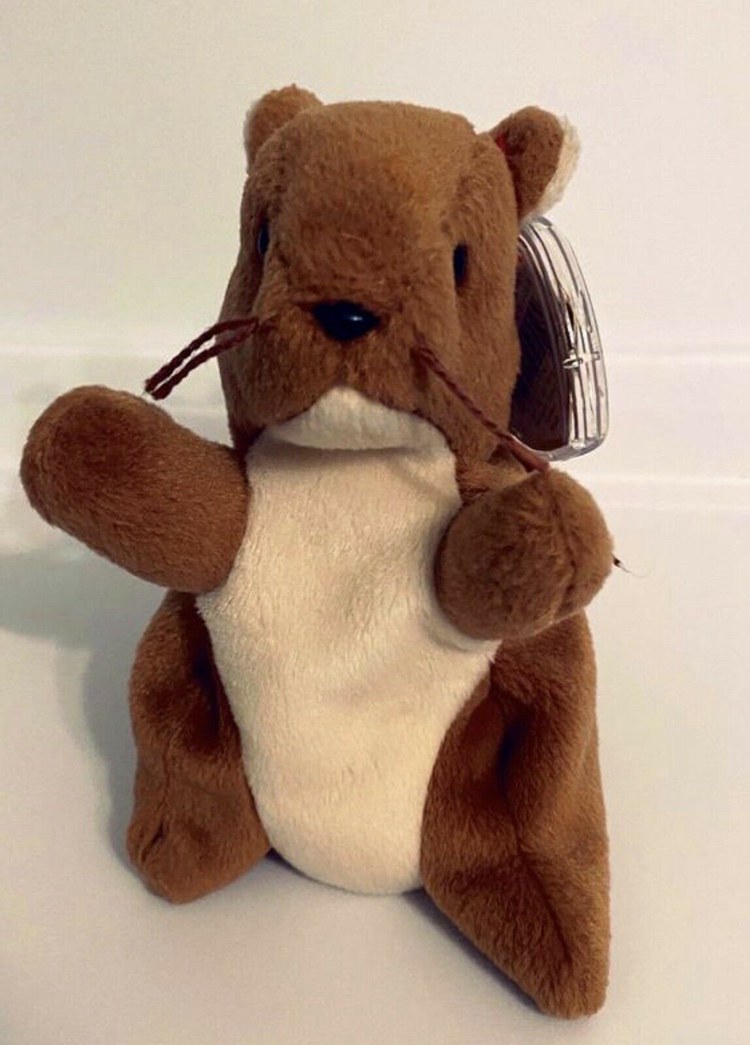 Some Nuts the Squirrel Beanie Babies came with extra whiskers on either side – a very rare error that makes it a coveted collector's toy. If you get the one with one of the legs longer, you've hit the jackpot.
2. Peace
Year: 1997-1999
Price: $179,000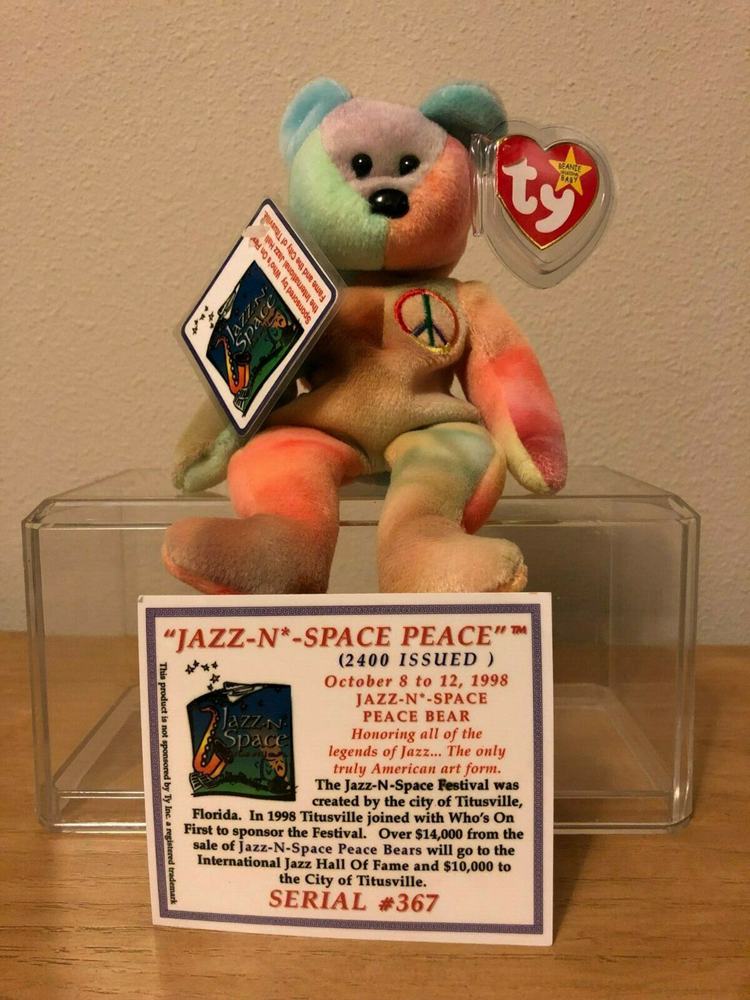 This multicolored tie/dye bear with a Peace symbol emblem embroidered on its chest existed for only three years. Ty Warner first distributed it as a souvenir at the Oakland A's v Boston Red Sox baseball game in 1997.
What's most interesting about this plush toy is that every Peace Beanie Baby has a unique color gradient on its body because they were handmade.
1. Princess Diana Bear
Year: 1997 – 1999
Price: $900,000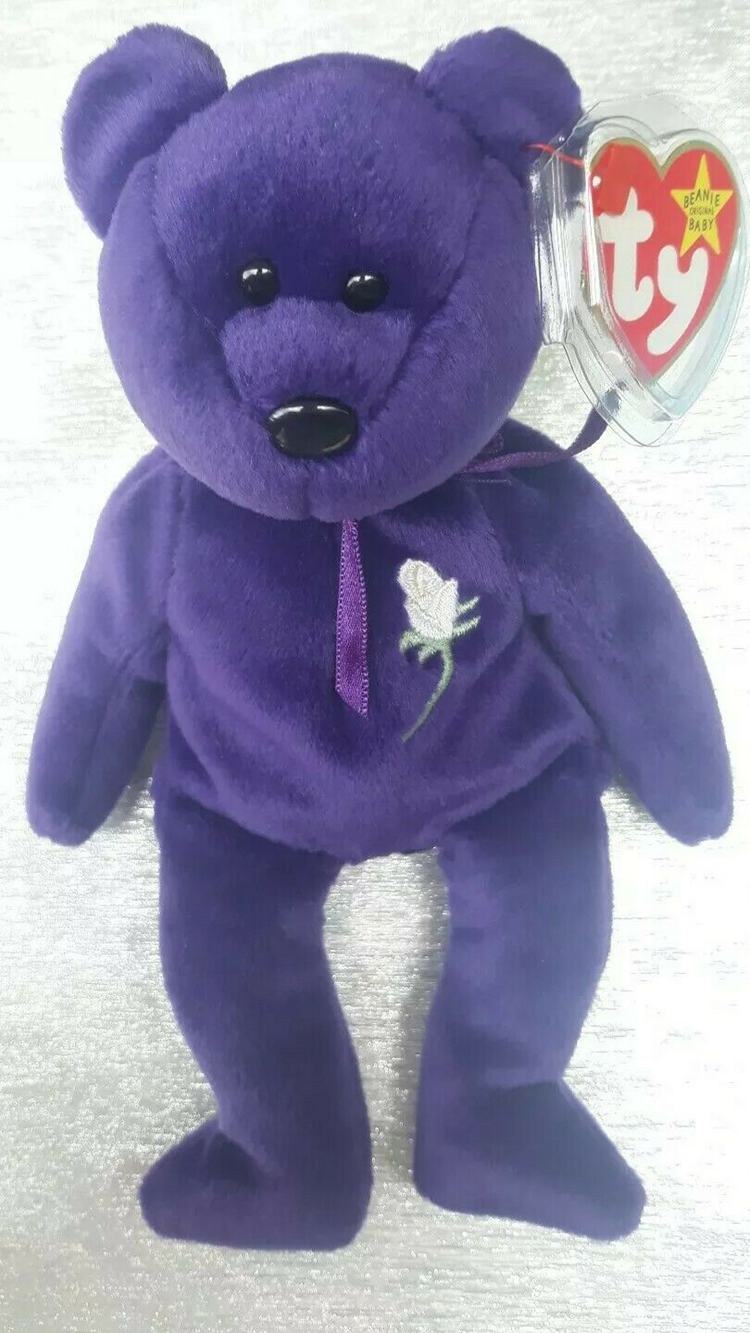 When the beloved people's Princess, Diana of the English monarchy, passed away in a tragic accident, Ty Warner created a special stuffed bear Princess as a tribute. The stuffed toy became an instant hit with the public – children and adults alike.
The Royal Purple stuffed toy had Princess Diana's English Rose Emblem as its pedigree. Unlike the other Beanie Babies, Princess Bear doesn't have PVC pellets, yet it's among the most valuable models ever created.
Perhaps it was the marketing pitch from the company offering its proceeds to Princess Diana's Memorial Fund, or it was the idea of owning memorabilia of the people's Princess that'll never wave at children again. Whichever the reason, it worked in Princess Bears favor.
Watch the Video below to learn more about the rise and fall of Beanie Babies
It's not surprising that most Beanie Babies stuffed toys were riddled with errors because the demand was at an all-time high requiring rapid supply. In a bid to meet that growing market demand, the company mass-produced in a rush leading to errors.
How to Value Beanie Babies
Valuing Beanie Babies is a learnable art. Simply follow these six basic rules;
Classification by groups
Because there were so many Beanie Babies, collectors grouped them into two broad categories: Common and Special-Editions. You probably already guessed that the latter brings in higher value due to its unique features and rarity.
Complete tags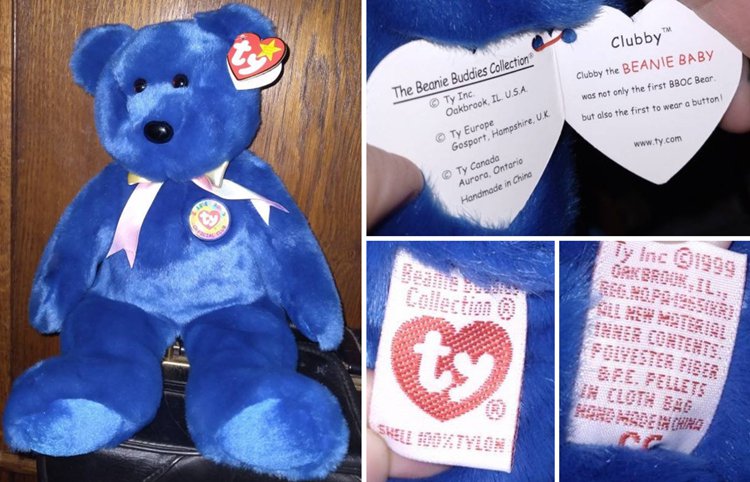 Getting a stuffed Beanie Babies toy with a complete tag is one of the most accurate identifications you can get. Beanie Babies come with two tags – hang (ear) and tush (bottom) – which must match each other. They contain every information concerning the item.
The value depreciates once a tag is missing because that's one less authenticity guarantee.
Stuffing content
Beanie Babies with fewer PVC pellets are worth more because they make the plush toys easy to maneuver. You have to feel the toy between your hands to determine its stuffing content. Also, based on the preceding explanation, you can try positioning it instead.
Certificate of authenticity (COA)
Obtaining a COA is the best alternative to losing your Beanie Babies tags, and it's a reinforcement if your tags are intact. Either way, you can't go wrong with a COA.
It's especially important because Beanie Babies are so ingrained in the American DNA that selling a counterfeit is a crime. So, play it safe and consult a licensed appraiser, so you don't fall prey to fake COA too.
Historical importance
Provenance is the reason limited-editions are the most valuable Beanie Babies ever. What special occasion marked the production of your model? Who owned it before the sale? These are the value-driving factors you must consider.
The condition of the listed Beanie Baby?
As much as special Beanie Babies are worth thousands of dollars, the condition can make or break its bottom line. The highest condition level is Mint which means every aspect necessary for valuation is intact.
Next is Near Mint, with slight wear and tear on the tags, then, Excellent (creased tags), Very Good (Missing or Worn Tags), Excessively Handled or Damaged (Missing Tags with worn fabrics).
Condition is important because Beanie Babies with intact tags have the highest value.
Concluding Thoughts
Before you rush to get your collection of Beanie Babies out of the attic, we have to warn you not every model fetches a high value. Only rare plushies with unique errors are worth thousands of dollars.
Also, note that Beanie Babies in the five and six-figure range are uncommon, so lower your expectations. Here are some key points to help you with a quick assessment;
Beanie Babies with fewer PVC pellets are higher-valued.
Princess Diana has been the most expensive model for the longest time, and
Complete tush and hang tags make perfect authentications because they're detailed.
FAQs
How much are Beanie Babies Worth?
Beanie Babies are only worth as much as a buyer is willing to pay. That's why the best way to determine its value is to check the Sold section of Auction sites. Typically, you can buy a new Beanie Baby for as low as $5 – $10, but the classic original models are the real cash cows. The auction at five figures and rare ones can reach six figures.
Where to Sell Beanie Babies
The most ideal place to sell a Beanie Baby is on eBay – after all, that's where the craze originated in the Nineties. Alternatively, you can auction them on other online marketplaces like Etsy or collectors' conventions.
Your sale location is important because it determines your audience since we already said a Beanie Baby is only worth as much as the buyer is willing to pay.
Why are Beanie Babies So Expensive?
Ty Warner released each model in limited supplies at select stores sidestepping popular chains like Walmart and Toys R Us. Collectors spent time looking for discontinued editions or trying to be the first to get new models in a bid to resell them at higher values.
Added to that, Ty Inc. christened each model with unique names, poems, and birthdays, making them relatable to the consumer.
The evolution of the internet only increased the value with the discovery of secondary markets like eBay. Today, the most valuable Beanie Babies cost so much because of their rich history and significance.