Wardrobe trunks surfaced as a necessity from the early days of the cold war! Today, these are presented to us in the form of antique valuables and are still in use.
Storage has always been a priority for everyone. Even in ancient times, hunters and craftsmen always carried around some form of storage utility in the form of bags or trunks.
These pieces of furniture happened to cater to a wide array of transportation and storage needs; henceforth, the widespread manufacture of wardrobe trunks became inevitable!
Brands that have gained a lot of popularity today were busy producing bulks of wardrobe trunks and chests; one such name amongst these brands is the infamous Louis Vuitton!
Antique wardrobe trunks are loved and cherished by many collectors today. For this reason, we have created a tailored and easy guide for you to assess the age and value of antique wardrobe trunks.
We will also go through a variety of brands that produced them and even identify different types of wardrobe trunks!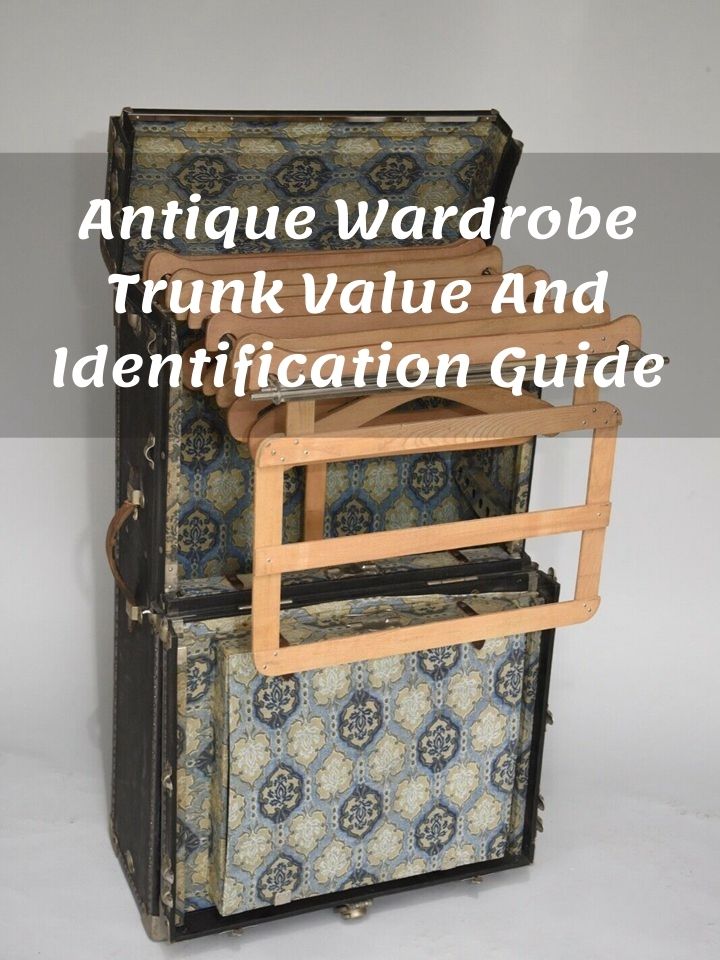 A Brief History Of Wardrobe Trunks!
Even though their use is evident from the medieval era, wardrobe trunks made a solid debut in the 1870s during the glorious Victorian Era.
Now that overseas travel was made possible by railways and ships, there was a dire need for these wardrobe trunks.
Many people confuse trunks and chests; the two are also used as interchangeable terms.
However, a chest is considered more of a fixed cupboard and is deemed unfit for travel. Trunks on the other hand can be considered as modern day brief cases that can be easily displaced from one destination to another.
The evolution of a simple wardrobe trunk is quite interesting; what stated from a simple box equipped with a lock soon transitioned into one with intricate designs and patterns.
Some of them were even enveloped in leather or embossed with metal.
Today, we come across different variants of wardrobe trunks that have evident inspiration from the Victorian Era.
What Are The Different Types Of Wardrobe Trunks?
Below is a generic classification of the styles of wardrobe trunks that we came across.
1. Antique Wall Trunk
Wall trunks consume lesser space and provide a compact storage option. They could easily be placed tightly against a wall and its convenient hinge mechanism allowed the top to pop open without consuming any space.
These proved to be a good choice for small houses or apartments.
2. Antique Saratoga Trunk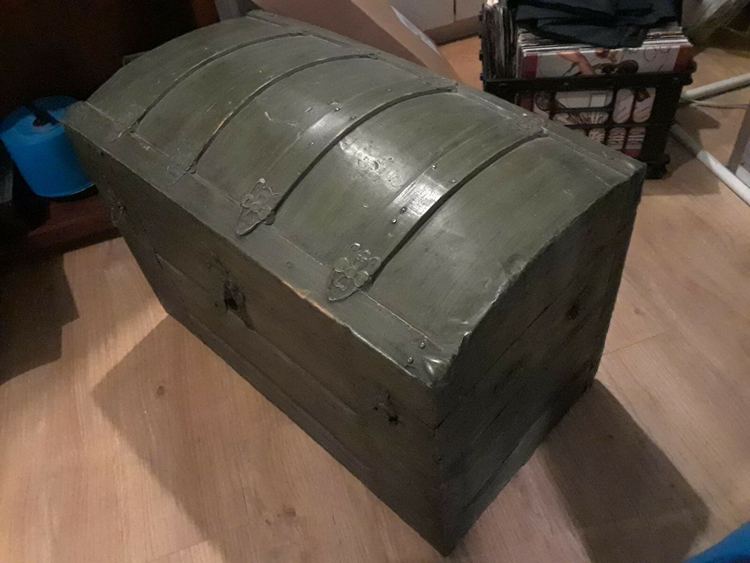 Saratoga is in fact the name of an American soap directed back in the 1940s.
But that isn't what this trunk is named after. It is actually named after a popular hang-out spot situated east of Saratoga Springs, next to Hudson Lake in New York!
These trunks were a choice for the rich and prosperous. They even incorporated a number of drawers!
With its luscious leather covering and delicate round top, it symbolized wealth and royalty back in the day.
Antique Saratoga trunks are sometimes also embellished with intricate patterns and beautified with accessories.
3. Antique Jenny Lind Trunk
This trunk is named after a popular Swedish Opera vocalist/singer. Jenny toured The States back in the mid-1850s.
Her fans noticed a peculiar trunk she was carrying with her at all times and since then that specific trunk style started being manufactured and sold worldwide.
The Jenny Lind Trunk had a unique style; its lateral view depicted a 'figure of 8' because its mid-section constricted whereas the upper and lower ends formed a diversion.
4.  Antique Steamer Trunk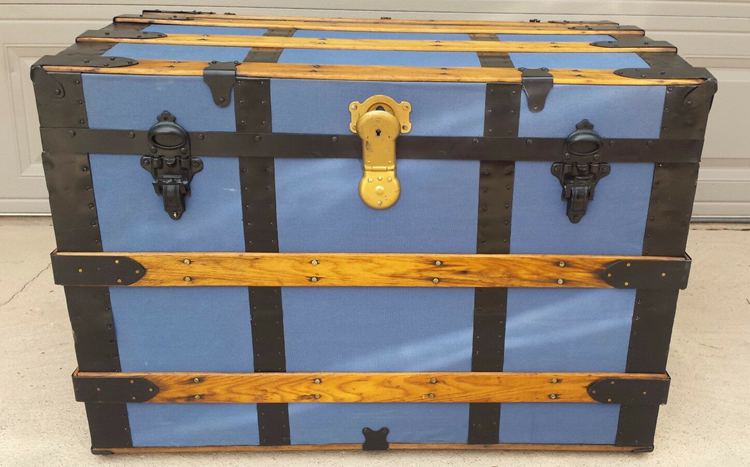 This trunk was mostly used for traveling and was hence a common sight in steamer ships, and was thus named as a 'steamer trunk'.
There are many design variations for this trunk but most of them are flat-topped and were designed to fit into small places.
This cuboid-shaped trunk was often taken to boarding schools or trips.
5. Antique Flat-Topped Trunks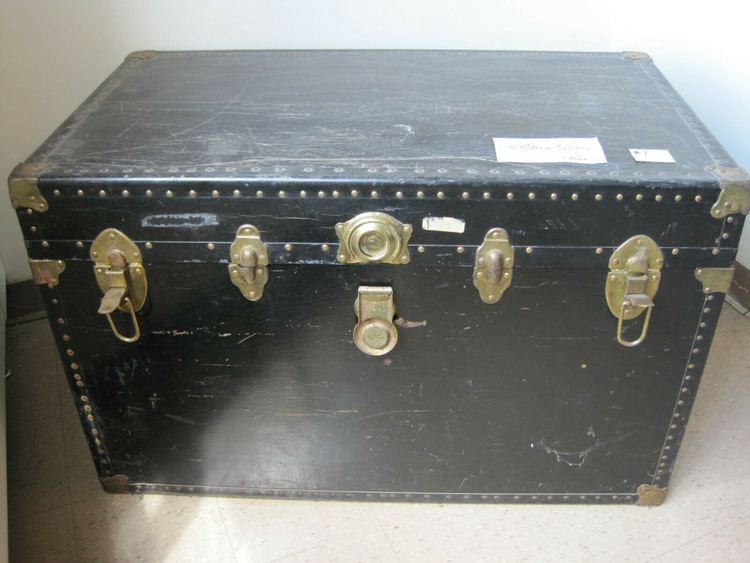 As the name suggests, these trunks employed the use of a flat and stable top.
Flat-topped trunks were crafted in a variety of materials; from wood and leather to canvas and fabric!
6. Antique Dome-Topped Trunks
A few other names for this trunk are camel trunk, barrel trunk, or humpback trunk.
They had a significant bulge on the top surface and were hence deemed unfit for travel. Their primary purpose was storage.
Some of them even exist today and can be seen in the form of embossed tin.
7. Antique Slatted Trunks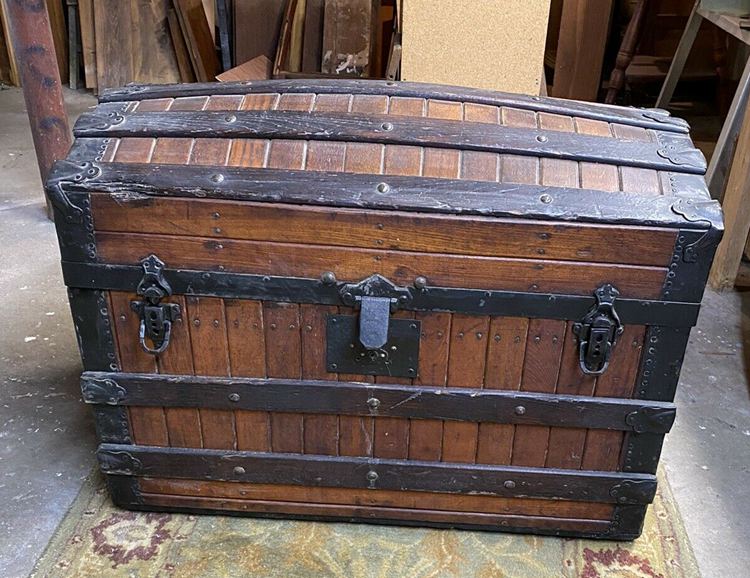 This one represented the works of an artist!
Many of these were crafted in beautiful patterns and designs; slatted trunks even employed the use of thin wooden slats that made an intricate statement once placed side by side.
8. Antique Octagon/Bevel-Top Trunks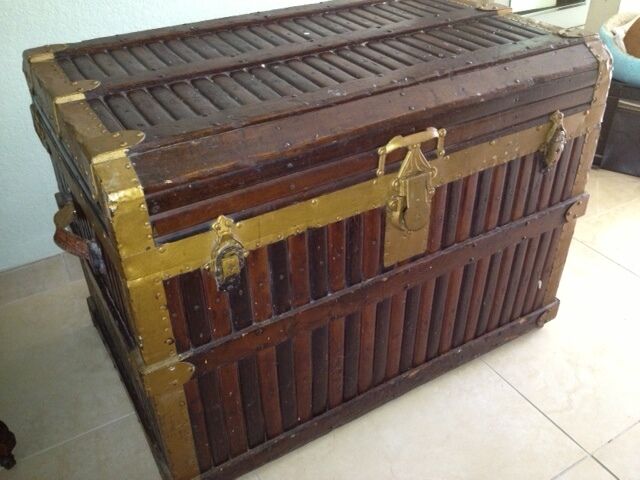 These terms were often used interchangeably. Such trunks can easily be identified due to their tell-tale feature: the octagonal shape.
With 8 corners on the sides, this large trunk was used for storage and sometimes travel.
9. Antique Full Dresser Trunks
Full dresser trunks came in with a mirror and set of drawers. They proved to be a very convenient piece of furniture back in the day.
Famous Brands That Produced Some Of The Best Wardrobe Trunks!
You would probably realize that a few names amongst the following list would ring a bell, because they have become so popular today!
Here's the list:
Goyard
Goyard is a French trunk and leather goods maker. Established in 1853 in Paris.
Hartmann
Hartmann Luggage is a manufacturer of luggage and leather goods established in 1877 [1] in Milwaukee, Wisconsin by trunkmaker Joseph S. Hartmann, a Bavarian.
Louis Vuitton
Louis Vuitton Malletier (French: [lwi vɥitɔ̃ maltje]), commonly known as Louis Vuitton or by its initials LV, is a French fashion house and luxury goods company founded in 1854 by Louis Vuitton.[1] The label's LV monogram appears on most of its products, ranging from luxury trunks and leather goods to ready-to-wear, shoes, watches, jewelry, accessories, sunglasses and books.
Oshkosh
The Oshkosh Trunk Company initially began producing trunks in 1898, in Oshkosh, Wisconsin.  Its signature line of luggage called the "Chief" was styled with beige duck cloth, with red and yellow stripes. The company also produced an advertising figure of an Indian brave on top of a trunk with the words "Oshkosh" engraved at the base. The city of Oshkosh was named after Chief Oshkosh, (1795–August 29, 1858) chief of the Menominee Tribe from 1827 until his death.
Taylor
Mort Diamond was 24 years old when he opened Taylors Luggage in New Canaan over 60 years ago. Mr. and Mrs. Diamond moved to Stamford, where they opened a small luggage store in 1951 – Taylors Luggage. The name came from a man by the name of Taylor, who owned Taylor Trunk Company in Chicago and was a very dear friend of Mr. Joseph Diamond, and so Taylors Luggage was born.
Samsonite
Samsonite International S.A. (SEHK: 1910) is a luggage manufacturer and retailer, with products ranging from large suitcases to small toiletries bags and briefcases. The company was founded in Denver, Colorado, United States. Its registered office is in Luxembourg and it is listed on the Hong Kong Stock Exchange.
How To Identify An Antique Wardrobe Trunk?
1. Measure The Dimensions
Size matters more than one can anticipate and in this case, smaller trunks are actually more expensive! This is mostly because of their convenient size and portability.
In general, if your antique trunks measures less than 30 inches or so, then it might be more valuable than its counterparts.
2. Identify The Type Of Trunk
Flat-tops in general are more valuable than the other designs. This is mostly because their top can be used to place other items.
It is also to be noted that flat-tops date back to much earlier times than the other designs!
3. Identify Any Damages or Wear Effects
Extremely damaged or worn of wardrobe trunks would probably come very cheap.
But those found in good condition come off expensive since they can be used and displayed as valuable assets in the house.
4. Look For Patterns And Signs Of Craftsmenship
Fancy ornaments and intricate patterns demonstrate effort and signs of artistry; and art always comes with a price!
Such sort of trunks cost relatively more than the plain ones.
5. Consult An Antique Specialist
Collectors and antique specialists have a lot of insight and knowledge about such items.
Beware of scams and make sure to extract an opinion from an expert before you go on making a purchase.
6. Rarity of A Trunk
Limited edition pieces or trunks that are very hard to find these days have an automatic value upgrade in the market.
One such example would be of Louis Vuitton trunks that can range up to 20 thousand dollars!
Martin Maier's trunks range from 500-3000 dollars due to their rarity.
Frequently Asked Questions
1. Is It Possible To Refurbish Antique Trunks?
Absolutely! However, the process is quite tedious.
You would need scrappers, good quality sand paper, hard brushes, and steel wool. The process involves completely remodelling the antique trunk to wipe off any signs of damage and wear.
Refurbishing makes antique items usable.
2. How Much Does A Louis Vuitton Trunk Cost?
LV bags are sensational even till date.
And so were their wardrobe trunks back in the day. This was mostly because this company has a very high manufacturing cost.
Antique Louis Vuitton trunks range from 300 euros to a whooping 2000 euros!
3. Why Are Traveling Trunks Dome Shaped?
Dome or Bevel shaped trunks are designed so to reduce any chances of damage to the items inside.
Since they used to be placed in steamer ships on top of one another, it was likely for the items inside to get crushed or broken had it not been for the bevelled top.
Final Thoughts
We hope this article was helpful and relayed an ample amount of information for you to have a basic insight of wardrobe trunks.
In short, we went through basic designs of antique wardrobe trunks and how each of them stands unique due to their features and timeline.
We also summed up a quick identification or value guide for you to superficially assess the price of such antique items.
However, we would always expert consultations and meticulous research if you are serious about purchasing an antique wardrobe trunk.
If you found this helpful, make sure to share it with a friend or colleague who might find it useful as well!