Almost every household possesses at least one wardrobe to store clothes with certain items. And the practice comes pretty old with a historic timeline from earlier centuries. However, an antique wardrobe can definitely add extensive décor to the house.
There are multiple associated points to consider with authentic antique wardrobes. You must consider the essential facts to ensure a precise purchase from the market. And our experts specified antique wardrobe identification for an accurate valuation.
Established Antique Wardrobe Periods in History
Antique wardrobe styles changed over the different periods from the past centuries. And knowing the details can definitely help you to understand the particular distinction. The periods should provide definite styles to meet your conscious demand.
1. Queen Anne (1701 – 1714) Wardrobe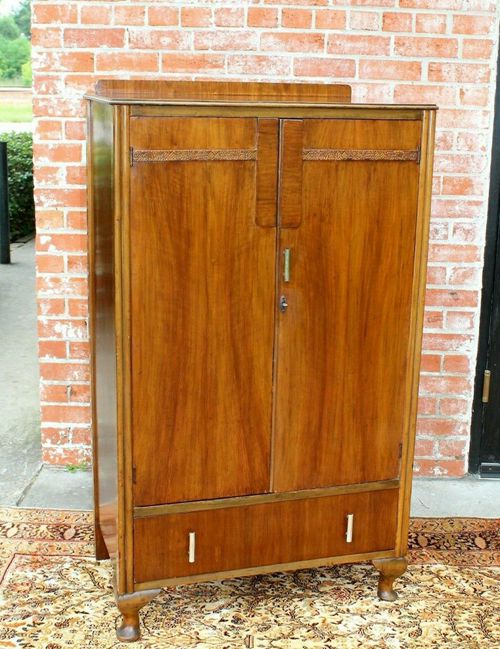 The very first distinctive 18th-century period comes with a style of its own accord. Queen Anne wardrobes are characterized by precise elegance with a delicate appeal. Additional curved elements held a patching line with people's changes in tastes. Also, the simple design included a domed roof as well as a curved panel to integrate further décor.
2. Georgian Era (1714 – 1830) Wardrobe
The century-long period almost stood the test of time with distinctive variations. The era contained sub-periods to simplify the distinction – Baroque, Rocco, Chinoiserie & Neoclassical. Overarching ambition to the then echo Neo-Palladian architecture attended popularity.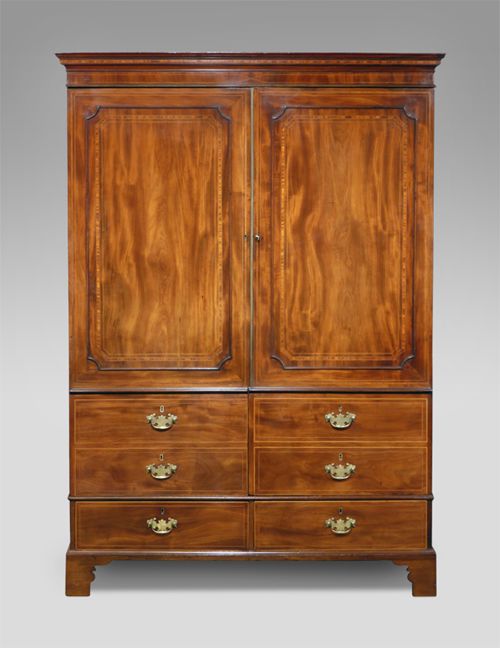 Georgian wardrobes are noticeably simple in design to accommodate classic symmetry. Exclusive paneled doors with sturdy storage drawers may integrate breakfront dentil cornices. Meanwhile, additional décor pieces also tend to feature fluted pilasters to some extent.
3. Regency Era (1811 – 1820) Wardrobe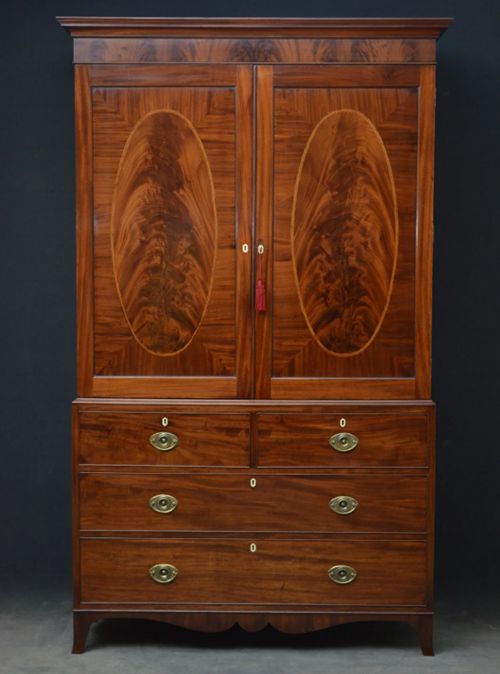 The period often gets included in the Georgian periods, sitting in the intended timeline. However, the design held exotic influence from Japanese, Turkish, Persian & even Indian pieces. But the décor stood somewhat complicated & reasonably detailed in comparison to Georgian ones. The wardrobes integrated superior flourishment with extended panel details.
4. Victorian Era (1837 – 1901) Wardrobe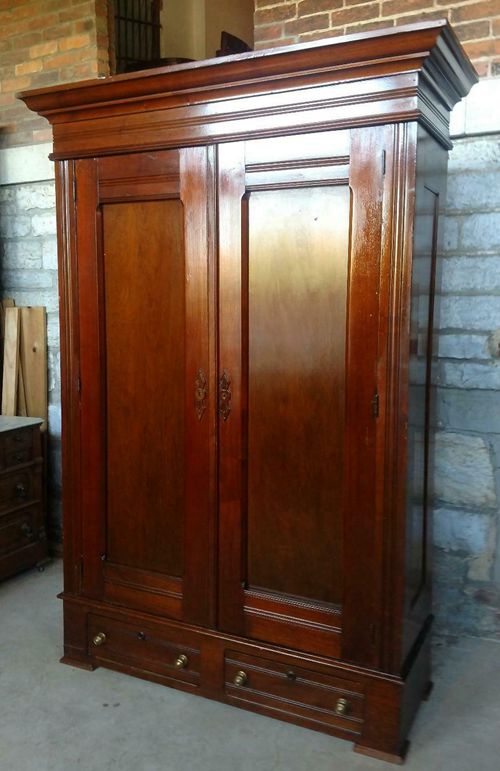 The extremely influential period actually started with several revivals at once. In fact, the list of styles includes – Greek, Rocco, Gothic & Renaissance at once. And the second half of the Victorian era incorporated many modern styles – Aesthetic, Eastlake & Arts and Crafts.
Victorian wardrobes are abundantly available in terms of styles, materials, details, shape & décor. Ornate carvings, as well as integrated mid-section mirrors, became very popular at the time. Besides, the invention of machine-made wardrobes made the market during the 1860s.
5. Edwardian Era (1901 – 1910) Wardrobe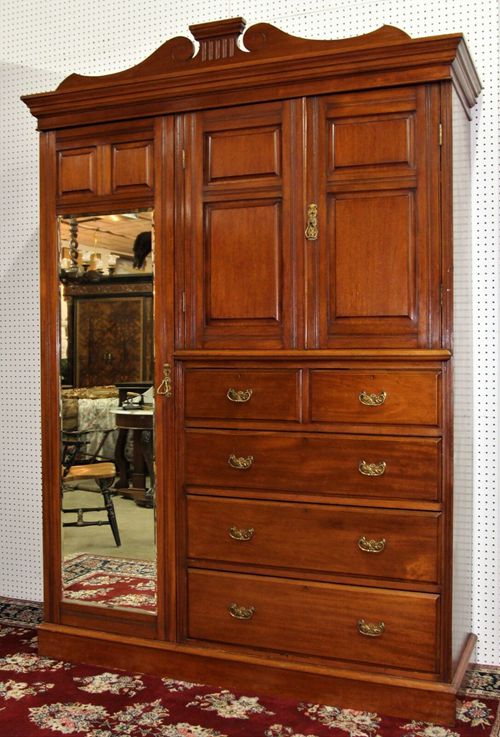 However, the Edwardian period actually moved backward instead of inventing more modern styles. It made the existing pieces less excessive yet highly decorative for household possession. Baroque, Rocco & Empire styles met the modern approach to set the roots of Art Nouveau wardrobes. Its well-defined lightweight design featured light appeal, simplistic specs & fewer frills.
It's possible to check 20th-century reproductions of a particular period. Not to mention, many furniture manufacturers settled for designs taken from the early centuries. And your purchase would be a vintage instead of antique for the most part.
How To Identify Antique Wardrobe
Knowing the periods can't conclude your skill in identifying the righteous antique. You'll have to keep additional facts in mind to confront the antiquity. Otherwise, the option/options may grow misleading confusion during your sale or purchase.
Wood Type – Actual antiques from early centuries tend to prefer different types of wood. Cheaper woods were used on parts not on display (back & bottom). However, the decorative portion to remain visible covers from oak to mahogany with additional ones.
Oak was the absolute preference before the 1700s, continuing its legacy for upcoming centuries. And furniture turned to mahogany along with walnut to meet additional ornate. The 1800s saw the rise of rosewood whereas the 1860s had pinewood for wardrobes.
Surface Finish – Relatively durable & matching finish (varnish as well as lacquer) came into the picture in the 1800s. And the older furniture pieces relied on shellac only with a distinctive smell. Meanwhile, somewhat old wardrobes from remote parts should hold wax, oil, or milk paint.
Aging Marks – Wooden furniture pieces always tend to shrink across the grain with its age. And the outcome concerns wonky or warped surface to cause eventual cracks. Meanwhile, a varying amount of light exposure should initiate clear marks of aging on the surface.
Design Symmetry – Uniformity counts notably precise with antique wardrobes regarding simplicity. Still, you should manage to detect at least one or two visible points of irregularity. Likewise, keep an eye on the joinery to confirm any wooden piece to lack accuracy.
Oxidation – Visible oxidation marks on the metal portion are one particular sign of aging. Ends of hinges, knobs & handles should feature a greenish discolor called patina. However, you must understand the differences between rusted metal & aged metal.
Nuts & Bolts – Machine-made screws entered the picture into the 1880s only. And chances are good to have antiques with handmade screws, nuts & bolts. The structure should integrate a misaligned slot on the head, little or no taper & a visibly shallower spiral.)
Wood Preference in Different Periods
As you should understand, wood type remains the primary fact of checking genuine antiques. And experts managed to narrow down the preferred wood material in different periods. However, an extremely rare piece from a certain era may feature something else for construction.
Queen Anne: Wardrobes from the period explicitly preferred lightweight woods. Majority held walnut structure whereas others may feature maple or even cherry. Reputed manufactures were Daniel Marot & Jean Barein.
Georgian: Expensive, dependable & solid wooden structure replaced classic walnut. However, mahogany was indeed the first choice among conscious users.
And there was a good number of prominent makers from the era. Check Andrea Palladio, George Hepplewhite, James Stuart, Mathew Darly, Robert Adam, Thomas Chippendale, Thomas Johnson, Thomas Sheraton & John Linnel, William Ince, William Kent, and John Mayhew.
Regency: Designs from the period actually held a distinctive combination of woods. Mahogany had still the preference with additional wooden pieces of walnut or oak. List of prominent makers includes – John Nash, Thomas Hope, Morel & Hughes, Moore & Smith.
Victorian: Elaborate variation in style came with different types of wood for wardrobes. Mahogany, walnut, rose & pine started to craft fashionable furniture units. You're to check William Morris, A.W.N. Pugin & Sir Charles Lock Eastlake for manufacturers.
Edwardian: And the period somehow decided to go back to early versions of light woods. Oak, pine, mahogany & walnut – there were different designs to consider. And the period was blessed with a countless number of prominent furniture manufacturers.
Differences Between an Armoire & a Wardrobe
It's essential to understand the explicit difference between antique wardrobes with antique armoires. Favored terminology often ends up causing embarrassing confusion on purchase. And many customers blend in the particular characters & features among the two.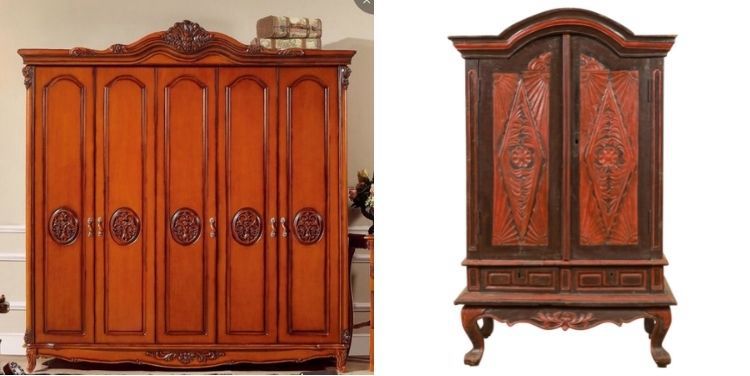 Wardrobe is more like an external closet to store clothes or smaller belongings. The structure holds a simple design with minimalistic details to serve its primary purposes. Its overall features promote the classic outlook without features.
Meanwhile, an armoire is more ornate with further details to serve multiple purposes at once. It was preferred to store weapons & armor, containing the heavier stature. And the outlook integrates a definite-level formal look to space.
Guides on Careful Antique Wardrobe Dismantle
Wardrobes are reasonably large in size, causing havoc during their movement. And anyone to try a complete move at once often results in disaster. You can't appreciate the imposed damage from sudden collision with surrounding wall or metal items.
That's where you must understand the dismantling process of an antique wardrobe in the house. But the actual process actually tends to differ, taking the internal assembly into account. You should check online guides as well as pro services for the job.
Start with the videos from YouTube channel Pinefinders on Dismantle & Assembly.
Evaluating the Market Price of Antique Wardrobe
You can save a lot of trouble with market value determination with appraisals. Appointing an online service can provide results within 1 – 2 working days. Consult nearby experts or antique shops to develop some practical ideas.
An impressive number of wardrobes managed to pass the test of time with minimal damage or deterioration. It's a rather common furniture piece to remain available in antique shops, garage sales & local/regional showrooms.
Also, don't hesitate to the online websites to deal with antique household furniture pieces. Renowned sites like Etsy, Pamono, eBay, Vatican, Antiques World, Thakeham Furniture & even Amazon hold a reasonable collection.
Additional websites to operate on a local/regional scale should get you something unique. Just keep yourself attached to the available options. And you can check the collection of vintage wardrobe reproductions in Alibaba.
Final Words
Always keep yourself up-to-date from available, dependable, accessible online resources. You can learn lots of minor yet significant details from the research. And the guidelines mentioned right above should pave the way for the initial start.