Are you a new antique walking cane collector who wants to learn more about the various types of walking canes? It may be difficult to decide which ones to buy due to the abundance of fantastic options available.
Due to the myriad of fantastic choices available, deciding which ones to purchase may be difficult. Or perhaps you are wondering why antique canes are considered valuable simply because they come from the past and want to know why collectors are willing to pay so much for it.
Read on as this article will help to identify the best types and brands of antique walking canes.
History of Antique Canes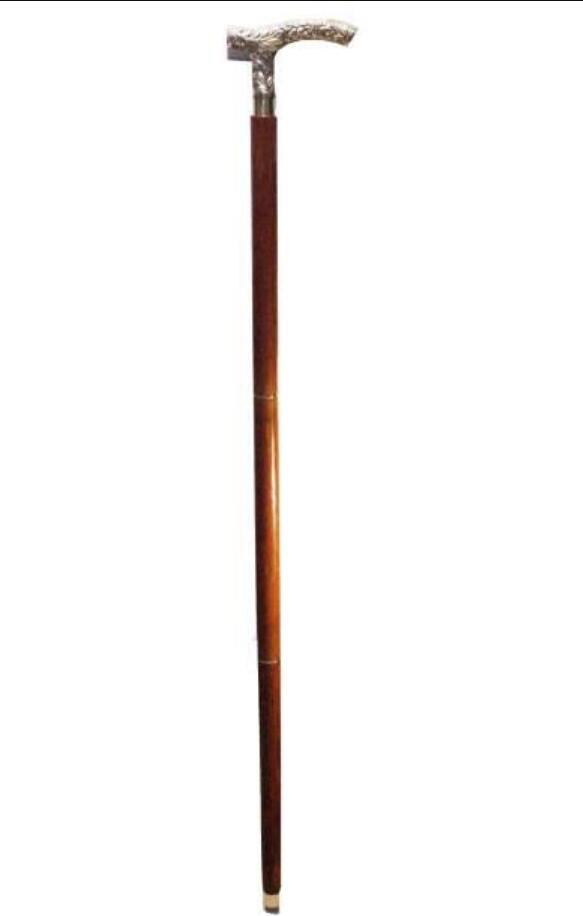 In the 16th and 17th centuries, antique walking canes were only used by Europe's elite. It was a way for them to show off their status and wealth, and it was made entirely of sustainable materials like bamboo, reed, and malacca. Jewel decorations were also common, making them a luxury item only the wealthy could afford.
Laws governing the antique cane era (1550 to 1930) enforced that only the wealthy and powerful were allowed to own one, and it was a breach of the law to use one without being a high-caliber individual.
In the 19th and 20th centuries, however, people of other social classes began using canes. It was common to see most gentlemen at a high-class function carrying one.
Types of Antique Walking Canes
Despite some noticeable differences, distinguishing canes may be difficult in some cases. This section of the article will help differentiate between the various antique canes.
There are three categories of antique walking canes: the gadget cane, the decorative cane, and the folk cane. Understanding the types will enable you to determine the value of these individual pieces.
❖ The Folk Cane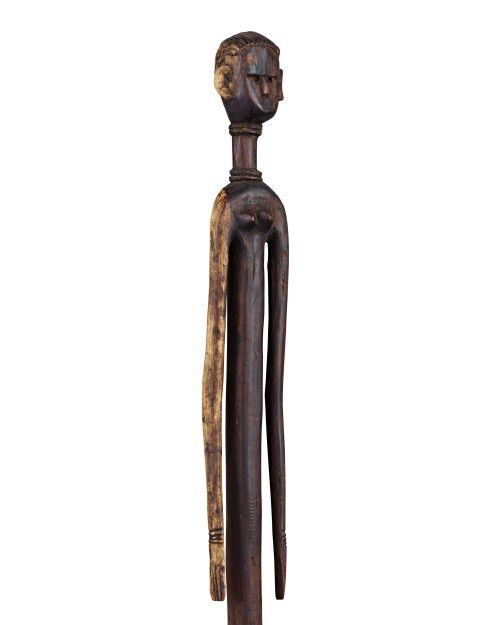 Folk canes are traditionally made from wood. They usually had symbols or markings based on the country they came from. These canes are highly collectible because of their casual appeal.
The artisans who made these canes did so based on their own tastes, styles, and skills. Most of the time, the local artists didn't have proper training, but they were very talented.
To identify a genuine antique folk cane which is usually plain, place it under ultraviolet light. Ultraviolet light assesses the wood's stain coloring. If the antique folk cane is authentic, the stain will be the same under natural and ultraviolet light.
❖ The Gadget Cane
Gadget canes, also known as trick canes, became a popular choice among the elites in the 19th and 20th centuries. These canes could be transformed into another device entirely or have hidden compartments, like a magic wand.
Gadget canes are a favorite among collectors, but that wasn't always the case. When they went out of style in the 1920s, they were quickly forgotten and used as children's toys because they weren't decorated as beautifully as other canes. So, finding pieces that are without any damage may be difficult.
After being disregarded for years, they have become one of the most expensive antique canes on the market. There are over 1,500 patents for gadget canes in the United States alone, some of which include:
Canes that can be converted into a bicycle
Sword canes
Picnic canes
Cigarette holder canes
Fishing pole canes
Barometer canes
Canes with horse measure
Perfume canes
Categories of gadget cane based on their functions
Gadget canes were used for different reasons at the time. They are classified according to their functions and are useful in almost every niche, as shown below:
1. Professional Cane
These canes were a popular accessory for professionals and business travelers, as their names suggest. The following are examples of professional canes:
● DOCTORS CANE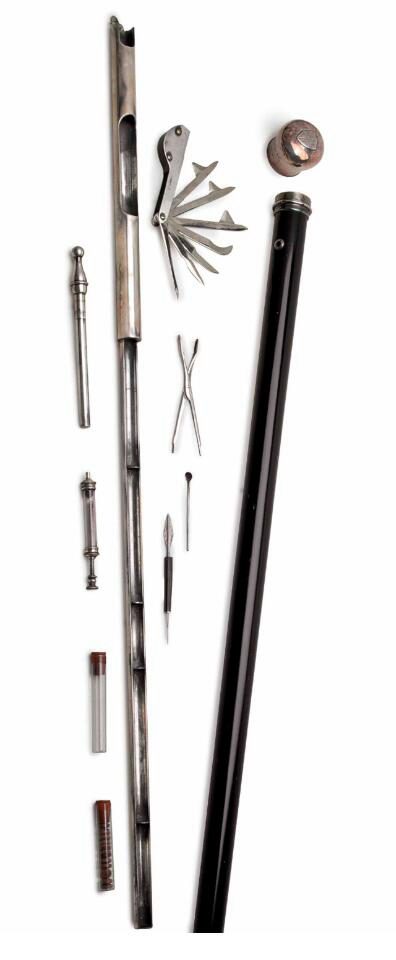 The doctor's cane was the most popular professional cane from the 18th to 19th century. It was widely used by medical professionals to carry syringes, surgical instruments, and medications.
This cane, as expected, features the medical professional symbol of two snakes wrapped around a central stick known as the caduceus.
● MORTICIAN'S CANE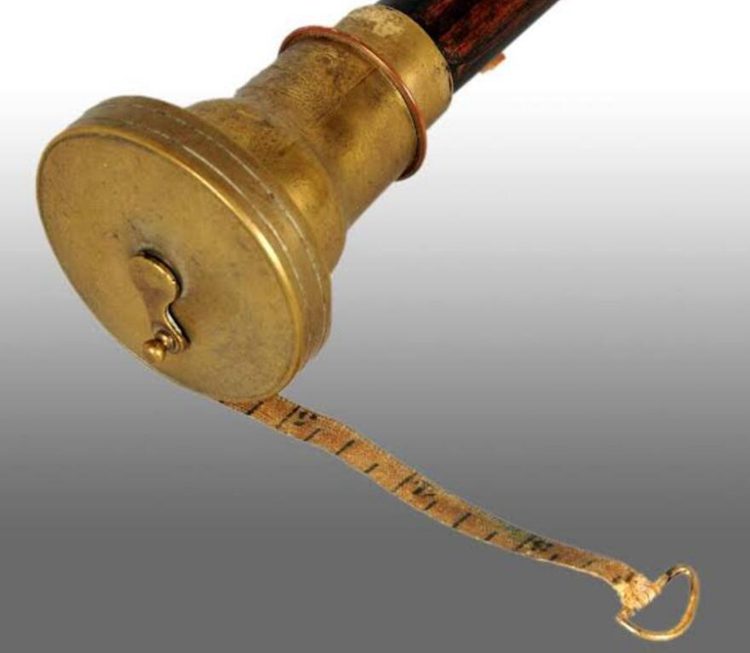 The mortician's cane is becoming increasingly rare to find. This antique cane was a simple brass rod with measurement indicators for quickly determining the height of a deceased person.
● TAILORS CANE
Tailors on the go frequently carried canes containing needles, thimbles, thread, measuring tape, a pin cushion, and decorative beads. One could say that 19th-century tailors with these canes were rarely caught off guard by a fashion emergency.
● SHIP CAPTAIN AND SAILORS CANE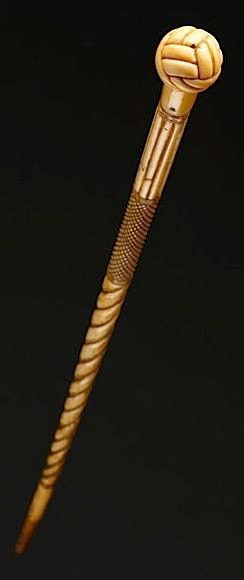 Telescope-equipped walking canes were common among sailors, and often carried by ship captains. It was a useful tool for disorienting enemy ships. However, lower-ranking sailors carried models with a compartment for a knife or cutlery.
● PAINTERS CANE
It would be surprising if painters did not also have a model cane. The attractive bamboo canes with ivory knobs held painting supplies like brushes, pencils, paint, rags, and even a water container. The shaft of these canes could also be used as a portable easel.
2. City Cane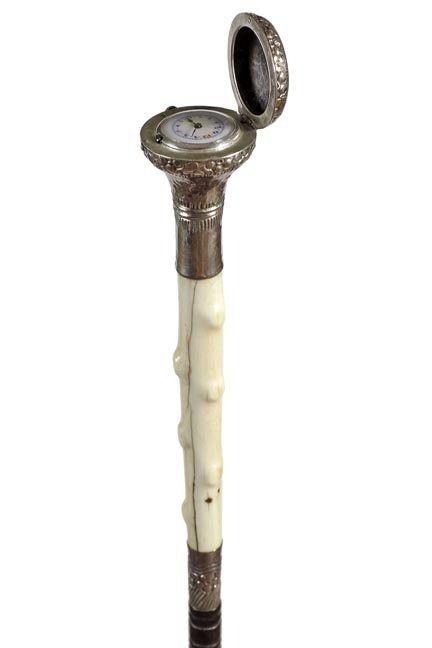 Antique City canes were popular and were used by most people even on normal walks. They went well with any outfit and were appropriate for both gentlemen and ladies.
People often put a pocket watch, an umbrella, or mother-of-pearl glasses on their city canes, which made the canes more fashionable. Examples of city canes include
● WHORE HOUSE COIN CANE
Gentlemen who patronized prostitutes appreciated this cane because it allowed them to discreetly dispense the exact amount of cash needed. Also, the manufacturers elegantly adorned it with a leather crook handle or a brass handle.
● LADIES CANE
Ladies with a penchant for convenience employed ladies' canes. Not only was it embellished with handles made of gold, enamel, silver, or porcelain, but it also had sufficient space for carrying lady's "emergency" items, like powder containers, perfume bottles, atomizers, umbrellas, and embroidery.
● PICNIC CANE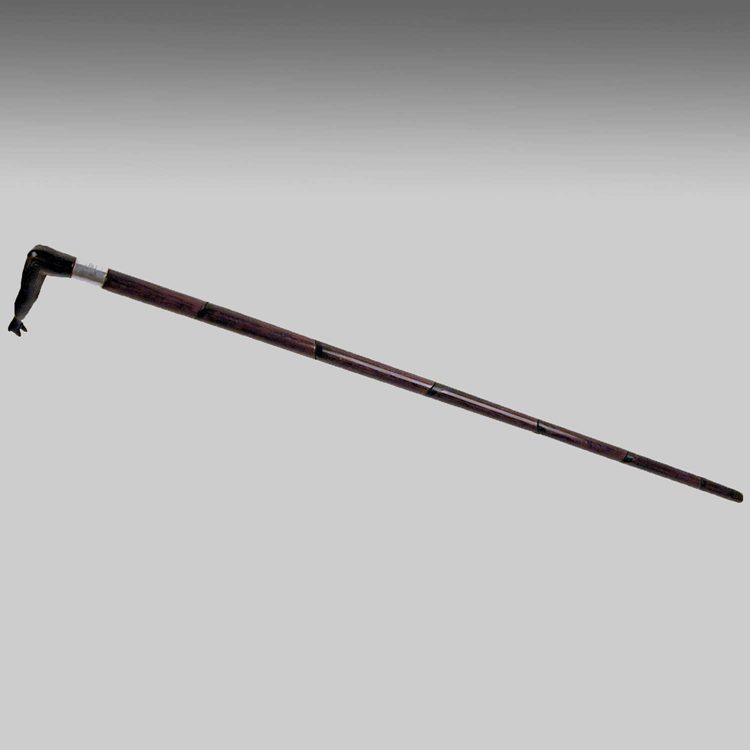 This category of antique canes includes canes suitable for outdoor activities. Common items found in these canes included silverware, corkscrews, chopsticks, and seasoning shakers. Some models of this cane also held fishing poles and outdoor compasses.
The most valuable picnic cane is the toppling (whiskey flask). It includes a small compartment for a stem glass or glass flask.
3. Musical Cane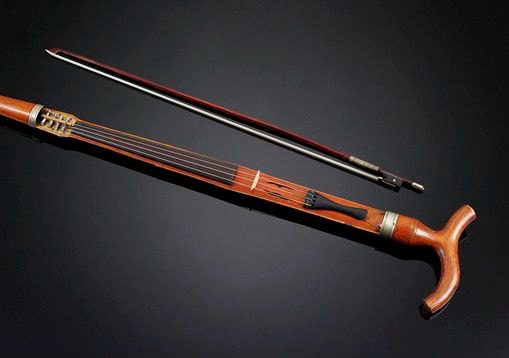 These antique canes are quite rare. The majority of musical canes were custom-made and are highly sought after by collectors. The violin and wind instruments like flutes were the most common variations of musical instruments of these canes.
4. Weapon Cane
These models are skillfully crafted and very complex in order to hide weapons that can be accessed by a flick of the wrist. Weapons like guns, daggers, swords, flails, spikes, and bludgeons were frequently concealed in this cane.
The La Terrible weapon cane was patented in 1883 and was well-known for being the most lethal weapon cane available at the time, with a metal shaft that has been painted and three sets of double razor blades.
A painted metal shaft and three sets of double razor blades are included. They were eventually banned in France, along with other similar models. The La redoubtable and La Diabolique are the rarest antique canes created. The following are some weapon cane examples:
● SWORD CANES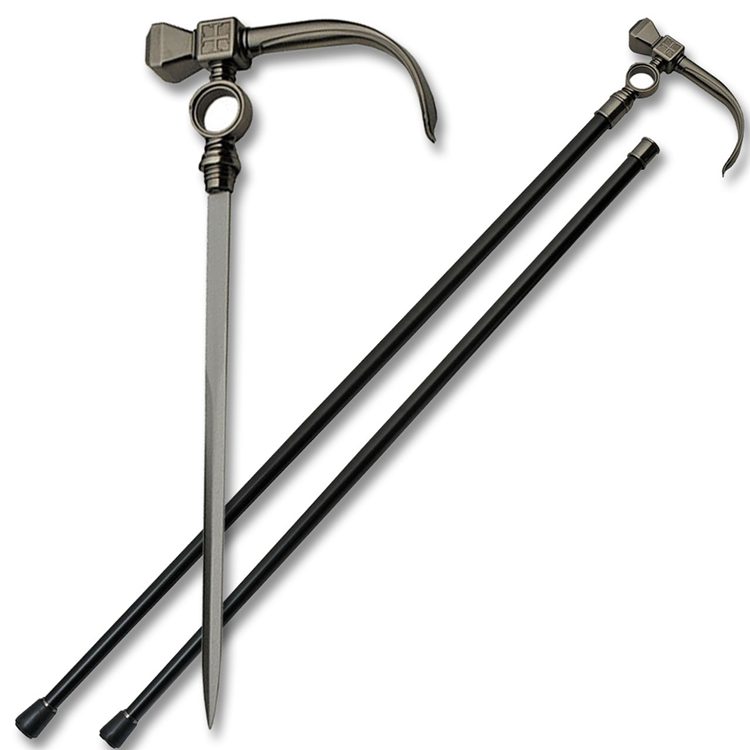 Sword canes typically had a long shaft for hiding long blades. The value of the sword cane is primarily determined by the condition and quality of the blade. The most popular sword canes are high-quality Wilkinson and Toledo blades from England and Spain, respectively.
● DAGGER CANES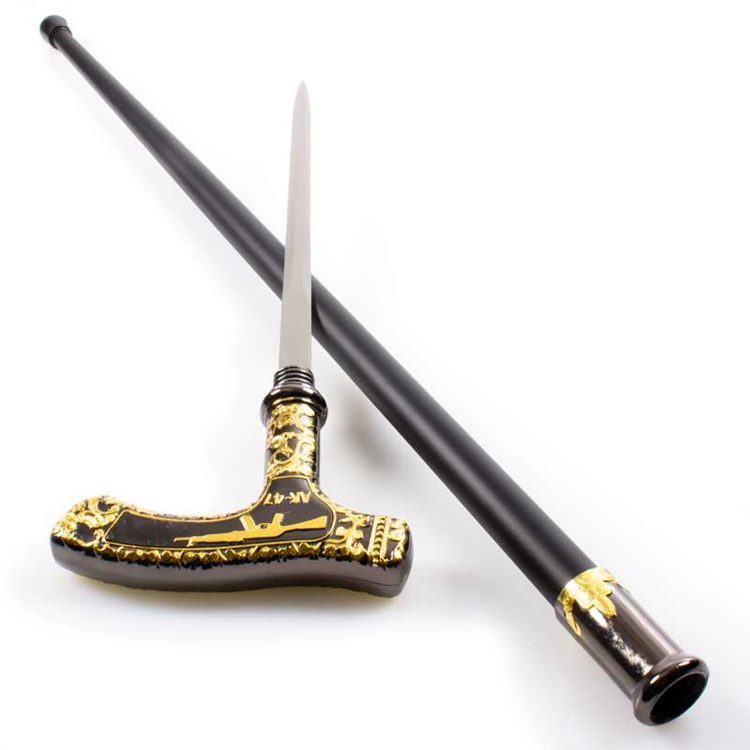 These models had a shorter shaft, which was short enough to allow the user to reach the dagger in time and long enough to hold multiple daggers. Dagger canes were intricately adorned.
● STILETTO CANES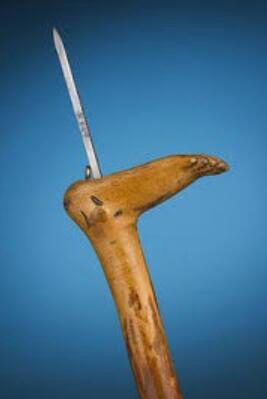 These clever models could have completely hidden blades that leave no visible mark on the cane. Blades were usually hidden in the cane handle or furrel, but some had retractable shafts.
● GUN CANES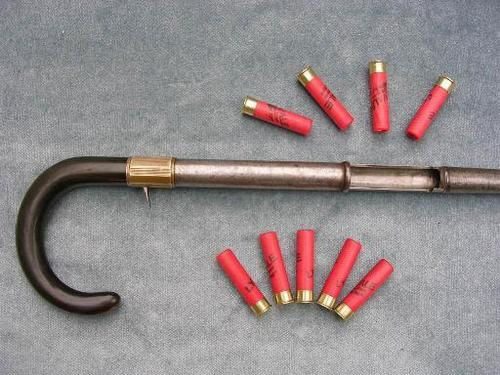 Gun canes were designed for self-defense, so they were never too flashy. They are now a collector's item, with numerous firing mechanisms. Remington and Derringer produce the most expensive gun canes currently available. You can purchase a Gadget Cane here.
❖ Decorative Canes
This category of antique canes is easier to identify. Manufacturers usually decorate these canes with artistic designs based on the owner's preferences. You will likely find these cane handles crafted into geometric shapes, beloved pets, and portraits of people.
The handles of decorative canes were made from natural resources like ivory, silver, gold, and semiprecious gemstones, but the cane shafts were left plain. It is safe to say that decorative canes are purely for aesthetics. Here are a few examples of decorative antique canes:
● CANES WITH IVORY HANDLES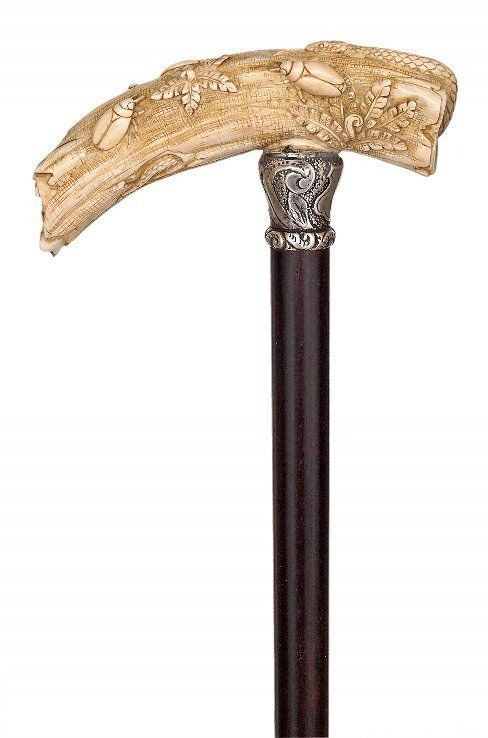 These exquisite pieces, particularly those made entirely of ivory, were owned by the upper classes of society.
Handles of all shapes and sizes were crafted by skilled artisans, with some being adorned with glass eyes or priceless jewels. These canes are highly desirable to collectors.
● CANES WITH SILVER HANDLES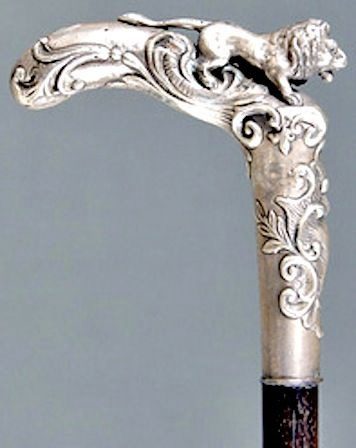 Silver was easy to come by back then, and so these models were easily produced. Silver is also easily shaped, so it was common to find a silver cane with a portrait of an individual or an animal.
If you're new to collecting, this cane is a great place to start. However, remember that it is possible to find handles that aren't genuine silver but appear to be.
● CANES WITH GOLD HANDLES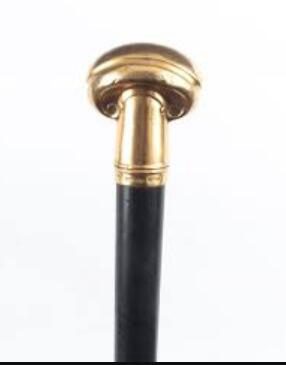 Due to the high cost of gold, these antique canes are among the most valuable pieces. There are more affordable options made from inexpensive models and designed with gold collars.
● CANES WITH ENCRUSTED JEWELS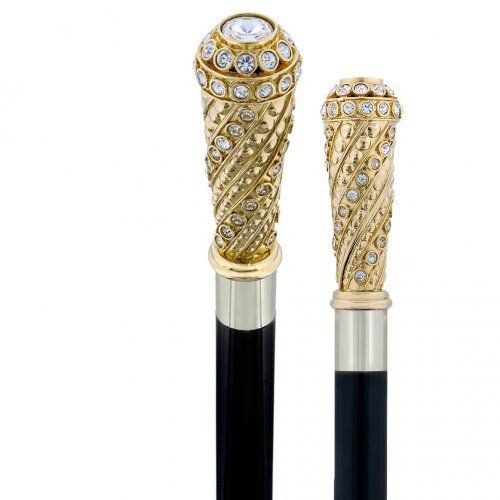 Only the most prestigious artisan houses produced these. Tiffany and Faberge were examples of such houses.
Tiffany is renowned for its elegant gold handles combined with tortoiseshell shafts, whereas Feberege is renowned for its detailed enamel and diamond handles. These canes, frequently adorned with gems such as diamonds, cost $15,000 and above.
● CANES WITH PROCLEIN HANDLES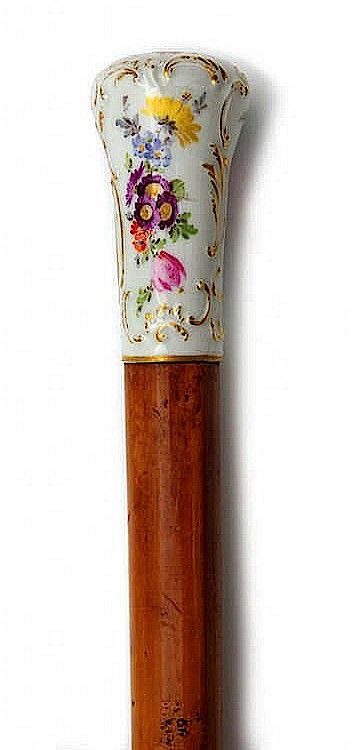 Due to their beauty and scarcity, antique walking sticks with porcelain handles are highly collectible. Although it may prove difficult to find undamaged porcelain due to its fragility. Artists such as Meissen and Sèvres are well known for their elegant canes.
● CANES WITH ALTERNATIVE-MATERIAL HANDLES
When choosing materials for their cane handles, manufacturers of decorative canes were quite creative. As a collector, you might come across antique decorative cane pieces with handles made from the following materials:
Hand-carved wood
Antler or rhino horn
Snakeskin or sharkskin
Brass or bronze
Ivory, snakewood, or wedge wood
Tortoiseshell
Antique Cane Manufacturers to Collect
Aside from their historical significance, antique canes have a high monetary value. As a result, when purchasing an antique cane, your choice of manufacturer is critical because it may affect its value.
The following are notable manufacturers, most of whom were based in Europe and the United States. Bearing the marks of any of these manufacturers on your cane can increase its value by thousands of dollars.
M. Cazal
Cazal was a well-known French cane manufacturer. Aside from making parasols for Empress Eugene, he was well known for his elegant accessories and one-of-a-kind umbrellas. He was granted a license for spring mechanisms in parasols in 1839.
Henry Howell & Co. of London
Henry Howell was a leading English cane maker who started in 1832. He was one of the world's largest cane manufacturers, importers, and exporters, employing 550 people in a 60,000-square-foot factory.
He worked closely with Hamburger H.C. Meyer on many occasions. During World War I, Henry Howell ceased all of his work.
Henry Howell & Co. advertised their selection of cane ferrules in 1870. Among them were "Ashdown's patented India rubber ferrules," which were noiseless and non-slip.
Identifying a Henry Cowell & Co. cane is simple. The button above the collar on the majority reads "Howell London England," and if there is a broad silver band below, it could indicate an older piece, which will cost more.
The R.F Simmons Company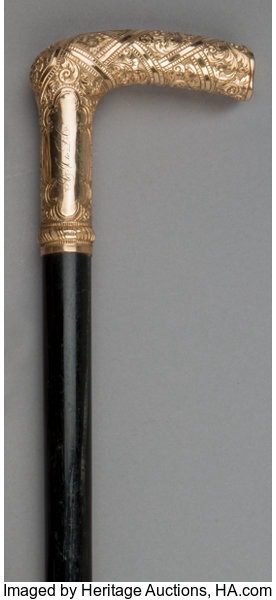 Robert Fitz Simmons founded R.F Simmons in 1873. In 1875, Simmons and his friend Joseph Lyman Sweet formed a partnership with Edgar L Hixon, each investing $2500 in the business.
By 1877, the company had grown from 8 to 10 employees to over 200, with offices in New York and agents in Rio de Janeiro, Buenos Aires, and Montevideo, as well as Barcelona, Berlin, and Sydney. They were famous for their watch canes and flawless metallurgical details.
By Simmons' 40th anniversary, there had many numerous industry firsts. They were, for example, the first to;
Launch a chain catalog- 1881
Stamp their canes with the manufacturer's initials for easy identification.
Use a safety fastener in connection with chains and fobs–in the early 1890s.
Produce a practical lock bracelet–the Marlow in 1899.
How to Determine the Value of Antique Canes
As a collector looking to start an antique cane collection, you will encounter a wide range of options in the antique cane market. So, it is essential to be able to determine which has the best value.
The rarity, quality of craftsmanship, and style of decoration of an antique cane are the three primary factors in determining its market value. Erotic canes, made from exotic materials like ivory, and canes with unique designs are always among the most expensive options.
On the other hand, any alterations, dents, or scratches will result in a price reduction. However, rare models will always be more expensive, especially if a famous person once used them.
The table below contains a list of some unique canes and their prices. These canes have high financial value because of their distinctive features.
| | |
| --- | --- |
| Antique Walking Cane | Price |
| | $1,050 |
| | $1,650 |
| | $1,894. 89 |
| | $7,950 |
| | $995 |
| | $1,500 |
| | $925 |
| | $6,276 |
| | $651 |
Frequently Asked Questions
1. Why Did People Use Canes In the Past?
For centuries before they became a sign of power, wealth, and status for the English gentleman, canes were used as an aid for travelling over uneven ground and even as a defensive weapon.
2. What Is the Top of a Cane Called?
The top of a cane is called a ferrule. They provide support when the cane is used at an angle. Ferrules are replaceable, as users can swap out a ferrule for one that better suits their taste and preferences.
3. Who Needs an Antique Walking Cane?
Anyone can use a cane. Whether for fashion or as walking aids for people with arthritis or back and knee pain. They are also extremely valuable.
Conclusion
The average person associates canes and walking sticks with frail and elderly people. Antique canes, on the other hand, are highly valued collectibles and may come back into fashion in the future.
They also make excellent gifts for a friend or relative who may require the assistance of a walking cane. If you have any more inquires concerning antique walking canes, kindly leave a comment below.