Antique wagon wheel-driven cars dominated the 19th and half of the early 20th century. They were pivotal in promoting an efficient transportation system. So, it is only normal that we can't possibly talk about these vehicles without referencing the wheels that helped drive them.
Antique wagon wheels range between $100-$500 on average but can cost more depending on the extra features and details on the wheel.
Be it cast iron or purely wooden wheels; we'll help you understand all there's to know about antique wagon wheels, how to identify them and update you about the five most valuable models around.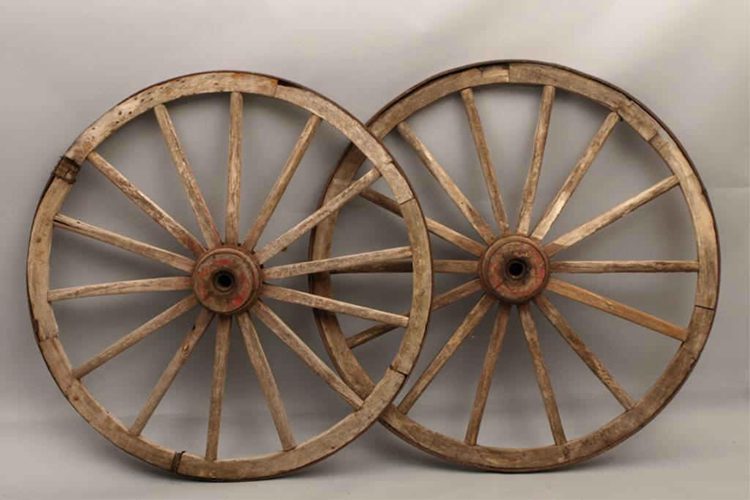 The Fascinating History of Antique Wagon Wheels
The invention of antique wagon wheels is one of the most significant moments in human history. The Mesopotamians made the first-ever wagon wheel from wood which was weighty, hard to make into a round shape, and would not wobble.
Then came the spoke wagon around 2000 BC, which was easier to carry, more flexible, and had a controllable wobble. Artisans added the iron tire to the already spoked wagon wheel a thousand years later.
During construction, wagons were weightier than horse-driven carts, and had a box-shaped body suitable for lifting freights and food crops ensuring a smoother ride due to the stability of being driven on four wheels rather than two.
Here's a video of artisans building a wagon wheel.
Why Wheels?
Well, wheels helped to reduce the friction. They dig deep into the ground and rotate to turn on their axles when the wheels turn.
If a wagon is being pushed, human effort to affect the movement is zero to none, and the only presence of friction is between the axle and the wheel.
Modern Day Wheels
Fast forward to the present day, the manufacture of wagon wheels hasn't seen much of a difference. Although the time adopted in making these tools are now shorter and less labor-intensive, the technique is still quite the same.
The major difference between the old and new is that drivers can now turn the tire spokes on a lathe instead of a drawknife.
Wagon Wheel Accessories
The most important part of the wagon wheel is the felloe which is the outer wooden part of the wheel to which the steel tires is attached. This attachment can be done in two ways- the wheels can have bent felloe or cut felloes.
For Bent felloes, they're put into a steam cabinet and left there until the wood fibers become hot and wet and placed into a jig and formed into the shape of the wheel created.
After a level of thickness is achieved, the wood gets too thick to be bent and must then be cut into six to eight different sizes to make a complete felloe. The felloe holds still alternate ends of the spokes in place on the outer face of the wheel.
The Dish
Wagon wheels are dished for strength, and the Romans introduced this style. Artisans created the early Egyptian war chariots with flat and straight wheels, and while these wheels were known for speed, they were terrible with sharp turns.
The pressure from attempting a turn exerts pressure on the hub and causes the wheel to fail. The only way to stop the impending accident was to slow down the chariot's speed by making it stop before a turn, however, the Romans knew this was a bad idea during the war.
Putting an iron tire on the wheel while it was still hot and letting it cool down would cause some of the holds and pull the wheel together, which would dish the wheel and produce a braced spoke, thereby making turning easier.
Spokes
Artisans added spokes to wagon wheels to make them lighter and move much faster. These spokes were believed to have been made in Anatolia or around the Turkey region for many uses, especially warfare.
5 Popular Antique Wagon Wheels to Collect
Here's a list of the five most valuable antique wagon wheels ever sold. The prices on this table are sourced from verified platforms and void of any imitation.
| | | | |
| --- | --- | --- | --- |
| S/N | Name | Release Date | Price |
| 1 | Antique Steel and Oak Wagon Wheel | 1750-1799 | $1,495 |
| 2 | 19th Century Wagon Wheel | 1900 | $1,400 |
| 3 | Antique Wagon Wheel | 1920 | $800 |
| 4 | English Antique Wagon Wheel | 1920 | $475 |
| 5 | Antique Cast Iron Wagon Wheel | 1880 | $250 |
1. 19th Century Wagon Wheel
Release Date: 1900
Price: $1,400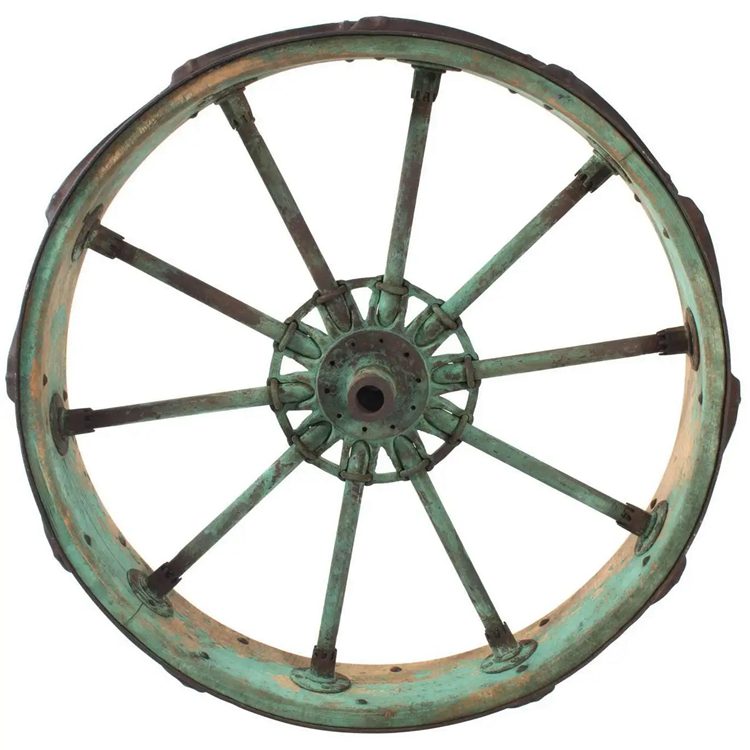 This is a 19th century industrial wagon wheel produced from cast iron and heavy wood. The turquoise green pigment results from years of use and weather elements on its outer part, and it contains ten spokes.
2. Antique Steel and Oak Wagon Wheel
Release Date: 1750-1799
Price: $1,495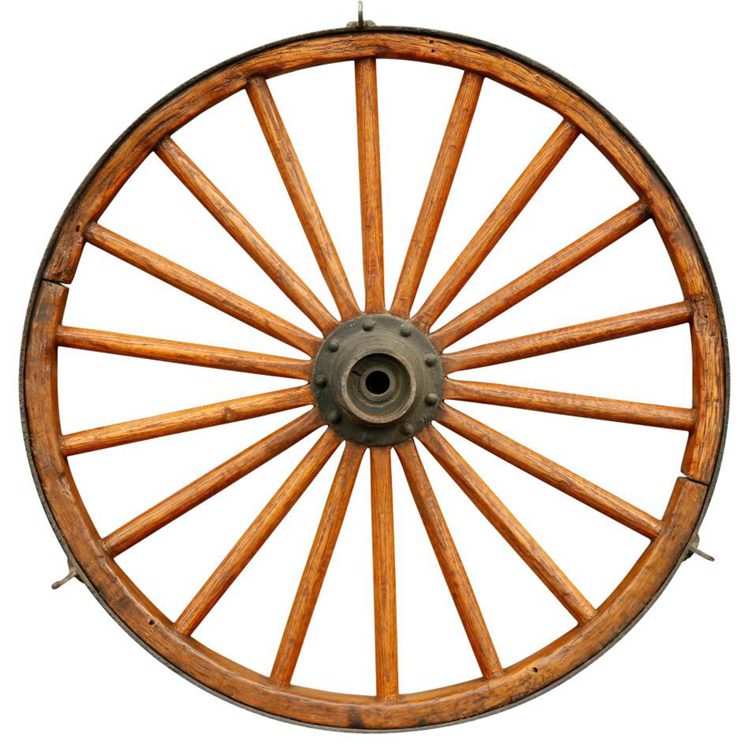 This antique steel and oak wagon wheel with eighteen spokes, two sectional felloes made from pure hardwood, one metal hub, a steel tire, and three steel attached to the tire to make it easier for hanging was made in the United States in the late 18th century.
3. Antique Wagon Wheel
Release Date: 1920
Price: $800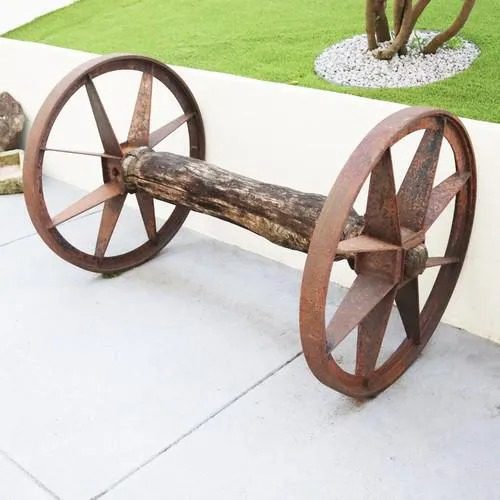 In the nineteenth century, this pair of antique wagon wheels were made from wood and iron. It has seven spokes each on both wheels.
4. English Antique Wagon Wheel
Release Date: 1920
Price: $475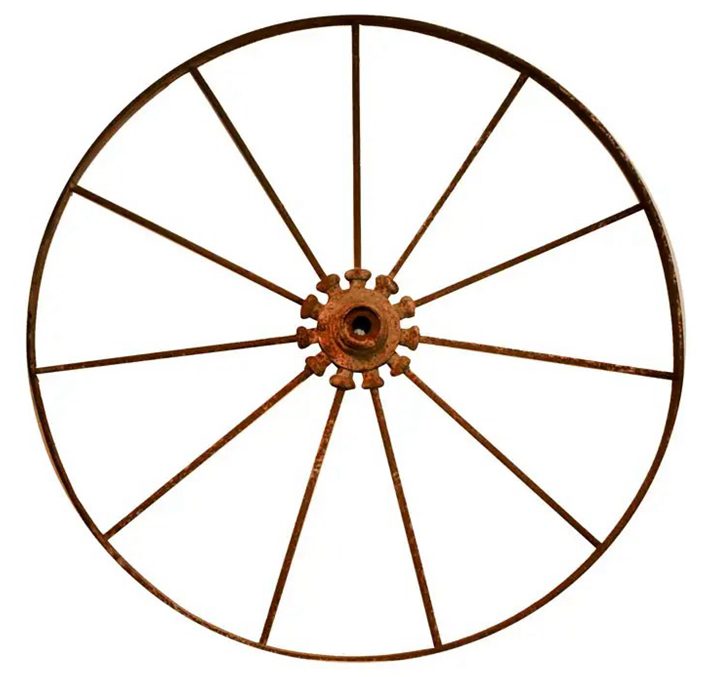 Collectors found this metal wheel in England, and its production dates to the early 20th century, precisely the year 1920. This wagon wheel has a diameter of about 124.46 cm and features 11 spokes in total.
5. Name: Antique Cast Iron Wagon Wheel
Release Date: 1800
Price: $250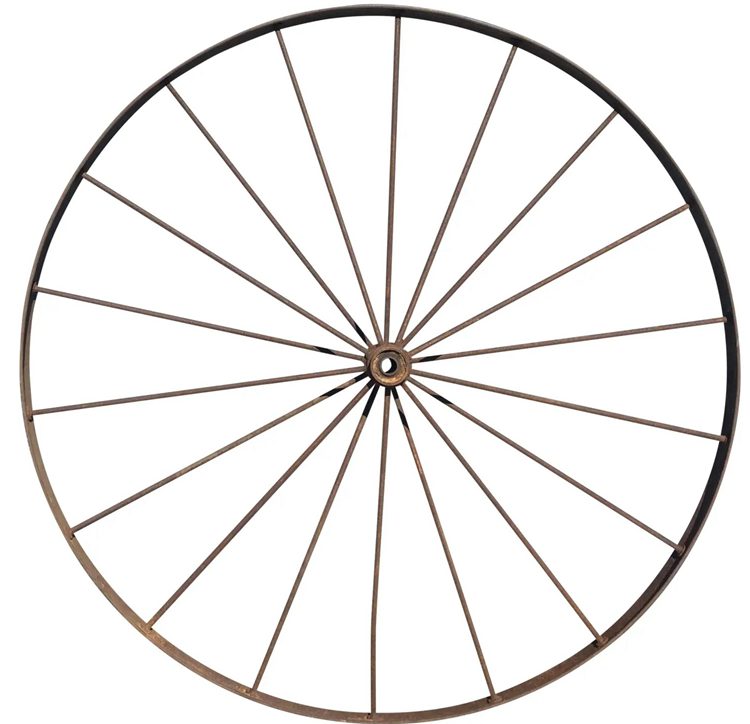 This rustic 18 spokes black colored antique wagon wheel is from 1880 and made in the United States from pure cast iron.
Antique Wagon Wheel Identification
As a new collector of old wagon wheels, it's normal to be in the dark about some information on your item. We've helped you come up with ways to do that below.
Here's a video you'd like about antique wagon wheels.
Study the Material
The first step to properly identifying your antique wagon wheel is to spot the material it's made from. We're sure that no antique wagon wheel is made from plastic or rubber; they only come in metal and wood. Anything outside this is simply inferior.
Find a Mark
Companies mark their items as proof of originality and a sign of quality. This is the first thing you must check to identify the source and nature of your old wagon wheel. If your item is unmarked, it's most likely a reproduced version or outright fake.
Most wagon wheel companies embossed their wagons with a decaled logo on the side of the box and center of the back axle. To see this mark on a very old wagon, you must dampen the area.
Appraise Your Antique Wagon Wheel
One of the surest ways to identify your antique wagon wheel is to seek the help of an appraiser and let them help you check your item and give you the necessary information to help you supply answers to your buyers.
Check Online Guides
A couple of publications and catalogs online to help you identify antique wagon wheels. Look up the web and wads of pictures to familiarize yourself with these artsy items and their parts.
Compare Items
Should case checking for marks fail you, you can pick a similar-looking wagon wheel and look thoroughly for stints of similarities (exact matching of parts and design). It's easier to identify the origin and properties of your item through this.
Find an Antique Store
If you're a fan of physical observation, you can stroll into an antique store and check through these old wagon wheels by yourself. A thorough examination will help you reach a definite conclusion and get accurate information.
Study The Design
As the year went by, the styles and shapes of wagon wheels, including their production techniques, changed. As vehicle production moved from a one-person business to a mechanized and mass system, the complex nature of wagon wheel construction leaped and became very simplified.
Join a Forum
Find a local wagon wheels collector group and join to enable you to get unrestricted access to antique wagon wheels, including special editions and rare ones. You'll also get to ask questions from veterans and longtime collectors.
How to Determine the Value of Old Wagon Wheels
You must take your time to discover the true worth of your old wagon wheels; one of its numerous advantages is that it helps you get the optimum returns on your item's sale and even help certify originality.
Brand
A well-known antique wagon wheel brand directly influences demand, how people perceive it, and its value. Getting a solid knowledge of the brand helps the collector confirm if they're adding a very reputable item to their collection.
Contact an Appraiser
Suppose you intend to evaluate your old wagon wheel. In that case, you must do it the proper way by first engaging the services of an appraiser to help you thoroughly study your item and its important properties.
The importance of an appraiser cannot be overemphasized as they're the verified link between the item and the owner; their maximum knowledge about the world of antique items will put you on the right path.
Condition Matters
Your antique wagon wheel must be in a complete state, unscathed and almost as new as when the artisans made it. When your item has scratches, chips, and broken-off parts, the intrinsic and aesthetic value decreases exponentially, and you don't want that.
This is a wake-up call to regularly make sure your wagon wheels are well taken care of and kept away from wandering eyes, loose particles, sharp objects, and human contact.
Originality
The authenticity of your antique wagon wheel matters a lot in determining the value. No one will drop a reasonable amount of money for a reproduced version or an outright fake. Due to the rare nature of antique wagon wheels, you must always ensure your item is solid and confirmed true.
Replaced and ill-fitting features that have been repaired to look a bit more modern or intense wood treatment/retouching have defeated the wooden wheel's purpose and status.
Background
So many documents are available about antique wagon wheels and the vehicle they came from. You can always consult these sources to get verified information as much as possible to intimate your buyers.
Size of the Wheel
A small wagon wheel will cost less than a big-sized wheel because they serve a different purpose and lift different weights. The cost of production for a bigger-sized wheel even costs more than that of a small-sized one.
Vehicle Type
The vehicle your wheel comes from also strongly influences determining the value. Wagon makers rolled out different types of vehicles with numerous construction styles and features to serve various purposes. Heavy duty wagon wheels are especially in high demand.
Accessories
For wagon wheels, the completeness of the accessories is a strong prerequisite for getting the true value. If your spoke isn't present or any necessary part of the wheel, its value goes on a huge decline. Always double-check and ensure all the parts of your antique wagon wheel are complete.
Age of the Wagon Wheel?
It's time we let you in on the secret of "age" in the valuation of antique items. The older an item is, the better and more valuable it gets. Suppose your antique wagon wheel was produced in the early 18th or 19th century. In that case, it will be more in demand and highly valued by buyers and collectors alike.
So don't throw that old antique wheel away in the corner. It just might be worth a couple of hundreds or thousands of dollars.
Check for Marks
Marks are usually on the base of your antique item or somewhere on the body, and it's proof of authenticity. Some buyers will not procure the item if it's unmarked.
Although not all antique objects have marks on them (as different companies adopted different production approaches and techniques in the past), marked items are still very much preferred.
Preference Always Wins
Regardless of the specification or hierarchy, the item with the most preference will always hold more value than those with less. Individuals and buyers are the most important players in this aspect.
Market Factors
Items with intrinsic value are at the mercy of forces of demand and supply. If an old wagon wheel is in high demand by buyers and collectors, the value will go up. So before selling off your item, always check for what the market is saying, so you don't run at a loss.
Market factors also vary per location. The price of an old wagon wheel in the west may be slightly different from that of the east. This is also one thing you must be very mindful of.
The Rarer, The Better
Rarity plays a huge role in the world of antique items. Suppose your item is a special run or a limited-edition release, the chances are high that it's out of circulation or a few pieces are kept somewhere far away to prevent stealing and recreation hence the spike in its value.
The bulk of antique wagon wheels have been destroyed by weather elements, buried, burnt, or destroyed by other factors, which has caused only a few wagon wheels to remain in circulation, making them hard to come by.
Online Value List and Price Guides
You can check existing price lists on various e-platforms and compare old and current prices to make it easy to evaluate your antique item.
Where to Find Antique Wagon Wheels for Sale
Now that we've set your appetite on fire for these valuable wheels, we'll also help you find where you can easily purchase them should you ever want to buy or start collecting.
Online Sources
Suppose you can't go through the stress of walking through aisles and searching through stacks of antique stuff. In that case, you can go online and search for these antique items on platforms like eBay, Chairish, and 1stDibs to find the perfect fit for you.
These e-platforms have special sections for antique items, and you have a sea of options to choose from that are tailored according to your budget.
Antique Stores
As their name implies, these stores are your one-stop shop for everything antique and old. You'll find antique wagon wheels at the corners or pantry of these stores as they're usually very heavy hence the restricted movie.
Auctions
Auctions are excellent spots to get old wagon wheels. Previous owners or collectors may decide to sell off their limited-edition old wheels and place a huge bid on them. For auctions, the items are quite expensive with serious competition.
Flea Markets
Items in flea markets are cheaper and somewhat older. Here, you have a whole aisle and section of old antique wagons to select from and make a smart decision. Flea markets are small and available in more than one spot, making them very accessible to all and sundry.
Thrift Shops
You should have a thrift shop on your list of sources if you intend to get an antique wagon wheel. It's mostly pre-owned, but the quality is assured as they're tested and trusted before collecting them for exhibition or display.
Antique Websites
You'll find strictly antique items in different sizes, shapes, and models and under different trademarks for antique websites. There's an array of options to pick from, and they're verified items, so you never have to worry about falling victim to reproduced items.
Are Old Wagon Wheels Worth Anything
If your antique wagon wheels are made from thick, heavy, and top-quality wood, they will likely sell between $100 and $200. If they contain a metal rim, they'll range between $150-$250 should you ever intend to sell or buy.
To know more about their worth, you can contact your local antique vendor or compare the previous price your item has sold for.
The location also matters in knowing the worth of your antique wagon wheel. A wagon wheel may cost more on the west coast than on the east coast.
How to Restore Old Wagon Wheels
Restoring wheels and other antique items is a job for many people; due to sentiments and many other reasons, an individual may decide not to completely get rid of their old wagon wheel. Here're the steps to restore your wagon.
First, you must assess the condition of your wheel to determine if your wheel is rotted or still solid. Should in case of any rot, you can apply a permeable flexible resin. If you're lucky to find it in a fresh state, check for missing parts that need to be replaced.
Replace any missing parts, cut out the bad piece and replace the segment. If there's a missing spoke, measure out new pieces from the existing spoke and fit them into the missing part.
The next thing to do is finish your wheel. This will lift the entire appearance of your wheel through coats of gloss. It's best to choose paint products that are most suitable for the environmental condition of your wagon location.
You'll need a four-by-four piece of wood, a wood carving tool, a mallet, and wood glue to complete the restoration process.
Here's a video to help you understand better.
To remove rust from your wheel, spray a 5% citric acid solution on the affected part and rinse it off with water after letting it stay a while. The rust may also affect the wheel lugs; try using a fire touch to heat the nuts and torque them off.
Parting Words
Antique Wagon wheels have made a comeback in the most interesting way possible. While this tell-all guide may have helped you have an idea of them, we'll leave you with these useful tips that will come in handy on your next encounter with them.
The value of antique wagon wheels is largely dependent on the brand, design, and vehicle type.
Antique wagon wheels are not only made from wood but they're also made from cast iron.
The heavier your antique wheel is, the higher the quality and the longevity.
Keep your antique wagon wheels away from moisture and open fire.