Antique trunk remains an impressive vintage collectible to satisfy the hunt. Repurposed objectives enable the pieces to get utilized from different creative contexts.
However, you must know the valuation to follow antique trunk identification. And our relentless professionals narrated a comprehensive discussion on the subject.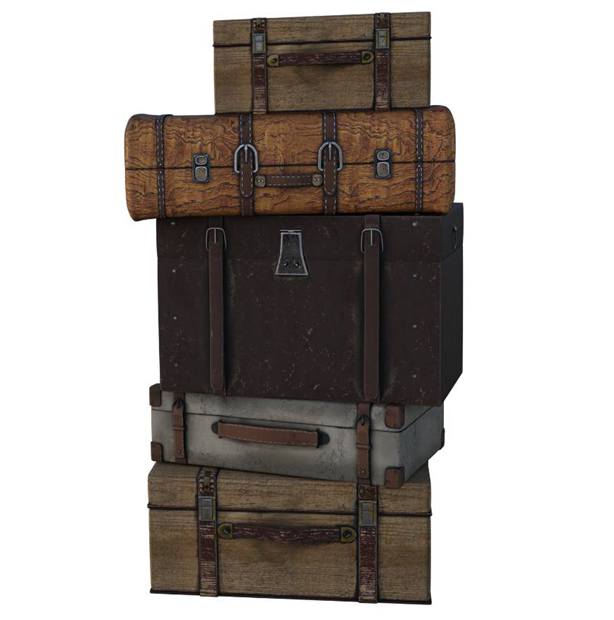 History of Antique Trunks in Brief
Validate findings date back the actual concept to medieval times with minimalist features. However, the personal item received skyrocketing momentum in the Victorian era. The dominance of trunks for carrying personal belongings on travel started around the 1870s.
Establishments of cross-country railroads with inter-continental water travel became common. Long-distance traveling began to offer incredible comfort, ease & safety. And that's where people checked transportation of personal belongings in a convenient way.
Simplistic designs adorned the early version to get followed by several intricate features. And the intended assembly combined a lockable wooden box with its paper-lined interior. Durability demand introduced different types of metal pieces with some compartments.
Different Types of Antique Trunks
It's indeed compulsory to start satisfying your quest with available types. Different periods held particular designs to check customer requirements from defined contexts. And knowing the category is sure to help you detect the current age.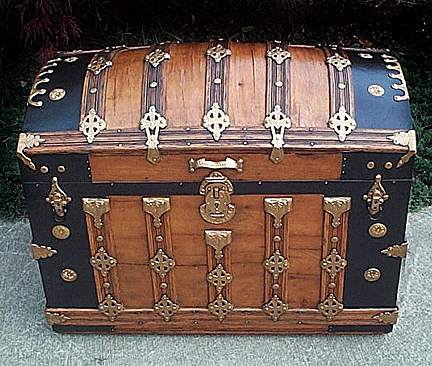 Bevel Top Trunk – It particularly falls under the modified dome-topped or flat-topped category. But the ornate beveling right on top makes the difference. Practicality still counted pretty well with a supportive flat exterior surface. However, the slight change would cost an extra amount of money from the wallet.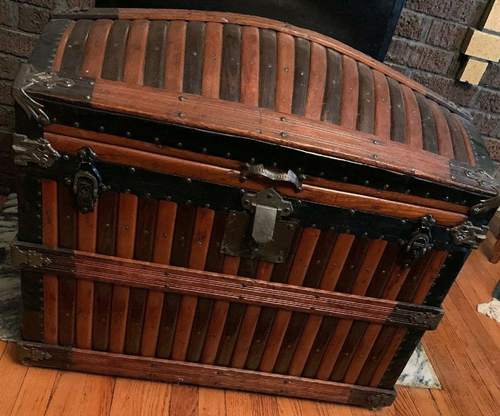 Dome Top Trunk – Many homeowners prefer the dramatic dome-shaped lid feature for indoor decoration. Only the wealthy people could afford its very ornate details over extreme expense. Some designs also integrated compartments as well as wheels. It was a great item to gift to the near & dear ones.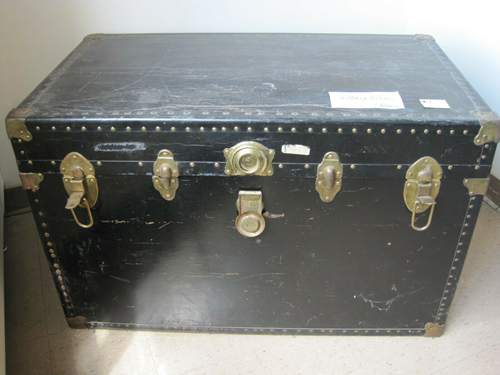 Flat Top Trunk – Flat designs were extremely practical in terms of security & stable portability. Large number of trunks could easily create a piling stack. However, the design was confined to the middle, lower-middle & low-class persons only. Despite the lack of flair, the type induced superb functionality.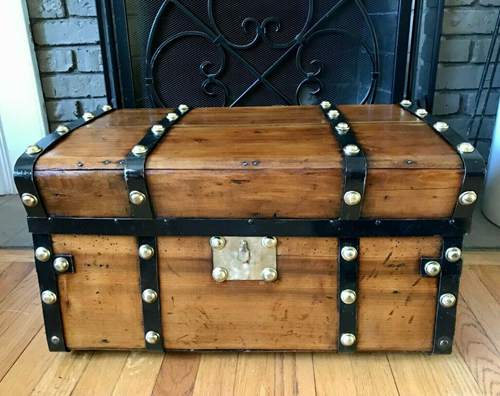 Jenny Lind Trunk – The particular celebrity-fuelled trunk held popularity in the 1850s & the 1860s. Famous Swedish singer Jenny Lind visited the USA with the one-of-a-kind trunk. There were inward curves in the middle where the facility latched. And the sidewise appeal often resembled '8' or a loaf of bread.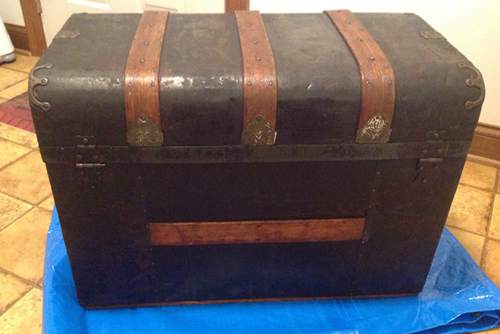 Monitor Top Trunk  – Almost rounded edges were visible on all sides over the flat surface. And the usability counted a wide range to cover basic purpose to indoor decoration. Some designs were plain against several ornate models. The somewhat flat top held reasonable practicality to meet the demands.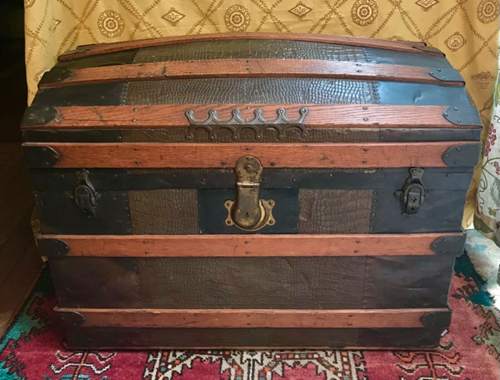 Saratoga Trunk – NY's Saratoga was a great vacation spot for wealthy people. It's undeniably one fancy variety to match the riches only. The design featured a rounded top, leather exterior, canvas or metal frame & decorative hardware decking. And the tag stands high even today over minimal availability.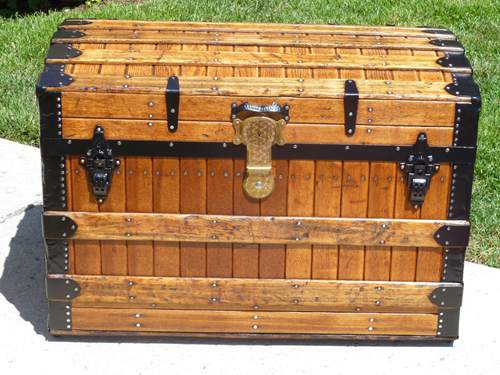 Slatted Trunk – It's indeed a luxurious beauty in the antique trunk version. The design holds thin, finished, wooden slats next to one another. Also, sturdy construction managed to keep the price out of commoners' reach. Total assembly initiated an example of true craftsmanship from the past.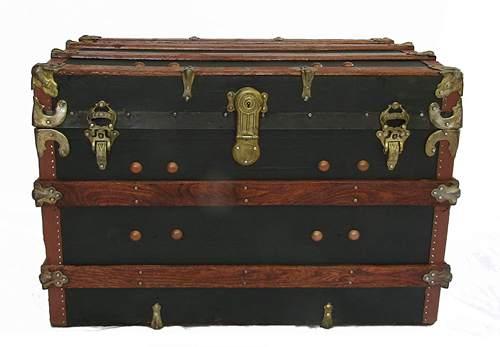 Travel/Steamer Trunk – The trunks had one exclusive purpose – serving storage for items on travel. And most of the people visited distant places using the train. Mostly flat-topped designs held a stack on one another to fit a snug place. Likewise, the design should accommodate multiple small compartments.
Wall Trunk – It explicitly covers all other types for primary design. But the actual difference comes with the opening-closing mechanism. Narrow dimensions could easily enable flushing against the wall without requiring any space. And the user could comfortably open the top to access the inside.
Difference Between Trunks & Chests
Many ignorant, as well as experienced collectors, often mistake chests for trunks. And the terms in interchangeable use may cause certain purchase confusion. It's a must to clarify the distinctive facts to avoid any potential error.
Trunks are primarily portable enough to carry essential belongings from one place to another. The size counts reasonably smaller in comparison to chests. And the details are somewhat simple to integrate minimal characters.
However, chests mostly feature an enormous construction to deal with indoor storage. Traditional households possessed different chest designs to keep away seasonal items. And the ornate covers a broad range for decoration.
Noteworthy Brands on Antique Trunks
Collectors often have to pull extensive strings to identify the origin or manufacture. Many previous manufacturers simply imprinted simple paper labels. Likewise, you can't expect a century-old paper to remain intact to reveal the marks. And some even didn't bother to put any recognition sign at all.
However, the presence of marked designs managed to give the experts some names. You can trace back the originality using the resources on manufacturer details. Still, you may face initial problems of absolute authenticity. Here goes a list of reputed, established trunk manufacturers from the past.
Clinton
Goyard
Hartmann
Louis Vuitton
Malloy
Martin Maier
Moynat
Oshkosh
Shwayder/Samsonite
Taylor
Truesdale
Expert Tips on Antique Trunk Purchase
Many collectors often face serious confusion with available choices to meet the demands. In fact, not every truck can satisfy your intended objective. That's where expert tips can provide great help. You should check the following points before confirming a purchase.
Every antique trunk should hold at least 100 years of age without any restoration. Of course, you're to check the overall usability without restoration. However, well-restored designs can cost more than poorly restored trunks.
Average scale of wear & tear can definitely occupy the antique pieces to keep countering the time. But the value can significantly plunge with certain damages. The list includes – holes, replacement, refinish, or missing pieces.
Pay good attention to the minor details to differentiate the originals from reproductions. Custom-made trunks are extremely expensive with additional details. Brass accent with leather kept it separate from standard designs.
Search for sellers to have every detail on an antique trunk, covering from major to minor facts. Check out for any visible patches on joints. It counts – interior lining, locking mechanism, built-in hardware as well as the maker's signature.
Continue your research on the available options to determine the absolute best. Utilize all the resources to narrow down the chances of an individual type, style & design. Check your requirements to skip worthless investments.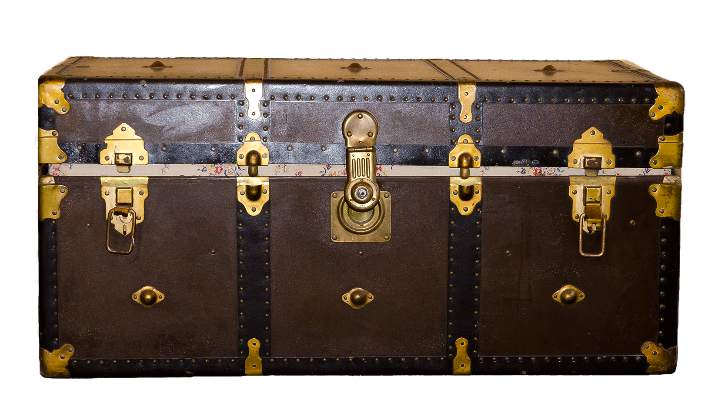 Particular Applications of Antique Trunks
Creative enthusiasts developed many impressive ways to repurpose antique trunks. Elaborate ornate from the exterior shouldn't remain hidden in storage. Of course, you better check the options for displaying the antique beauty first hand.
But Not every approach can induce an encouraging touch to your intended decoration. Therefore, you'll have to maintain a deliberate pace with the existing furniture appeal. And the implementation should start with the mentioned creativity.
Imposing a flat surface on top to introduce a mini coffee table.
Sided gearbox to hold non-essential yet regularly accessed items.
Hiding seasonal belongings after proper cleanups for future use.
Quick storage shelf for books to support bedtime reading habit.
Bedside platform to hold personal items during napping sessions.
There are many conceivable videos on how to upcycle old vintage/antique trunks for show-off. Better check Metal Trunk Makeover, Old Trunk Upcycle & Wooden Trunk Makeover from YouTube. Additional online content should enlighten your mind with additional ideas as well.
Essential Facts to Value Antique Trunks
Valuation of the antiques may give you a headache with an extensive distortion. Whether you're selling or buying – you can't expect a good trade without knowing the actual value. And enthusiasts denoted the major clauses to decide the value.
Trunk Size: Smaller trunks usually cost pretty little than larger trunks with a similar design. And most people don't even have enough space to store larger trunks.
Trunk Condition: Overall condition remains an important fact to determine the actual value. Visible damage should dip the tag without allowing compensation.
Design Rarity: It's indeed the very first consideration to evaluate the price for sale or purchase. Differences in styles, as well as designs, will decide the value.
Altered Specs: Restored, painted, refinished trunk may value surprisingly less than anticipation. And potential collectors often tend to skip altered antique trunks.
Also, you must pay attention to the manufacturing details closely to get the idea. French ones should value significantly higher than American antiques. Not to mention, brand recognition covers a great part to check the tag.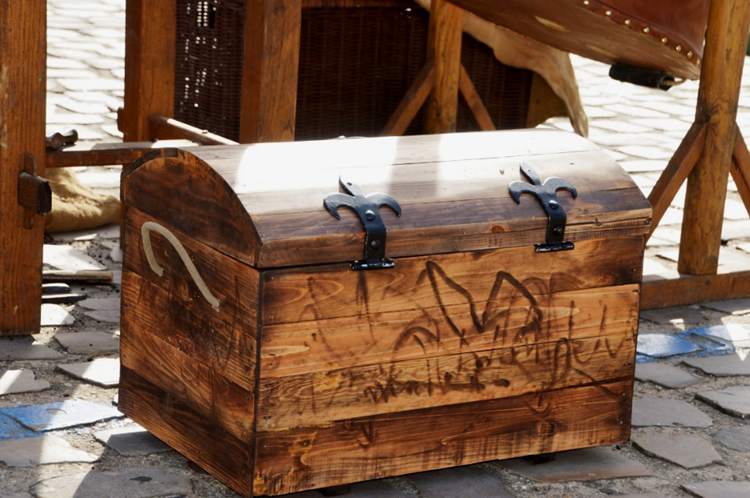 Louis Vuitton trunk can cover an astounding $3000 up to $20000 market price. Meanwhile, Martin Maier should hold about $500 to $3000 range. In addition, genuine trunks from Goyard are worth an impressive amount.
Final Words
Many passionate collectors simply settle for the absolute classy design of antique trunks. Whereas others find it surprisingly usable to deal with multiple indoor issues. However, there's actually no need to check for similar reproductions at closer tags. The words mentioned in the article should make your mind towards a successful purchase.