With the discovery of sewing machines in the fabric industry, a safe case to store threads became necessary. Hence, spool cabinets were manufactured to respond to the new need in the industry. They were then built in different styles and shapes with beautiful decorations that add value to fabric stores.
However, spool cabinets today are recognized as antiques as further technological advancements have proffered several developments in the textile industry. Meanwhile, despite being old, antique spool cabinets are worth having. They still beautify and add value to any store or room they are placed.
Therefore, if you want to make an informed choice while buying an antique spool cabinet, this article is a complete guide that walks you through the process. Detailed information is provided about the history of antique spool cabinets, their manufacturers, how to identify them, the factors affecting their value and other facts that need knowing before finally making a choice.
The History of Antique Spool Cabinet
When the 19th century was still very young, the demand for fabrics became very high, and mechanization became very important in the industry. Therefore, sewing machines were introduced to make the cloth-making process easy and fast. However, that required a shift from the traditional spinning of pieces of cotton and wool threads. Threads wrapped around spools were then discovered.
However, the bigger question was how best to keep and display these threads to customers. Thanks to creativity, manufacturers came up with making cabinets to make spools of threads better displayed to customers. These cabinets were made with some drawers in them according to their size.
Although manufacturers want to stand distinctive in the design and style of the cabinets they make, they all ensure they ease the novel process for the customers. Therefore, the cabinets were made such that each drawer could be labeled according to the type of threads expected to be inside them. This made the selection process very easy for the customers. Those labels include black, silk, white, colors, etc. More so, the materials used were of high quality; they would instead use woods such as maple, walnut oak, etc.
Later, it appeared spool cabinets were only for large-scale sales of threads. Sewists had no case to store the threads they bought from the market. Spool cabinets that were smaller in size, unlabeled and could be of lower quality were then manufactured to cater to sewists.
How Do You Identify an Antique Spool Cabinet?
Ordinarily, an antique spool cabinet's old look, style and design should be enough to identify it. However, with interest in having antique spool cabinets proliferating, many may go through dubious means to mislead customers to buy fake products. There are many parody antiques in the market, and one would need detailed identification information. Therefore, the following are what you should do when buying an antique spool cabinet.
Check the Date Carefully
Of course, an old date is an excellent way to evaluate the originality of an antique. However, choosing an old date to swindle customers for spool cabinets will not work. Until the 19th century, spool cabinets were not manufactured. Therefore, you should first observe the date carefully when picking an antique spool cabinet. A date earlier than the 19th century is a significant concern.
Examine the Knob
A thorough examination of the knobs is also required. The knobs on antique spool cabinets can hardly be found nowadays. Meanwhile, the knobs are peculiar to each company. Therefore, you should study and examine if the knob on the item you are choosing is the right one you have researched about.
Ensure the Branding Is Accurate
Branding of the antique spool cabinets is another difficult thing to copy or reproduce. Perhaps due to the technology used then, the logos and design were tough to make. Even if those could be copied, some manufacturers went as far as incorporating the techniques and symbols on the protection glasses. Replicating this would not be easy.
Observe the Font Style
The font style and size are potent ways to discover fake spool cabinets. The size and the way the letters' structure of the inscriptions on antique spool cabinets are pretty distinctive. Therefore, observe the fonts if they are the company's handwriting alleged to manufacture such antique spool cabinet.
Common Types of Antique Spool Cabinet
There are just two types of antique spool cabinets. They are categorized according to how they are segmented for spools to be kept or displayed. They include drawer and column spool cabinets.
The Drawer Spool Cabinet
One will easily find the drawer spool cabinet. They are customer friendly, easy to use, and secure. Each drawer would then be named to make the kind of threads stored in it easily identified.
Ideally, the drawer spool cabinets would have six drawers, while the smaller cabinet would have two to four drawers. The big drawer spool cabinets would have wide and deep drawers, while the small size cabinets would have shallow and thin drawers.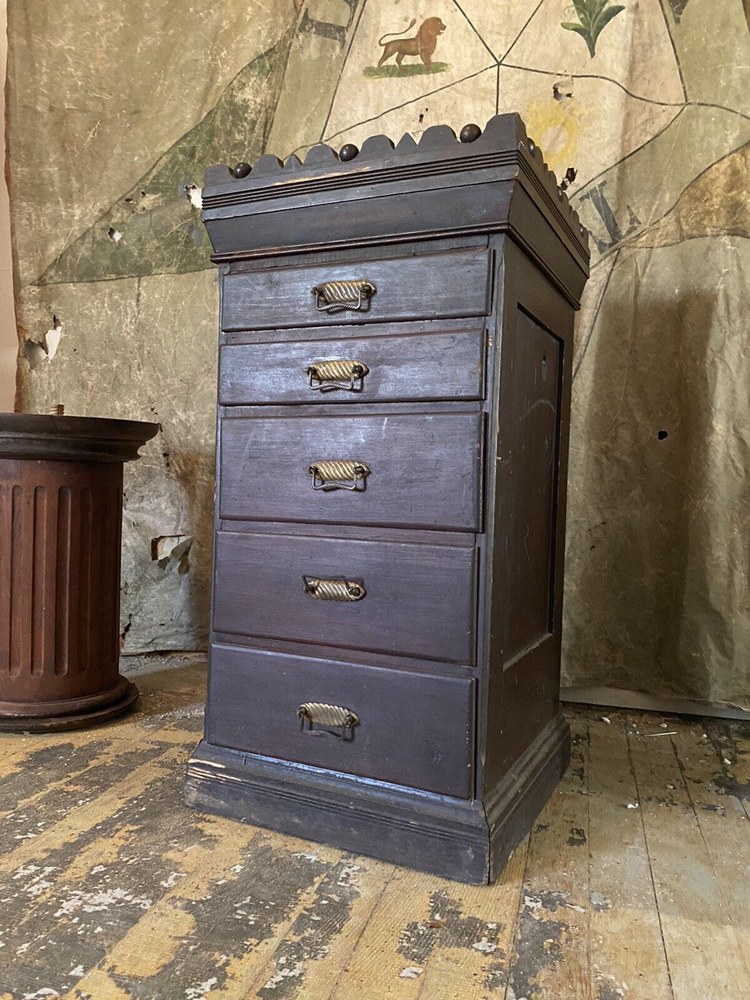 The Column Spool Cabinet
The Column spool cabinets have no protection glass. The column sticks usually hold the threads in the cupboard. This makes it open and very easy for customers to pick the threads of their choice. To make the process clearer and more effortless, threads are arranged according to their category in the columns.
The small-size cabinets usually have five to seven columns for retail purposes. Sewists mainly use it in their factories. Moreover, for large-scale sales of threads, column cabinets would have more columns that are considerably long.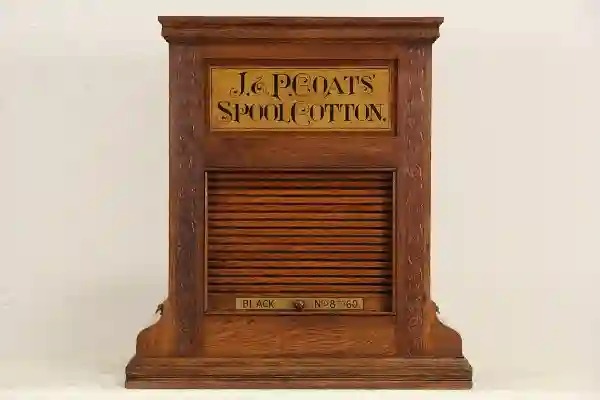 Manufacturers of Antique Spool Cabinet
When the need for spool cabinets arose in the 19th century, many manufacturers stood up to the event to make provision for the new demand in the market. However, when one considers the beauty and quality of the spool cabinets produced by these companies, some stand out as their products can withstand the test of time. The best and most common of these manufacturers include:
J. & P. Coats
The J. & P. Coats were established by James Clark and Patrick Clark in the early 1750s. The company was widely admired for its products in the fabric market. The manufacturer invented several patterns to twist threads around spools and display them.
Before the end of the 19th century, the company became renowned in the fabric industry for its work worldwide. Examples of their spool cabinets include the "Branded 6-drawer J. & P. Coats Spool Cabinet" and "Branded 5-drawer J. & P. Coats Spool Cabinet".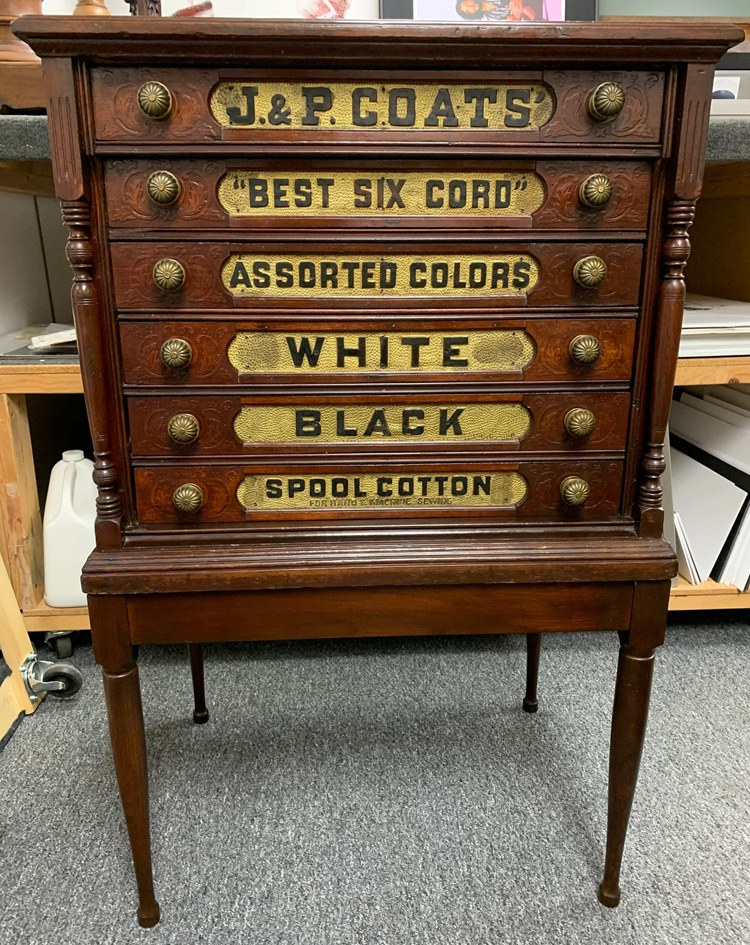 Clarks O.N.T.
The Clarks O.N.T. thread company was also established in the 1750s. It has since become well-known among antique spool cabinets. The name of the company, "O.N.T." is boldly inscribed on the drawers of the cabinets. The draw knobs also have the name of the company on them.
Clarks O.N.T. specialized in making cotton threads. Hence they manufactured spool cabinets suitable for keeping and displaying their goods in stores. They have spool cabinets such as "Six-Drawer O.N.T. Spool Cabinet," "Clark O.N.T. Column Spool Cabinet."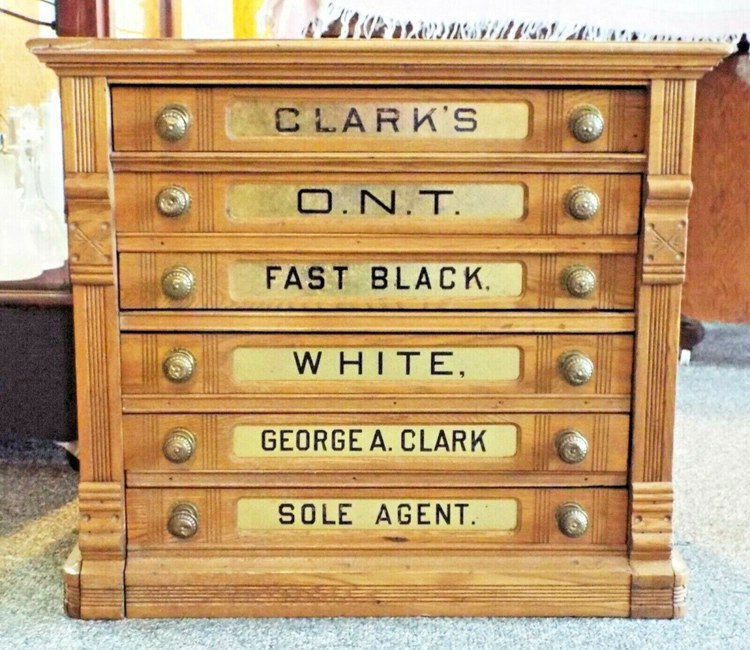 The Merrick Thread Company
The Merrick Thread Company entered the spool cabinet-making business thanks to the introduction of sewing machines into the fabric industry. The company was established in 1865 as an offshoot of Merrick, Bro. & Co., in Mansfield.
Before the end of the 19th century, Merrick Thread Company had become a significant producer of spool products in the United States. A few of the antique spool cabinets manufactured by the company are: "The Wide Set Merrick Spool Cabinet," "The Small Merrick Spool Cabinet, etc.
Heminway & Bartlett Silk Company
Heminway & Bartlett Silk Company was a family company famous in the textile industry in the 19th century. The company went through many changes, which affected the company name over time. However, despite all the changes, for any spool cabinet claimed to be antique and manufactured by Heminway & Bartlett Silk Company, Heminway should be the name found on it.
The company built a solid relationship between small-scale businesses and bigger stores that use their spool cabinets in the industry. They also offered to help hands towards the development of the brands of these businesses. Examples of the spool cabinet by the company are the 3-glass spool cabinet and the 3-drawer spool cabinet.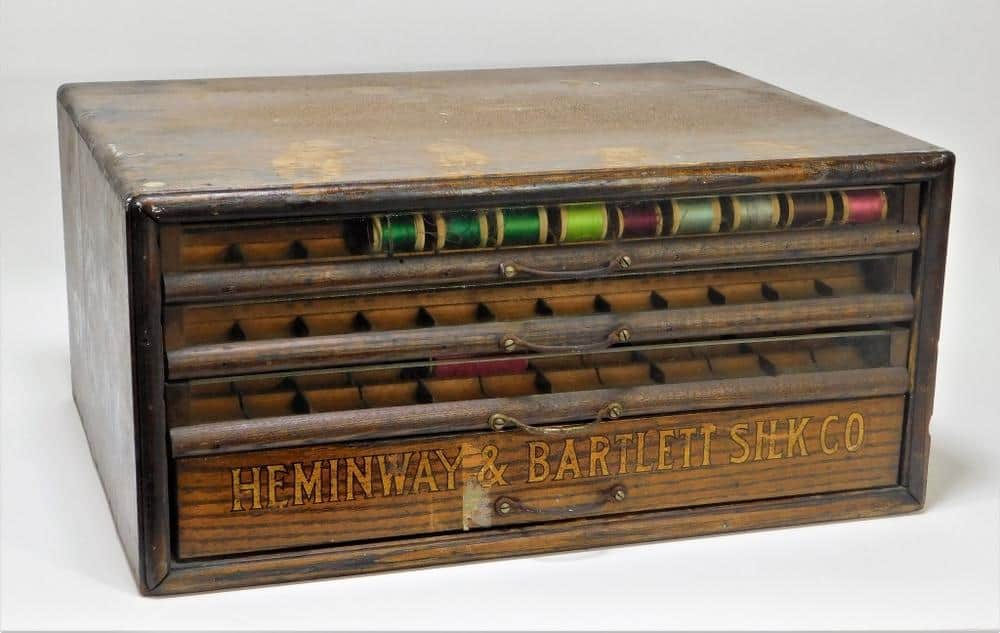 Spool Cabinet Average Values
Although each company tends to distinguish the value of their antique spool cabinets, the average value of these antiques can be between $200 to $400. However there are cases where the price falls below $50 and in some instances, one will need as much as $900 to go home with one of these items.
Factors Affecting Value of Spool Cabinet
Generally, in the antique business, the value of an item matters a lot. Whether buying or selling, you must be abreast of the factors that will make you know what the antique spool cabinet is worth. These factors are as follows:
The Condition of the Cabinet
The condition of an antique spool cabinet affects its value such that the better its situation, the higher the value that can be attached to it. In fact, for a quick and good sale, the cabinet has to be in perfect condition. The damages on it should be minimal and, if possible, have no injuries. The following are what would make an antique spool cabinet considered be considered in good condition:
The drawers have to open and close perfectly.
The glass inserts, hinges and knobs have to be in their original forms. There should be no alteration.
The texts inscribed on each drawer must be bright, clear and original. The same should be the case for the decals.
The fonts must also be identified to the manufacturer. The size of the letters must also not have been altered.
The drawers must be intact: there should be no broken or lost drawers. More so, the glass must not have been broken.
The Size of the Cabinet
A big antique spool cabinet implies that the manufacturer had used more resources to build the wardrobe. A small size suggests otherwise. Therefore, the bigger the size, the more valuable the spool cabinet becomes.
To this effect, while a small-size cabinet with few drawers and columns may not cost more than $300, a seller with industrial spool cabinets with as many as 20 drawers or columns may take home as much as $2500.
The originality of the Spool Cabinet
As with antiques, generally, the buyer will be eager to pay more when the item is original. However, how do you know a spool cabinet is original? Manufacturers of antique spool cabinets had their official logos and design inscribed in several places in the cupboards. Places to look out for these marks include:
The drawers
The knobs
The back panels
Note that these marks have to be clear and easily identifiable.
Authentication Certificate
Having conducted the originality test by checking the necessary marks on the cabinet, another thing that confirms its authenticity is a certificate of authenticity. An honest certificate will make buyers assured they are buying an original item. They will be willing to pay a higher price for it. A receipt or any other document originally issued by the manufacturer can stand when a certificate of authenticity cannot be found.
Where to Buy and Sell Spool Cabinet
Buying and selling antique spool cabinets could be a difficult task. You do not want to be conned by fake sellers as a buyer. Therefore, the question arises: Where do I get the original antique spool cabinet? The following are places you can get these items in their original form.
Local Antique Dealers
Buying an antique spool cabinet from a trustworthy antique dealer who would instead not cash in on your ignorance could be a great deal. They have been in the market for so long and know how to fish out what is original for you. If they do not have it in their store, they understand how to network with other dealers and get you what you need.
Unfortunately, local antique dealers may not be easy to find. Therefore, shopping online would be a good option as well. The following are some popular online facilities where you can shop for antique spool cabinets.
eBay
eBay is an online facility well known for buying and selling antiques. Finding an antique spool cabinet on eBay would be a doddle. Several sellers are listing their items for sale. These sellers are from different local areas and have multiple patterns, structures, designs and styles of this precious old furniture.
Etsy
Etsy is another top-rated online facility where old items are sold. Finding an antique spool cabinet that suits your taste would not be difficult on Etsy. The antique spool cabinets on Etsy are of different prices from sellers who have met prospective buyers.
1st Dibs
1st Dibs is an online commercial website notable for selling precious old furniture. They capitalize on furniture sales, and they have got them in multitude. Therefore, another good place to get an antique spool cabinet if you are looking for one is 1st Dibs. You will need to keep a close tab on their website as they update it regularly to incorporate more items.
Ruby Lane
Ruby lane is also very popular for the sales of furniture. They deal in both antique and vintage cabinets. Getting the antique spool cabinet of your choice from their facility would be very easy. However, they also regularly update their website to enable more listings. Therefore, you should periodically check for antique spool cabinets' latest designs and styles.
Restoring an Antique Spool Cabinet
Over time, the antiques must have gone through all sorts of weather conditions- through heat and cold, winter and summer; the woods used to craft these items get changed. Their beauty fades off and may become less admired unless some steps are taken to restore them to admirable condition. Therefore, when you need to restore your antique spool cabinets, the following are what you should do.
Cleaning and Polishing
An antique spool cabinet might have been left unused for years. Therefore, wiping off the dust it has since accumulated might be the right step to take first. With the aid of a microfiber piece, ensure the dust is completely wiped off.
After cleaning to your satisfaction, it would be best to give the antique a radiant look. Non-aerosol wood wax is very economical to use. You will only need a little of it to clean up a spool cabinet.
Therefore, while you resolve to give your old piece the possible shining look, you have to be careful not to overuse the polish on it. Too much of it may damage the inscriptions on the cabinet. The adhesive and other materials that may be liquid sensitive may also get affected.
Professional Restoration
At times, a thorough cleaning may not be enough to restore an antique spool cabinet into a suitable form. In such a case, the service of a professional would be required to help fix the problem. Of course, when the cabinet gets broken or some letters in the inscriptions fade away, it is beyond what you can do. Won't it be best that you hire a professional?
While antiques may be quite delightful to see in a room, it is not enough that they remain as mere decoration. They need to be used. Therefore, if they have a significant problem, it should be repaired, which is better done by a professional.
Make Use of the Cabinet
This reiterates that antique spool cabinets should not only serve as decoration. You have spent a lot of time cleaning it up and might have paid the professional a sum to help you restore the antique. Leaving the item as a mere decoration will make it accumulate new dust and damage with time.
There are many ways through which the cabinets can be used, especially with their varying sizes. Therefore, you should find the most appealing way to use and incorporate it into your home appliances.
F.A.Q.s
How Do I Sell an Antique Spool Cabinet?
You can sell an antique spool cabinet by yourself. All you need to do is simply create awareness about it. However, you can take it to a local antique dealer if that takes a long. The selling process will be fast-tracked as they have several customers requesting antique spool cabinets.
More so, you can sell your spool cabinets by making use of one of the many online commercial facilities. However, ensure that you use a popular facility if you want your antiques to sell quickly.
How is Antique Spool Cabinet Maintained?
It would help if you remembered that you must clean up the cabinet regularly to make it free from dust at all times. In addition, it should be placed in the home so that it is free from sunlight, which may cause its brightness to fade away and leave it with other minor damages. It should also be protected against moisture. Exposure to humidity might make it break down completely.
Are there Fake Antique Spool Cabinets?
Since the old pieces are now being admired, many malicious manufacturers have set into the business of selling fake antique products. Therefore, when you need an antique spool cabinet, you must be careful and inspect the item very well. Importantly, this article will be a guide for you to ensure that you select the best quality antique spool cabinet which is yet original.
CONCLUSION
Antique Spool cabinets will add beauty to any home they are placed. Although they are old, they are fashionable and worth having. However, going to the market without a guide may be dangerous to buyers. They may end up buying a worthless piece for an excessive amount.
This article has furnished any intending buyer of an antique spool cabinet with a guide to working them through the process. They now know how to identify the original items and evaluate them and the manufacturers of these antiques.