People find it fascinating to collect different antique things. Some things are even worth thousands of dollars. Many old soaps brands do not exist today and people find it attractive to manage and see these antique soaps. However, old soaps do not retain their properties but still grab the attention of the collectors.
Why does old soap not smell as good as it once did?
Like a bar of soap ages, you can no longer smell the scent, but have you ever thought why? Bar soap is most commonly scented with essential oils. The term "volatile oil" refers to essential oils that are prone to vaporizing. Because essential oils absorb less heat than water, they are distilled in a similar way to alcohol. The vaporized oil particles that make soap smell so pleasant are the particles of vaporized oil. Nevertheless, each bar contains a limited amount of essential oil, so if you wait long enough, all of it'll evaporate.
Do organic or handmade soaps have a higher likelihood of going bad?
It's a safe thing to say that soap made with natural or organic ingredients will not last as long as synthetic soap. Natural and organic materials don't last as long as synthetic or because soap without preservatives stays fresh for longer. I have already outlined a couple of reasons why this is true.
The oil of essential oil only lasts for a short period of time. One of the reasons is a natural soap-making technique called "superfatting." This takes place when we use a recipe with a tiny bit of oil that does not react with the lye in the soap bar. As a result of superfatting, a soap bar is very gentle and pleasant to wash with. But it's also a precautionary measure to ensure that the whole lye is used up in the production of the soap. And none is left in the soap bar. The rancidity of this remnant superfatted oil occurs first.
Old soap brands from the '60s
There are the following famous bar soups from the '60s.
New Lux, in five cosmetic colors (1962)
The lux has been deepened by three beauty bands. The leather is creamy and moisturizing, proclaiming: "Forget about dry skin and worries!"
Isn't it different? It sure looks different! It's wonderful to wash with this heavenly New Lux, which creates a wonderful moisturizing cream lather every time you do.
Your dry skin issues are now a thing of the past – Lux's gentle lather is rich and soothing. Skin is moisturized as you've never had before, thanks to it. Give it a try! Your skin has never experienced so much hydration in single soap before!
New Lilac and Lemon Creme Sweetheart soaps (1965)
These new Sweetheart designs have more to recommend than lush colors. There is a distinct scent for each of them too!
Sweetheart smells exactly like a bunch of lilacs. The lemon scent in Lemon Creme Sweetheart is refreshing.
Lecithin is nature's own precious moisturizer, and both products are enriched with this nutrient. With its rich lather, this cleanser softens and smoothes your skin. A hard-milled oval bar provides all of this in an elegant oval shape. Let the fragrance of fresh lilacs or the lightness of lemon linger in your bath. While you choose the new color that makes your bath look more appealing.
New Pink Safeguard, New White Safeguard. (1967)
You now have two more options to ensure you get the best protection from your deodorant. There are currently three colors available for Safeguard. Our new pink and white soap bars are also mild, just like our original beige bar.
In addition, all three soaps contain the best bacteria-fighting formulation ever developed for a deodorant. They provide the best protection.
Sing makes you feel like yourself in such an astonishing way. (1968)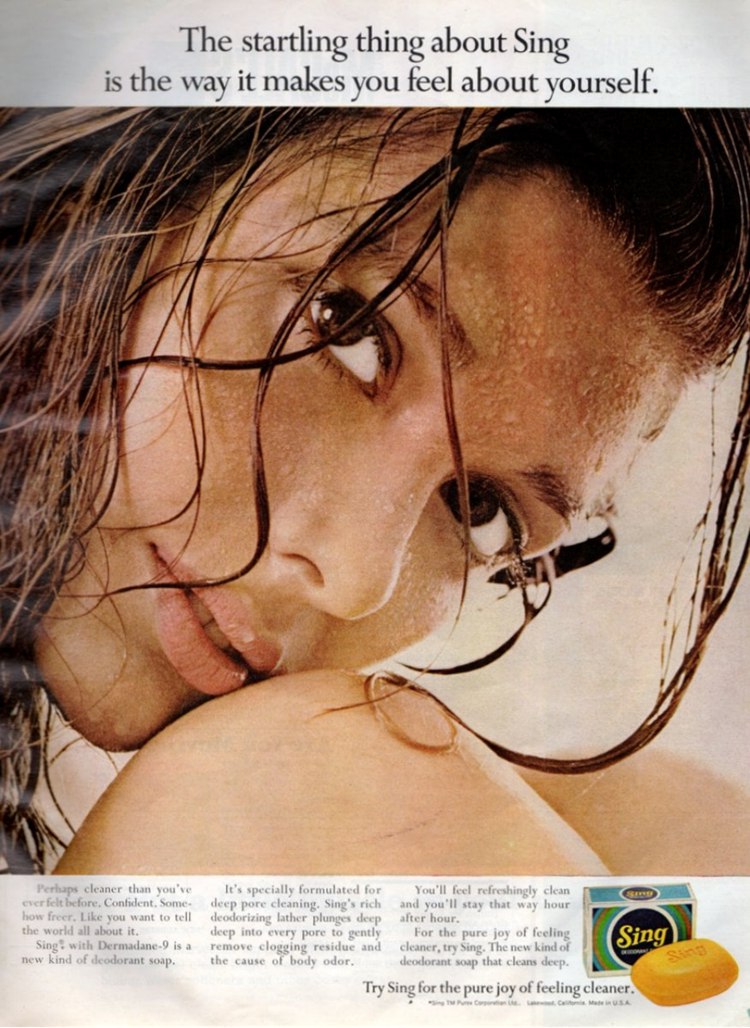 It might be cleaner than anything you've ever experienced. We are certain. There is no comparison. It is just like you want everyone to know about it. It is a new type of deodorant soap containing Dermadane-9. Designed specifically for cleaning pores deeply, it contains Dermadane-9.
In addition to gently removing clogging residue, Sing's rich lather penetrates deep into every pore for a deep clean. Your skin will feel fresh after using this product, and you'll stay that way for hours.
Sing will make you feel cleaner than ever before. An antiperspirant soap that cleanses deeply. Get cleaned and feel good with Sing.
Stop 'oily-skin' blemishes (1969)
You won't believe how creamy Sayman vegetable wonder soap lathers! In order to remove the root cause of so many skin blemishes, you have to flush deep down into your pores.
This soap makes your skin feel fresh and kissing sweet. Added bonus! This product also doubles as a super-rich shampoo.
Phase III deodorant cream soap (1967)
It would be necessary to combine a deodorant bar with a cream bar to get Phase III's combination of deodorant and cream.
Unlike most deodorant bars, Lever Brothers' new Phase III has the mildness you want in a deodorant product. And the protection you want in a cream bar.
Bar soaps from the '70s
There are the following famous bar soups from the '70s.
Cashmere Bouquet soap (1972)
It's a Naked Joy. Let lasting love surround you. It Soothes your skin with the fragrance of a garden by using this soap.
Bring yourself back to life. (1978)
The deodorant soap discovered by Anne Cunningham is a game-changer. With a crisp, fresh scent and lots of bubbles, you feel more than clean after using it. It actually rejuvenates you.
Zest soap: Zestimonial. (1978)
Zest: The Zest side appears to be clean. After I tried it at home, I think I liked it. There was a lot of lather from the Zest. I rinsed and repeated it once. My skin feels cleaner. My body feels the same as it looked in the picture.
Here are extracts from a hidden camera interview with Linda Jackson. We then asked her to do a self-bathing exercise in her favorite soap with Zest, like in the pictures above.
She was also encouraged to use Zest at home. After using Zest, she realized how much cleaner she felt than when using soap.
Take a look at Zest. You'll feel cleaner than you would with soap, like Linda Jackson.
Are sensitive skin soaps recommended? (1979)
Perhaps your skin doesn't bother you very often. When you have such sensitive skin, what would be the point of using a soap specifically formulated for it?
The reason is excellent. It's natural that a soap that is mild enough, pure enough, and safe enough for sensitive skin will be good for you.
Such soap is Neutrogena. The soap was originally made to be gentle on sensitive skin. Our ingredients come from the top tier of the market when we make the soap.
Neutrogena's unique formula is designed to rinse off thoroughly, leaving no residue that could irritate your skin. For years, doctors have recommended it to patients who could not use soap otherwise.
Neutrogena is the best soap for skincare, in our opinion. Now it's available in four different formulas, each tailored to another skin type. Give your skin the best care you can, whether you have a skin problem or not. Consider Neutrogena soaps, which are designed for sensitive skin. At least one of them will be suitable for you.
Antique Soap Saver Identification
Antique soap savers are unfamiliar to many people. Despite seeming like a kitchen utensil, this wire mesh was actually an item of value used for cleaning. The majority of women kept this item in the house as a cleaning tool.
It is surprising that so many collectors seek out such odd pieces. There are three main models that are available on the US market today. But there are other models that come from other countries as well.
What Is A Soap Saver?
To maximize the lifespan of the soap bar, homemakers used soap savers (switchers, soap cages, soap wands, and soap shakers). As they used a metal ring to hang them on a nail, the soap stayed dry by being kept off the ground.
How does Soap Saver Works?
This soap saver had a simple function. Small soap leftovers were stored in these containers instead of being thrown away. Since soap used to be quite costly and time-consuming, it was considered wasteful even to throw away a small amount.
Therefore, women collected old soap pieces and used them for washing clothes rather than throwing them away. A long handle could be put in hot water, turned around, and let the soap dissolve without risking injury.
Soap Saver History
The soap saver hit its peak during the Great Depression in the 1920s when it was widely used in everyday life. With the introduction of liquid detergent, powdered soap, and plastic bottles, this simple yet ingenious invention lost its purpose. After a few decades of use it becomes useless.
Essentially, it was a metal mesh box with a handle made of wire. Several features made it easy to open and close the box, including a clasp, safety ring, and squeeze-to-open mechanisms.
In order to create the box, we wanted it to be large enough to hold a typical bar of soap. Most homemakers, however, used them to store leftover soap that was too small for hand washing and washed their laundry with them.
In a bucket filled with hot water, the women vigorously shook the box after closing it. This will make the water soapy and ready to be cleaned.
Rectangular Basket Soap Saver with Wire Clasp Type 1
Following a thorough Internet search, you may conclude that rectangular basket-shaped soap savers were the most common on the market. The design is most likely the result of how soaps were manufactured a century ago with such a shape.
One of the sides of the rectangular basket was fitted with a small sliding wire clasp. It was made of wire mesh. The construction allowed the box to be easily opened and closed for the purpose of placing a soap bar inside. Rather than throwing away leftover soaps, many housewives keep a couple on hand for use when needed.
There was less than 1 foot (30.5 cm) of metal wire construction attached to the handle. There was a wire handle on this model. It was curved and thick. Today, such a piece can be purchased for $19 to $30, depending on the sales site.
Square Basket Soap Saver with a Wooden Handle
Housewives saved money during the Great Depression until it was the last crumb by using this antique soap saver found in California. As a result, it was a valuable item in every household.
The handle was made of wood with a length of 10 inches (25.4 cm). And the basket measured three by 3 inches (7.6 x 7.6 cm). An inventory sticker No. 436 still appeared on the model sold on Etsy for $30.
Rectangular Wire Basket Soap Saver with A Safety Ring
There was a little bit different mechanism behind this excellent antique rectangular basket wire soap saver. This model did not have a sliding clasp. But a safety ring that allowed the box to be opened and closed by moving it into the handle area.
With the metal ring attached to the end of its 7.5 inches long stylish handle, it can be hung on a nail.
A standard soap bar fits perfectly in the basket that measures three by 2 inches (7.6 x 5 cm). In its closed state, the basket measures approximately 10.5 inches (26.7 cm).
Squeeze-To-Open Soap Saver Type 1
The soap saver type was easy to use and could be manipulated with just one hand. Due to the specifically crossed handle, homemakers could easily open and close the soap leftovers box.
An advantage of such a construction over a clasp is that soap and damp boxes are not directly in contact with each other.
Round Basket Soap Saver Type 1
It's harder to find round basket soap savers made of lightweight metal than rectangular wire baskets, but they look better. It was introduced in the early 20th century and saved soap by using leftovers from pre-washing operations.
You can sometimes find a rare model with a clasp, but you're more likely to see the squeeze-to-open handle. On the current market, it is unlikely to find the scarcest type, which rotates in water. These round soap savers are currently priced at $15.
Antique Soap Savers Value
The concept of soap savers as collectibles seems a bit odd at first glance. The small pieces of history are affordable and an excellent way to remember your grandparents' lifestyle in the bathroom.
Price range
The majority of models can be found online, at flea markets, and in antique shops for between $10 and $30. Online sites often feature only one unique piece of a piece, while others are rare.
Rarity factor
It is interesting to note that rarity will not affect their price very much. And for one piece that is special, you will probably have to pay only a few dollars more. Even though soap savers aren't handy, antique models can be considered beautiful and collectible.
Condition of the product
They will always have a value based on their condition. Old items should be designed in a pleasing manner if they are to be used for decorative purposes. For this reason, objects that are broken, distorted, and rusted will not be desirable as display pieces.
Collector's priority
While most collectors appreciate old metal items with patina, they are more likely to seek out those that have soap remnants stuck in wire mesh eyelets. While partial tarnishing and chipping may not be desirable, structural problems, possible restorations and repairs will reduce the price of soap savers.
Old fashioned bar soap brands
Cleanliness will never go out of style. Our choices of products are constantly changing. People tend to wash their bodies with body washes and use shower gels. It used to be all about the bars in the old days.
This is some vintage soap bars that we've gathered. Women, men, and children were marketed to with these products. Today, some of these old soap brands exist in different forms.
Palmolive
Dishwashing liquid is Palmolive's best-known product. Many of us who spent some time watching television in the 1970s and 1980s will remember Madge, the beauty queen spokesperson for Palmolive. Who told viewers, "You're soaking it in?" By the middle of the century, the brand was known for its body soaps. In this ad, it is exclaimed, "You're prettier than you imagine.". These mild and gentle soaps are still available but no longer in "Emerald Foil.".
Lifebuoy
Lifebuoy is now best known as a gag from A Christmas Story. The Lifebuoy bar, his mom sticks into Ralphie's mouth after he drops the F-bomb. Lux and Palmolive are his favorite brands. Ralphie later fantasizes about a punishment that turns him blind. In an explanation to his parents, he calls it "soap poisoning.". His father (Darren McGavin) quickly tells him not to use Lifebuoy. Lifebuoy used to contain phenol decades ago. There is no harsher additive, and the distinctive aroma has vanished as well.
Fuzzy Wuzzy
Although it resembled mold, it was so much fun! Besides being a bear, Fuzzy Wuzzy was a monkey and a tiger. Once the soap had sat out, it would develop a coat of fur. Let's be honest. Children need any excuse to wash their hands.
Pink Camay
In the 1980s and 1990s, Camay sponsored daytime soap operas, including As the World Turns and Search for Tomorrow. The company launched Pink Camay decades after launching its original "white, pure soap for women." The brand remains popular overseas, and it is still available on Amazon. It has now become a thing of the past for this classic Pink Camay bar.
Pink Dove
Dove remains one of the most popular brands of body soap. It turns out that today there is an item called Dove Pink, which differs from Pink Dove. The former was pinker in color. This matched the bright pink telephone this woman had. The woman was using it in the bathtub.
Silly Soap
To get their kids to clean up, parents used anything from Fuzzy Wuzzy to this putty. As soft as Silly Putty, this vintage soap bar was the only one in the world. Additionally, it promoted Planet of the Apes, which made it even more appealing to kids.
Soaky Soap Bars
There are more children's soaps! The Soaky Soap Bars were available in a set wrapped in your favorite Disney characters, promoted by Mickey Mouse and friends. You may also remember Soaky bubble bath, which came in plastic bottles designed to resemble characters from famous cartoons. These were some famous characters such as Yogi Bear and Popeye. This was the equivalent of the 1960s collectible vinyl toys.
Princess Dial
It is one of the most popular soap brands in the world. It sounds so much more regal to call her "Princess Dial." There are no longer any valid 5* coupons available. The soap is no longer available. Also, the coupons were valid up until 1968.
SweetHeart
It would have been a bit risque in 1957 to advertise like this. An advertisement for SweetHeart proclaims that it is "now 'glamorapped' in gleaming foil." Targeted at women, this dates from the early 20th century.
Swan
A bar of soap with this "super-creamed" formulation was initially advertised as being the perfect cleanser for babies (the swan). Eventually, it talked about its soothing lather for baths in later ads.
Conclusion
The sentimental value of antiques is one of the reasons why some people collect them. Some people hold onto antiques passed down from one generation to another for ages due to their sentimental value. Similarly, people like to collect vintage soap bars from the 60s, 70s, 80s, and 90s that are no longer available now. Specific shapes, smells, and features of the antique soap help them remember some part of their past, and some samples are even worth money when sold in the market.