That old sled laying around in your house might not be just some Piece of junk. As it could be an antique that could be worth something tangible in the right market. However, you can't tell its true value or even an estimate without proper identification. So what you need is to know how to identify an Antique Sleds:
A good way to start this process is to take note of the brand. As there are various old ones such as flexible flyers and the Paris manufacturing company which are highly demanded by antique sled enthusiasts. Another telling feature is the asymmetrical look. Because there are antique sleds that are unbranded handmade products instead of branded reproductions.
Read on to discover more on how to identify antique sleds and their value.
Ways To Identify An Antique Sled
Yes, The sled looks old with its dusty body and faded look but that doesn't make it out to be an antique. Here are various ways to confirm if your sled is antique:
Crude Appearance
If your sled doesn't have a brand name and it appears crude as though it was constructed by hand (sometimes even hand-painted). Then it counts as an antique. Because it was common for kids and parents to make sleds in the past.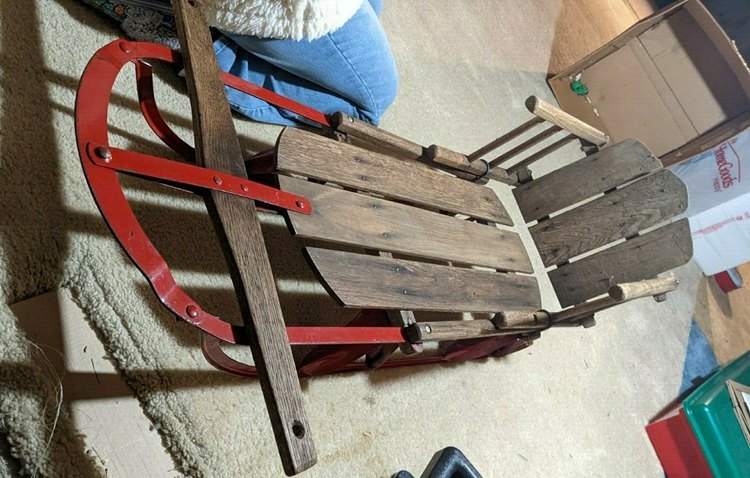 Brand
Another feature that qualifies your old sled to be an antique is the brand. As it must be an old one. Just like Flexible Flyer and the Paris manufacturing company which were producers of sleds since the late 19th century. Also, knowing the brand helps a lot with identifying when the sled was made. As there is a specific style of sled made by brands for every Era or timeline.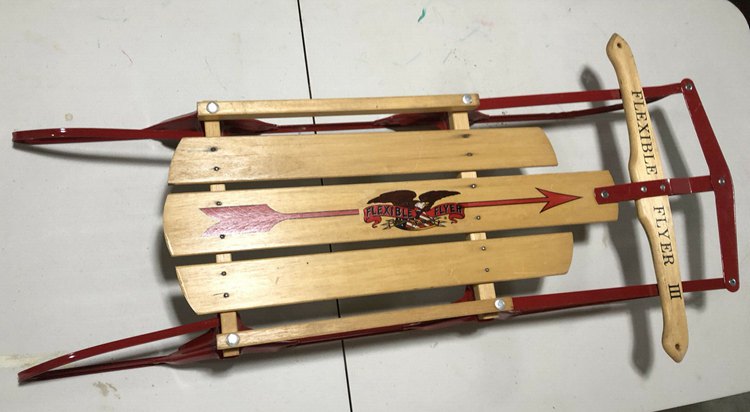 Note: it would be best to hire an appraisal expert, as he/she might have a personal guide or magazine with information to reference from.
Pull sleds
The design of the sled can also be used to identify an antique sled. As pull sleds were more common in the past than push sleds.
Factors That Affect The Value Of Your Antique Sled
Now that It's confirmed that your sled is an antique, the next step is to find its value. To which you can hire an antique toy appraiser. However, you can try to get a sense of its value yourself. As there are some factors to consider which do affect the worth of the sled. Here are those factors:
General Condition Of The Sled
The price of your antique sled skyrockets if the Frame is in good condition. As well as the painting, and metal parts. However, this is somewhat of a rarity because most old sleds were usually overused to the point of significant damage. As some of them had signs of being repaired occasionally.
The only way one can find a 19th-century sled in mint condition is if it was stored after minimal to no use. That's if the termites don't get it.
Rare Designs
Another factor to consider is the rarity of features. For instance, there are special long sleds with up to four seats.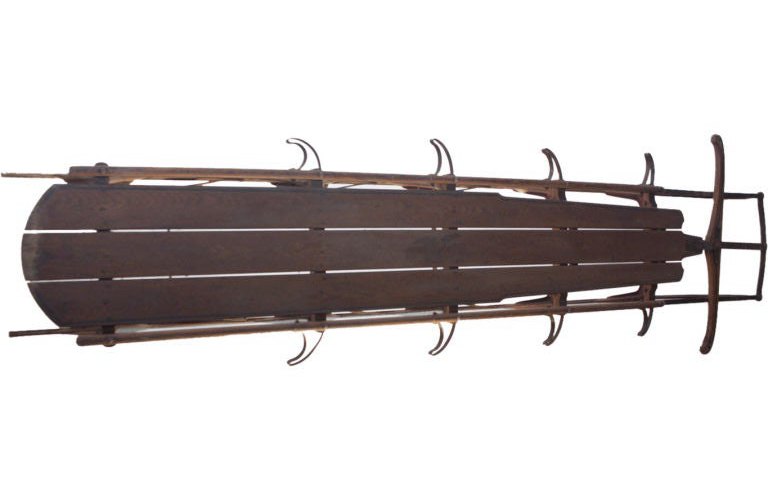 Other Rare Antique Sled Designs To Look Out For
Push Sleds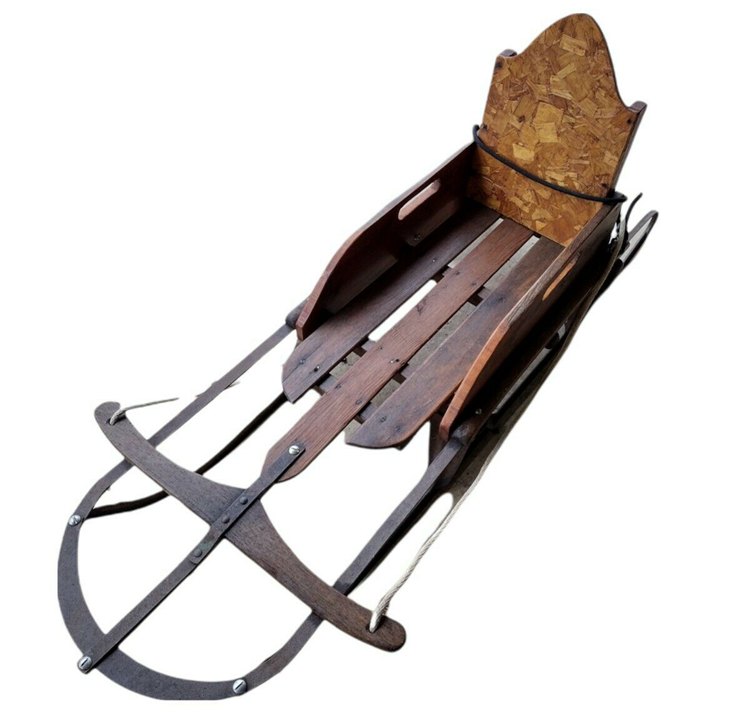 Sled enthusiasts also have great demand for designs made specifically for children. Such sleds consist of an upholstered chair, a bar for pushing, and metal runners. As though it's a stroller but with runners instead.
Such a design is quite rare and would be valuable in the antique market. However, they are usually sold for a price within the range of $100 – $200. Because they aren't in perfect condition and there isn't any special feature.
But If every part from the chair upholstery to runner blades is intact along with some special feature, then the price should be higher (we're talking within the range of $400 – $800).
Sled With Special Runners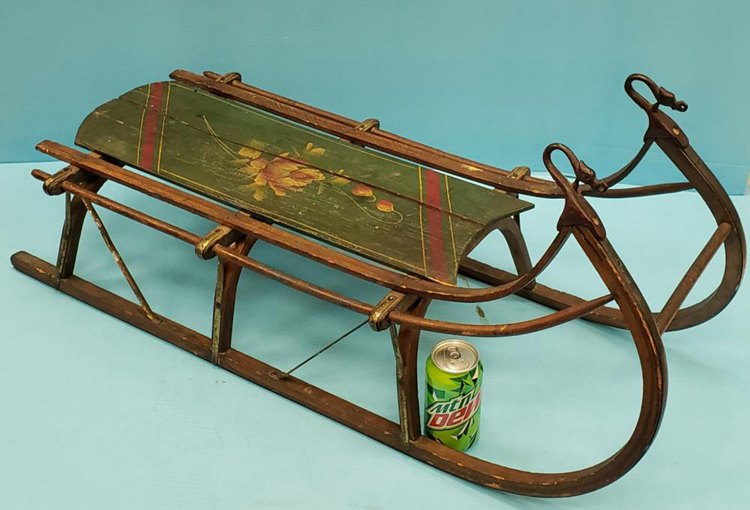 Another type of antique sled in demand are the ones with Sculpted runners which could be in the form of a dragon or swan. Not many are lucky enough to find a whole sled with such types of runners. As the wooden frame, upholstery, and paint job would have disintegrated. Such would go for less than $100.
But if you're able to find such a sled in good condition then the price tag should be starting from $300.
Merchandise
This sled may have regular parts, but due to it being merchandise for an event, show, or movie from a long time ago it's going to cost a lot. For instance, old Walt Disney-made sleds are in circulation. Those could be sold for thousands of dollars easily, due to their high rarity.
How To Clean An Old Wooden Sled (for sale)
The sled you've found might be too dirty to auction out. So the next step would be to clean it. However, if you're not careful enough you could end up damaging the sled. For instance, with the wrong detergent or method cleaning your sled might lose its paint job which is important for the overall value of your sled.
Scrub off the dirt
To prevent that vintage paint from washing off you should make use of a milder detergent. Along with hot water and a gentle scrubbing brush.
Power washing
If the paint job is too delicate, the best way to clean off the dirt is to hose it down with a power washer. Or you could sandblast it instead.
How To Refurbish An Old Sled (for reuse)
Here's the step by step process to follow:
Step 1: Set Up The Spot
Your Old sled would probably have that cast iron look which is black, rough, and gunky. So what you need to do is to prepare a space so you can work on your sled without causing a mess. A great way to go about this is by pacing thick layers of newspaper or on the space you've selected.
Step 2: Sand the sled
Now that you've set up the perfect spot for your sled, the next step is to grind out the rough surface, black spot, and gunk off your sled. As you should not leave all corners, stanchions l, and underparts.
Note: try not to grind the sled too thin.
Step 3: grind out the runners too
Your antique sled may have wooden runners. However, there are also antique sleds that possess metal runners which might be scratched up, chipped off, or stained. To ensure they appear smooth and uniform you'll need steel wool.
Make use of this steel wool to grind out the rough outer layer of the sled so that it can remain uniform.
Step 4: wax and cover up the holes
Once you're done rubbing the runners, the next step is to apply wax (car wax or ski wax) to the runner by polishing it. As for the wood part, you should make sure they're not grinder out to be too weak. If it's a possibility, then you should apply a sealant.
Common Antique Brands to look out for
Flexible Flyer Sleds
Flexible flyers have been producing sleds since the late 19th century (1889) till date. As they've offered various types and styles of sleds over hundreds of years. However, most of their antique sleds usually don't stretch beyond $100. But there are cases where flexible flyer antique sleds were sold for thousands of dollars. For instance, the rare four-seat long Flexible Flyer sled can be sold for almost $900.
Paris Manufacturing Company Sleds
This company was established just around the same time as flexible flyers. And produced quality sleds just as good as them. However, the prices for their antique sled don't usually go above $100. But the sleds with rare designs do. For instance, a six-foot toboggan is a rare design from the brand. It was sold for more than $300.
Conclusion
Identifying Antique Sleds and their value can be very tasking if you're doing it alone (better done with an expert toy appraiser). But with the information we've provided, you should be able to get all the right facts about any sled in question and a sense of its value.