Have you recently picked up an antique singer sewing machine from a local thrift store and are eager to familiarize yourself with your new equipment? Or, perhaps you want to know the value of this incredible machine.
Well, the value of an antique singer sewing machine depends on various factors such as the model or the current condition of the sewing machine!
Suppose you are interested in knowing the worth of your Antique singer sewing machine to enjoy it more or simply sell it at a profitable price; you are in the right place! We'll provide essential details in our comprehensive read. Without further ado, let's dive in.
The History Of Antique Singer Sewing Machines
Singer Antique sewing machines were invented in the 1850s by Isaac Merritt Singer under I.M Singer and Co., pioneering multiple designs after their emergence.
While Isaac Merrit Singer didn't invent the first Sewing machine, and on the contrary, it was designed by Elias Howe, he still added several vital adjustments that made the model a success.
Singer sewing machines were unique since they used a straight needle that worked vertically instead of a horizontally angled needle. Due to this innovative invention, the machines were easier to use and make, attracting a wide consumer base and huge profits.
Throughout the years, Singer Antique sewing machines have significantly improved since various helpful features were added, such as:
A treadle
Lock stitching
A support table
A traverse shuttle
A presser foot
A support table
Gear operation
Roughened feed wheel slot
After his success in the mid 19th century, he had to step down in the 1860s due to scandals brewing due to his love affairs.
Even though he died in 1875, his company still excelled throughout the century, impacting the three major wars. I.M Singer Co. offered support to the union army by providing sewing machines that printed their uniforms.
However, during both wars, the company stopped producing sewing machines, but after the war, the company's business started increasing rapidly due to the new designs that were released. This includes the first electric-powered domestic machine, which was sold in 1934.
After World War II, Singer sewing machines experienced massive competition from overseas markets in Europe and Japan, pushing them out of their throne as the "kings of manufacturing sewing machines."
Regardless, Singer sewing machines are prevalent up to date and are worth looking into if you are passionate about designing and making your clothes or if you are simply a collector.
The importance of Isaac Merrit Singer's Sewing Machine inventions
After the creation of the first sewing machine, numerous benefits were achieved. These are:
The sewing machines were affordable, allowing an average person who earned a regular income to access them.
He launched an installment payment plan to make it easier for consumers.
Before releasing the first singer sewing machine, factories and fashion houses were the only places that owned them. Still, the singer machines were marketed for domestic use, making them accessible to a wide range of consumers.
The company used door-to-door sales campaigns and invented newer models to keep the public interested in buying after each model was released. Therefore, by the 19th century, business was booming and played a significant role in fueling the economy.
Antique Singer Sewing Machine Models
In order to identify a specific model, you need to understand the singer sewing machine models. We have discussed them at an in-depth level below.
Since the company started manufacturing its machines in the 19th century, it consistently created new models to improve the previous models. If a sewing machine was manufactured in the 19th century, it's an antique model.
Even though it's difficult to trace all the models created by the company during this time since most of the files were lost, we have featured some of the most popular models that you can find at your local antique or thrift store if you're a collector. They are:
TurtleBack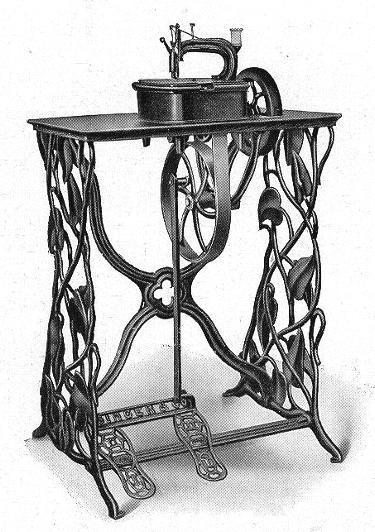 This machine was created by improving the first model created by the company in 1951.
It was constructed in 1956 to be used explicitly at home since most of the sewing machines weren't for domestic use. This attracted a wide range of consumers.
It had an iron treadle as well. Even though the model wasn't the best, it's still famous among collectors since it's rare.
Fiddle base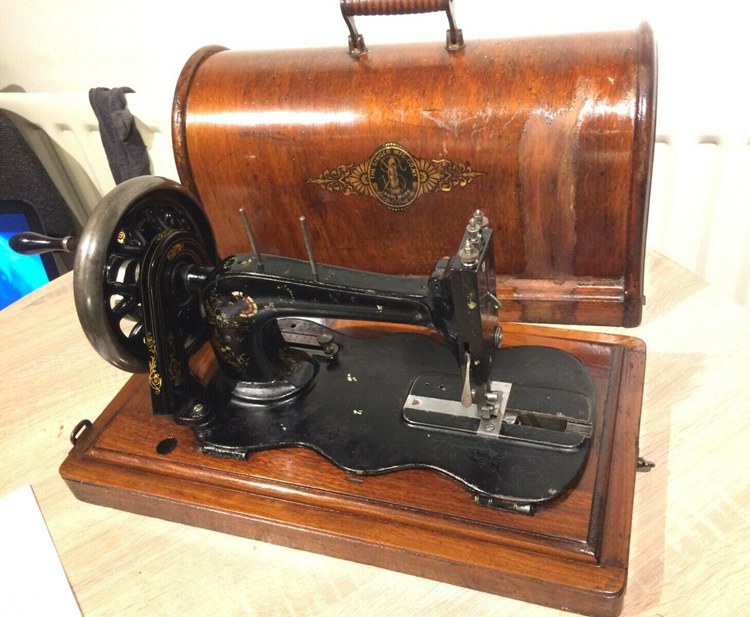 One of the qualities of Singer sewing machines is that the models' names were incredibly catchy to attract consumers.
This sewing machine is also known as the singer 12. It was sought after due to its durability and efficiency. What's more? It's a high-quality lock stitch machine.
It's also one of the first few sewing machines that could sew through multiple fabrics. During the 19th century, this feature was enough to attract a high number of consumers worldwide since it was so unique at the time!
The company sold the model towards the end of the Second World War, and sales were booming.
While this model is highly sought after by collectors these days, it's easy to find, unlike the Turtleback model.
Furthermore, the model is worth investing in since it was created with solid metal that's durable.
The Letter A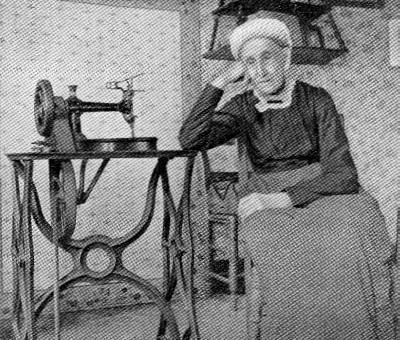 This machine was unique since it was one of the first models manufactured for home use. It was made using high-quality metal. It's scarce to find this machine.
The New Family
This model sold more than 4 million copies due to its worldwide popularity. It was still popularly used and manufactured during the 20th century. It's one of the reliable lock stitch models.
After a few years, the company released a modified version of this machine known as the "Medium" in 1870. The machine was efficient since it was able to stitch heavier fabrics compared to its predecessors.
These models can be found at your local antique store since they were popularly used throughout the 19th and 20th centuries.
Class 66
The model was manufactured in the 1920s. Finding this equipment is a bit difficult since it wasn't that popularly used, and it's hard to decipher its serial number.
How The Years Affected Singer Sewing Machines
As the years passed, I.M Singer Co. kept inventing new and improved models to ensure the public remained hooked on investing in the sewing machines. Moreover, most of the earliest Singer sewing machines are still popular today due to their great make.
Below, we have covered how the Singer sewing machines grew throughout the years.
1851: The first Singer sewing machine was created during this year. The machine attracted consumers since it was somewhat unique. Instead of a hand crank, the machine had a foot pedal.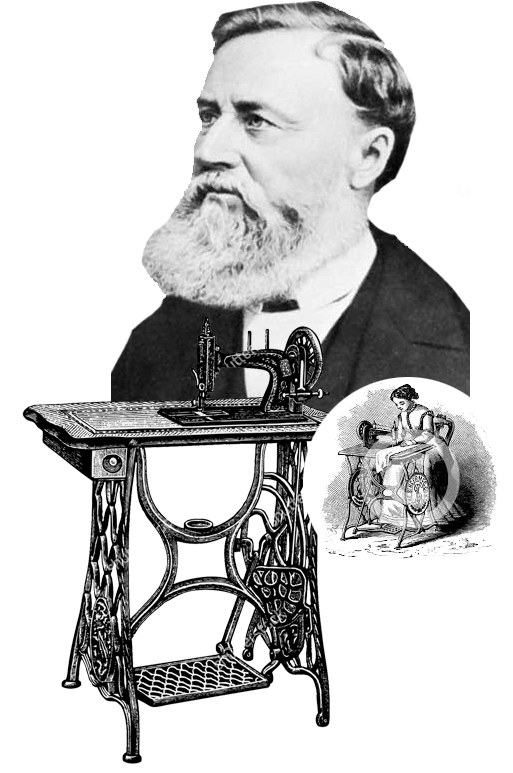 The model was the first rigid arm and included a table to support the cloth being sewn. Also, a vertical press or ensured the fabric stayed in place as the needle up-stroked it.
1856: The turtleback machine was invented during this year and could be used at home.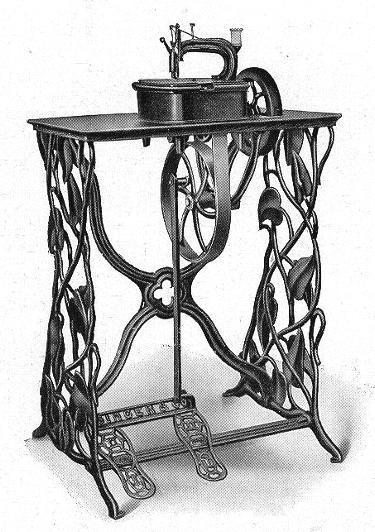 1859: The company improved on the Turtleback machine to create a new model known as the new family.
1870: As the years went by, Singer kept inventing new machines to improve their previous inventions. In 1870, they adjusted the new family machine, creating an enhanced machine known as Medium.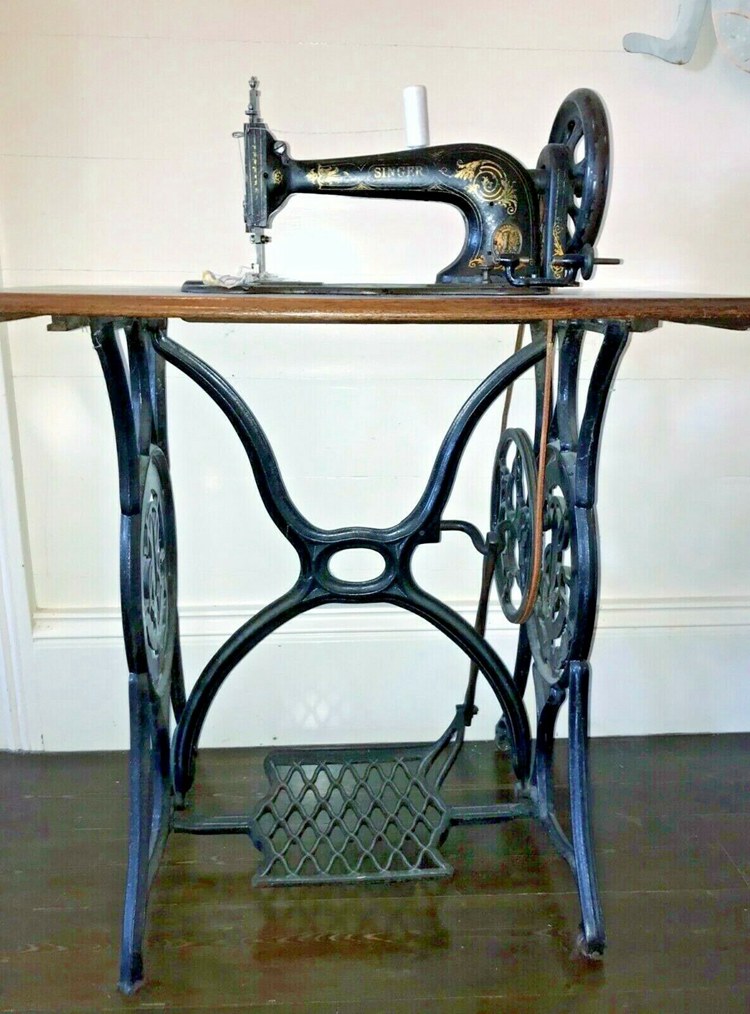 This machine was unique compared to the previous model since it had more room under its arms, allowing one to sew large amounts of fabric.
1908: During this year, the company created a new model known as the Singer class 66. This sewing machine had a motor and numbered tension dial.
1921: During this year, Singer added the 99 electric sewing machine. Since it was also an improvement based on the previous model, they added unique features to it. For instance, it was portable, allowing people to carry and use it despite their location.
Also, it had a bolted electric light, allowing the seamstress to see what they were doing during the sewing process.
1933: During the Chicago world fair, I.M and Singer Co. added a new sewing machine known as the featherweight model 221. The machine was black with gold decals and a scrollwork faceplate.
Also, it had a chrome-trimmed handwheel and a regulator plate. If you find this model with its original case and accessories at your local antique store, it's worth picking up!
1939: After a few years, I.M and Singer Co introduced two new models at once! The sewing machines were 201 and 201K.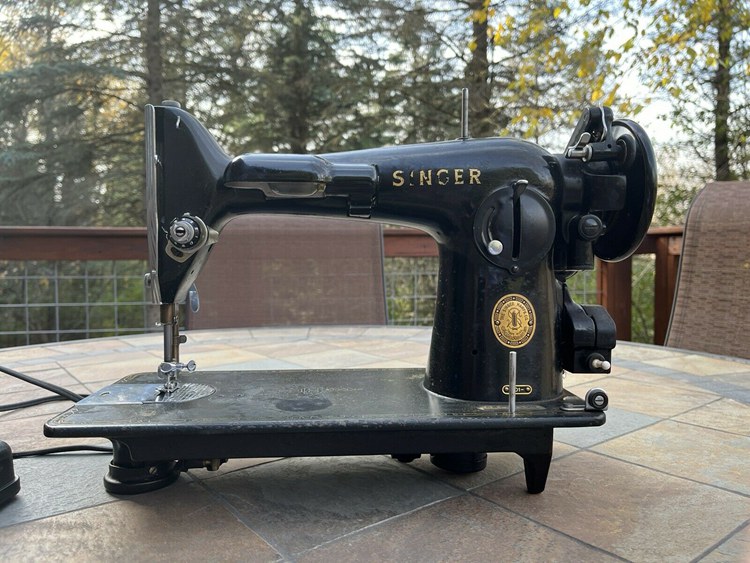 Numerous collectors argue that these are the best models ever created by the company. They sew seams smoothly, and their vibration isn't as loud as the other models.
1941-1947: Since World War II affected these years, the production of sewing machines reduced drastically, but when the war ended, a new machine was released to the market—it was under construction as the war continued. The model is known as the blackside.
The machine was dubbed, "the blackside" since it's entirely black.
1949: During this year, the new machine was invented, the model is known as the 301. The most notable feature of this model is that it resembles the 201 model.
Also, model 95 was introduced during this year. The machine was unique since it could make 4000 stitches in 60 seconds.
1952: The company introduced its first zigzag sewing machine known as the 206.
Identifying How Old Your Singer Sewing Machine is and the Model
As a collector, you probably want to find the rarest antique singer sewing machines since they are valuable. Or, perhaps you are trying to identify a sewing machine before investing.
I.M Singer Co has made multiple models that vary depending on features and other vital factors throughout the years. Since the models were constructed way before we graced the earth, identifying how old the sewing machine is needs more research.
The easiest way to identify how old your Singer Sewing Machine is and whether it's an antique or not is by using the serial number of your machine. It's important to note that antique items are at least 100 years old, and any machine that wasn't released in that time frame could fall under vintage or modern categories.
To locate the machine's serial number, look at these areas:
On the bed or throat plate of the machine: This placement indicates that machine is a treadle or hand-crank machine.
Look at the right-hand side of the model: This shows that the machine is an electric or treadle sewing machine.
Below the machine: This shows the machine is electric.
If it's on the front or side of the model, the machine was manufactured in the 1960s.
Before locating your serial number, you need to know that:
Singer sewing machines manufactured before 1900 comprise numbers only.
If the serial number has one or two prefixes before the number, it was made after the 19th century.
If the serial number is small in size, the model is an old version.
Some models have two serial numbers. If that's what you observe on your Singer sewing machine, use the largest numbers among the two numbers.
Once you have successfully identified your serial number, go to the international sewing machines collectors society (ISMACS) to check their serial number database. Compare your serial number to the numbers on the database.
On the other hand, if your Singer sewing machine was made before 1870, you won't be able to locate how old it is since the files were lost. If that's the case, you can use the list below:
Once you know how old your machine is, you need to identify the model to determine its value.
If the machine is an older version manufactured before the 1960s, you'll find its model number in front of the machine. Some model numbers can be four digits long, e.g. (22-21).
Regardless, various antique models don't have such a plate to observe the model number. If you can't find its model number, utilize its serial number and match it on the ISMACS serial number database.
If you can't find the serial number of the model on the database or the list above, you'll have to identify the model depending on its features and technical characteristics. You can use this template to identify the model of the sewing machine quickly.
The Value Of An Antique Singer Sewing Machine
First, you need to know just because a model is old doesn't mean it's valuable. When it comes to determining the value of an antique Singer sewing machine, rarity is a crucial factor to take into account.
Most standard models were manufactured in large numbers for a wide range of consumers. Therefore, you can find them easily at your local antique store. Most of the antique sewing machines cost $0-100.
On the other hand, some models are rare to find and can cost thousands of dollars! Moreso, if they are still in excellent condition and have all their accessories and covers.
For instance, the Turtleback model made in 1956 was primarily made for domestic use. What's more? It was the first machine with an iron treadle. Although the machine had flaws, it's still one of the most sought-after Singer sewing models in the market!
As a result of being a 'failed' model, the production was halted expeditiously, and that's why it's hard to find them; they are rare! Their price ranges from $500 to 1500.
On the other hand, Singer Model 1 was the first model to be made by the company. It's large and weird-looking. Also, it is heavy and noisy, but despite all these flaws, it's special since it was the company's first model. Since it's primitive-looking, it's extremely rare to find in the market.
The fiddle base or the Singer 12 was made in 1865. The model was extremely popular and successful due to its technological advances. At the time, it was a sight to marvel at! Sales skyrocketed, and by 1971, at least 180,000 fiddle base models were being sold annually. Regardless, they are still rare and expensive, costing at least $2000.
The Singer 30k is also another antique model that was made in 1912 exclusively in the United Kingdom. Since the number of machines produced was limited to 15500, they are rare today, making them a gold mine for collectors.
The Singer 48K has a lot of controversy over how many models were manufactured. While others argue that the total number is 535,150, others conclude that the number was more or less. Either way, this directly affects the value of this model, making it highly sought after.
In contrast, Singer Featherweight 221 and 222K are vintage Singer sewing machines, but still, they are more valuable than various antique models. This indicates that just because a model is old, it doesn't mean it's valuable.
A wide range of sewists prefer using these sewing machines compared to the modern versions due to their efficiency.
Tips To Identify An Antique Sewing Machine Worth Investing in
To ensure you end up with a high-quality antique Singer sewing machine, you can be on the lookout for the following:
Note: Some of these tips might seem odd, but it's still worth it since the models are old and already used. Therefore, finding a new and sparkly sewing machine is rare.
If it has no scratch marks on it and looks as though it recently left the factory-Worth it.
It's in good condition but still has minor marks or scratches-Worth it.
It's in good condition, the metalwork and the paint are flawless and bright-Worth it.
It works well, but some of the paint is fading away-Worth it.
If the machine has rusty parts that need to be smoothed out and painted over, but it still works well- Worth it.
If the machine needs accessories to replace the worn-out parts-Not Worth it!
It needs total paint and patchwork and has a few issues-Not worth it, but if you're patient enough, you might see it through.
More Factors Affecting The Value Of An Antique Singer Sewing Model
You can also look into these factors to determine the value of an antique Singer sewing machine:
1. Provenance
If a famous individual owned a sewing machine, they'd cost a higher price than average. Regardless, if you are hoping to buy a sewing machine whose worth was determined by its provenance, you must demand proof.
2. Rare badges
A wide variety of Singer sewing machines come with badges, and the most common badges are gold badges with black decorative rims or plain gold badges. Regardless, at times, the company uses different badges to identify various models.
3. Completeness
A valuable antique singer machine comprises its original case, attachments, accessory box, and instruction manual.
4. Desired Decals and Rare finishes
The same Sewing machine could have different decals and finishes depending on the country where it was constructed or the period.
5. Location
Most antique singer machines are heavy. Therefore, they are not worth paying for the shipping costs, and that's why they are more expensive in urban areas than rural areas.
6. Cabinets and Treadle stands
If the sewing machine has a lovely cabinet and treadle stands, it's precious.
Where Can You Buy An Antique Singer Sewing Machine
You can find an array of antique singer sewing machines online at relatively affordable costs.
You can find these Singer sewing machines in:
Estate sales
Flea Markets
eBay
Classified Ads
Local thrift store
Local Antique stores
Auctions
Conclusion
Without a doubt, I.M Singer Co is a reliable company that has built a strong reputation for producing high-quality and durable sewing machines that pass the test of time!
Antique sewing machines differ from vintage sewing machines. Most antique models are older than 100 years, making them valuable and relatively expensive to purchase.
We hope our comprehensive guide has simplified your process as a collector. If you have more questions, feel free to leave a comment and we'll tend to you expeditiously.