Sideboard, buffet, or credenza – almost every dining room had to feature the furniture. It comes with a reasonable history to help the household in cookware management. Also, decorative designs managed to become the central piece of attraction.
You can find a good number of antique pieces in the market available for purchase. However, you must know all the essential points to avoid erroneous investments. Therefore, continue scrolling for the expert guidelines on antique sideboard & buffet.
What is Sideboard Buffet Exactly?
Sideboard, synonymously known as a buffet, is traditionally a long piece of furniture. It's particularly a dining table piece that also goes by the name of a buffet table. The design offers storage as well as display for various small-size belongings.
Large formal meals consisted of several courses in an orderly manner. And each course required a particular set of plates as well as silverware. And the buffet was indeed the station to place the meals for upcoming sessions.
Sideboards emerged into European society in the 16th century. And the primary purpose concerned functional uses only, nothing else. Likewise, the designs managed to follow the fashions while serving the food/meal.
Timeline of Antique Buffet Sideboards
Evolution in the design continued adopting the furniture appeal. And the sideboard buffet is no different from the trend either. Each period from the past left a deliberate imprint through the particular style. Therefore, you better get to know the timeline to trace its origin as far as possible.
17th Century Antique Sideboards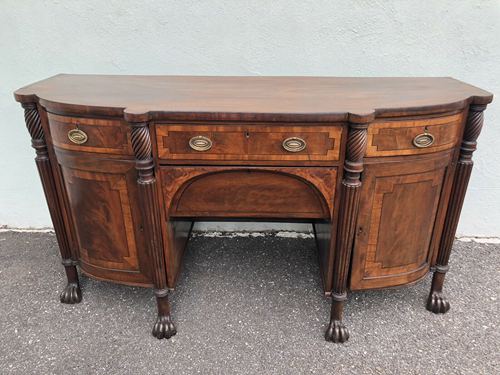 Any usable piece from the early development period seems almost impossible. Almost all the designs featured wooden construction with a minimal protective finish. In fact, you'll have to spend time, money & effort to find authentic furniture from the century. But the outcome may not seem usable without considerable repair/refinish. Complete absence of screws or nails should explicitly date back the buffet to the 1600s.
18th Century Antique Sideboards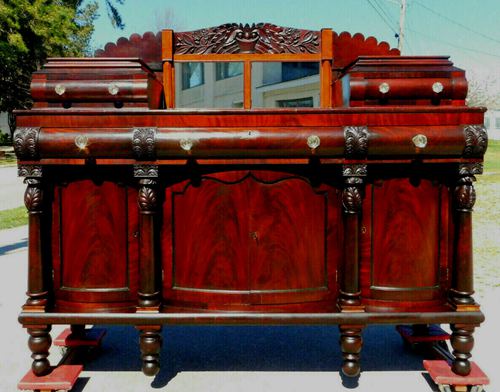 Coming to the next century, chances are good enough to find expensive as well as cheap antiques. In fact, the century seems blessed with a lot of oak buffets with different designs. However, mahogany pieces are also available at higher price tags. The most prominent sign should concern a built-in pine back panel. Also, the exterior should hold a visible joint between the drawer side & its back. Styles tend to coincide with the Victorian, Chippendale & Adam period.
19th Century Antique Sideboards
Mahogany started to replace other furniture woods for antique sideboard buffets. And the popularity sored in the century for good reasons. The design appeared clumsier to integrate a fancy inlay. For the styles, you're to consider George III & Regency periods with a minor Victorian influence. Pedestals of mahogany also started to adorn the assembly. Some pieces even checked exclusive luxury carving on the back with/without cut-out spandrel friezes.
What is the difference between a Sideboard, a Buffet and a Credenza?
Sideboard, buffet, credenza – three terms to get used by common people interchangeably. However, the intended terms barely hold any significant change in design or style. Still, you should know the actual distinction for certain evaluation purposes.
Sideboards feature storage cabinets as well as drawers. And the particular character concerns short legs. In fact, cabinets tend to reach all the way to the floor surface. And you can place the furniture in the dining room, living room & even hallway.
Despite the absence of any defining difference, buffets should integrate slightly longer legs. It actually originated in Sweden to serve large-size smorgasbords. And the usability remains confined to dining rooms only for European styles.
American term Credenza refers to dining room cupboards for serving buffet meals. It's the design to display decorative belongings with storage. The short-leg or no-leg design stands reasonably small in size to feature a formal-looking appeal.
How to Check Genuine Antique Sideboards?
Commoners often prefer recent-time reproductions to meet low budgets. However, collectors explicitly hold the focus on genuine or authentic antiques. But checking the antiquity may present absolute trouble for beginners. That's where you should mind the following points.
1. Determining Frame Construction
An impressive outlook can definitely introduce noteworthy décor to the intended space. Not to mention, the construction can impart exceptional endurance for the design. It's important to check the overall framework from the inside out. And quality construction is sure to make a good bid on sale, regardless of the design.
2. Looking for Identification Marks
Any sort of imprint to trace the manufacturer counts important for antiques. Take your time to dig the entire structure for any particular signature. It may concern – alphabet, number, or combination. Likewise, you must validate the marks using resources without leaving any space. It'll surely save the wallet from getting wasted.
3. Getting Surface & Joinery Details
Structural surface of the wood can tell you more than you can imagine on antiques. Distorted joinery remains one particular sign of authenticity among the collectors. Meanwhile, random deterioration on the surface should validate the aging to a great extent. Also, you must pay attention to uneven finishing on the surfaces.
4. Judging the Photograph Validity
Of course, you're to make your choice from photographs on an online purchase. That's where you should understand the color effects, lighting contrast & other details. It's entirely possible to present a heavily used sideboard as an antique or vintage piece. Try to get other's opinions as well as customer feedback for confirmation.
5. Attending Available Resources
Keep surfing the internet to gather every authentic material on the subject. Dig into online sources like books, sites, articles & blogs without initiating a halt. However, not many viable options are available on the antique sideboard buffet for now. Continue enlightening your knowledge through a full attempt at every detail.
6. Consulting Professionals/Experts
A very convenient strategy concerns expert consultation using community forums. Many persons to deal with antique furniture pieces remain available at those gatherings. You can ask questions to receive plausible answers without any limit. However, appointing appraisals is indeed the fastest way to receive the results.
Sideboards & Buffets – How to Use
As mentioned, a sideboard or buffet had a very practical purpose in the past. However, the evolution of indoor decoration may not suffice the objective anymore. Therefore, you should know some well-recognized repurposes for the antique sideboard. It'll even help you to narrow down the preference.
Bar – The continuous reduction of formal dining opens up another chance for sideboards. You can store drinkware items like – serving tools, ice buckets & snack trays. A nearby arrangement should suffice an indoor cocktail party.
Changing Table – The open-top can definitely serve many particular tasks in the nursery. Of course, modern-day changing tables are available within budget. But the antique can offer a temporary alternative on several occasions.
Foyer Piece – Entryways to feature an antique buffet should set the decorative tone. It should impose an immediate formality with additional beauty. And the homeowners can simply get rid of certain items not worth display.
Kitchen Island – The meal-prepping space explicitly requires an island for many tasks. And an antique sideboard should occupy the empty space on demand. Its exclusive design should have the ability to become a central kitchen piece.
Sink Base – Standard stock cabinetry should receive a deliberate upgrade with buffet replacement. It's indeed a fabulous choice for a single as well as a double sink vanity. However, some renovation work can perfectly fit the decoration.
TV Cabinet – Enhancement of architectural details can appear with a flatscreen TV set. The built-in storage induces a practical facility for holding the assembly. You can check cable boxes, stabilizers, speakers with DVDs, or recordings.There's no need to stick with the aforementioned chances only. You can think of other available space for its utilization.
Antique Sideboard Buffet Valuation
Overall value of any antique always takes some defined facts into consideration. And the sideboard buffet comes without exception to let you catch the price. You must explore the condition, material, size, appeal, usability & authenticity in the first place.
18th-century mahogany antiques should value between £10000 up to £15000 for the best quality. However, rarity can push the tag to an eye-watering £50000 at max. But compromised quality will let you manage a piece within £1000 – £2000 only.
Adam-styled models can cover a mere £1000 up to £6000 depending on the materials. Even the designs from the 19th century will almost cost the same fortune. Not to mention, oak/walnut or others should hold a noticeably lower tag than mahogany.
There are some great resources with videos on antique sideboard buffets from online shops. You can check IndiaMart as well as Antiques to develop some idea on the price tag. Also, explore Canonbury Antiques can definitely enlighten your skills on valuation.
Final Words
Many pieces of furniture from the past may not perform the actual purpose in modern décor. But innovations keep finding new ways to repurpose the obsolete models. And the same goes for antique sideboards to possess excellent beauty with reasonable usability. You just have to understand the possible uses to set the budget towards successful trading.