Have you ever looked at an old sewing machine somewhere in a forgotten corner and wondered how much it's worth today? Well, functionality-wise, this piece of cast iron may seem… just that–a good-for-nothing piece of cast iron.
But hey! The aesthetics might speak otherwise. What if it can still fetch some high bucks in the antique market?
In the bygone era, some antique sewing machine brands were popular for their handy tools, and after a century or more, their products are worth collecting.
Are Antique Sewing Machines Worth Anything?
When you have an old sewing machine, you often wonder about its monetary worth before selling it in a yard sale for cheap. Do you wish to discover the value of an old or antique sewing machine? Generally, antique or vintage sewing machines can cost around $50-500.
Some older sewing machines can fetch high prices in a collectible world, but few factors come into play that make them valuable. So if you want to guess your antique sewing machine's value, here's how you can do it.
1. Condition
The first thing to consider is the condition and appearance of your antique sewing machine. Is it in running condition, or is it only good for display? Well, a running machine is more valuable than an impaired one.
However, its functionality is not the only thing to appraise. You will also have to inspect its general appearances, like paints and decals. Moreover, carefully examine each part to find visible stains, rusts, scratches, or cracks.
Although a machine in good condition can set demand and prices higher, if yours is not in good condition, then let it be rather than refinish it, which will further damage its worth.
2. Rarity
Secondly, the availability of collectibles also affects the value simply because of the demand and supply law. Usually, a mass-produced antique is in abundance in the market, so its supply exceeds its demand, which results in a low value.
However, an antique with scarce availability, where the supply is not there to meet the market's demand, the collectors compete among themselves to keep this exclusive collectible, which results in setting its price high.
In other words, if your antique sewing machine is rare, you can trade it for a lot more than the average antique machine on the market.
3. Material: What is it made of?
Most sewing machines manufactured before 1970 had solid metal bodies, which was a good sign of durability. Moreover, some of the well-manufactured models have gears that tightly fit together, giving them a long-lasting mechanism. These machines would run forever.
However, in some models, you may find plastic gears inside. So while inspecting the condition of an antique sewing machine, you can open the case and check if there are plastic gears or circuits inside.
Whether buying an antique sewing machine or selling it, know that plastic gears can reduce its value significantly.
4. Mechanical Function
The technology behind sewing machines enhanced a lot with time. Over time, the sewing machines went through many functional developments.
For instance, antique machines from the 1900s or before could only do a straight stitch, while vintage ones from the 1960s are capable of sewing zig-zag stitch patterns and making buttonholes.
The functionality of antique sewing machines would not impact collectors who are looking to add antiques to their collections. However, it would make a difference for someone who wants an antique machine for sewing purposes and would value machines according to their usefulness.
5. Accessories and Attachments
Lastly, accessories and attachments also make a difference in the value of antique sewing machines. The old cast-iron machines came with wooden cabinets for safekeeping. So the original wooden cabinet is a part of the machine. And without it, the machine's value can not get high trades.
Similarly, the value will deteriorate if the machine is missing the key items that were equipped with it, like the original manual guide, a presser, any removable cams, needles, and bobbins.
Common Types Of Antique Sewing Machines
There are many types of antique or vintage sewing machines, but Hand crank and Treadle machines are the common ones. Machines dating earlier than the 1870s are rare to find and also seem different than the ones that came after.
Hand Crank
The hand crank sewing machines were a bit unusual but more popular in Europe than in other parts of the world. They are mainly accustomed to small stitches and appliqué and are best when you need close control of stitching.
These machines were portable and would often come with a wooden casket that would protect and safely keep them. Well, in a sense, they were designed to be easy to carry and take up very little space, but their cast-iron body is still weighty, which will give you no less than an arm workout while holding.
Talking about the design, the hand crank sewing machine has a crank at the right side that powers it when turned. Unlike treadle machines, you will have to turn the crank with one hand, which leaves you with the other hand to direct the material. The crank is geared in such a way that with each revolution, you get three stitches.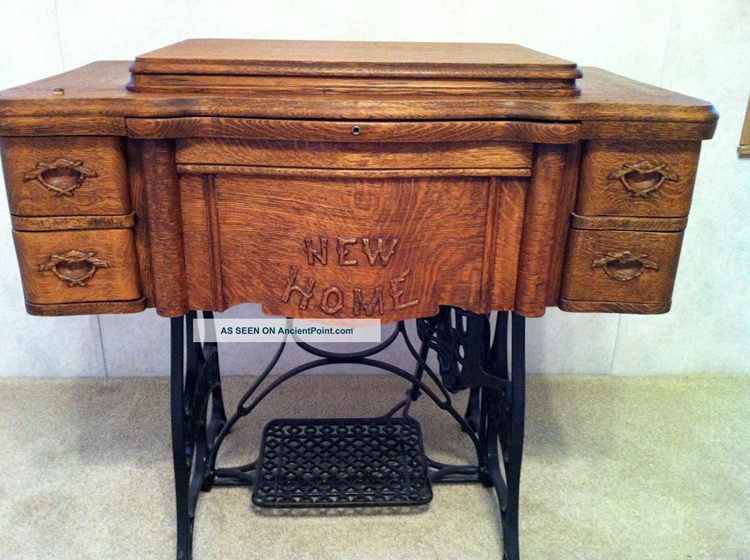 Treadle Models
Alongside hand crank machines, treadle models were quite popular in the early 19th Century. They would usually come equipped with a wooden cabinet to protect the machine and sometimes drawers under the wooden top for keeping vital sewing accessories.
By looks, many Treadles are bigger versions of hand crank ones. For instance, if you look at hand crank model 99 and treadle model 66 of the Singer brand–both machines will look virtually the same.
Treadle models are also user-friendly. By swaying the treadle pedal back and forth with your feet, you can use these machines for about any type of sewing and quilting. A plus of treadles is that it allows you to use both hands to guide the material fabric, and you can stitch about any size of cloth.
However, it takes up ample space in the room, and unlike hand crank machines, you can not move it very easily from one place to another.
How To Use Antique Sewing Machine
If you stumbled upon an antique sewing machine that turns out to be functional, why not keep it for your use? You can sell it, though, if you have no interest in sewing, but if you do, then you can have some fun sewing and peek into the past.
However, before using any old machine, ensure you have flipped through the manual guide to avoid any mishaps. In case a manual guide is unavailable, and you are keen to use your antique sewing machine, you can take help from Youtube. For instance, here's a guide video on how to sew with an antique Singer sewing machine.
Some of the Very Best Antique Sewing Machine Brands
Since the 19th Century, many sewing machine brands have attempted to make a fortune in this industry. However, not all could sustain till today, and many ceased their companies throughout the timeline.
Today, we can find many antique machines from different brands that have discontinued or are still running the show. Let's take you through some of the best antique sewing machine brands that were exceptional in their era.
1. Singer
The Singer, established in 1851, is by far one of the most popular and largest manufacturers of sewing machines. It gained so much popularity as its founder, Isaac Merritt Singer, became the first person to invent sewing machines for domestic use.
The singer has been here for over 150 years and invented dozens of models, including the best vintage singer sewing machine, Singer 201. Even today, if you walk into an antique store or go to online auctions, you will find Singer sewing machines on display.
You might be wondering if Singer machines are rare or not. Well, some of the Singer models are so rare and antique that they can get traded for thousands of dollars.
2. Kenmore
Kenmore is yet another popular brand that started manufacturing in the 1930s. Back in the day, Kenmore was coveted by value-conscious housewives who had a keen interest in sewing. It is technically not an antique brand, but its vintage appeal is still a factor that captivates collectors.
Kenmore's "30 Stitch" features 30 different stitch patterns, and so far, it is the best vintage Kenmore sewing machine.
3. White
Thomas H. founded the White Sewing Machine Company in 1858. At that time, it became a famous brand and a threatening competitor to the peaking company, Singer.
For those households that were unable to purchase Singer machines, White machines were an excellent alternative to get somewhat the same value at a cheaper cost.
4. Wheeler & Wilson
Allen B. Wilson and Nathaniel Wheeler founded a company in 1853, Wheeler & Wilson, which gained popularity in the mid 19th Century. Using Wilson's designs, Wheeler decided to mass-produce these machines, and the two owners formed a partnership.
By 1859, Wheeler & Wilson had the most sales in the whole United States. However, its success chapter closed when both the owners passed away, and eventually, Singer bought the company.
5. Bernina
Bernina is a European sewing machine brand founded by Fritz Gegauf in 1893. With all-metal parts, it has manufactured countless durable and high-end machines consistently without compromising quality.
Some of its high-quality models are the 800 series, the 730, and the 930, which can fetch a few thousand dollars depending on their condition.
6. Janome
Janome, a brand that originated in Japan, was ranked as one of the best sewing machine companies for decades. Although it was founded in the 1920s, it officially named itself in 1954.
Janome is credited for many innovations, including the invention of the first-ever computerized sewing machine. Other than that, it was also famous for manufacturing various models for large retailers like Sears to sell.
Despite the mass manufacturing, it is challenging to find a Janome machine in the market, mainly because of its origin, Japan. However, this does not make them rare and expensive.
7. Brother International Corporation
Brother International Corporation is another Japanese multi-electronics company founded in 1908 under the name Yasui Sewing Machine Co. Brother was already known for manufacturing various industrial machines. However, after World War II, the company expanded towards making machines for home use too.
Brother sewing machines are still famous for their high quality, and you can find the common ones in the market for a few hundred dollars.
8. National Sewing Machine Company
During the 19th and 20th centuries, the National Sewing Machine Company mass-produced different machines, including toys, and sold them to large retailers. These retailers would later sell it under their brand name to department stores.
However, after World War II, the company could not sustain itself and ceased production in 1954. Since the manufacturing stopped long ago, some of its models are very rare to find and can cost high bucks.
9. New Home Sewing Machine Company
New Home has its fair share of supplying different styles of sewing machines to the market. From hand-crank models to the more detailed and complicated treadles, some of them gained popularity for their quality.
However, New Home also had to discontinue in 1955 as one of the partners dissolved the partnership.
10. Pfaff
Pfaff, founded in 1862 by George Michael Pfaff, was considered one of the best European sewing brands. And in no time, George decided to expand the company with the first shop, which opened in London in 1885.
The first ever Pfaff sewing machine was fully handmade and designed to sew leather for shoes. Most of its antique models were of high-end quality. You can luckily find one in good condition for under a thousand dollars.
11. Tikkakoski
Oy Tikkakoski Ab was a Finnish company known for manufacturing firearms and various consumer durables. Sewing machines were later one of their specialties too.
A German arms dealer Willi Daugs bought the company in 1930 and later supplied the World War II participants with machine and submachine guns.
However, the company was considered German-based, and its assets got confiscated after World War II, which encouraged them to manufacture sewing machines only.
12. ​Leader Sewing Machine
From 1870 through 1899, the Leader Sewing Machine Company manufactured sewing machines. In a short time, the Leader manufactured overlockers sewing machines that were unique models of that time. However, after 1899, many companies made various machines under the name "Leader."
13. Sewmor
The Sewmor sewing machines were manufactured in Japan after World War II. These machines are also vintage, but their aesthetics have attracted collectors to get their hands on them.
There is a word around that 900 series motors were manufactured in Belgium, and the company sold it under their brand name.
14. Wardwell Manufacturing Company
Wardwell, founded in 1882, had a short lifespan of just a few years until the ownership was transferred to the Taft-Pierce company in 1895. While the brand lasted, it manufactured highly effective yet simplistic designs. However, their campaign didn't go well, and this efficient design failed to attract consumers.
15. Davis Sewing Machine Company
Davis started manufacturing sewing machines in 1868. Their early designs featured a "vertical foot" to move the fabric through the machine using lower and upper presser feet. However, this feature at that time was not quite popular and did not do well in the market.
To keep the company solvent, Davis switched from sewing machines to manufacturing bicycles within 25 years of its incorporation.
16. Grover & Baker
From 1851 to 1875, the company Grover & Baker manufactured sewing machines with enhanced and innovative mechanisms. For instance, Grover & Baker were the first to introduce a portable sewing machine, and also they innovated a secure double chain stitch by using two threads.
17. ​Jones Sewing Machine Company
The British manufacturers William Jones and Thomas Chadwick founded the company Jones in 1860.
In 1879, Jones got a patent for its popular Serpent Neck model sewing machine. They continued with this design until 1909.
18. ​Kimball and Morton
Kimball and Morton gained most of their popularity from their Lion-designed machines, which were first manufactured in 1868. But Lion designs were not the only milestone they achieved. For over a long period, they manufactured domestic and industrial machines.
However, the company had its final demise in 1955, and later, other companies took over.
19. Juki
Juki is yet another Japanese company established in 1938. With its age, we can not technically consider it antique as it is not over 100 years old, but you can still find some best vintage sewing machines manufactured by this brand.
Although their focus is more on the industrial side than the domestic one, they have made some exceptional vintage models for household use that can cost a few thousand dollars.
Conclusion
Overall, there are several well-known brands of antique and vintage sewing machines, including Singer. If you have a hobby of collecting collectibles, you can find many old sewing machines worth owning. For instance, 30-stitch from Kenmore is their best vintage sewing machine, which you can get for under $500 from any antique store.