We always had this particular pair of antique scissors at home, and my mom loved it. Although we did not use it frequently, it was valuable. There is a history attached to it, as they have been manufacturing for centuries. Numerous collectors have an interest in collecting them because of their unique designs.
Nevertheless, it will have a higher value even if it has a plain design. Also, many people do not know about the history and worth of these everyday household items. Some people also think there is no difference between antique and modern scissors. Are you one of them? Well, don't worry. Reading this article will clear all your doubts.
We have collected all the essential information related to antique scissors, including history, identification, brands, and how you can determine the value of the vintage scissors.
Antique Scissors: A Brief History
The history of antique scissors dates back to ancient times. However, the credit for making these scissors is given to Leonardo da Vinci, who used a similar tool to cut canvas. The first evidence of scissors can be seen 300 years before Leonardo da Vinci used them.
Around 1500 BC, a piece of evidence shows that Egyptians used scissors. Nevertheless, they were not the same as scissors of today's era. At that time, they made a device using bronze material that had two blades attached to it. They used a metal strip to separate the two blades until they squeezed the strip.
Due to trading, this device started to spread from Egypt to other parts of the world. This design reached Rome in 100 AD, and the Romans experimented with it to improve it. Their device was similar to the design of the scissors we have today, as they were cross-blade scissors.
They frequently used bronze to make scissors, but they also sometimes used iron. After the Romans, makers made spring scissors during the middle ages and Renaissance. The makers created them by heating a metal bar and bending it into a curve.
These types of scissors possessed sharp blades connected to one end. To cut an object, they had to squeeze the device. However, after cutting, the blades would again become separated.
Around the 18th century, the industrial revolution happened, which brought a sudden increase in the manufacture of different devices. In this era, many factories began to manufacture scissors in enormous quantities.
The maker of the first modern-day scissors was Robert Hinchliffe. He belonged to Cheney Square, London, England. Moreover, he was the one who labeled himself as the "fine scissor manufacturer." He used hardened and polished cast steel to make these scissors. He used this material because it was lightweight, durable, rugged, and efficient.
His scissors had a central point through which their blades were connected. Before Robert Hinchliffe made them, such types of scissors were said to be used in China, Japan, ancient Rome, and Korea.
Identification of Antique Scissors
There are various scissors available at your home or in the market. However, how can you identify authentic antique scissors? For this, you need to know about the type of antique scissors and other essential factors that can determine whether the scissors are antique or not.
The Weight and Material of the Scissors
At that time, when the scissors were made, a few makers put their marks on the product. However, the majority of makers did not put labels or marks on the scissors. Due to this reason, it has become a difficult task to identify the authenticity of antique scissors. Also, various manufacturers tried to make fake antique pieces.
Nevertheless, you can identify antique scissors by checking their weight and material. In the old centuries, makers used to create devices by using heavier materials, such as steel. For this reason, vintage scissors are usually heavier than modern scissors.
In today's era, manufacturers use lighter materials to make their scissors. The material can be either plastic or aluminum. On the other hand, the antique scissors were made using brass, silver, steel, and gold.
Types of Scissors
There were various types of scissors that people used for different purposes. Below are the most commonly used types of antique scissors.
1. Conventional Scissors
These scissors were huge and two-handed.
2. Buttonhole Scissors
Buttonhole scissors were small and two-handed. In addition, they had a short blade.
3. Hair-Cutting Scissors
As the name suggests, these scissors were used to cut hair. They had thin blades and were medium-sized.
4. Embroidery Scissors
Embroidery Scissors were two-handed and had scalloped blades. Also, their size was small.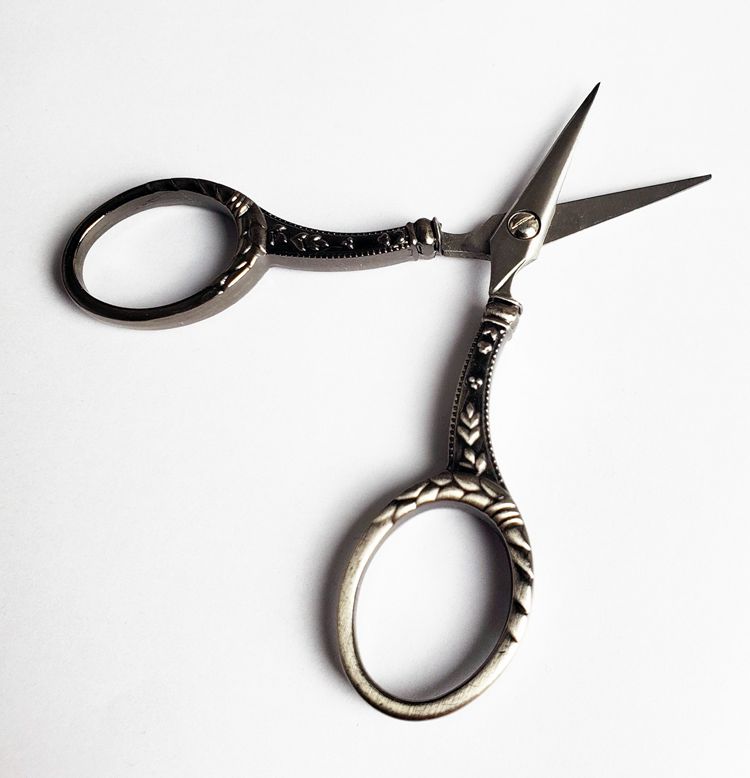 5. Tailoring/Sewing Scissors
Sewing or tailoring scissors were large and two-handed. Moreover, they had a flat edge.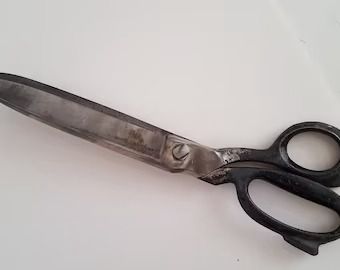 6. Pinking Shears
Pinking shears were scissors with scalloped blades, and they were large.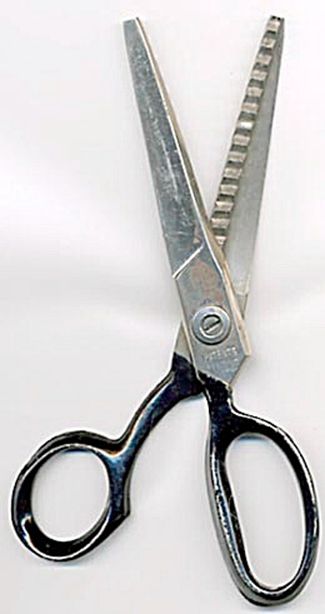 Antique Scissors Brands
After the industrial revolution in the 1800s, people started to manufacture scissors in large quantities. Due to this reason, productivity increased. Moreover, this was happening not only in one place but throughout the whole of Europe and the United States.
Below is the list of the most prominent brands of antique scissors from Europe and the United States:
1. Sheffield, England
Sheffield, a city in England, attracted many cutlery manufacturers around the 1160s because of its large iron ore deposits. Until the middle of the 1800s, there were more than 100 manufacturers of cutlery who were producing top-notch scissors and knives. Moreover, they also exported their products outside of Sheffield to other cities.
Richards of Sheffield
The Richartz brothers, also known as Richards of Sheffield, began manufacturing scissors and other products in 1930. Their factory came to be known as one of the largest cutlery factories in Sheffield, England.
When the culture of England influenced them after World War II, they changed their name to Richards. Also, they put this mark on their scissors. Nevertheless, when the Imperial Knife Company emerged in America in 1977, Richards could not survive. Due to this reason, they closed their factory after around ten years.
Carl Monkhouse
A German cutler, Monkhouse, started to manufacture scissors, and his brand came to be known as Carl Monkhouse. The maker was a United States immigrant who established a cutlery factory in Alleghany. He used Sheffield-imported blades to make the scissors.
This company was known for its hair cutting and hybrid scissors. On one side of the scissors was a mark "Carl Monkhouse, Sheffield, England," and on the other side, it said "Reblade, Alleghany, NY."
Ernest Wright
The company got its name from its owner, Ernest Wright (1880-1954). This company started to manufacture scissors in the 1800s. Nevertheless, Walter Wright, a little mester of Sheffield, was the father of Ernest Wright. He was an expert in finishing scissor blades.
Since his father was in the scissors industry, Ernest started this company in 1902. After him, junior Ernest Wright and his sons, Philip and Graham Wright ran this company. The fifth and last company owner from the family was Nick Wright. After this death in 2018, new owners came in, and they are still running this business with full enthusiasm.
This company is still operating and producing top-quality handmade scissors. If you want to know more about Ernest Wright, check out their website.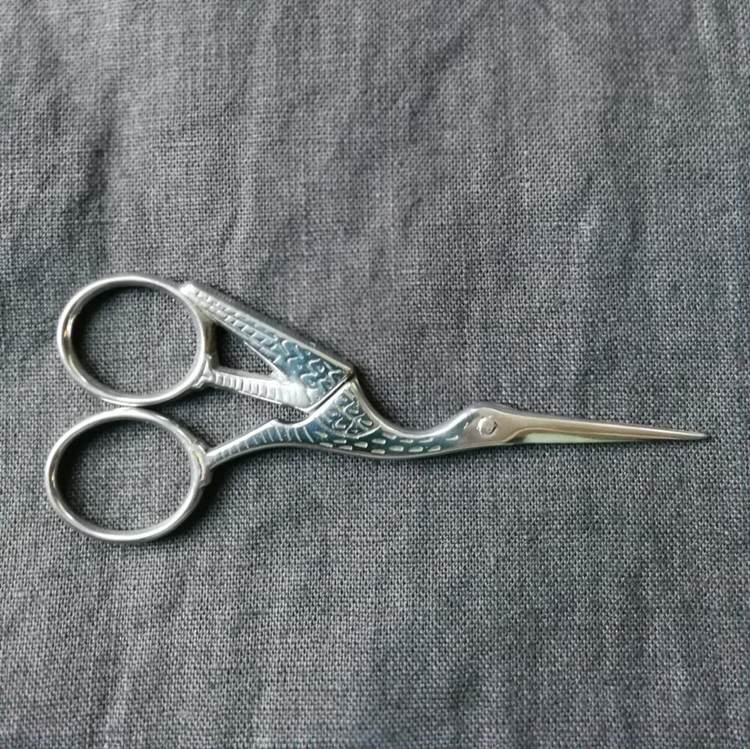 William Whitely & Sons
This company, William Whitely & Sons, has been in the scissors-making industry since 1760, from the time of the industrial revolution. However, it is believed that they were in the industry even before this.
They are widely known for their exceptional scissors designs. Moreover, their scissors are hand-crafted. In 1840, they got a Royal Warrant to make scissors for the Royal Family.
The family of William Whiteley & Sons is still operating this company. Even in today's era, when numerous manufacturers use low-quality materials to make their scissors, William Whiteley & Sons never compromised on their quality.
This company is manufacturing more than 250 types of scissors for different purposes. Furthermore, in 2017, they made Ground-Breaking Exo Scissors, which is one of their greatest achievements. Click here to learn more about William Whiteley & Sons.
2. Solingen, Germany
The city of Germany, Solingen, is known as the competitor of Sheffield. The reason for this is that it had a great reputation for being a source of high-quality cutlery. In addition, Solingen was known as the "City of the Blades" in Northern Europe because of its enormous manufacturing of scissors. This city is still a cutlery center in Germany.
Below are some of the top brands of scissors from Germany:
Wasa, Solingen
Waldmin & Saam GmbH & Co. KG, commonly known as WASA, was established in 1907 in Solingen, Germany. They were one of the famous makers of top-notch scissors. Moreover, their scissors were hand-made. Also, they used German steel to manufacture their products. Wasa was well-known for its embroidery scissors.
The Witte Group
The founder of the Witte Group was Daniel Peres. He started this company in 1792. It was one of the most well-known scissors-making factories in Solingen. Also, it was the oldest cutlery factory in the city. In the beginning, they produced industrial cutlery. With time, they started to manufacture other products, including scissors. The Witte group is still operating today.
Krusius Bros
Another brand that was operating in Solingen was Krusius Bros. This company was started in 1886. However, it was closed in 1983. This brand was famous for making embroidery scissors, for which they frequently used stork motifs.
3. Finland
Finland was also a popular country for the production of antique scissors. Below is one example of a well-known scissors brand.
Fiskars
Fiskars started to operate in 1649. It is one of the oldest factories in Finland. Around 1832, this company founded its cutlery mill for the first time. They were manufacturing knives, forks, and scissors. This company is still functioning today and selling top-notch products.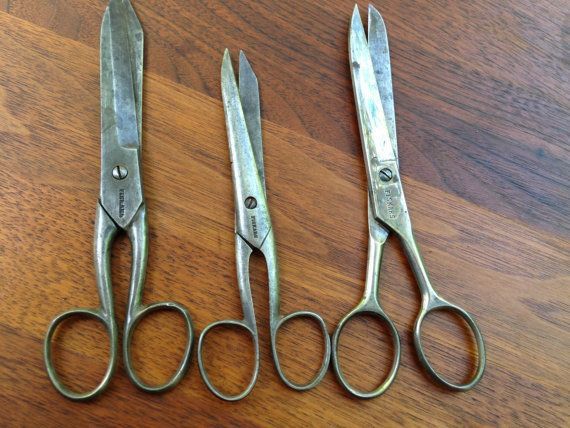 4. The United States of America
More than 100 companies operated in the United States of America from around the 19th century to the 1930s. The companies that were most popular in the US are as below:
Lenox Sheer Company
The Lenox Sheer Company started to operate in the Naugatuck Valley, US. The majority of their employees were immigrants from Sheffield.
Wiss Scissors
The Wiss Company was initiated in the early 20th century. At that time, it became the top scissor-making company in the world. The founder of this company was Jacob Wiss. When he immigrated to Newark in 1847, he opened a shop where he started to manufacture shears and scissors. At present, Apex Tool Group is running this company, and they are still manufacturing scissors.
Henkel
Another brand of antique scissors is Henkel. It began to manufacture the scissors in Fremont, Ohio. Nevertheless, after some years, it merged with another company, named Claus Shear, and they both became the top shear and scissors makers in the world.
Clauss Shear
Two brothers, Henri and John, started the Chauss Shear Company in 1877 in Fremont, Ohio. They came from Germany to the United States. In the beginning, the company's name was Elyria Shear Works. Nevertheless, when the company caught fire and was rebuilt, the owners changed the name to Clauss Shear Company.
After this, it became one of the top leading scissors-making companies in the US. Currently, Acme United Corporation has been operating this company since 2004.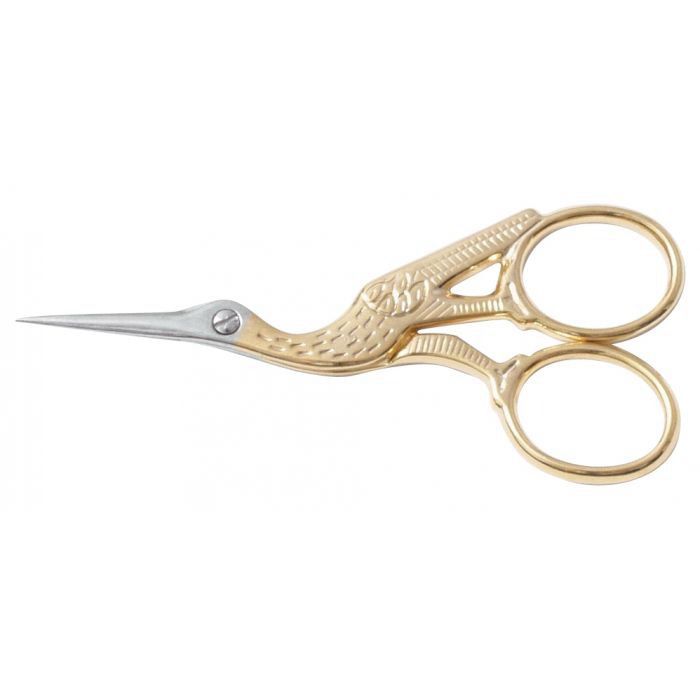 Schnefel Bros.
The founders of this company are the Schenfel brothers. They started to manufacture the scissors in 1903 in New Jersey. Since they were from Solingen, Germany, they had enough experience in making cutlery.
In addition, they started to produce nail and cuticle tools in 1931. You can purchase their products from any drug store in the United States.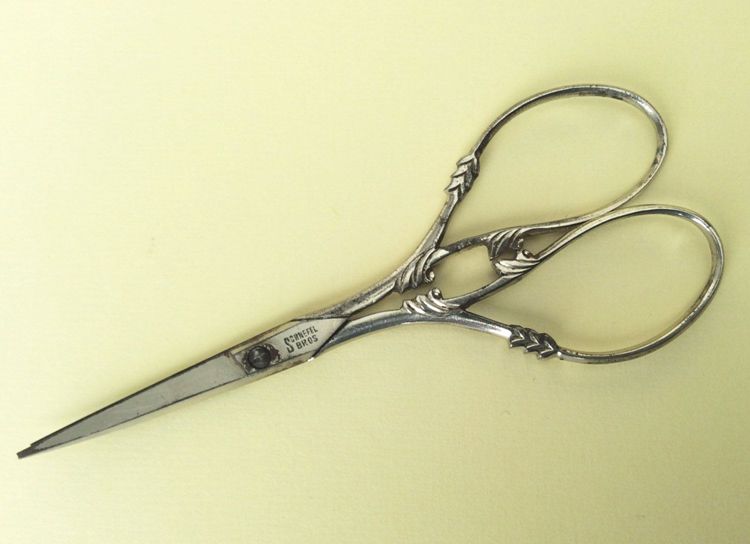 The Antique Scissors Value Guide
Do you have a pair of antique scissors, or is there a piece that caught your eye, and you want to know its value? Well, this section will help you out. Many antique scissors were produced during the industrial revolution, and you can select any of them as you have many options. However, not every piece can be an antique.
There are certain things you need to check that will ensure the authenticity of antique scissors. One thing you can do is search for similar scissors to yours. If you find any, note down the price. Also, below are some factors that determine the value of your antique scissors.
Rarity
One of the major factors that affect the value of antique scissors is their rarity. If the scissors were produced in enormous quantities, they would have little value. On the other hand, if the scissors are hand-made, they will have more worth. Moreover, if they have unique motifs, such as various animal shapes, they will be sold at a higher price.
Decoration
Decorated antique scissors, such as those from the Middle East and Asia, will be more precious, and you can sell them for a thousand dollars. The reason why they are so precious is that they are handmade and decorated with a lot of labor. These types of antique pieces are not available easily.
Material
The material that the maker used to make the scissors matters a lot. If any antique scissors are made up of gold or silver material, they would have a higher cost. Similarly, if the maker has used any precious stone to create the scissors, the value will be doubled or even more.
Condition
Lastly, the condition of the antique scissors plays a vital role in increasing or decreasing their value. If your scissors have broken springs, rust stains, or scratches, they will have a low worth. Nevertheless, an antique scissor in acceptable condition will have more worth.
Some Examples of Antique Scissors Value
If you want to know how much antique scissors can cost, you should have a look at antique scissors that are currently on sale. In this section, we have listed some of the valuable antique scissors of this time. Let's check them out.
1. 18th Century Ottoman Empire Islamic Calligraphy Scissors Diamonds, Rubies & Gold
These scissors belong to the 19th-century, Ottoman Empire. They are made of gold and have rose-cut diamonds with rubies. It is around 8 + ⅛ inches long and is valued at $3,500.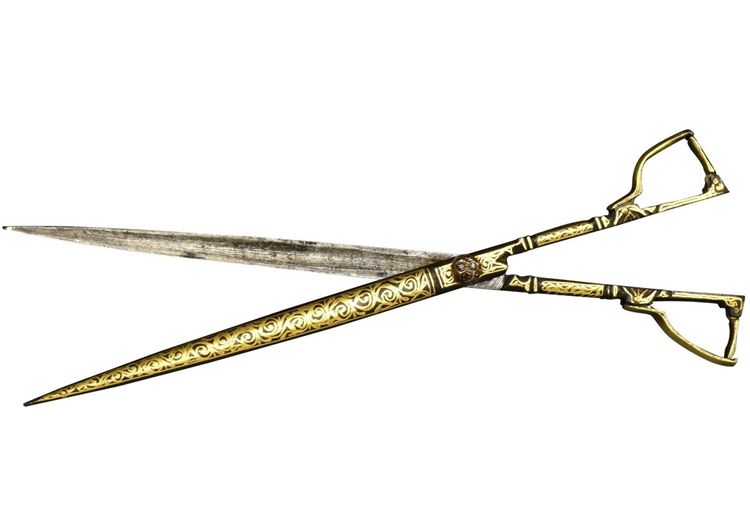 2. Antique 19th. Century Ottoman Calligraphy Scissors with Gold inlay on Iron
These Ottoman Calligraphy Scissors have their origin in the Middle East. They are made of iron and are sized 26.5 cm. The cost of the scissors is $2,700.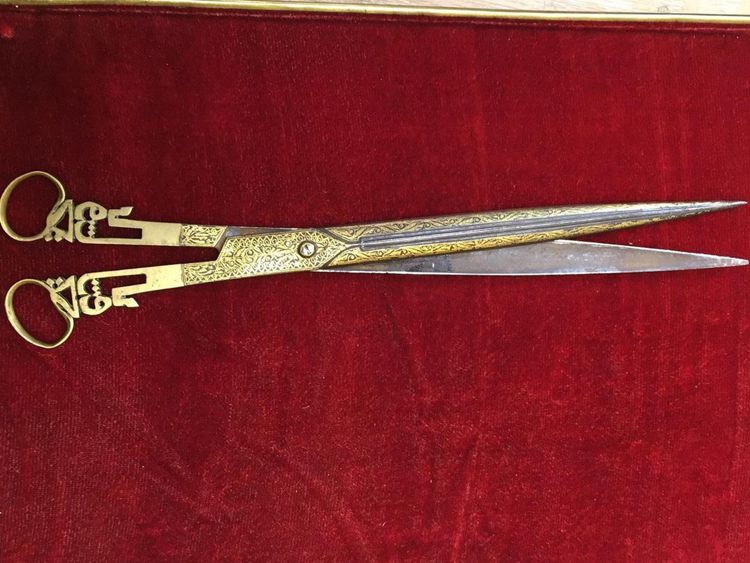 3. Georg Jensen Silver Grape Scissors No 171 with early marks
The Georg Jensen scissors date back to the 20th century, and the region in which they were made was Scandinavia. The material that is used to create them is silver. Their price is $2,120.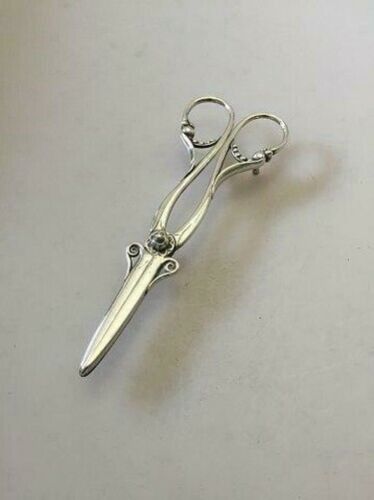 4. Famous Owner Antique big 19C. Early Primitive Hand-Forged Scissors Shears 1887
The prominent feature of these scissors is that it is hand made. Besides, they belonged to a popular person named Hristo Hitov from Bulgarian history. They are around 30.5 cm in length and cost $1,850.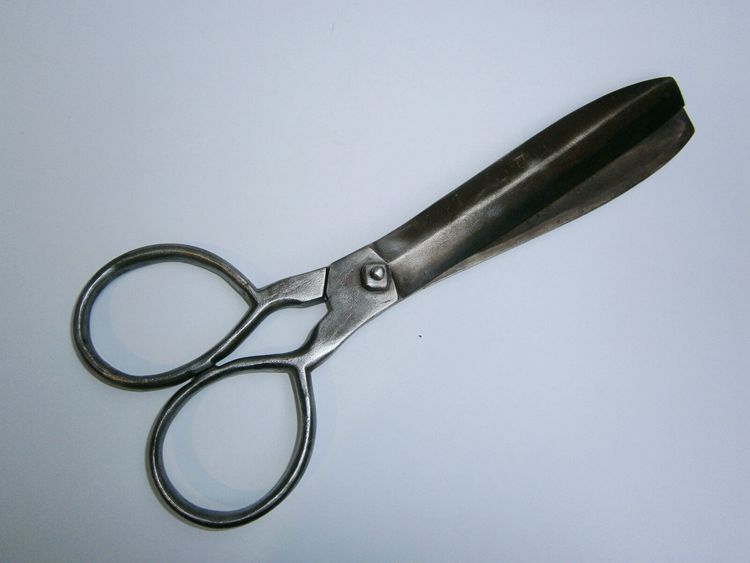 Conclusion
Numerous collectors love to collect antique scissors because they are precious. Some antique scissors can help you get a hundred dollars, while others are worth a thousand dollars. However, to know whether or not the scissors are antique, you should know how to identify them.
To know about their authenticity, you should check their weight, material, and type of scissors. Before selling or purchasing antique scissors, use the information from this article, as it will help you to get the best-estimated value.