Are you curious as to why someone would desire an antique safe? Nobody keeps their money in a safe any longer. Regardless, there's something endearing about a safe. Especially one who has seen the treasures of several generations of people. It's no surprise that they're a collector's favorite.
You may also be wondering whether your antique safe has any value. This article will answer your questions about identifying, dating, and valuing antique safes.
Don't be in a hurry to get rid of your old safe. Safes make an interesting centerpiece. They're also great conversation starters and could be worth thousands of dollars.
The History Of Antique Safes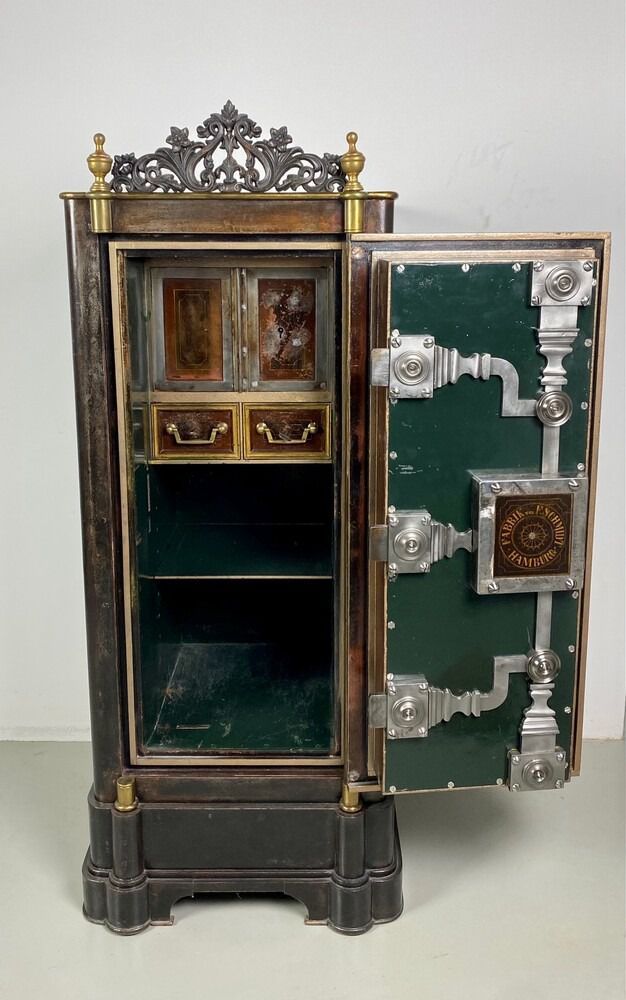 The first antique safe belonged to Pharaoh Ramesses II. This occurred in the thirteenth century BCE. Ancient Romans were the first to incorporate fixed lugs into their security locks.
Until the mid-1820s, Americans lacked a secure place to keep their money. Antique safes are one of the famous favorites that came with colonization. The United States first employed European-style safes and the majority of them were wood boxes with iron hoops.
The first safes manufactured in the United States were in the late 1820s. The knob-chest, also known as the hobnail safe, was one of the earliest safes to be manufactured.
Manufacturers in the late 1820s used materials such as wood and iron. They used wood for the wooden chest and iron to cover the crate with pieces of sheet iron. They then banded, strapped, and secured them with large-headed iron cast nails. This is what gave the hobnail appearance.
Jesse Delano, C. J. Gayler, and Magaure de Chief are some of the companies that make hobnail safes.
Identification of Antique Safes
Each antique safe is unique and has its own set of advantages. In this section, you will learn about the various styles of antique safes and how to identify them.
Victorian Parlor Safes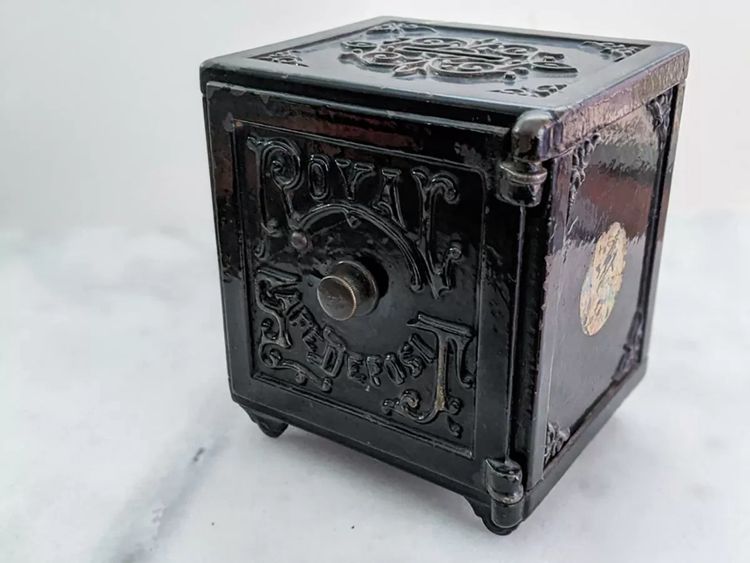 The Victorian parlor antique safe is a well-known style. The safes were adorned with delicate paintings, rosewood drawers, and as the name implies, this made it suitable for parlors. They created a variety of styles, including the following:
Jewelry safe
Boudoir safe
Brothel safe
The Tabletop Parlor safe
You can buy Victorian Parlor Safes here.
Cannonball Safes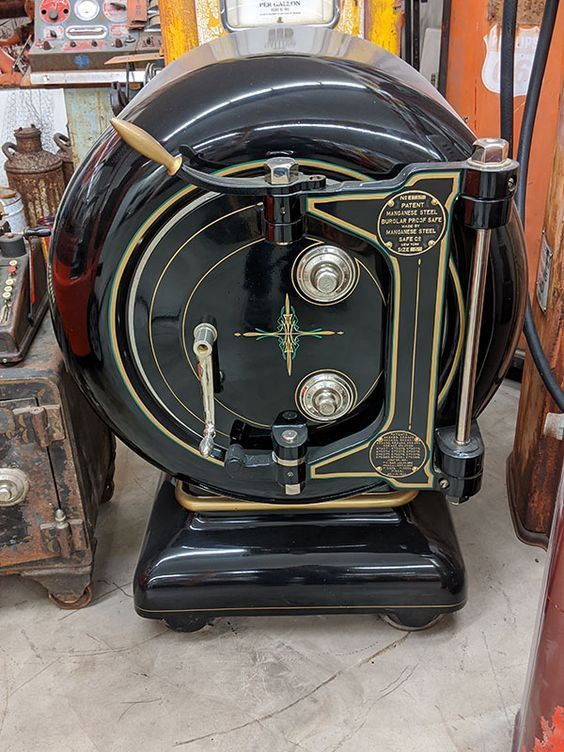 Collectors with an eye for large pieces and safes will appreciate the cannonball safe. They have well-rounded corners and weigh in at 3500-5000 lbs. The Mosler Safe Company manufactured a cannonball safe like this one.
The safes were considered robbery-proof so it was common for banks to display the cannonball safe. This was done so that customers could see how secure their deposits were.+
The cannonball safe got its name from its size and shape. After a while, people started buying smaller versions of this safe to use in their homes and businesses.
Classic Cast Iron Safe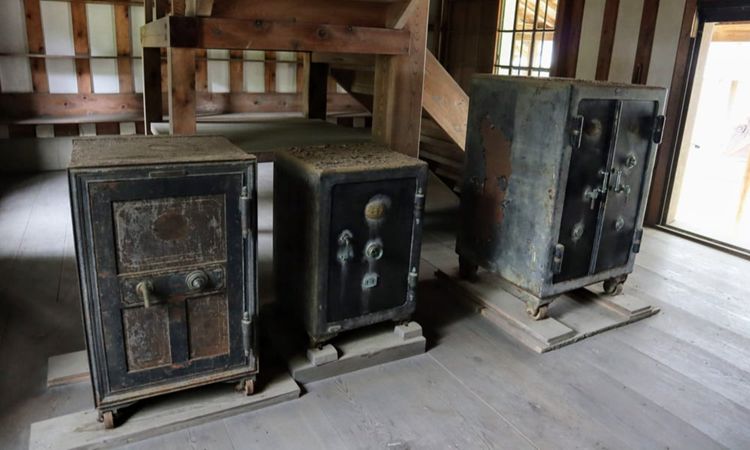 When the average person mentions the word "safe," the classic cast-iron safe is a model that comes to mind. They are typically made of cast iron and come in single-door and double-door styles.
Usually, they're made out of cast iron and come in single-door and double-style doors. Given that they are made of cast iron, they are very strong and can hold a lot of money or other small items.
As banking systems changed, the size of this safe got smaller by about a third because there was no longer a need for safes that big. Some well-known companies that make classic cast iron safes are:
Mosler safe Company
Schwab safe Company
Victor safe & lock Company
Herring hall Marvin safe Co.
This antique safe is available on eBay.
Cabinet safes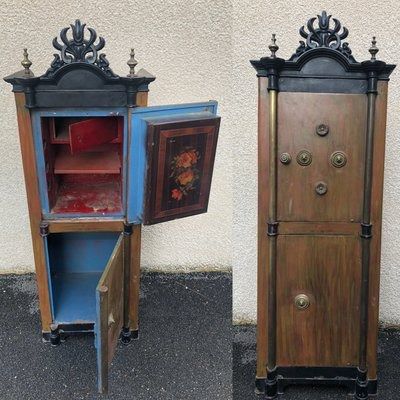 Cabinet safes captured the attention and hearts of safe enthusiasts in the late nineteenth and early twentieth centuries. The manufacturers created this one-of-a-kind safe out of steel but gave the exterior a solid wood appearance.
This safe was made by Brevete, Magaud de Charf, and Marseille. A prime example is the Napoleon Hill safe, circa the 1870s.
Hobnail safes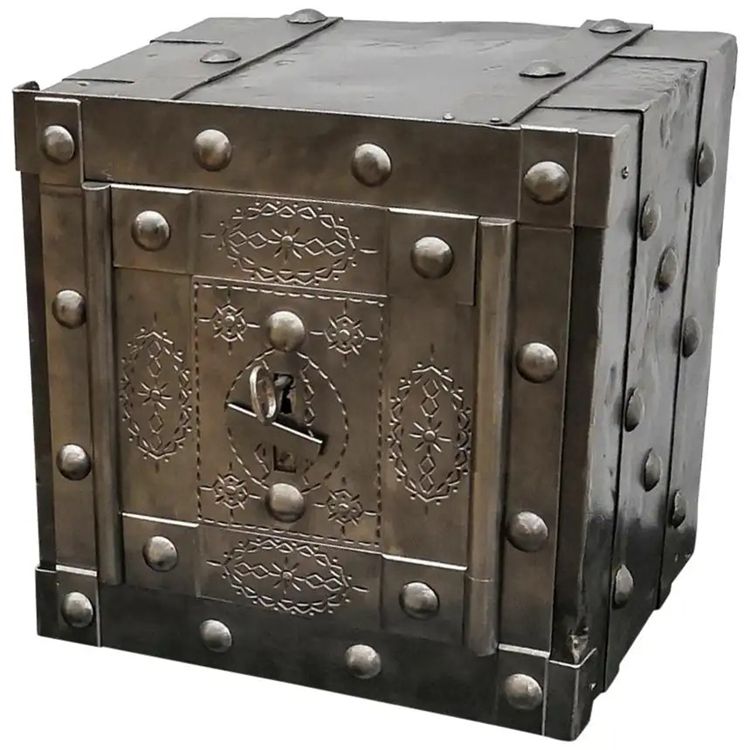 The steel-covered hobnail antique safe was created in the early 1800s. They were also fire-resistant, which made them one-of-a-kind. The safe's fire resistance was improved by the manufacturers by soaking the wooden component in salt water.
The safe owners did not need to worry about their belongings because the model's steel strips were interwoven.
The 17th-century hobnail safe was so secure that it required unique keys. To unlock, these keys required specific numbers and orders, similar to a puzzle.
John Scott, the creator of this model, enjoyed recognition and privileges as a result of its durability in the New Orleans fire.
Small antique safes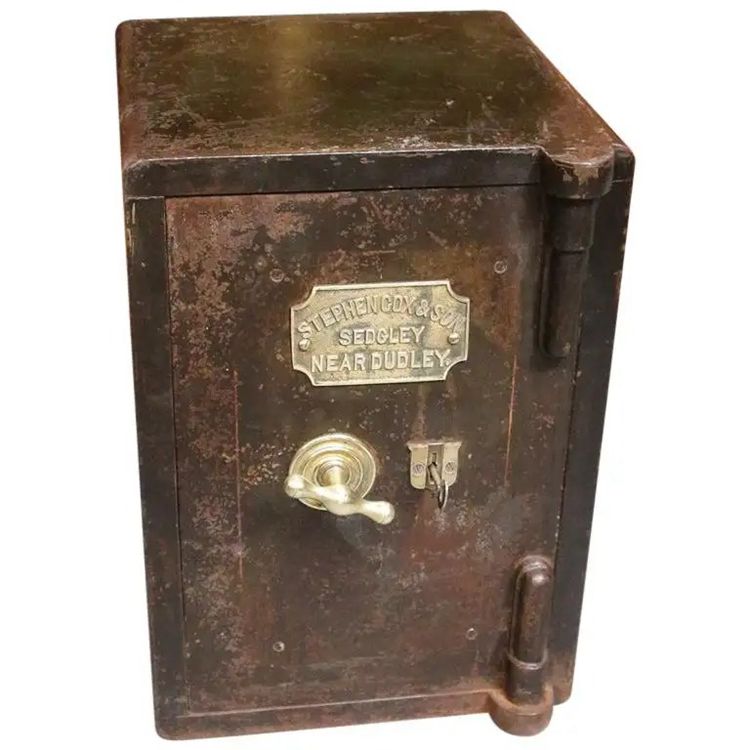 These safes were popular during their time because they were fireproof and durable. They were also small, functional, and aesthetically pleasing home safes.
They typically weighed 70-100 pounds and stood 13-18 inches tall. Some of these safes lacked wheels and had to be lifted.
Popular Antique Safe Manufacturers to Collect
In the preceding section, we discussed the various types of antique safes. We also highlighted their characteristics and features.
It is important to note that not all types of antique safes are manufactured by the same company. While some companies specialize in fireproof safes, others specialize in knob chests.
The following stand out among the many companies that produced fireproof safes between the 1830s and 1840s.
Mosler safe Company
Manual de charf
Cj Gayler.
Herring Hall Marvin Safe Co.
Jesse Delano & Sons.
Identifying the Antique Safe Manufacturers
Identifying one safe from another is an art unto itself, as many of them look similar with their distinctive dial, bolt handle, wheels, and hinge tips. Not to mention that they all appear to be heavy.
These antique safes date from the 19th century. Therefore, most of their lettering is barely visible by the time they're discovered. To determine the manufacturer of the safe that is being examined, one must know what to look for.
This section will explain how to differentiate antique safes. How do you tell which safe is herring and which is Delano and Sons, for example? Continue reading to find out.
Look for the maker's name on the safe's body. The original finish will probably be repainted. However, the letters are raised so that the name can be seen.
You can see this by looking sideways across the face of the safe. If you can't find a name on the safe's body, look at the face of the combination dial hub but keep in mind that the maker of the lock may not be the same as the maker of the safe.
Herring Hall Marvin Safe Co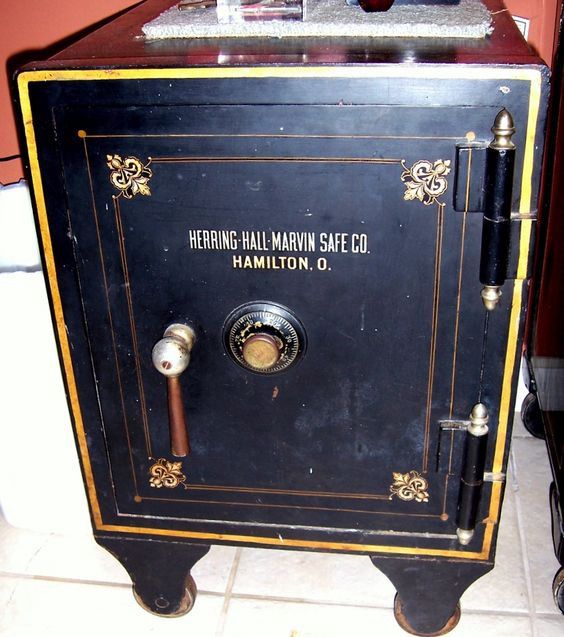 The Herring Hall marvin safe Co is very heavy and has thick steel plate doors. It weighs 500- 1600 pounds and stands 26.5 inches tall with wheels, and 20.5 inches tall without wheels.
Herring Hall also made this safe 18 inches wide and 22 inches deep. On the door is a brass tag that reads, "This safe contains a burglar-proof chest also has a dial shield requiring two people to unlock." This safe is quite valuable and can be seen on eBay for $5,000.
Identifying a Herring Hall Marvin Safe (HHM)
They have a stout hinge tip.
Its operation handle is different from other safes. It is approximately 6.5 inches long from the top of the knob to the lower tip of the handle grid.
HHM Safe also had neat T-handles that are detachable from the outside.
You will most likely find an HHM safe with an HHM lock.
Jesse Delano And Sons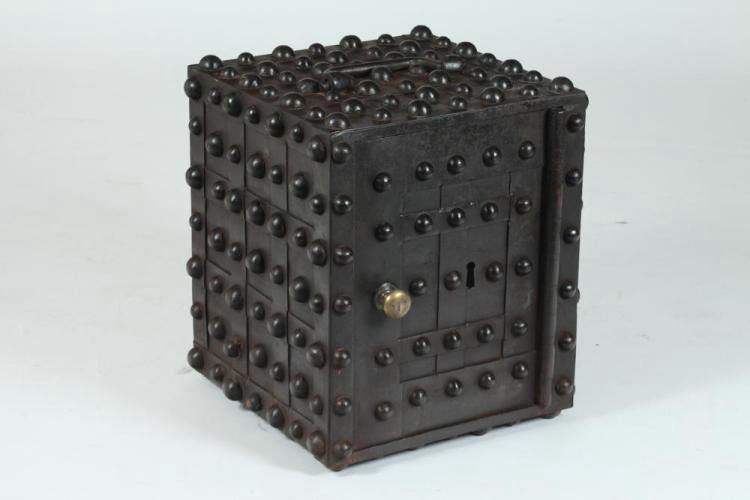 Jesse Delano founded and managed this safe manufacturing company. In 1824, he established a reputation as the first safe maker in the entire United States of America and was specialized in hobnail safes.
In 1826, Jesse Delano successfully patented an improved version of the regular fireproof safes. He accomplished this by evenly coating the wooden foundation with a mixture of clay, lime, mica, and plumbago.
The same result could be achieved by soaking the wood in a solution of potash, caustic soda, and alum. Inside the door of a Jesse Delano Safe is the original manufacturer's label, making it simple to identify.
Magaud de Charf
Magaud de Charf was a famous French safe maker best known for his signature hobnail safes. He spent the majority of his time in Marseille.
Little is known about him, but much is known about his work, the majority of which are notable for their nail-head designs and wrought iron bodies.
C.J Gayler
C.J. Gayler began manufacturing safes after Mr. Delano's revolutionary breakthrough. In 1833, he introduced a "double" fire-proof chest, for which he received a patent.
The safe consisted of two chests that were arranged in such a way that there was as much space between them as possible. Gayle's design was widely accepted because it was fireproof. Hence, the safes were heavily patronized, even by banks.
Mosler safe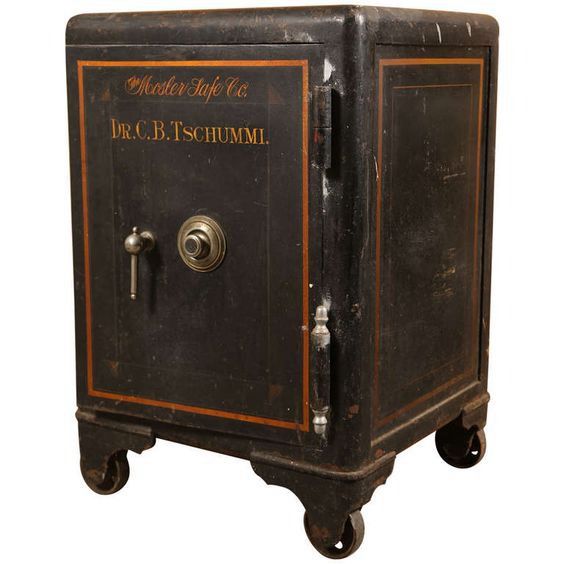 Identifying a Mosler Safe
Old Mosler safes are easily identifiable by the following characteristics:
Look for a rounded body, a door with square corners, and a drop handle.
The Mosler safe has two combination lock styles that are easily accessible. This is accomplished by applying light pressure to the bolt handle. Pressure on the safe prevents the combination from freely turning.
Diebold Antique Safes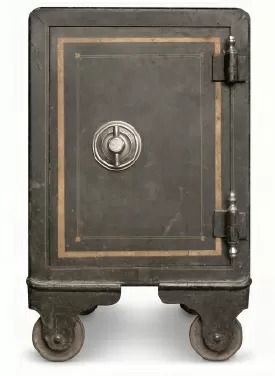 Diebold Antique Safe Company manufactured safes that earned public recognition after the Great Chicago Fire of 1871. All the content of the 878 Diebold safe remained intact after the fire.
Identifying a Diebold Safe
The characteristics of the Diebold safe are quite the opposite of those of the Mosler safe.
They have square body corners and rounded door corners.
They have two types of safes. The thick-walled safe is intended for severe fire hazards, whereas the thin-walled safe is designed for moderate to light fire exposure.
A push-up dog-type lock is used on the thin-walled safe.
A common straight bolt in the box combination lock is used on the thick-walled safe.
A Diebold drop-handle type bolt is commonly used on both thin and thick-walled safes.
Value Guide for Antique Safe
Finding out the current value of an antique safe may be difficult, but they usually cost around a few thousand dollars. Their majestic appearance does not always determine their value.
They are usually priced based on their initial retail price, but if your piece is in excellent condition, it can be sold for much more. As a collector or seller, there are several factors to consider when determining the price of any antique safe.
Market Demand and Interest:
The safe market is being saturated with modernized safes so only antique collectors aspire to possess antique safes. If the brand or manufacturer of your antique safe is uncommon or particularly sought after, this will contribute to the safe's increased value.
People could also pick special interests to a particular brand or type of safe due to sentimental or family values.
Condition:
Some safes require complete refurbishment. Even though they will still be valuable, safes that are already operational are more desirable and will command a higher price.
Larger Safes/ Smaller Safes:
Large safes are difficult to transport because they are heavy and take up a lot of storage space. For example, the impressive Belgian iron combination safe by L. Duviers sold for $34,500 while a small 19th century safe sold for $1,801.
The list of antique safes in the following table is in no particular order.
| | |
| --- | --- |
| E C Morris & Company / Macneale & Urban Antique Safe | $2,000 |
| Antique Cary Safe Co. Buffalo NY | $2,900 |
| York safe and lock antique safe with rare round door interior | $7500 |
| Rare antique vintage iron home fire resistant office safe | $403 |
| antique safe with key and brass crest and internal drawer | $799 |
| early American pie safe cupboard | $3,400 |
| Large Napoleon III steel safe | $8,900 |
| French safe of the 19th century | $8,500 |
| French H. Dorval steel safe | $8,100 |
| Italian early 19th century safe, coffre | $3,975 |
| 19th century antique Spanish iron safe | $5,500 |
| Victorian English iron safe by Chubb & son | $2,200 |
| antique pie safe | $3,295 |
| 19th century punched tin cross American safe | $6,000 |
| Italian iron safe from the 18th century coffre forte | $13,500 |
| 19th century Original Robin Egg Blue Pie Safe | $3,495 |
| 19th century polished steel safe on stand | $3,036 |
| 19th century industrial steel bronzed style safe | $24,000 |
| early 19th century cast iron safe | $2,047 |
| antique Bauche cast iron safe from circa, 1870 | $1,300 |
| | |
| --- | --- |
| 19th century wien armored cabinet safe | $3,495 |
| Japanese Meiji period late 19th century safe | $9,500 |
| 18th century wrought iron Italian antique safe | $7,583 |
| 19th century French black and silver cast iron safe | $1,700 |
| 19th century French mettalic back safe | $4,400 |
| Italian baroque iron strongbox safe with original 16 bolt/ lock plate | $17,553 |
| Louise Phillipe style commode with hidden bauche safe | $3,500 |
| early 20th century French wooden and copper safe | $2,527 |
| Jelly cupboard combo | $3,295 |
| Restored antique safe | $984 |
| Rare antique the daisy cast iron miniature safe with original red paint | $154.95 |
| E C Morris & Co. safe | $1,500 |
| Antique Kenton Bank of industry cast iron still bank combination safe 51/2 | $239.95 |
Easy Ways To Date Your Antique Safe
When dating an antique safe, the first step is to look for the manufacturer. Knowing the manufacturer will give you an idea of the time frame or year of production.
Following that, look for any unique features that set it apart from other antique-safe models. However, it is best to take your safe to a pawn shop for proper dating.
If your piece has ornate gold lettering or stylish ornamentation, it is most likely a valuable old piece.
Where to Sell Your Antique Safe
Hopefully, this article has persuaded you that you are sitting on a possible fortune. Here are some sites where you can sell your antique safe to collectors:
This is a website for both antique safe collectors and sellers. It also has any information you might need on various models of antique safes.
Etsy is an e-commerce website where you can buy and sell vintage, handmade, and craft supplies. All items listed as antiques must be at least 20 years old. This policy must be adhered to by all vendors to avoid misinterpretation.
If your antique safe is more than 20 years old, you are good to go. However, to sell with Etsy you must first create a shop on the platform.
Gum Tree is an online advertising and community website. Its headquarters is located at Hotham House in Richmond, London. Depending on your target audience and the item you wish to sell, posting on gumtree is either free or requires a fee.
Where to Buy Antique Safes
If you are a collector looking to add an antique safe to your collection, or a new buyer looking for sites to buy from, here are a few options.
To buy an antique safe on eBay, look for the model you want and then select the vendor that appears based on the description. If you're lucky, you might get free shipping.
This is an online marketplace that sells luxury, vintage, and antique items. The company is well known for bringing antiques into the 21st century. It's a great place to purchase an antique safe.
Search for the piece's or manufacturer's name in the search bar and scroll to find your preferred safe.
Frequently Asked Questions
1. Are Antique Safes Better Than New Ones?
The fundamentals of safe manufacturing have remained constant. Whether vintage or modern, what matters is that it serves its purpose, which is to keep valuables safe. The locking mechanism is a significant difference between antique and modern safes.
2. What are Antique Safes Made Of?
Antique safes were primarily constructed of iron with an inner wall made of stone, alum, plaster, or asbestos—these materials combined provided both strength and fire resistance.
3. What Can an Antique Safe Be Used For?
An antique safe can be used for a variety of purposes. However, it is dependent on the type of safe purchased and the reason for purchase. An old safe, for example, can be repurposed. It can also be used as a decorative tabletop instead of a safe.
Conclusion
Antique safes are unique, valuable, and timeless. Whether you buy it for sentimental value, decorations, or to channel your inner outlaw, it is a worthwhile investment.
If, on the other hand, you're just curious about what's inside your antique safe, here are some videos to help satisfy your curiosity.
If you have any further questions, please leave a comment below.