The antique roll top desk is quintessential furniture; a favorite among collectors and famous folks for its good looks and the numerous corners that are perfect for keeping writing materials and working simultaneously. With one in your arsenal, you bring the past to the present.
An Edwardian oak roll top desk can sell from $2000 to over $6000 depending on the condition, market factors, and demand.
If you've been searching for succinct information on these desks, then this article is perfect for you.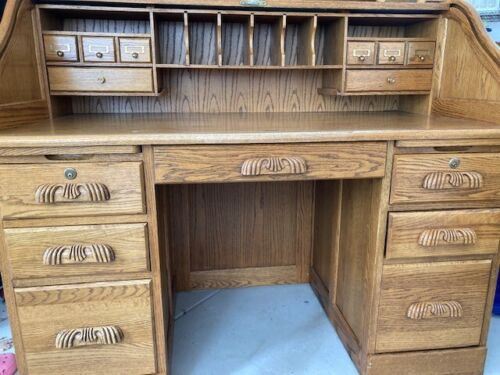 Antique Roll Top Desk History
The U.S government awarded the right for the first roll top desks to sir Abner Cutler in 1881. He was the owner of A. Cutler and sons, situated in Buffalo, New York.
One unique factor that set the Cutler's design apart from other desks is the flexible Tambour that helps shield the top of the desk and protect documents that are not in use.
Also known as the Tambour front desk, Artists first invented this functional item in the late Victorian era. It comes in either walnut or mahogany material.
These desks gained a lot of popularity during the Edwardian period, and the makers added good English Oak to their construction material.
In addition to this, companies like Waring and Gillows, Inglesants, and Lebus also built their version of roll top desks.
Normally, an antique roll top desk has single or double steps, each with complimenting drawers that could pull out with writing shelves. The Tambour skated front was in the D or letter S shape.
Furthermore, the roll top desk has a rather exciting fitted interior with multiple compartments ranging from pigeon holes and little drawers to letter holders; these desks also had their central lock system.
The top of the desk, like the name implies, rolls down and instantly locks the drawers as the front of the desk closes and locks with the original key.
The backs and sides of the roll-top desk are covered, providing you with the option of putting it anywhere desired in the home, even in the center of the room. The desk is also divided into several sections, making it easy for movement and stationing.
Among the many benefits of the roll top desk, one that is quite astounding is its ability to make a space less cramped. This exquisite desk has ample compartments to keep your items in place and well organized. You can also cover your work spot when it's not in use.
However, these roll top desks' popularity waned out in the 1900s following the emergence of smooth glass and steel hard desks.
The small drawers and shelves became insufficient for large numbers of documents, and the growing need for more storage space made filing cabinets a top choice above roll-top desks.
Here's a video providing a visual history on these desks.
Antique Roll Top Desk Styles
As a foreword, Cutler wasn't the first artist to develop the idea of a desk with multiple compartments; roll top desks first emerged in England and France around the last 1700, and the roll top desk is a result of an evolved popular style of the desk-making back in the day.
The roll top desk exists in different superb styles. Each with its own unique feature, shape, and quality. Check them out below;
The Pedestal Desk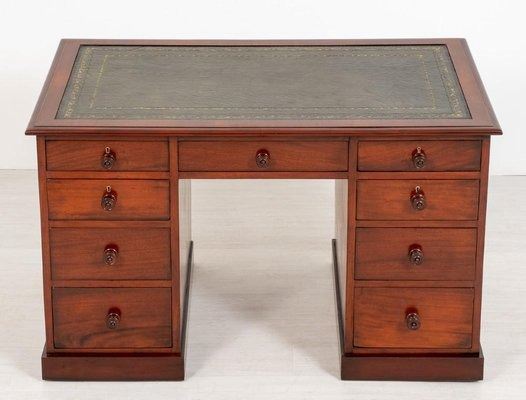 First on the list is the pedestal desk with a rectangular top that rests softly on two cabinets with stacked drawers; each stacked drawer is called a pedestal.
The pedestal desk has a front-facing panel called a modesty panel with a covering from pedestal to pedestal; with this, the user's legs are covered while seated.
Check the insides of some pedestal desks. You'll find leather insides, pretty wooden inlays, gold leaf details, and other touches to beautify the roll top desk.
The Carlton House Desk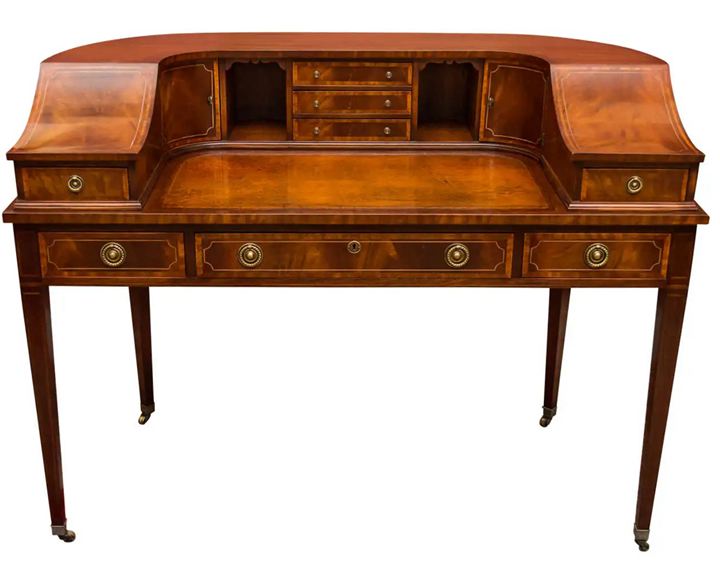 The designers named this roll top desk after the home of the Prince of Wales (Later called King George IV) by Hepplewhite in the 1700s; The Carlton House. The famous desk has different corners and drawers, and has its writing section placed on legs instead of a step; offering it a classier look.
The Cylinder Desk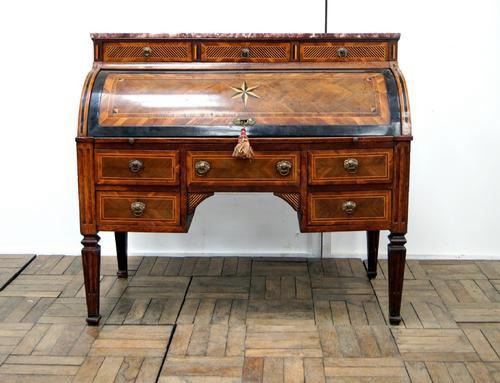 This desk has a wooden cylinder that pours down over the work surface. So much work went into the construction of this solid piece. However, it is prone to warping and this can make the cylinder very useless. Artisans made the cylinder desk for the French nobles in the early 1700s.
The Tambour Desk
The Tambour desk is characterized by straight slatted doors that close from left to right compared to other doors that close from top to bottom. The doors on the tambour desk do not cover the top of the desk when you close it.
Antique Roll Top Desk Makers
Since antique roll up desks don't usually have a maker's mark inscribed on their bodies or any extensive means of identification, we decided to provide you with a list of the popular companies involved in their production processes.
Stephen Smith, a cabinetmaker in Boston in 1829 developed his business with several partners under the name Stephen Smith & Company. Stephen Smith & Co. produced different types of antique roll top desks and stayed in business till 1877.
The Cutler Desk Company started as a small cabinet construction shop in New York in 1824. This shop however later expanded and came to be known as the A. Cutler & Son Furniture Manufacturing Factory.
The Globe Company of Cincinnati, Ohio, was created in 1882 and initially known as the Globe files company. They majored in manufacturing office equipment in the late 1800 and 1900. They later morphed into the Globe Wernicke Company, and some of their designs made it into the London market under the brand name Globe-Wernicke Co. Ltd.
Waring & Gillow Company started under Robert Gillow, making furniture and roll top deals in 1731. The company changed management in 1903 and was now known as Waring & Gillow.
Angus of London ruled the London furniture scene and was famous for making high-quality furniture from 1800-1900.
Different Eras of Antique Roll Top Desk
This section of the article will be showcasing antique roll top desks and their journey through time
1800s Antique Roll Top Desk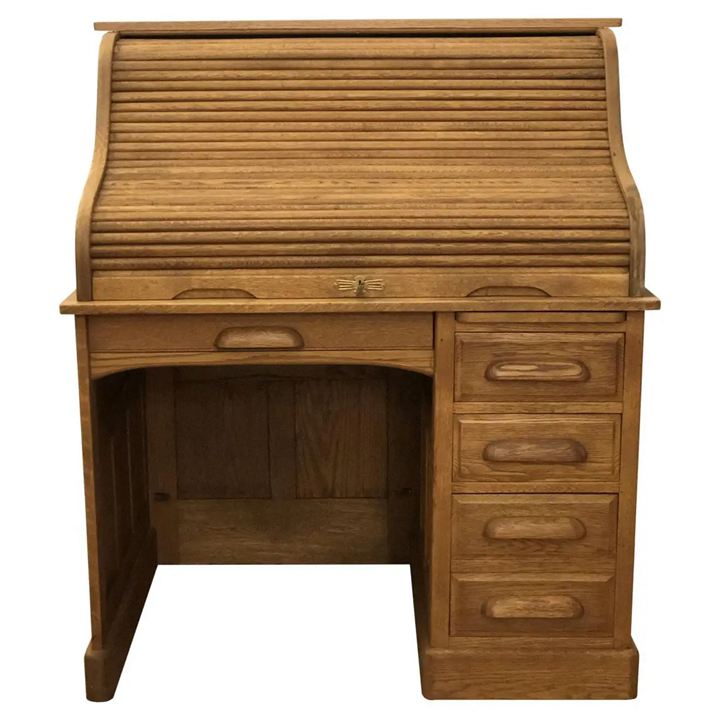 Antique roll top desks debuted in this era. These desks offered large writing surfaces for people with a stash of small drawers perfect for keeping writing instruments and stationery.
The 1800s saw roll top desks made from mahogany and black walnut trees; hence the reason you'll notice a dark brown or reddish color on the bodies of these desks.
In addition to this, these desks were handmade and had a crude finish with average aesthetics and appearance. Very irregular seams are also a big feature of the 1800s Antique roll top desks.
Here's an 1800s roll top desk appraisal video.
Antique Roll Top Desk (1900-1950)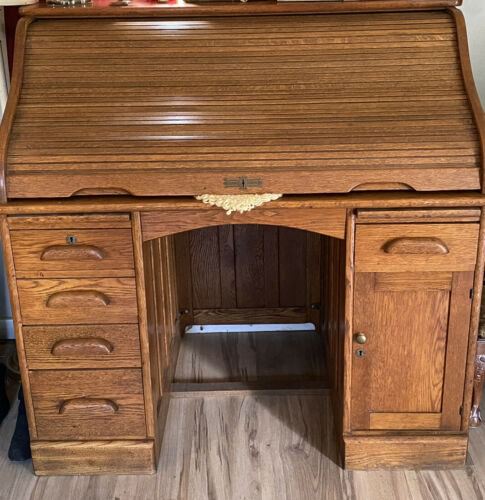 The era of cherry and black walnut trees was swept away with the 1800s, and Oakwood took the spotlight through the 20th century, i.e., 1900-1950. These Oak vintage roll top desks had a light-toned golden hue and a smoother finish.
The seams are more aligned with a neater finish and they were visibly smaller in size. However, unlike the1800s, roll top desk makers used machines to cut these seams, and they were also mass-produced.
Top 5 Most Valuable Antique Roll Top Desks in The World Today
We've curated a detailed list of today's five most valuable antique roll top desks. The facts and data in this table are independently compiled from verified sources.
| | | | |
| --- | --- | --- | --- |
| S/N | Name | Release Date | Price |
| 1 | Dutch Neoclassical Marquetry Roll Top Desk | 1790 | $12,000 |
| 2 | Walnut Pedestal Roll Top Desk | 1900 | $5,477.42 |
| 3 | 1940 Oak Roll Top Desk | 1940 | $5,200 |
| 4 | Antique American Mahogany "s" Roll Top Desk | 1910 | $1,250 |
| 5 | 1900 Antique Roll Top Desk | 1900 | $436.34 |
1. Name: Dutch Neoclassical Marquetry Roll Top Desk
Release Date: 1790
Price: $12,000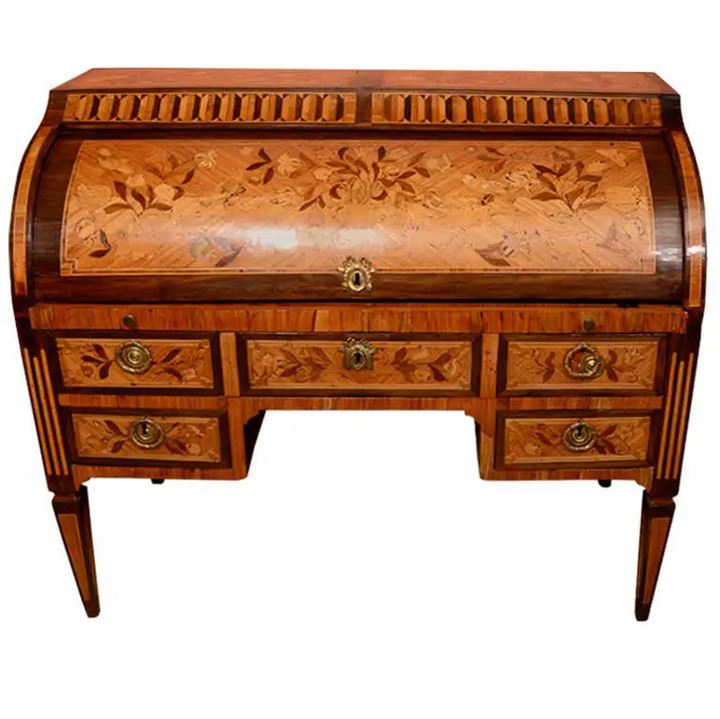 A true mahogany Netherlands beauty from the 18th century, this Dutch neo-classic satin-wood marquetry desk is decorated with a leather top sliding writing surface placed on square, narrow legs.
This work of art features five drawers in total, with two on each pedestal (both left and right) and a central one in the middle. At the top of these small drawers is a big compartment with locks.
Marquetry and Mahogany are two principal features of the neoclassical era that swept through most regions of Europe in the 18th century.
2. Name: Walnut Pedestal Roll Top Desk
Release Date: 1900
Price: $5,477.42
A Walnut twin pedestal roll-top desk produced in 1900 in the United Kingdom with a fully fitted interior including pigeon holes and drawers. A drawer in the middle is flanked by two pedestals to both sides, with four drawers placed on a plinth surface.
It has a height of 50.5 inches, a width of 54.5 inches, and a depth of 35.5 inches. This brown-colored piece of antique furniture adds instant glamor to your space with its soft glossy finish.
3. Name: 1940 Oak Roll Top Desk
Release Date: 1940
Price: $5,200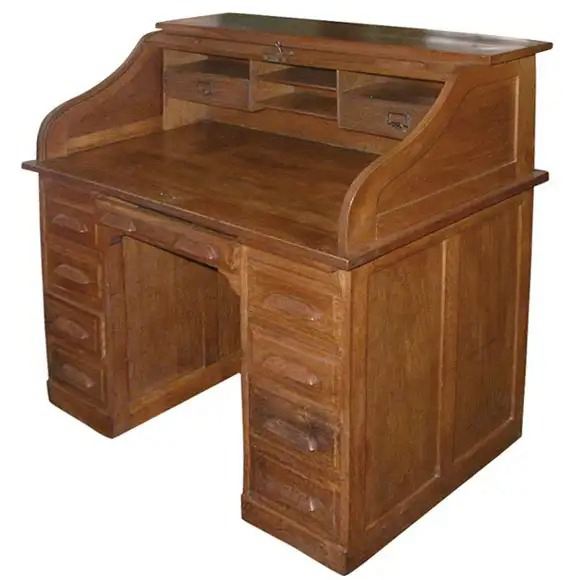 This oak roll top desk was made between 1940-1949 in France. It possesses a locking mechanism that locks all the eight drawers set when the top shuts off.
4. Name: Antique American Mahogany "s" Roll Top Desk
Release Date: 1910
Price: $1,250
Here, we have an American-made solid mahogany roll top desk from the year 1910. This desk features paneled sides and backs, a double pedestal, and eight dovetailed drawers (four on both sides).
5. Name: 1900 Antique Roll Top Desk
Release Date: 1900
Price: $436.34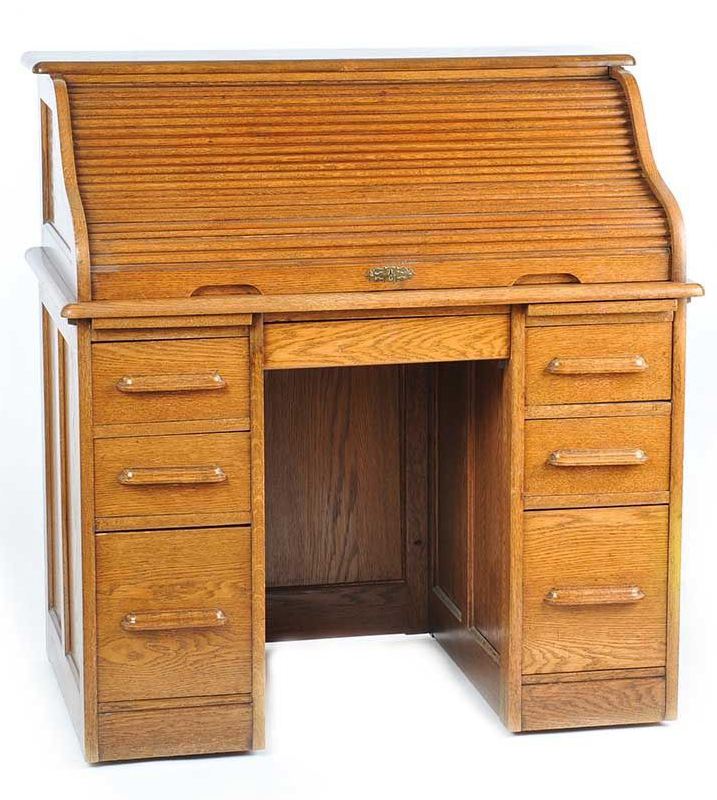 This golden-brown oak roll top desk is fitted with three drawers' pedestal to the left and another three to the right, a fitted interior, and paneled sides that extend to the bank. It is 44 inches high, 41 inches wide, and has a depth of 25 inches.
How to Determine the Value of a Roll Top Desk
One of the most tasking bits of collecting any antique item, especially one as substantial and highly sought as the roll top desk, is determining their worth without selling yourself short.
Don't break that sweat anymore, we plan to address that issue in this section.
Have an Appraiser Check it Out
Antique roll top desks are big and may be difficult to move around, find an appraiser to check it out before deciding to move it.
Below is a collection of trusted appraisers,
Alternatively, you can catch the next appraisal show by Dr. Lori for a firsthand appraisal experience.
Who is the Brand?
The maker or creator of a roll top desk can go a long way to determine how much value it holds in the market. If your item is made by one of the popular brands listed above, the chances are high that it'll be highly sought after hence an increase in buying price.
Age
Older roll top desks are worth more than newer models due to the materials used to make them and if they're in excellent condition.
To confirm the exact age and check if it's antique, check the setup of the small drawers and observe the dovetail joints; if they're large and hand-cut, then it's old. The new dovetails are tiny and very neatly cut by a machine.
Condition
If an antique roll top desk features have been retouched, repainted, or refinished, it's no longer antique, and the value reduces drastically. The buyer will opt for a new piece rather than a retouched antique roll top desk that will even cost him more money.
Ensure that your antique roll top desk is free from flea bites, cigarette burns, cracks, and chips that may further affect the value. Don't miss a part too; all accessories of your desk must be fine and intact for them to remain valuable.
Rarity
Some models of antique roll top desks are rare and hard to come by like the rest. For example, due to their age and history, most Cutler roll top desks are rare, low in circulation, and highly sought after by collectors and antique buyers alike.
Provenance
If your antique roll top desk has been owned by someone famous or wealthy with valid proof of ownership by that individual, the market value increases.
The importance of previous ownership by a set of persons in the antique world cannot be overemphasized since people are attracted to, or will buy them simply because of that factor.
Details
The decorations, carvings, and inscriptions or moldings on your antique furniture can increase the value. No one will drop a reasonable value of money for a plain-looking antique roll top desk when there's dozens of highly decorated ones with interesting details.
Some of these antique desks even have secret compartments synonymous with the different makers. Sometimes, a compartment of pigeon holes will appear when pulled out to reveal a tray of drawers behind or a section that can be opened by a disclosed spring.
Check The Materials
Take a look into your desk's interior; if you find plywood as the main component, then the value won't be much as they didn't start getting used until the early 1900s. Most antique drawers and roll top desks were made of heavy wood, solid Oak, and more complex materials.
Quality
Antique roll top desks were made in mass numbers, varying quantities ranging from the highest to the lowest. The most expensive desks are made from the highest quality wood, and it's not so difficult to spot them, especially due to wearing and signs of old age.
The quality desks will not shed, bend or warp even with prolonged use. They also naturally have a smooth glossy finish to them without applying paint.
Over time, the weight stays the same (they're usually heavy and not light like the modern types that are mostly factory-made with various types of inferior woods).
How to Identify Antique Roll Top Desk
Identifying antique roll top desks has been made easy by this guide. Learn the steps by heart, and you'll never run out of what to look for when you see a roll top.
By the Wood
You can tell the exact age or type of desk by checking the wood. Companies made the earliest types of desks from cherry, black walnut, or mahogany trees. Oak wasn't used until after 1900.
One feature of mahogany is its strength and density because of its lack of holes and knots in the wood grain; the cherry on its part has a unique reddish appearance, while the black walnut tree has a natural dark brown color with smooth grains.
As for Oak, the difference is clear from the trio of mahogany, black walnut, and the cherry tree. Oak has a golden-toned light color.
Check the Joints
Pull out the drawer from the desk to check how it was made together. The dovetail joint of early antique roll top desks is hand-cut and lacks precision like the modern machine-made joints, which have a more refined look. The modern joints have the shape of a bird's tail with the boards tightly held together uniformly.
Check closely for any irregularities in the saw cuts or rough finish indicating that the desk is antique and was made pre-1800. A neater cut and smooth finish indicate a mass production and a recent production age, especially in the late 19th century and much later.
Find the Labels
As much as the makers did not entirely imprint the manufacturer's name on most of the desks, you can still find names on the original locks of roll tops made by some companies like Derby Desk Company, Schlicht Area Company, or the Cutler Desk company.
You can also check underneath your desk as they mostly imprint names and even these items' production dates. The newer models are often made to look like antiques, and you won't find the manufacturer's marks on them.
The reproduction is also made to look more artificially worn than it should be to fit into the antique narrative. You can spot a reproduced copy by studying the patterns on the desk; they're often repetitive or superficial.
Consult Online Guides
You can surf the world wide web for sites and resources to help inform you and educate you on everything antique roll top desks. There's something for everyone, from their history to their parts and worth.
We'll drop the links to a few of these resources below, and you can search through them for more information.
Find an Appraiser
To make your job easier and more genuine, seek the services of a certified appraiser. Appraisers have the knowledge and the skills to point out facts and help you determine if your antique roll top desk is of cheap quality or not.
Whether you're skilled or not, appraisers are still very much necessary when dealing with antique items. You can find appraisers at local antique shows in the city, auction houses, online auction sites, thrift and any antique shops in the area.
How's it Held
Check your desk's top and bottom compartment to see if screws or wooden pegs attach them. The makers used pegs in the early days to join woods before metal screws came on to the scene. These metal screws had to be brought from a very far factory and introduced into the construction process.
Check the Tambour
Some slats are joined together by wires, while some are glued on a canvas or a linen surface. The early artists used fabric-backed slats; any wire joining you see may mean it has been repaired or it's not genuine.
Check Libraries or Catalogs
Visit the library and get familiar with books and picture catalogs providing information on how to identify antique roll top desks easily. Companies usually make catalogs showcasing new items and models every year, or whenever their calendar dictates, make sure to grab yourself a copy and get started.
Where to Get Antique Roll Top Desks
Below are a few places to get your own antique and vintage roll top desk.
Furniture Shops
A handful of furniture shops have really old pieces of these desks in stock, and you can buy them at pretty discounted prices. Be careful not to purchase a retouched piece as looks can be very deceiving. Check the interior, drawers, joints and seams to confirm the status.
Antique Shops
These rolltop desks are quite weighty, and due to their size, you'll have to take a walk down to a nearby antique shop and check your item out personally. You can even take a carpenter or a furniture expert along to help you with identification.
Auction Houses
Of all the places we've listed, this is our surest bet. Rolltop desks are very valuable; hence, many of their owners will love to put them up for sale and make huge money, especially for the very rare and highly collectible models.
Parting Words
Demand for antique roll top desks is still high. In fact, you can still find them in many offices today, serving as the perfect writing space and accessory. Here are essentials to keep in mind;
Artisans used Oak for later models of roll top desks precisely from 1900 till their decline.
Rough appearance plus uneven seams mean they're hand cut hence; antique.
Check the keyhole for marks indicating company names
Reproduction has superficial and untrue patterns with a very unrealistic finish.
A roll top made from inferior wood will warp or bend as time passes.