Did you know Punch is an interpolation of Panch,a Hindi word meaning Five? The antique Punch Bowl operated on the rule of Five – mixing five distinct flavors Citrus, Water, Sugar, Spice, and Spirit – to form on the concoction.
Although today, people don't stick to the strict Rule of Five when mixing Punches, it's still a fixture at house parties and major events, making it an ever-valuable artifice. In 2010, an 18th century American Silver Punch Bowl sold for $5.9 million at auction.
The best thing about Punch bowls is their multipurpose versatility. You can use it to serve Punches, as a centerpiece to hold ornaments or flower arrangements, and as a bottle holder. The possibilities are endless as far as your imagination.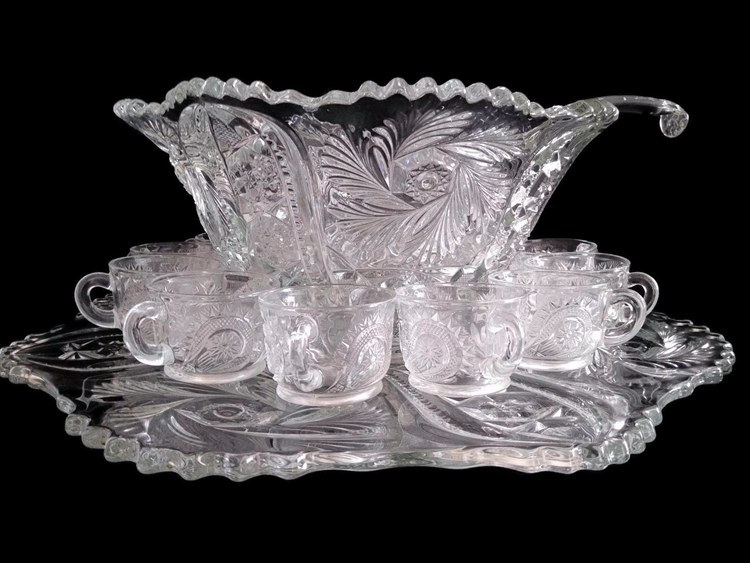 Ten of the Most Valuable Antique Punch Bowls
| | | | |
| --- | --- | --- | --- |
| No. | NAME | YEAR | PRICE |
| 1 | Chrysanthemum Sterling Silver | 1895 | $69,995 |
| 2 | Solid Sterling Silver Bowl | N/A | $52,342.68 |
| 3 | Tiffany Japonesque Sterling Silver | 1881 | $48,750 |
| 4 | Chinese Silver Dragon | 1910 – 1920 | $34,000 |
| 5 | Surrender Burgoyne | 1925 | $30,000 |
| 6 | Silver Monteith Bowl | 1880 | $27,703.41 |
| 7 | Silver & Enamel Chrysanthemum Bowl | 1850 | $26,500 |
| 8 | Tiffany Bowl 5026 | 1877 | $22,750 |
| 9 | German Art Nouveau Solid Silver | 1900 | $10,757.79 |
| 10 | Silver 8-Lobed Bowl | 1840 | $6,000 |
10. Silver 8 Lobed Bowl
Year: 1840
Maker: Wong Shing of Canton
Price: $6,000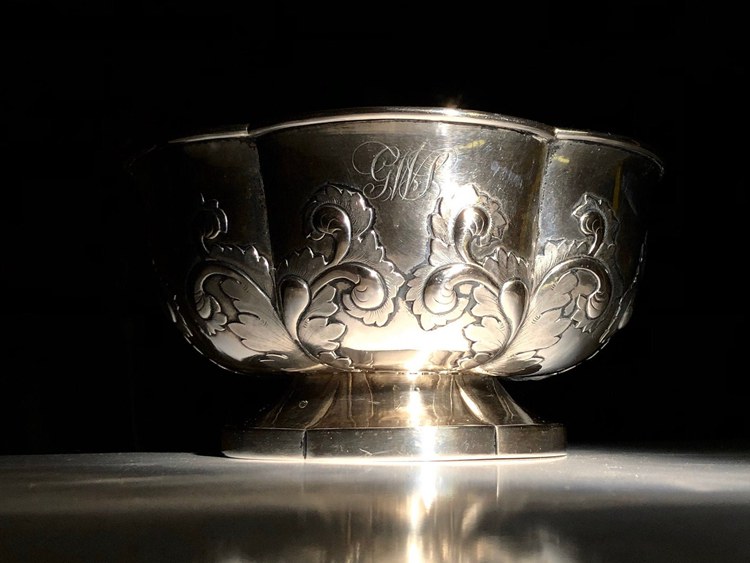 Wong Shing of Canton handmade this Sterling Silver 552g bowl in a superior eight lobed design. A curled foliage surrounds the perimeter with a monogrammed GWS to identify the maker. This bowl stands at 7-inches with a 12-inch corresponding width.
The bowl stands on a smaller circular base making it easy to carry around underneath.
9. German Art Nouveau Solid Silver Punch Bowl
Year: 1900
Maker: Gustav Memmert
Price: $10,757.79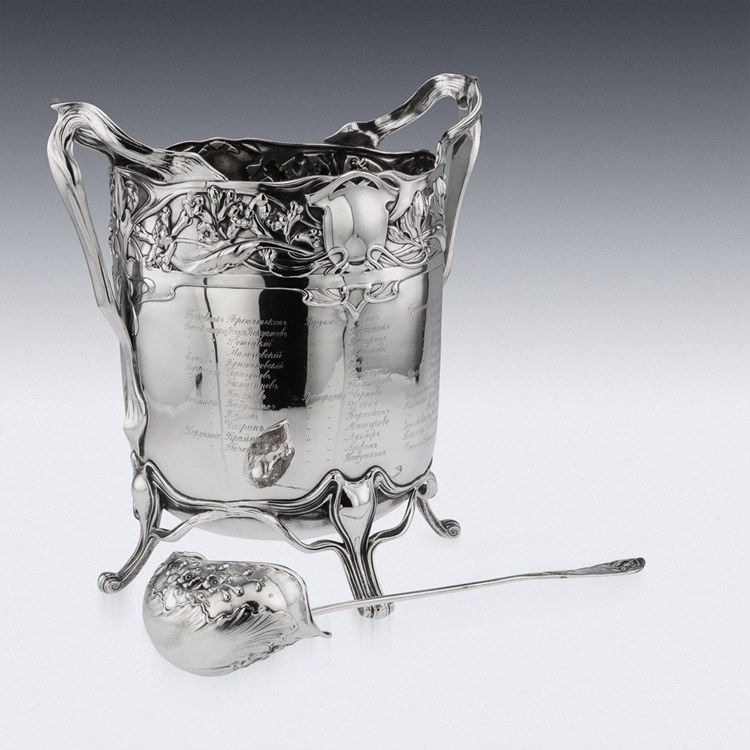 If you're into pot-style punch bowls, then this German Art Nouveau bowl is for you. It stands on four-leg scroll feet with two side handles for easy carriage. This bowl is 33cm tall, 27 x 31cm wide, and weighs 2075g.
This Punch bowl has a rich history attached to its existence. At the turn of the 20th century, German soldiers gifted this Punch Bowl toPavel Nikolaevich Shatilov,a Turkish Naval Officer with notable expeditions on the Black Sea.
You would see his name inscribed above the floral motifs on one side of the bowl while the other carries the names of the officers who presented him the gift.
8. Tiffany Bowl 5026
Maker: Tiffany & Co.
Year: 1877
Price: $22,750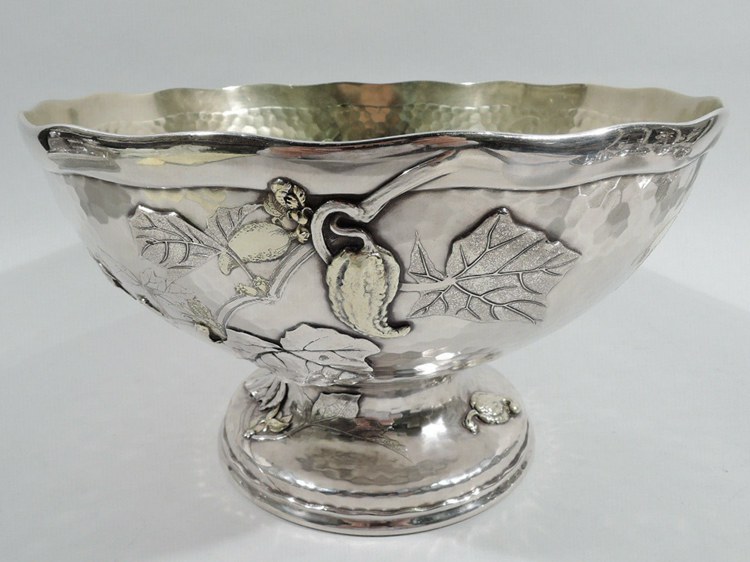 Towards the end of the 19th century, Tiffany & Co. adopted the Japonesque style motifs on its sterling silver punch bowls. These cisterns had stepped feet and hemispheric wavy rims with leafy engravings on the perimeter.
Although it's not as heavy as the others, it weighs 56 troy ounces with 7 1/8 height x 11¾-inch depth dimensions.
7. Silver and Enamel Chrysanthemum Bowl
Maker: Wang Hing
Year: 1850
Price: $26,500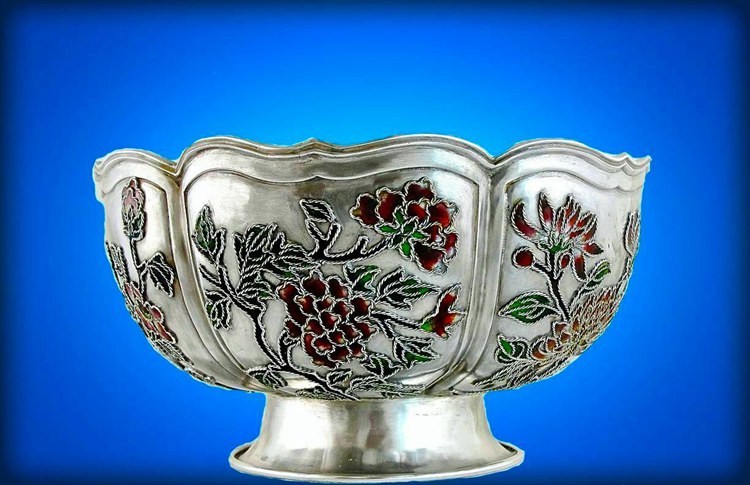 As an early creation of the Wang Hing silverware company, this punch bowl incorporates a traditional twisting of silver wires to highlight the enamel material. Unlike the more recent designs, it doesn't use a textured finish, so the enamel's quality is higher than the modern ones.
The twisted silver wires enclose red and green colorings to form rose flowers in front and blue Chrysanthemums at the back. It bears the Gothic K mark representing theQiaozhenworkshop.
6. Silver Monteith Bowl
Year: c. 1880
Price: $27,703.41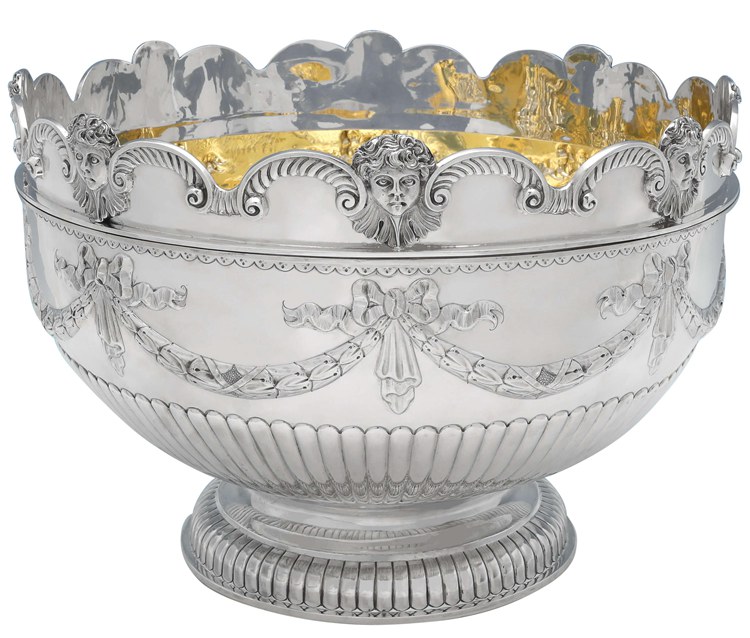 Perhaps the most popular Punch bowl of all time, the Monteith Bowlhas a unique crenelated rim. Legend has it that the shape mimicked the bottom of Monteigh's cloak, which resembled a scallop.
The earliest Monteith bowls from 1680 until the early 1900s had detachable rims affording the bowls to serve dual purposes from cooling drinks to serving Punch. Still, later development forwent the added feature making it a single purpose item.
It's one of the earliest traceable uses of Silver, and being a high-society fixture, you can imagine how exclusive its ownership was back then. That adds to its scarcity in today's market and high value.
5. Surrender of Burgoyne
Maker: Chinese Origin
Year: 1925
Price: $30,000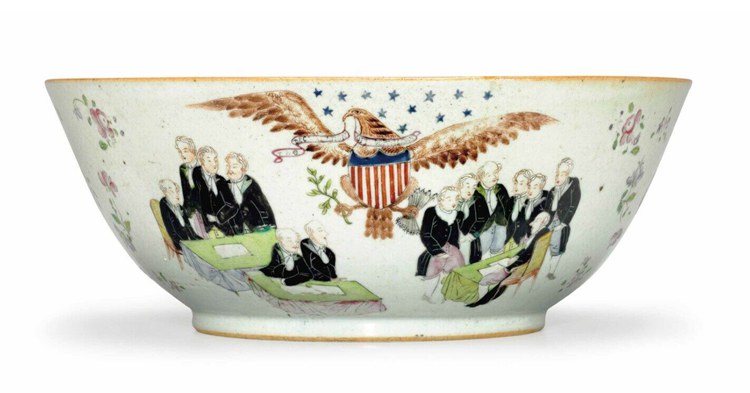 This hand-painted Punch bowl is made from pottery and porcelain, and it features a very important moment in French history – The Surrender of Burgoyne.
The art on the perimeter shows the Founding Fathers signing the Declaration of Independence and an American Eagle shield. Its value comes from its historical significance as well as its expert creation.
4. Chinese Silver Dragon Punch Bowl
Maker: Wang Hing of Canton
Year: 1910 – 1920
Price: $34,000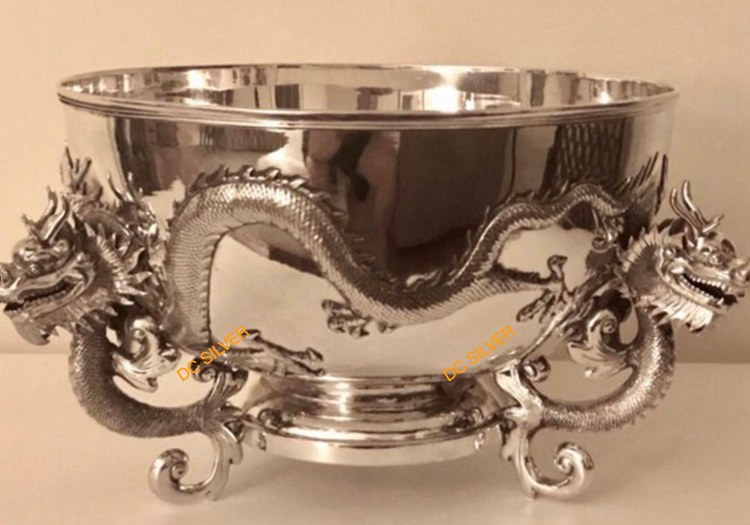 This Punch Bowl has a Dragon Motif on the body extending from the base to form a three-strand leg. It's a 7-inches tall and 10-inches wide silver bowl making it slightly heavy. The 1920s were the peak era for Wang Hing silverware, and it was very popular among Western tourists.
Customers loved the prominent Chinese features like the dragon and other traditional motifs designed on the silverware. It was their evidence and bragging right that they'd been in the imperial country.
Unfortunately, the Wang Hing silversmiths closed down during the 1941 invasion of China, ending all production. That spelled payday for resellers who had something others coveted but couldn't assess, and that value still holds today.
3. Tiffany Japonesque Sterling Silver
Year: 1881
Maker: Tiffany & Co. Bowl
Price: $48,750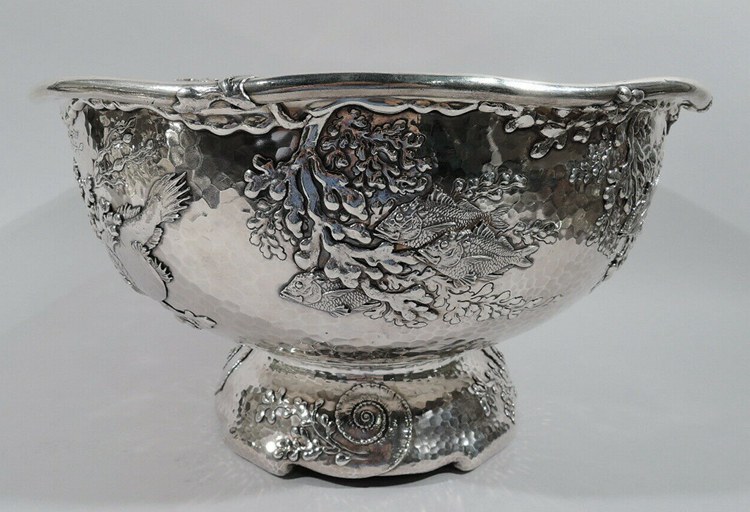 Tiffany & Co. punch bowls are famous for their detailed craftsmanship, and this Japonesque applique fish motif doesn't disappoint. The artisan designed this bowl on a hand-hammered honeycomb ground.
Though American designers made these punch bowls, they tapped inspiration from Asian roots hence the "Japonesque" moniker, to distinguish its origin. The mystery of distant countries which most Westerners hadn't visited made art inspired by themExotic.In other words, Expensive.
Coral reefs, scrolled seashells, and swimming fishes surround the curved edges and wavy rim. The bowl stands on a domed foot with bracket supports at 9-inches high, 15-inches deep, and weighs 101.5 troy ounces. It's a sterling silver bowl, so you're assured of non-corroded Punches.
2. Solid Sterling Silver Bowl
Year: N/A
Maker: N/A
Price: $52,342.68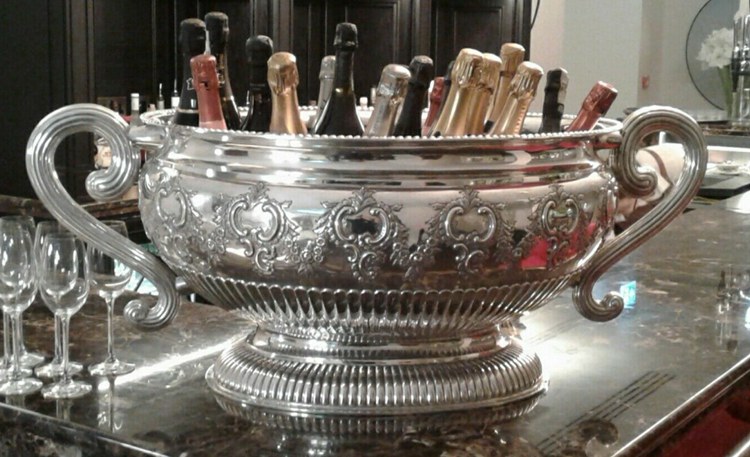 With an intricate cartouche, a fluted foot, and a beaded motif interweaved into a fine large punch bowl, and this stunning piece grabs your attention at first sight. It's arguably the largest solid sterling silver cistern still in existence today, making it an extremely rare find.
Standing at 15.5-inches, with a 21-inch width and 38.5-inch length, it weighs about 15,221g (489oz) and can contain over 20 champagne bottles at once. Please note this size includes wide handles.
1. Chrysanthemum Sterling
Year: 1895
Maker: Tiffany & Co.
Price: $69,995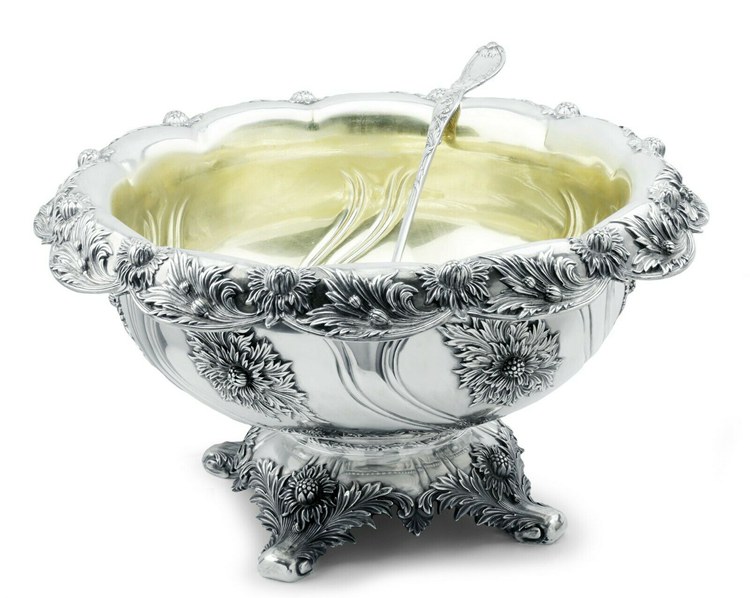 This Rococo-style punch bowl comes with a serving ladle and has an intricate floral motif around its body. It's a rare model traced to the Vanderbilt family from the late 19th century. This punch bowl is one of the last symbols of "European grandeur," synonymous with the aristocrats.
Underneath the bowl is the original owner's name,Florence Adele Sloane,and its production date –June 6th, 1895.It was a wedding gift fromJames A. Burden Jr.,the descendantof Burden Iron Works.
So, with such a pedigree, you can understand why this Punch bowl carries a five-figure tag, and that's a steal considering the history.
Types of Punch Bowls
Punch bowls aren't all the same shape, sizes, and materials, and they're different for a good reason. Because most aristocrats initially used them for multipurpose, people had to restrict their usage when they stopped making them detachable.
So, Punch Bowls are categorized based on their usage, determined by materials and size.
Classification of punch bowls based on their materials
Limoges Porcelain
Artisans made the 19th century Punch Bowls with Limoges Porcelain from France. They often had hand-painted motifs determining the purpose of the Punch bowl.
So, if you see a floral motif, it's a flower arrangement bowl, fruits motifs are for Fruit bowls, and Grape designs indicate a wine punch bowl.
Cut Glass
Cut Glass punch bowls were popular in the late 19th century to the turn of the 20th century until the first world war (1876 – 1914). They often have intricate patterns on the perimeter and designs on edge. The Brilliant period was the premiere brand for this design.
Because you can see through the glass, they're the best for serving Champagne. That's why waiters serve Champagne in them so that you can see the bubbles form. Watch this video to see a Show-stopping Cut-Glass Punch Bowl.
Sterling Silver
Sterling Silver punch bowls were the most popular high-quality models since they reigned from the 17th century. The Chinese and Indian silversmiths who first designed the Punch bowl used Silver and other precious metals as molding materials.
Classification of punch bowl based off their size
Large punch bowls are often Drink Holders or casual outdoor event Punch servings. The medium-sized bowls are for formal indoor events due to their modest size and intricate decoration.
Identification of a Punch Bowl
Here are some of the few ways you can adopt to identify a punch bowl;
Identification by material
Traditionally, artisans made Punch Bowls with Ceramic such as Earthenware, Iron, Porcelain, and metals, like they did other dishware. In the mid-1700s, the quorum shifted to Silver and Gold thanks to the Rococo and Baroque style art, which used dinnerware as status indicators.
By the late 1800s to 1900s, artisans shifted their focus to glass ranging from fine-cut American designs to decorative carnival glass. If you're assessing Silver, check the embossments for "Sterling Silver" or "Silverplate" – the former is more valuable.
Identification by light test
You can also identify an authentic antique punch bowl with a simpleLight Test.Place it under the light and check for visible seams. If it's an original crystal piece, you won't see any because it'll remain clear.
Check for underglaze marks on the bottom of the Punch bowl to identify Limoges Porcelain.
How Much is a Punch Bowl Worth:

Value of a Punch Bowl
Typically, regular antique Punch bowls sell between $100 – $500, while more valuable ones push five to six figures depending on the sale location. Certain factors influence the final prices as they can appreciate or depreciate the item.
Full sets
An antique punch bowl with matching cups and a ladle often sells for more than solo pieces. The added aesthetic from multi-sets appeals to collectors because they look great on the dinner table. It also saves you the stress of finding complementary serving utensils and dinnerware.
Age
When it comes to most antique items, the cardinal rule is –The Older, The Better.That's because there's a proven pattern of ancient items being more quality than modern ones. They're often handmade from the finest materials.
On the contrary, after the invention of mass production, items compromised quality for quantity.
Brand
Provenance and pedigree are two things you can always rely on when appraising an antique punch bowl. Not only do they have notable markers, but also, their proven longevity gives them an edge over untested new products.
After all, if they've lasted centuries to get to you, there's a high chance they'll outlive you too.
Final Words
You can never go wrong with an antique punch bowl because of its intrinsic multipurpose value. If you stumble upon one, it's best not to dispose of it because it's an asset. Always remember, though when you go shopping;
Punch bowls that come with ladles and serving cups often carry a higher value.
Notable brands like Tiffany and Co., Wang Hing, and Reed & Barton are top tier.
Punch bowls didn't make an entrance until the 17th century, so anything dated before should arouse your suspicion.
FAQs
What is a Punch Bowl?
The Antique Punch Bowl originated from India, where people mixed five drinks of different flavors into a big bowl to form a concoction. Upon return from travels in the 17th century, English sailors brought the interesting orifice along. People attended exclusive events to drink from this communal bowl and feel a sense of camaraderie.
Where Can I Buy a Punch Bowl?
You can buy antique punch bowls at any online store that deals in vintage and antique items like eBay, Etsy, and 1stDibs. If you're more hands-on, you can visit in-house auctions, and Estate sales to feel the material before you spend money on the item. That's typically the best option because you can appraise it yourself with the tips you've learned in this article or hire a professional to do that on your behalf.
What's The Best Antique Punch Bowl Brand to Buy?
Some popular names are Reed & Barton, Tiffany & Co., and Wang Hing of Canton. You can also watch the video below for a 2021 review from Best Buy.