Pocket watches have existed for centuries and hold a significant spot in history as one of man's first attempts at producing portable timepieces.
Through pocket watches, timekeeping became infused with day-to-day life in an entirely new way. Thus, the process became easier and more precise through this invention.
As a collector, antique pocket watches are precious, and having a few in your possession can fill a sentimental void, and increase your net worth. The trick however, is to distinguish the valuable brands from the deadweights.
So, journey with us, as we explore the world of famous antique pocket watch brands.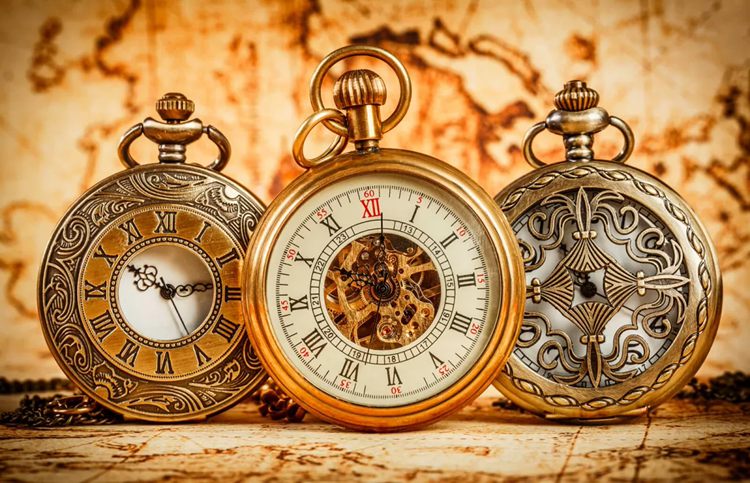 Brief History of Pocket Watches
The history of the pocket watch dates back to the late 14th century and early 15th century when the mainspring became a vital instrument for producing simple tools. German inventor Peter Henlein used this technique to create watches that did not need falling weights to function.
This invention introduced pocket watches to the world, too bulky at first, so people wore them around the neck for easy movement.
However, new shapes emerged in the 17th century. Charles II of England introduced a new trend by placing these watches in their pockets. It became popular among the elites in England, Europe, and North America.
By the 18th century, the watches became more sophisticated and sold to a selected few. Soon, wristwatches came into the scene and gradually replaced pocket watches.
Antique pocket watches are trendy accessories in modern-day fashion. So, if you are looking to collect a few, we've curated a list of quality brands for you to look out for.
Antique Pocket Watch Brand List
1. Audemars Piguet
1911 Audemars Piguet made for Tiffany & Co.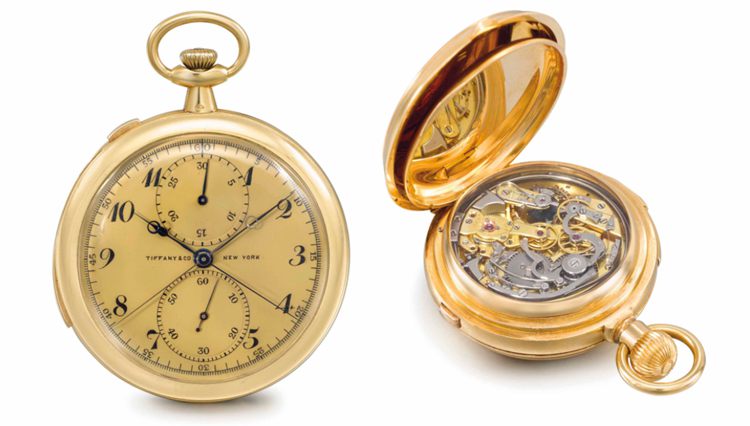 The Debonair, High-fashion, and luxurious Audemar Piguet antique pocket watch belongs in the league of the most expensive antique pocket watch. Its frames and dials were handcrafted from the best materials, such as raw gold and silver.
Its movement has many complications, including a calendar, minute repeater, and split time chronograph. This hunter-style framed pocket watch fascinates collectors making it one of the premium brands of antique pocket watches.
2. Baume & Mercier
Baume and Mercier Clifton 10253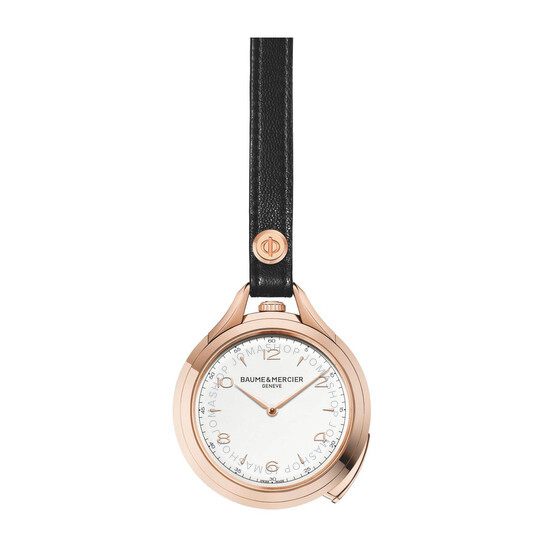 Think affordable luxury, then think Baume & Mercier. You would get an antique pocket watch of superior quality at a giveaway price with this brand. It often comes with a single leather strap for holding.
Its dials sit in 14K – 18K gold, silver, or bronze frames, with equal material markers. When you buy a Baume & Mercier pocket watch, you're investing because the materials are durable and appreciate in value yearly.
3. Bulova
Bulova 96B270 Pocket Watch
If you want a high-quality mass-produced antique Pocket Watch, Bulova is one of your best options. The brand was founded by a 23-year-old Bohemian immigrant, Joseph Bulova  in New York, America in the middle of the second half of the 19th century (1875).
Because its expansion into wristwatch making overshadowed its Pocket Watch production, Bulova's Pocket Watches are few in the market.
The most coveted model amongst its collection is the platinum-encased 1920s Ultra-thin Phantom. Its 18-jewel movement controls a cushioned dial making it the most expensive Bulova pocket watch design in that era.
4. Charles-Hubert
Charles-Hubert Chrome Mechanical Pocket Watch
This ornate antique pocket watch brand often has a skeleton dual-dial. Charles-Hubert models use durable brass for their frames and add steel chains that double as protection and decoration. They use Swiss automatic mechanical movement, so you need to wound it daily.
If you like a little weight in your pocket watch, buy a Charles-Hubert. Please note, however, that the brass would fade as a side-effect of wear and tear. You may repolish it or use it "as is," whichever the case, you would be fine. Although polishing diminishes its market value.
5. Elgin 1863
Elgin 14K Yellow Gold Open Frame Pocket Watch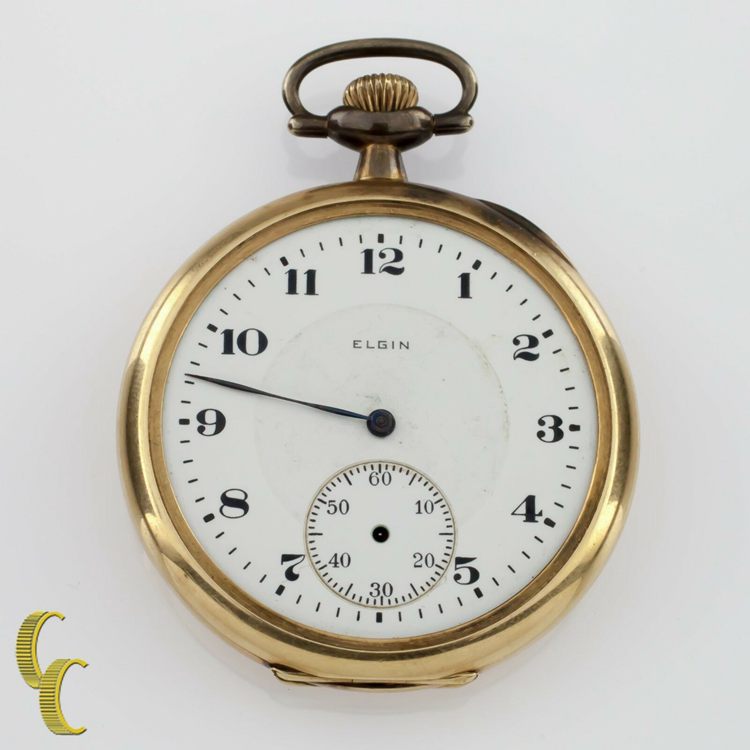 The antique Elgin pocket watch is an elegant mass-produced timepiece. It's one of the most affordable handcrafted pocket watches of the 20th century, gaining popularity for its accessibility to everyone. Buying a rare antique Elgin pocket watch is an investment as it costs thousands of dollars and even more upon resale.
Its frame often features intricate ornate crafting on high-quality materials and dual-dials (a mini-seconds dial replaces the "6-hour".) Some also have the Fusee – double casing – frame for extra reinforcement.
6. Frederique Constant
Frederique Constant Tradition Pocket Watch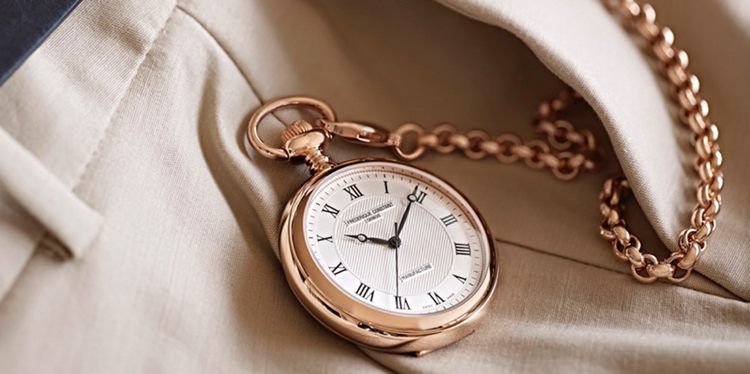 You can get the Frederique Constant antique pocket watch in a stainless steel or rose-gold plated frame. Its detailed design dial featuring guilloche patterns has a power reserve of 42 hours that you need to wound every day and a half to ensure accurate time-telling.
Its dials also feature handwritten Roman numerals and black index marks. The sapphire case at the pocket's back gives you easy access to observe its movements and inner workings. Collectors can also etch individual names on its back to personalize the item.
It's a great choice when gifting an antique pocket watch because it comes in an aesthetically pleasing wooden gift box.
7. Hamilton 1892
Hamilton 992B Railroad Pocket Watch
If you're looking to get the most functionality out of an antique pocket watch, then, choose a Hamilton.
The brand was common with railway workers for its accuracy in the early 20th century as it prevented many railroad accidents.
It typically has a round, numeric double dial (a 10-60 seconds mini-dial with a single hand sits at the "6-hour" position, while a 60-seconds numbering lies on the outer edge of the 1 – 12-hour main dial.)
The most popular Hamilton brand is the handcrafted 21-jewel movement 992B made in America. Although it used average-quality materials on its dials, Hamilton antique pocket watches are durable.
8. Kronen & Söhne
Kronen & Söhne Half Hunter hand mechanical pocket Watch
If you want a sleek and luxurious brand, look no further than Kronen & Söhne. The antique pocket watches are compact and lightweight, making them easy to use and fashionable.
This full-display mechanical antique pocket watch combines contrasting colors for aesthetic value.
You can watch its movements in action through the skeletal dial. It's a German brand, so you should expect to see the attention to detail and beautiful craftsmanship for which the Germans are revered.
9. Longines
Longines Equestrian 18K Pocket Watch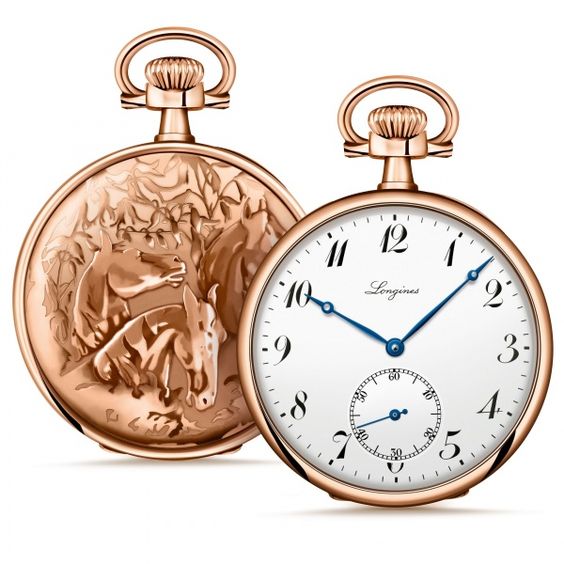 The Longines antique pocket watch is a Swiss brand that revolutionized watchmaking in 19th century Switzerland. It's a high-quality mass-produced timepiece best known for its sports influence. Athlete collectors, especially horse-jockeys, would love this brand best.
Its round frame features three dials – a 1–12-hour mainframe, a 30-second dial on the 12-hour spot, another 60-seconds dial on the 6-hour spot, and a 60-seconds numeric marking on the outer edge. It's the perfect sports timer.
10. ManChDa
ManChDa Antique Mechanical Pocket Watch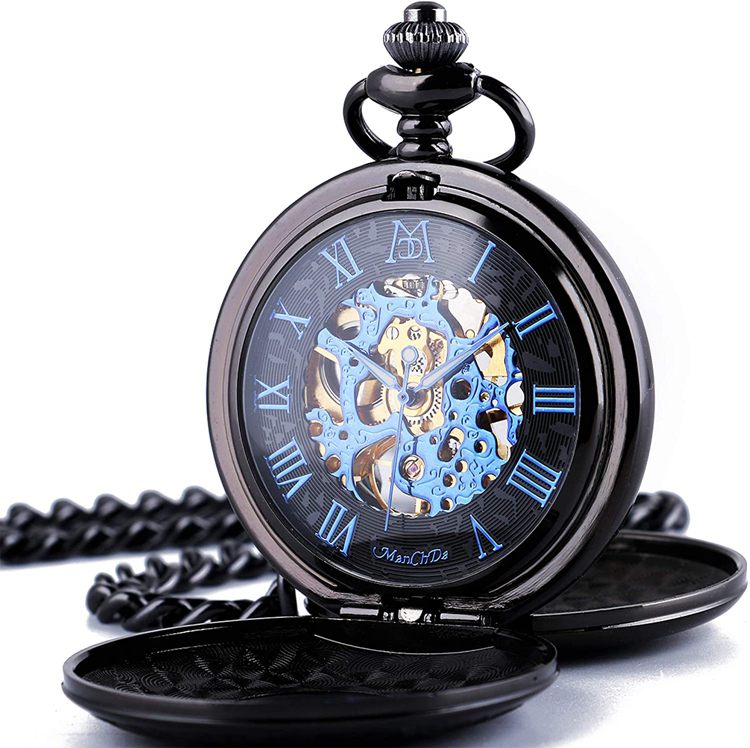 ManChDa antique pocket watch is for collectors who value pleasing aesthetics alongside functionality. Its unique sleek case frames a skeletal roman numeral dial, giving you a full view of the movement's mechanism.
The pocket watch has a chain hooked to its frame for easy carriage, with double cases as reinforcements.
The best part about ManChDa antique pocket watches is their affordability. You'd expect the intricate detailing on the frames to hike the price, but the opposite is the reality. You can get one for as low as $29.00 on internet stores.
11. Patek Philippe 1839
Patek Philippe Pocket Watch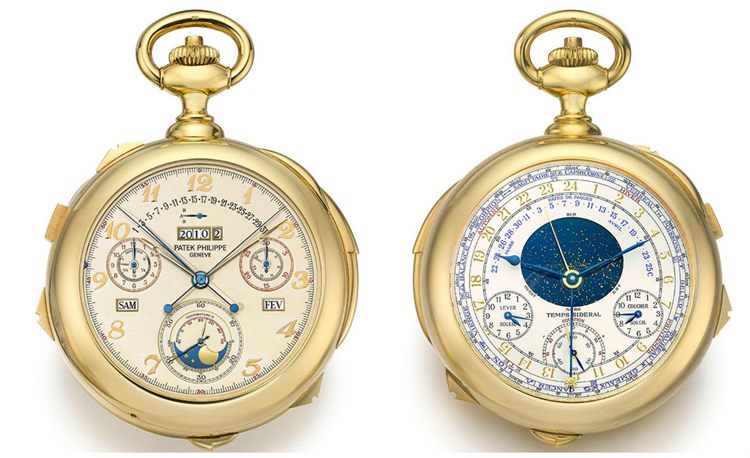 Patek Philippe's antique pocket watch is the most valuable brand because almost every piece was custom-made.
It retails for millions of dollars and has a higher resale value making it the most coveted antique pocket watch brand worldwide. Although the frame isn't water-resistant, it can withstand dust and humidity, making it a time-transcending brand.
It often has about 24-33 complications, running on a manually wound movement that lasts 50 hours (2 days.)
This pocket watch uses the highest quality of materials for its frames and has a unique multi-dial face. Some models include a time-date movement or chime, while some have both on the Arabic numeral dial.
12. Stührling
Stührling Original Automatic Pocket Watch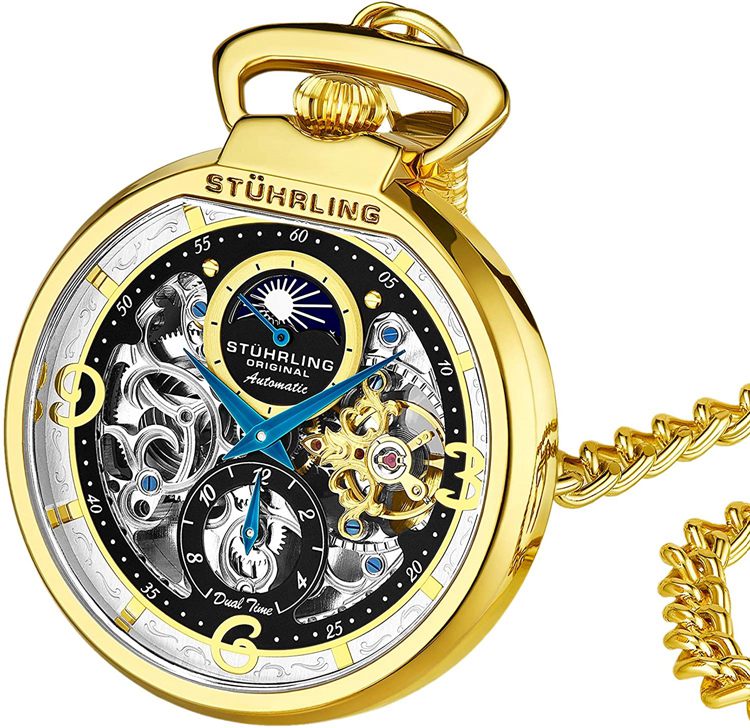 The Stührling antique pocket watch is for collectors with a taste for elegance. It has a gaping open frame at the center of its dial to see the complex movement. It's a simple pocket watch without any intricate crafting on its frame; instead, it uses durable pure stainless steel.
Although it's not as expensive as the thousands to the million-dollar league, Stührling sells in the higher hundreds range. Its power reserve lasts for about 30hours, so it needs daily wounding to reset.
13. Tissot
The Tissot Unisex Savonnette
Tissot antique Pocket Watches command a high market value as a Swiss brand. It formed the encasements from high-quality materials and used Swiss quartz for the movement. Tissot pocket watches are popular for making unisex models with round roman numeral dials.
The casement colors are often neutral, unique, and framed, albeit without clasps. Collectors revere the Tissot brand as one of the best overall antique pocket watches globally. So, if you want a portable premium brand, the 1853 Tissot is your best choice.
14. Waltham 1850
Waltham Co. antique pocket watch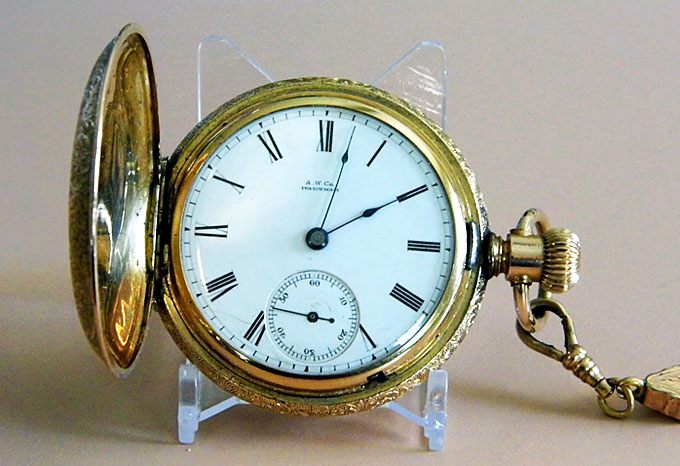 With Waltham antique pocket watches, you can choose from the best of both worlds. You either buy the automatic or mechanical movement, and neither is inferior to the other.
Waltham made two classes of pocket watches; one for the Canadian Railway Time Service and the other for the Canadian Pacific Railway.
You can distinguish the models with their engravings and emblems. A "CPR" has a shield and beaver emblem, while the "CRTS" engraves its name on the movement.
The first set of Waltham antique pocket watches before 1853 belonged to employees only, so if you're fortunate to find one of those, you've struck antique gold. Other custom-made pieces cost a fortune, but the rest are affordable, almost dirt cheap.
Identification Of Antique Pocket Watches
While collecting your antique watches, look out for imitations. If you're confused about the process, we have ways to make the process seamless for you.
Model
The first models of antique pocket watches from the 17th and 18th centuries have the origin and name of their maker indicated on the movement inside the watch workings. These models used the chain-driven "FUSEE" technique for their movements,
The "fusee" watches had two cases (outer and inner) that swing out the dust cover. So, carefully slide the dust cover to reveal the movement and view the identification details.
Label
You can identify an American pocket by opening a screw off the case back. Although, you'll typically find the name of their makers on the dial and movements of these watches. In cases where the maker is not a popular figure, you will find a private label displayed on the dial.
Serial Number
Carefully open the back of the watch to find the serial number engraved on the movement and enter it on the pocket watch database. For American pocket watches, you may find more than one serial number.
Each part is made and assembled by different companies.
Style
Antique pocket watches come in four major designs – the Demi-hunter, Hunter, Stainless-Steel Cases, and Open Face Frame. You can use the information below to identify your antique pocket watch's style.
Demi-hunter case
You'll find a tiny window by the cover; this makes it easy to tell the time without opening it. This style is European.
Hunter case
The stem and the crown are at 3 o'clock on the watch. They have a protective metal cover on the surface to protect the dial.
Stainless Steel watches
As the name implies, they have cases made from stainless steel.
Open Face Frame
The winding stem and crown sit on the 12-hour indicator and don't have cover protection like the other watches.
Movements
Movements control pocket watches' accurate time-telling. You can identify your antique piece below;
Key-Wind and Key Set
You'll find this style in the 1600s to 1800s antique pocket watches. It requires a special key to wind and set; first, you use the wound to position the hands, then lock it in with the set.
Stem-Wind and Stem Set
You only need a stem to operate the watch, and it was common in the 1850s. Pull out the crown, wind it into position, and lock it in with a pin.
Stem-Wind and Pin Set
You only need to press and turn the pin and release it to set the time. Manufacturers adopted this technique in the late 1900s.
Valuation of Antique Pocket Watches
Three major elements determine the value of an antique pocket watch – Brand, Complications, and Condition.
The Brand
The more popular the maker of your antique watch, the more attractive it becomes to prospective customers. Get a handful of popular brands to build trust and credibility for your business.
The Complications
Watches with additional functions asides from the basic ones arouse interest. Elaborate cases, gold cases, and heavyweight watches indicate sophistication and add value.
The Condition
If you are lucky to find an antique watch in perfect shape and condition, it will sell for higher prices. However, some are so precious that it doesn't matter if it works or not. If they help preserve some form of history, you should acquire them.
Parting Words
Pocket watches have doubled as a timepiece and the ultimate men's fashion accessory for centuries.
If you're looking to buy or collect one, you should choose from one of these known brands. They've become popular because of their durability and proven quality over the centuries.
These are a few key points to point you in the right direction;
Frederique Constant is good for gifting because of its accompanying wooden case.
Patek Philippe is the most expensive and luxurious antique pocket watch brand.
Baume & Mercier offers affordable luxury.