Are you someone who loves to collect antiques? All of us might have heard of a lot of an antique device like a stopwatch or something – but have you ever wanted to have an antique tractor?
This content is about a vintage pedal tractor that can deliver you absolute pleasure! So, let's get started!
What is a pedal tractor?
Pedal tractors were first manufactured with the intention of providing a means for kids to enjoy themselves concurrently with the acquisition of a genuine pedal tractor. Toy tractors that are suitable for play in small sizes have been available for purchase since the 1920s.
However, pedal tractors did not enter production until the late 1940s.
In 1949, Eska manufactured the very first pedal tractor, which was a John Deere Model A. It is now highly sought after by collectors, and examples in pristine condition may command a significant premium.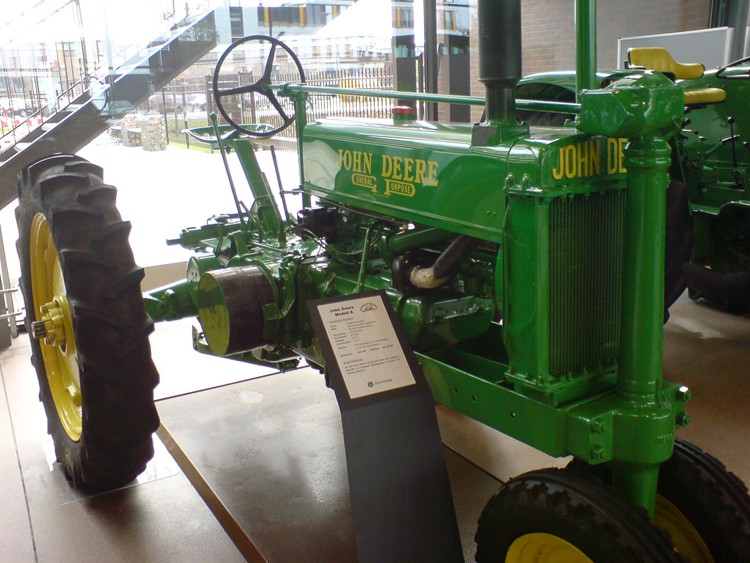 Ertl introduced its own line of pedal tractors not long after Eska did, and it still makes those tractors to this day.
They are versatile machines that met all of a farmer's requirements despite their small size, quickness, and power in the 1970s. These details of pedal-powered tractor go containing a stamped steel structure, genuine trade dress, chain drive, pedal power, an adjustable seat, and steerable front wheels.
It might have a hood, trailer, and cart as well. The color of the tractor depends on the company. It might be red, green, or any other color. The pedal tractor features also help in its identification.
The History of Antique Pedal Tractor
The use of brute force was essential to farming up until the late 19th century. Ploughs were pulled by horses, mules, and oxen. However, people walked behind or rode alongside the animals to direct their movements.
The years 1869 and 1870 saw the introduction of steam and gas-powered engines, while the 1880s saw the debut of tractor technology. The meaning of the term "tractor" itself was not entirely clear.
George Edwards, who developed a steam-driven farm vehicle in 1890, was the first person to utilize it. The power of the engine was what gave the vehicle traction, therefore it was employed on a farm, thus, "tract-or".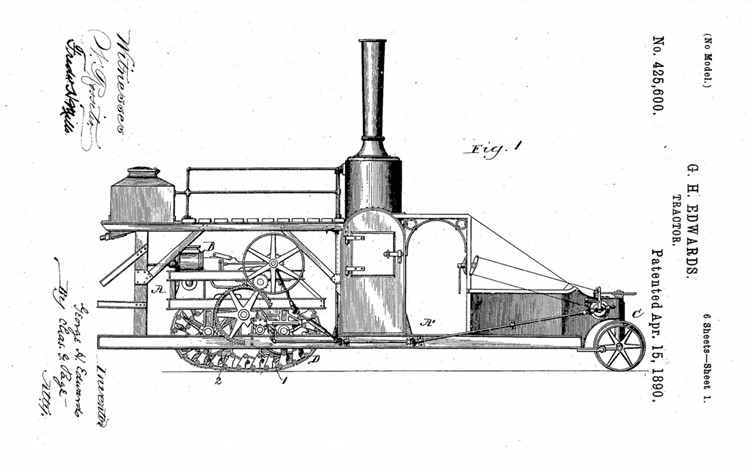 In 1917, Henry Ford and his son built the Fordson plant in order to begin production of the Fordson Model F gas-powered tractor. Henry Ford was of the opinion that better agricultural equipment would lead to the advancement of civilization.
The popularity of the machine skyrocketed, and before long, tractors were standard equipment on agricultural farms.
Soon after the first full-size tractor was manufactured, businesses started paying attention to the opportunities that were presented by farm-related toys. This trend continued for quite some time.
Because of this, in 1900, approximately 40% of the workforce in the United States was comprised of agricultural laborers and farmers. Moreover, millions of youngsters were mesmerized by the large, loud farm machinery.
How to Identify a Vintage Pedal Tractor?
If you are a collector, getting your hands on any vintage pedal tractors will be a dream come true. Even if you aren't, there is nothing more exciting than getting your hands on one of those vintage models.
But the question is, how one can recognize an old metal pedal tractor? Let's dig into the details.
Material
Cast iron was the material of choice for earlier iterations of the pedal tractor. Cast iron was widely used due to its low cost and versatility as it could be molded into any form. Moreover, it had the ability to mass-produce identical pieces using molds.
Using the procedure of casting in sand, they were successful in producing these peddle tractors.
The master molds for cast iron tractor are meticulously carved. They allow for a high level of detail as well as some hand finishing. These master molds may be made of wood, plaster, or even metal, among other materials.
Due to the casting sand, older toy vehicles have more intricate characteristics, despite the fact that it may be difficult to differentiate between them. In other words, more recent iterations of these made from the same material have a texture that is more grainy.
Measurements
The antique cast iron toys were made using molds that were based on the first master patterns. Hence, it contributed to the superior qualities of these toy pedal tractors. Reproductions, on the other hand, start with an original master blueprint or a copy of an existing antique masterpiece.
When an item is duplicated, it goes through a process that causes it to be somewhat altered. Hence, it leads to a reduction in the amount of detailing it has. The final look of the toy may be drastically altered by even a minute difference in any of the components.
A well-informed customer may find that normal shrinking works to their benefit in certain situations. If you are aware of the dimensions of a properly verified original, you will be able to compare the dimensions of the original to those of the test piece.
Coating
The paint is still another way that might be used to differentiate between fresh iron and old iron. At the end of manufacturing, the majority of historical manufacturers covered their products with a thick layer of enamel based on oil.
Acrylic paint that is water-based is used in more contemporary designs. This is because it gives the appearance of being less covered.
Additionally, different application techniques were used, which resulted in a difference in the overall look of both. The paint was applied to older items that had already been made. After that, its creators might utilize a brush to add some finishing touches to certain components.
On the other hand, the manufacturers of more recent iterations of similar toys employ spray cannons propelled by air pressure.
Processing by Hand
The amount of hand polishing that was applied to older cast iron stuff in comparison to modern ones is still another difference. The majority of replicas lack the very exact finishings that are typical of ancient antiques.
This is because of the procedure that is followed throughout the manufacturing process. The two halves of the original cast iron things were commonly assembled by hand via the process of filing. This specific attention to fit in older cast iron toys resulted in a seam that was quite close together.
Most new cast iron seams are flimsily manufactured and often have open gaps. Modern high-speed manufacturing machinery, which leaves visible grinding marks, has replaced the time-consuming but effective hand way of construction.
When you see these markings, particularly if they are brilliant with a discoloration, you can be certain that the item is a replica. This is especially true if the discoloration is vivid.
The pattern of Wear Resulting from Hand Finishing
The earliest painted cast iron equipment had a characteristic wear pattern. This is because the paint was thicker and there were several layers of paint made by dipping the tractor. Because of the thickness of the paint, you will see that there are chips around the edges.
This kind of worn pattern is not seen in reproductions. Hence, you need to see the details.
The appearance of current cast iron is distinct from that of older cast iron that has not been painted. However, old cast iron tends to have a dark brown or even black color. Whereas new cast iron tends to be grey or have a filthy silver tinge to it.
Nevertheless, it is in your best interest to exercise extreme caution if the tractor is evenly colored and unpainted.
To trick you, they may change the paint on fresh cast iron and the way it looks on the exterior. When exposed to high temperatures, the surface of a brand-new item may take on a brownish hue. This would be uniformly dull or a shade that is darker.
A black surface may also be created by burying a new piece or soaking it in a variety of chemicals. Both of these methods provide the same result.
Examine the whole component with a magnet to look for any signs of damage or repair. Epoxies, brass, and aluminum are some examples of non-magnetic materials that are used in various repairs and replacement components.
Additional Information Regarding the Identification of a Classic Pedal Tractor
In order to assign a value to an item, you are going to need the relevant details. The more information you have, the more reliable and accurate your evaluation will be. You can discover a lot of what you need on the internet, which is a great resource that is often free of charge.
On the other hand, there is a wide selection of books, journals, and manuals devoted to the hobby of toy and model collecting. These publications are often quite thorough and feature a significant number of images of a high grade for the sake of identification.
One such publication, Official Tractor Blue Book 2006 is available on Amazon for $25. This exhaustive reference covers all details including farm tractor from 1939 all the way up through 2005 and gives specific information on those vehicles.
The included information covers approximate retail pricing when the item was new in addition to a range of projected retail values when the item was used.
Market Values of Pedal Tractors
Pedal tractors that are decades or even just a few years old may be just as pricey as their antique counterparts, depending on their rarity and condition.
An auction held in Mowrystown on September 16, 2017 and was attended by almost 400 persons, representing at least ten different states. The details of this auction are as follows:
The sale was organised by Nationwide Auctions & Realty, LLC, and it included over forty pedal tractors, many guns, and a large number of antiques.
One of the pedal tractors, a rare Farmall M series, reportedly sold for $11,500.
In addition to the vintage Farmall M series tractor, numerous additional items were sold for more than $3,000 total. In addition, they auctioned off a large number of models that had been refurbished, including John Deere pedal tractors, Oliver, Case, and International Harvester types.
The Ertl John Deere 430 was one of the first produced by this illustrious firm. The price of a brand new one may reach $2,000 nowadays. This toy pedal tractor has a sophisticated look, with a broad front end and rubber tires on all four wheels.
A harrow-equipped 630 may be sold for $625.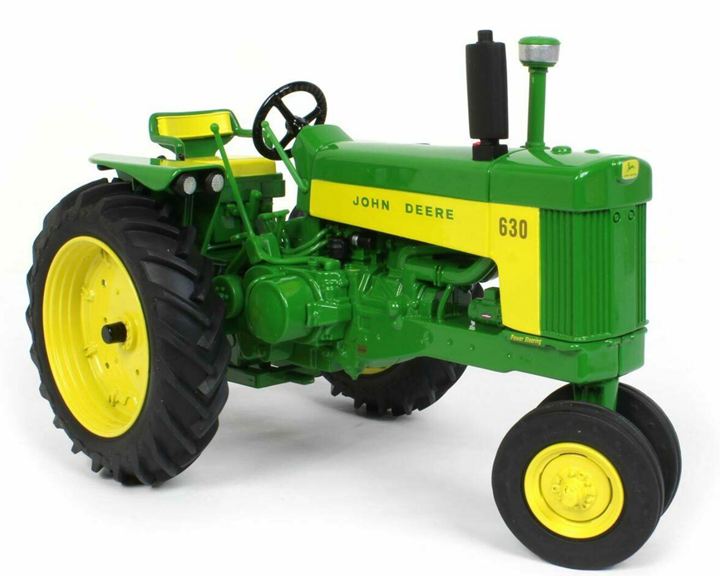 A small number of these works may be seen on eBay being offered for sale at rates that are affordable.
How to Figure Out How Much Your Tractor Is Worth?
Figuring out how much an antique tractor is worth may be a difficult task. This is particularly true if it is in an uncommon condition or if it is very rare pedal tractor. Whether you want to insure your tractor, or sale it, the following guidelines may assist you:
The outcomes of the auction
The outcomes of several different auction houses' transactions are reported publicly after the fact. Determining the fair market value in this manner yields the most accurate results.
ebay
You shouldn't simply check at the current advertising that says "for sale." Doing so will only tell you how much individuals want for their tractors, not how much they are really selling for. Take advantage of an advanced search option to narrow your results to only sold listing.
Websites that host classified ads, such as Craigslist and Tractorhouse.com
These include listings from a variety of regions. However, you must proceed with care because of this fact. The websites will give you an indication of what individuals are asking for, but some vendors ask for sums that are just unreasonable.
Consider these findings in conjunction with the more trustworthy data obtained from auction sales and sold listings on eBay or etsy.
Manufacturers of Pedal Tractors
Some of the most reputable manufacturers of pedal tractor known for the best include the following: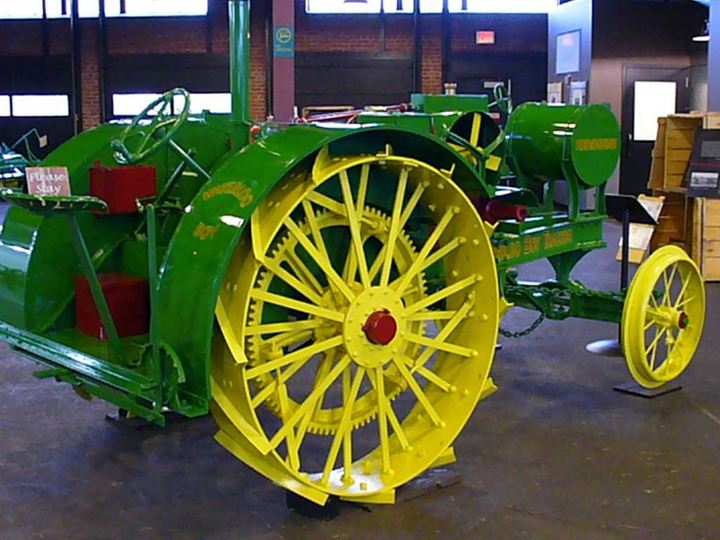 John Deere established the company that would later become known as Deere & Company in 1837. In 1876, the company started to diversify its offerings of John Deere machinery by entering the tractor market.
During a short period of time, the Deere firm explored the possibility of manufacturing its own collection of green tractor. The Dain all-wheel drive proved to be the most successful of these efforts. All of these equipment contain sign of the company.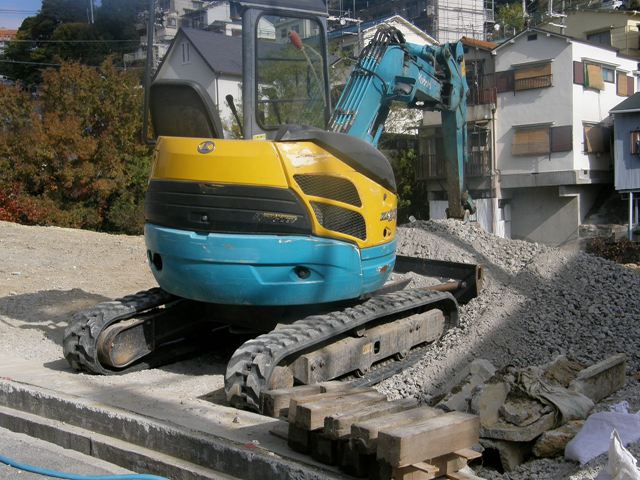 Kubota Company, also known as Kabushiki-kaisha Kubota in Japanese, is a Japanese multinational corporation with its headquarters in Osaka. In the year 1890, it first opened its doors.
The company is responsible for the production of a wide collection of goods, including tractors and other types of agricultural equipment.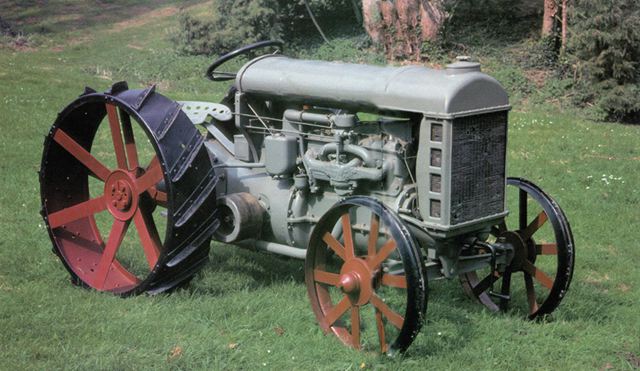 New Holland introduced the use of anti-lock braking system (ABS) technology to tractors resulting in greater safety. It particularly helped when the tractors were being operated on steep inclines, as well as increased manoeuvrability for the tractors.
The anti-lock braking system was used by ABS SuperSteer to provide independent brake control for each wheel. The ABS SuperSteer system enables the tractor's brakes to be used as a steering mechanism via the use of a single foot pedal.
The traditional, independent two-pedal system had been replaced with a single pedal that has two orange pedal extensions attached to each side. This offered the driver with the same single-wheel steering as a typical tractor while the speed is low
When the speed is increased, it immediately disables itself to prevent it from being accidentally used. Control of tyre slippage and automatic linkage with the steering angle are also features of the ABS SuperSteer function.
In 1985, Ford completed its acquisition of New Holland, so establishing the Ford-New Holland brand. The sale of Ford's agricultural equipment business to Fiat in the year 1990 marked the beginning of the end for the Ford brand name.
In 2009, New Holland Agricultural introduced the NH2, the world's first tractor to be fueled by hydrogen and to generate energy from renewable sources.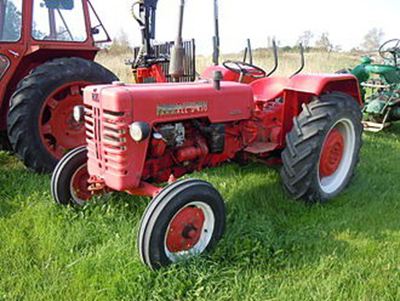 It was originally a model name for tractor produced by the American corporation International Harvester (IH), which also built trucks, tractors, and construction equipment.
Later, Farmall became a brand name and sign for tractors. In the course of the development of IH's brand architecture, the signed Farmall name was often referred to as McCormick-Deering and eventually as McCormick Farmall.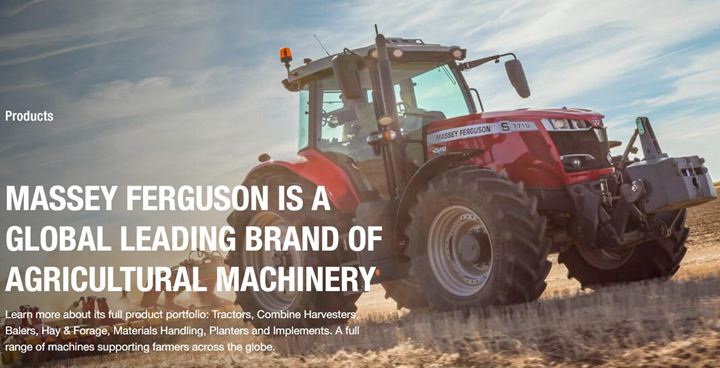 The antique pedal tractor brand, Massey Ferguson Limited is based in the United States. Farm machinery manufacturers Massey-Harris of Canada and the Ferguson Firm of the United Kingdom came together to form the company in 1953.
This merger led to the establishment of the company. Before 1988, it had its headquarters in Brantford, which is located in Ontario. In the 1920s, when the company bought the Wallis brand of tractors. It then began manufacturing them.
Massey Harris was one of the first companies to manufacture a tractor with four-wheel drive. The very first tractor to bear the Massey Ferguson brand name was an MF35, and it was produced by the company in December of 1957.
It was a Ferguson signed design that went into production in 1955 under the designation Ferguson 35. It was often referred to as the "Gold Belly" owing to the gold engine and gearbox that it was equipped with.
What Determines an Antique Pedal tractor Values?
The following factors describe the many elements that contribute to the overall value of the John Deere pedal tractor.
Rarity
Those vintage pedal tractors that are difficult to locate have a higher value than those that are readily available everywhere. Not all of the vintage tractors are useful, but there may be a handful that may fetch a respectable price.
Those are generally the most precious ones, and they were presumably produced by a particular maker or with certain materials. The date of manufacturing is another element that contributes to the overall worth of the item.
Vintage works, or those that were produced in a certain era, tend to get more attention than others. If you want to know how old they are, you may either search for a marking on them or investigate where they came from.
Condition
Even if it was one of the most expensive things, the vast majority of consumers are unwilling to purchase anything that cannot be repaired. To put it another way, the state of the tractor is a factor in determining how much it will sell for.
There are a great number of antique collectibles that are readily available even in a worn or damaged state. Nevertheless, finding one in perfect condition is quite difficult. As a consequence, flawless items command much higher prices than those with some imperfections.
Where to Shop For the Pedal Tractor?
Many different websites sell antique pedal tractors. A classified ads site might also have information of this sort. Some of these along with their URL are as follows: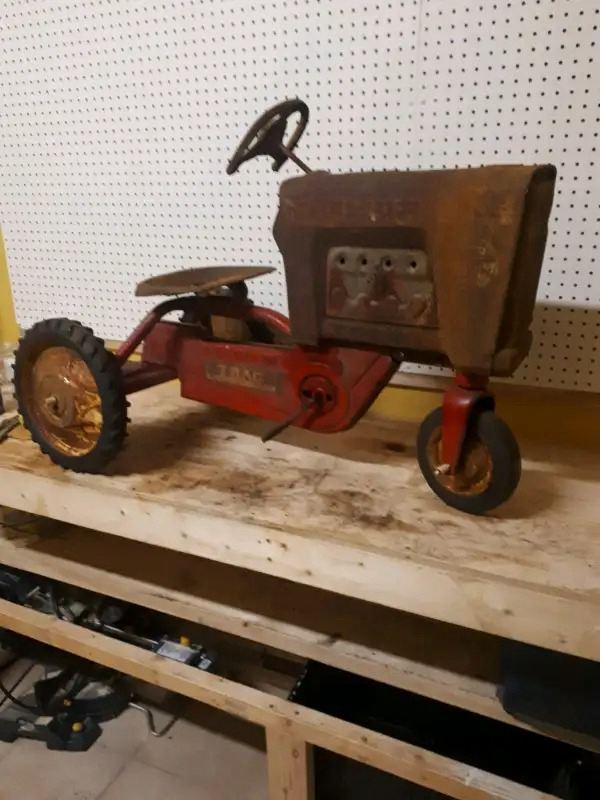 International 1066 Pedal Tractor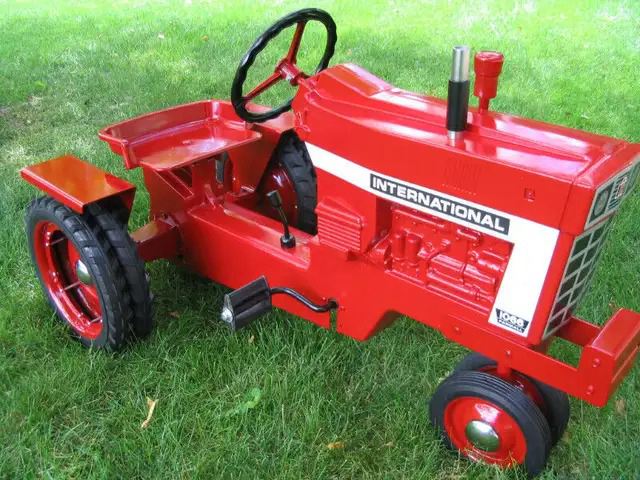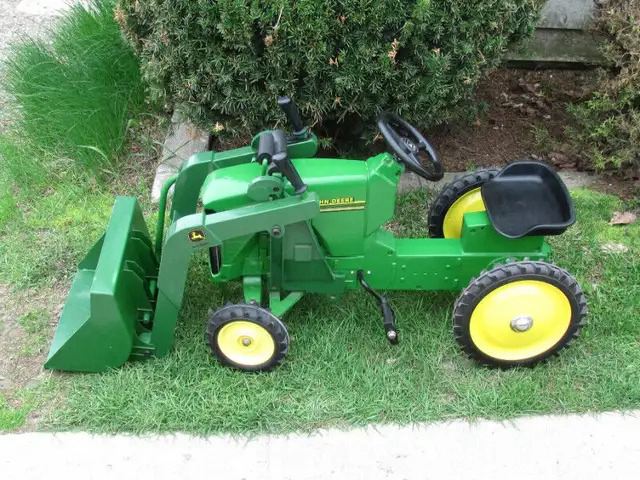 Vintage / Antique Pedal Tractor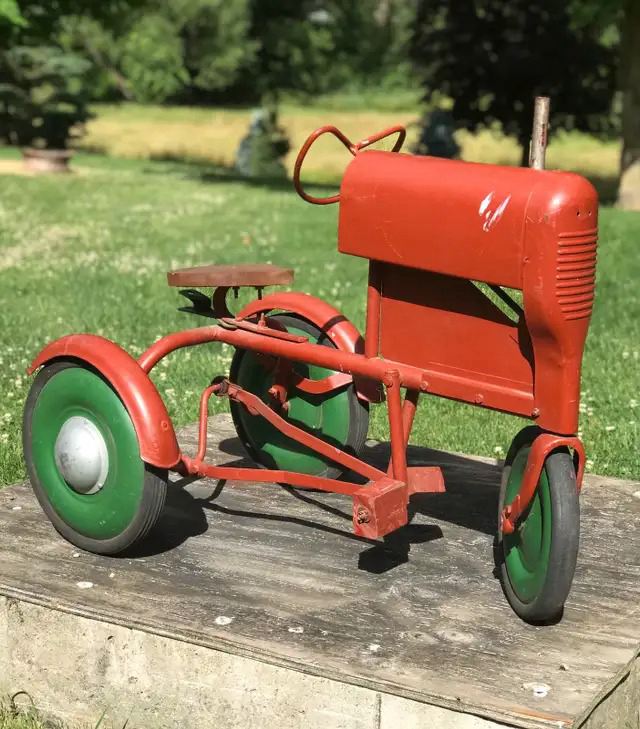 McCormick Farmall 200 Pedal Tractor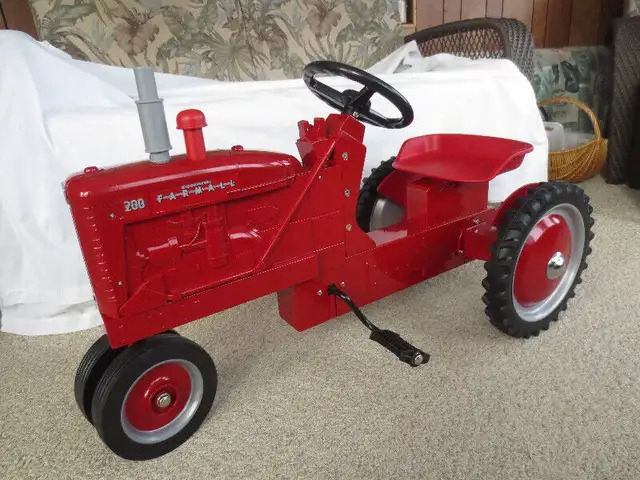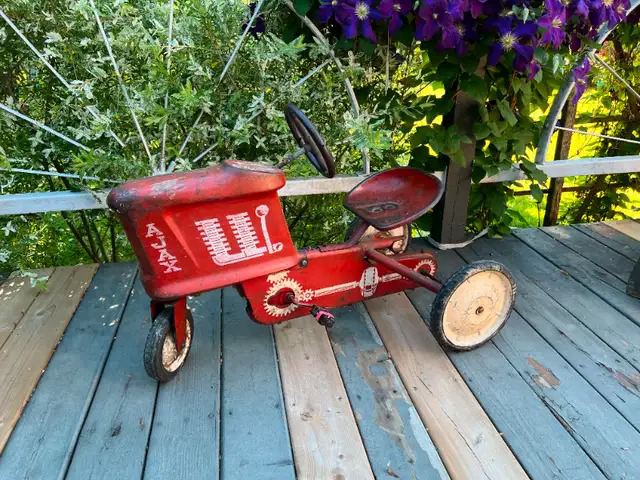 How to Determine the Worth of an Ancient Toy Pedal Tractor and Sell It?
Appraising vintage objects is challenging since their worth is based on how much another person is prepared to pay. Pedal tractors, which may range greatly in terms of both quality and rarity, are a good example of this phenomenon.
The value of a Vintage pedal tractor may be determined using any one of the following methods:
Take a look at the recent sales of other antiques that are similar on website like etsy
Examining the price data at a shop like Etsy which comparable products have previously been sold is the most effective method for gaining an understanding.
You may quickly locate what you're searching for in a very short amount of time by using Etsy and eBay's advanced search.
Explore the date as well as the differences between the goods that you have and the ones that were posted.
Make adjustments to your prices so that they reflect the quality of the products you're selling. Moreover, placing ads might also help with sales.
After locating relevant items that are comparable and that have been sold within the last few months, you can then begin to compute a value based on the price of the comparable items.
The most significant contributors to your tractor price are, in comparison to other items of a similar kind, its high level of quality and its relative scarcity.
If the condition of your item is superior to that of comparable items sold on eBay, a buyer may be willing to pay a higher price for yours. This enables you to set a higher price for your product. In addition, you have the option to raise the price of your item if it is part of a limited edition run.
Take Away
A pedal tractor is not something that can be replaced with anything else. Because of the possibility that it is a treasured property, you need to handle it with the utmost care. It is loved by all kids and adults alike.
Toy tractor by John Deere is widely considered to be among the most desirable collecting goods now available. They are in very high demand, which contributes to their overall value as an item.
If you are going to sell your antique toy tractor, you need to make sure that you are completely knowledgeable about the process of ads, and the particular site for selling. You may get started by using these suggestions and then go to the next step from there.